Yesterday I talked about ceramic grills – particularly the Coyote Asado, today, I am going to show you one of the creations I whipped up while I was in the week long testing phase for that bad boy. A Grilled Summer Pizza with Salami, Sweet Corn and Burrata. Bring on the guilt cuz this pizza is worth every calorie.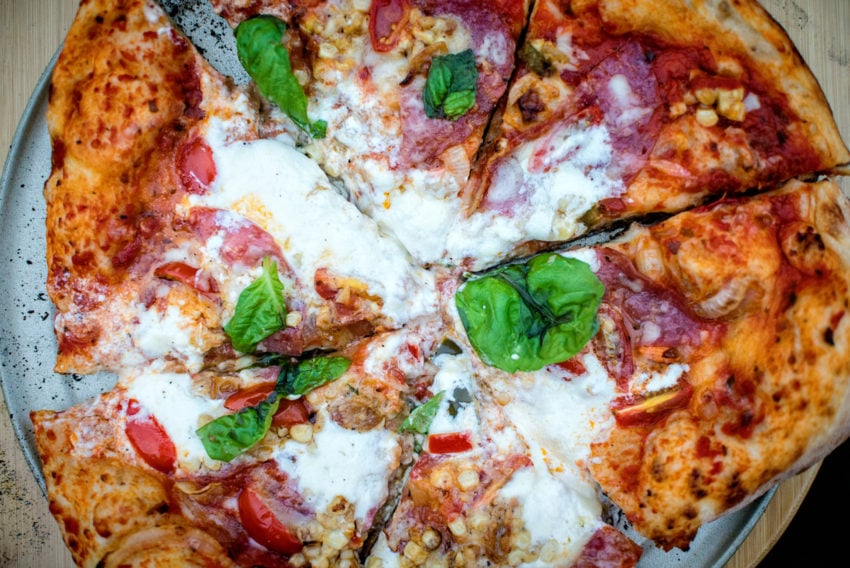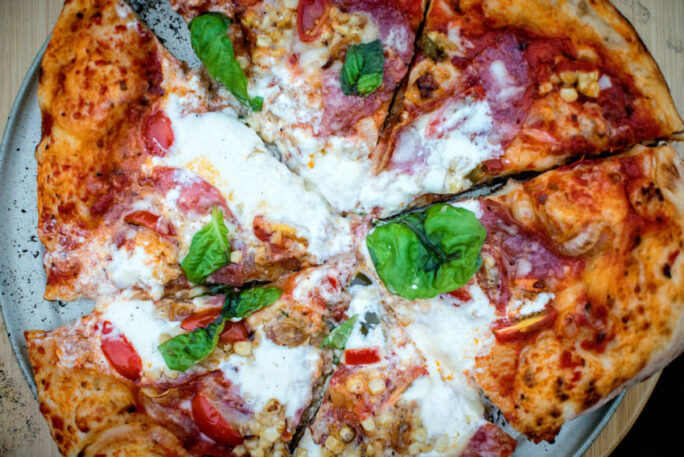 This post was created in conjunction with my review of the Coyote Asado Smoker for Ferguson Bath, Kitchen and Lighting for their O Say Can You Sear Grill Giveaway. Trust me, you're going to want to check it out. 
Grilled pizza. Hello summer. Hello amazing. Hello just seriously perfect cheese covered carbs. There is nothing as good as pizza at the end of a long busy day. It's quick it's easy and it is the godfather of good food (ok, next to leftover bbq that magically is waiting for you too). But, creating perfectly crispy crust at home can be a little tricky. I wanted to master the art of the 'brick oven' pizza in my new ceramic cooker, so I whipped up a few to give it a go. I may have burnt a few in the process, but that's ok. It's the learning curve that I am willing to share with you to get it right.
A little research and I found out, besides just how hot your grill is getting and holding heat, the thickness of the pizza stone, and how much cornmeal you need (more than you estimated, trust me, toss extra on), that the sugar in your dough recipe can make or break the dough. Think about it, when we grill, we know sugar caramelizes quickly, so at the heat that the ceramic grill needs to be for these pizzas (500 – 600 degrees F) that sugar is going to pretty much spontaneously combust. Consider a dough with less sugar before wasting a few perfectly good pies on the grill.
How to Grill Pizza on your ceramic, kamado, egg, (whatever) style grill
Diffuse the heat with a ceramic plate.
Use a pizza stone – a good pizza stone that's at least a 1/2″ thick. I have even seen people popping these up a little higher in the dome with bricks to help the heat out.
Allow the grill to get hot. Think brick oven pizza hot.
Be cautious of the sugars in the dough.
And make sure to use a ton of cornmeal and or parchment paper to keep things sliding around.
Lastly, hot pizza 101. Allow 3 to 5 minutes before searing the roof of your mouth off no matter how tempting that slice looks. Trust me.
Now, onto this killer Grilled Summer Pizza with Salami, Sweet Corn, and Burrata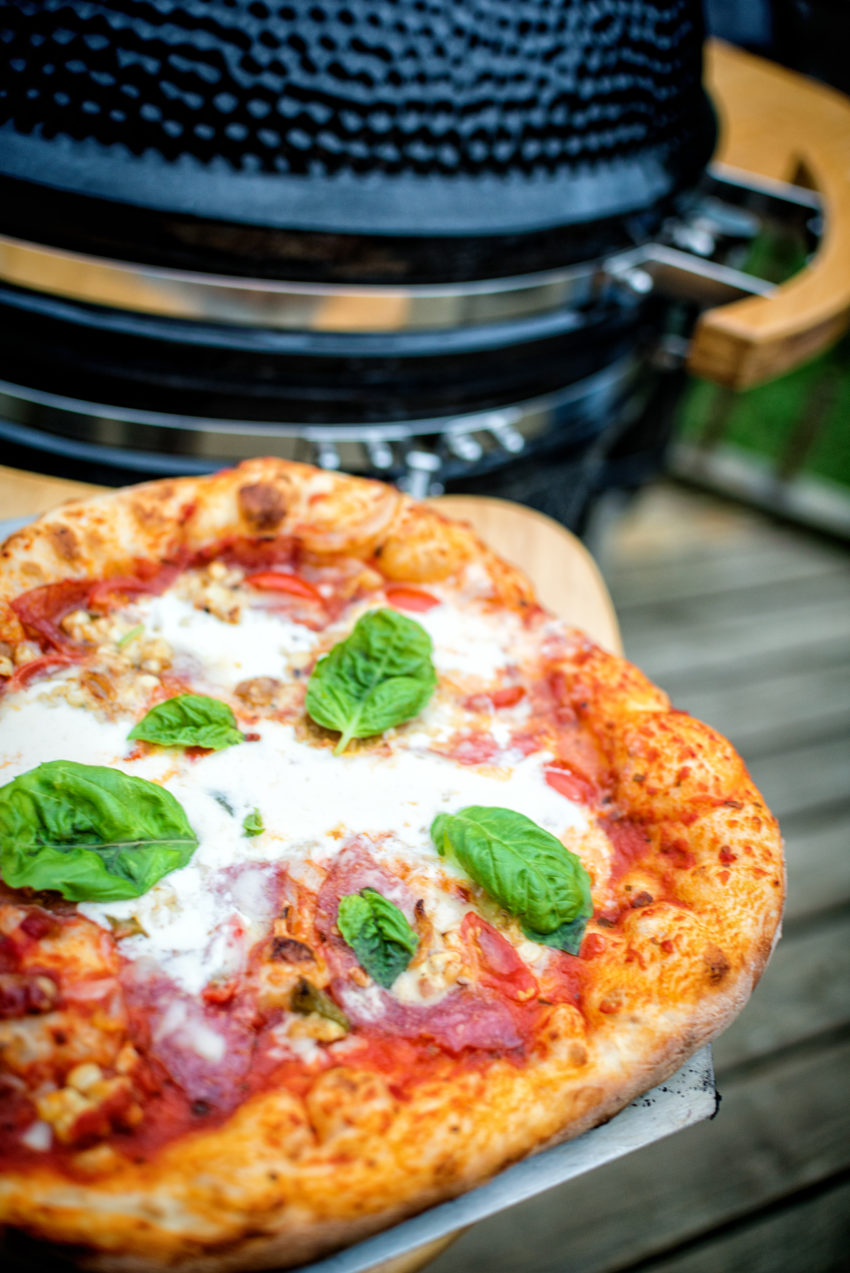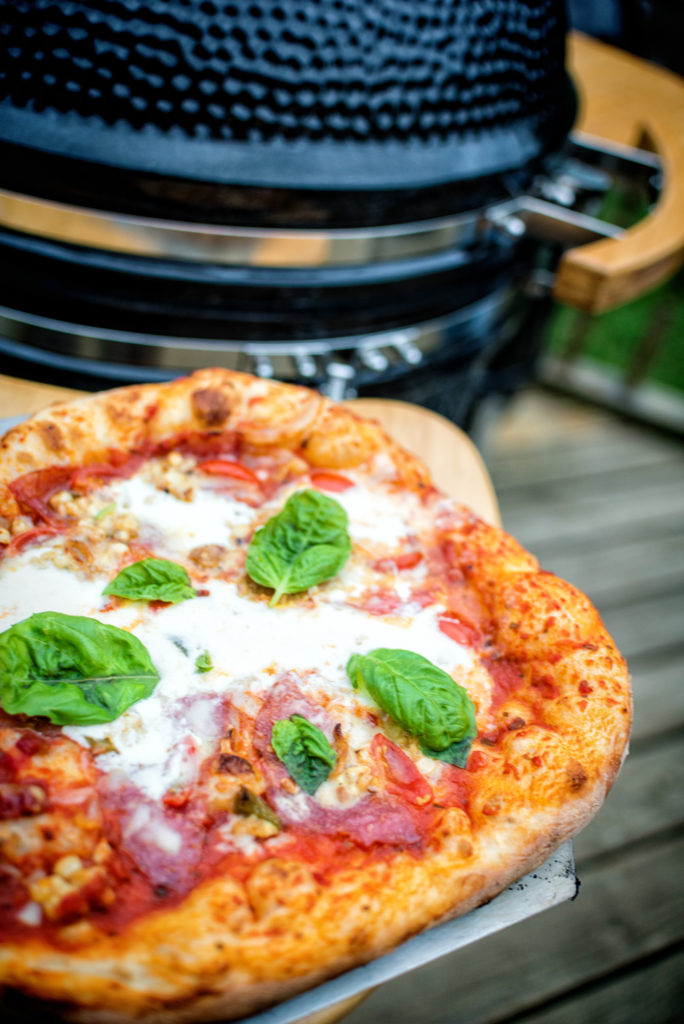 Grilled Summer Pizza with Salami, Sweet Corn and Burrata
Ingredients
Pizza Dough I love this recipe

Marinara sauce

Char-grilled sweet corn

chopped from the cob

sauteed sweet onions and peppers

Fresh cherry tomatoes

sliced and allowed to sit on a towel for 10 minutes

sliced good salami and prosciutto

Fresh Burrata

Fresh basil
Instructions
Roll out your pizza dough on a well floured surface and allow the dough to sit if it isn't stretching easily.

Make sure your grill is good and hot before proceeding with the pizza plate preheated for 10 minutes before adding toppings to the dough.

When ready to fire, spoon the marinara sauce over the pizza and top with corn, onions, peppers, tomato slices, and salami or prosciutto.

Slice the buratta and quickly apply in dollops over the pizza.

Slide onto a pizza peel and into the dome onto the pizza stone. Cook until the crust rises and bubbles and the cheese has melted, taking care to not burn the bottom.

Remove and sprinkle fresh basil over top. Allow the pizza to cool 3 to 5 minutes before slicing and serving.