Hands up if you are looking for the best way to cook a perfect New York Strip! This Pan Seared New York Strip Steak and Scallops is an easy recipe, but perfect for a date night in, with a decadent garlic compound butter. Source top quality American Wagyu for even better results!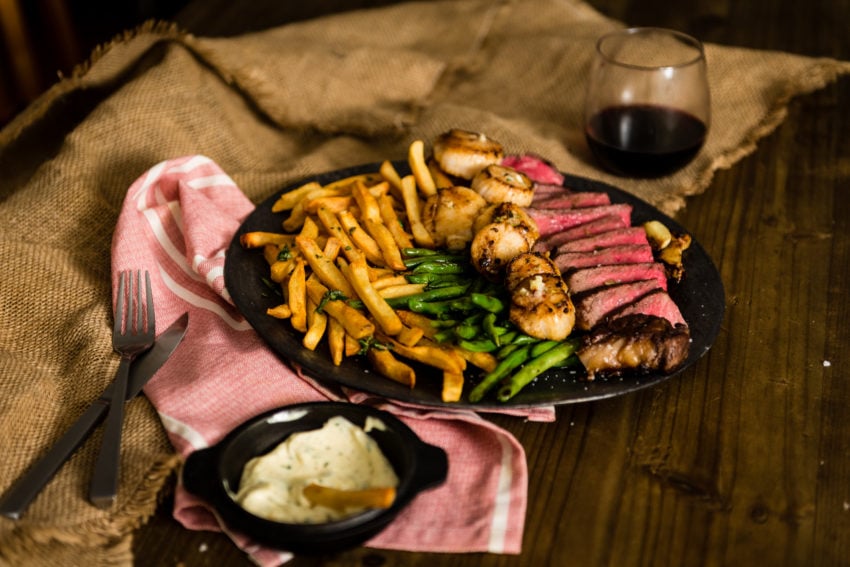 Looking for a perfect steak dinner?
Yeah, I feel ya.
This pan seared New York Strip and Scallops is a perfect spin on surf-and-turf that can be whipped up at home with just one heavy duty cast iron pan and a few simple ingredients.
But first, let's talk beef.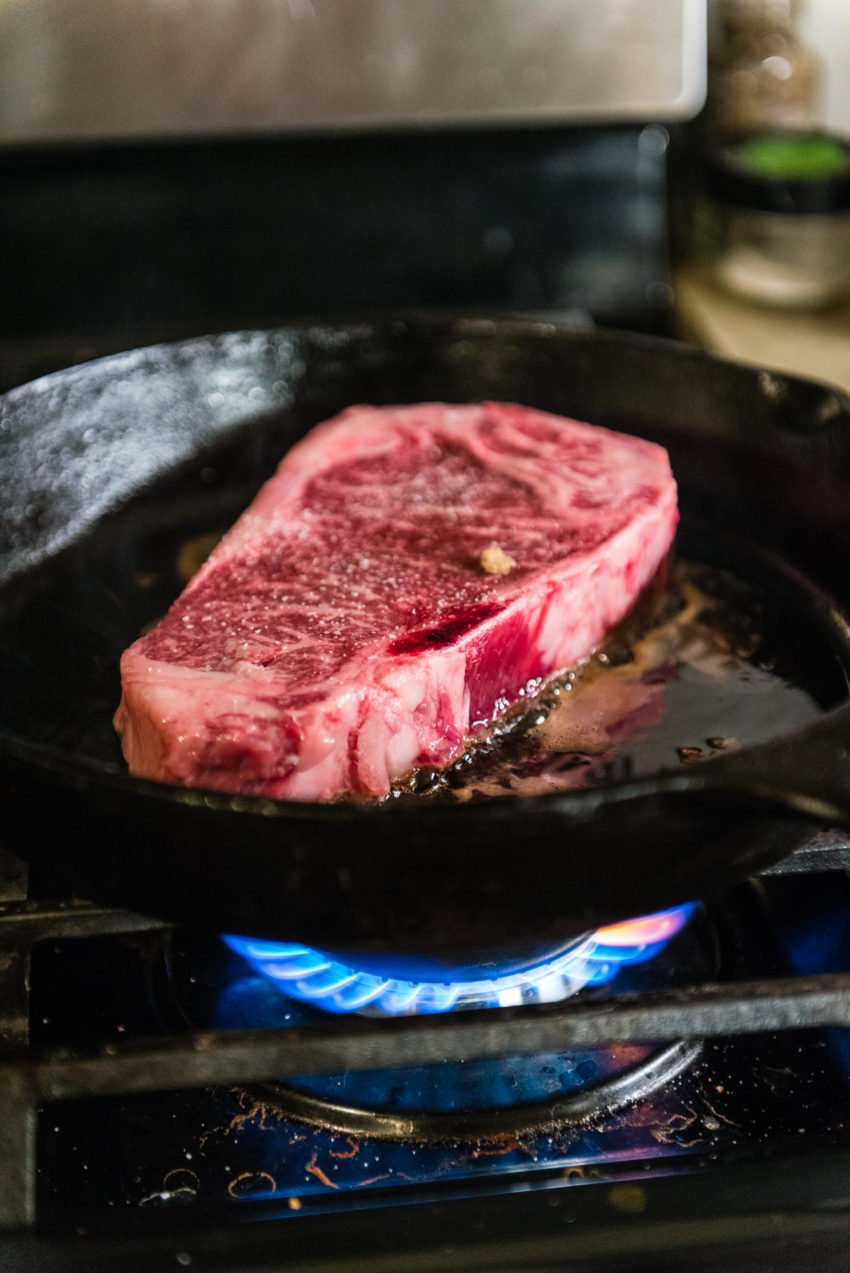 What is a New York Strip Steak?
New York Strip, also known as Kansas City Steak or just strip steak, is cut from the loin section of beef. The 'loin' is located mid-back before the sirloin and round. It is the larger half, when the full bone is left on, on the T-bone steak.
Due to its location in the loin, with its little-used muscle, it is marbled with good fat that produces a wonderful flavor with a tender bite.
New York Strip Steaks are perfect for pan searing or grilling.
For this recipe, I used a Snake River Farms American Wagyu Bone-In New York Strip Steak (cuz, I was feeling pretty darned fancy).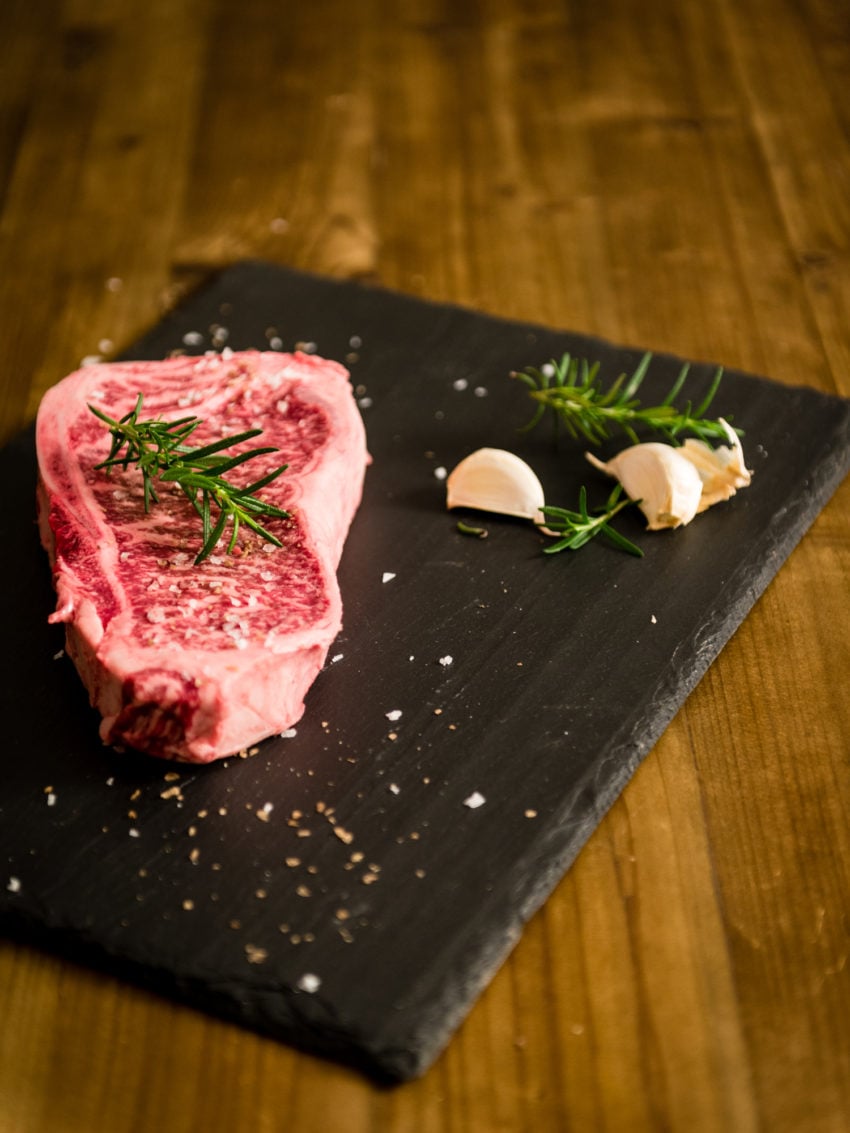 What is American Wagyu?
If you are a fan of steak, by now you have heard of some new trends popping up. American Wagyu is a standard similar to Japanese Kobe, once thought to be the premier beef experience.
There were rumors high and low (talk about individual massages and more) about just how the meat becomes so tender and flavorful. But, really, it has to do with genetics.
American Wagyu is our standard of Kobe beef. With top genetics bread for a highly marbled insanely flavorful cut. For more information on American Wagyu, read deeper at American Wagyu Association.
Like all labels on beef, do some homework and read about it. Make sure it's right for you.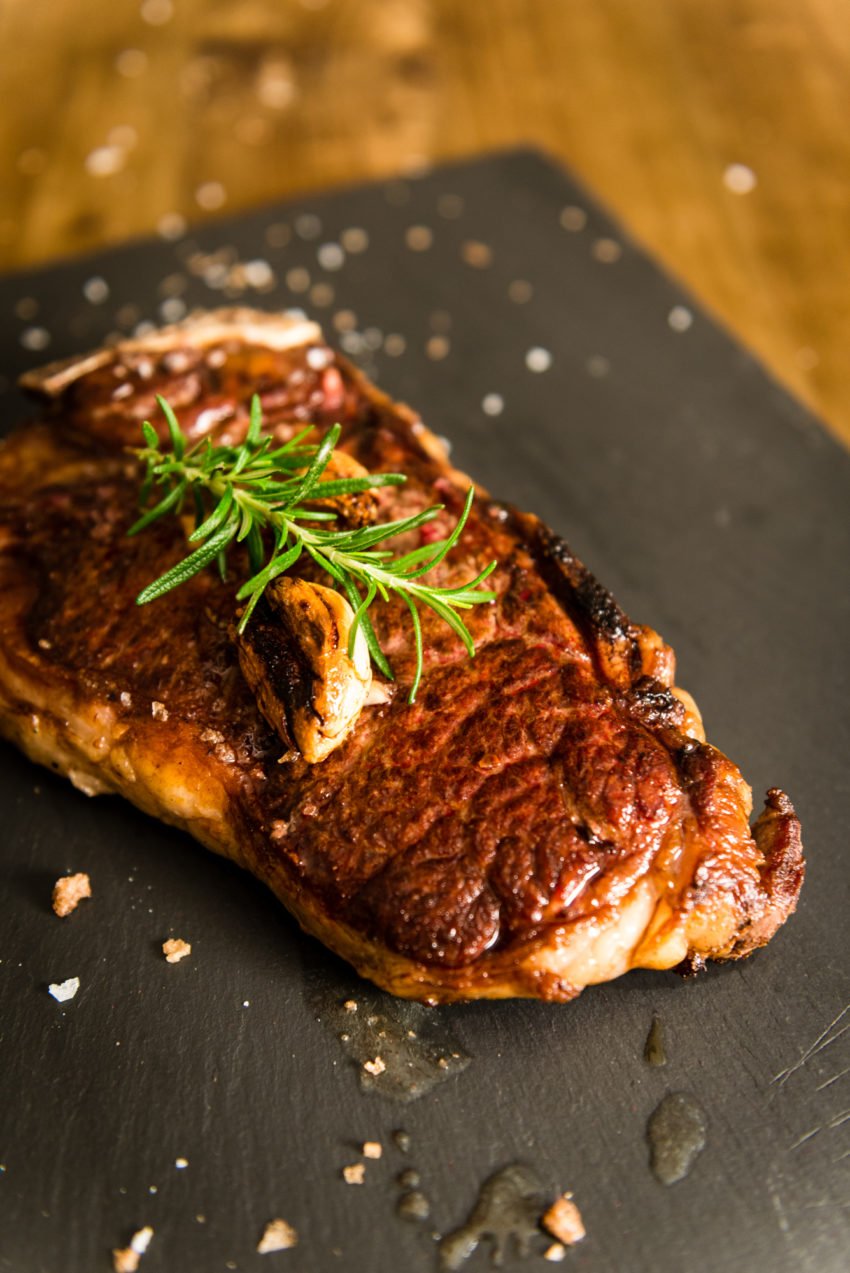 How to buy American Wagyu Beef
Buying American Wagyu is becoming easier and easier with ranchers and farmers across the country lean into the internet. Find a reputable online source you love, if you can't find a farm in your own backyard breeding Wagyu beef, and start there.
Beef isn't cheap. And good beef certainly is no exception. Start with cuts you are already familiar with and can cook well, to experiment with.
Once you know you like the flavor, branch out and try new cuts and cooking methods. Nothing is worse than a perfect steak cooked far past done. Start with what you know.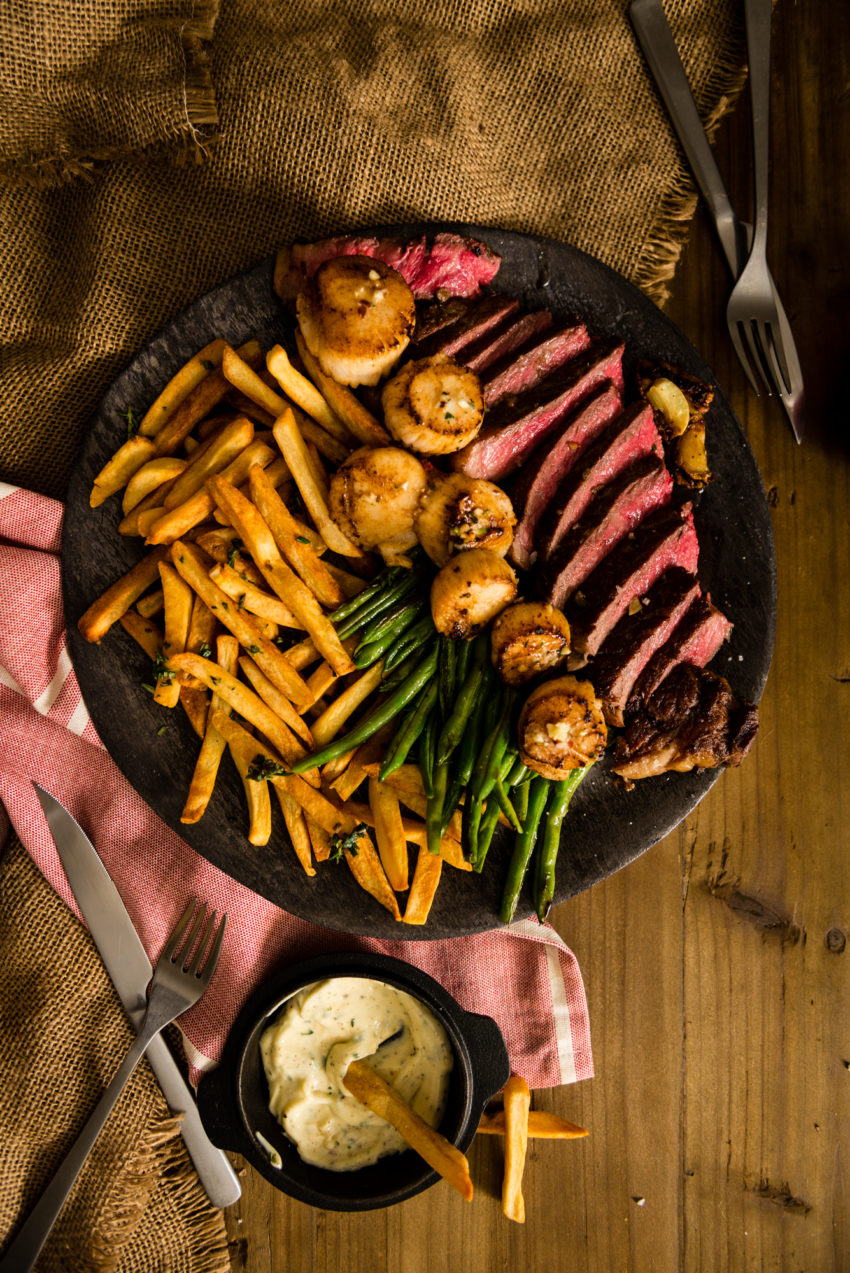 How to Cook a New York Strip Steak
New York Strip Steak is perfect for a fast cook, leaving the middle pink, and medium-rare. It's fork-tender and loaded with flavor. I hardly season my high-quality steaks with anything more than salt before applying heat.
For this recipe, I use a heavy-duty cast iron skillet that is oven-safe. Simply sear the steak on both sides and slather in butter. The butter bastes the meat while it finishes in the oven.
Always allow the steak to rest before slicing to serve. This lets everything come back together and the flavor to be perfect in every bite.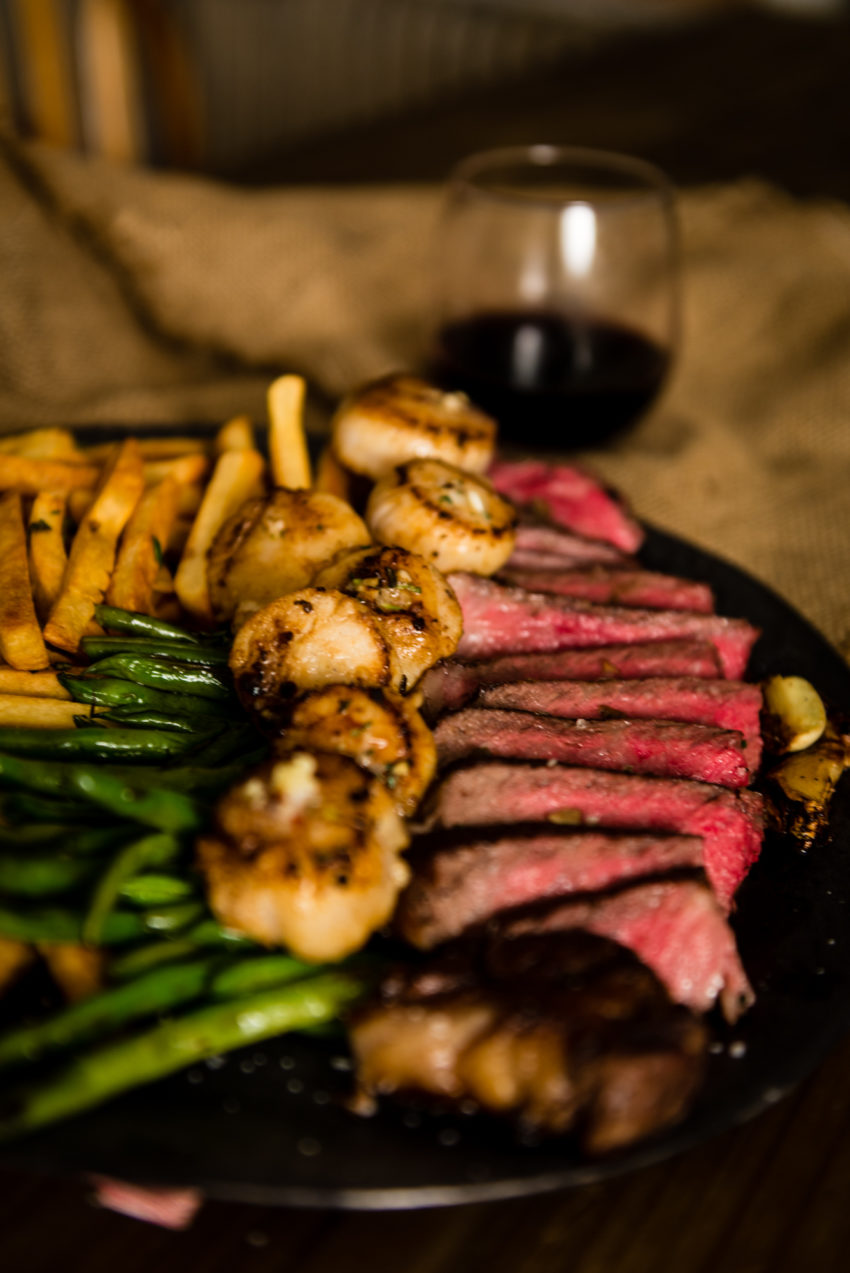 Need more date night inspiration? Check out these recipes:
If you've tried my Pan Seared New York Strip Steak and Scallops recipe, or any other recipe on GirlCarnivore.com please don't forget to rate the recipe and let me know where you found it in the comments below. I get inspired by your feedback and comments! You can also FOLLOW ME on Instagram @girlcarnivore as well as on Twitter and Facebook.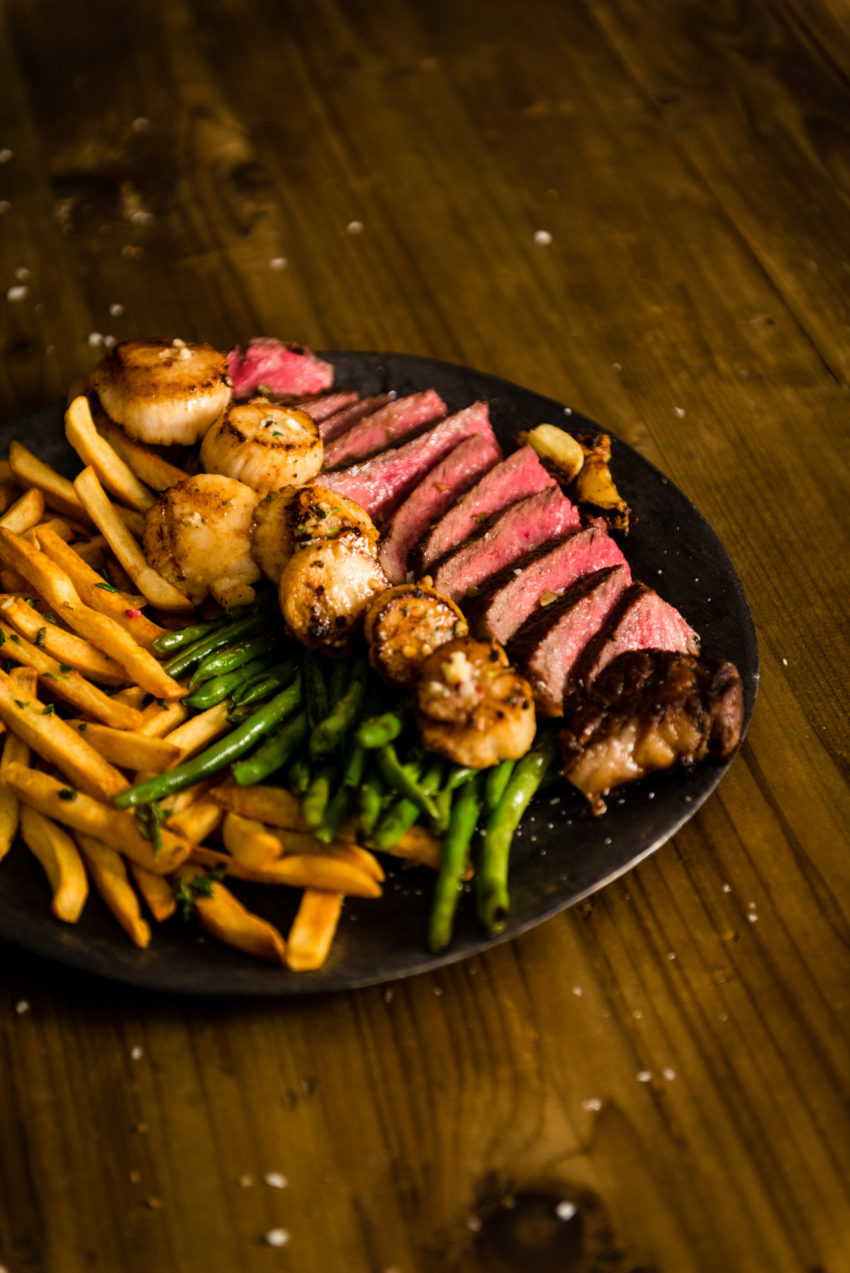 Pan Seared New York Strip Steak and Scallops with garlic compound butter
A decadent meal with delicious garlic compound butter melted atop the highest quality New York Strip and fresh scallops. A once in a while, but an oh-so-worth-it recipe to knock your socks off.
Ingredients
For the Garlic  Compound Butter
8

tbsp

unsalted butter

3

garlic cloves

minced

2

sprigs fresh rosemary

minced

1

tsp 

coarse salt

½

teas freshly ground black pepper

¼

tsp 

red pepper flakes
For the Scallops
1

lb 

fresh diver scallops

1

tbsp

garlic compound butter
Instructions
Make the Garlic Compound Butter
In a bowl, mash the butter with the garlic, rosemary, salt, pepper, and red pepper flakes until thoroughly combined.

Arrange an 8″ sheet of plastic wrap on a clean work surface and spoon the butter into the center.

Wrap, pressing into a log shape, sealing entirely.

Store in fridge until ready to use.
Sear the Steak
Preheat the oven to 400 degrees.

Heat a large heavy cast iron pan over medium heat until just smoking.

Meanwhile, pat the steak dry and sprinkle heavily with salt on both sides.

Add 1 tablespoon butter to the pan and swirl quickly to coat.

Toss the garlic and rosemary into the pan.

Add the steak and allow a crust to form, cooking 2 minutes without moving.

Flip, when the steak removes from the pan easily, adding the other tablespoon of butter, and sear 1 minute longer.

Finish in the oven for 4 to 5 minutes longer, until the steak temps 120 for medium-rare.

Remove from heat, wrap in foil to rest, topping with 1 tablespoon of the garlic compound butter before sealing.
Sear the Scallops
Meanwhile, in the same pan with the reserved butter and fat, return to the cooktop over medium heat.

Pat the scallops dry and sear 1 minute.

Flip, topping each of scallop with a bit of the garlic compound butter and sear 1 minute longer.

Remove from heat.

Remove the steak from the bone and slice for serving.

Arrange the steak slices with the scallops on a serving dish or individual plates and enjoy.
Nutrition
Nutrition Facts
Pan Seared New York Strip Steak and Scallops with garlic compound butter
Amount Per Serving
Calories 1208
Calories from Fat 864
% Daily Value*
Fat 96g148%
Cholesterol 392mg131%
Sodium 2125mg92%
Potassium 1148mg33%
Carbohydrates 10g3%
Protein 72g144%
Vitamin A 2195IU44%
Vitamin C 2.3mg3%
Calcium 90mg9%
Iron 4.1mg23%
* Percent Daily Values are based on a 2000 calorie diet.