These Cornmeal Coated Skillet Pork Chops are quick, easy, filling, and healthy meal! This 30-minute dinner is made up of tender yet crispy pork chops with a side of sautéed seasonal veggies!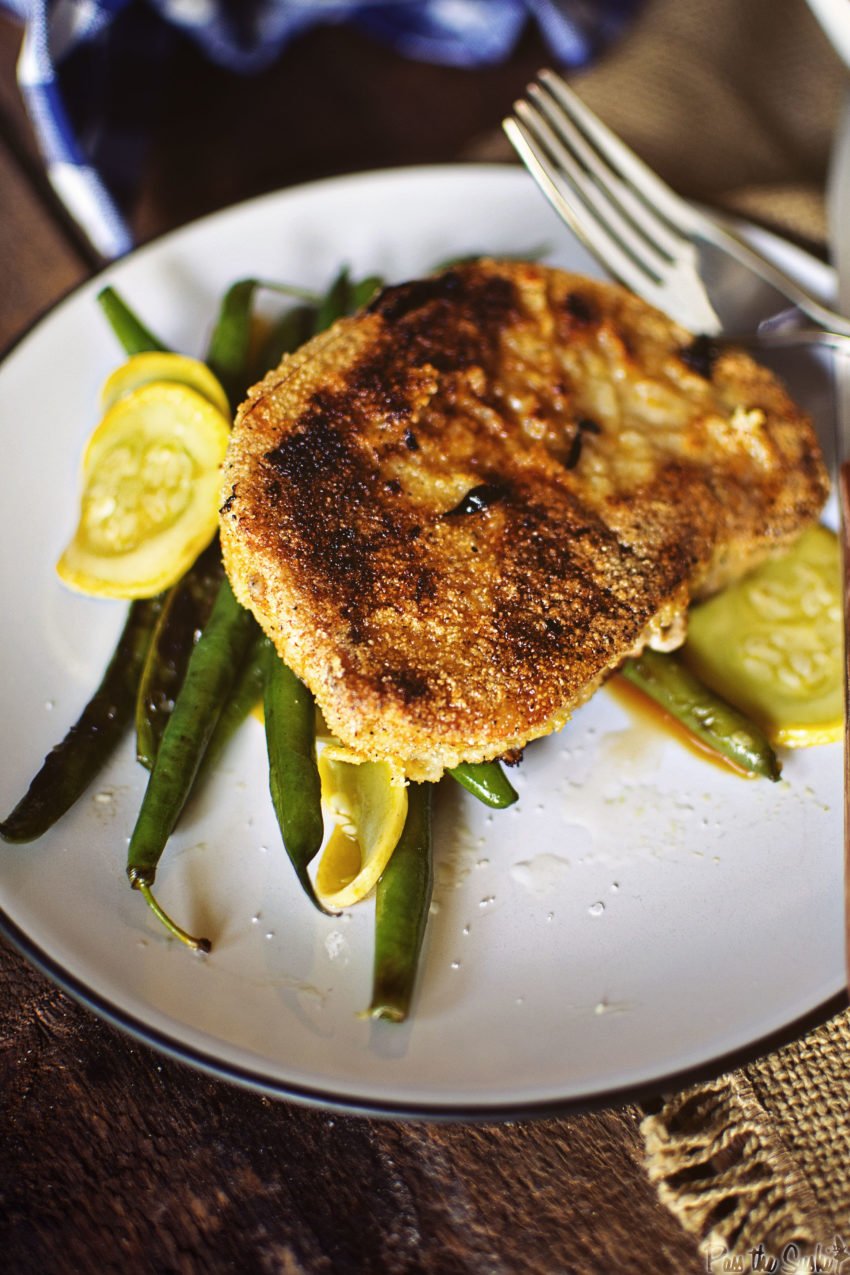 I firmly believe that easy weeknight dinners should never taste, well, easy. Easy weeknight dinners should be everything you need after a hard day's work. Something that tastes delicious, satisfies your hunger, and is quick and easy to make!
These cornmeal-coated skillet pork chops are just that! They're a swift dinner made up of tender, crispy, golden pork chops with a side of perfectly cooked sautéed veggies.
Don't let your day-to-day routine come to boring food. This is the kind of meal that is exciting, easy to throw together, fills you up, and makes you feel good all at time same time!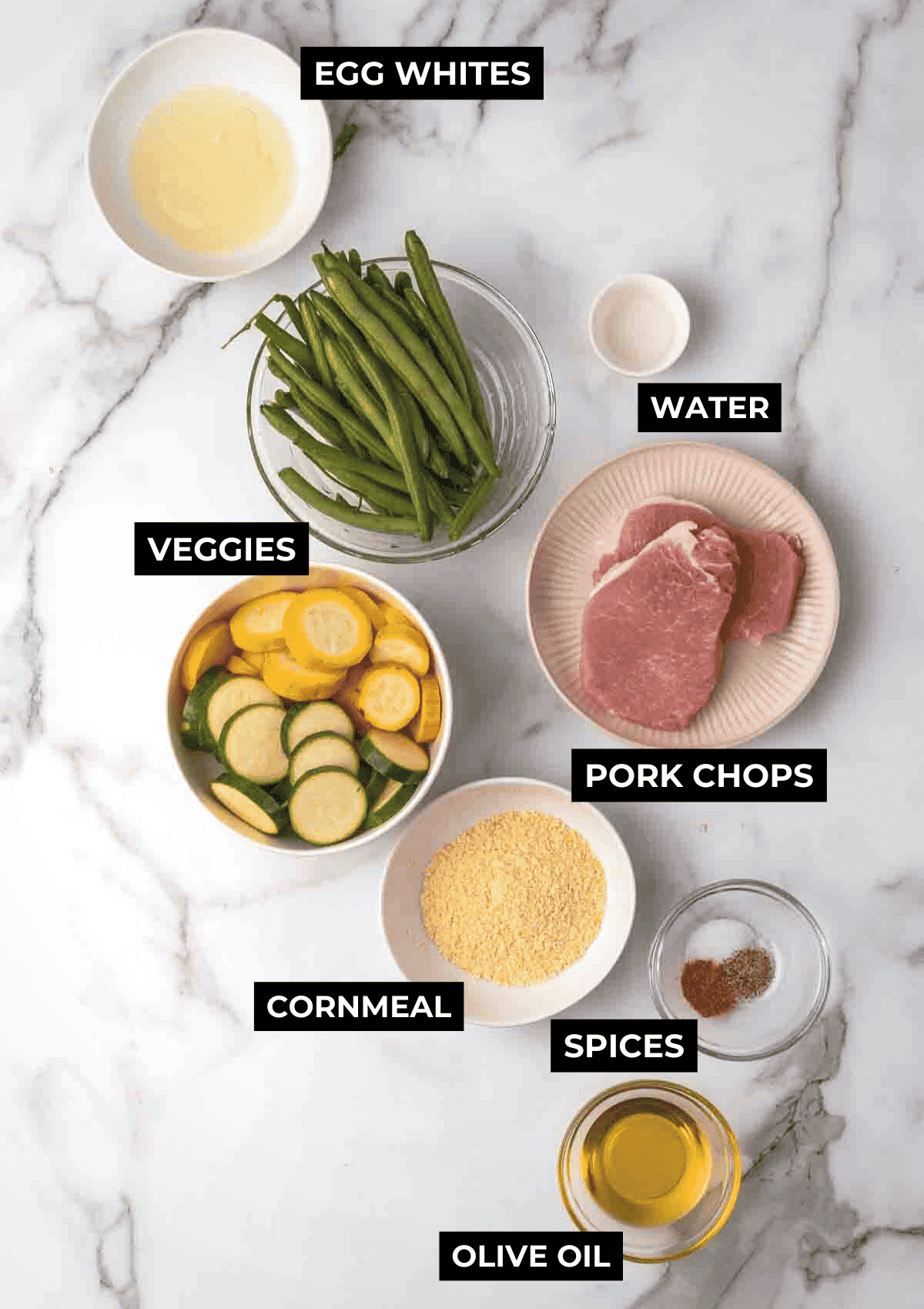 What you need to make this recipe
Veggies – green beans, zucchini, and yellow squash
Olive Oil – used to sauté the veggies and to sear the pork.
Cornmeal – coats the outside of the pork to give it a delicious crunchy texture and golden color.
Seasonings – you'll add a simple blend of salt, cayenne pepper, and black pepper.
Egg White – helps the cornmeal and seasonings stick and adds moisture to the meat.
Water
Pork Chops – ½" thick! I use 4-ounce pork chops that are about ½" thick. If you use pork of a different thickness, the cooking time will be different.
How to make cornmeal coated skillet pork chops
Heat oil in a large skillet, add in the veggies, cover, and cook for 8-10 minutes. Remove and set aside.
In a small bowl, combine seasonings and cornmeal. Arrange a coating station with egg white in one dish and cornmeal and seasonings in another. Place a wire rack over a plate for the breaded pork.
Pat the pork chops dry, then dip each in the egg followed by the cornmeal and seasonings. Set on the wire rack.
Wipe out the empty skillet and heat more oil. Add in the pork chops and cook for 4-6 minutes until golden, flipping once halfway through the cooking time. Serve with the sautéed veggies!
What pork chops to use
I use 8-ounce pork chops that are about ½" thick. You can use bone-in or boneless for this recipe, although I usually prefer bone-in which has more fat. The extra moisture helps protect the meat from drying out. If you use boneless, you will just need to watch the pork chops extra carefully so they don't over-cook!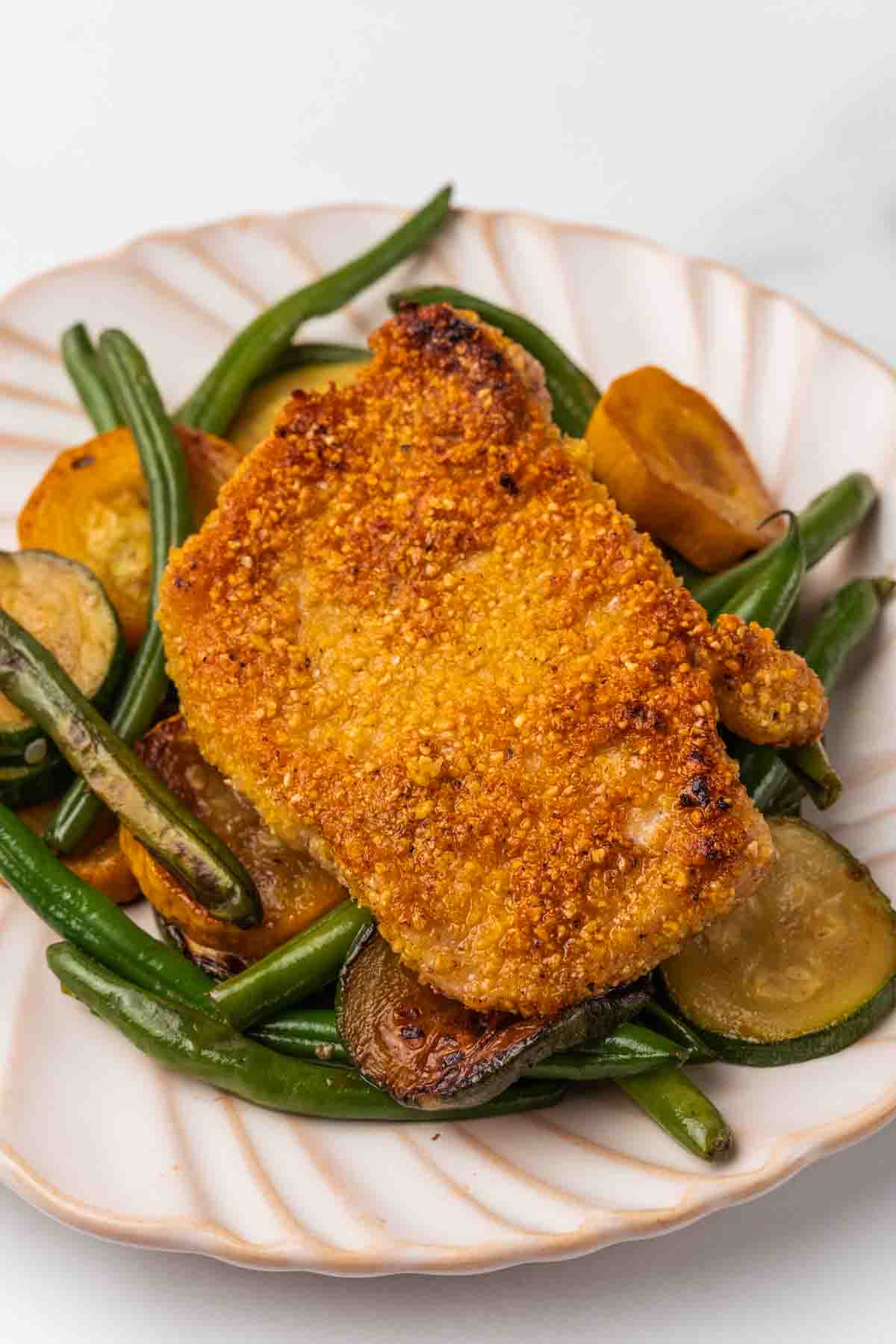 Why are my pan-fried pork chops tough?
If your pan-fried pork chops came out tough, they are more than likely over-cooked.
Pork is a lean protein, which means it is more prone to drying out. To avoid that, I recommend first using bone-in meat. Second, I recommend keeping a meat thermometer on hand to make sure the internal temperature doesn't surpass 145ºF.
If you have some extra time, try soaking the pork chops in buttermilk brine before cooking them. This adds moisture and tenderizes the meat, so if you do accidentally cook them too long, they are less likely to become dry!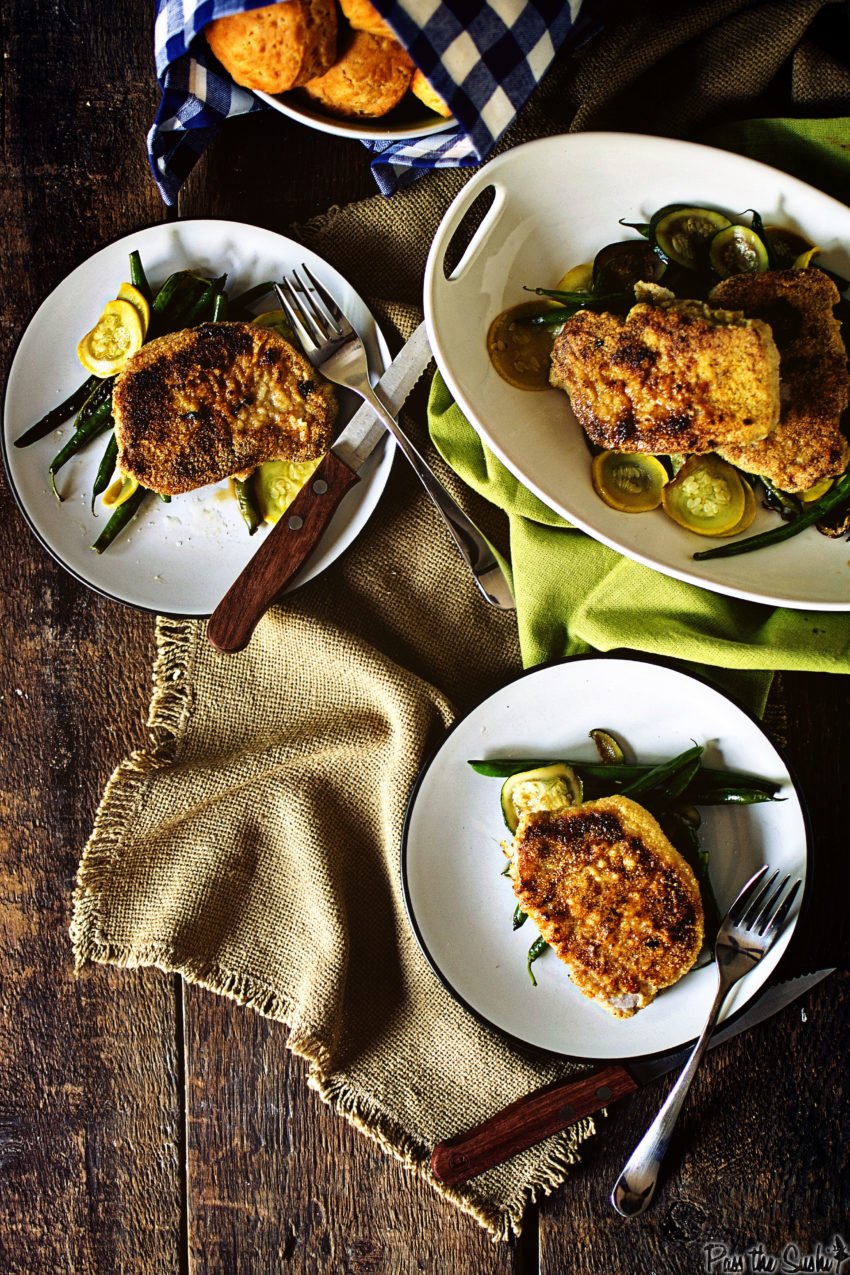 Tips, tricks, and notes for this recipe
Bring to room temperature.
I recommend setting the pork out on the counter about 30 minutes before you cook it. If it's closer to room temp it will cook more evenly!
Pat it dry.
Before you season and cook the pork, gently pat it dry with a paper towel to remove excess moisture. Less moisture means crispier pork!
Use a cast-iron skillet
Cast-iron conducts heat better to cook the meat more evenly and achieve a better sear.
Check the temp.
I always use a meat thermometer, especially with leaner meats, to check the internal temperature. We don't want over-cooked, dry meat! 
Pork chops need to be cooked to 145F according to USDA.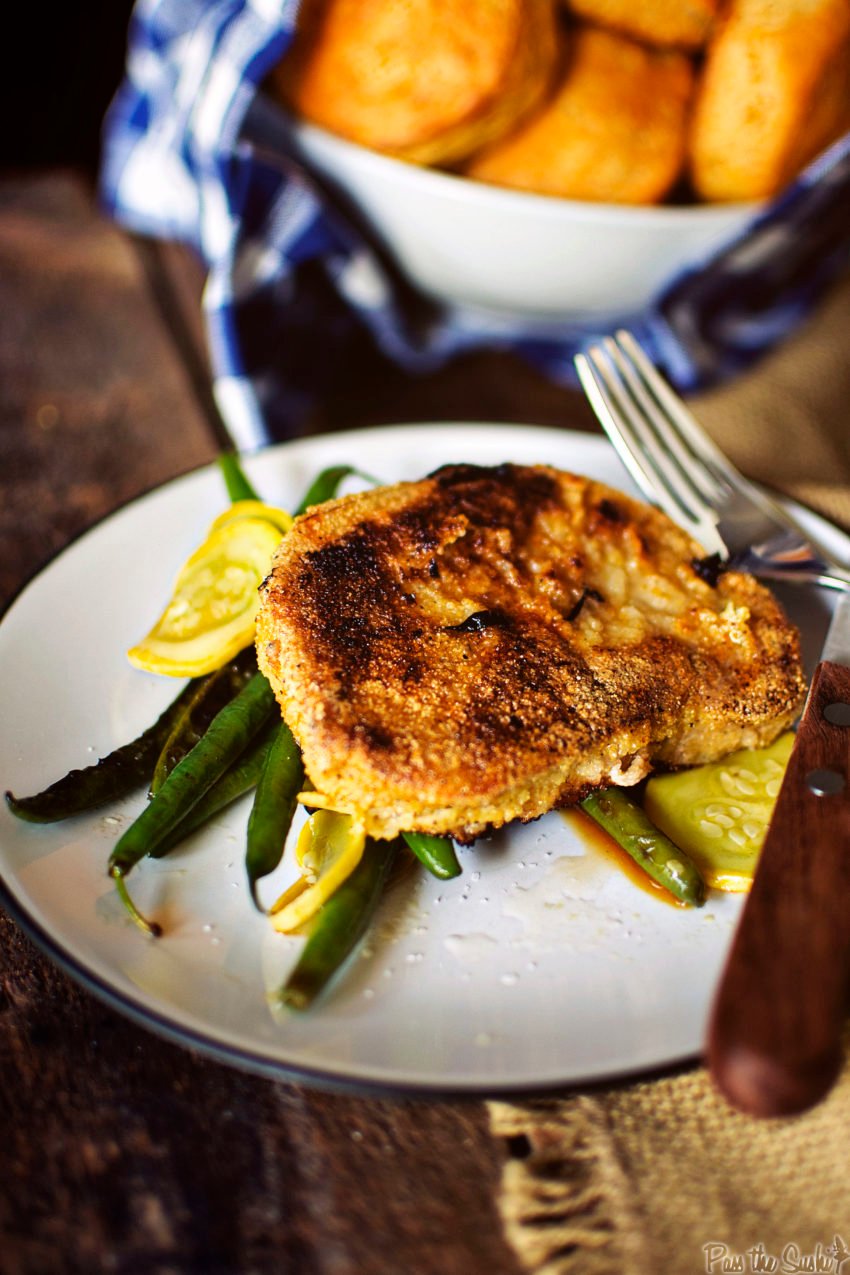 Serving suggestions
Since this recipe includes sautéed veggies, this meal is pretty great as-is! However, if you want to bulk it up more, serve these pork chops and veggies next to a pile of mashed potatoes, baked potatoes, wild rice salad, or homemade coleslaw!
How to store
Leftover cooked pork chops will last in an airtight container in the fridge for 3-4 days or in the freezer for 2-3 months. To reheat, thaw overnight in the fridge if frozen then heat in a hot skillet to warm and re-crisp.
More pork recipes to try
If you've tried my Cornmeal Coated Skillet Pork Chops, or any other recipe on GirlCarnivore.com please don't forget to rate the recipe and let me know where you found it in the comments below. I get inspired by your feedback and comments! You can also FOLLOW ME on Instagram @girlcarnivore as well as on Twitter and Facebook.
Cornmeal Coated Skillet Pork Chops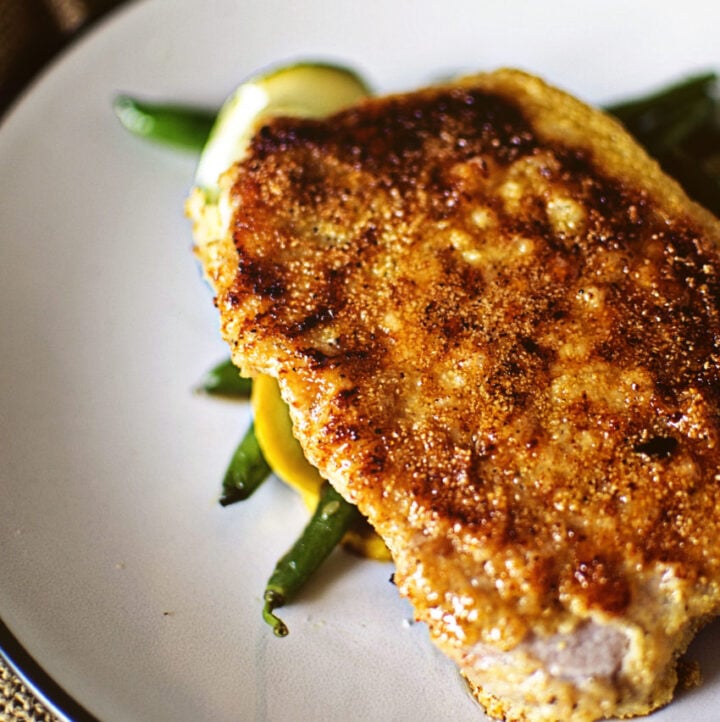 This quick and easy recipe for pan fried pork chops is a timeless classic. With a quick coating in cornmeal for texture and crunch and a fast cook in a skillet dinner is ready in under 35 minutes.
Ingredients
6

oz

fresh green beans

1

small fresh zucchini

sliced thin

1

small yellow squash

sliced thin

4

tsp

olive oil

3

tbs

cornmeal

1/4

tsp

salt

1/4

tsp

cayenne pepper

1/4

tsp

pepper

1

egg white

lightly beaten

2

tsp

water

8

oz

pork chops

Cut thin, about 1/2" thick abut 4oz each
Instructions
Cook the veggies
Heat 2 teaspoons oil in a large skillet over medium-high heat.

Add the green beans and sliced squash and cook, covered for 8 to 10 minutes, stirring once or twice while cooking.

Remove from heat and set aside.
Coat the pork chops
Meanwhile, whisk the salt, cayenne pepper, pepper, and cornmeal in a small bowl.

Arrange a coating station by placing the egg white in one shallow dish and mix with the water.

Place the cornmeal mix in another dish next to it, and a wire rack over a plate for the pork to sit on before frying.

Pat the pork chops dry and dip each in the beaten eggwhite. Coat each in the cornmeal mixture and set on the wire rack until ready to fry.
Fry the Pork Chops
Wipe out the empty skillet carefully with a paper towel and tongs. A

dd the remaining 2 teaspoons of oil and return to medium-high heat.

When the oil is hot, place the pork chops in the pan, working in batches if needed, and cook 4 to 6 minutes until golden and cooked through, flipping once halfway through cook time.
Serve
Serve the pork over the sauteed veggies.
Notes
From: BHG Magazine Cooking for Two 2014
Pork chops should temp at 145F for serving. 
The trick to this recipe is thin-cut pork chops. If they are thicker than 1/2″ increase the cooking time to make sure they are cooked through. 
Nutrition
Serving:
1
g
|
Calories:
372
kcal
|
Carbohydrates:
24
g
|
Protein:
32
g
|
Fat:
18
g
|
Saturated Fat:
4
g
|
Polyunsaturated Fat:
2
g
|
Monounsaturated Fat:
10
g
|
Trans Fat:
1
g
|
Cholesterol:
76
mg
|
Sodium:
386
mg
|
Potassium:
1196
mg
|
Fiber:
6
g
|
Sugar:
8
g
|
Vitamin A:
1078
IU
|
Vitamin C:
45
mg
|
Calcium:
74
mg
|
Iron:
3
mg