This post may contain affiliate links. Please read my disclosure policy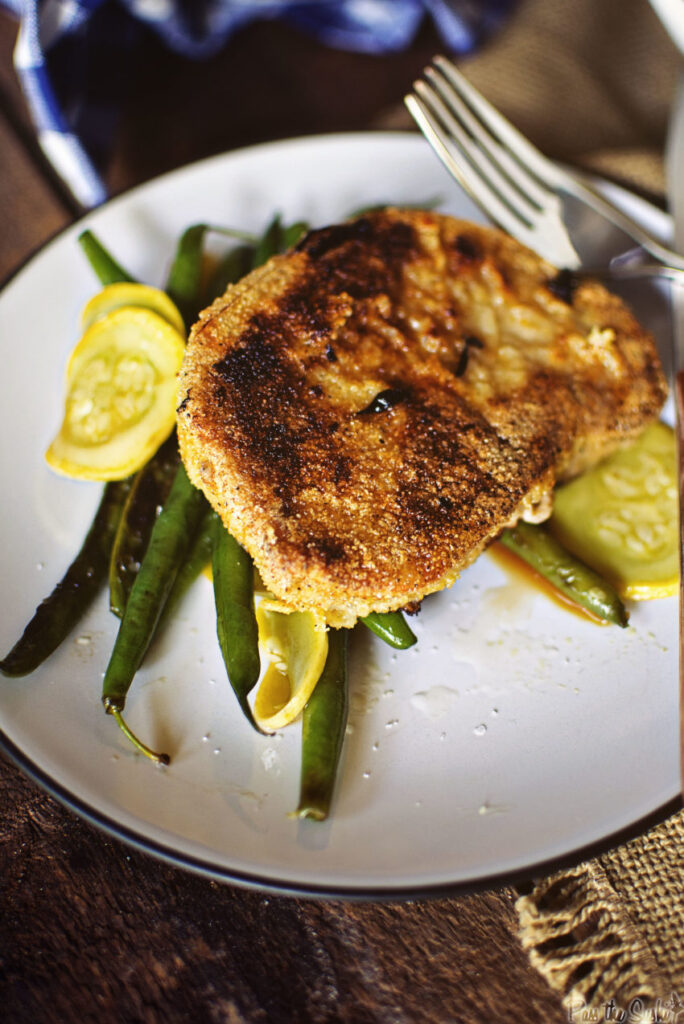 Don't let the day to day dull the routine. Weeknight quickies shouldn't leave you unsatisfied and lusting for something more. No, weeknight quick dinners should be everything you need after a hard days work to satisfy your hunger and taste delicious all while being fast and easy. Instead of eyeing up the juicy new offerings of the in and out joint while wasting time on the drive home, a great weeknight quicky should have you rushing to the front door with excitement for what's really good for you. And this is an example of just that. A swift dinner loaded with seasonal local veggies and pan seared pork. Light and healthy. The kind of meal that fills you up and makes you feel good all at the same time.
And isn't that really what it was intended for?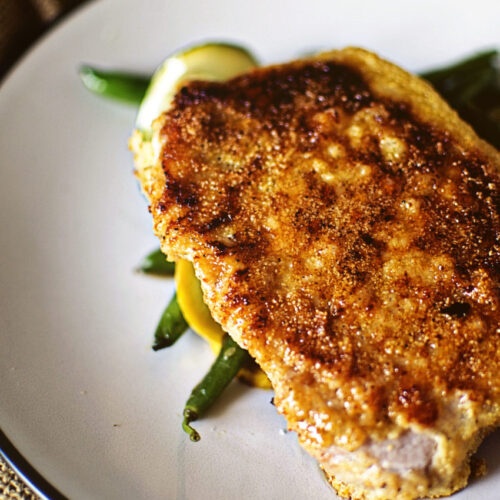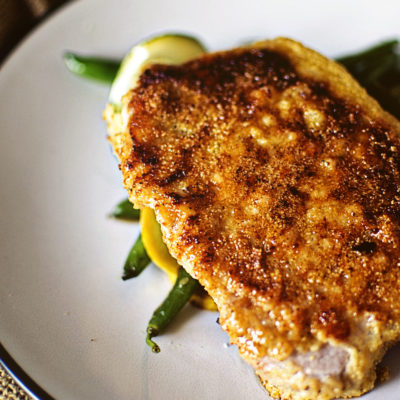 Ingredients
6

oz

fresh green beans

1

small fresh zucchini

sliced thin

1

small yellow squash

sliced thin

4

teas olive oil

3

tbs

cornmeal

1/4

teas salt

1/4

teas cayenne pepper

1/4

teas pepper

1

egg white

lightly beaten

2

teas water

8

oz

pork chops about 1/2" thick
Instructions
Heat 2 teas oil in a large skillet over medium-high heat. Add the green beans and sliced squash and cook, covered for 8 to 10 minutes, stirring once or twice while cooking. Remove from heat and set aside.

Meanwhile, whisk the salt, cayenne pepper, pepper, and cornmeal in a small bowl. Arrange a coating station by placing the egg white in one shallow dish, the cornmeal mix in another dish next to it, and a wire rack over a plate for the pork to sit on before frying.

Pat the pork chops dry and dip each in the beaten eggwhite. Coat each in the cornmeal mixture and set on the wire rack until ready to fry.

Wipe out the empty skillet carefully with a paper towel and tongs. Add the remaining 2 teas oil and return to medium-high heat. When the oil is hot, place the pork chops in the pan, working in batches if needed, and cook 4 to 6 minutes until golden and cooked through, flipping once halfway through cook time.

Serve the pork over the sauteed veggies.
Notes
BHG Magazine Cooking for Two 2014