Some days you just want to sink your teeth into something with a load of flavor, a little guilt and a guaranteed earned smile of satisfaction. This Fried Pork Chop Sandwich with Rosemary Truffle Aioli Recipe is your fate aligning with destiny.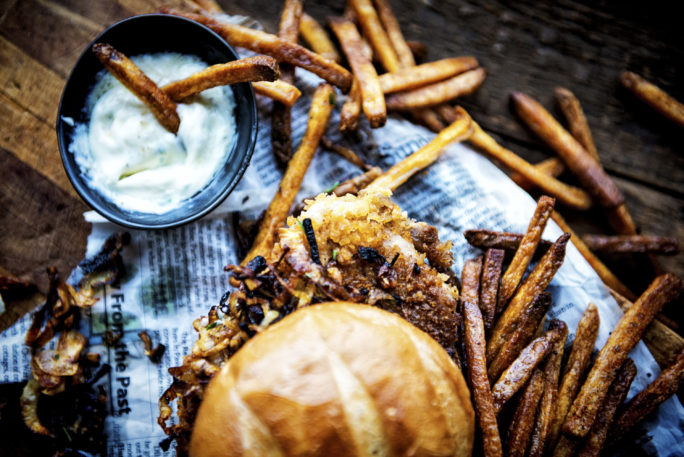 There's something about the idea of a pork chop sandwich. It's an unabashedly shameless combination of sinful ingredients combined and layered seductively on one another just hoping to provoke your most basic senses. There is the pork chop, fried to a golden perfection, in the way only a sultry mix of butter and oil can create. The caramelized onion, everyone's secret love affair. The rosemary warmed on the toasted bun, mingling with the other savory scents, setting it all over the edge.
Add crispy fries to the mix tossed in truffle oil of their own, and seasoned with minced rosemary and this may be the most upscale down home food you've ever laid eyes on.
Like all good things, when I get a craving for something, I let the idea linger on my mind for a few days, weeks even, as I allow the meal to come together. Sure, I could have rushed out and fried a chop devoured. And most likely, the craving would have been satiated. But this wasn't something to be rushed. I let the idea lounge around in my brain until I found the perfect buns and gathered some fresh herbs. The idea finally solidifying in my kitchen to the rhythm of blues with a glass of red. This Fried Pork Chop Sandwich with Rosemary Truffle Aioli was the perfect harmony coming together at the right moment. Just like all good kitchen experiments should be.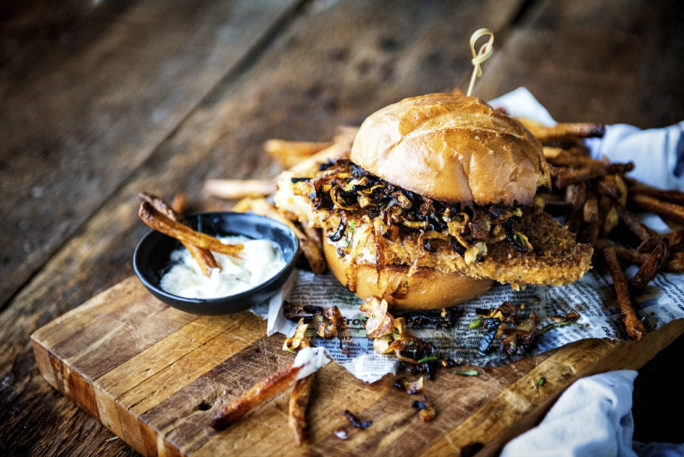 The tools and hacks I use for making this recipe on the weeknight fly:
Wire Racks for prepping and drying 
Herb Sheers
Large Flake Sea Salt (seriosly, this stuff makes all the difference in the world)
Cluck and Squeal All Purpose Rub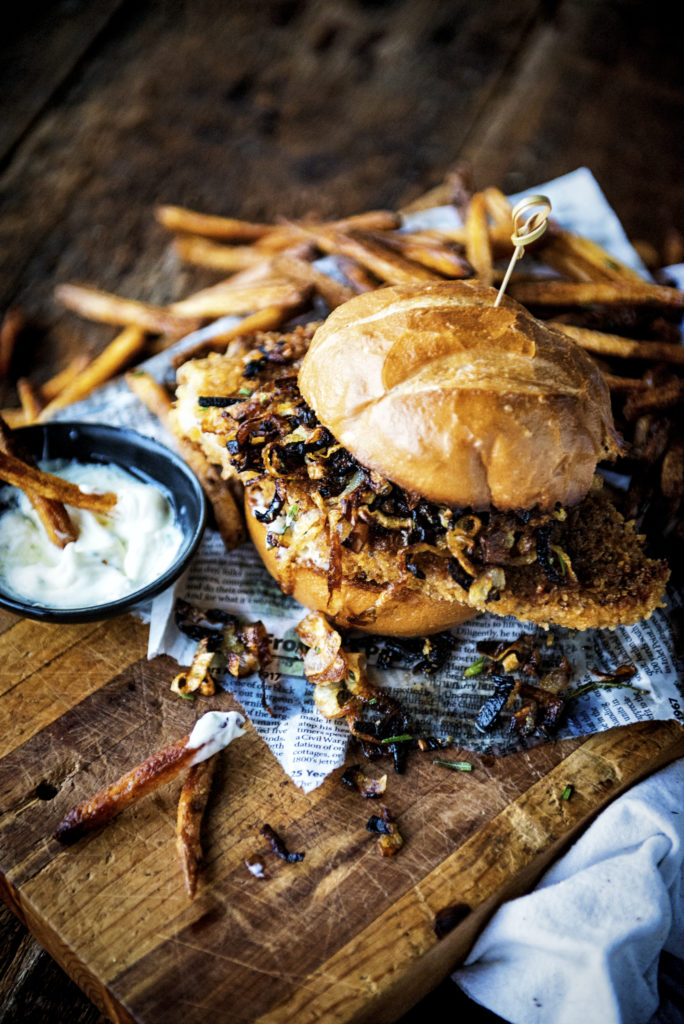 Fried Pork Chop Sandwich with Rosemary Truffle Aioli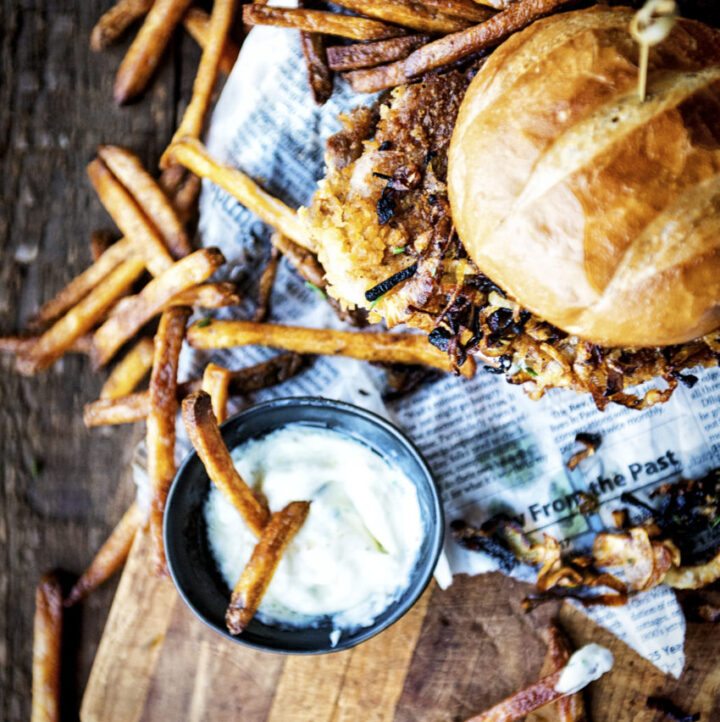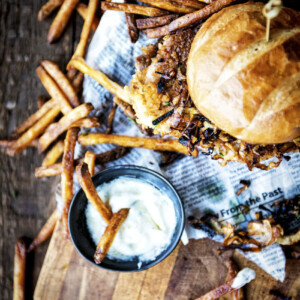 When it comes to amazing meals, this pork chop sandwich is it! Crispy tender fried chops in between buttery buns with a delicious aioli! It's a humble meal elevated to new levels.
Ingredients
1

cup

panko

salt and pepper

2

tsp

BBQ seasoning

2

eggs

3

tbs

butter

divided

2

tbs

olive oil

4

thin cut boneless pork chops

patted dry

1

onion

sliced thin

1

tsp

rosemary

finely chopped

1/2 - 1

tsp

truffle oil

1

cup

homemade mayo base

1/2

tsp

coarsely ground black pepper

4

big fat buttered and toasted buns
Instructions
Fry the pork chops
Create your work station by arranging the seasoning line for your pork.

Mix the panko, a heavy dash of salt and pepper with the bbq seasoning in a shallow dish. Whisk the eggs in another shallow dish next to the panko.

Dip the pork chops in the whisked eggs and then dredge in a thick coating of panko, flipping to cover all.

Arrange on a wire rack and repeat until all chops are coated.

Heat the butter and oil in a heavy cast iron pan over medium high heat, until the bubbling of the butter has subsided.

Fry the pork chops one or two at a time, 3 to 4 minutes a side, until golden and crispy. 

While they fry, saute the onion in another skillet over medium heat in the remaining 1 tablespoon butter.

Season with a light dash of salt and pepper.

Saute until soft and slightly browned.
Make the rosemary truffle aioli
Whisk the rosemary and truffle oil into the homemade mayo base.

Season with the coarsely ground black pepper and a touch of salt if needed.

Sprinkle fresh chopped rosemary and extra pepper over top of a serving dish.
Serve
Meanwhile, as the pork chops finish up, remove to another wire rack and cover with foil while the buns toast and everything comes together.

Smear a healthy portion of the rosemary truffle aioli onto the buns.

Place the fried pork chops and sauteed onions on and top with the other half of the bun.

Devour with rosemary duck fat fries to be dipped in the remaining aioli.
Notes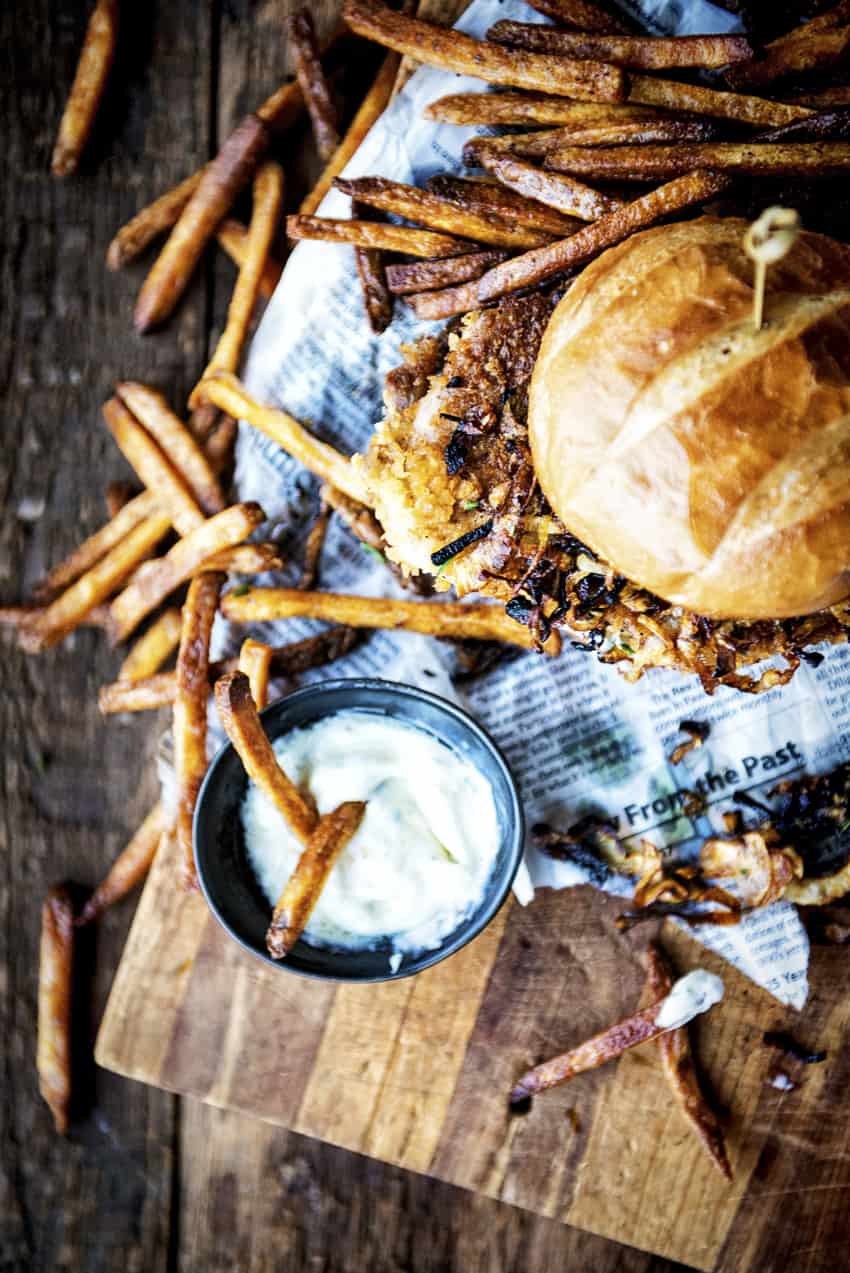 Nutrition
Serving:
1
g
|
Calories:
1016
kcal
|
Carbohydrates:
46
g
|
Protein:
40
g
|
Fat:
74
g
|
Saturated Fat:
18
g
|
Polyunsaturated Fat:
29
g
|
Monounsaturated Fat:
23
g
|
Trans Fat:
1
g
|
Cholesterol:
218
mg
|
Sodium:
941
mg
|
Potassium:
696
mg
|
Fiber:
3
g
|
Sugar:
4
g
|
Vitamin A:
491
IU
|
Vitamin C:
2
mg
|
Calcium:
143
mg
|
Iron:
5
mg