This smoked pit beef sandwich is a hearty char-grilled eye of round roast sliced thin and drenched in a rich gorgonzola smokehouse cheese sauce with sliced onions and an airy bun for that perfect bite every time.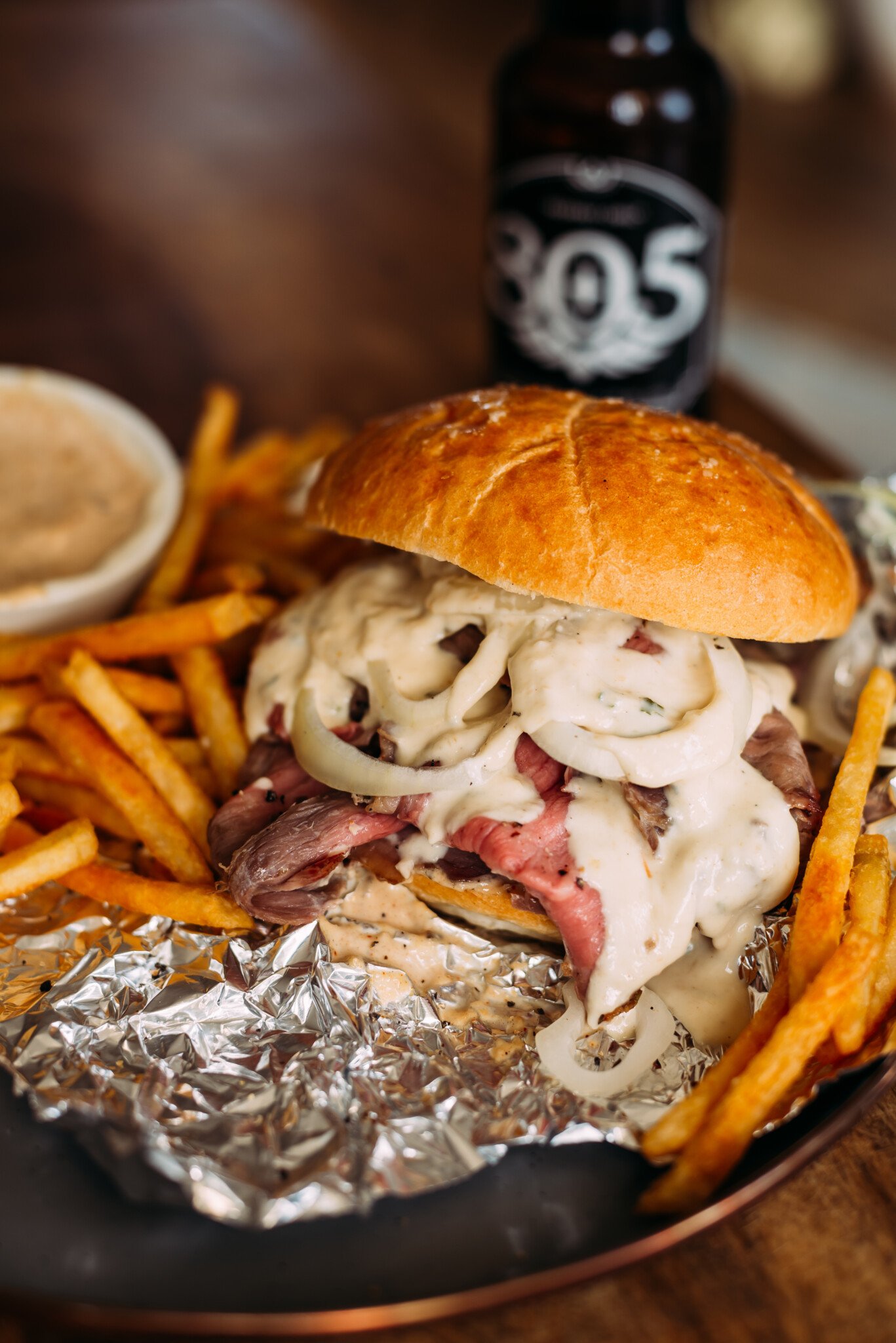 It started with the roast, or maybe leftover smoked prime rib….
Pause… It actually started in a little roadside shop in Maryland, where pit beef stakes its claim to fame.
Unlike a low and slow cook, where the beef shreds for killer bbq sandwiches, this roast only cooks until it reaches medium-rare and then is pulled off the heat to be shaved thin.
It doesn't have the heavy smoke flavor of barbecue and is served wrapped in foil with a peppery horseradish sauce and thinly shaved onion. I'm pretty sure there's some major chain that claims to have the beef, but if you want a true sandwich, it starts in industrial pockets of hard-working Americana Maryland.
For those of us who can't pop in off Rt. 40 for a foil-wrapped sandwich, here's one to level up your game at home.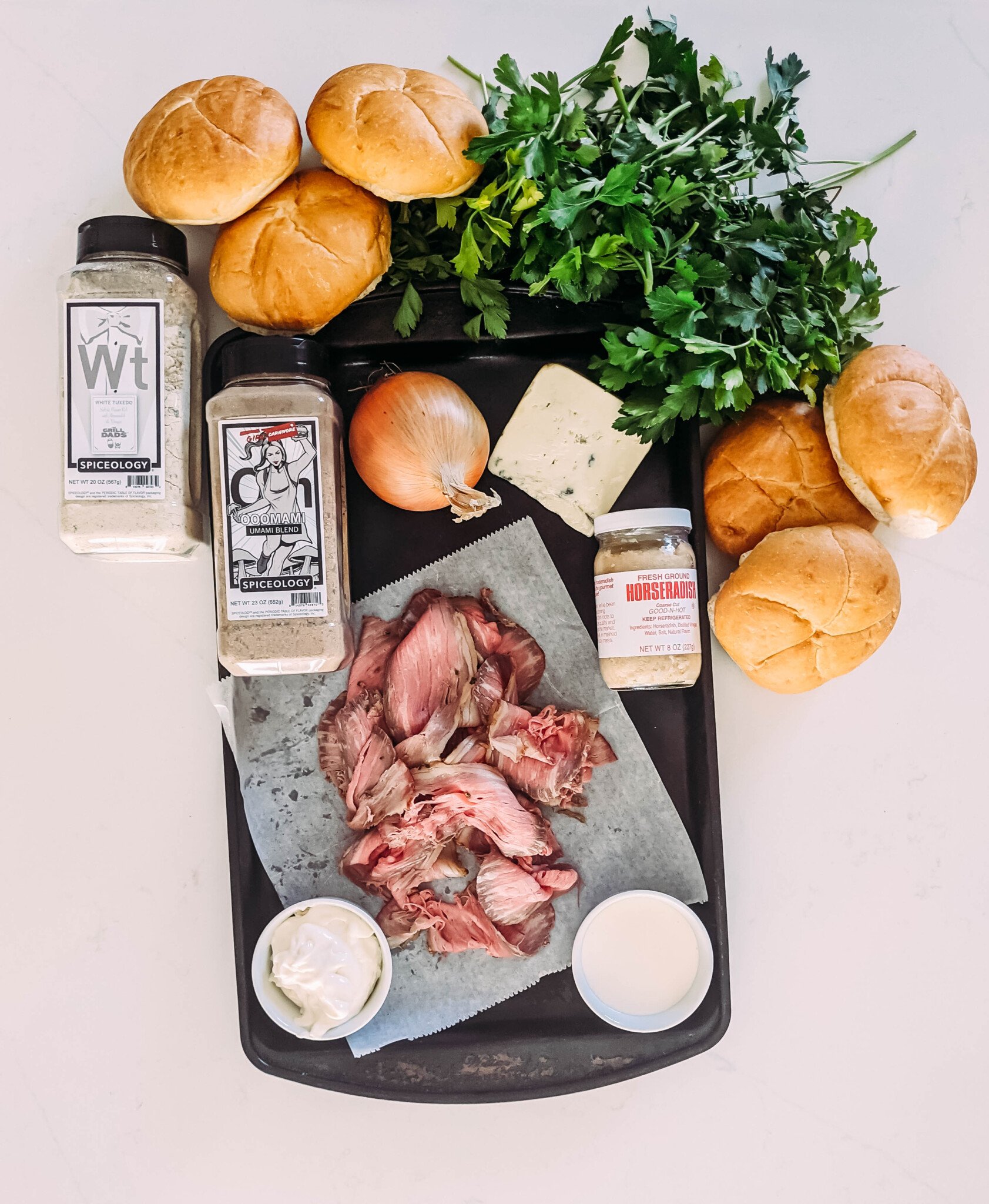 What you need:
Slow-smoked roast beef is where you want to start for this recipe – here is my base recipe I use every time for charcoal grilled roast beef. It's rubbed in a horseradish herb crust and is smoked to just 125 and then allow it to cool. It's a great start for this recipe and the perfect way to use up leftovers.
You'll also need some gorgonzola (splurge on the smoky one for more intense flavor), another melty cheese, like Monterey Jack, heavy cream, White Tux Spice Blend, GirlCarnivore Ooomami Blend, mayo, onion, and soft buns.

Special tools are a deli slicer – if not a well-sharpened knife will do the trick and aluminum foil for steaming the meat.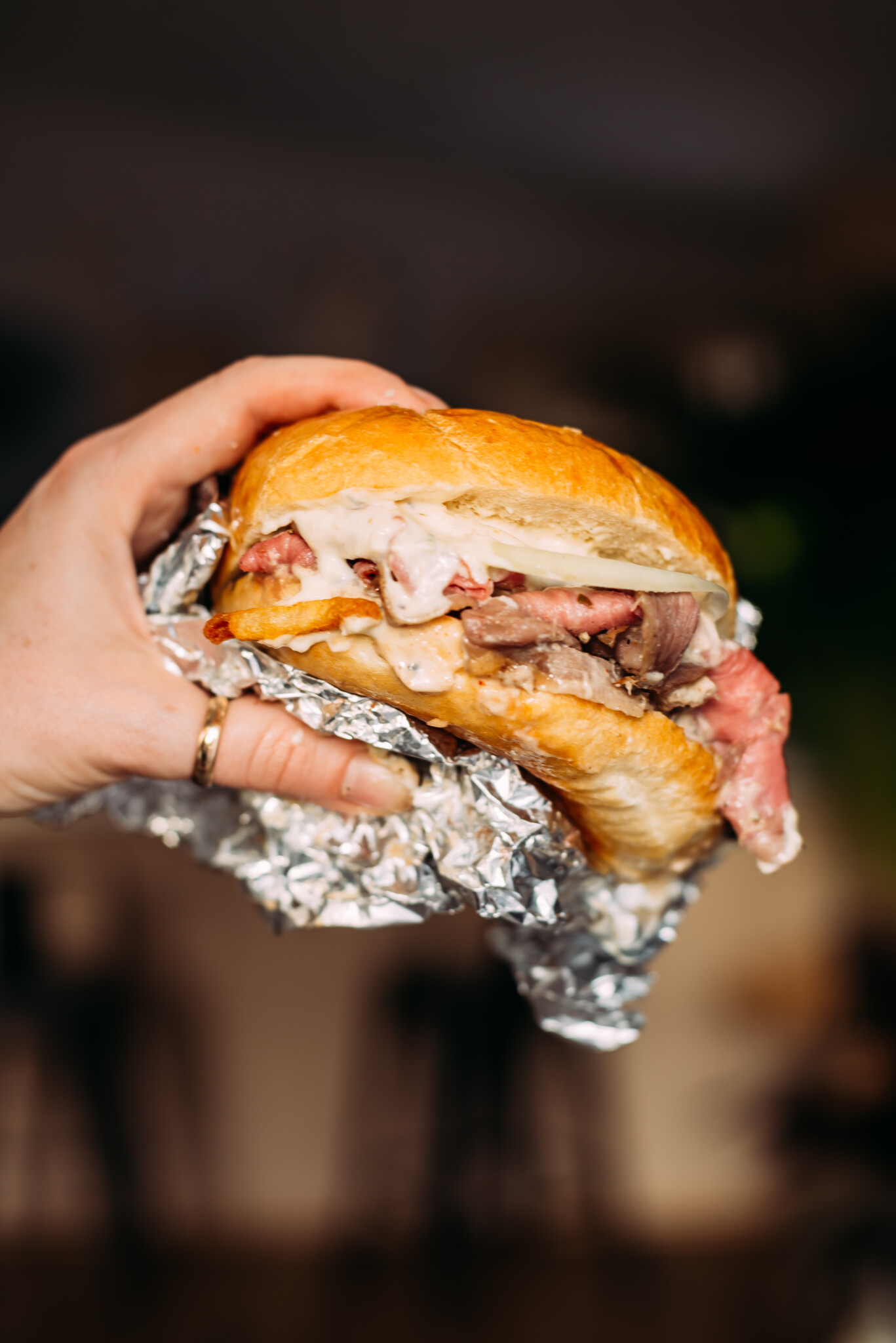 Making Pit Beef Sandwiches at home:
The trick to good pit beef at home is shaving the beef thin and still keeping everything hot. I like to cool my roast entirely, and then shave off just what I need. The cool temp keeps the meat from becoming soft while slicing.
After the beef is shaved, use steam to bring it back to heat while keeping everything moist.
While the beef steams, a quick aioli is whipped up with a pinch of umami and horseradish.
Lastly, the cheese sauce comes to life – by simmering just a bit of cream enough to stir the crumbly gorgonzola into with extra spices to drown the sandwich in.
All before topping with a thin slice of onion.
TL;DR – Pit Beef, it's delicious and not that complicated. Promise. Meat, cheese sauce, good bread. Bam.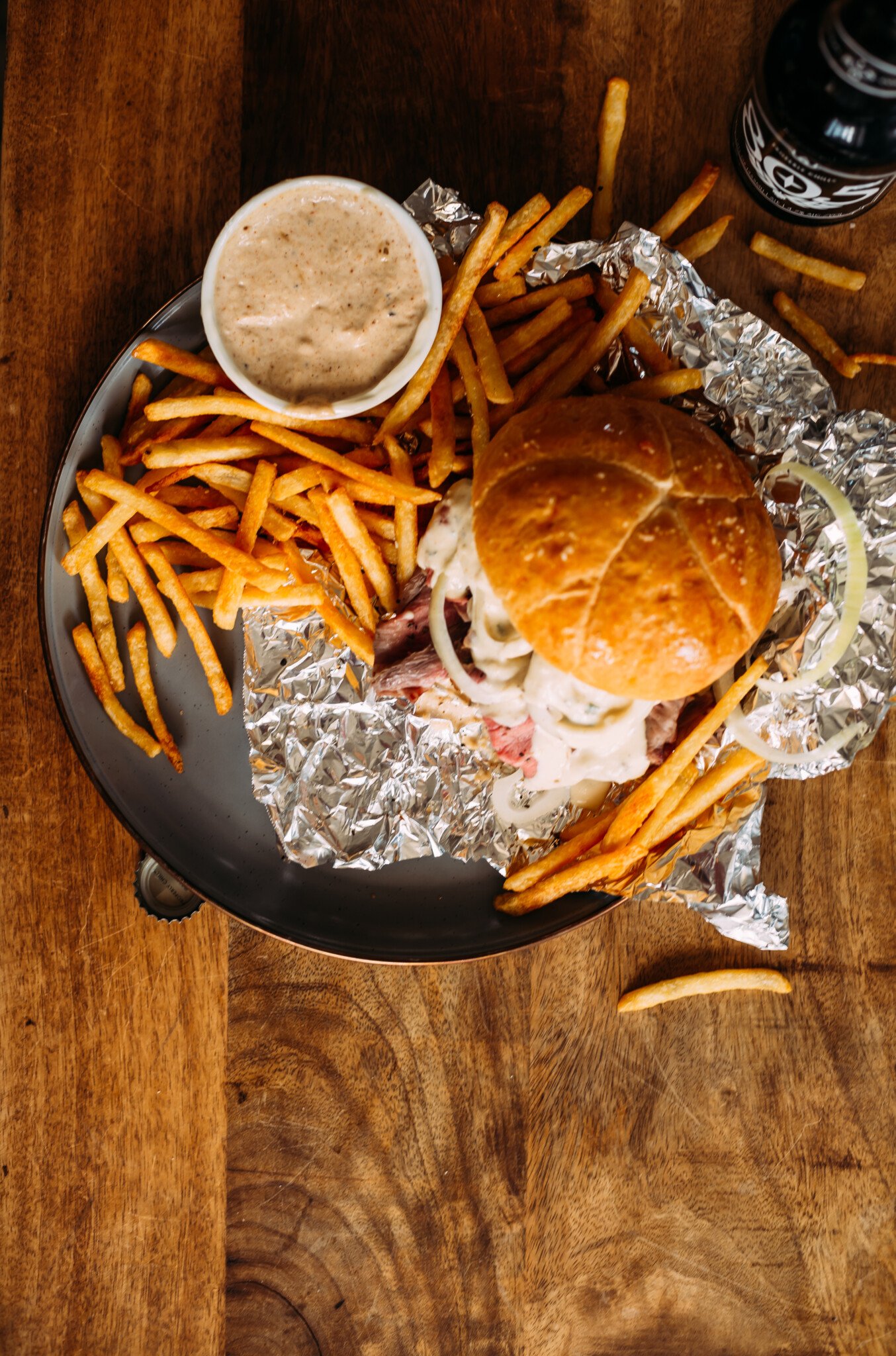 Campfire Foil Wrapped Pit Beef Sandwiches:
We love campfire cooking, and this sandwich is a perfect recipe to bring on your next camp trip. Simply make the sandwich as direct, wrapping in foil and heating over indirect heat on your camp grill.
To make the cheese sauce, use the same instructions below on your camp stove or over the campfire in a small cast iron or other fire-safe sauce pan, whisking until melted and creamy over indirect heat or over medium-low on your camp stove.
Want more bold recipe inspiration? Try some of my favorite recipes
If you've tried my Pit Beef Sandwich Recipe or any other recipe on GirlCarnivore.com please don't forget to rate the recipe and let me know where you found it in the comments below.
I get inspired by your feedback and comments! You can also join in on the adventures on Instagram @girlcarnivore, Twitter & Facebook.
Pit Beef Sandwiches with Gorgonzola Cheese Sauce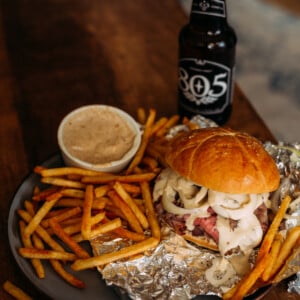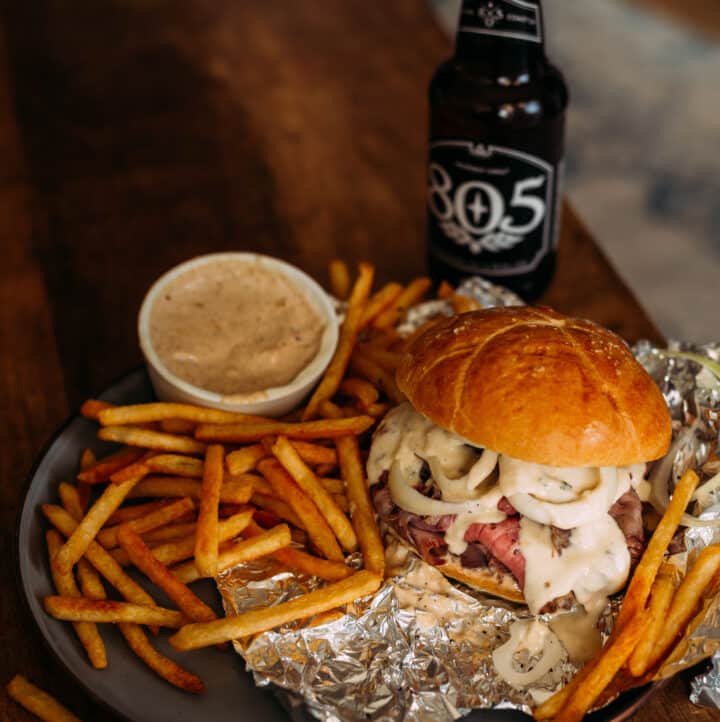 Smoked beef shaved thin piled on top of a soft bun with an ooomami based mayo and drenched in a peppery sauce of gorgonzola and horseradish.
Ingredients
For the Pit Beef Sandwich
1/4

cup

beef stock

4

soft buns

1/2

white onion

sliced thin
For the Gorgonzola Cheese Sauce
Instructions
Shave the Beef
Using a deli slicer, shave the beef as thin as is safely possible.
Steam the Beef
Preheat the oven to 300 degrees

Divide the beef into 4 equal portions and wrap in foil.

Pour the stock evenly into each packet.

Place the packets on a baking sheet and put in the oven for 15-20 minutes, until the beef is piping hot.
Make the Ooomami Mayo
Meanwhile, make the mayo by whisking the mayo, GirlCarnivore Ooomami blend, and horseradish in a bowl until thoroughly combined.
Make the Cheese Sauce
In a pan over medium-low heat, whisk the cream with the gorgonzola and Monterey jack cheese.

Add in the Ooomami and White Tux spice blends and whisk until thoroughly combined.

Allow the sauce to thicken over low heat, 3 to 5 minutes.

Remove from heat and whisk in the chives.
Assemble the Pit Beef Sandwich
Slather the buns with the Ooomami Mayo.

Top each bun with 1 packet of the foil wrapped heated beef.

Add sliced onions on top and drizzle with cheese sauce.

Top with remaining bun half and serve immediately.
Notes
This recipe uses leftover shaved beef for the best results. I do not recommend deli beef for this recipe. 
You can substitute blue cheese for gorgonzola if you prefer or omit it altogether and replace with a less fragrant melting cheese if desired. 
If you don't have a deli slicer at home, chill the beef and use a well-sharpened knife for the best chance at super thin slices. 
To Make Foil Wrapped Pit Beef Sandwiches for Camping:
Follow the instructions to make these sandwiches, wrapping them in foil and cooking them over your campfire grate on the cooler side of a dual zone fire. until heated through. This recipe would also work in an RV oven. 
For the cheese sauce, use a cast iron or other camping pan to whisk the cheese sauce over indirect heat to prevent scorching or over a camp stove set to medium low. 
Nutrition
Serving:
1
g
|
Calories:
913
kcal
|
Carbohydrates:
45
g
|
Protein:
51
g
|
Fat:
60
g
|
Saturated Fat:
25
g
|
Trans Fat:
1
g
|
Cholesterol:
171
mg
|
Sodium:
3176
mg
|
Potassium:
704
mg
|
Fiber:
6
g
|
Sugar:
7
g
|
Vitamin A:
1160
IU
|
Vitamin C:
54
mg
|
Calcium:
1034
mg
|
Iron:
18
mg