Are you looking for the perfect Eye of Round Roast recipe? A no fail, guaranteed perfect slice of red meat? This is it. And it's simple, just the way a good beef recipe should be. All about  the meat. No filler.
Red meat should always be handled with care. It's a simple sort of thing that if you have a good butcher and great cut, too much additional flavor really isn't necessary. Season liberally with salt and pepper and let the oven work its magic.
Often times, people ask me how I cook my beef. I usually reply with 'salt, pepper, and fat.' I know that sounds like it can't possibly be it, there has to be something – but really, good beef has a ton of flavor in it. It sparks that umami zone of your tastebuds and really satisfies something uniquely carnal (we can go into the science of beef's essential health benefits in a balanced diet over a beer someday as to why our tongues love the stuff on a hardcore Big Bang level, but I"ll save that lecture to when I'm speaking on stage in the Meat Labs). For now, what most home cooks need to embrace is the simplicity of letting the flavor shine of their whole foods. So, back to the beef, salt, pepper and fat. Keep it simple and watch your temps for a perfect cook, every time. Once you master that, we can go into perfecting out mother sauces.
(Sorry guys, I went a little Alton Brown-Meta there….)
This roast beef is guaranteed to be perfect with a simple oven roast and a good rest that creates a perfectly medium rare center with a flavorful brown outer layer. Add a few no fuss sides (especially this oven roasted fall veggie risotto) and you've got a feast without any hassle.
Turn up the oven and get to a little stress free cooking.
Most of all, make this Eye of Round Roast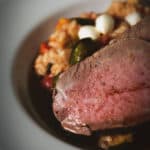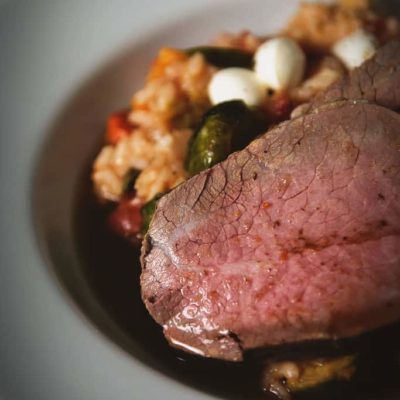 Perfect Eye of Round Roast Recipe
Ingredients
1 3

lbs

beef eye of the round roast

salt and pepper

1

lbs

stew meat

chuck diced into 1/2" cubes

1

small onion

chopped

1

carrot

chopped

4

cups

beef broth
Instructions
Allow the beef to come to room temperature 20 to 30 minutes before cooking. Pat dry and season all over with salt and pepper.

Preheat the oven to 450 degrees F. In a small roasting pan, arrange the stew meat and veggies. Nestle the eye roast on top of the meat and veggies and cook for 30 minutes, uncovered. Without opening the oven, turn down the heat to 300 and cook for 10 minutes longer, or until the beef temps 130 internally.

Remove from oven and tent in foil on a cutting board for 20 minutes before slicing and serving.

Meanwhile, make the au jus with the stew meat and veggies in the pan. Place the roasting pan over high heat on the stove top and deglaze the pan with 1 cup beef broth, scraping up any browned bits. Cook down until the broth has caramelized into a crusty layer. With a slotted spoon, remove any fat from the surface and repeat the steps two more times. Finally deglaze the pan with the one remaining cup and dissolve the crust, whisking everything together. Strain the au jus through a fine mesh strainer into a serving dish.

Slice the beef and serve with the au jus in small individual cups.