This steakhouse hamburger salad combines juicy smoked burgers nestled over dark leafy greens with a homemade keto blue cheese dressing and crispy onions for a filling meal that forgoes the bun.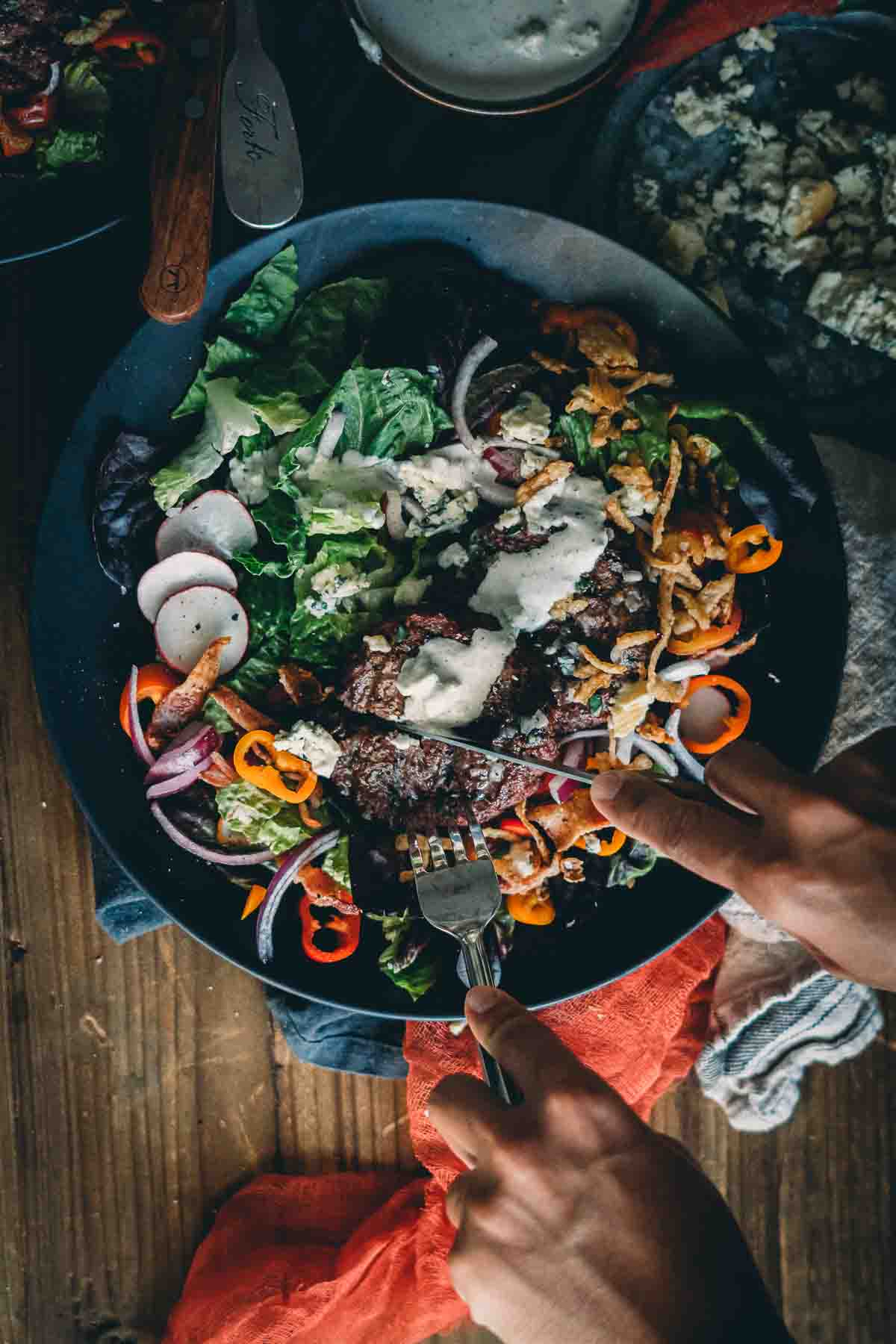 Some of the best meals I have ever had at restaurants have been steakhouse salads… Don't judge. We're all there for the beef.
But They also make fantastic savory, filling salads. This one combines ground beef patties over greens with quick blue cheese dressing for a totally keto-approved meal that checks every box. It's so good you won't even miss the buns.
These patties are gently formed and coated with classic steak seasoning before they are smoked to medium. They carry a big bold beefy flavor through every bite and at the fraction of the cost of a fancy steak.
With the creamy blue cheese dressing and crumbles mixed in, this salad is my summer go-to and is a perfect way to use up leftover hamburger patties.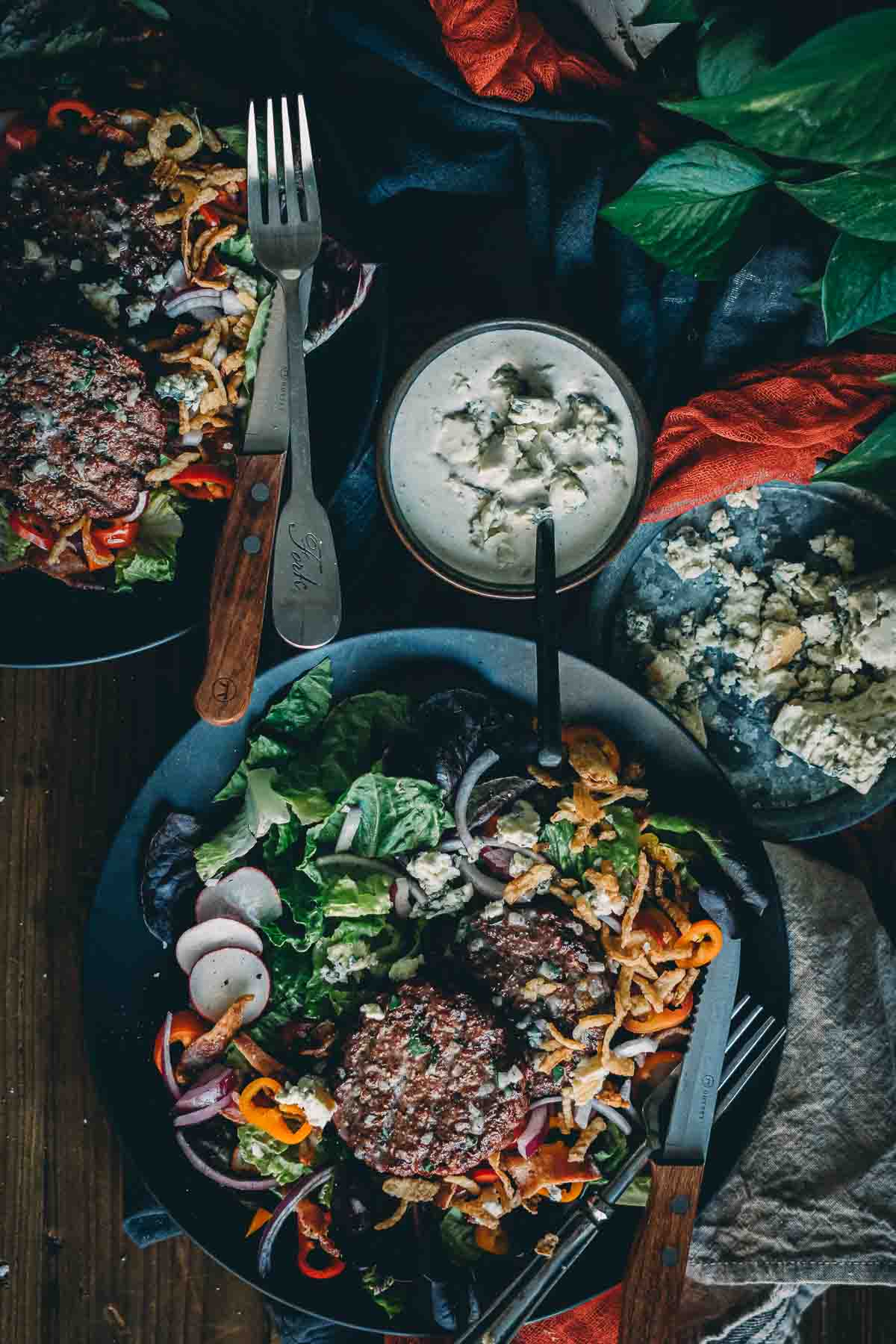 Why you'll love it
This recipe is perfect when you want to count carbs without sacrificing flavors.
It can use up leftovers
Quick and easy to make
The homemade blue cheese dressing is soooo good!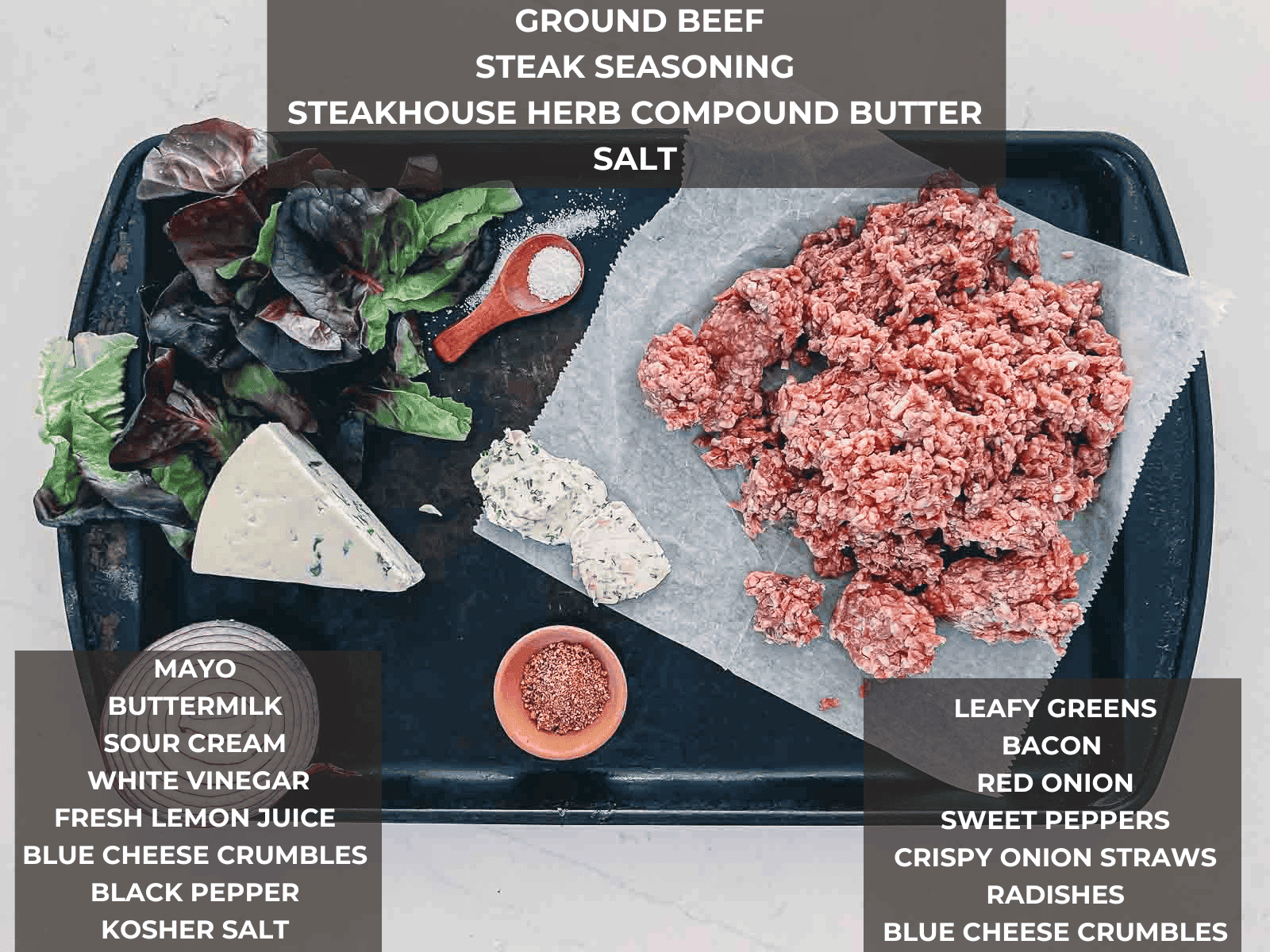 Ingredients for burger salad:
For the Smoked Burgers
Ground beef – use 80% to 85% ground beef. If the beef is too lean, it can dry out. (have leftover ground venison burgers? They work great in this salad too!
Steak seasoning – we love a good peppery steak seasoning like Jack Daniel's Steak Rub
Kosher Salt
Steakhouse herb compound butter – blend fresh parsley, rosemary, and thyme into softened Unsalted butter for a delicious herb butter.
For the Keto blue cheese dressing
Mayo – we love avocado mayo
Buttermilk
Sour cream
White vinegar – apple cider vinegar works too but has a more prominent flavor
Lemon – use fresh lemon for the best flavor
Blue cheese crumbles – look for a blue cheese wedge in the deli or specialty cheese department as these are usually cheaper than the pre-packaged blue cheese crumbles. If you want to substitute gorgonzola, that works too.
Black pepper & Kosher salt
For the Steakhouse salad
Leafy greens – dark leafy greens, a combination with spinach, peppery arugula, red and green leaf lettuce are the best for this hamburger salad. Romaine works great for added crunch too
Bacon – cooked and crumbled, because who doesn't want bacon on their cheeseburger?
Red onion – white onion works too
Sweet peppers – diced bell peppers work as a substitute
Crispy onion straws – our favorite brand is Fresh Gourmet for clean ingredients, texture, and flavor.
Radishes – for added peppery texture
Blue cheese crumbles – because extra cheese is never a bad thing. If swapping for gorgonzola in the dressing, use that here as well. Both melt beautifully over the hot burger patty.
And any other toppings you like in your salad!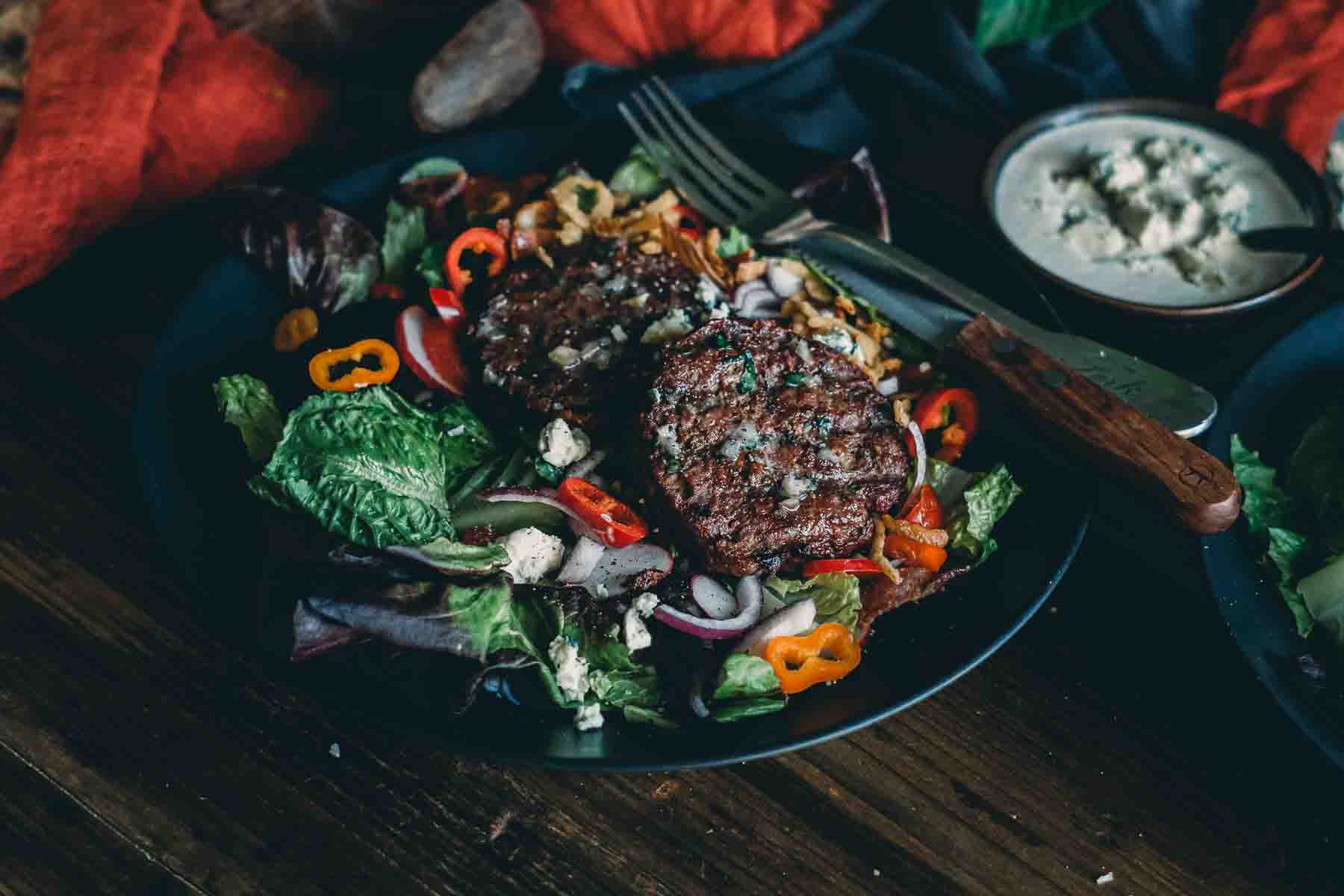 How to make:
Start by prepping the burger patties. Simply mix the steak seasoning with the ground beef in a bowl. Gently form 10 patties, about 1.5 oz each.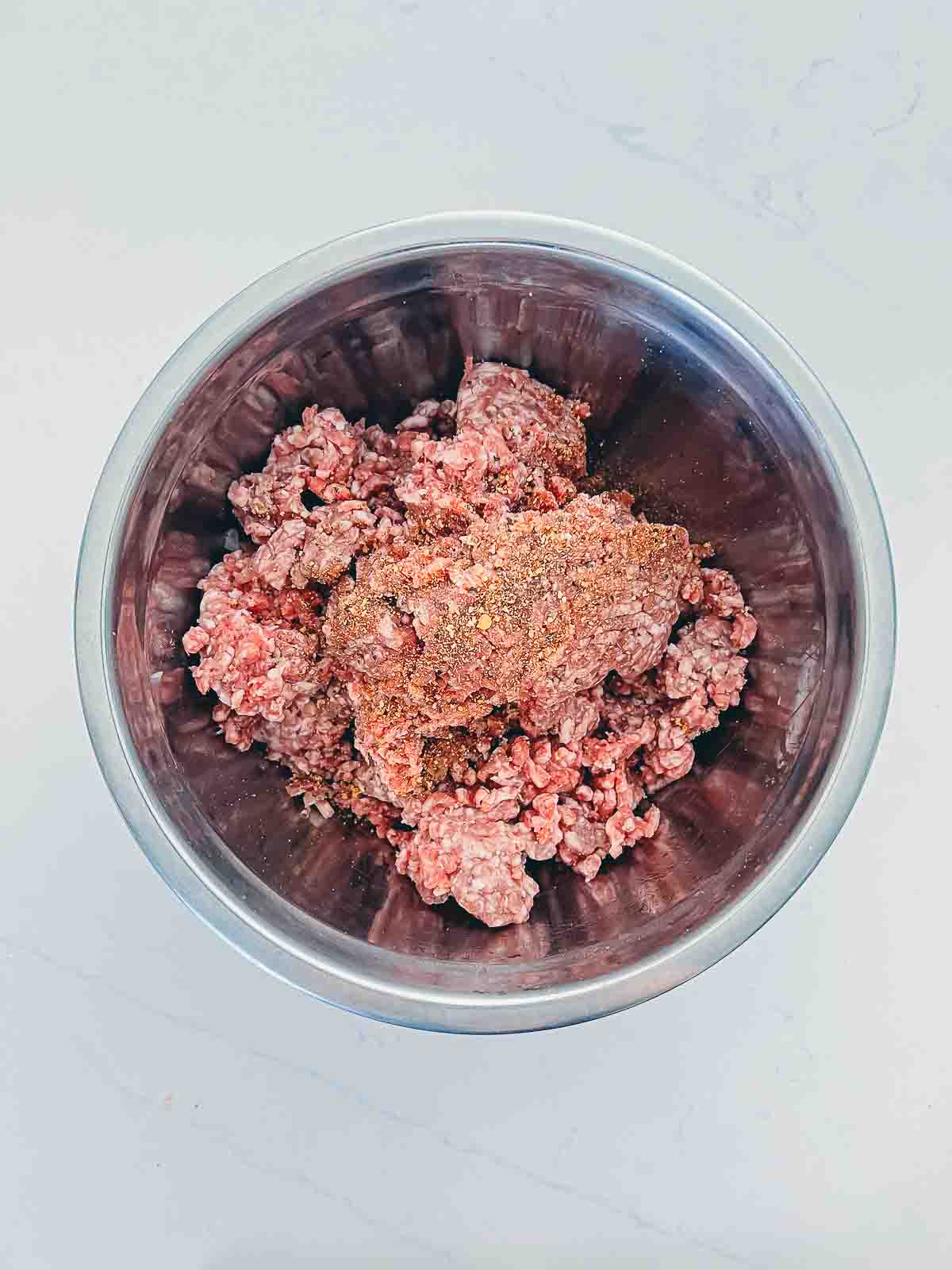 Top 5 of the ground beef patties with a cube of herb compound butter.
Then place the remaining 5 patties over top and pinch the edges to seal them together.
Using you thumb, gently press a divot into the center of each patty.
Place the burgers in the fridge for at least 30 minutes before cooking.
Then fire up the grill for indirect heat, creating a 2-zone fire so you can smoke the burgers. If using a pellet smoker or gas grill, set the grill to 225 degrees F. Be sure to add a smoker tube fillet with pellets or a smoker box filled with woodchips to the grates to add extra smoke flavor.
For a charcoal grill, arrange direct and indirect zone by piling lit coals to one side of the grill and adjust the air vents to maintain an even temperature of 225F. When ready to grill, add wood chips directly to the coals, or in a foil packet over the coals.
See more details on how to use woodchips while grilling burgers here.
Once the smoker is preheated, arrange the patties on the cooler side of the grill and close the lid. Allow the burgers to smoke for 45 to 50 minutes before or until they reach an internal temperature of 145 degrees f with an instant-read meat thermometer.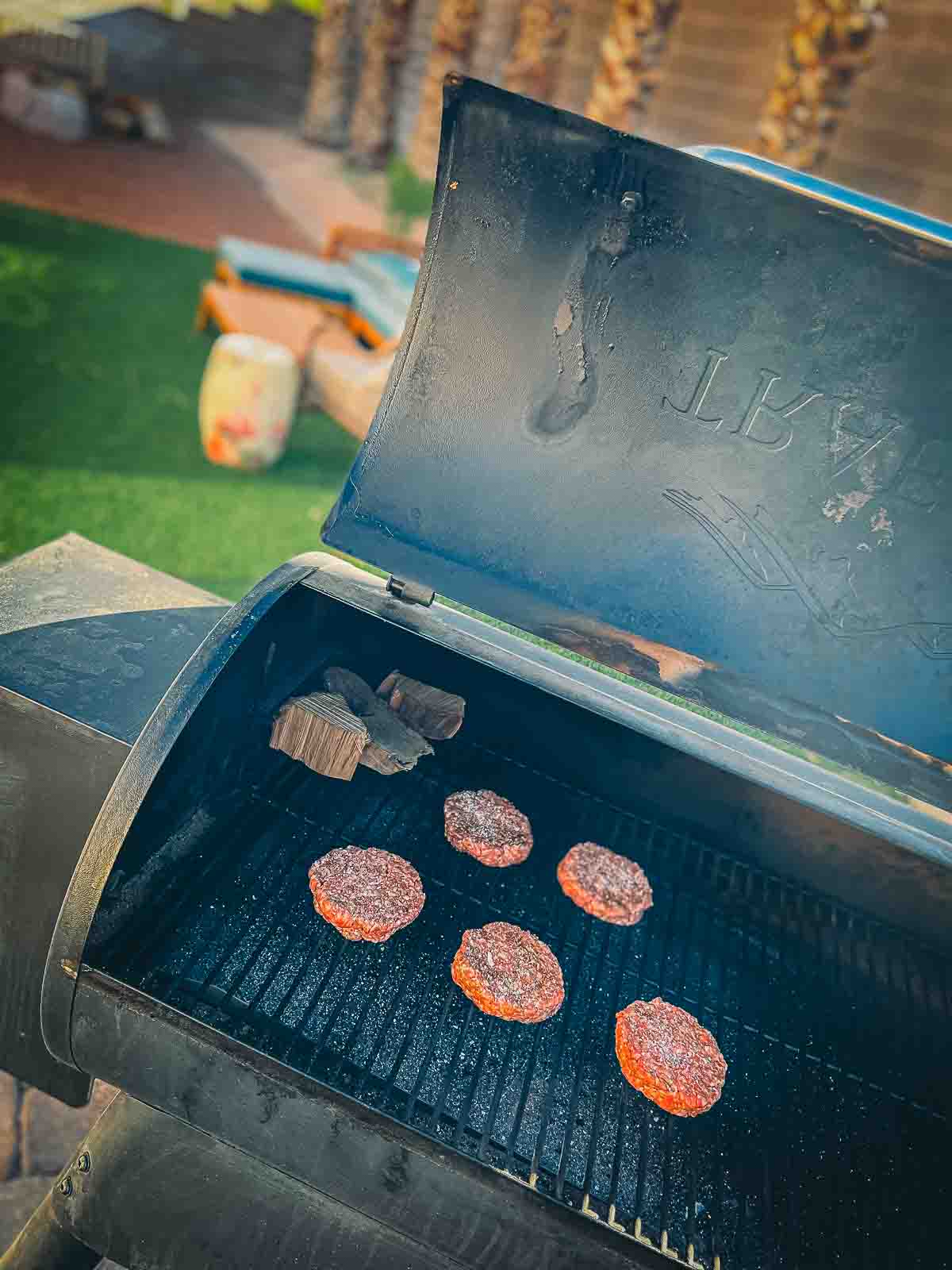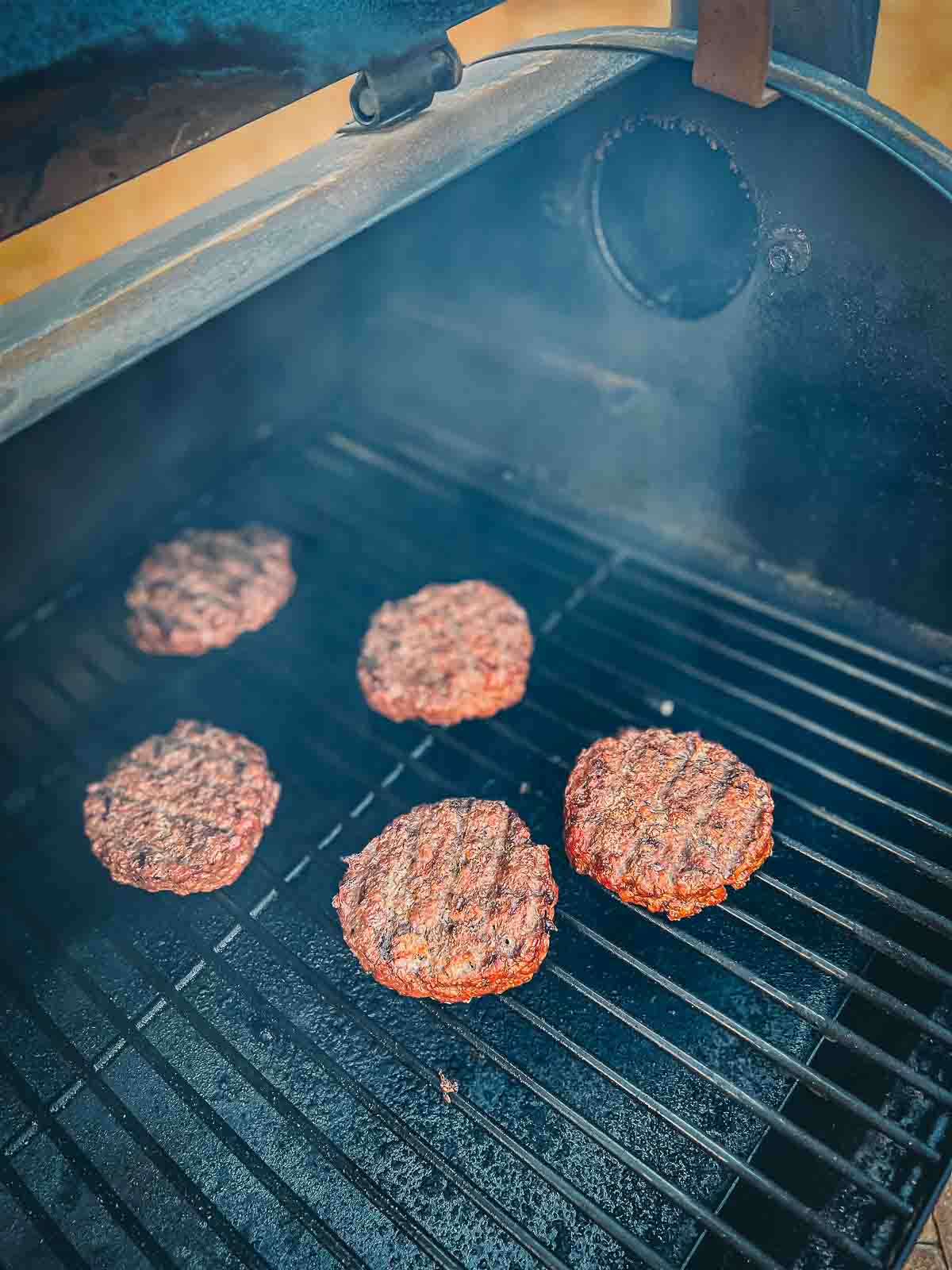 While the burgers are smoking, whisk the blue cheese dressing ingredients together and place them all in a mason jar. Seal and shake, then store in the fridge until ready to use.
Once the burgers are done cooking, let them rest while you toss the salad ingredients together in a large bowl.
Serve the smoked burgers hot over top of the salad with extra blue cheese crumbled over top, freshly ground black pepper, and a pinch of freshly minced parsley. Don't love blue cheese, that's ok, try this amazing keto ranch dressing instead.
Tips:
Since you're smoking the burgers, you can choose to flip them or not. If you want to sear them at the end to add a crust, pull them at 135F, then sear in hot cast iron. However, it's not needed; these are juicy beef patties without it.
The blue cheese dressing can be made up to 3 days ahead of time and stored in the fridge.
If you don't like blue cheese dressing, this recipe works great with homemade ranch dressing too for this hamburger salad.
What to add to serve with this steakhouse salad
This salad is a complete meal by itself. However, it pairs great with breadsticks or biscuits (if you're not keto) or a simple soup in the winter.
Drink a glass of red wine (+21) alongside, and for dessert, try homemade salted caramel budino.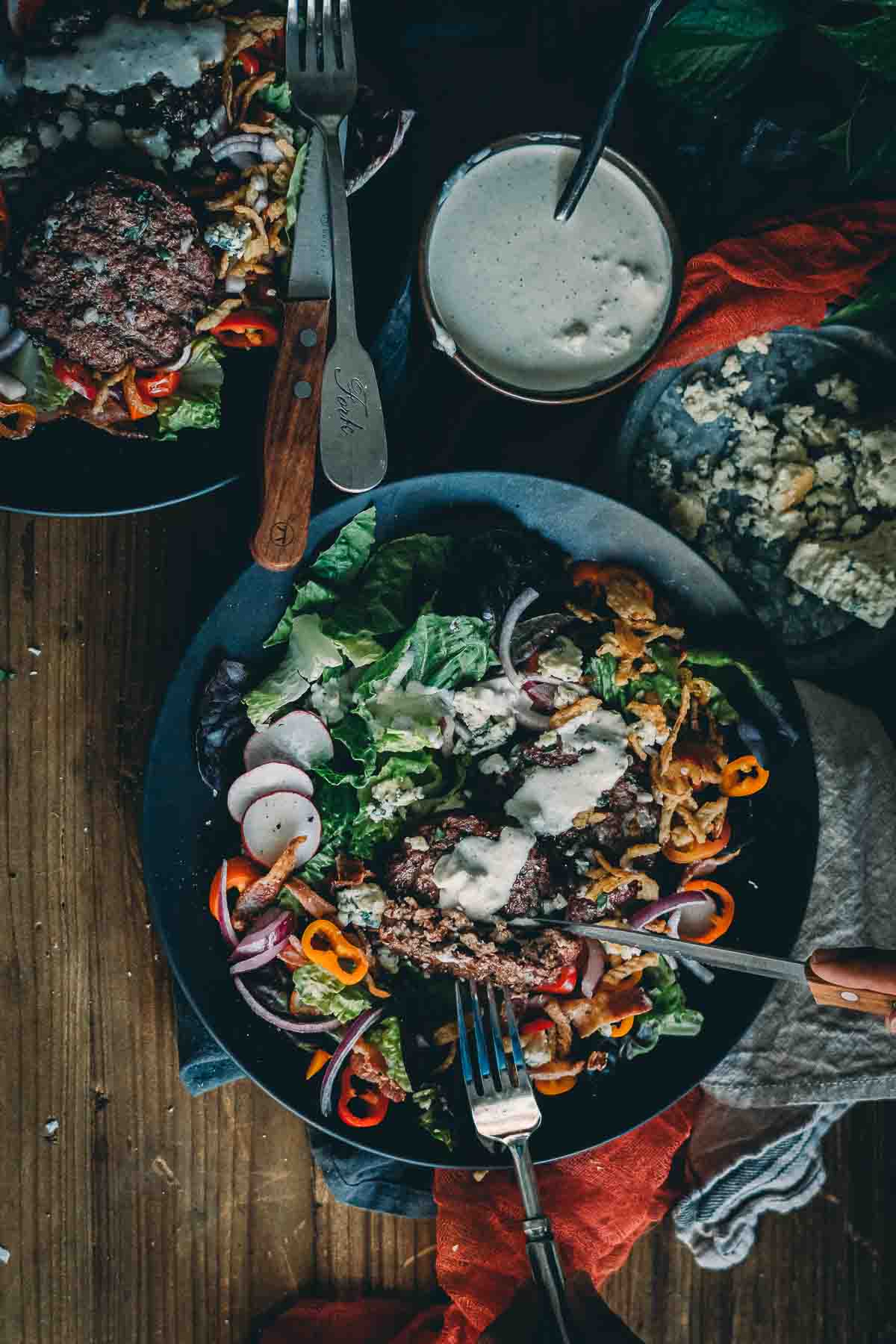 Recipe FAQs
What is a burger salad?
Well, just that. Skip the bun, keep it keto and serve this smoked hamburger over rich leafy greens for an over-the-top delicious savory salad. It fills you up and hits every cheeseburger craving but with a fraction of the guilt.
Why add butter to burger patties?
The butter melts as the patties smoke on the grill, helping to keep the meat moist and adding tons of flavor.
Can you grill these burgers instead?
Sure, if you want to skip the smoked flavor, and get a classic char-grilled cheeseburger, grill these burgers hot and fast over direct heat to 145F. They won't have the same smoke flavor, but it certainly speeds up the process.
Storage
Store leftover smoked burger patties in an airtight container for up to 3 days in the fridge. If you didn't toss the salad with the dressing, it can also be stored for 24 hours in the fridge, or until it begins to wilt, up to 2 days.
How to reheat
To reheat the burgers, microwave them in short bursts of 30 seconds, with a paper towel over top, flipping after each to reheat.
Alternatively, try crumbling them and reheating in a skillet over medium heat if using in future salads, omelets, or in other leftover ideas.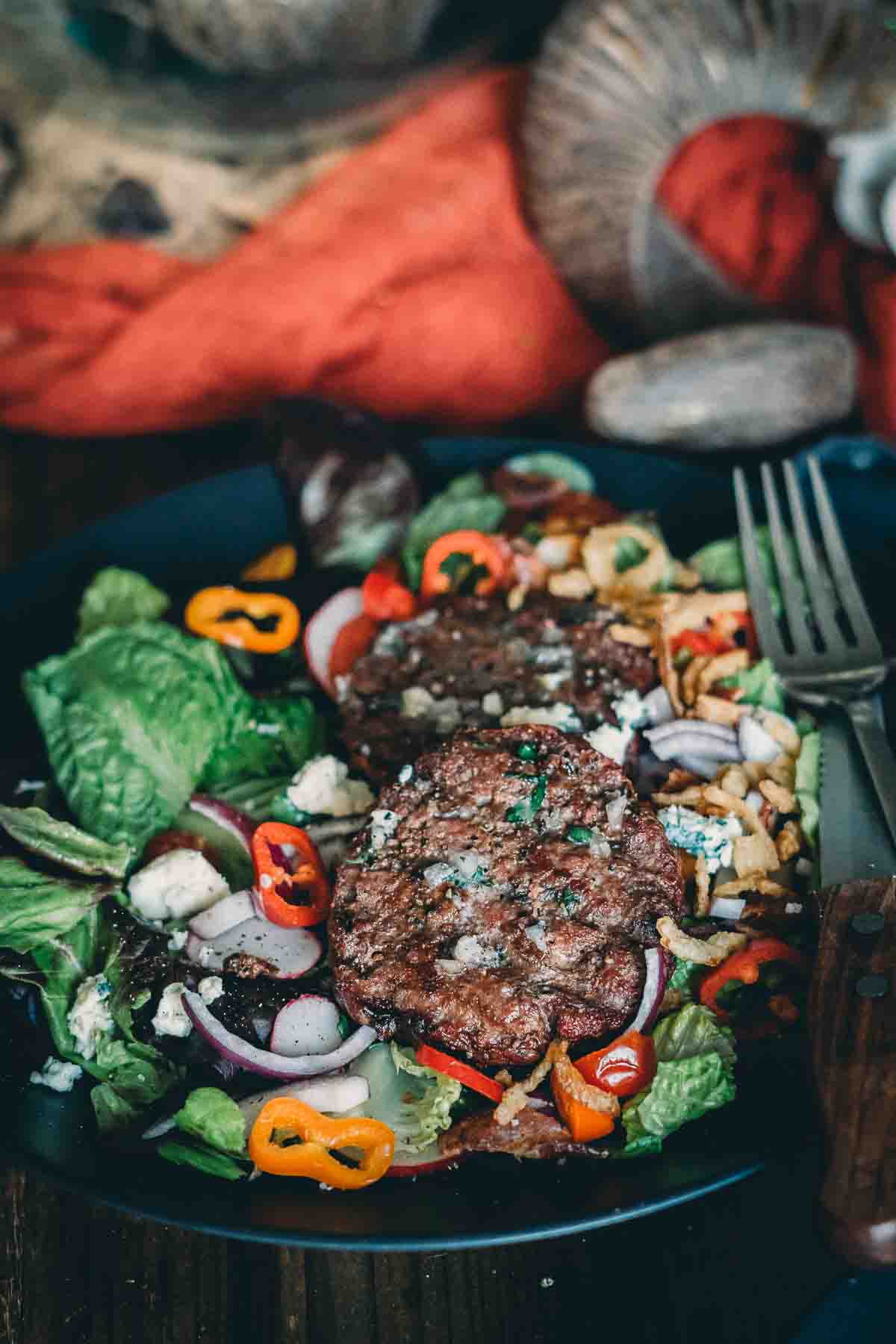 More delicious cheeseburger recipes
Steakhouse Hamburger Salad with Keto Blue Cheese Dressing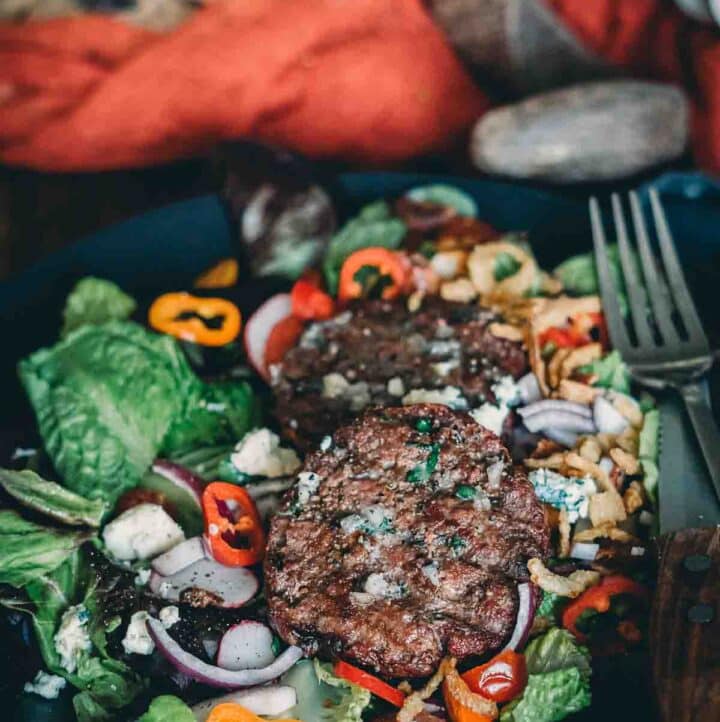 This savory steakhouse hamburger salad has a juicy smoked hamburger overtop fresh lettuce and is topped with a creamy dressing and more blue cheese crumbles for a meal so good you won't even miss the bun!
Ingredients
For the smoked burgers
1

lbs

ground beef

1

tbsp

Steak seasoning

5

tbsp

steakhouse herb compound butter

1

tsp

Salt
For the keto blue cheese dressing
1

cup

Mayo

½

cup

Buttermilk

¼

cup

Sour cream

1

tsp

White vinegar

1/2

tsp

fresh Lemon juice

¼ – ½

cup

Blue cheese crumbles

1/2

tsp

Black pepper

1

tsp

Kosher salt
For the steakhouse salad
16

oz

Leafy greens

2

oz

Bacon

cooked and crumled

¼

red onion

sliced thin

1/8

cup

Sweet peppers

1/8

cup

Crispy onion straws

1/8

cup

Radishes

sliced

1/4

cup

Blue cheese crumbles
Instructions
Prep the Burgers
Mix the ground beef with the steak seasoning in a large bowl.

1 lbs ground beef,

1 tbsp Steak seasoning

Gently form into 10 1.5 oz patties.

Arrange one cube of butter over half of the patties (5).

5 tbsp steakhouse herb compound butter

Place the remaining 5 patties on top and pince together to seal the edges.

Form a dimple in the center of each burger with your thumb.

Place the ground beef patties in the fridge for 30 minutes to firm up.
Prep the grill
Prep your grill fire indirect heat, with a 2 zone fire to maintain a heat of 225 degrees F. See our notes about grill types below.
Smoke the Burgers
Once the smoker is ready, sprinkle the ground beef patties liberally with salt.

Place the beef patties on the cooler side of the grill, over indirect heat) and close the lid.

Smoke for 45 to 50 minutes, until the burgers reach an internal temperature of 145F with a meat thermometer.

Once cooker, remove from heat.
Make the Blue Cheese Dressing
Meanwhile, whisk the blue cheese dressing ingredients together in a bowl.

1 cup Mayo,

½ cup Buttermilk,

¼ cup Sour cream,

1 tsp White vinegar,

1/2 tsp fresh Lemon juice,

¼ – ½ cup Blue cheese crumbles,

1/2 tsp Black pepper,

1 tsp Kosher salt

Pour them into a glass jar and seal.

Store in the fridge until ready to use.
Assemble the salad
Toss the salad ingredients together in a large bowl. Wait to dress the greens until the burgers are ready.

16 oz Leafy greens,

2 oz Bacon,

¼ red onion,

1/8 cup Sweet peppers,

1/8 cup Crispy onion straws,

1/8 cup Radishes,

1/4 cup Blue cheese crumbles
Serve
Toss the salad with the dressing, if desired or allow everyone to drizzle their own dressing over top.

Place the hot burger patties over the salad on dinner plates and garnish with more blue cheese crumbles, freshly ground black pepper, and minced parsley if desired.
Notes
It is essential to chill burgers before grilling. This helps any of the fat that warmed while the patties were being formed to firm up again. Because it's cool, it will gradually heat while cooking, melting and keeping the burgers juicy.
For Pellet Smokers and Gas Grills: set the grill to 225 degrees F. Be sure to add a smoker tube fillet with pellets or a smoker box filled with woodchips to the grates to add extra smoke flavor.
For charcoal grills: arrange direct and indirect zone by piling lit coals to one side of the grill and adjust the air vents to maintain an even temperature of 225F. When ready to grill, add wood chips directly to the coals, or in a foil packet over the coals.
More additional salad toppings:
Cherry tomatoes, sliced
Avocado slices
Croutons
Sliced cucumbers or even dill pickles
Nutrition
Serving:
1
g
|
Calories:
798
kcal
|
Carbohydrates:
7
g
|
Protein:
23
g
|
Fat:
75
g
|
Saturated Fat:
25
g
|
Polyunsaturated Fat:
22
g
|
Monounsaturated Fat:
22
g
|
Trans Fat:
2
g
|
Cholesterol:
140
mg
|
Sodium:
1662
mg
|
Potassium:
549
mg
|
Fiber:
0.4
g
|
Sugar:
2
g
|
Vitamin A:
1767
IU
|
Vitamin C:
27
mg
|
Calcium:
158
mg
|
Iron:
3
mg