This Pan Seared Veal Loin Chops recipe takes little to no effort to make; quick and easy, perfect for a busy weeknight dinner. They are moist, meaty, and full of irresistible spicy and rich flavor!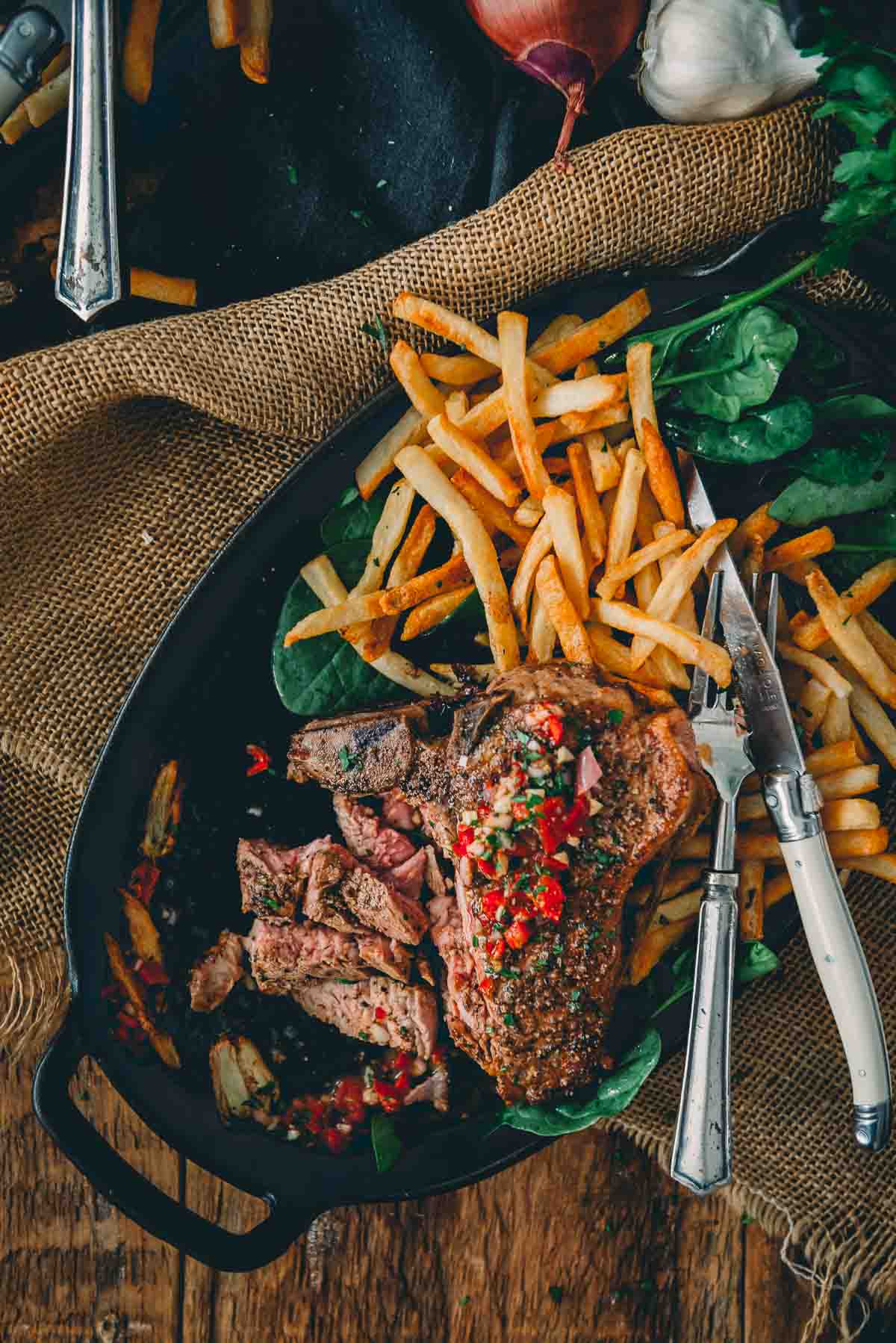 This post is sponsored by Veal – Discover Delicious, funded by the Beef Farmers and Ranchers, but all opinions are my own.
Veal loin chops are tender and delicate with a slightly sweet nature. Pair them with butter, garlic, and the sear you can only get from cast iron before topping them with a bright red chimichurri, and you'll be quick to reach for seconds of these rich and succulent chops.
The best part about this recipe is that the cooking time only takes mere minutes—yet still turns out as though you've been cooking them all evening. While some veal recipes call for an outdoor grill, like my grilled veal chops, this recipe allows you to cook more easily on the stove.
I pulled from my travels through South America for this flavor profile on these pan-seared thick chops. Sure, true Asado-style cooking would have been grilled veal chops, but I wanted to add the texture from edge to edge of a seared crust.
And then, paired these with papas fritas, aka French fries, a salad, or your favorite cooked veggie to round out your meal. Impress your friends and family on special occasions with this easy recipe. Or treat yourself and make it any day of the week. It's restaurant quality goodness but so simple to make!
With how good these veal loin chops taste, they will surely be your next favorite meal!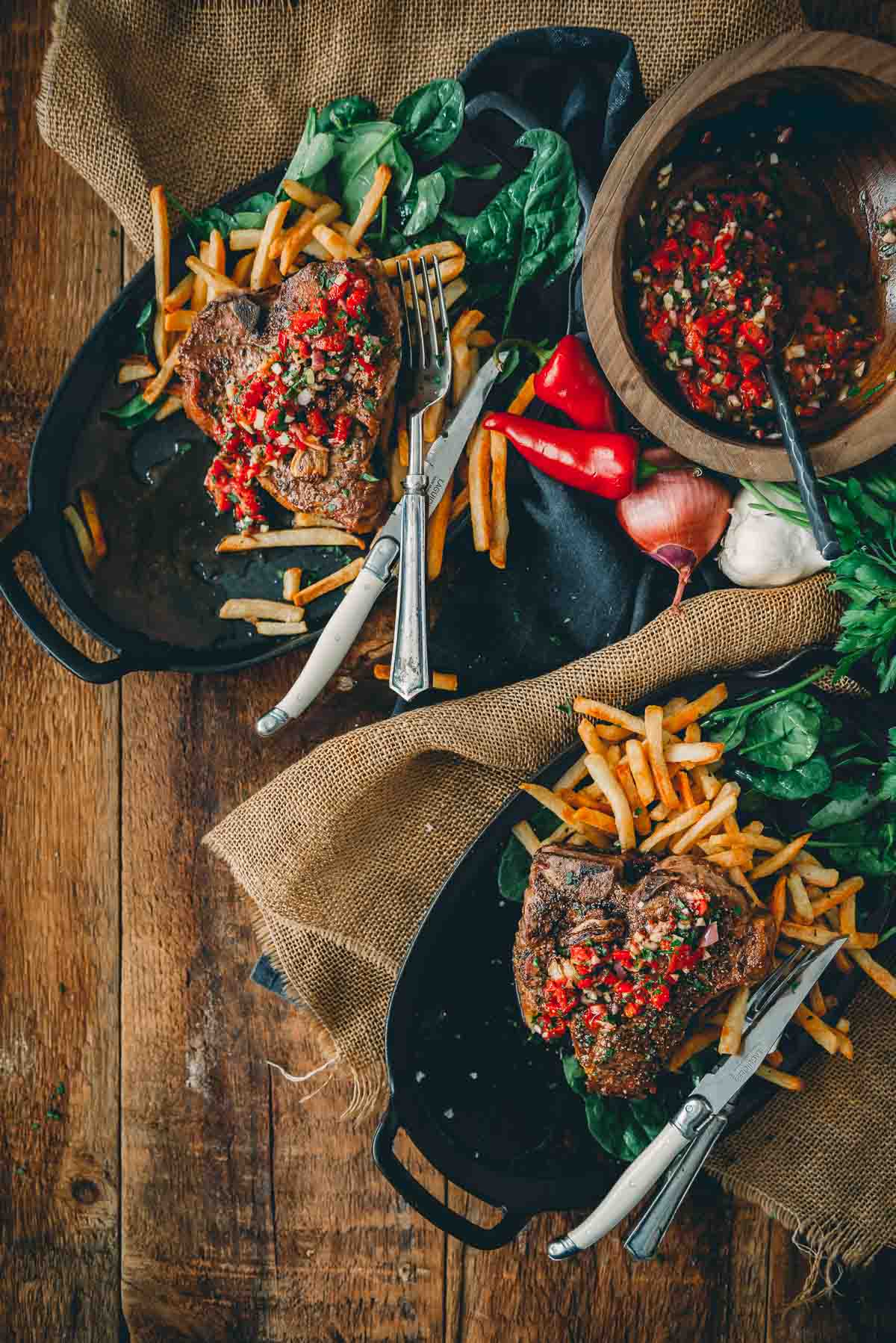 Why we love this recipe!
These bone-in veal chops are incredibly easy but look like it belongs in a 5-star restaurant!
The flavors are incredibly bright and delicious.
It takes 30 minutes to make!
What Are Veal Loin Chops?
Veal loin chops come from the loin area cut (just like with any t-bone or porterhouse steak) and tend to be sold bone-in and are best with 1.5 inch thickness. Some look like small t-bone steaks or ribeye in shape. The meat is a milky pink color and light in flavor, which makes it perfect for the buttery pan sear and red chimichurri!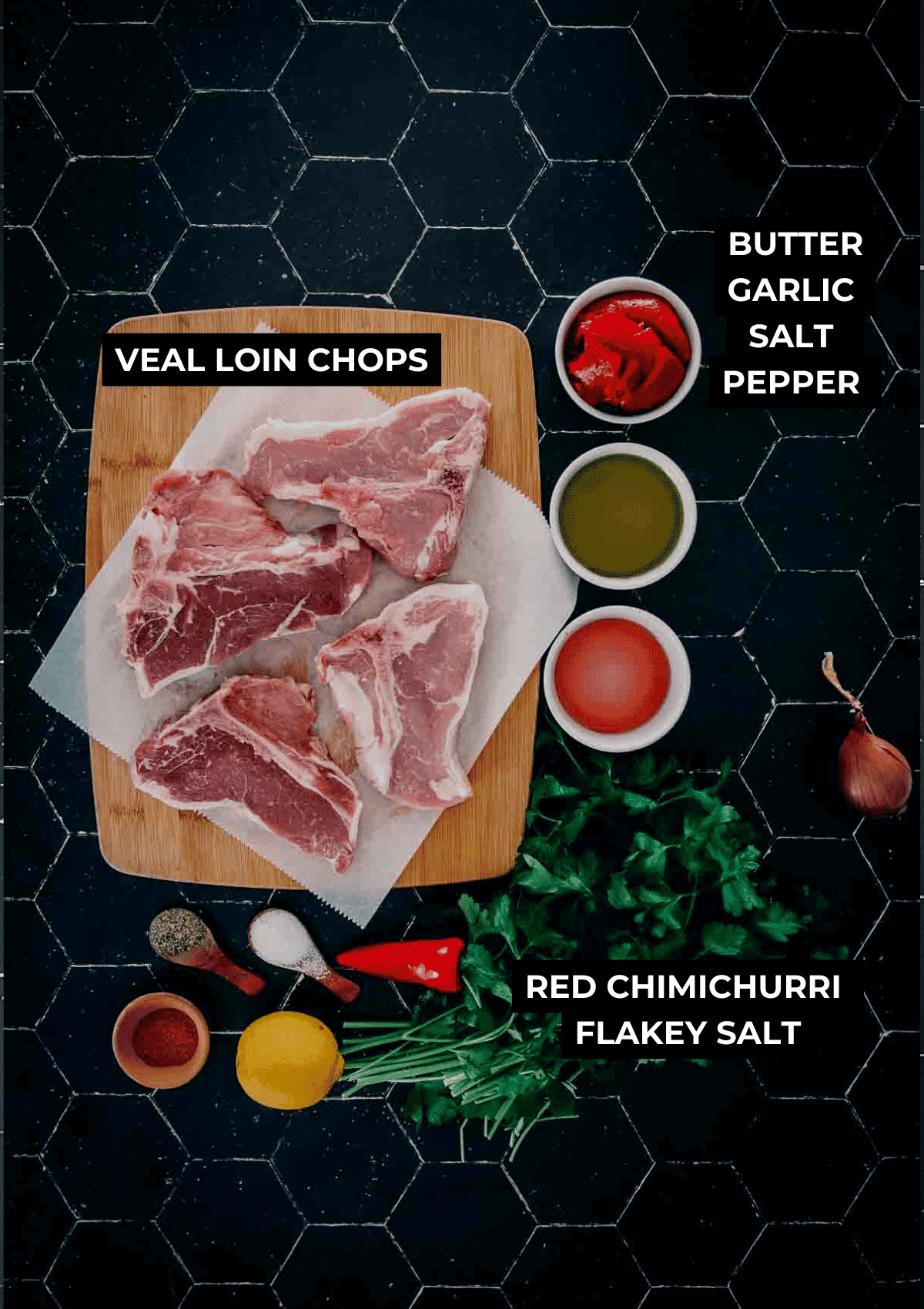 Veal Loin Chops Ingredients
For the Veal:
Veal loin chops – try to find chops that are around 1 1/2″ thick for this recipe. If they are thinner, reduce the cooking time and always check with a digital thermometer for doneness.
Butter – Make sure it's unsalted butter
Cloves garlic – use fresh garlic for this for the sharp bite of flavor they give!
Kosher salt
Black pepper coarse ground
To Serve:
Red Chimichurri – see our full recipe (or live on the wild side and make a cilantro chimichurri too and pair them both)!
Flakey salt – an ode to traditional Argentinian cooking.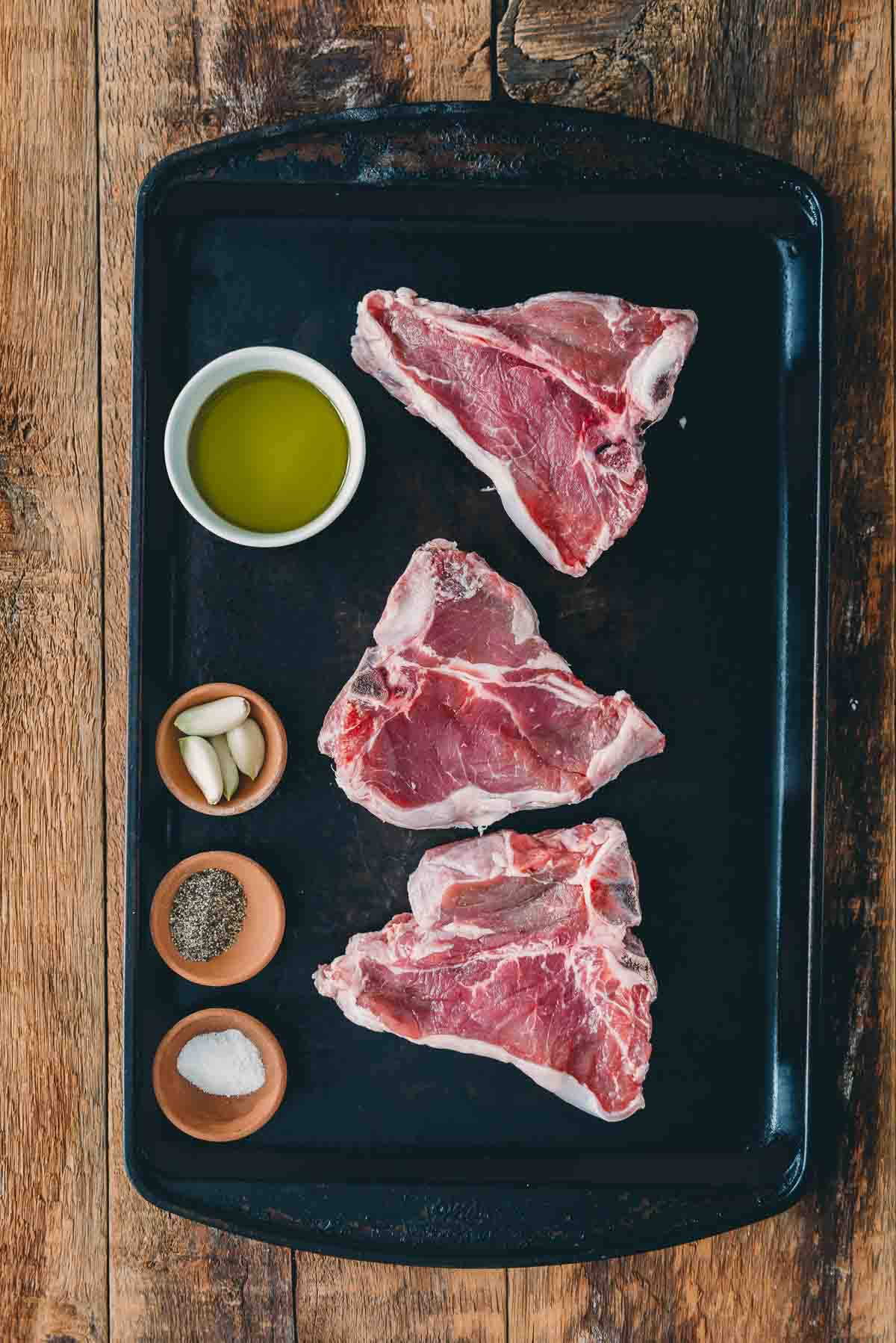 How to Make Veal Loin Chops
The first step is simple! Pat the veal dry with a paper towel and season well with a little salt and freshly ground black pepper. Then smash the garlic cloves and keep them to the side in a small bowl, so they are prepped and ready to go when needed.
Next, preheat a large cast iron skillet over medium heat to medium-high heat. You'll know the pan is hot enough when it JUST starts to smoke. If it's a lot of smoke, you've gone to far, and remove the pan from the heat. This step is important because adding the butter now will burn it, and you can't get that flavor out without starting with a fresh clean pan.
Then, add 1 tablespoon and melt the butter and add the chops, and sear without moving to form the crust. If you wiggle or try to move the chops with tongs, and notice they are pulling, let them be! You will tear the meat and not get the result you want if you try to flip them too soon.
Next, add the garlic and butter to the iron skillet. Then flip the chops and start spooning the butter garlic over top to entirely coat the chops.
Continue to cook the chops until they reach an internal temperature of 140 degrees F with an instant-read thermometer. When done, remove the hot pan from the heat and allow it to rest.
Place your veal loin chops with fresh arugula and spinach, then add the red chimichurri last.
Serve with crispy fries, and enjoy!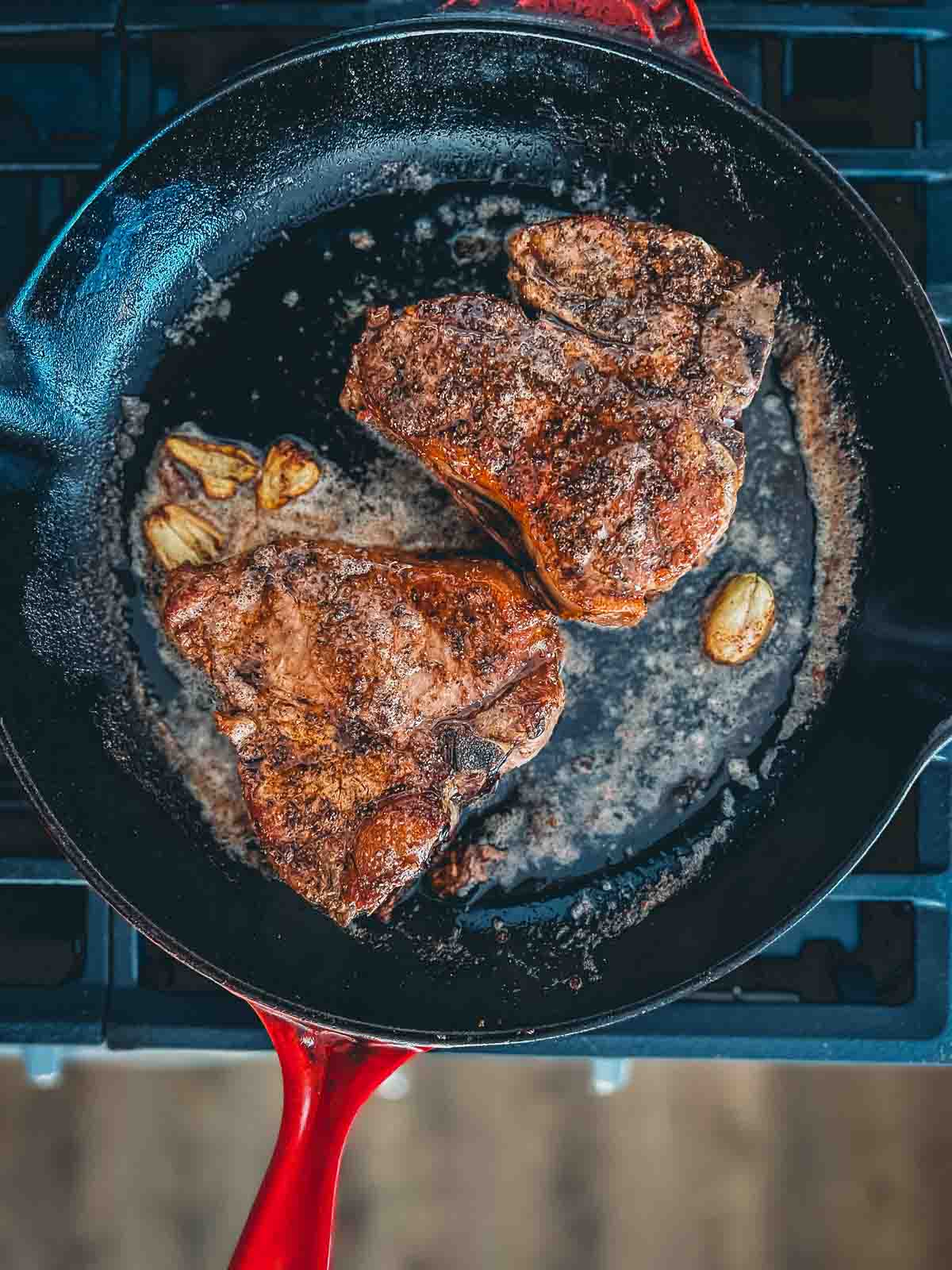 Expert Recipe Tips
To get the perfect texture, follow the cooking instructions closely because if the veal is cooked too long, it will turn tough. It doesn't take long for veal chops to be cooked thoroughly, so keep a close eye on the timing.
Remember, veal chops need to be cooked to 145 degrees F as measured by a meat thermometer, according to the USDA. Pull them at 140 degrees F and let them rest. While the meat rests, the temp will increase to 145 degrees F to serve.
Storage
Store leftover veal chops in an airtight container or double-wrapped tightly in plastic wrap, and inside the refrigerator. If stored properly, the leftover chops will last up to three to four days. If you want them to last longer, store them in the freezer, where they will last up to three months, but we don't recommend this.
However, we do keep the bones and make our own beef stock from a variety of veal and beef bones.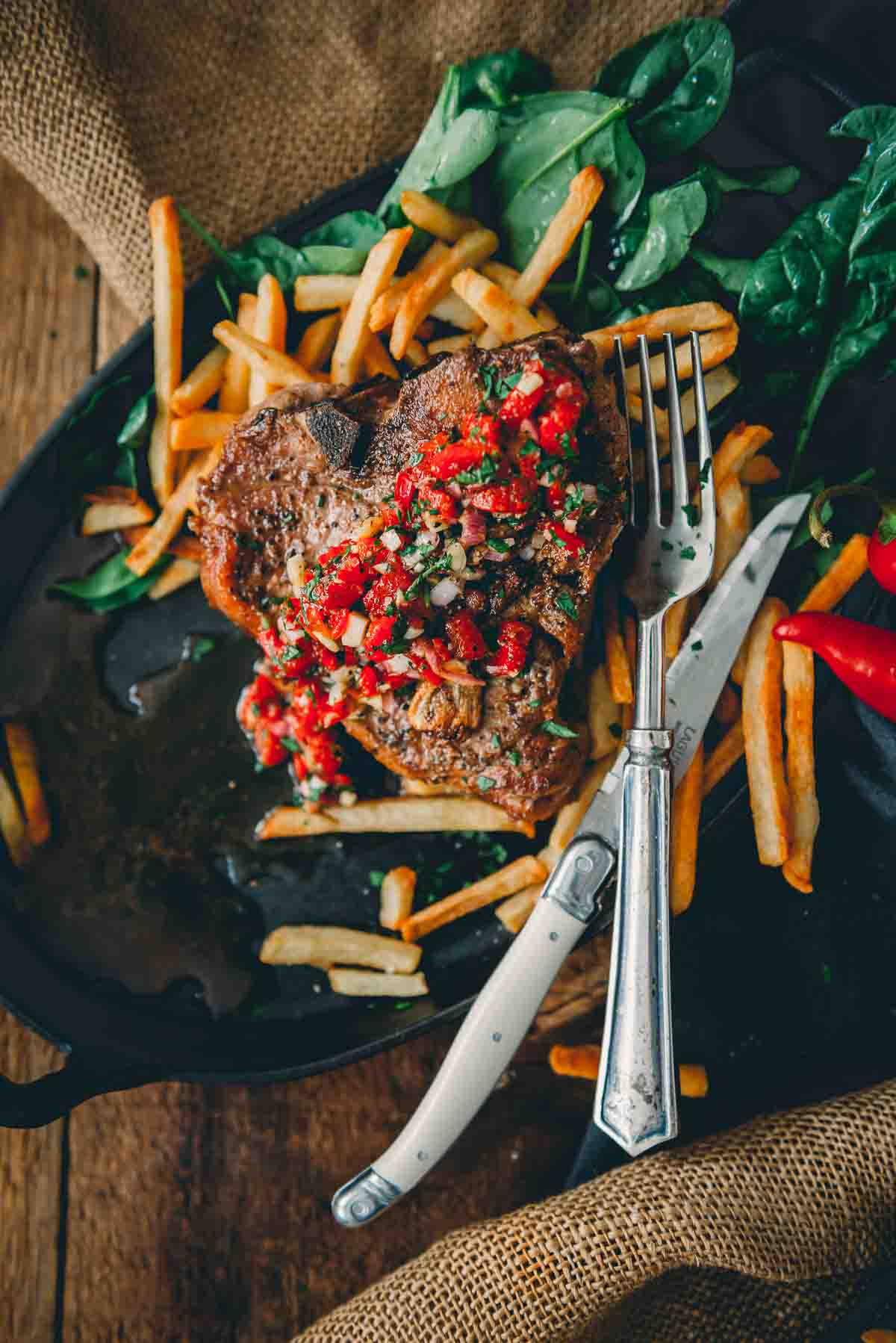 Reheating/Leftovers
To reheat veal loin chops, preheat your oven to 250°F and bake for roughly 20 to 30 minutes. However, if you froze your loin chops, preheat your oven to 325°F and bake for at least 10 minutes
What to Serve with these chops
As mentioned above, French fries go great with this pan-seared veal chops recipe. However, you might also consider the following options:
Veal Loin Chops FAQs
Are veal chops tender?
Yes, veal chops are tender and take well to the quick sear of cast iron. They are also great for grilling, roasting, and broiling.
Why are my veal chops tough?
If you find your veal chops are too tough, this is likely because they have been overcooked. Be sure to make these pan-seared veal chops as instructed for best results.
What seasoning is good with veal?
Next time, you can try this veal chop recipe with other fresh herbs you love for a different taste variation. For example, many love to pair fresh rosemary, fresh thyme, Italian parsley, and/or bay leaf with their veal chops. You can also make homemade garlic paste or herbed butter as well.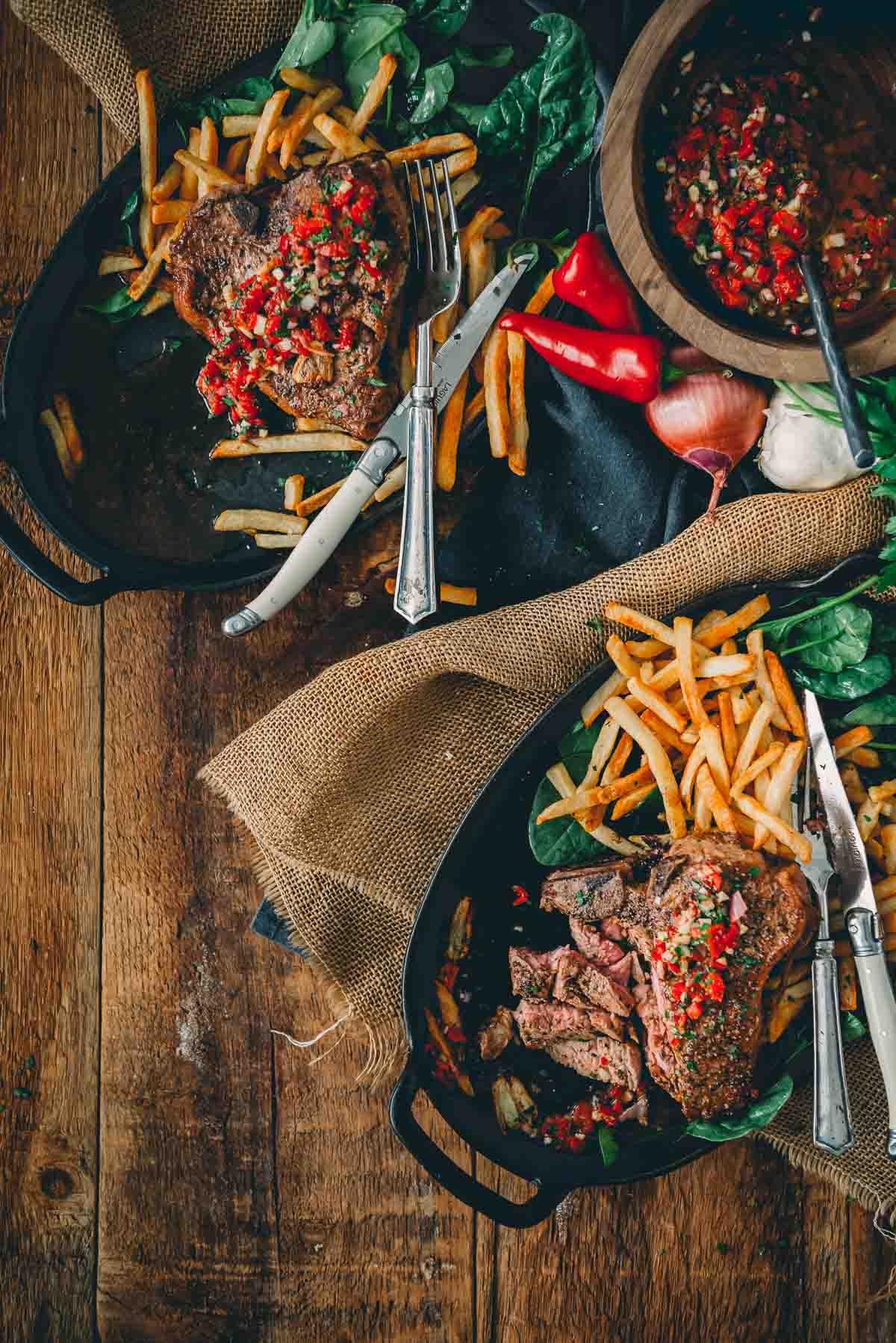 MORE DELICIOUS VEAL RECIPES
I hope you enjoy this Pan Seared Veal Chops recipe. Have you made veal before? Let me know how it turns out in the comments below, rate the recipe, and if you have any questions about the recipe!

Pan Seared Veal Loin Chops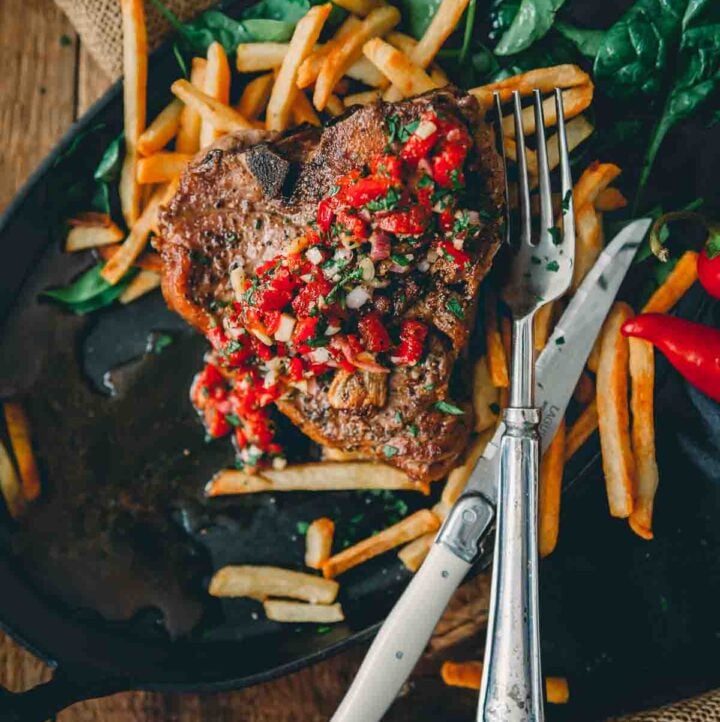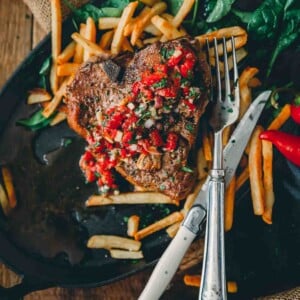 Perfectly tender, juicy, and delicious veal loin chops are begging to be pan seared in a cast iron skillet for a golden brown crust and tons of garlic buttery flavor before being served with red chimichurri sauce!
Ingredients
For the Veal
4

Veal loin chops

4 to 6

tbsp

butter

4 to 6

garlic cloves

1

tbsp

Kosher salt

1

tbsp

Pepper coarse ground
Instructions
Prep the veal
Pat the veal dry and season liberally with salt and pepper.

Smash the garlic gloves.
Cook the veal loin chops
Preheat a cast iron skillet to medium to medium-high heat, until just starting to smoke.

Melt in 1 tbsp butter.

Add the chops to the pan and sear without moving to form a golden brown crust 2 to 4 minutes.Add the garlic and remaining butter.

Flip the chops and begin basting the chops with the butter, tilting the pan to spoon the butter over the chops.

Cook the chops for another 2 to 3 minutes, or until the veal chops reach an internal temperature of 140 degrees F.
Rest
Remove from heat and allow the veal to rest. The internal temperature of the veal will be 145 degrees F as measured by a meat thermometer when serving.
Serve
Arrange the chops on a platter of fresh arugula and spinach and spoon a portion of the red chimichurri.
Nutrition
Serving:
1
g
|
Calories:
477
kcal
|
Carbohydrates:
2
g
|
Protein:
43
g
|
Fat:
32
g
|
Saturated Fat:
16
g
|
Polyunsaturated Fat:
2
g
|
Monounsaturated Fat:
11
g
|
Trans Fat:
0.5
g
|
Cholesterol:
209
mg
|
Sodium:
2027
mg
|
Potassium:
723
mg
|
Fiber:
0.4
g
|
Sugar:
0.05
g
|
Vitamin A:
358
IU
|
Vitamin C:
1
mg
|
Calcium:
53
mg
|
Iron:
2
mg