Thanksgiving Leftovers? Black Friday Turkey Burger Recipe will cure that in an over the top and crazy delicious way. Scroll down for a list of killer recipe ideas as well.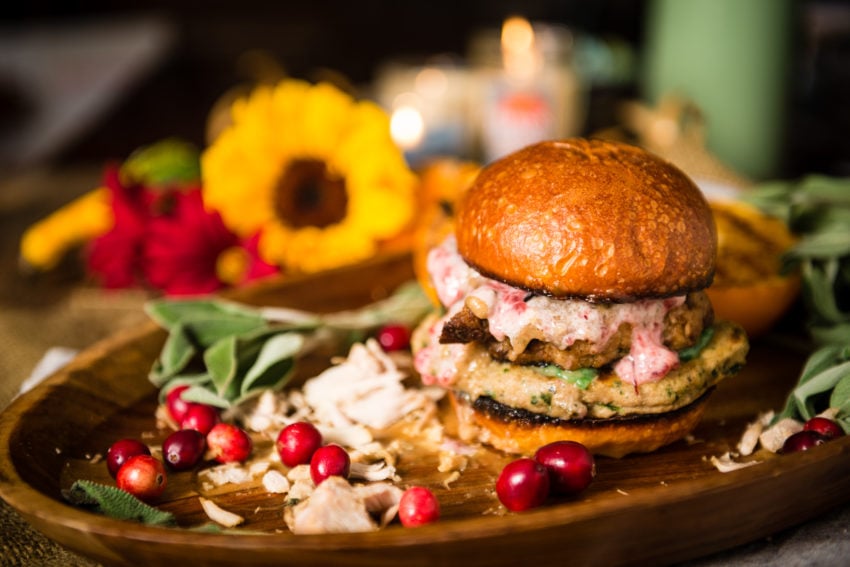 Chances are there is a small Tetris challenge happening in your fridge right now with Thanksgiving leftovers strategically stacked and shoved in places so that they won't fly out at the next unlucky soul daring to go in for a glass of milk. One bad judgment call and your fridge will disassemble itself faster than those giant Jenga cubes three hours into the wedding reception.
Creative Thanksgiving Leftovers
It's time to get creative with those Thanksgiving leftovers and quick before the family realizes they have had nothing but turkey for 4 days in a row in every meal.
Because turkey is great when you are in the mood for it. But everything has its limits right?
Well sometimes those limits are just a matter of running out of gas on the imagination highway. Let's take care of that!
How to get inspired by holiday leftovers
There are a few simple rules of thumb to keep things interesting with holiday leftovers.
First, make sure you store everything properly. One trick, make sure you can see the leftovers you want to use fastest first. If you put them in the back of the fridge that is where you will find them next year. You know the drill… When you are cleaning the fridge to prepare for the holidays.
Next, try planning a few recipes ahead of time. This is when hopefully I can be by your side. Giving you some heartfelt options. Some tasty suggestions. A tip that makes you hungry just thinking about it.
Finally, keep things separate. It helps keep everything fresher in the long run.
What are some creative leftover suggestions?
So many leftovers. So many ways you can turn them into great meals that never get boring.
Bake a pie, or pot a soup. Stack a sandwich or pocket in turnover. A casserole is easy, but a frittata or strata is even easier.
How to store Thanksgiving leftovers
As much energy goes into planning meal, it just makes sense to plan the post game meal plan. Storing the leftovers. For the health of the planet, please try and use reusable containers. Clear and sealable lids are best.
Take the meat off the turkey. You can spare the legs and wings, but just clean off the rest of the bird and store it. You should just go ahead and put the carcass into a large stock pot. Add water and some of the leftover veggies. Boil and get ready for a delicious soup soon enough thereafter.
Freeze anything you don't expect to use within four or five days tops.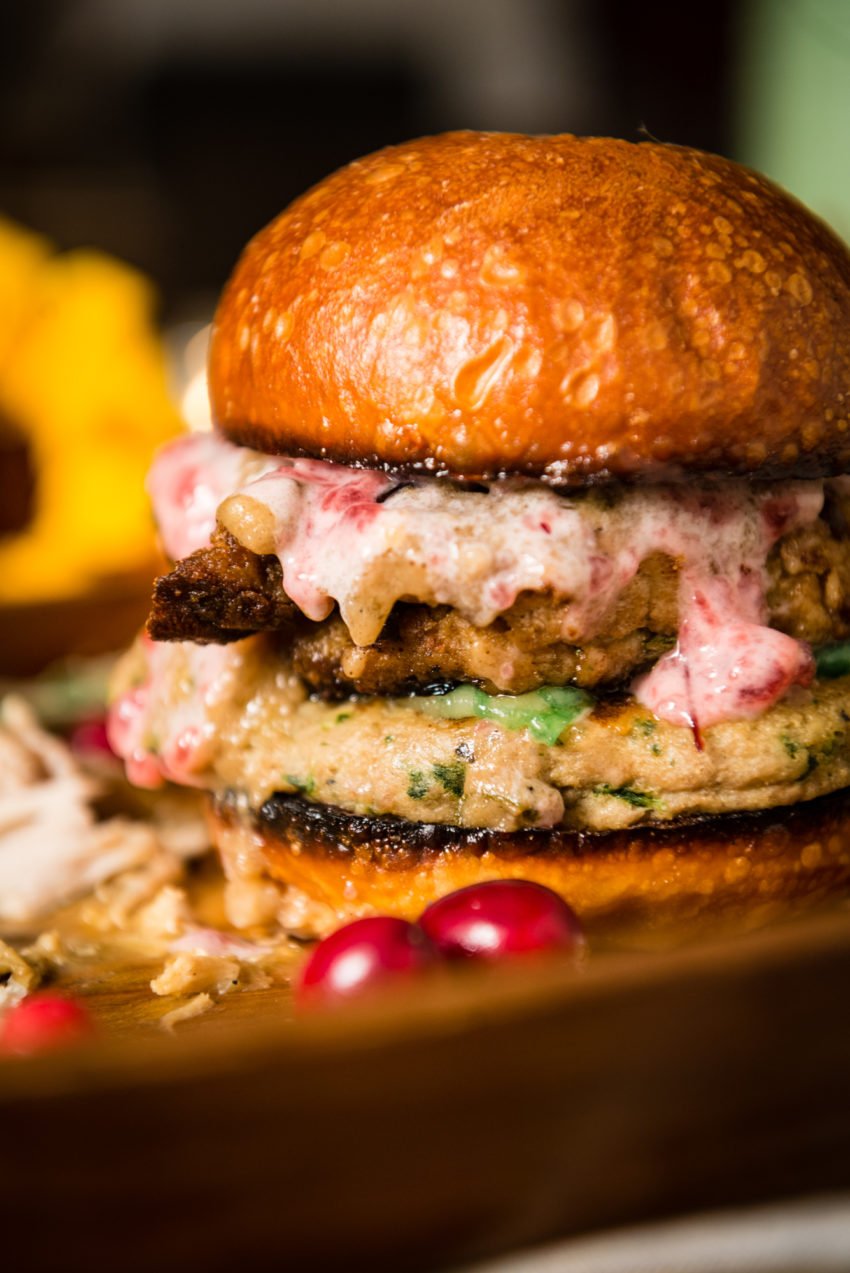 More Thanksgiving Leftover Recipe Ideas: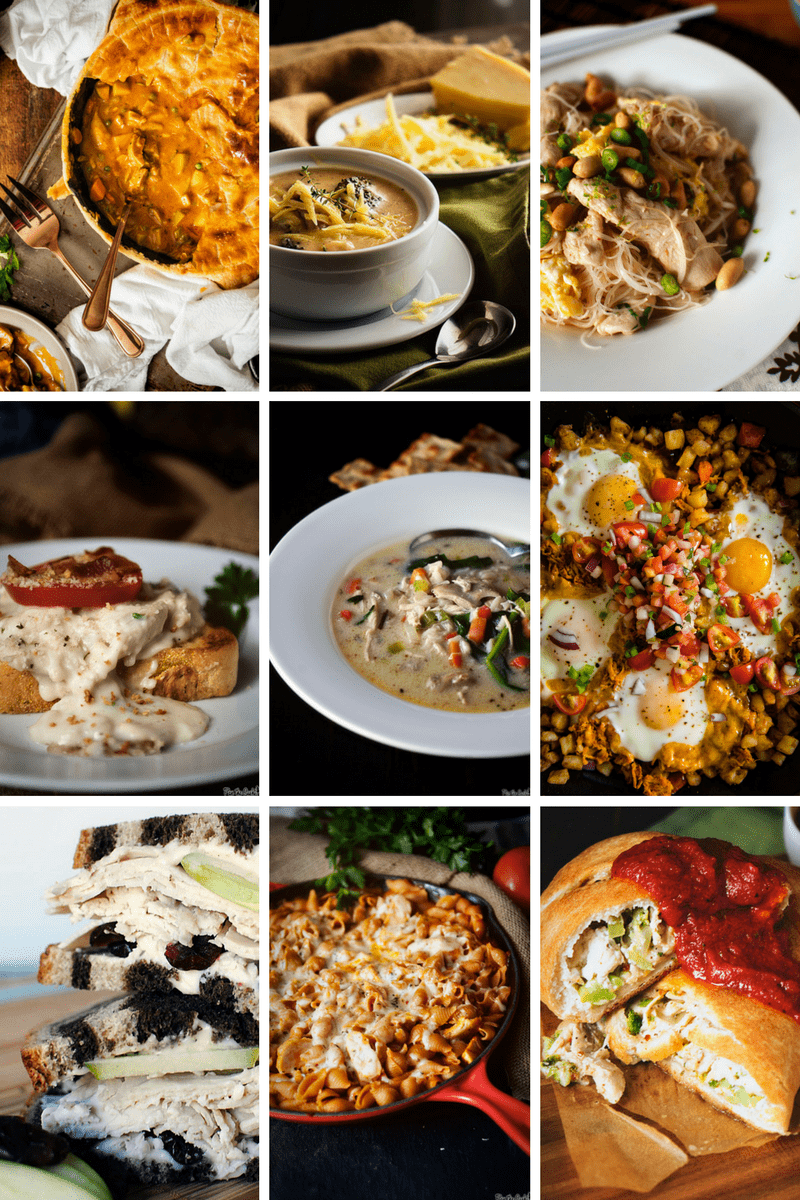 If you've tried any of my Thanksgiving Leftovers recipes, or any other recipe on GirlCarnivore.com please don't forget to rate the recipe and let me know where you found it in the comments below. I get inspired by your feedback and comments! You can also FOLLOW ME on Instagram @girlcarnivore as well as on Twitter and Facebook.

Black Friday Turkey Burger Recipe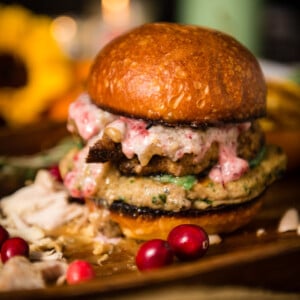 Got leftovers? Pile them high for this over the top turkey burger creation. Don't want to make a patty? Shredded turkey will work great for this one as well!
Ingredients
1

Brioche Bun

2

tbsp

Cranberry sauce

1

Turkey Burger

Use shredded turkey if you have it on hand instead of a turkey burger

2

oz

Sage Darby Cheese

2

oz

Stuffing

fried in round disks in a hot skillet with a small amount of oil

1

oz

Gravy
for the Roasted Garlic and Cranberry Mayo
1 1/2

cups

olive oil

1

head garlic

2

large egg yolks

1/4

cup

red wine vinegar

1

tbs

dijon mustard

Kosher salt

3 to 4

tbs

cranberry sauce

salt and pepper to taste
Instructions
For the roasted garlic cranberry mayo
Preheat the oven to 200 degrees F. Soak the garlic in the olive oil in an oven safe baking dish.

Allow the garlic to roast low and slow for 2 hours. Remove and allow to cool.

In a food processor, add the egg yolks, and while running, slowly drizzle in the roasted garlic infused oil, mustard, and vinegar.

Process on high and it will come together and create the mayo. Add in the cranberry sauce and pulse a few more times leaving some chunks still visible.

Season with salt and pepper to taste. Store in an airtight container in the fridge.
For the leftover burger
Butter and toast the bun.

Smear a dollop of real cranberry sauce over the bottom of the bun.

Arrange the cooked turkey burger over top.

Add cheese, fried stuffing, gravy, and a slathering of roasted garlic cranberry mayo to the top bun and slam it down on top.

Devour.
Nutrition
Serving:
1
g
|
Calories:
4071
kcal
|
Carbohydrates:
87
g
|
Protein:
61
g
|
Fat:
390
g
|
Saturated Fat:
75
g
|
Polyunsaturated Fat:
38
g
|
Monounsaturated Fat:
248
g
|
Cholesterol:
699
mg
|
Sodium:
1489
mg
|
Potassium:
207
mg
|
Fiber:
3
g
|
Sugar:
26
g
|
Vitamin A:
2161
IU
|
Vitamin C:
2
mg
|
Calcium:
564
mg
|
Iron:
7
mg