These ground turkey meatballs have a fresh zing when you bite into them and are guaranteed to be the best turkey meatballs you've ever made. The juicy meatballs pack a nutritional punch, so grab your minimal ingredients and get started.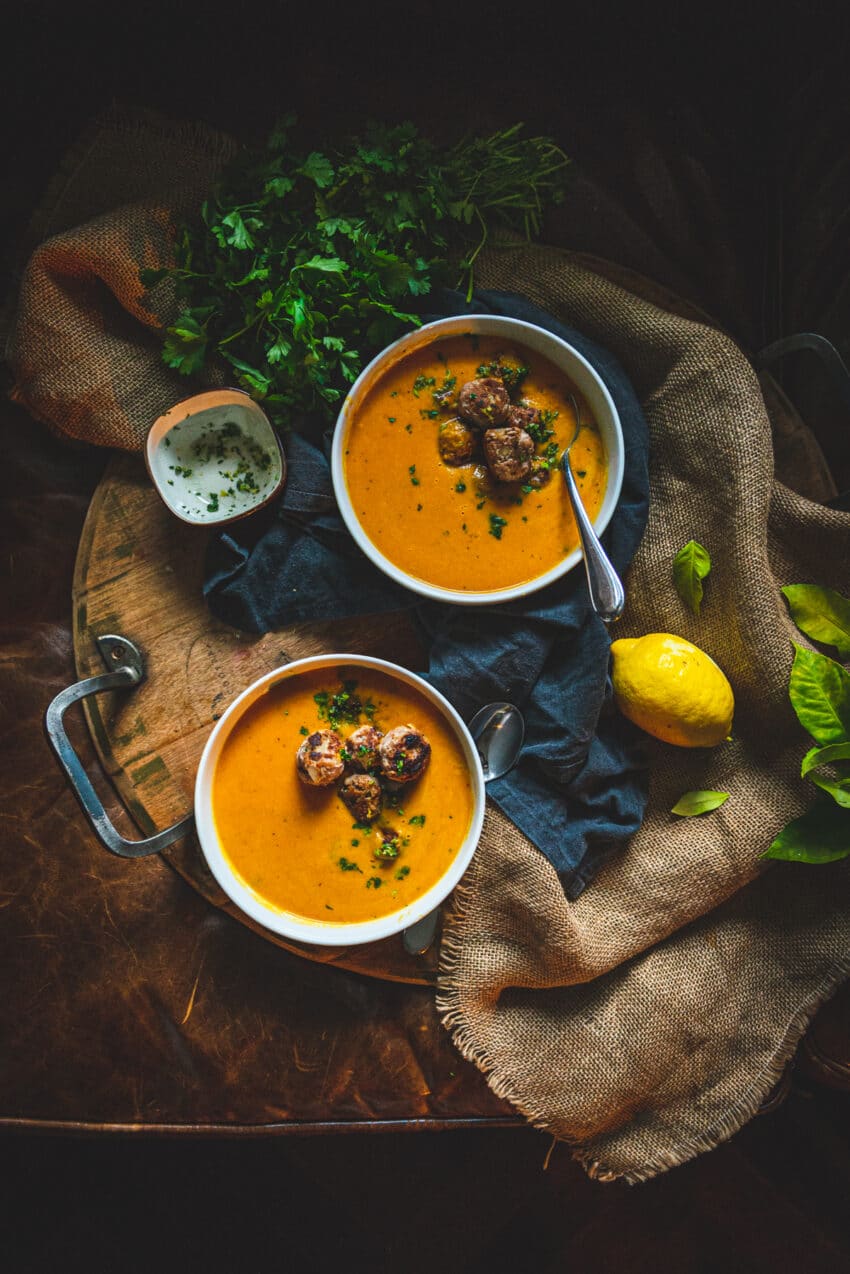 All you have to do to make these delicious meatballs is combine your ground turkey with a few simple ingredients and place them in the oven to sear. The juicy turkey meatballs are extremely versatile and can easily be added to any easy dinner recipe during a busy weeknight. Top with your favorite sauce, and you're set.
What are Ground Turkey Meatballs?
Ground turkey meatballs are simple homemade meals made from ground meat and herbs. Some people add bread crumbs, but there aren't any in this recipe, just to keep it healthier. Italian turkey meatballs are often added to pasta or spaghetti squash. The flavorful turkey meatballs add some protein to any dish.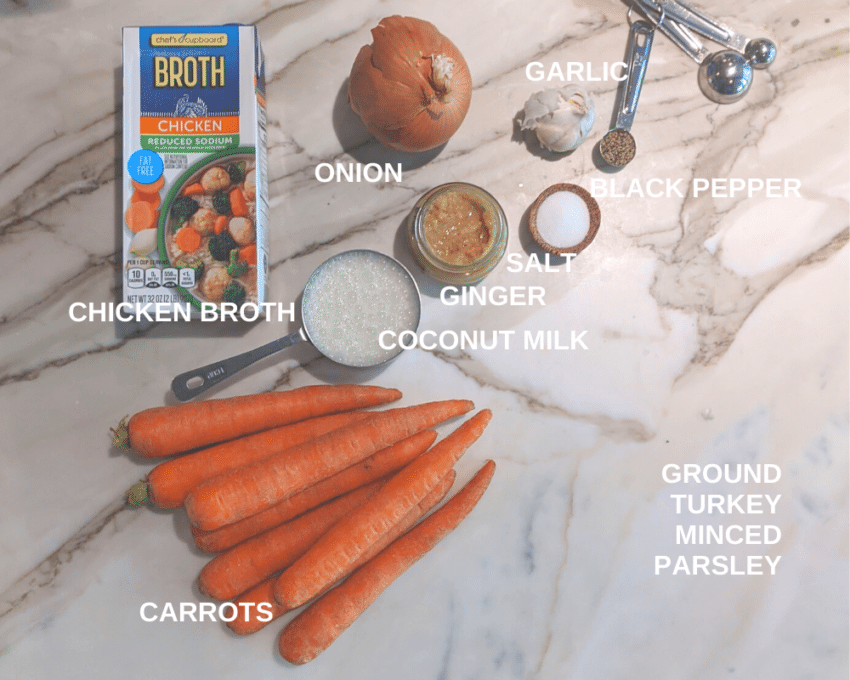 Ingredients for Ground Turkey Meatballs
Grab the notepad and add these to the market list.
All you need are 6 ingredients: ground turkey, fresh ginger, garlic cloves, salt, onion, and fresh parsley. That's it. Seriously, this recipe could not get more simple to make, and chances are you already have a few of those things waiting in the pantry.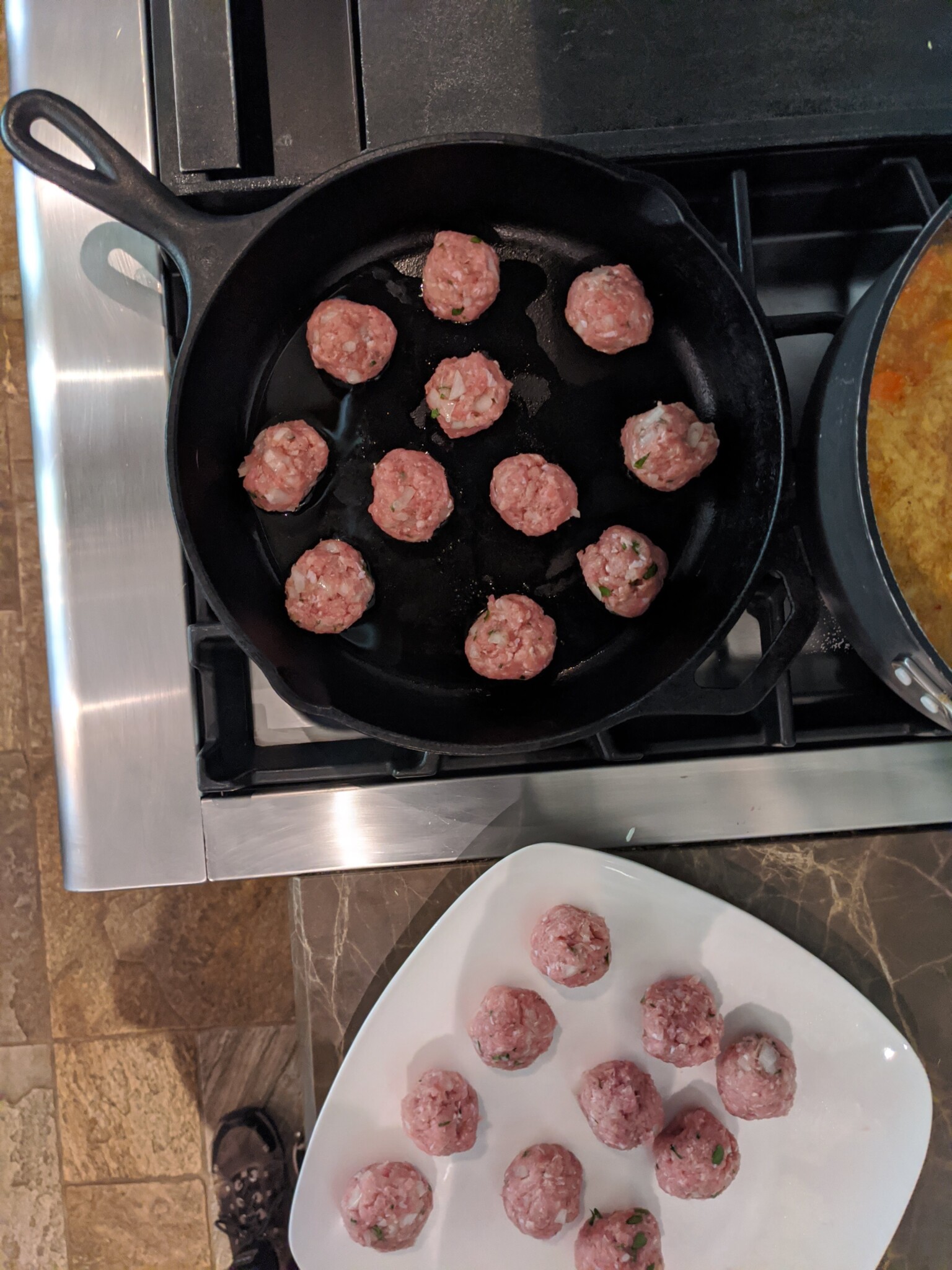 How to Make these Asian Turkey Meatballs
This is such a simple recipe; just follow these simple instructions.
Prepping the Meat
To begin, combine ground turkey with your ginger, garlic, salt, minced onion, and parsley in a large bowl.
When everything is combined, divide the mixture into evenly sized meatballs. Arrange them on parchment-lined baking sheets.
Cooking the Meatballs
Preheat the oven to 325 degrees F.
Preheat a large skillet to medium-high heat and coat the pan with oil.
Sear the meatballs, rotating them often to brown all sides.
Once the meatballs have been flipped, transfer them to the oven to finish cooking for about 10 minutes.
Remove them from the oven and let them cool.
The best method for cooking these meatballs is to pan-sear them and then pop them in the oven. You can, however, just do one of the other based on preference.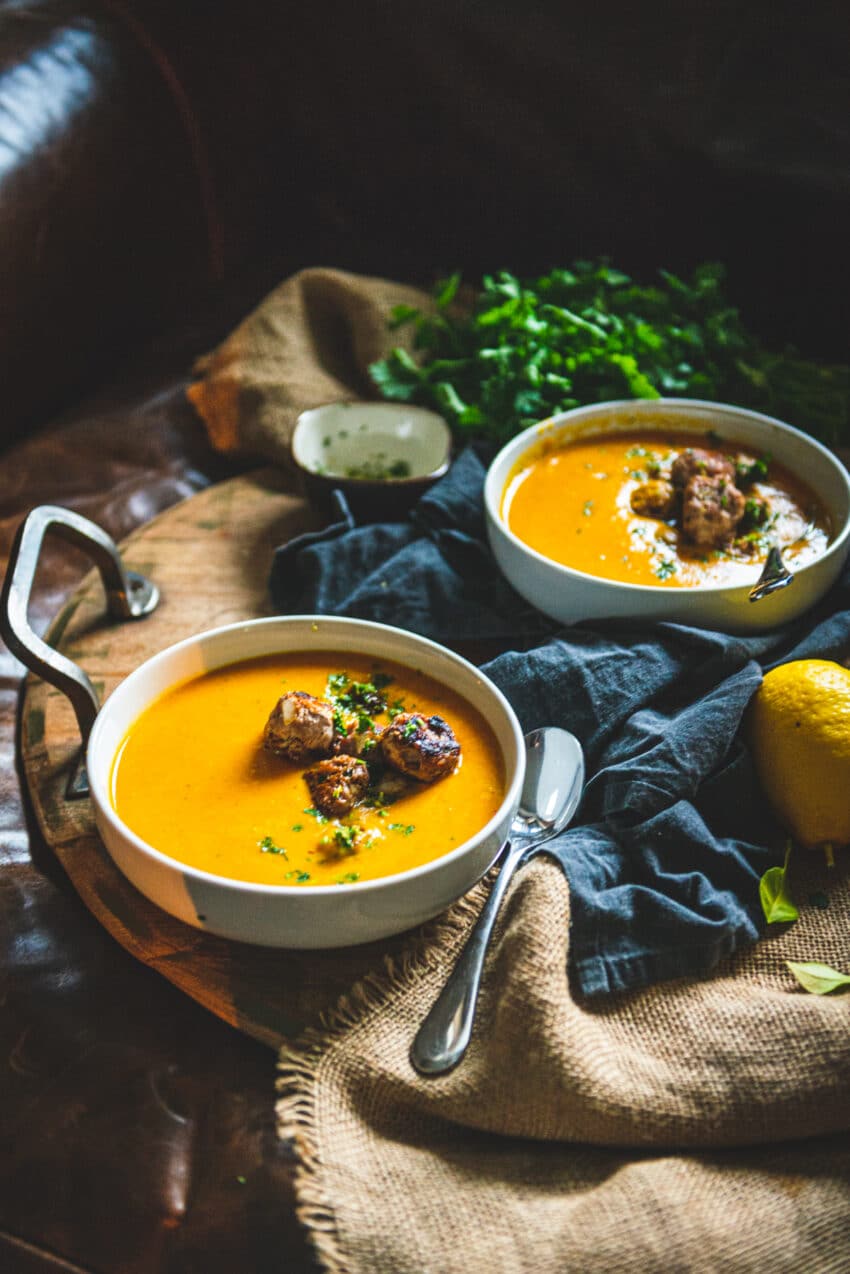 Girl Carnivore EXPERT RECIPES TIPS
Use a lemon baller
If you have one, use a lemon baller or an ice cream scoop to create your meatballs. This ensures the meatballs are all the same size and will cook evenly. A small ice cream scoop will do wonders to form the flavorful meatballs before you cook them.
Make these meatballs ahead of time
Freeze them for grab-and-go quick dinner nights. Make the recipe up to the part where you cook the meatballs, but instead, par-freeze them on a parchment paper-lined baking sheet for about 1 hour. Then transfer the meatballs to a resealable Ziplock bag and store them in the freezer for up to 2 months. When you are ready to use them, just pop out how many you need and cook from there! If cooking from frozen, bake them for 25-30 minutes in an oven preheated to 350 degrees.
Cool them down
If your meatball mixture seems too sticky or soft, pop them in the fridge for about 30 minutes before cooking. This will help cool the meat and bond everything together.
What to Serve with Meatballs
Meatballs honestly go with anything. Add them to your favorite pasta or Italian dishes, pair them with mashed potatoes or rice, and even serve them on their own during parties and get-togethers. Just keep them warm in a crockpot on low heat.
You also can't go wrong with a healthy salad, cauliflower rice, smoked brussels sprouts, or crunchy bread. Not to mention, these are amazing as meatball subs. Just add your favorite marinara sauce to toasted bread, top with a batch of meatballs and parmesan cheese, and you have a lunch made in heaven.
Leftovers and Reheating
If you and your family don't eat every last one of the tender meatballs, they can easily be stored in the refrigerator for a few days. Place them in an airtight container or freeze them for a few months in a freezer-safe bag. You can reheat them by tossing them in the oven on low heat until they are cooked through. They also do great reheated in an air fryer basket!
If you freeze your meatballs for later meals, be sure to try them in meatball stroganoff or as Jalapeno popper meatballs.
Healthy Turkey Meatballs FAQs
How big should I make the turkey meatballs?
This depends on how you are serving the meatballs. Serving them on their own, make them a little smaller and bite-sized. Serving them on top of your favorite pasta, make them a tad larger for extra heartiness. The size will determine how quickly they sear up in the pan, so keep that in mind. 
CAN I USE GROUND BEEF OR PORK?
Yep. This recipe is just as delicious and made with ground chicken or pork. It can also be made with ground beef, but the flavor may be richer. Pork meatballs are just as simple and tasty to make. That being said, a ground lamb with a bit of harissa would make an amazing meatball in this soup as well.
More Delicious Turkey Recipes
It's amazing what you can sear up with a little bit of olive oil and very little prep time. These lean turkey meatballs are a delicacy, and their versatility makes them so easy to add to any weeknight meal! If you've tried this recipe, help out the next guy and be sure to rate the recipe and drop a comment below.
Turkey Meatballs with Ginger and Oven Roasted Carrot Soup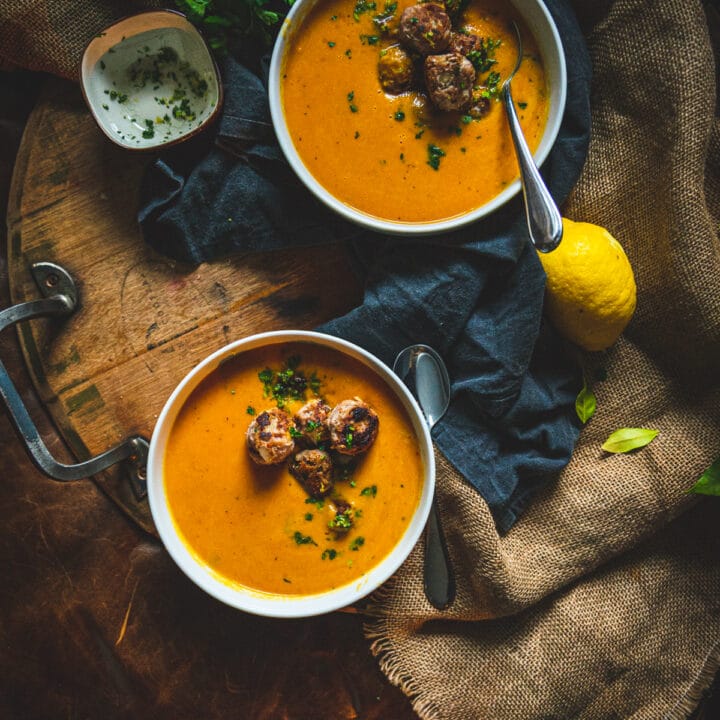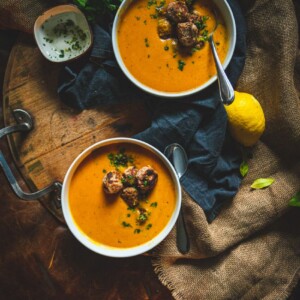 Create mouthwatering Ground Turkey Meatballs with our delicious, easy-to-follow recipe, offering a healthier alternative to traditional meatballs. Perfect for spaghetti, subs, or appetizers, enjoy these flavorful, versatile meatballs for a satisfying meal everyone will love.
Recommended Equipment
Baking sheet

dutch oven

Mixing Bowls

Immersion blender or Blender
Ingredients
For the turkey Meatballs
1

lbs

Ground turkey

1

tspn

Ginger

freshly minced

2

cloves

Garlic

minced

1

tsp

Salt

1/4

Onion

minced

1

tbsp

frsh Parsley

minced
For the Carrot Soup
2

tbsp

Oil

divided

1

lbs

Carrots

½

Onion

diced

1

tbsp

Ginger

freshly minced

4

cloves

Garlic

minced

Salt and pepper

¼

tsp

Red pepper flakes

1

qt

Chicken broth

1

cup

Coconut milk
For the Gremolata
4

tbsp

Parsley

finely minced

1/2

tsp

Salt

½

tsp

Lemon Zest
Instructions
Mix the meatballs
In a clean bowl, mix the ground turkey with the ginger, garlic, salt, minced onion, and parsley.

When everything is well combined, divide and form into evenly proportioned meatballs.

Arrange the meatballs on a parchment-lined baking sheet.
Cook the turkey meatballs
Preheat the oven to 325 degrees F

Preheat a skillet to medium-high heat and coat with oil.

Sear the meatballs, rotating as each side browns.

Once all the meatballs have been flipped, transfer to the oven to finish cooking, another 10 minutes.

Remove from the oven and let cool.
Roast the carrots
Lay the carrots onto a baking sheet. Drizzle with 1 tablespoon of the olive oil and season with a pinch of salt. Roll around to evenly coat the carrots.

Roast the carrots in the preheated oven until fork tender and browning, about 25-30 minutes.

Remove from oven and roughly chop when cool
Make the Soup
Heat a large Dutch Oven or pot over medium heat.

Add the remaining 1 tablespoon of oil and saute the onions until soft, 5 to 7 minutes.

Add the chopped carrots, ginger and garlic and cook 30 seconds longer.

Season liberally with salt and pepper.

Add the chicken stock, a little at a time, scraping up any browned bits before adding in the coconut milk.

Reduce the heat to medium-low and let the soup simmer for 30 minutes or so.

Once the soup has simmered, allow it to cool for 20 minutes before using an immersion blender to puree to a smooth thick consistency. See notes for other methods.
Make the gremolata
While the soup simmers, mix the gremolata ingredients, parsley, salt, and lemon zest, together in a small bowl and let sit until ready to use.
Serve
Spoon large helpings of the carrot soup into bowls and top with ginger meatballs and a sprinkle of the gremolata.
Notes
This recipe makes about 16 small meatballs.
If you don't have an imusion blender, a good blender also works. To use a blender, let the soup cool complpetely ti rish any burns from spills. A food processor will also work, but pulse in small batches to avoid spills.
If the meatballs seem sticky or too soft, pop them in the fridge for 30 minutes before cooking. This will help cool the meat and bond everything together. 
You can make the meatballs ahead of time. Par-freeze the meatballs in a single layer on a baking sheet before transfering to a resealable bag and storing in the freezer for up to 3 months. 
Store leftover soup in an airtight container in the refridgerator for up to 4 days. 
Re-heat the soup in a pot over low heat, stirring occasionally. 
Nutrition
Serving:
1
g
|
Calories:
253
kcal
|
Carbohydrates:
12
g
|
Protein:
20
g
|
Fat:
15
g
|
Saturated Fat:
8
g
|
Cholesterol:
42
mg
|
Sodium:
1259
mg
|
Potassium:
727
mg
|
Fiber:
3
g
|
Sugar:
4
g
|
Vitamin A:
12954
IU
|
Vitamin C:
22
mg
|
Calcium:
55
mg
|
Iron:
3
mg