Ginger turkey meatballs with roasted carrot soup is a whole 30 approved soup. These ginger turkey meatballs have a fresh zing when you bite into them and the creamy oven-roasted carrot soup is a heavenly thick creamy combo to die for. Trust me – there ain't nothing boring about this combo.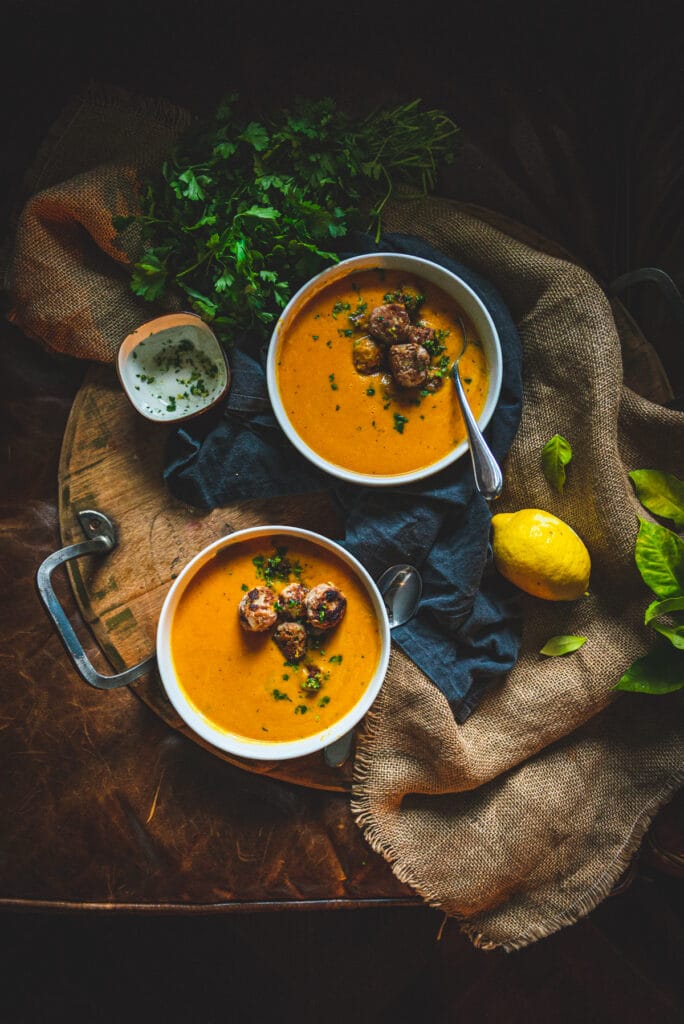 The best turkey meatball carrot soup
Confession. I am not a fan of bowls of broth with over boiled filler. Oh and I get it, turkey meatballs – Boring. Flavorless. Mushy. Carrot soup? Oh, you must be kidding me.

But… every now and then I have to admit that it can, when the flavors are balanced and not watered down with thin broth, and when there is something to satisfy that umami craving, it can hit the spot on chilly nights. This is one of those recipes that checks all of those boxes while hiding its healthy paleo friendliness under a cloak of velvety richness.

My meatballs get crisp and loaded with flavor because I don't over-do with frivolous ingredients and pan sear them in cast iron. My little secret and the bite from the ginger, whoa. And the roasted carrots add a sweet caramelized layer to the oh-so-easy to make soup with an unexpected spice well, cuz I can't not add in some red pepper flakes to heat things up. Paired up, these two are that Thelma and Louis your kitchens been looking for.
Oh, and bonus, this entire recipe is whole 30 approved! So yay for being healthy without giving up any flavor.
What is a whole 30 approved food?
So what is Whole30 anyway? Why do I need their approval? Whole30 is a diet based on eliminating sugar, alcohol, grains, legumes, soy, and dairy for 30 straight days. The goal is to eat only whole foods. (Hence the name go figure).
The goal in Whole30 is to cut out inflammatory foods from your diet and foods likely to cause digestion problems and promote immune deficiency issues.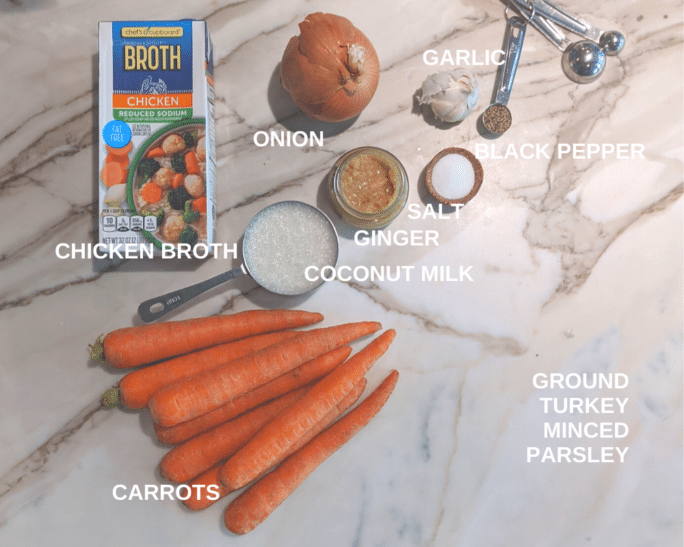 What you need for this soup
Grab the notepad and add these to the market list. All you need is 7 ingredients: carrots, ginger, onion, garlic, pepper, chicken broth, coconut milk and a little fat/oil to start the cooking. That's it. Seriously, this recipe could not get more simple to make and chances are you already have a few of those things waiting in the pantry.
Oh, and an immersion blender or really awesome blender is also key. But for reals, that's the only fancy thing in this recipe.
How to Make Roasted Carrot Soup
This is such a simple recipe – all you have to do is, roast the carrots until they are tender and getting that beautiful brown caramelization (aka, the magic that makes a ton of flavor) then saute the onion and garlic. Toss the carrots in from there and it's all BAM salt and pepper (went old school there, points if you get it). Add the ginger, pour in the broth and coconut milk to bring it all to a gentle simmer for the flavors to meld together.

After the flavors have mingled, you can use one of my most favorite of all the kitchen gadgets, the immersion blender – and one of the only gadgets = worth the $30 if you ask me – to blend this in the same pot or carefully pulse the soup to a smooth consistency with a blender or food processor. I will say tho, food processors can get the job done, but will make a mess, no matter how good you are. It's totally my last ditch option.
Using colored carrots for roast carrot soup
I remember first seeing carrots colored other than orange. It was kind of a "what the…" sort of reaction. But then of course I tasted them and thought… Well, they don't necessarily taste too different.
But they sure come in cool colors and open up the color palette in terms of making a carrot soup. So if you feel like getting a bit wild, and taking that road less travelled, then try using purple, red, or white carrots instead.
Go completely rogue and split the carrots in the recipe into two colors then mix them in your serving bowl upon serving. Create that beautiful sense of awe. This isn't just a delicious meal. It is an exquisite work of art.
Whatever you don't use in the soup you can use in this roasted roots recipe.
How big should I make the turkey meatballs?
Maybe you like a big meatball. But don't go there. This isn't a pasta dish. This is carrot soup with turkey meatballs. So make the meatballs a bit smaller. You will be happy you did. Because the small meatballs sear up and brown quickly. It is also easier to eat them bite sized as they swim around in the soup.
So this isn't about making a statement with a bigger set of balls. This is about making a great soup.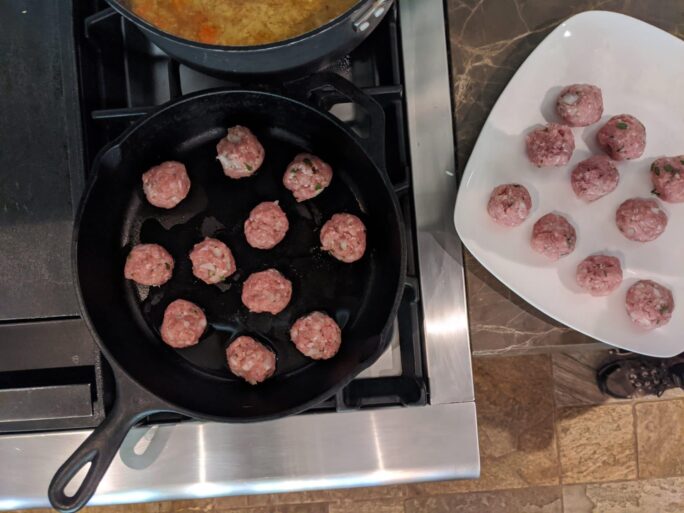 Making Easy Meatballs
These meatballs are basic, easy and healthy. Mama would be proud.

Just toss the ground turkey in a bowl with the minced onion, garlic, ginger, and parsley. Season with some salt and get messy. Yep, get in there with your (clean) hands and mix. Form evenly sized round balls, which, pro trick – is easiest done with a scoop to make sure they are all the same size.

Next, you can pan-sear them, which I like to do so they get a little crisp and brown on all sides, or oven bake them. Either way, they are delicious. I just find that cooking them in cast iron adds that crust that helps the meatballs to hold together better in the soup.
Pro Tip: Make these meatballs ahead of time – and freeze them for a grab and go quick dinner nights. Make the recipe up to the part where you cook the meatballs, but instead par-freeze them on a parchment paper-lined baking sheet for about 1 hour. Then transfer the meatballs to a resealable Ziplock bag and store in the freezer for up to 2 months. When you are ready to use them, just pop out how many you need and cook from there! If cooking from frozen, I like to bake them for 25-30 minutes in an oven preheated to 350 degrees.
Can I use ground beef or pork?
Yep. I love this same recipe with ground pork. It can also be made with ground beef, but I often find the flavor too rich. That being said, a ground lamb with a bit of harissa would make an amazing meatball in this soup as well. So, go all-in if you're feeling all sorts of wild like that.
Serve this soup with a salad if you are sticking to the paleo thing or crusty bread if you aren't. And top with the fancy gremolata I show below to really impress the Joneses, roasted pepitas, or even slivered almonds.
What Can I Use Instead of Coconut Milk?
Whether you aren't into coconut milk or aren't sticking to the whole 30, any other non-flavored milk would work here as long as it's full fat. Skim milk or almond milk would be too thin for this soup. Use whole milk or half a cup of cream with additional broth if you want to omit the coconut milk and keep the flavor.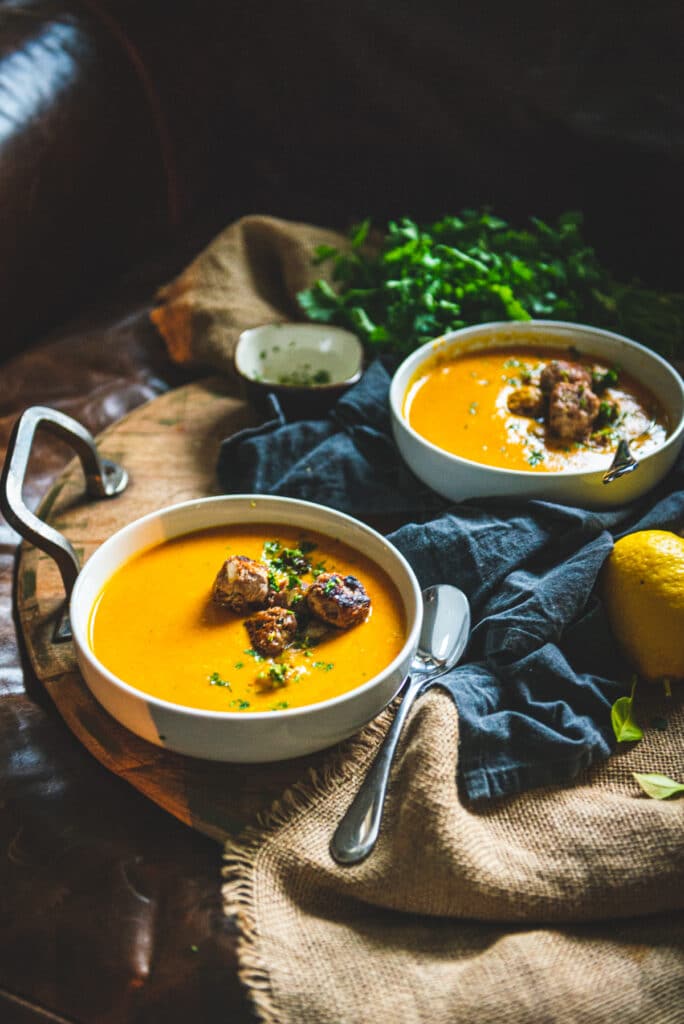 Want more comforting soup ideas? Try some of my favorite recipes
If you've tried these turkey meatballs, please rate the recipe and let me know where you found it in the comments below.
I get inspired by your feedback and comments! You can also join in on the adventures on Instagram @girlcarnivore, Twitter & Facebook.
Turkey Meatballs with Ginger and Oven Roasted Carrot Soup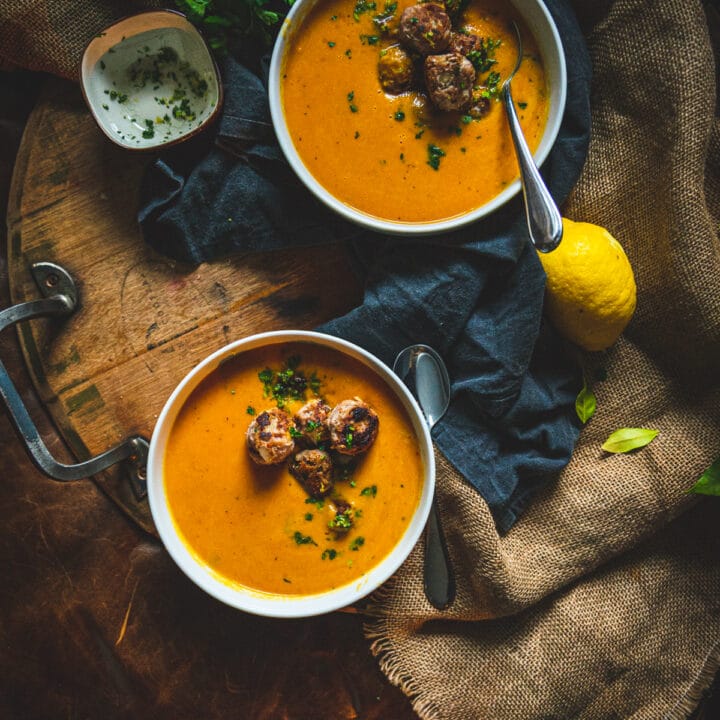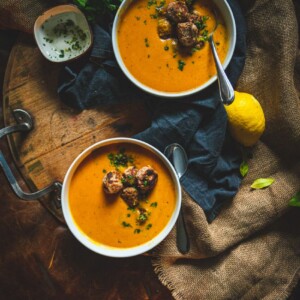 These ginger-infused turkey meatballs are so easy to make and are delicious all by themselves, but with this simple roasted carrot soup recipe, they are downright magical!
Recommended Equipment
Baking sheet

dutch oven

Mixing Bowls

Immersion blender or Blender
Ingredients
For the turkey Meatballs
1

lbs

Ground turkey

1

tspn

Ginger

freshly minced

2

cloves

Garlic

minced

1

tsp

Salt

1/4

Onion

minced

1

tbsp

frsh Parsley

minced
For the Carrot Soup
2

tbsp

Oil

divided

1

lbs

Carrots

½

Onion

diced

1

tbsp

Ginger

freshly minced

4

cloves

Garlic

minced

Salt and pepper

¼

tsp

Red pepper flakes

1

qt

Chicken broth

1

cup

Coconut milk
For the Gremolata
4

tbsp

Parsley

finely minced

1/2

tsp

Salt

½

tsp

Lemon Zest
Instructions
Mix the meatballs
In a clean bowl, mix the ground turkey with the ginger, garlic, salt, minced onion, and parsley.

When everything is well combined, divide and form into evenly proportioned meatballs.

Arrange the meatballs on a parchment-lined baking sheet.
Cook the turkey meatballs
Preheat the oven to 325 degrees F

Preheat a skillet to medium-high heat and coat with oil.

Sear the meatballs, rotating as each side browns.

Once all the meatballs have been flipped, transfer to the oven to finish cooking, another 10 minutes.

Remove from the oven and let cool.
Roast the carrots
Lay the carrots onto a baking sheet. Drizzle with 1 tablespoon of the olive oil and season with a pinch of salt. Roll around to evenly coat the carrots.

Roast the carrots in the preheated oven until fork tender and browning, about 25-30 minutes.

Remove from oven and roughly chop when cool
Make the Soup
Heat a large Dutch Oven or pot over medium heat.

Add the remaining 1 tablespoon of oil and saute the onions until soft, 5 to 7 minutes.

Add the chopped carrots, ginger and garlic and cook 30 seconds longer.

Season liberally with salt and pepper.

Add the chicken stock, a little at a time, scraping up any browned bits before adding in the coconut milk.

Reduce the heat to medium-low and let the soup simmer for 30 minutes or so.

Once the soup has simmered, allow it to cool for 20 minutes before using an immersion blender to puree to a smooth thick consistency. See notes for other methods.
Make the gremolata
While the soup simmers, mix the gremolata ingredients, parsley, salt, and lemon zest, together in a small bowl and let sit until ready to use.
Serve
Spoon large helpings of the carrot soup into bowls and top with ginger meatballs and a sprinkle of the gremolata.
Notes
This recipe makes about 16 small meatballs.
If you don't have an imusion blender, a good blender also works. To use a blender, let the soup cool complpetely ti rish any burns from spills. A food processor will also work, but pulse in small batches to avoid spills.
If the meatballs seem sticky or too soft, pop them in the fridge for 30 minutes before cooking. This will help cool the meat and bond everything together. 
You can make the meatballs ahead of time. Par-freeze the meatballs in a single layer on a baking sheet before transfering to a resealable bag and storing in the freezer for up to 3 months. 
Store leftover soup in an airtight container in the refridgerator for up to 4 days. 
Re-heat the soup in a pot over low heat, stirring occasionally. 
Nutrition
Serving:
1
g
|
Calories:
253
kcal
|
Carbohydrates:
12
g
|
Protein:
20
g
|
Fat:
15
g
|
Saturated Fat:
8
g
|
Cholesterol:
42
mg
|
Sodium:
1259
mg
|
Potassium:
727
mg
|
Fiber:
3
g
|
Sugar:
4
g
|
Vitamin A:
12954
IU
|
Vitamin C:
22
mg
|
Calcium:
55
mg
|
Iron:
3
mg