Lets get messy! This Chicken Cheesesteak delivers on all fronts. If you aren't struggling to keep this one in the bun, you're doing it wrong. Pile it on there and dig in!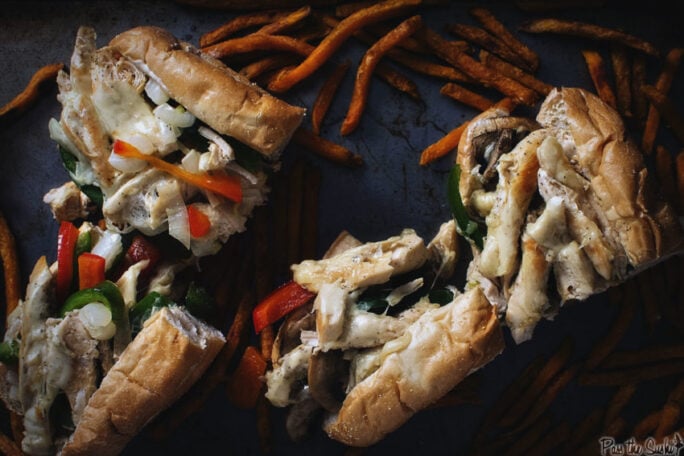 Time to get our inner carnivore on!
Stop. Slow down baby.
We all know by now that this site is dedicated to all the glories of meat. No matter how you slice it. From brisket to bacon and back again, GirlCarnivore is home to meaty delights. I cast aside the sugary sweets for a dedicated space in the food blog world to give the whole hog a home.
And do you know what someone dared to say?
That my French Onion Burger was the cause of obesity in America. Facts aside people, I doubt that a single burger is the cause.
But just in case you need something a little lighter, this skinny cheesesteak is keeping it real with just the bare bones. And you know what, it tastes good.
But everything in moderation and all.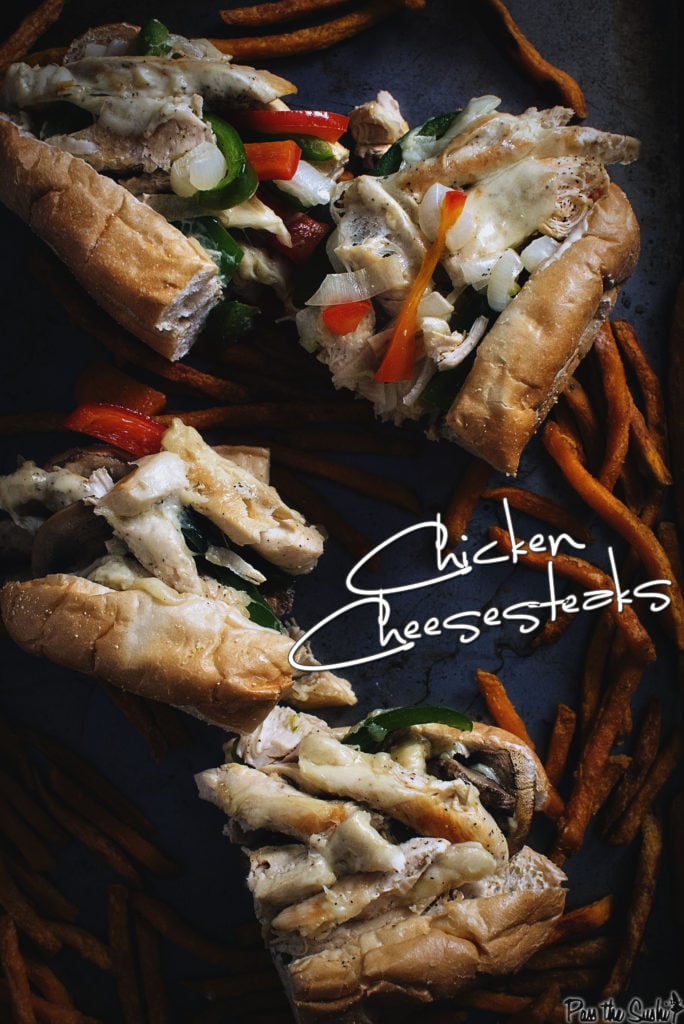 Don't think that you can only make this recipe with chicken either.  Throw on some turkey, Duck, Pheasant, heck, any bird that you happen to come across.  We don't discriminate against any meat here.
What is the best cheese for cheesesteak sandwiches?
The most popular cheeses for cheesesteak sandwiches include American white, provolone, and Cheez Whiz. Truth be told, any cheese that has a nice melt to it will work. So if you don't have those handy then cheddar, muenster, or mozzarella will work well too.
Cheez Whiz, well, I am not even sure that qualifies as cheese in the traditional sense of the word, but it is a quick way to add that perfect creamy, melty quality to your chicken hoagie.
The magic of cooked bell peppers and onions
With cheesesteak sandwiches, every one always makes a big deal about the meat or the cheese, but the unsung hero of what makes these sandwiches so good is the veggie side of things. The magic of all the flavor in the sandwich happens in those grilled onions and bell peppers.
Not only do the bell peppers add those pleasing a festive colors, but they flavor the meat and add those savory depths of flavor buoyed by the grilled onions. Without these two, you are looking at just another chicken sandwich.
The pantheon of chicken sandwiches
If you love a great chicken sandwich, then I have a few sandwiches to recommend. You can substitute turkey for any of them if you prefer too.
If you've tried my Chicken Cheesesteak recipe, or any other recipe on GirlCarnivore.com please don't forget to rate the recipe and let me know where you found it in the comments below. I get inspired by your feedback and comments! You can also FOLLOW ME on Instagram @girlcarnivore as well as on Twitter and Facebook.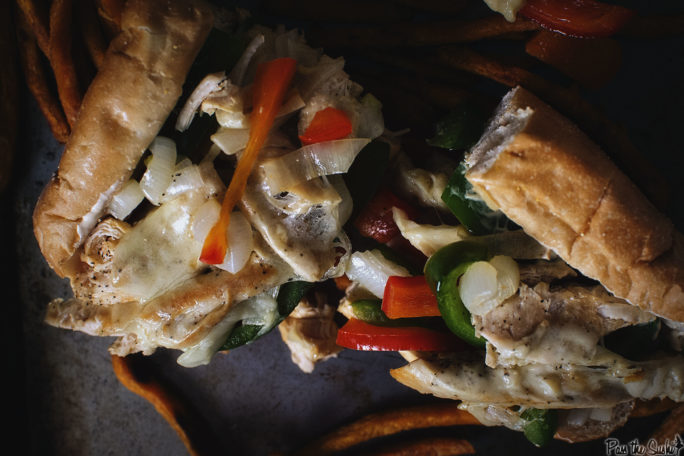 Let me know how it goes in the comments, I always love to hear how my recipes take on a life of their own once released into the wilds of the internet. All I care about is that there are fat and happy bellies at the end. Dig in and enjoy.
Chicken Cheesesteak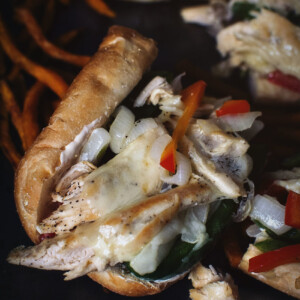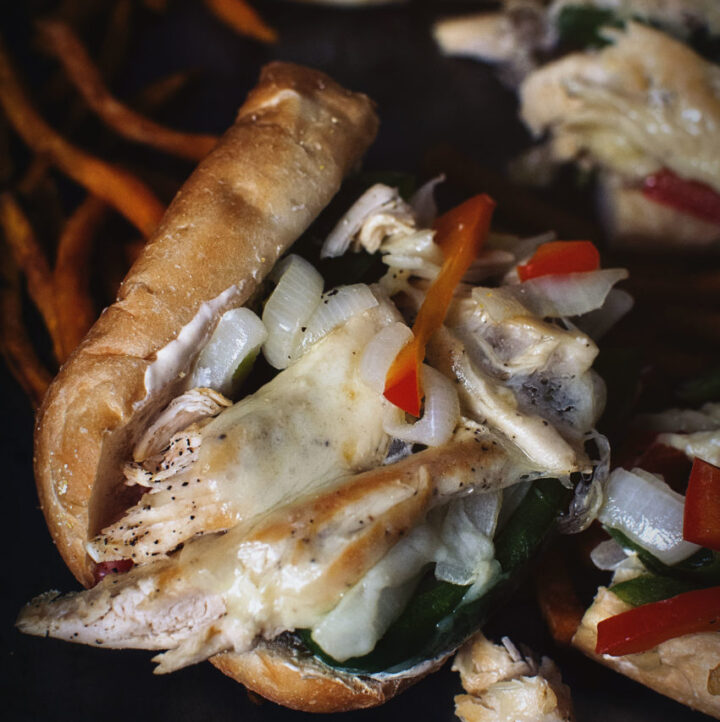 These are quick, crazy good, messy lightened up chicken cheesesteaks that remind me of my time spent outside of Philly at the local sandwich shops when I was a kid.
Ingredients
1

tbs

olive oil

1

lbs

chicken breasts

salt and pepper

1

whole red pepper

stemmed seeded and sliced

1

whole green pepper

stemmed seeded and sliced

1/2

yellow onion

sliced

1/2

cup

mushrooms

sliced

Provolone cheese

sliced

Mayo

6

Split Hoagie Rolls
Instructions
Preheat the broiler and make sure that rack is placed in middle highest position.

Line a baking sheet with foil and spray with non-stick cook spray or rub a little olive oil all over it.

In a large skillet over medium high heat, swirl the olive oil to coat pan.

Slice the chicken to 1/2" strips and season with salt and pepper.

Place in the hot pan and cook on all sides, about 5 to 7 minutes.

Meanwhile, arrange the peppers, onions, and mushrooms on the prepared pan.

Roast in the oven 5 to 7 minutes, checking and stirring and flipping as needing so that the veggies are cooked through and a little charred.

On the baking pan, arrange the cooked chicken and veggies so that they are about divided up equally for buns.

Layer the cheese over top and place back under the broiler for a few moments until the cheese has melted.

Smear mayo over rolls and spoon the filling into each. Serve.
Notes
Nutrition
Serving:
1
g
|
Calories:
296
kcal
|
Carbohydrates:
36
g
|
Protein:
22
g
|
Fat:
7
g
|
Saturated Fat:
1
g
|
Cholesterol:
48
mg
|
Sodium:
382
mg
|
Potassium:
395
mg
|
Fiber:
2
g
|
Sugar:
6
g
|
Vitamin A:
717
IU
|
Vitamin C:
43
mg
|
Calcium:
14
mg
|
Iron:
11
mg