This Moroccan Braised Lamb Shanks recipe is the perfect delicious tender lamb recipe. Bone-in lamb shanks are seared, then braised in a rich, flavorful sauce that's packed with the best herbs and spices.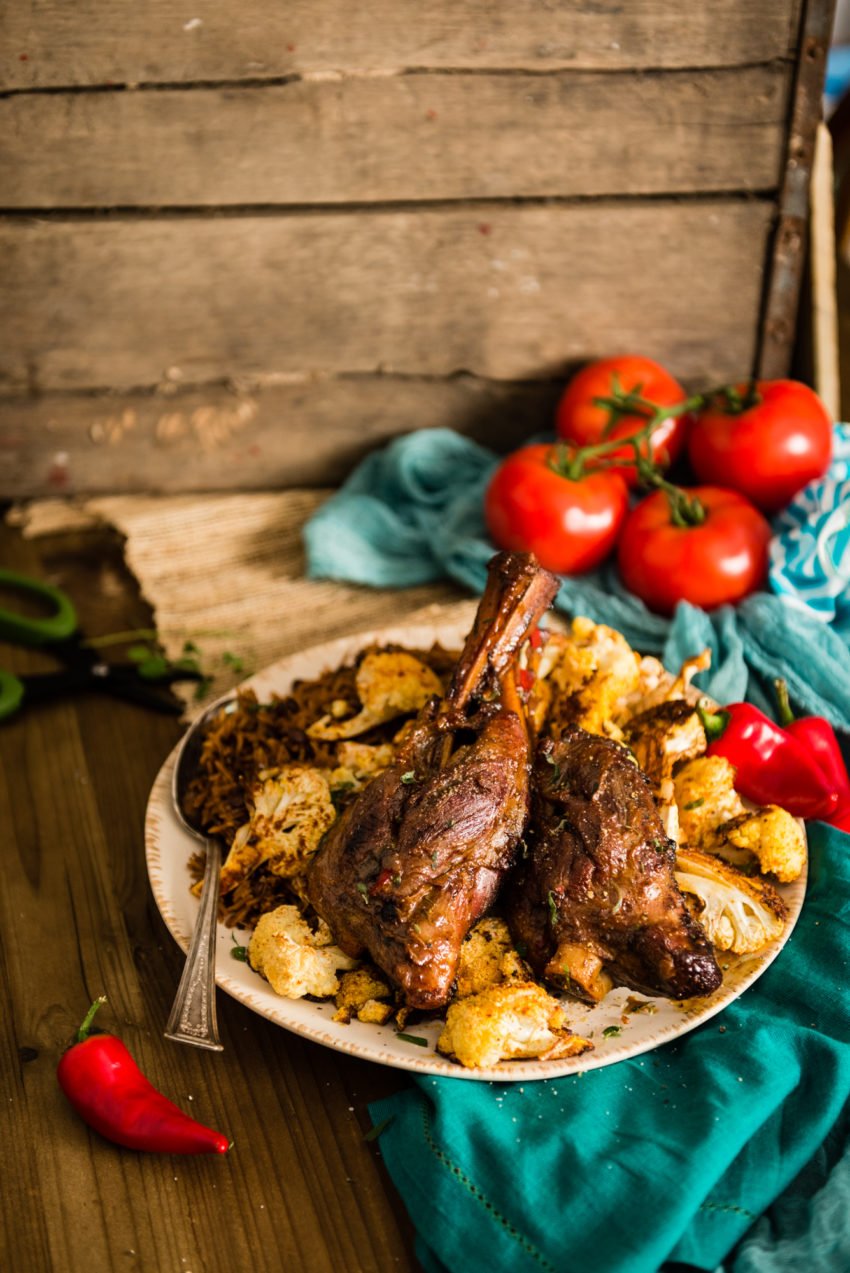 I can recall the thick noise of the Friday night market in Marrakech. Our group of photographers sat at a rooftop diner looking out at the sunset and watching hundreds of lights sparkle to life in the crowded market. I was in awe. There was music, craftsmen, spices, fruits, herbs, candies, and pastries, all tempting the crowd.
Even as dusk arrived, everything about Morocco was alive and bursting with color! And the same can be said about its cuisine. Layers of flavor create a harmonic blend of sweet, savory, and spice that for a wonderful recipe.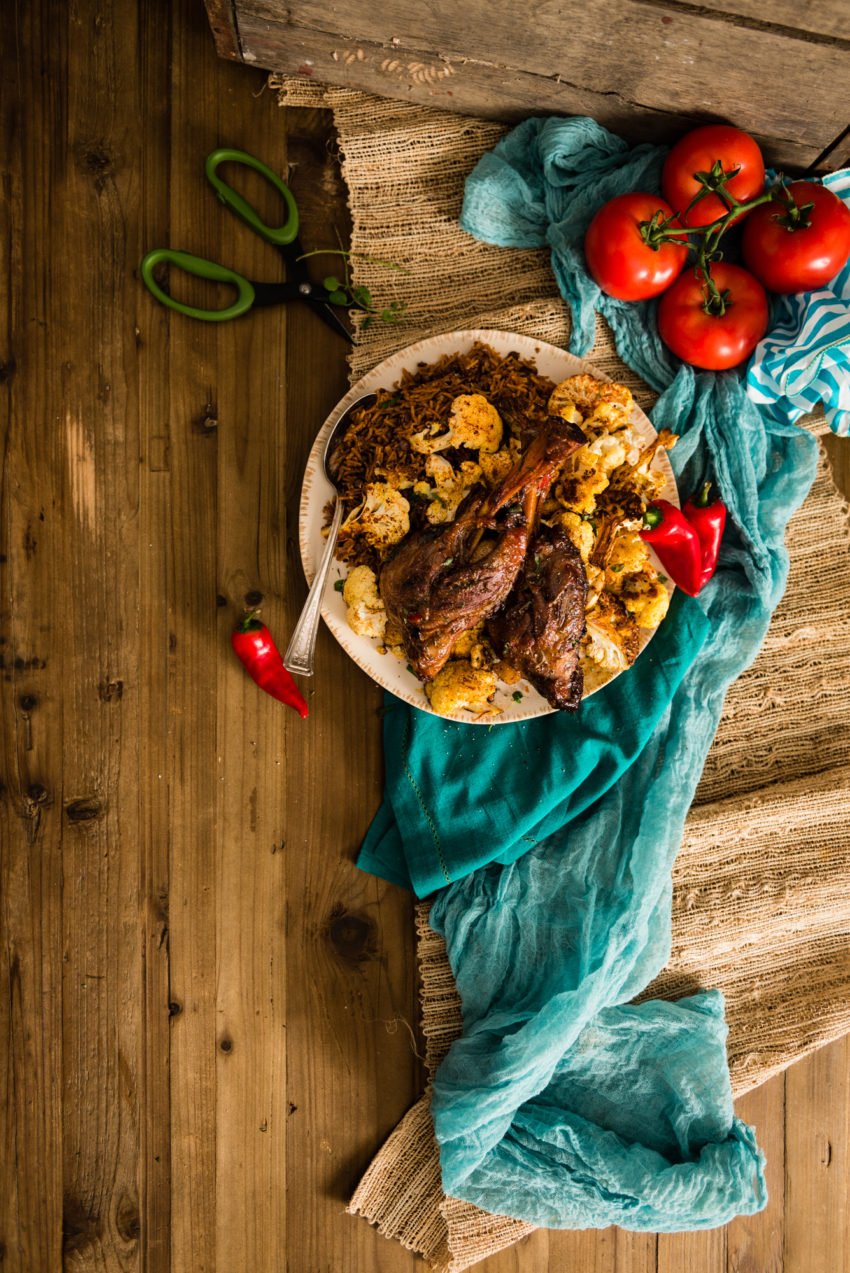 Since my amazing experience in Morocco, Moroccan cuisine has become one of my favorites to make at home. These incredibly delicious Moroccan Braised Lamb Shanks are the perfect homage to Moroccan food. Meaty lamb shanks are cooked low and slow in a process called braising with a rich blend of herbs, spices, and aromatics to create moist, tender, and flavorful meat.
With its gastronomy being enriched with so many cultural influences through its historic spice trade routes, Moroccan cuisine is becoming one of my favorites at home. Spotting fresh lamb shanks at my market had me longing for the rich North African tagines and tastes. So, I got crafty in my kitchen, recreating a blend of my favorite flavors while traveling through Morocco.
I've used these global experiences to make harissa lamb burgers, ground lamb meatballs, and more! But it starts with this delicious braised lamb shank recipe.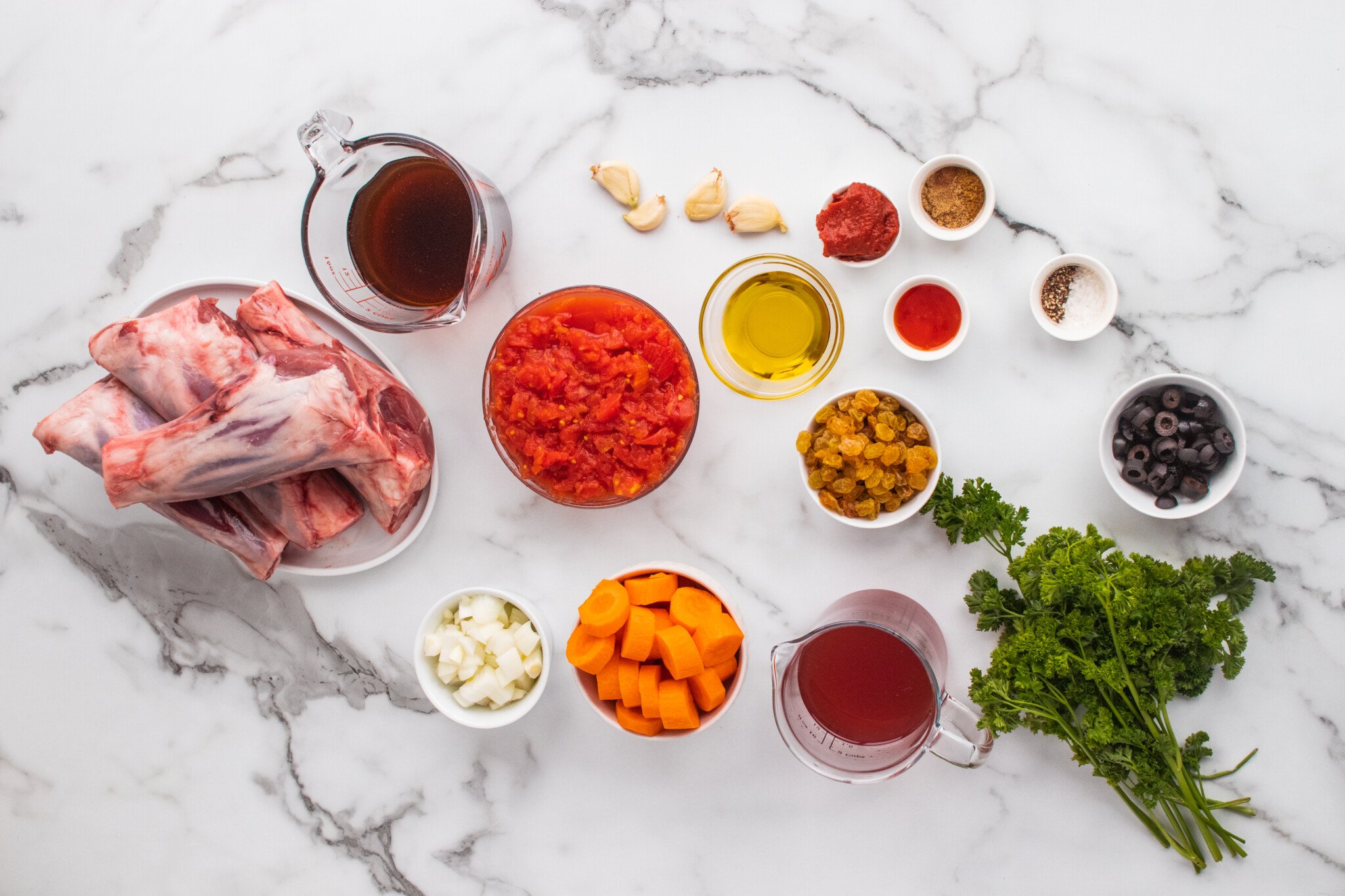 What you need to make this recipe
Lamb Shanks – use bone-in lamb shanks for the best flavor and texture. The low and slow cook time for braised lamb breaks down the connective tissue to create a fall-off-the-bone texture.
Salt and Pepper – a simple way to season the meat before cooking. We always use kosher salt and freshly ground black pepper.
Olive Oil – used to sear the lamb before braising.
Veggies – I use chopped onion and carrot to create a flavor base for the sauce.
Garlic – you'll need four cloves of garlic, smashed.
Tomato Paste, Red Wine, and Beef Broth – a warm, rich, flavorful base for the braising liquid.
Canned, Diced Tomatoes – be sure to drain the can first so your sauce isn't too runny. We use diced and not crushed tomato for texture.
Spices & Seasonings – you'll use an earthy-sweet blend of cumin, coriander, and nutmeg as well as Harissa which adds a kick of spice.
Golden Raisins – raisins soak up the moisture of the sauce to add a delicious pop of texture and subtle sweetness.
Olives – just use your favorite variety.
Herbs – I use fresh parsley or cilantro for garnish.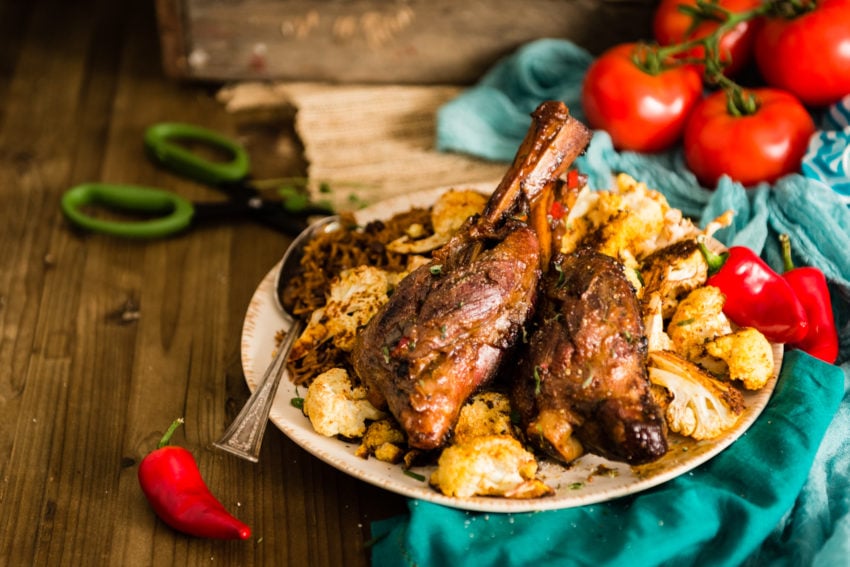 How to make Moroccan braised lamb shanks
To make this lamb shanks recipe, first preheat the oven to 325 degrees F. Then pat the lamb shanks dry with paper towels and seasoning them with salt. Heat oil in a Dutch oven or braiser, then brown the lamb on all sides. Remove and cover, then reduce the heat to medium.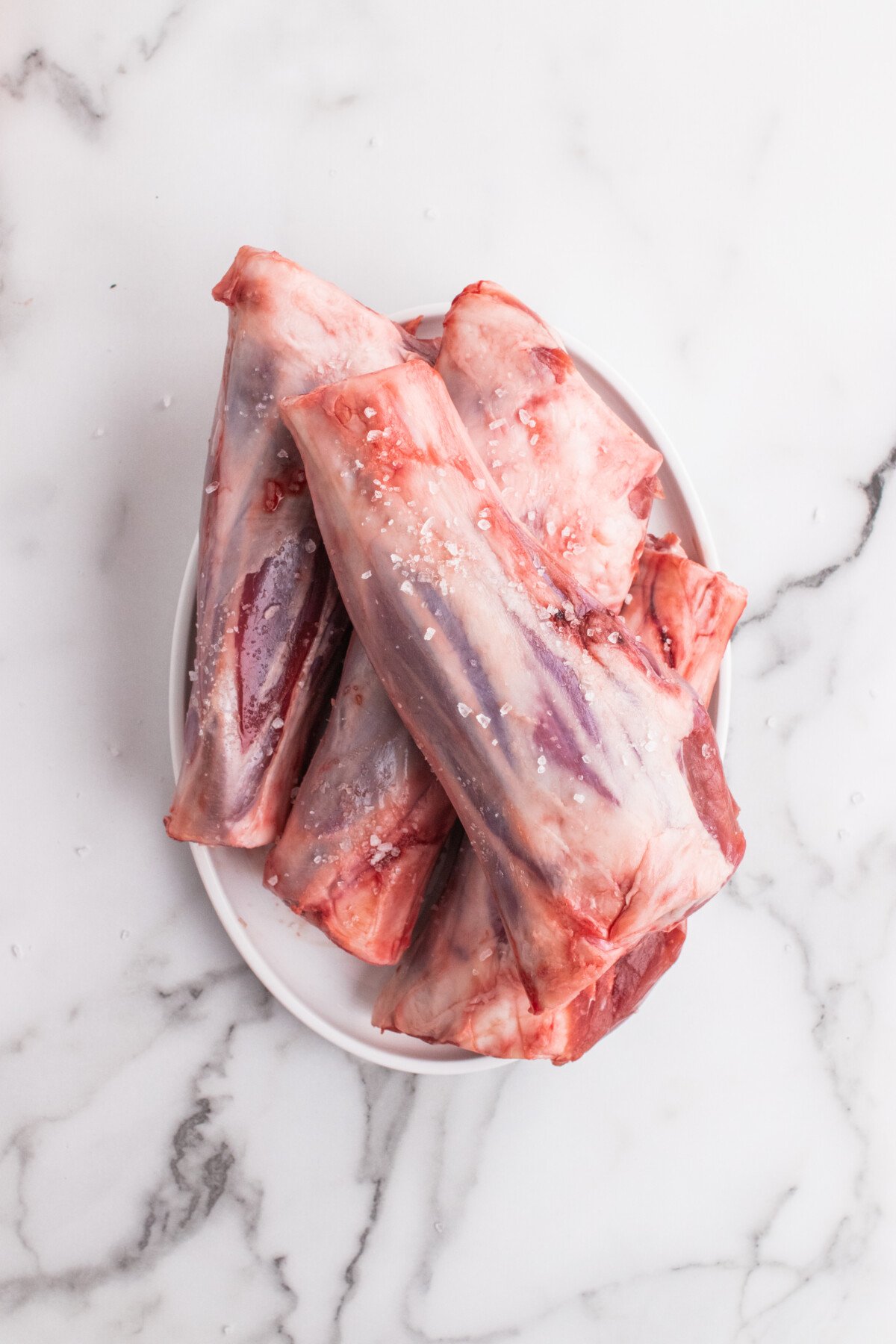 Add the onion and carrot and sauté for 3 minutes. Stir in the garlic, cumin, coriander, nutmeg, and tomato paste. Stir and cook for 30 seconds.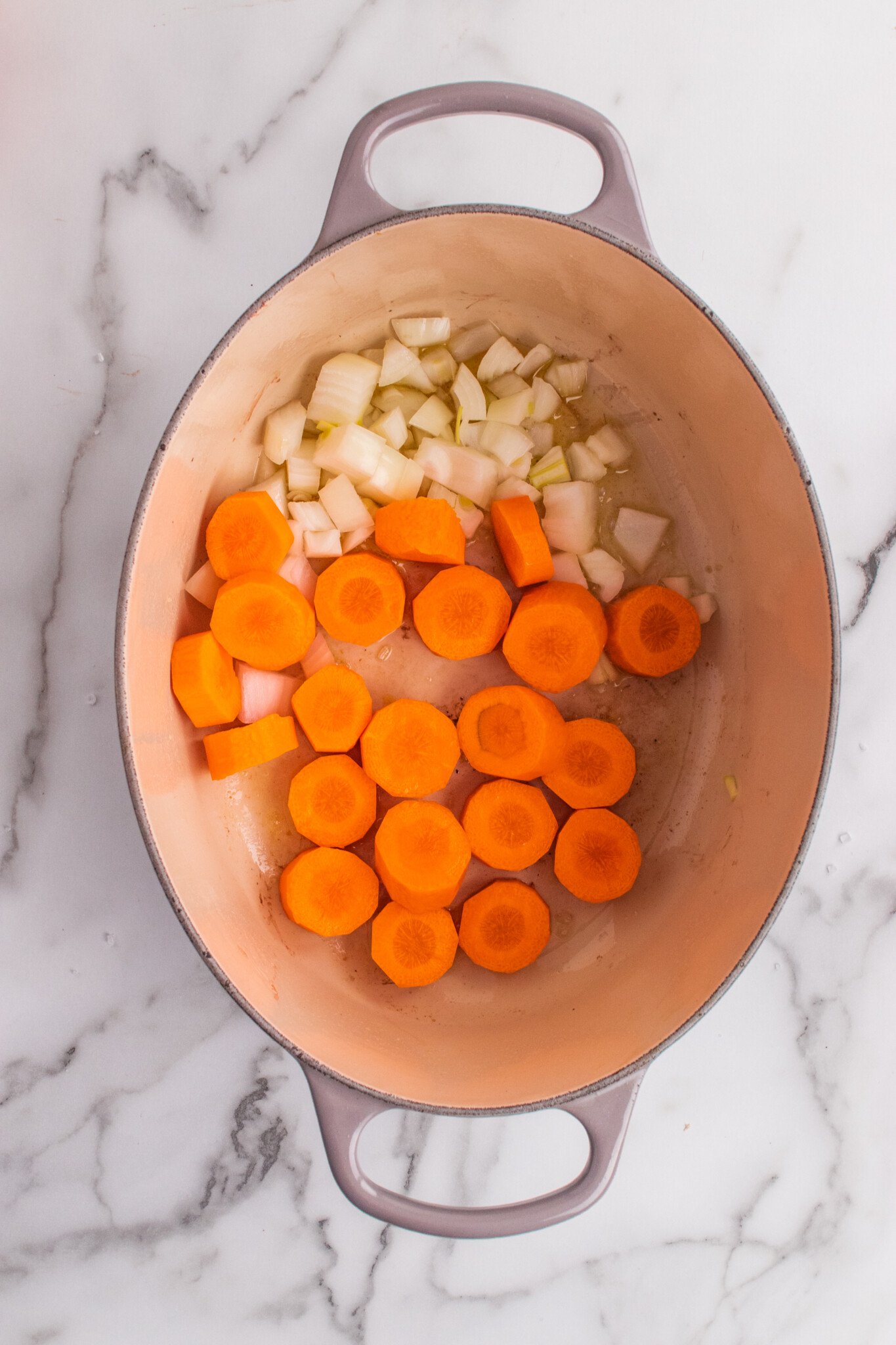 Add the red wine, scraping up any brown bits, then whisk in broth, tomatoes, harissa, and raisins. Season with salt and pepper.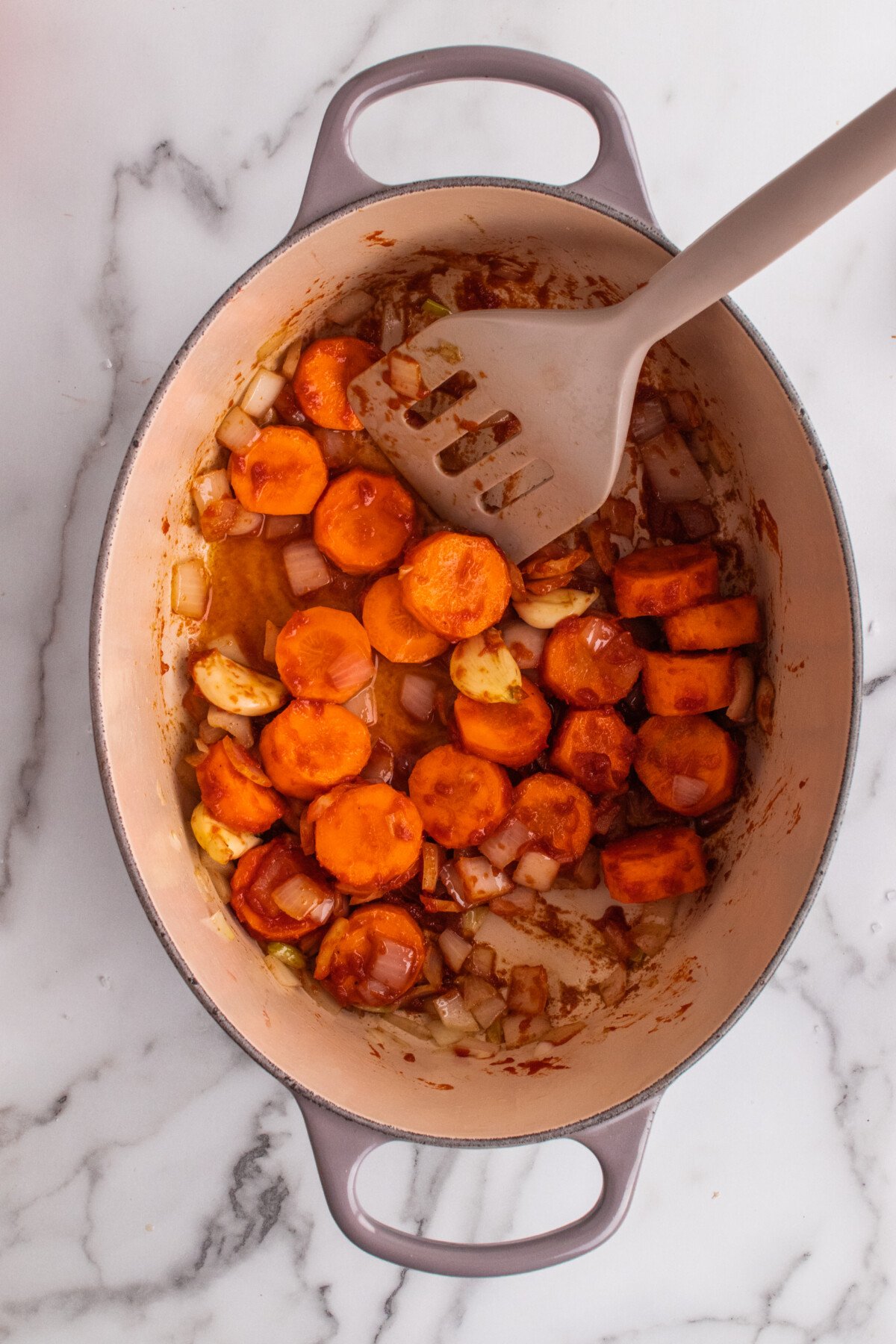 Return lamb shanks back into the pan, cover, and then braise in the oven at 325ºF for 60-90 minutes. Remove the shanks from the liquid and let rest for 10 minutes, then dish up and serve! Be sure to drizzle a little of the wonderful sauce over of top whatever grain or veggie you plate this lamb over!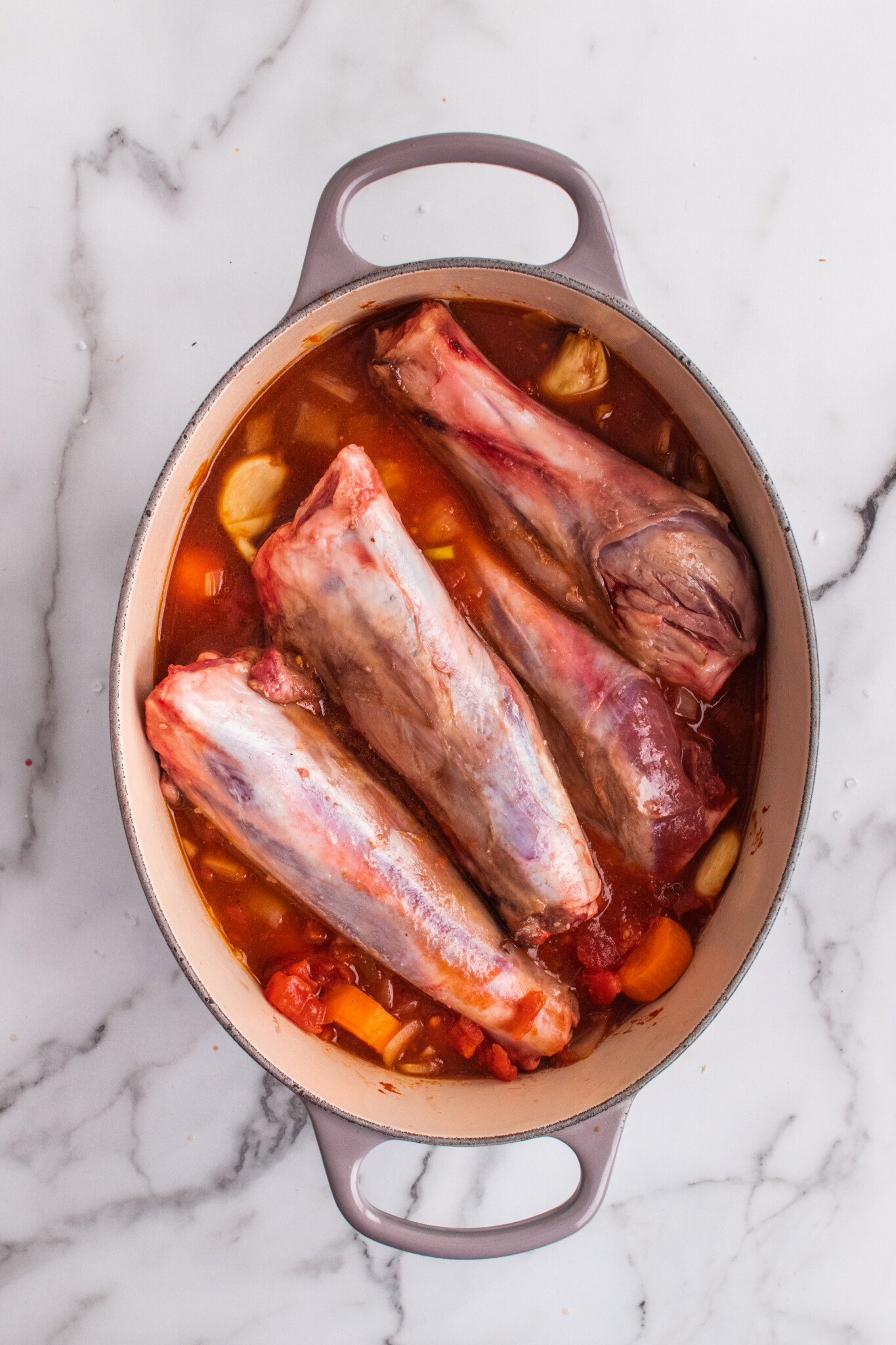 What is Harissa?
Harissa is a North African condiment that's made up of a blend of roasted peppers and spices in oil. It's often used as a topping or mixed into recipes to add tons of richness and flavor. While harissa recipes vary in spiciness, it's meant to be fiery and often include a variety of dried peppers as well as spices like cumin, garlic, caraway, and coriander.
I have often seen it sold in tubes but I prefer it in jars so I can spoon it out as much or as little as needed!
If you can't find harissa at your local market, check out Mina Harissa online or substitute it with hot sauce, chili flakes, or Sriracha. You can also whip up a quick, simplified version by grinding dried Arbol or guajillo chilies with oil and herbs. It won't be the same as traditional harissa but will work in a pinch to liven things up.
How do you know when lamb shanks are done?
The best way to tell if the lamb shanks are done is to check how easily the meat separates from the bone. If the lamb is fully cooked, it will easily pull away from the bone. If it doesn't, it needs longer to cook!
Lamb shakes are cooked through at 165 degrees F. However, if you take them to 190 F to 200 degrees F, the meat falls off the bone with so much flavor! We recommend always using a digital thermometer to check the temp of your meat.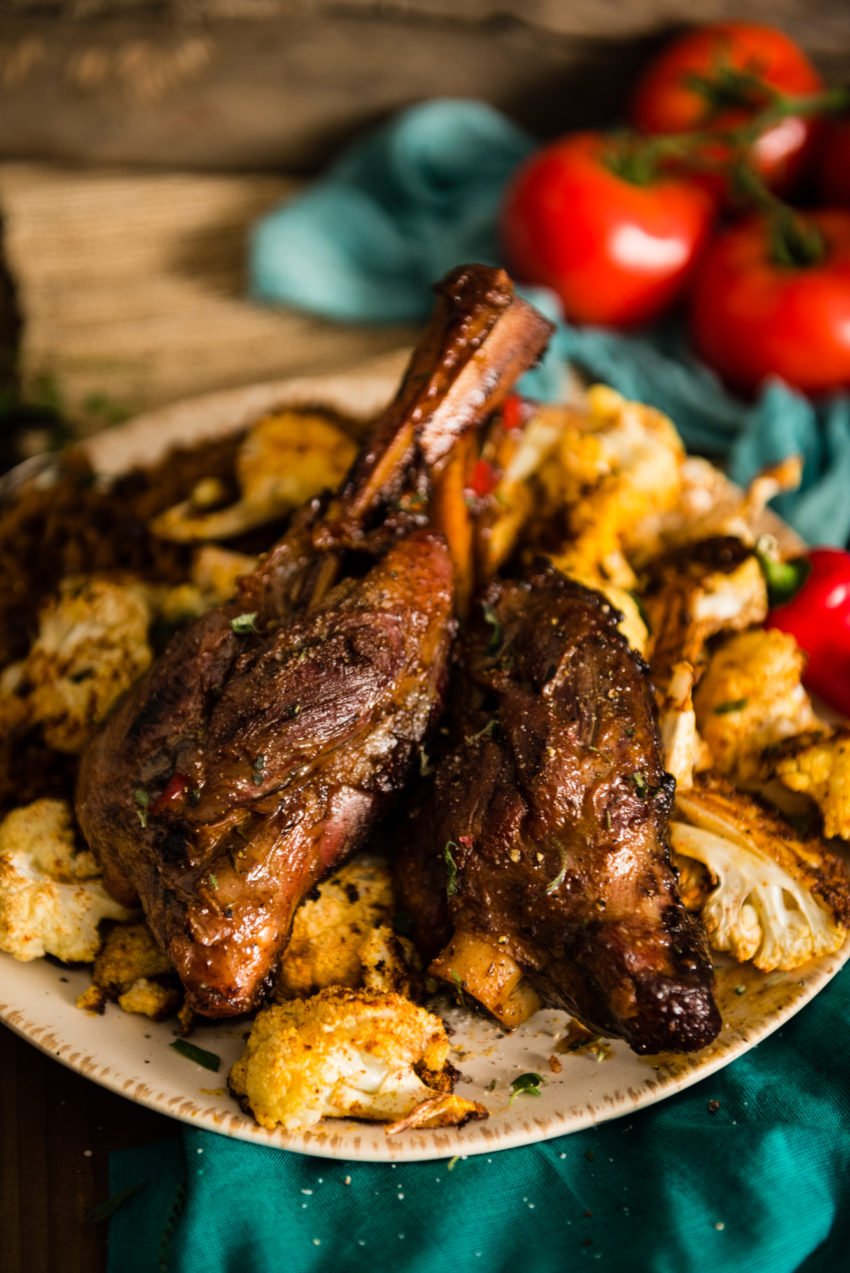 Expert Tips
Use bone-in lamb shanks. Bone-in meat has a more tender texture and better flavor. The marrow from the bone also melts into the sauce during the slow cooking time to create an even richer flavor making the best braised lamb shanks you could possibly eat!
If the meat doesn't tear away from the bone easily, the lamb needs longer to cook!
Use inexpensive wine. Since the flavor notes of the red wine are compromised by the many other flavors with the braised lamb in this recipe, I recommend saving the expensive wine to be served on its own. We do recommend a dry red wine, a cabernet sauvignon or pinot noir.
If you don't want to use wine in this recipe substitute it for additional beef broth and a splash of Worcestershire sauce.
When using harissa for the first time it's a good idea to mix in a small amount and add in a bit at a time to make sure you can handle the heat.
FAQs
What to serve with lamb shanks?
I served this braised lamb shanks recipe over a mix of lentils, bulger, and rice with a side of roasted cauliflower!
You could also serve it over polenta, with mashed potatoes, or with a side of roasted root veggies!

How long does it take to cook lamb shanks?
To get fall off the bone tender lamb shanks, you need to cook them low and slow for an hour to an hour and half. Shanks have a lot of connective tissue and are a tougher cut of meat that need to break down to make them tender, which is why they are perfect for braising in a rich sauce.
Do I have to brown the lamb shanks?
No, you can skip that step, but we don't recommend it for a few reasons. The first, is browning the shanks on all sides helps with the finished texture of the lamb.
Second, is that browning adds flavor to the delicious sauce when you deglaze the pan.
Leftovers
Leftover cooked lamb shank will last in an airtight container in the fridge for 3-4 days or in a freezer-safe resealable bag for up to 3 months. I recommend storing it with sauce to keep it moist!
To reheat, thaw in the fridge if frozen then warm with the sauce on low heat until heated through and tender.
More delicious lamb recipes
If you've tried my Moroccan Braised Lamb Shanks Recipe or any other recipe on GirlCarnivore.com please don't forget to rate the recipe and let me know where you found it in the comments below. I get inspired by your feedback and comments! You can also FOLLOW ME on Instagram @girlcarnivore as well as on Twitter and Facebook.
Moroccan Braised Lamb Shanks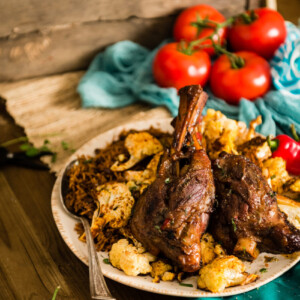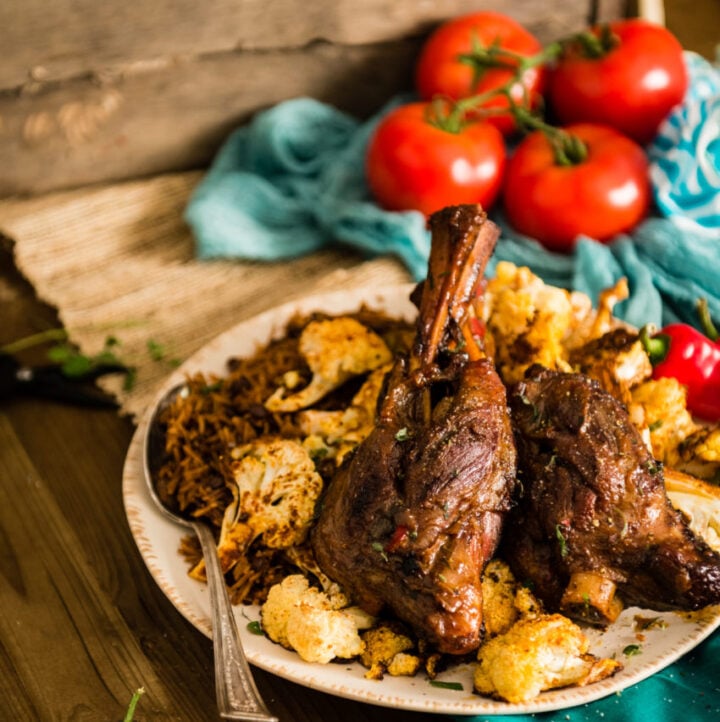 Moroccan Braised Lamb Shanks with harissa and other African flavors is the perfect fork tender recipe; just like what I enjoyed while traveling through Morocco.
Ingredients
4

lbs

bone in lamb shanks

salt and pepper

2

tbsp

olive oil

1

onion

chopped

2

carrots

chopped

4

cloves

garlic

smashed

1/2

tsp

cumin

1/2

tsp

coriander

1/8

tsp

nutmeg

2

tbsp

tomato pasta

1

cup

red wine

1

cup

beef broth

1 28

oz

can diced tomatoes

drained

1 – 2

tbsp

harissa

1/2

cup

golden raisins

1/4

cup

olives

sliced

parsley or cilantro for garnish
Instructions
Preheat oven to 325 F.

Pat the lamb dry and season liberally with salt.

In a Dutch oven or braiser, heat the oil over medium-high heat and brown the lamb on all sides, 7 to 10 minutes. Remove the lamb and cover.

Reduce heat to medium.

Add the onion and carrot to the Dutch oven and a saute 3 minutes. Add the garlic, cumin, coriander and nutmeg.

Mix in the tomato paste, stirring to coat and toast for 30 seconds longer.

Add the wine a little at a time and deglaze the pan by scraping up the browned bits.

Whisk in the broth, tomatoes, harissa, and raisins. Season with salt and pepper.

Nestle the lamb back into the Dutch oven and cover.

Transfer to the oven and cook for 60 to 90 minutes, until the lamb is fork tender.

Remove from and let rest 10 minutes before serving.

Garlish with fresh sliced olives and chopped parsley.
Notes
I served this over a mix of lentils, bulger and rice with roasted cauliflower to soak up the juices.
Nutrition
Calories:
478
kcal
|
Carbohydrates:
32
g
|
Protein:
43
g
|
Fat:
15
g
|
Saturated Fat:
3
g
|
Cholesterol:
128
mg
|
Sodium:
886
mg
|
Potassium:
1301
mg
|
Fiber:
4
g
|
Sugar:
19
g
|
Vitamin A:
5490
IU
|
Vitamin C:
26.6
mg
|
Calcium:
128
mg
|
Iron:
6.6
mg