Nothing's as satisfying as perfectly braised short ribs. They melt under your fork and bring nothing but flavor and with this easy slow cooker recipe, you can recreate this restaurant quality meal at home. Braised Short Ribs over Sweet Potato Puree Recipe 
Am I the only sucker who didn't know the joy of a short rib until I was a full-grown adult?
Can we just talk about how they may be my favorite guilty pleasure for the colder months? When done right (and don't even bother eating them unless done right) short ribs dissolve under your fork and are one of the most tender and flavor-packed cut there is. To me, the joy of a perfectly cooked short rib is a rich and buttery experience, only topped by a perfect serving of roasted bone marrow.
Short ribs are loaded with fat, aka, flavor. So much so, a lot of people are turned off by them or are unsure of the best way to prepare them.
To create the perfect fall off the bone short rib, you want to layer on the flavors, nice and slow in a subtle way the builds over time. This isn't a hot steamy love affair on the kitchen counter, this is a well-thumbed romance novel of earned affection.
Trust me, some things are worth waiting for.
Cut from the front of the cattle, the short rib is cut from the chuck and brisket area (sometimes the plate too). Short ribs are just that, a shorter rib of 3 to 6 inches when cut with hearty portions of well-marbled meat. They are often cut individually, on the bone, "English" style, or across 2 or 3, "Flanken-cut." Most commonly, in my markets, I see smaller English cuts out for day to day consumers. I will often ask the butcher to see if there are heftier pieces in the back as I tend to enjoy braising short ribs that are as thick as possible.
Slow braising is perfect for thicker short ribs, as it allows the fat to render and melt through the meat, keeping them moist and saturated with flavor. When ready to serve, the meat should practically melt beneath a slight touch, no knife needed. Bonus points for straining the cooking liquid and reducing to create an added layer of flavor.
For best results, I actually start my short ribs a day ahead, like a good soup, allowing the subtle layers of flavor to really get to know one another and produce a serious flavor profile. I will reheat and finish them off right before plating with a drizzle of reduced cooking liquid.
For another killer short rib recipe, check out my Bourbon Braised Short Ribs with Honey and Fig Mac and Cheese.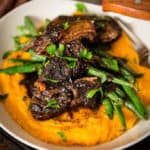 Braised Short Ribs over Sweet Potato Puree
To make Whole30 Compliant, omit the flour and use arrowroot powder for thickener. Replace the stout with bone broth instead. Add a dash or two of coconut aminos to bump the flavor.
Ingredients
4

lbs

bone on English style short ribs

about 4 bones

2

tbs

vegetable oil

salt and pepper

1

onion

diced

1

carrot

peeled and diced

1

celery stalk

trimmed and chopped

2

garlic cloves

minced

2

tbs

tomato paste

2

tbs

flour

1

cup

coffee stout or other dark stout

1

tbs

balsamic vinegar

2

cups

chicken broth

2

bay leaves

1

teas fresh thyme

Fresh parsley

for garnish
For the Sweet Potato Puree
3

lbs

sweet potatoes

peeled and diced

salt and pepper

4

tbs

butter

1

tbs

cream
Instructions
Carefully, trim the meat from the bones and place the bones in a heat safe dish. Cook in a microwave for 10 to 15 minutes, flipping once or twice, until browned. Place in the slow cooker. Meanwhile, pat the beef dry with a paper towel and heat a skillet over medium-high heat. Season the beef liberally with salt and pepper. Add the 1 tablespoon oil to the hot pan and swirl to coat. Place the beef in and brown on all sides. Place in the slow cooker.

In the same pan, add the remaining oil. Saute the onion, carrot, and celery for 5 to 7 minutes, until soft. Stir in the garlic, tomato paste and flour, cooking for a minute longer.

Slowely whisk in the ale, scraping up any accumulated brown bits on the bottom of the pan. Whisk until slightly thickened and stir in the balsamic vinegar. Add the veggies and liquid to the slow cooker. Stir in the chicken broth, bay leaves and thyme. Cover and cook on low for 9 to 10 hours.

Turn off the heat and allow the liquid to settle. Skim the fat from the surface and discard. With a slotted spoon, remove the bones and beef from the cooking liquid.

Pour the cooking liquid through a strainer into a clean pot. Cook at a gentle simmer over medium-low heat, until reduced by half.

Meanwhile, make the sweet potato puree. Boil the diced sweet potatoes for 7 to 10 minutes in a large pot of salted water. Drain when fork tender. Whip the sweet potatoes with butter and cream until smooth and fluffy. Season with salt and pepper as desired.

Serve sweet potatoes with hot short ribs and reduction sauce.

Garnish with freshly chopped parsley.

Skim fat and strain liquid.

Discard veggies.

Reduce liquid