This homemade beef bone broth is one of my favorite delicious soup recipes. Not only is beef broth a great way to reuse leftover bones from other meals, but the meaty marrow bones that form the base of this recipe come with numerous health benefits.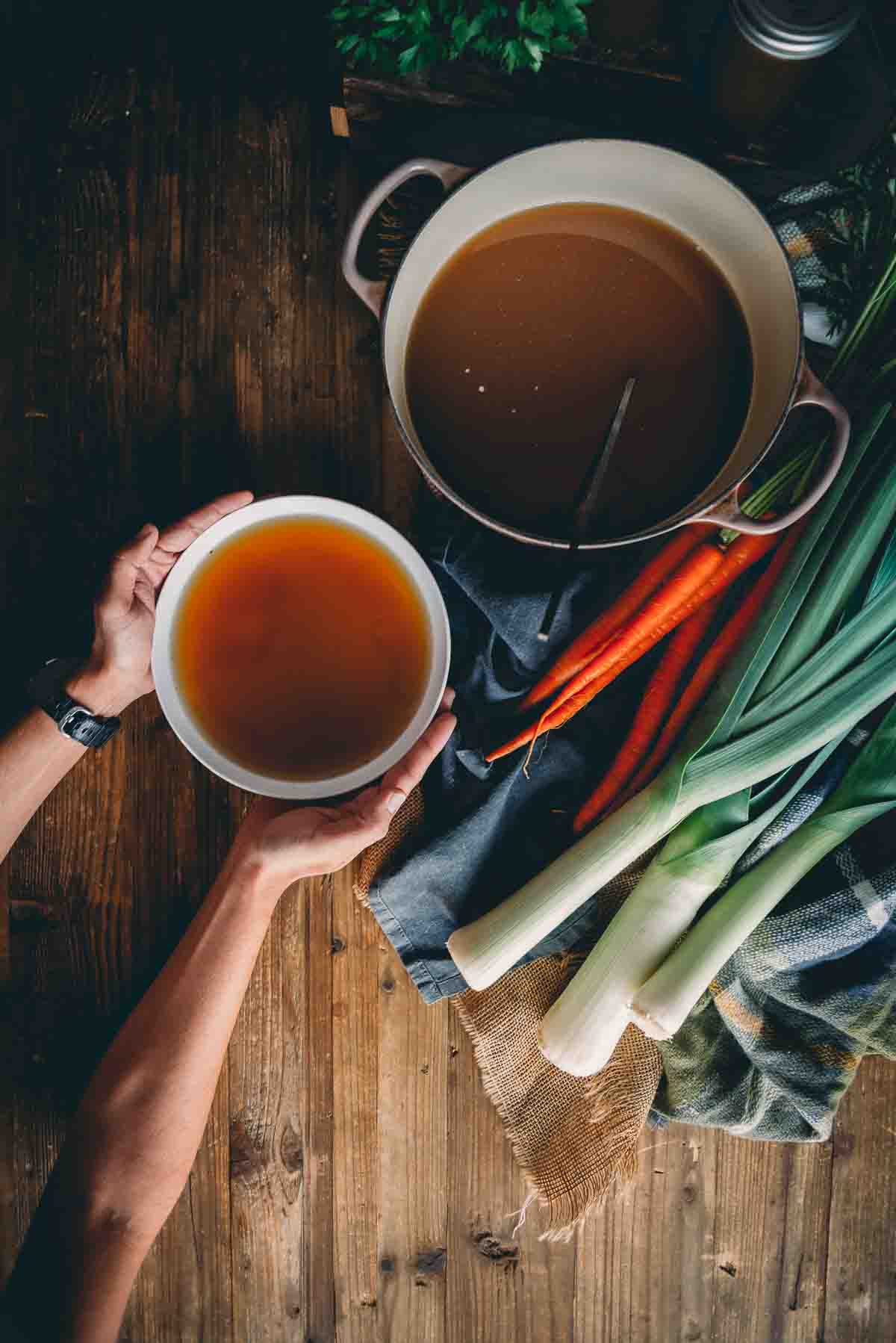 What is Beef Bone Broth
Bone broths are among the oldest dishes on Earth, and for good reason! They're incredibly simple to make, and although the process is time intensive, it's mostly waiting time, so you can get other things done during the process.
Beef bone broth is a rich and nutritious liquid soup stock made by simmering marrow-rich beef bones for a long time at medium heat to low heat. While the bones provide the majority of the umami flavor in this cooking method, bone broth is usually fortified with root vegetables such as organic carrots, leeks, and celery.
Beef stock is particularly rich, making it the perfect standalone dish to enjoy on cold days, but it also doubles as a great base for sauces, stews, and a variety of other recipes. The savory taste will wash over your palate with a rich umami derived from the bone marrow. It's sure to be a crowd pleaser as its own soup course and can be eaten at any time of day. Some people even enjoy bone broth for breakfast!
Beef bone broth is also a practical kitchen staple. Many recipes call for beef stock or broth, and you can freeze it for multiple months to use later. Among the nearly infinite ways to use bone broth are as a braise for other meats, as a base for gravy, sauce, or marinade, and in dishes such as casseroles, stews, and more. Its versatility places it high on my list of favorite recipes.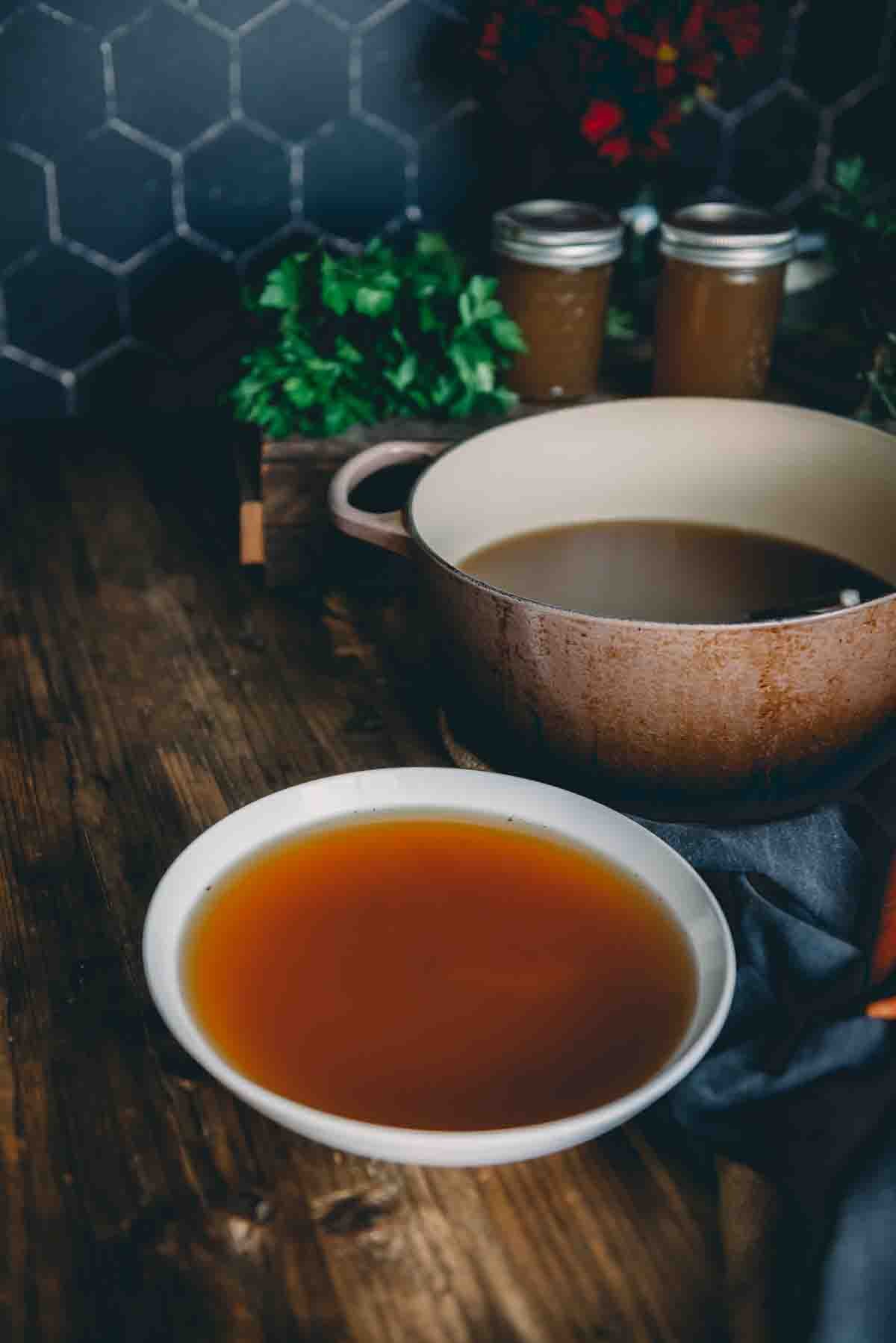 Why You'll Love Beef Bone Broth
As we head into winter, this homemade bone broth is perfect for a snowy day. It's also perhaps the best way to get your amino acids, collagen, and other vitamins and minerals, with fresh herbs and veggies providing even more health benefits.
Among other benefits of bone broth is that this recipe can be made using leftover bones from beef ribs, prime ribs, or other previous meals with leftover meaty bones, so you likely won't have to run out to any grocery stores.
While it can take a long time to prepare, beef bone broth is one of many traditional foods whose prep time is offset by how simple it is to make. Like other hot broths, you can serve beef broth on its own, or use it as a base for sauces, adding a little flavor to cooked grains and rice, or as an ingredient in other delicious recipes.
Unlike my instant pot turkey stock (which is a great way to use up leftover turkey carcasses), homemade beef broth has a more pronounced flavor so take note when a recipe calls for chicken or beef stock or broth, as they are not interchangeable.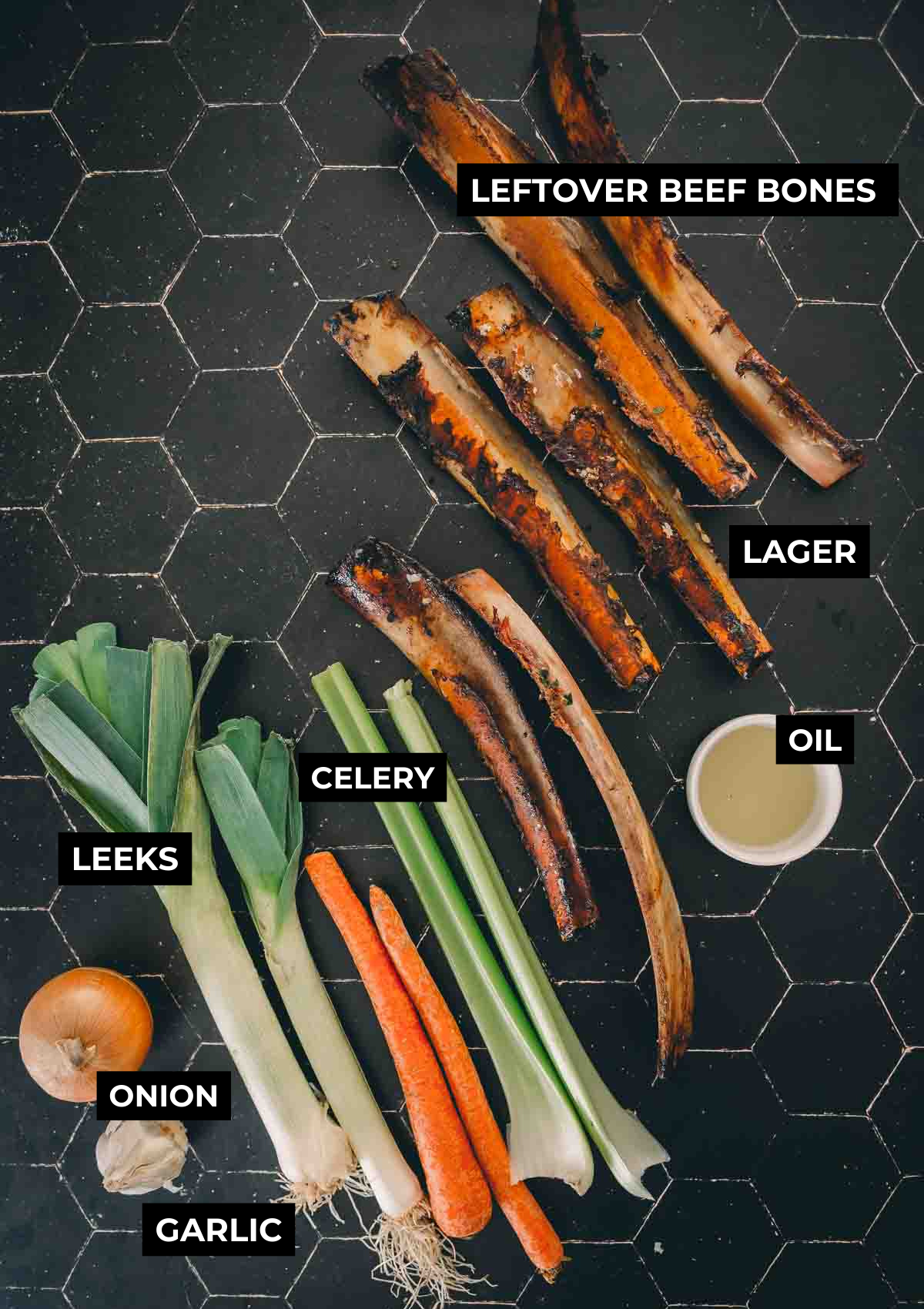 Ingredients:
If this is your first time making beef bone broth, you should plan to make it well in advance of when you plan to serve, as it will take between 12 and 15 hours to prepare. But don't let that scare you! This recipe is incredibly simple and most of that time will be spent waiting for the bones to roast, simmer, and for the broth to refrigerate overnight.
Beef bones
Celery
Leeks
Carrots
Onion
Garlic
Olive Oil
Filtered Water
How to Make Beef Bone Broth
Roast the beef bones and veggies
Roasting the bones deepens their flavor, adding to that special savory taste we're looking for. To begin, line 2 baking sheets with foil and preheat the oven to 425 degrees F. While the oven warms, arrange all the bones and veggies on both baking sheets. As you place the bones and veggies on the sheets, rub everything with olive oil, making sure to coat on all sides.
Once the oven finishes preheating, place the baking sheets with your beef bones and veggies on the center rack to roast for 40 to 45 minutes.
Next, remove the baking sheets from the oven and let them rest for 10 minutes. Drain off any fat.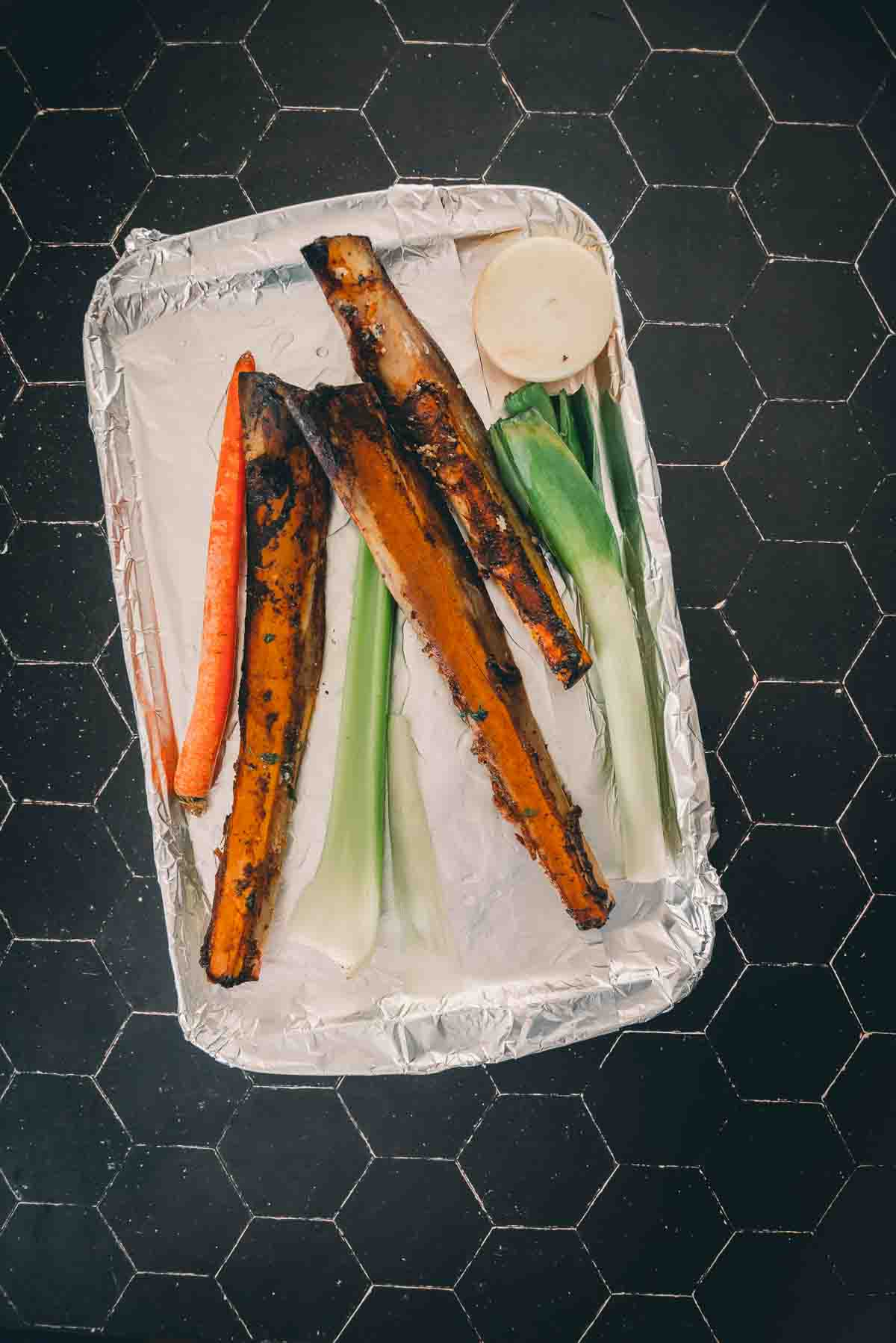 Simmer the roasted bones and veggies
Simmering the roasted bones and veggies in water is how we get the rich broth we're after, imbuing the water with the flavor we've helped bring to the surface by roasting. Add your roasted beef bones and vegetables to a large stockpot (or any reasonably large pot) and cover with cold water, making sure the water reaches at least an inch above the bones and vegetables. If there are browned bits left in your baking sheets, add that as well. It's where the flavor is!
Place the stockpot on the stovetop and bring the mixture to a gentle, very low simmer. Make sure not to let it boil, since the low and slow cooking process is crucial to extracting the most flavor out of the bones. Set your cooking range to medium-low heat and allow the bone broth to simmer for 4 to 6 hours, checking occasionally. Skim any fat from the top occasionally with a strainer or slotted spoon.
Once finished, remove the broth from heat and allow it to cool completely. Once cooled to room temperature, skim any excess fat from the top of the broth and pour the remainder into a large bowl. Refrigerate the bowl of broth overnight and when you return, skim any additional solidified layer of fat from the surface. It's key to remove as much of the fat that comes to the surface as possible for this recipe.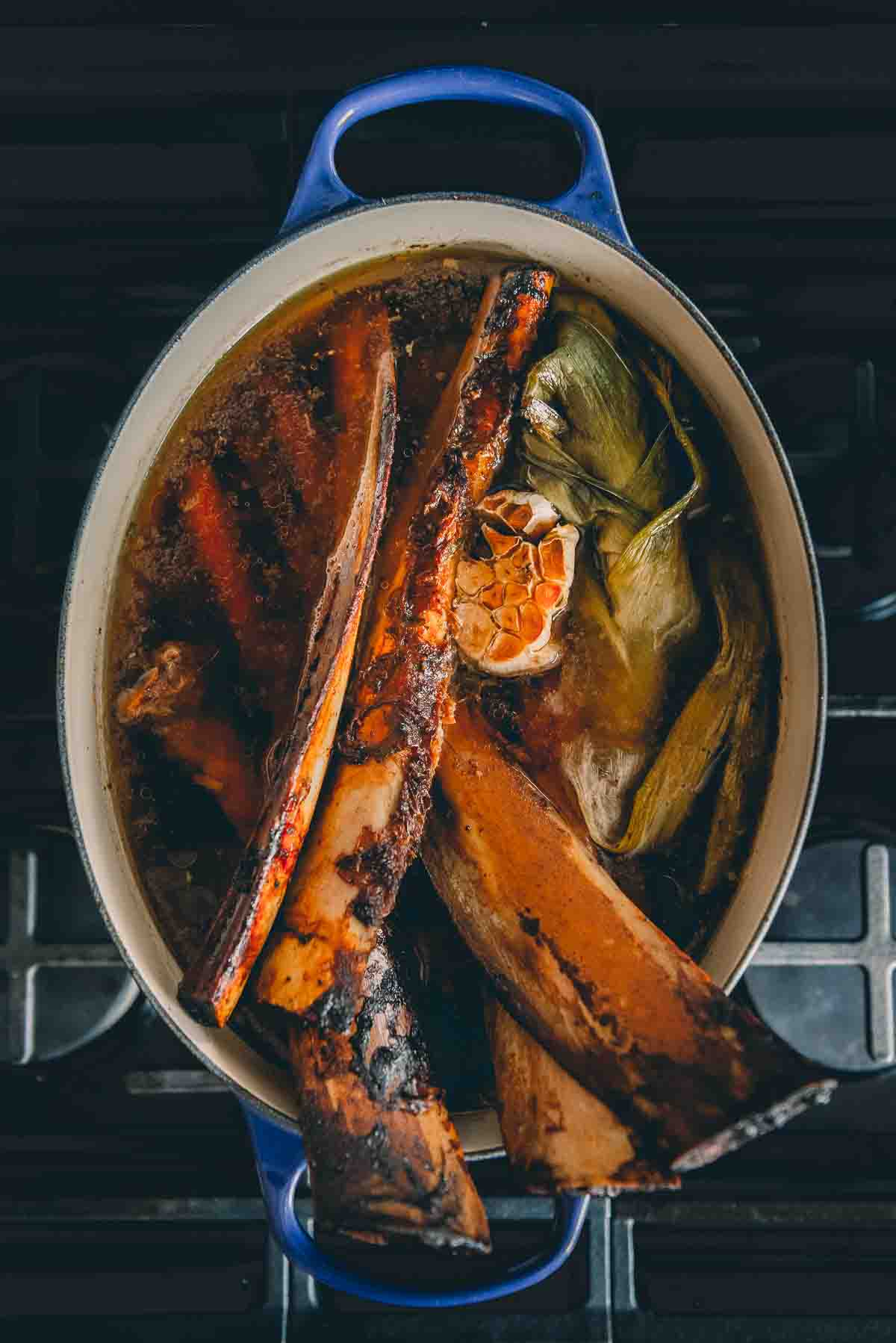 How to serve beef bone broth
To serve beef bone broth as its own dish, strain and pour into a bowl or cup. It's excellent on its own, but you can also braise other meats in it, use it in gravies and sauces, or use it in other recipes that call for beef broth.
Use your homemade bone broth in recipes like
Storage
Divide your batch of bone broth into airtight containers and store in the fridge for up to 1 week or freeze for up to 3 to 4 months. Do not store in the fridge for a long period of time, as between 5 days and one week is generally the limit. Broth freezes for months at a time, so if you don't plan on using your bone broth soup in the near future, it's best to throw it in the ice box immediately.
Reheating/Leftovers
If you're reheating your beef bone broth from the refrigerator, pour it into a pot and warm it over low-medium heat until it warms through. If you're reheating from frozen, move the container into the fridge overnight. You can speed the defrosting process up by placing the container in warm water for a few hours.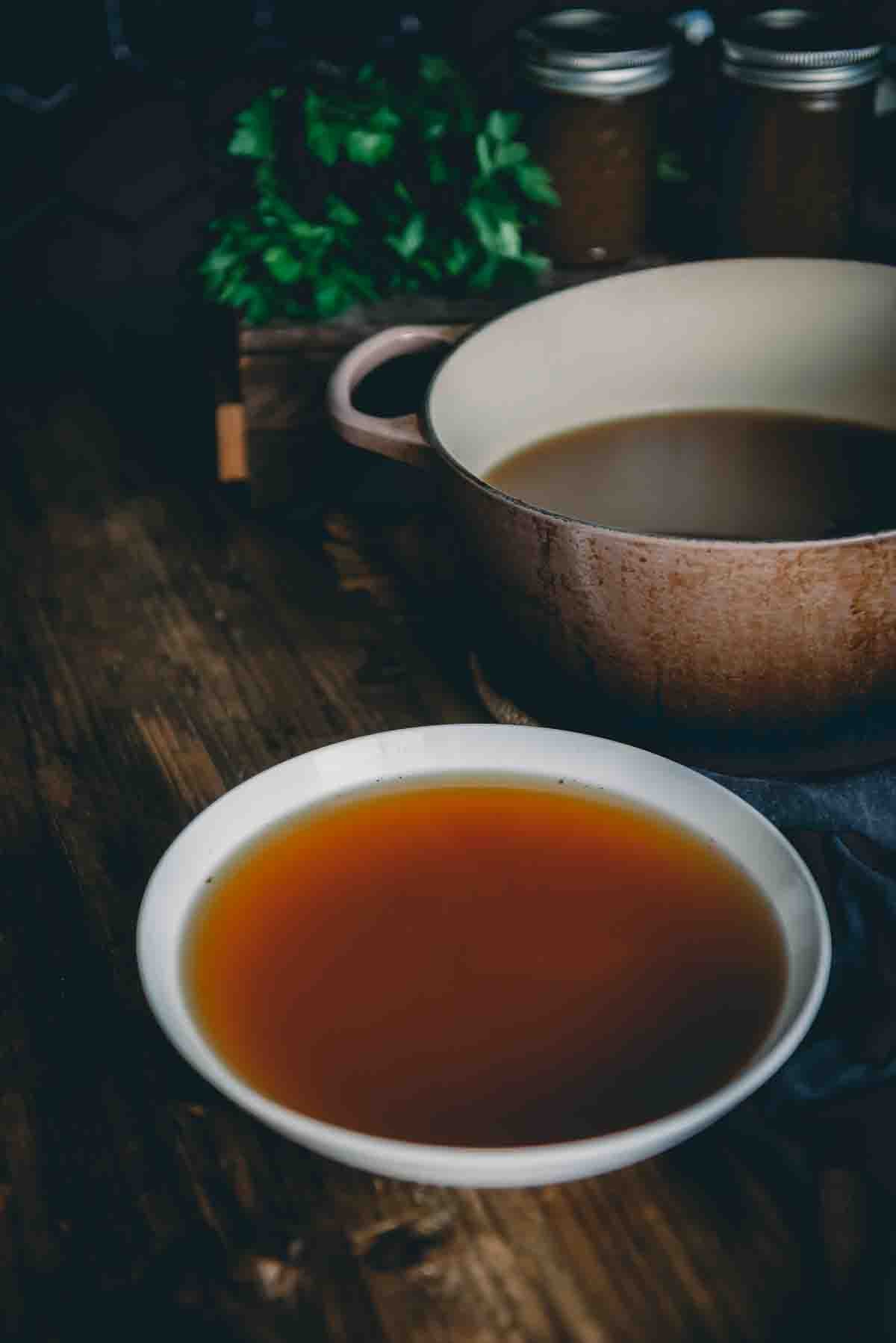 FAQs
What are the best bones for beef bone broth?
You can use a variety of bones for beef bone broth, and for this recipe, we're using leftover bones from my smoked beef ribs and smoked prime ribs recipes, though you could use bones from my braised short ribs as well, along with nearly any beef bones.

In general, bones with lots of marrow contain the most flavor, and are the best beef bones to find fats that promote a healthy immune system. Gelatinous bones, such as beef knuckle bones and joint bones, give the bone broth its rich thickness, making them another perfect choice. Sliced soup bones are another solid choice.

You can collect bones for a beef bone broth by saving them after meals, wrapping them tightly in tin foil, and freezing them for later. Make sure to mark them with the name and date.
Can I make beef bone broth with a slow cooker or crock pot?
Beef bone broth works with almost any cooking process. You can use an instant pot, pressure cooker, slow cooker, or crock pot. However, for best results with this recipe, a large stock pot is recommended.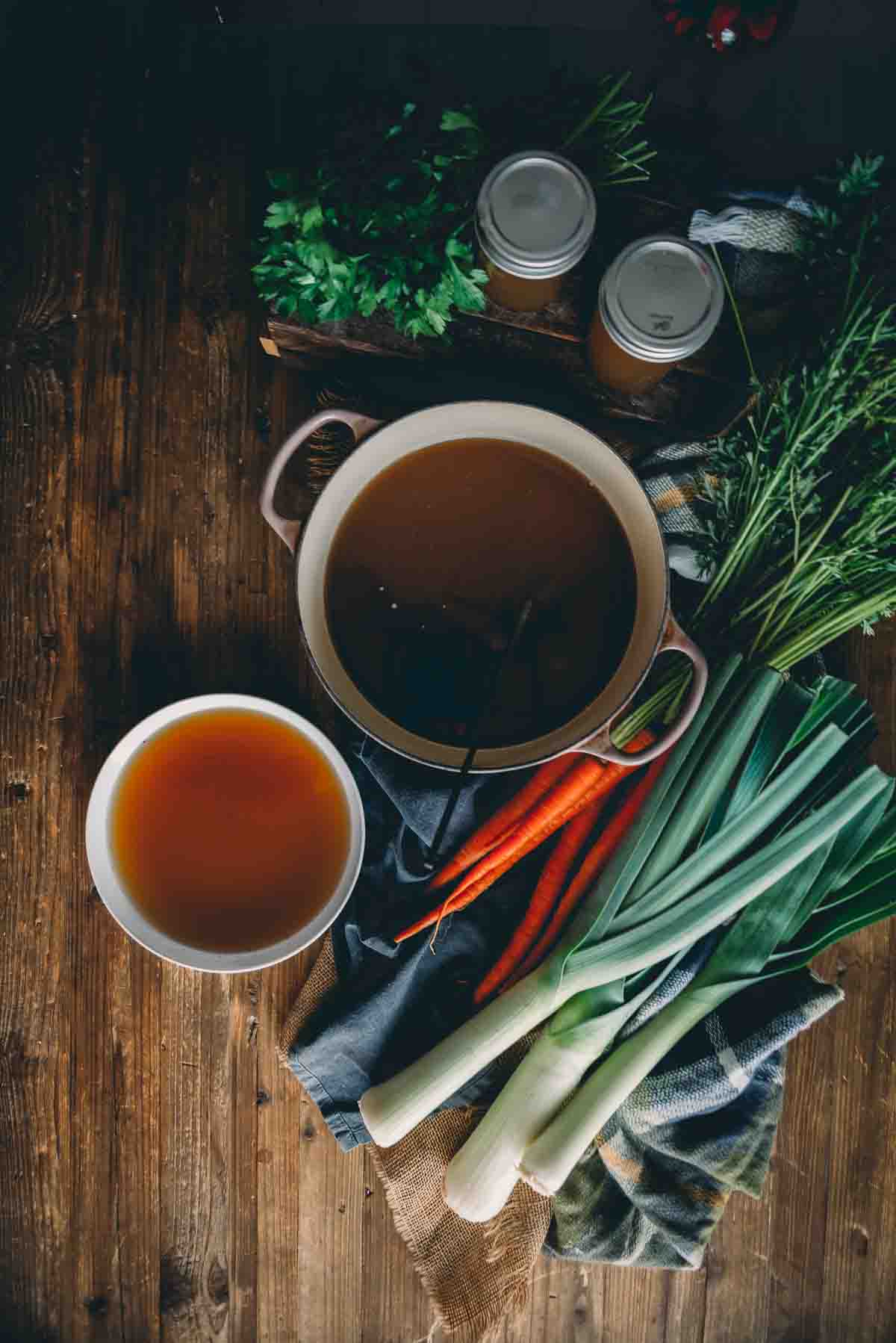 What to serve with beef bone broth
This beef bone broth recipe makes an excellent soup course when served in a cup alongside soup crackers. Season it however you like, such as with sea salt and fresh herbs. As a main dish, leave the vegetables in when you serve the broth for a meaty and filling course.
MORE DELICIOUS BEEF RECIPES
If you enjoyed this Beef Bone Broth recipe, or any other recipe on Girl Carnivore as much as I do, let me know in the comments below, and don't forget to share it with friends and family! Your feedback is what keeps me motivated to keep sharing the best meat recipes on the web!
Roasted Beef Bone Broth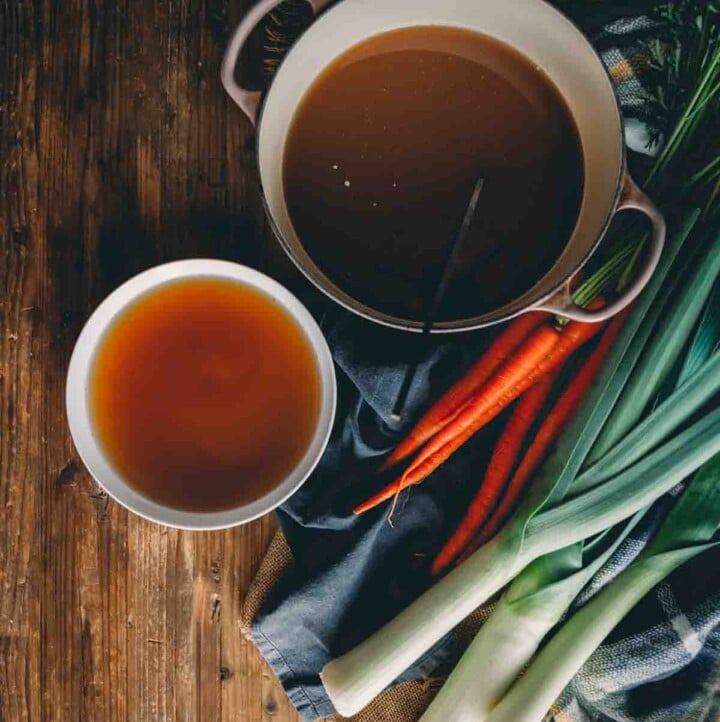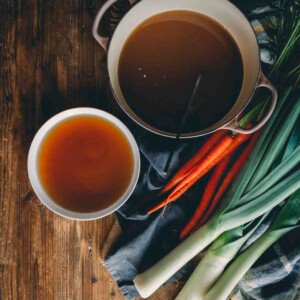 This rich beef bone broth roasts leftover beef bones with veggies before a simmer to make comforting broth that can be frozen for months.
Ingredients
5 to 6

lbs

beef bones

2

stalks Celery

2

Leeks

3

Carrots

1

Onion

sliced in half

1

head garlic

top sliced off

Oil

Water
Instructions
Line 2 baking sheets with foil and preheat the oven to 425 degrees F.

Arrange the bones and veggies on both baking sheets.

Rub everything with the oil on all sides.

Roast the beef bones and veggies in the oven for 40 to 45 minutes.

Remove from the oven and rest for 10 minutes. Drain off any fat.

Add the roasted beef bones and vegetables to a large stock pot and cover with water.

Place the stockpot on the stovetop and bring to a gentle simmer.

Lower heat to medium-low and allow the bone broth to simmer for 4 to 6 hours.

Remove from heat and allow to cool completely.

Skim the fat from the top and pour it into a large bowl.

Refrigerate overnight and skim any additional solidified fat from the surface.

Divide into airtight containers and store in the fridge for up to 1 week or freeze for up to 3 to 4 months.
Notes
This broth can be enriched with Worcestershire, red wine, or even tomato paste or a dash of apple cider vinegar. It's a fantastic way to add depth, however, it does change the overall broth and we wanted a base stock to have on hand for any dish in the future so we did not include these ingredients in this version.
Nutrition
Serving:
1
g
|
Calories:
23
kcal
|
Carbohydrates:
5
g
|
Protein:
1
g
|
Fat:
0.1
g
|
Saturated Fat:
0.02
g
|
Polyunsaturated Fat:
0.1
g
|
Monounsaturated Fat:
0.004
g
|
Sodium:
17
mg
|
Potassium:
110
mg
|
Fiber:
1
g
|
Sugar:
2
g
|
Vitamin A:
3358
IU
|
Vitamin C:
4
mg
|
Calcium:
20
mg
|
Iron:
0.5
mg