This is an easy 'fried' honey dijon leg of lamb, perfect for any holiday, cooked in an outdoor oil-less fryer. Yep, crazy good and minimal clean up.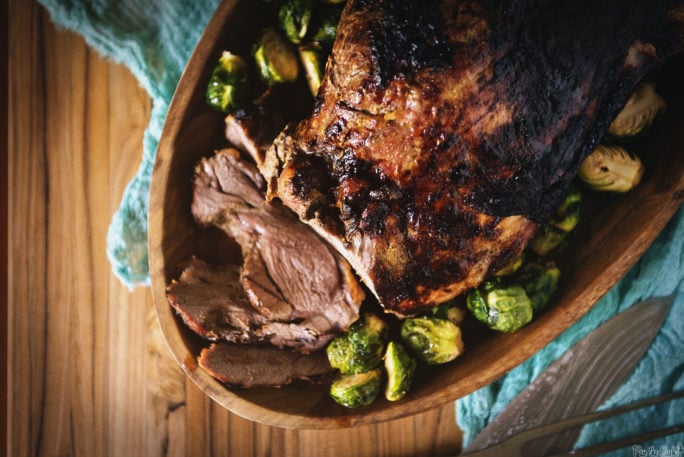 It's that time of the season when every single outdoor cooking enthusiast is watching and re-watching Alton Brown build an elaborate pully system for deep frying the perfect turkey. Everyone is getting all pumped and excited to go bigger and bolder with an award-winning turkey recipe for Thanksgiving.
And then Char-Broil went and did this. They used their magic to build an amazing, safe, and easy to use turkey 'fryer'. And it doesn't even use any oil.
No oil. You read that right.
Safely Frying Dijon Fried Honey Leg Of Lamb
That means it's far safer than that bubbling vat of boiling oil my father set up last year. And all for wildly good results. With the Char-Broil TRU-Infrared™ technology (read: wizards and magic and stuff) the oil-less fryer 'fries' perfectly. Crispy skin on the outside, moist, flavorful meat locked inside. And without all that artery-clogging oil, it's healthy.
Think of the possibilities. Like pork belly, vegetables, giant turkey drumsticks, stuffing, lamb, pork, chicken, snacks, fancy crown roasts, and more. This isn't the one and done novelty that loses its flair after the first turkey. Want to see how creative you can get? Check out the Char-Broil Community Page for some inspiring Big Easy Oil-less Turkey Fryer Recipes. The Big-Easy has earned a spot on the back deck snuggled permanently between the smoker and charcoal grill. Be sure to go check out all of the cool options and ideas that Char-Broil's Big Easy Turkey Fryer can offer.
I was able to test out this new technology in my own backyard and I fell in love instantly. First, I was a little confused as to just 'how' it cooked. But after putting faith in the crew at Char-Broil, I sat back and let a little magic happened. Instant fan. So much so that my own pop's is now doing his bonus turkey in a Big Easy Oil-Less Turkey Fryer for our own family Thanksgiving. (Lucky for him, he has a daughter that owns one). 😉 In all, I worked with 9 other food writers, testing out these 'fryers' and each one of us raved about them. Talk about stepping up the Thanksgiving a-game.
Tips for using your Big Easy Oil-less Turkey Fryer
Season your new Big Easy Oil-Less Turkey Fryer before you cook something. Let it get a nice coating on the sides before testing out your first recipe.
When cooking, grease the cage. Then grease it again. Seriously, the better that baby is greased up, the easier clean up.
Bring your poultry or pork. If you are cooking a turkey or hunk of pork, settle the meat into a brine the day before cooking. Let the salt water bath work it's magic on bringing out some bonus flavors.
Want to fry smaller veggies? Use metal kabobs to skewer the veggies and arrange in the basket. Use heatproof gloves to safely arrange and remove the veggies when done.
Temp your meat. Use the thermometer that comes with your Big Easy Oil-Less Turkey Fryer to make sure your feast is cooked to the perfect temperature before removing too soon.
Bone In Or Boneless Leg Of Lamb
I recommend the bone in leg of lamb for fried honey Dijon leg of lamb. Boneless is fine if that is all you can find, but the bone in helps kick up the umami and deepens the flavor of the meat.
What Temperature Is Best For Leg Of Lamb?
For leg of lamb, which is a nice thick and round roast of a cut, you want an internal temp of 145° for medium rare, 160° for medium, and 170° for well done. Personally, I think cooking leg of lamb that hard would be a travesty, but some people just prefer super well done meat.
Might not be my style, but to each their own.
More Great Lamb Recipes
Lamb is such a treat and it is one of those things you don't typically get to have every night. So for those special occasions when you can enjoy it, here are some great recipes to consider: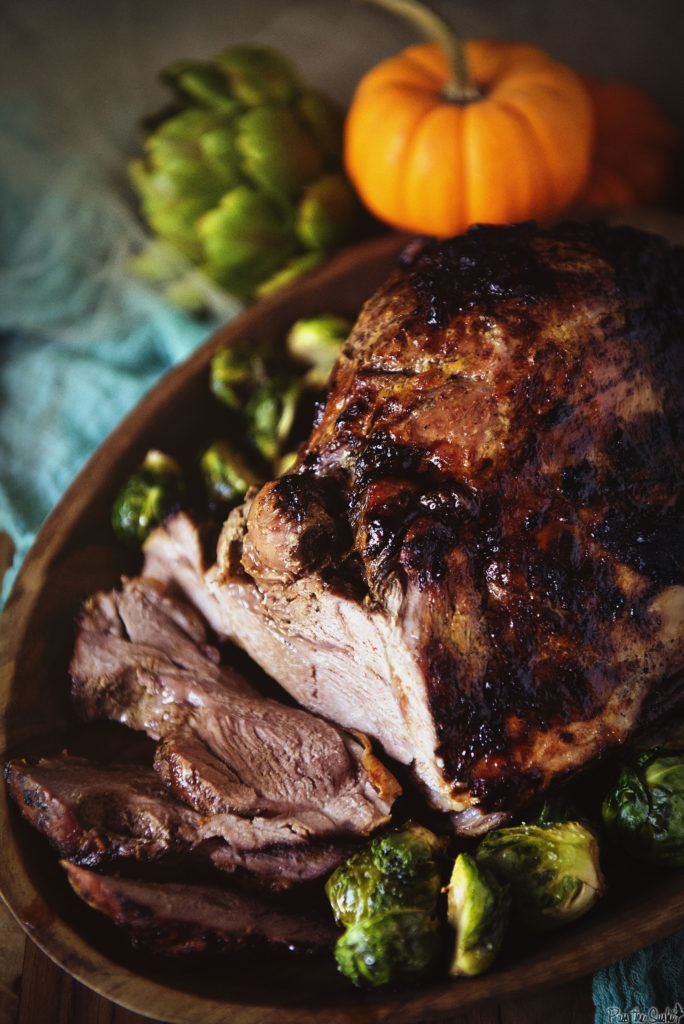 Fried Honey Dijon Leg of Lamb Recipe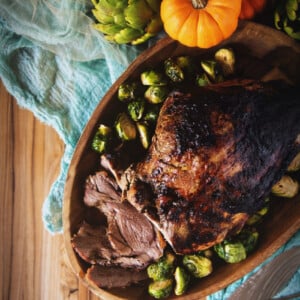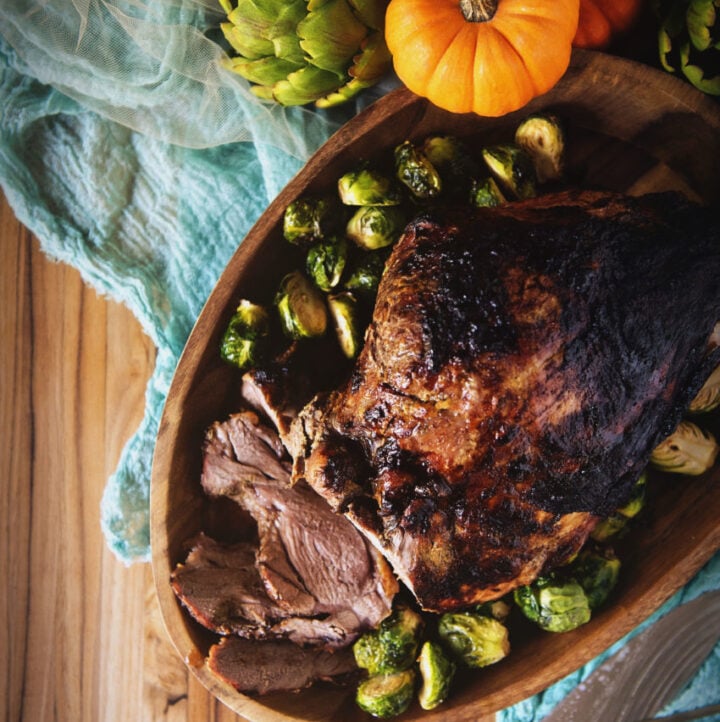 A wonderful oil free method of "frying" a leg of lamb with a honey Dijon glaze. Out of this world lamb recipe!
Ingredients
1 5 – 7

lbs

leg of lamb

bone-in preferably

salt and pepper

4

tbs

Honey Dijon mustard

4

garlic cloves

minced

1

tbs

fresh rosemary

minced
Instructions
Season the lamb with salt and pepper all over. Whisk the mustard, garlic, and rosemary in a small bowl together. Rub a thorough coating of the mustard mix all over

Prep your Big-Easy Oil-Less Fryer and place the lamb in the basket. Put the basket in the fryer and cook until the lamb registers 145 degrees F for medium rare.

With gloves, carefully remove the lamb and wrap with foil. Allow to rest while you toss some veggies in that Big-Easy and let them get all nice and crispy.

Slice the lamb and serve.
Notes
Cooking time can vary. Make sure to use the thermometer reading as your guide.
Nutrition
Calories:
816
kcal
|
Carbohydrates:
5
g
|
Protein:
127
g
|
Fat:
28
g
|
Saturated Fat:
10
g
|
Cholesterol:
396
mg
|
Sodium:
434
mg
|
Potassium:
1800
mg
|
Fiber:
1
g
|
Sugar:
2
g
|
Vitamin A:
10
IU
|
Vitamin C:
1
mg
|
Calcium:
42
mg
|
Iron:
11
mg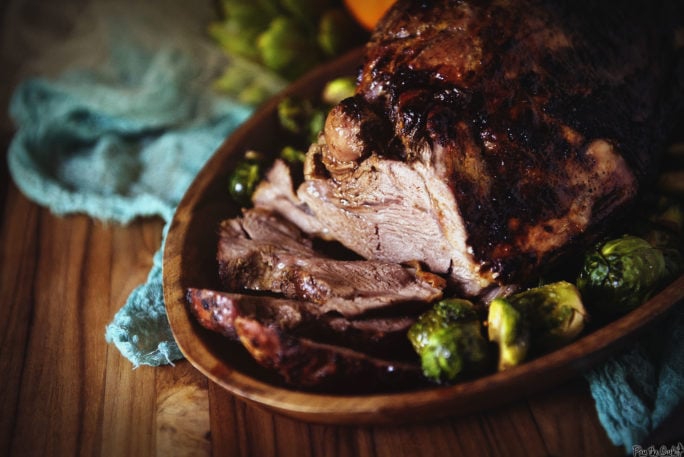 Char-Broil sponsored this post, sending a Big Easy Oil-less Turkey Fryer and stipend for ingredients my way with no obligation for a positive review. I am genuinely excited about this product and happy to share it with my readers. All thoughts and opinions are my own.