This Savory Lamb Ragu with Pappardelle Pasta is the best homemade comfort-food dinner. Tender ground lamb is simmered in a rich, hearty, oh-so-flavorful tomato sauce, served over perfectly cooked ribbons of pappardelle pasta, then topped with ricotta and parmesan cheese!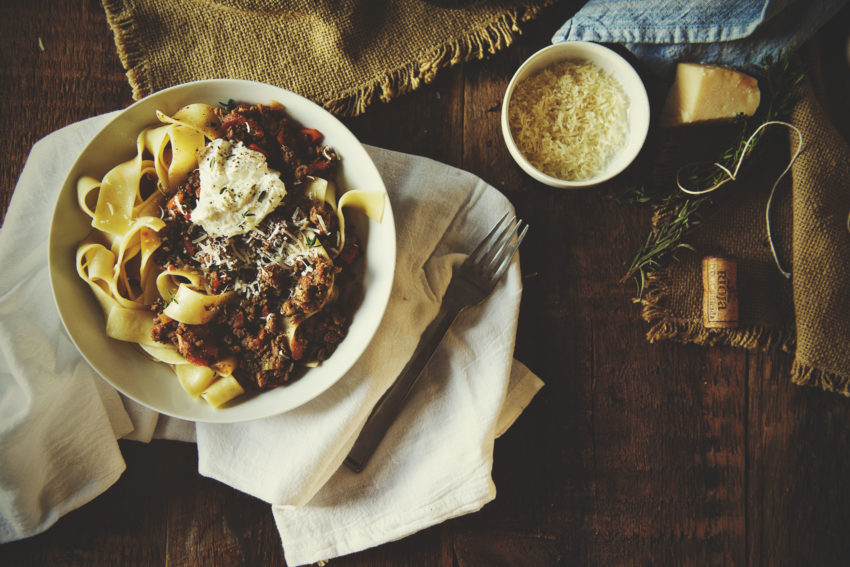 I know we didn't all grow up eating a lot of lamb meat. It was expensive, unfamiliar, and rare compared to other types of meat. As my passion for Girl Carnivore grows, so does my knowledge about other sources of protein. Lamb is one of those proteins.
Now, I will always love a beef burger, but I had an amazing lamb burger once that really put things into perspective for me. Since then, my goal has been to develop all the best lamb recipes: perfect rack of lamb, cumin spiced lamb meatballs, turmeric ground lamb and eggs, and more.
This easy lamb ragu recipe with pappardelle pasta is now one of my favorite ways to enjoy lamb. It's a low and slow kind of meal that's warm, comforting, and packed with so many layers of flavor from tender ground lamb, porcini and baby Bella mushrooms, fresh herbs and spices, and a perfect homemade tomato sauce.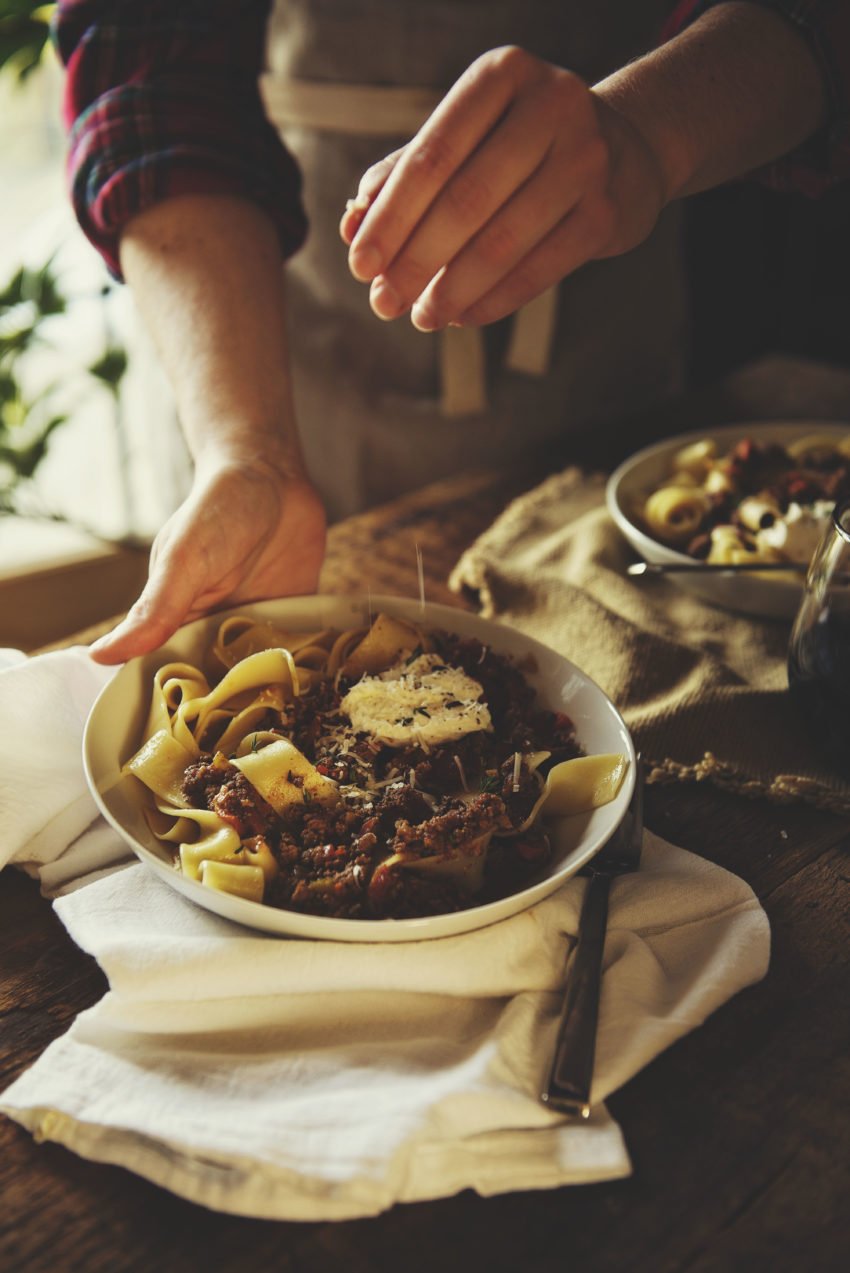 What is lamb ragu?
Ragu is the Italian word for meat sauce. It describes a rich, flavorful, thick, tomato-based meat sauce. It's traditionally served over pappardelle pasta, gnocchi, or polenta. A good example of ragu sauce and the one you've most likely heard of is bolognese, which is usually made with beef.
While ragu sauce can be made with any type of meat, the meat of choice in this recipe is ground lamb…and it is so good! It's classic Italian cooking at its finest for this easy recipe.
This lamb ragu feels like old-world comfort. The perfect cozy meal to sip a glass of red wine and enjoy the best lamb ragu sauce over top of al dente pasta.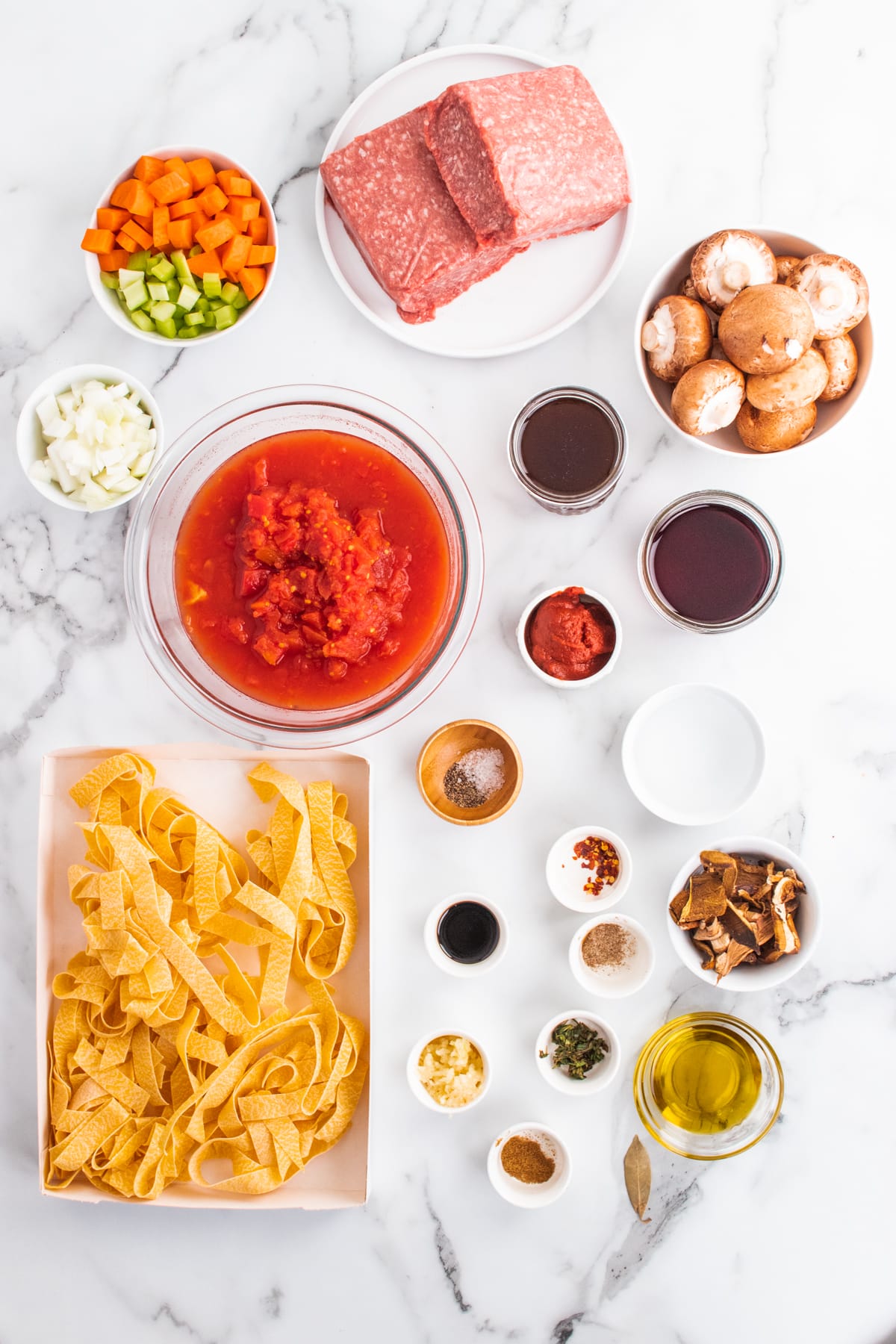 What you need to make this recipe
Dried Porcini Mushrooms and Boiling Water – you'll use the boiling water to rehydrate the mushrooms.
Olive Oil – used for browning the lamb.
Lamb – you'll need 2 pounds of ground lamb for this recipe.
Salt and Pepper – we use kosher salt and freshly ground black pepper
Onion, Carrot, and Celery – the classic veggie trio used to add color, texture, and flavor.
Baby Portabella Mushrooms
Garlic, Cumin, Cardamom, Rosemary, Thyme, and Red Pepper Flakes – a simple blend of herbs and spices that give the ragu sauce so much sweet, spicy, earthy flavor.
Bay Leaf
Tomato Paste, Red Wine, Soy Sauce, Canned and Diced Tomatoes, Beef Broth – makes up the sweet, tangy, flavorful tomato sauce.
Pappardelle Noodles – these are a classic but you can use whatever your favorite pasta is.
Fresh Ricotta cheese and Parmesan Cheese – you can never go wrong with cheese to top it all off.
How to make lamb ragu with pappardelle pasta
Prep the mushrooms: pour the boiling water over the dried porcini and let them rehydrate. Strain the liquid, reserving the liquid, and pat the mushrooms dry. Mince and mix with the baby Bellas.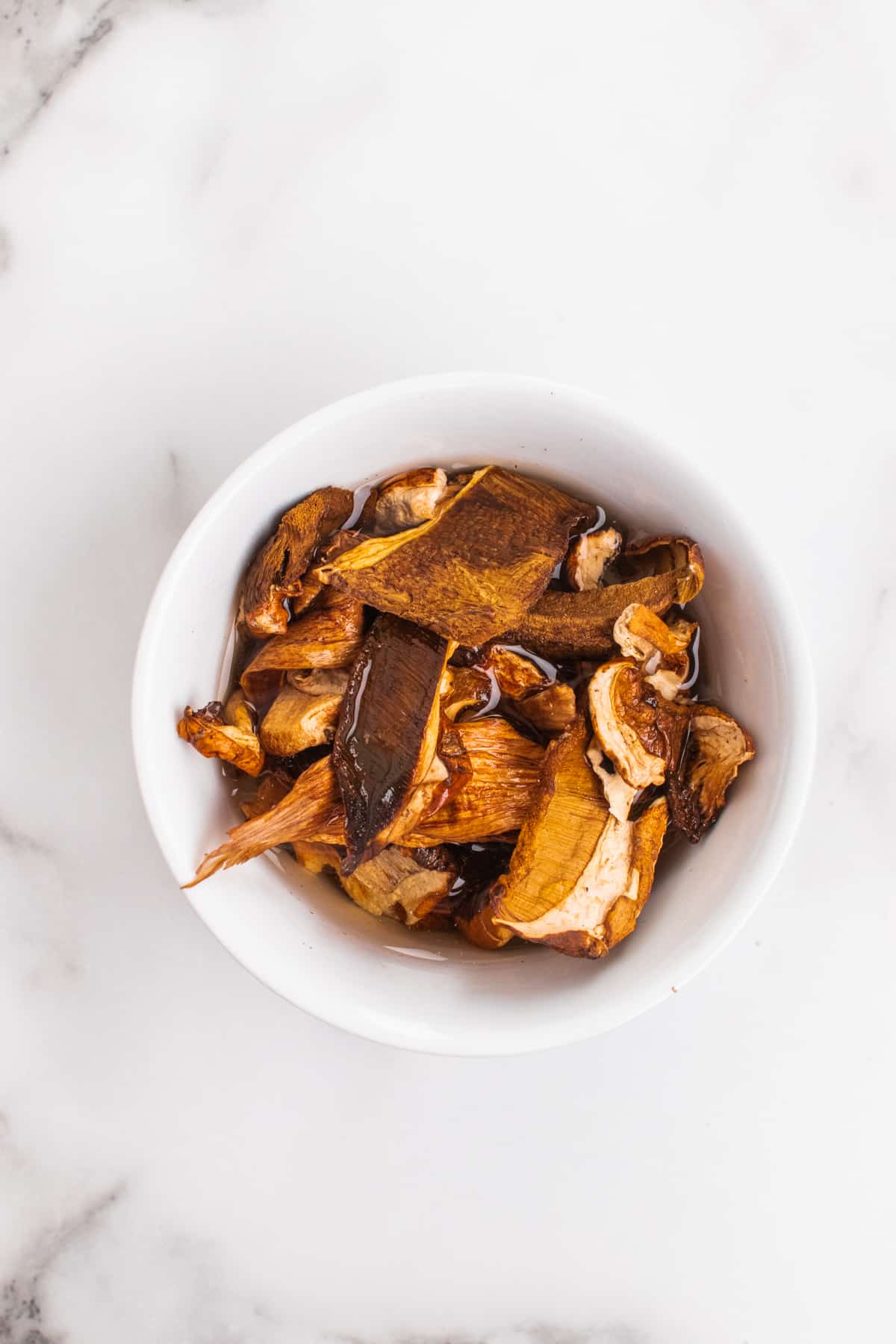 Brown the lamb: heat oil in a large Dutch oven or a heavy-bottomed pot over medium-high heat. Add the ground meat, season with salt and pepper, and brown for 5-7 minutes breaking the lamb into small pieces to brown evenly.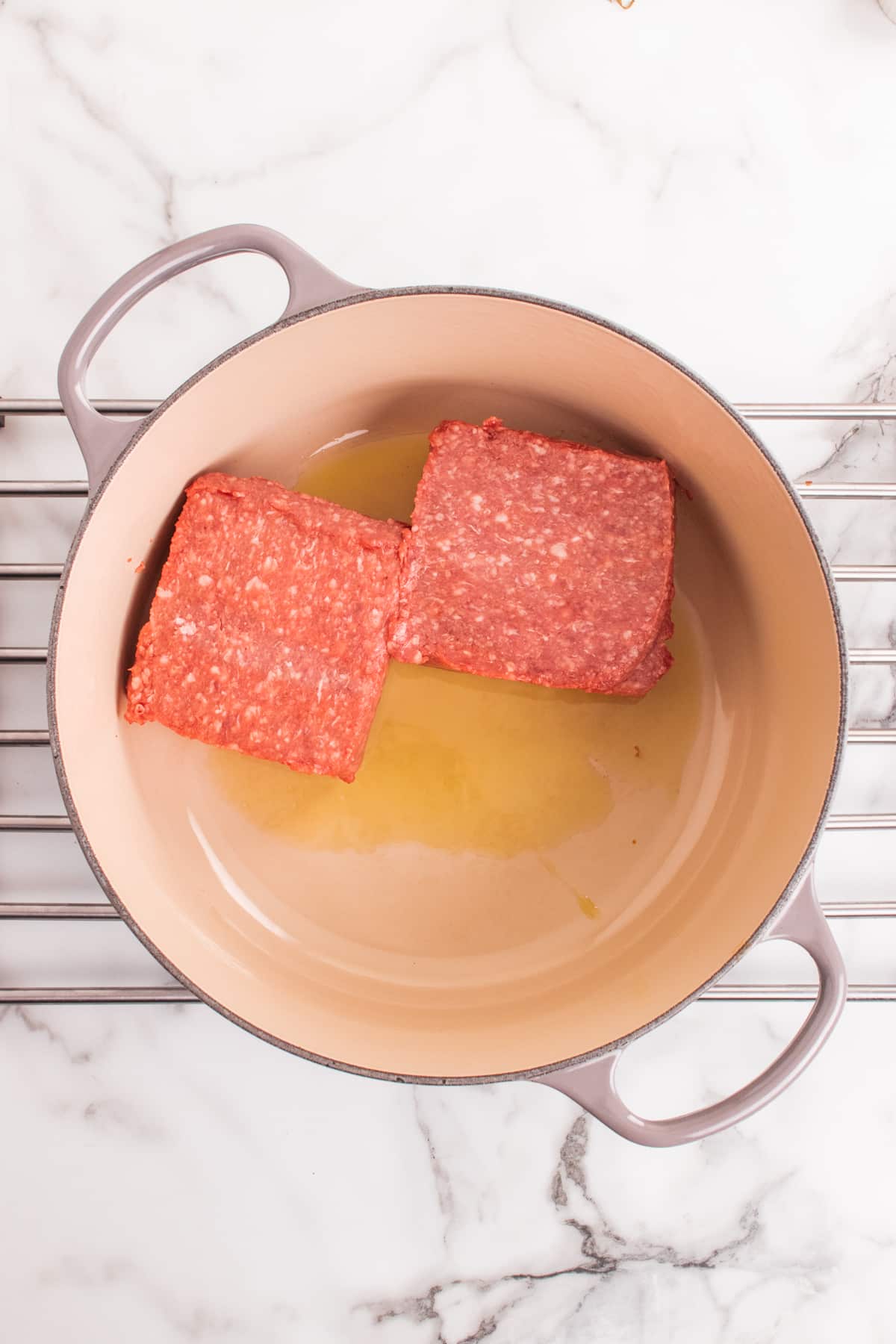 Add the veggies: to the lamb, add the onions, carrots, and celery along with the mushrooms. Cook until the veggies are softened, then stir in garlic, cumin, cardamom, rosemary, thyme, and red pepper flakes.
Make the sauce: add tomato paste to the veggie mixture and cook for 2 minutes. Add in red wine, scraping up brown bits, then mix in soy sauce, reserved porcini liquid, and the diced tomatoes with the juices. Add in beef broth, then bring to a light boil. Reduce to a simmer and cook for 30-45 minutes.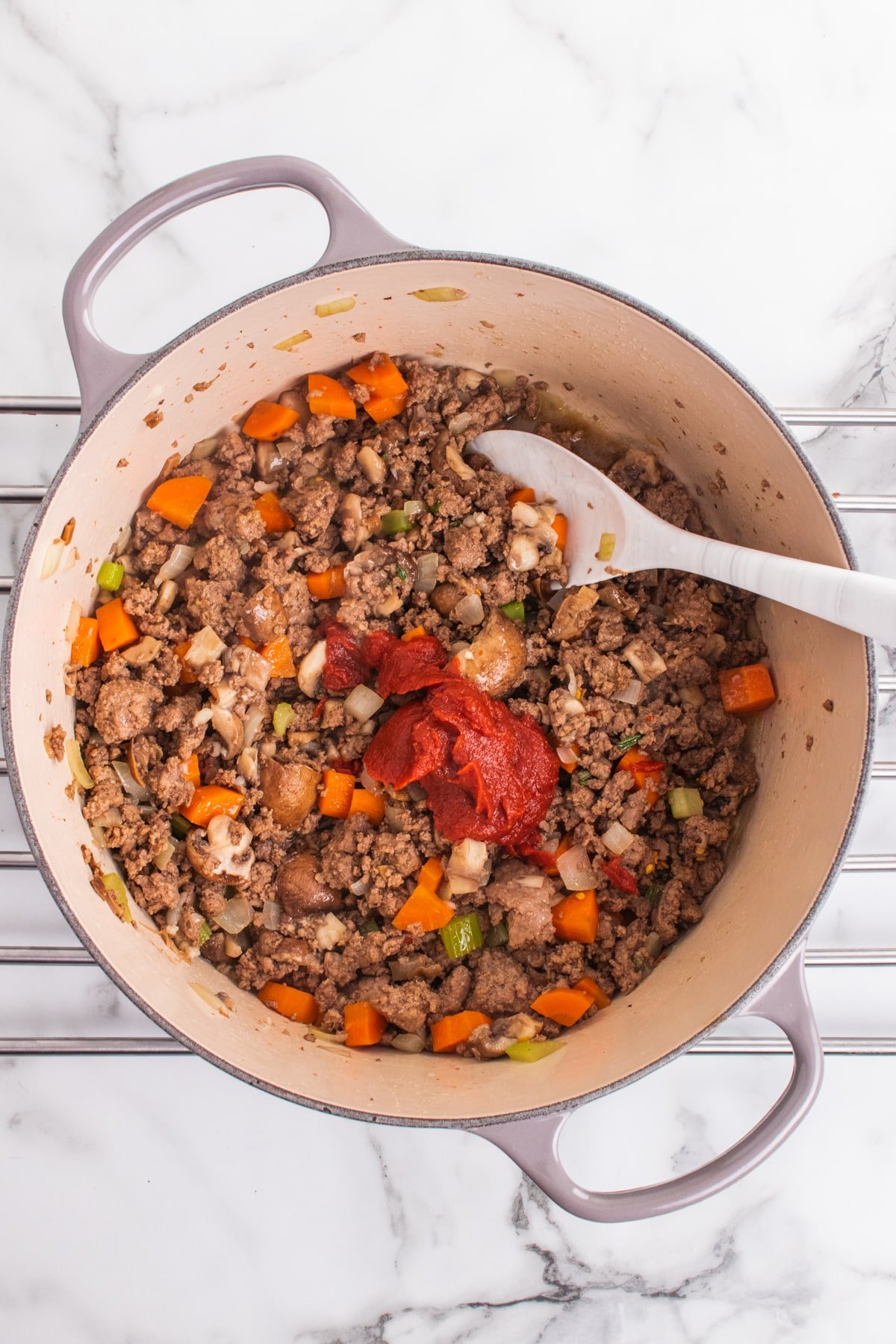 Cook the pasta and serve: make the pasta in a large pot of salted water according to package directions, drain and rinse, then toss with olive oil. Serve topped with the ragu sauce and top with ricotta, salt, pepper, and parmesan.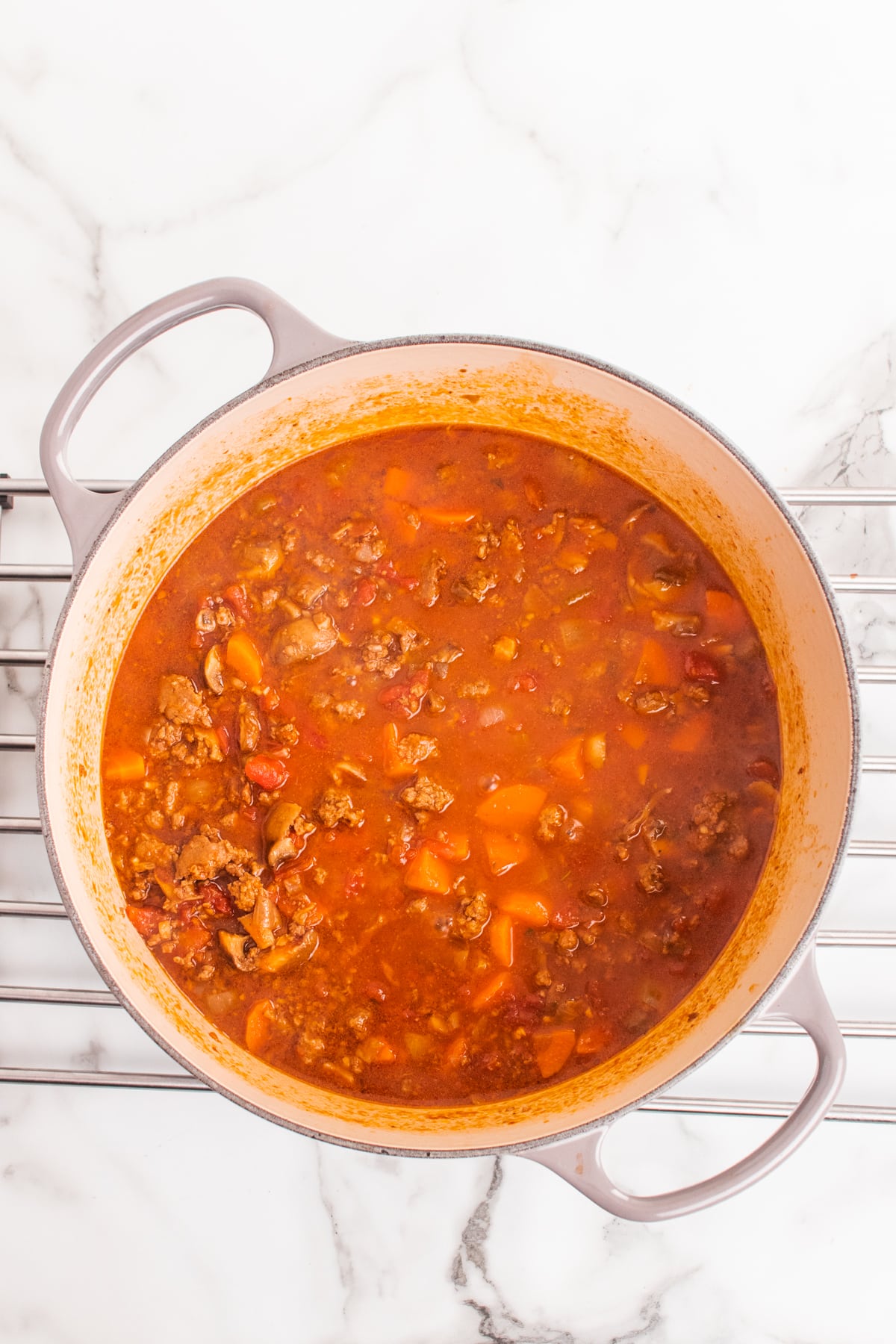 What is the best pasta to serve with lamb ragu?
Traditionally, lamb ragu is served with pappardelle noodles, which are long, wide, and flat, similar to egg noodles. Sometimes you see them with a ruffled or "fluted" edge. They're about twice as wide as fettuccine noodles and are particularly suited to carry the thick, rich ragu sauce. They are the perfect pasta to make best lamb ragu recipe.
If you can't find pappardelle noodles, then I recommend farfalle (aka bowtie) noodles. They aren't quite as long but they benefit from being flat and wide so they can support the ragu in a similar fashion.
If you don't have pappardelle or farfalle, don't worry. This sauce is still delicious served over any Italian carb. Try the sauce over gnocchi, polenta, or any other pasta you have on hand. Spaghetti, fettuccine, and linguine are also all great options.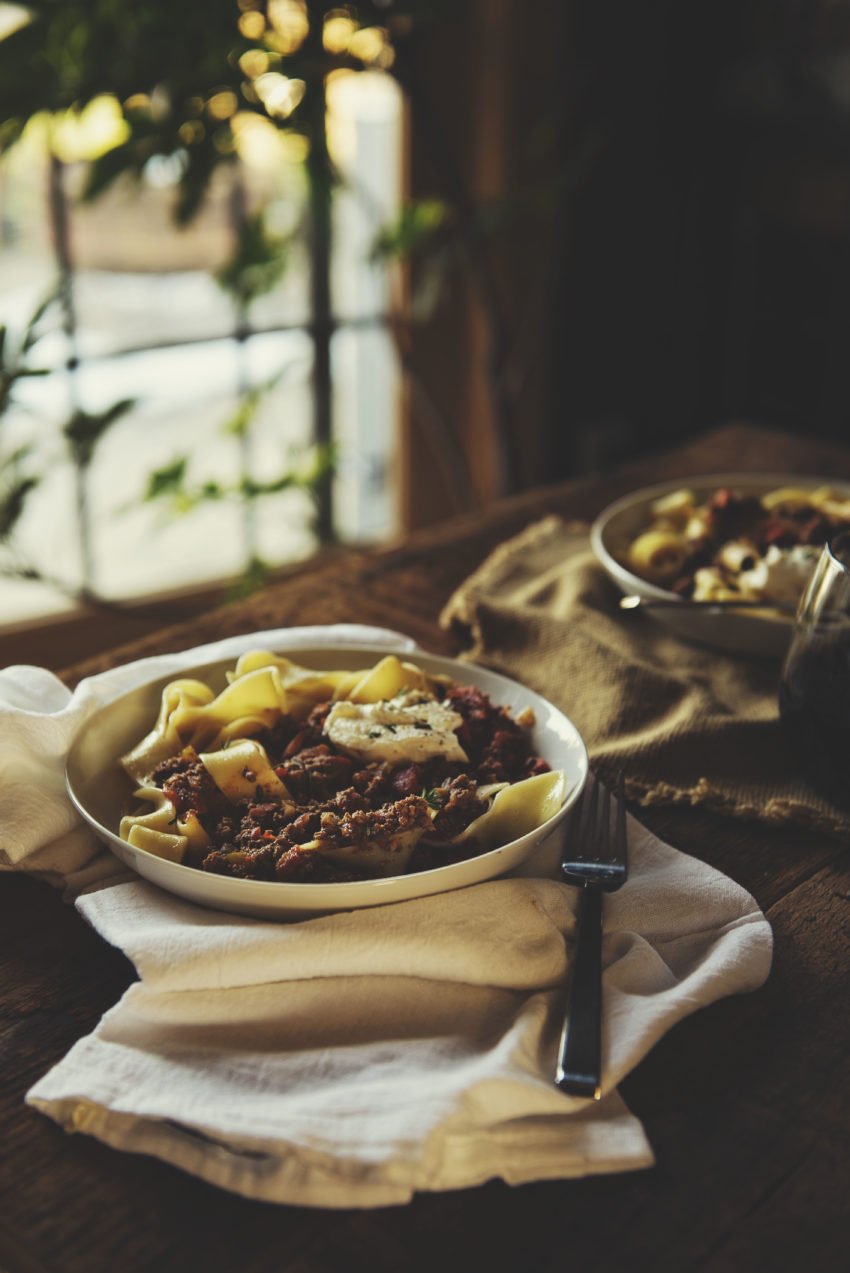 Tips, tricks, and notes
The ragu sauce can be made a day or two ahead of time, and it honestly tastes better if it is because the depth of flavor has time to really meld together. The longer they meld, the better the rich flavor gets.
After you brown the meat, drain off any excess grease so that the sauce isn't too oily.
Toss the cooked pasta in olive oil. This prevents the noodles from clumping together and becoming sticky after it's cooked.
You can use another meat if you prefer. This recipe works with great with ground beef or ground turkey!
If you don't want to use red wine, you can easily swap it out for grape juice. I recommend trying to find some verjuice ("verjus") for the best results. This is grape juice made from slightly less ripe grapes so it's more acidic. No luck with that? You can just add ¼ cup more beef stock to substitute.
Serving suggestions
I recommend only combining the sauce and pasta in single servings so that the noodles don't get soggy. Just pile a generous helping of pasta on your plate, spoon on a ladle of ragu sauce, top it off with cheese, and devour.
I love to serve the lamb ragu with a side of crusty rustic rosemary garlic bread, a simple side salad with Italian dressing, or a pile of roasted veggies.
How to store
Leftover lamb ragu sauce will last in an airtight container in the fridge for 3-4 days or in the freezer for up to 3 months. When you're ready to serve, thaw in the fridge if frozen then microwave or warm on the stove until heated through.
Leftover cooked pasta will last in an airtight container in the fridge for up to 5 days. I don't recommend freezing it because the texture won't be the same when it's thawed. Plus, whipping up a fresh batch of pasta could not be easier!

MORE LAMB RECIPES YOU'LL LOVE
Savory Lamb Ragu with Pappardelle Pasta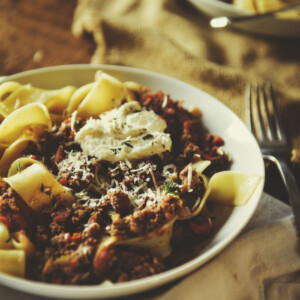 This homemade comfort food is a dish made with layers of flavor perfect for a date night or family dinner. Hearty lamb is the center of the classic red wine sauce over thick pasta.
Ingredients
2

oz

dried porcini mushrooms

1/4

cup

boiling water

2

tbsp

olive oil

divided

2

lbs

ground lamb

salt and pepper

1

onion

minced

1

carrot

diced

2

celery stalks

diced

6

oz

baby portabella mushrooms

3

garlic clove

minced

1

tsp

cumin

1/2

tsp

cardamom

1/2

tsp

fresh rosemary

minced

1/2

tsp

fresh thyme

minced

1/2

tsp

crushed red pepper flakes

1

bay leaf

2

tbsp

tomato paste

1/2

cup

wine

1

tbsp

soy sauce

28

oz

can diced tomatoes

1

cup

beef broth

8

oz

pappardelle noodles

ricotta cheese

Parmesan cheese for garnish
Instructions
Prep the Mushrooms
Pour the boiling water over the dried porcini and allow them to rehydrate.

Strain the liquid, but reserve it, and pat the mushrooms dry.

Mince and mix in with the baby bellas. Set aside.
Brown the Lamb
In a large Dutch oven, heat 1 tablespoon olive oil over medium high heat.

Add the lamb and season it with salt and pepper.

Brown the lamb for 5 to 7 minutes, breaking into chunks as it cooks.
Add the Vegetables
Add the onion, carrot, celery and baby bella mushrooms.

Stir and cook until all the vegetables are softened and most of the liquid has been cook ot and absorbed.

Stir in the garlic, cumin, cardamom, rosemary, thyme and crushed red pepper flakes.

Stir in the tomato paste and cook for 2 minutes.
Deglaze the Pan
Deglaze the pan with the red wine, scraping up any browned bits on the bottom.

Add in the soy sauce, reserved porcini liquid and diced tomatoes with their juices.
Simmer
Mix in the beef broth and bring to a light boil.

Reduce to a simmer, cover and cook for 30 to 45 minutes, stirring occasionally.

Add a dash of more broth if needed to loosen things up when ready to serve
Cook the Pasta
When ready to serve, make the pasta according to manufacturers directions. Drain and rinse.

Toss the pasta with the remaining tablespoon oil.
Serve
Spoon a heaping portion of the ragu over the pasta and dollop a spoonful of ricotta on top to mix in.

Season with salt and pepper to taste and garnish with freshly grated Parmesan cheese.
Notes
The ragu can be made a day or two ahead, and honestly, tastes better if it is. The longer the flavors meld, the richer it gets.
Store leftover sauce in an airtight container for up to 4 days in the refrigerator.
Reheat in the microwave on low heat or in a heavy pan.
Nutrition
Serving:
1
g
|
Calories:
503
kcal
|
Carbohydrates:
34
g
|
Protein:
26
g
|
Fat:
28
g
|
Saturated Fat:
12
g
|
Cholesterol:
107
mg
|
Sodium:
495
mg
|
Potassium:
814
mg
|
Fiber:
4
g
|
Sugar:
5
g
|
Vitamin A:
1469
IU
|
Vitamin C:
12
mg
|
Calcium:
68
mg
|
Iron:
4
mg