This post may contain affiliate links. Please read my disclosure policy
This meaty lamb ragu folded into thick pappardelle pasta with a dollop of fresh ricotta on top is a classic dish. Sprinkle a few freshly minced herbs and shaved Parmesan on top to set the entire meal off and elevate your dinner table.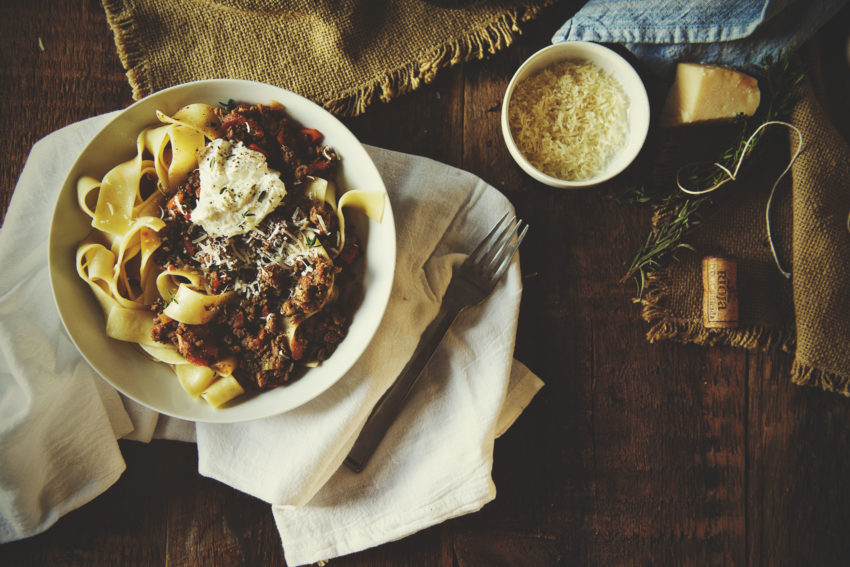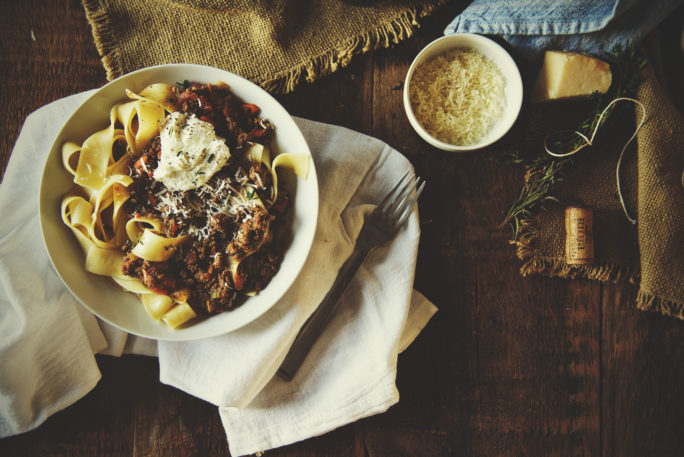 Did you know February is Lamb Lovers Month? All month long the American Lamb Board is heating things up with savory recipes for any of your romantic needs. They want to inspire you to add lamb to the menu rotation as an alternative meat when you are at the market. I know that we didn't grow up eating a lot of meat, it was expensive and a rare treat. With it being so hard to come by, it was an unfamiliar protein as a meat that I just didn't dabble too much in. I knew it is a lean protein packed meat and is packed with B12 and other vitamins and minerals, but I just didn't cook with it. The few times I had tried it, it was a luxury, but seemed a little gamy. I continued to cook with what I knew.
As my passion for #girlcarnivore grows, learning about other sources of protein have really spiked my creative drive. I will always love a beef burger, but had an amazing lamb burger once that really put things in perspective for me. It's time to branch out. I am teaming up with the American Lamb Board this year to stretch my own knowledge in the kitchen and expand on my cooking skills. Testing out new recipes like this savory lamb ragu in my own kitchen. I hope you are up to the challenge too! (bonus, there's prizes)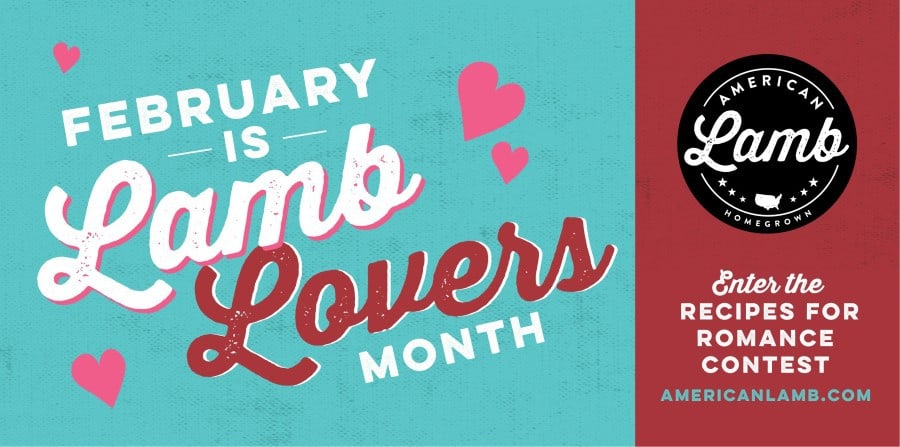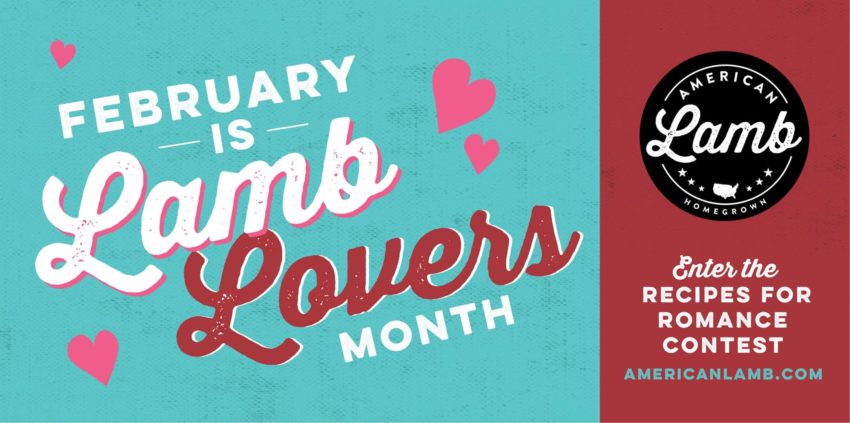 Onto Lamb Lovers Month. I like to think I'm a wild child ripe with passion and driven by random fancies. Truth is, when I set down and looked at the categories for Lamb Lovers month, '
I like to think I'm a wild child ripe with passion and driven by random fancies. Truth is, when I set down and looked at the categories for Lamb Lovers month, 'Classic Romantic' – a true romantic dinner with lamb, 'Homebody Lover' – cooking lamb with loved ones, family, friends, or 'Looking for Love' – lamb appetizers at party searching for someone to celebrate with, I had to go with Homebody. It may not sound saucy at all, but cooking for my family and friends is what gets me. My mind immediately set to creating a hearty lamb ragu sauce over a silky pasta with a smooth swirl of creamy ricotta.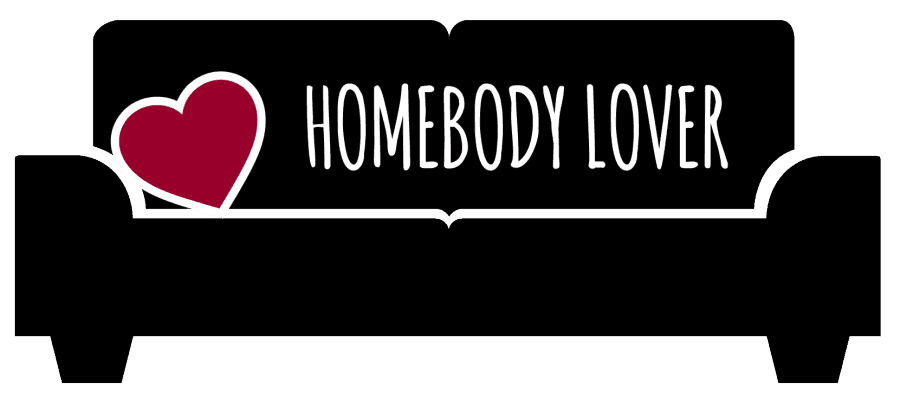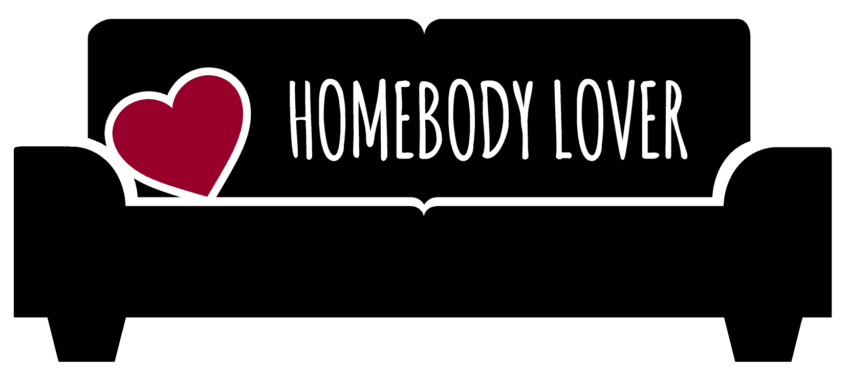 It was a low and slow meal. A warm and comforting bowl of homemade awesomeness. So, where it wasn't a Looking for Love kind of meal, and that made me worry a bit if I was losing my edge.
Then I took a bite, and realized I didn't care.
Let's get you all sorts of inspired to create some amazing lamb recipes in your own kitchen, whether you are looking for love or a classic romantic, you can use these cuts of fresh American lamb to put a winning dish on the table.
Week One: 8 Shanks and Dutch Oven
Week Two: Racks and Roses – 2 racks of lamb and a dozen roses
Week Three: 5 pounds of Ground Lamb and Moscow Mule Mugs (8)

Week Four: $500 gift card to Sur La Table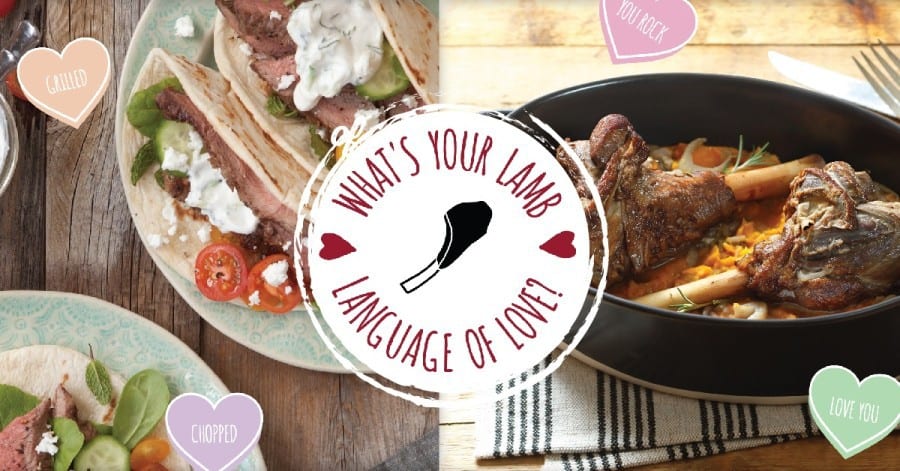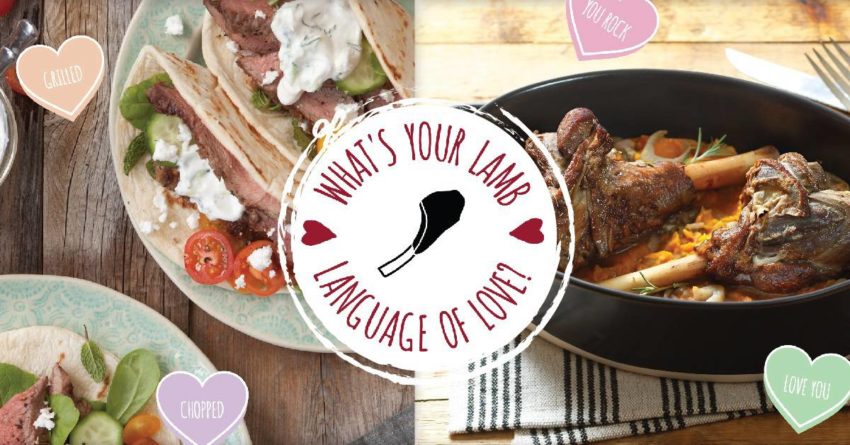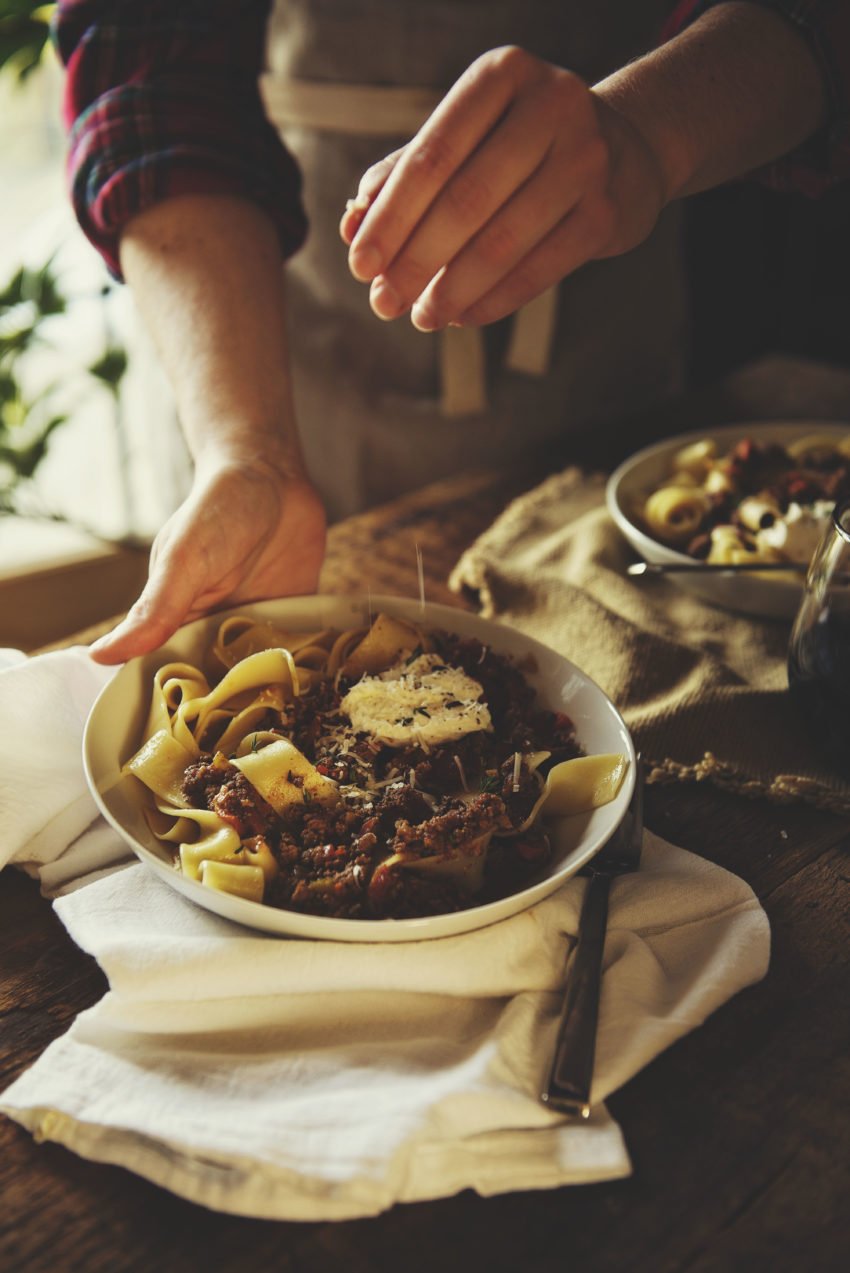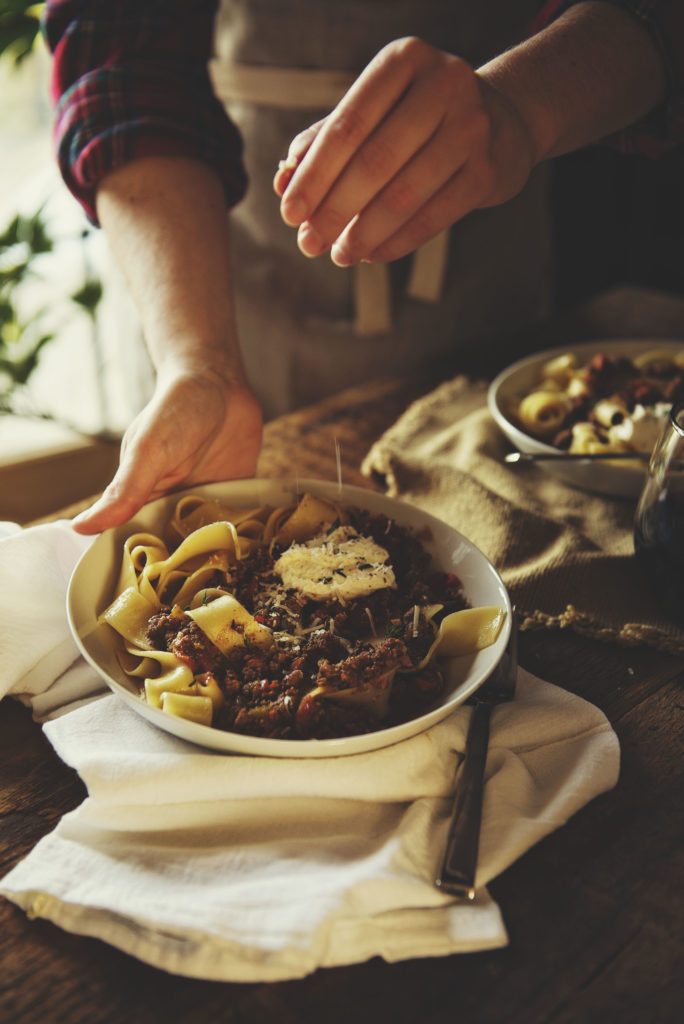 Now onto this homemade lamb ragu recipe.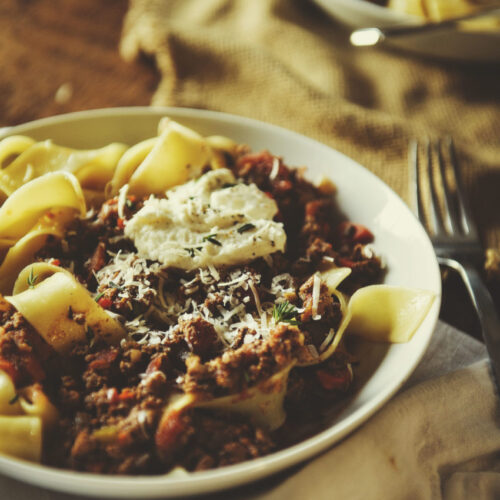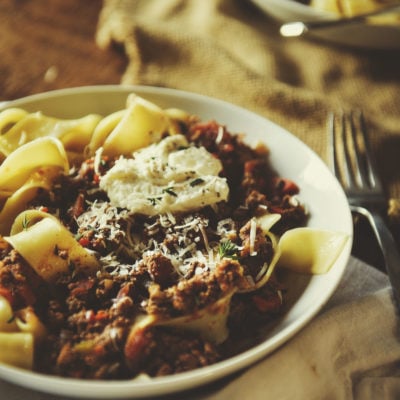 Ingredients
2

oz

dried porcini mushrooms

1/4

cup

boiling water

2

teas olive oil

divided

2

lbs

ground lamb

salt and pepper

1

onion

minced

1

carrot

diced

2

celery stalks

diced

6

oz

baby portabella mushrooms

1

garlic clove

minced

1

teas cumin

1/2

teas cardamom

1/2

teas fresh rosemary

minced

1/2

teas fresh thyme

minced

1/2

teas crushed red pepper flakes

1

bay leaf

2

tbs

tomato paste

1/2

cup

wine

1

tbs

soy sauce

28

oz

can diced tomatoes

1

cup

beef broth

8

oz

pappardelle noodles

ricotta cheese

Parmesan cheese for garnish
Instructions
Pour the boiling water over the dried porcini and allow them to rehydrate. Strain the liquid, but reserve it, and pat the mushrooms dry. Mince and mix in with the baby bellas.

In a large Dutch oven. heat 1 tablespoon olive oil over medium high heat. Season with salt and pepper and brown the lamb for 5 to 7 minutes, breaking into chunks as it cooks. Add the onion, carrot, celery and baby bella mushrooms. Stir and cook until all the vegetables are softened and most of the liquid has been absorbed.

Stir in the garlic, cumin, cardamom, rosemary, thyme and crushed red pepper flaked. Stir in the tomato paste and cook for 2 minutes. Deglaze the pan with the red wine, scraping up any browned bits on the bottom. Add in the soy sauce, reserved porcini liquid and diced tomatoes with their juices.

Mix in the beef broth and bring to a light boil. Reduce to a simmer, cover and cook for 30 to 45 minutes, stirring occasionally. Add a dash of more broth if needed to loosen things up.

When ready to serve, make the pasta according to manufacturers directions. Drain and rinse.

Toss the pasta with the remaining tablespoon oil. Spoon a heaping portion of the ragu over the pasta and dollop a spoonful of ricotta on top to mix in.

Season with salt and pepper to taste and garnish with freshly grated Parmesan cheese.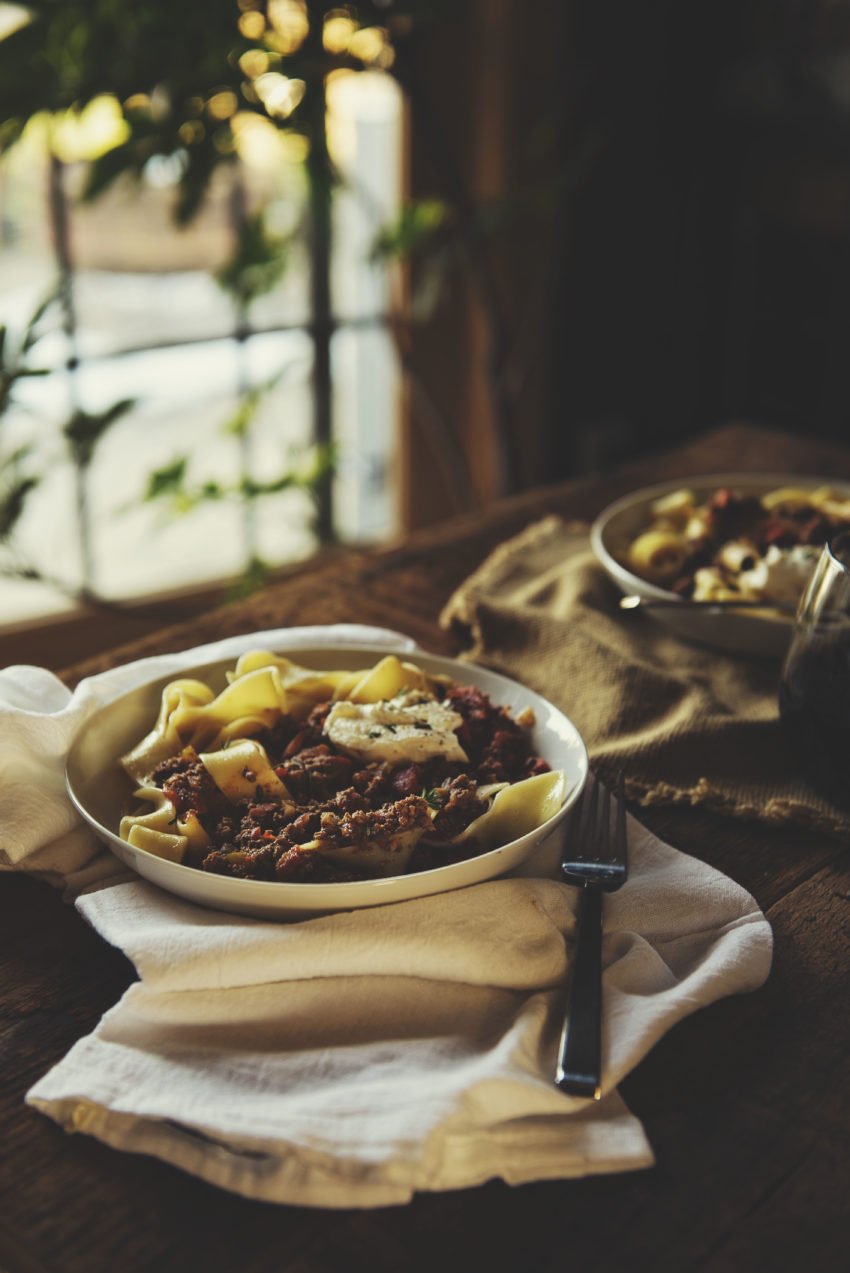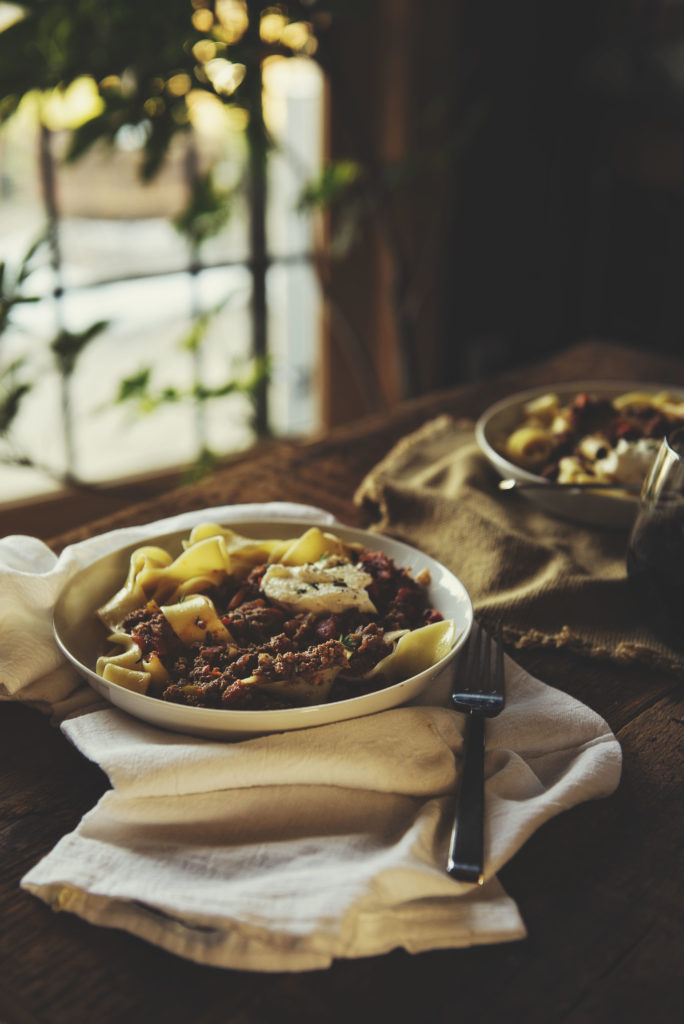 This post was sponsored by the American Lamb Board on behalf of Lamb Lovers Month. That delicious ragu, thoughts, and opinions expressed are all my own.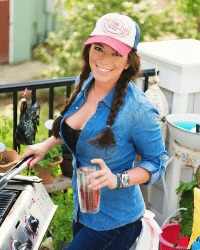 Hey, I'm Kita, the Meat Maven, outdoor junkie, campfire connoisseur, adventure-seeking and world traveled recipe developer and photographer behind GirlCarnivore.com. My mission is to break down savory eats and inspire you to get a little grit under your nails while having fun with your food. READ MORE