This meaty lamb ragu folded into thick pappardelle pasta with a dollop of fresh ricotta on top is a classic dish. Sprinkle a few freshly minced herbs and shaved Parmesan on top to set the entire meal off and elevate your dinner table.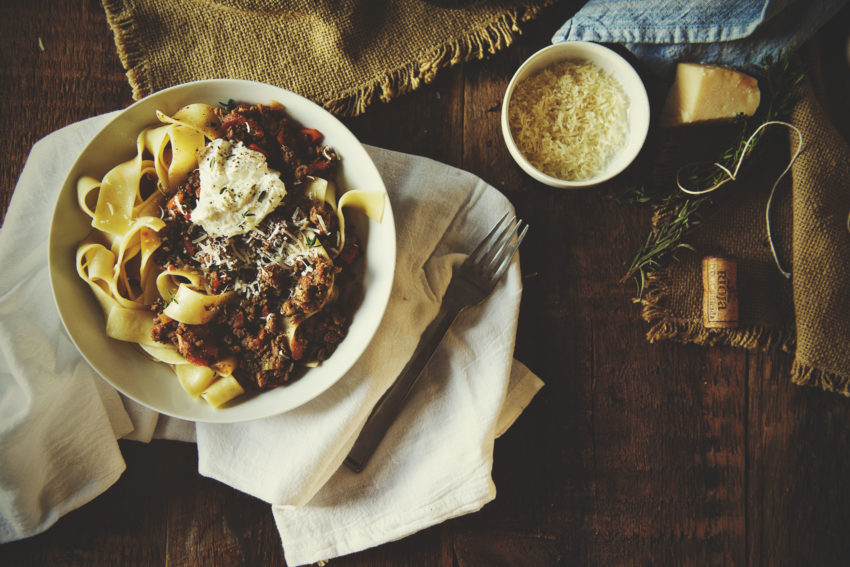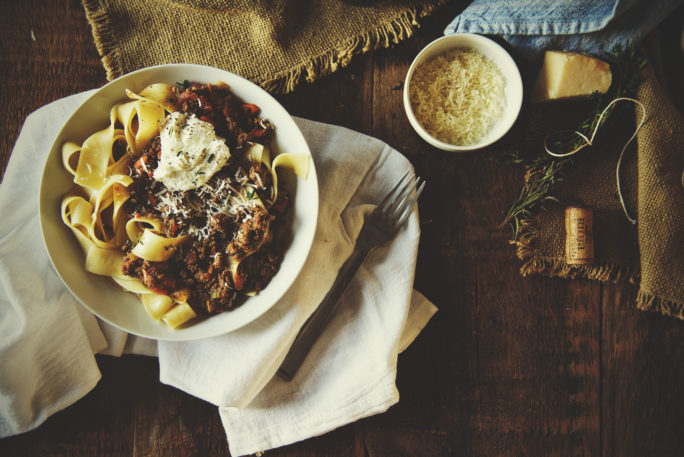 I know that we didn't grow up eating a lot of lamb meat, it was expensive and a rare treat. With it being so hard to come by, it was an unfamiliar protein that I just didn't dabble too much in. I knew it is a lean healthy meat and is packed with B12 and other vitamins and minerals, but I just didn't cook with it.
The few times I had tried it, it was a luxury, but seemed a little gamy. I continued to cook with what I knew.
As my passion for #girlcarnivore grows, learning about other sources of protein have really spiked my creative drive. I will always love a beef burger, but had an amazing lamb burger once that really put things in perspective for me. It's time to branch out.
It's time to master a perfect rack of lamb, create globally-inspired recipes that transport you to other countries and even incorporate lamb into every day meals, like as meatballs! Testing out new recipes like this savory lamb ragu in my own kitchen is just the start.
This recipe was amazing. A low and slow kind of meal. One that was warm, comforting and a bit out of my comfort zone. It made me feel like I had generations of cooks at my back, helping build the layers of flavors. It was a low and slow meal. A warm and comforting bowl of homemade awesomeness.
And in a season where I'd been worried I was loosing my edge…
I took a bite, and realized I didn't care.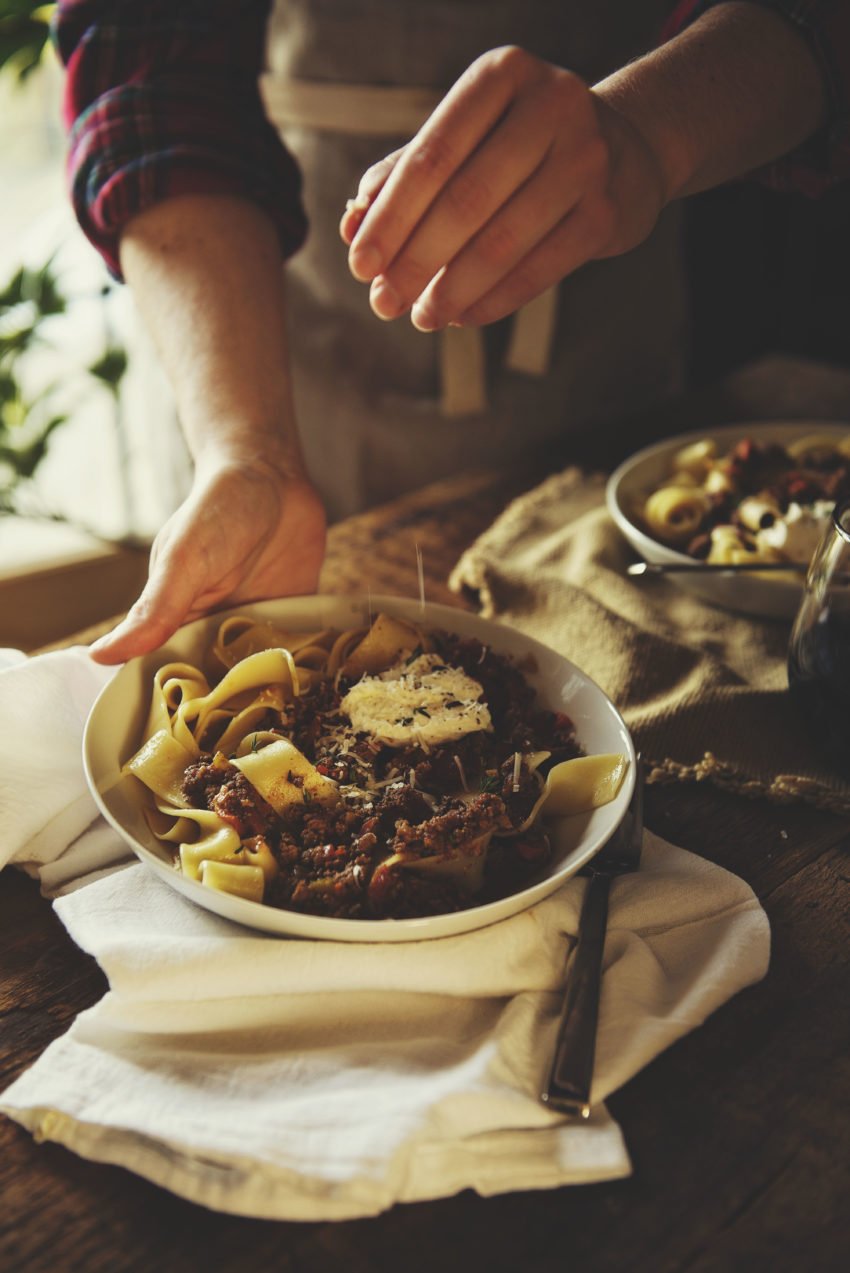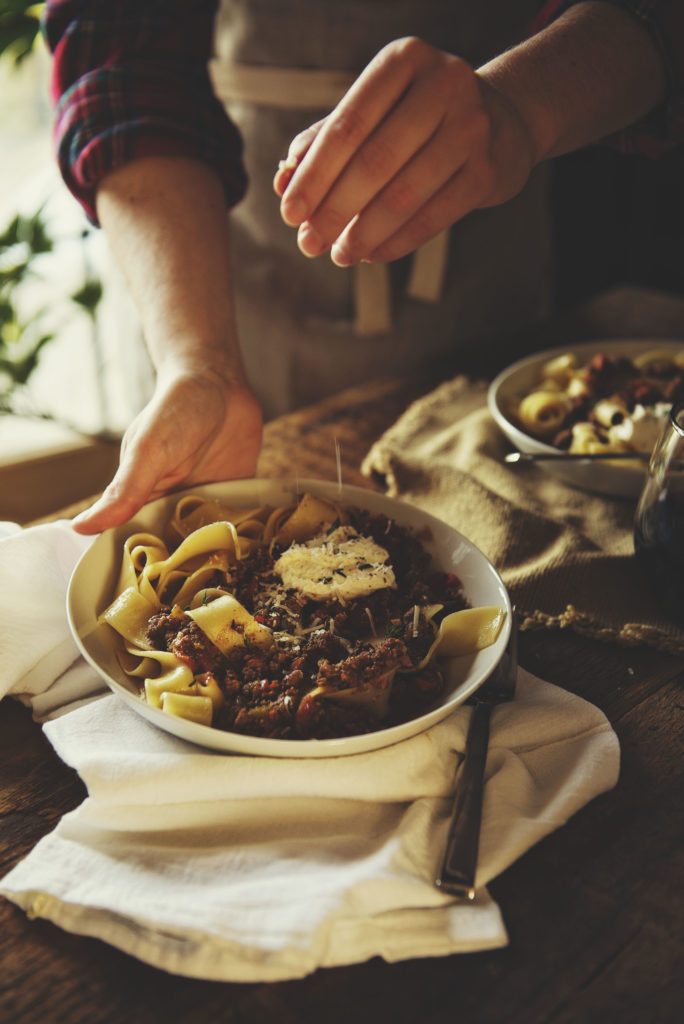 Savory Lamb Ragu Is Not A Brand Of Sauce
Don't let the name of the recipe confuse you. This is not about running to the store and grabbing a bottle of the name brand sauce off the shelf. Ragu is Italian for meat sauce cooked in tomato paste.
Of course, at that point you probably think of spaghetti sauce. Completely normal because when most people think of tomato-based meat sauce they imagine spaghetti sauce with ground beef. If you want to get technical and Italian about it then that kind of sauce is called "ragù alla bolognese".
We're Not Playing Games Here
Anyone that has an issue with lamb being "gamey" then this could be your gateway dish to getting over it.
In the tomato sauce, with the herbs and seasoning, the wine reduction, and all those other layers of flavor, you won't taste gaminess at all. Far from it.
In fact, you may even find yourself wondering why you never ate lamb before. The savory flavor of the lamb blends perfectly with the slight acidic tartness of the tomato paste. This match made in heaven is central to the romance of this dish. The two are made for each other.
If anything, the lamb just makes the sauce richer, meaning the wealth of flavor lends it a real elegance. Lamb elevates it beyond the basic beef based sauce.
Pappardelle Pasta
Pappardelle is the name of those really wide flat egg noodles. Sometimes you see them with a bit of a ruffled or "fluted" edge. About twice as wide as fettuccine noodles, they are particularly suited to carry the thick and rich lamb ragu on.
Measured in terms of ratio of comfort to quality of noodle, pappardelle ranks super high. They are every bit as hearty and comforting as the sauce so they are the perfect companion.
If you can't find pappardelle noodles, then I recommend farfalle noodles. Those are the wide flat noodles shaped like little bowties. They may not be as long, but they benefit from being flat and wide so they can support the ragu in a similar fashion.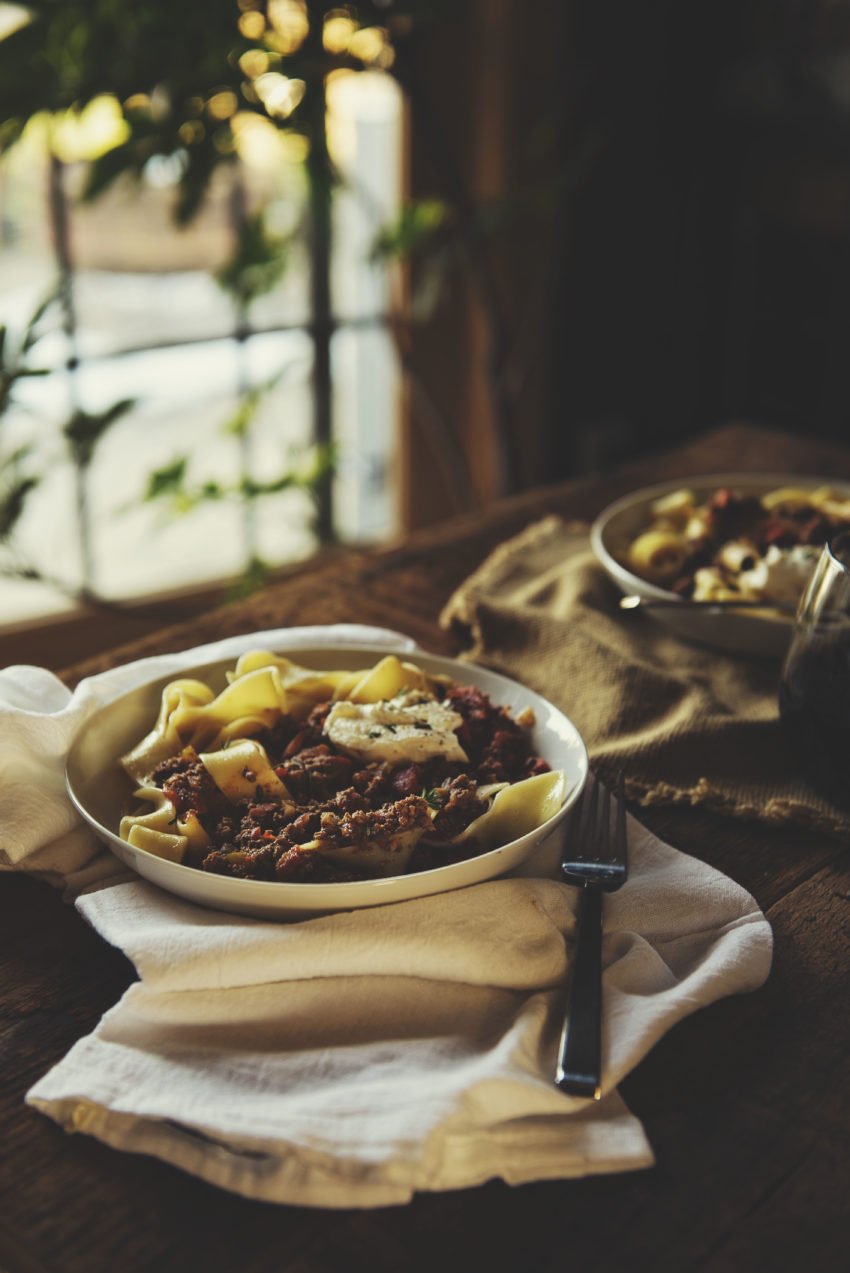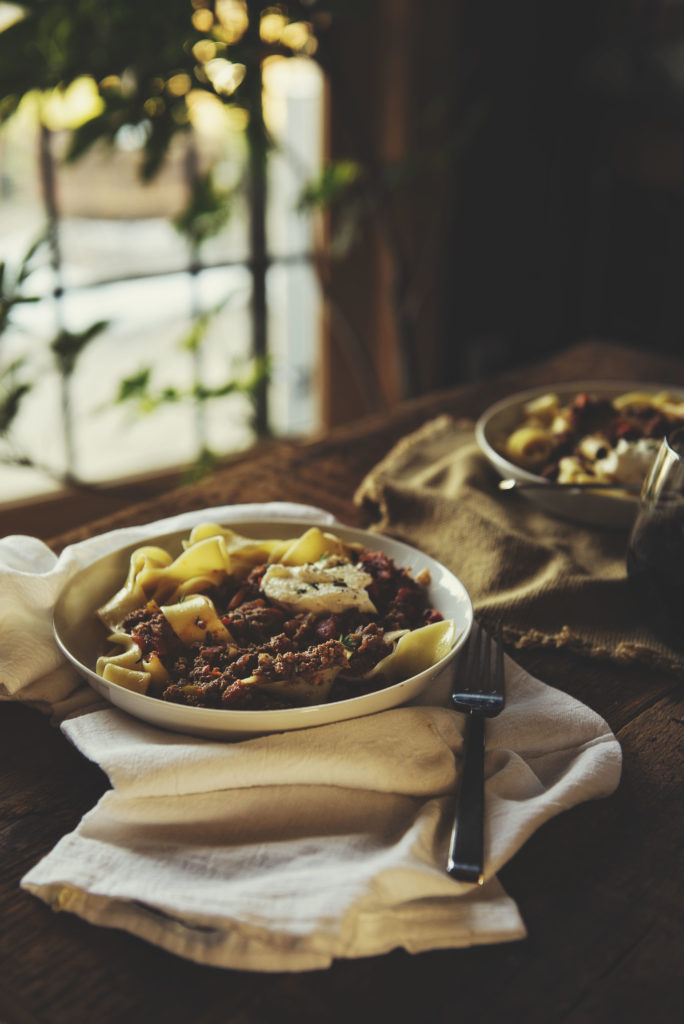 Red Wine Substitutes in Ragu
Some people might not want to use wine in the sauce. Of course, the majority of alcohol is cooked out of the sauce, but to someone struggling with using alcohol for any reason, I get it.
If that is the case, then you can substitute non alcoholic grape juice for the wine. However, I recommend trying to find some verjuice ("verjus"). This is grape juice made from slightly unripe grapes so it is more acidic.
In essence, that acidity gives it the characteristics of those wine flavors, but not at the risk of having alcohol in it.
No luck there? Add ¼ cup more top-quality beef stock as a substitution.
Savory Lamb Ragu with Pappardelle Pasta
This homemade comfort food is a dish made with layers of flavor perfect for a date night or family dinner. Hearty lamb is the center of the classic red wine sauce over thick pasta.
Ingredients
2

oz

dried porcini mushrooms

¼

cup

boiling water

2

tbsp

olive oil

divided

2

lbs

ground lamb

salt and pepper

1

onion

minced

1

carrot

diced

2

celery stalks

diced

6

oz

baby portabella mushrooms

3

garlic clove

minced

1

tsp

cumin

½

tsp

cardamom

½

tsp

fresh rosemary

minced

½

tsp

fresh thyme

minced

½

tsp

crushed red pepper flakes

1

bay leaf

2

tbsp

tomato paste

½

cup

wine

1

tbsp

soy sauce

28

oz

can diced tomatoes

1

cup

beef broth

8

oz

pappardelle noodles

ricotta cheese

Parmesan cheese for garnish
Instructions
Prep the Mushrooms
Pour the boiling water over the dried porcini and allow them to rehydrate.

Strain the liquid, but reserve it, and pat the mushrooms dry.

Mince and mix in with the baby bellas. Set aside.
Brown the Lamb
In a large Dutch oven, heat 1 tablespoon olive oil over medium high heat.

Add the lamb and season it with salt and pepper.

Brown the lamb for 5 to 7 minutes, breaking into chunks as it cooks.
Add the Vegetables
Add the onion, carrot, celery and baby bella mushrooms.

Stir and cook until all the vegetables are softened and most of the liquid has been cook ot and absorbed.

Stir in the garlic, cumin, cardamom, rosemary, thyme and crushed red pepper flakes.

Stir in the tomato paste and cook for 2 minutes.
Deglaze the Pan
Deglaze the pan with the red wine, scraping up any browned bits on the bottom.

Add in the soy sauce, reserved porcini liquid and diced tomatoes with their juices.
Simmer
Mix in the beef broth and bring to a light boil.

Reduce to a simmer, cover and cook for 30 to 45 minutes, stirring occasionally.

Add a dash of more broth if needed to loosen things up when ready to serve
Cook the Pasta
When ready to serve, make the pasta according to manufacturers directions. Drain and rinse.

Toss the pasta with the remaining tablespoon oil.
Serve
Spoon a heaping portion of the ragu over the pasta and dollop a spoonful of ricotta on top to mix in.

Season with salt and pepper to taste and garnish with freshly grated Parmesan cheese.
Notes
The ragu can be made a day or two ahead, and honestly, tastes better if it is. The longer the flavors meld, the richer it gets. 
Store leftover sauce in an airtight container for up to 4 days in the refrigerator. 
Reheat in the microwave on low heat or in a heavy pan. 
Nutrition
Nutrition Facts
Savory Lamb Ragu with Pappardelle Pasta
Amount Per Serving (1 g)
Calories 503
Calories from Fat 252
% Daily Value*
Fat 28g43%
Cholesterol 107mg36%
Sodium 495mg22%
Potassium 814mg23%
Carbohydrates 34g11%
Protein 26g52%
Vitamin A 1469IU29%
Vitamin C 12mg15%
Calcium 68mg7%
Iron 4mg22%
* Percent Daily Values are based on a 2000 calorie diet.