A simple base of classic dark stout pairs beautifully with this low and slow lamb stew. A hint of smoky flavor from the paprika and the filling potatoes and carrots make this Slow Cooker Smoky Irish Lamb Stew the perfect winter bowl of comfort.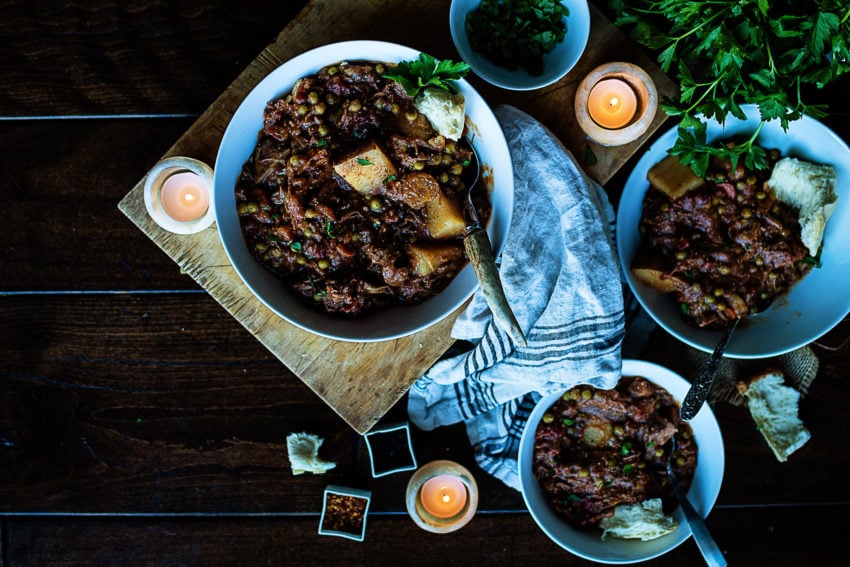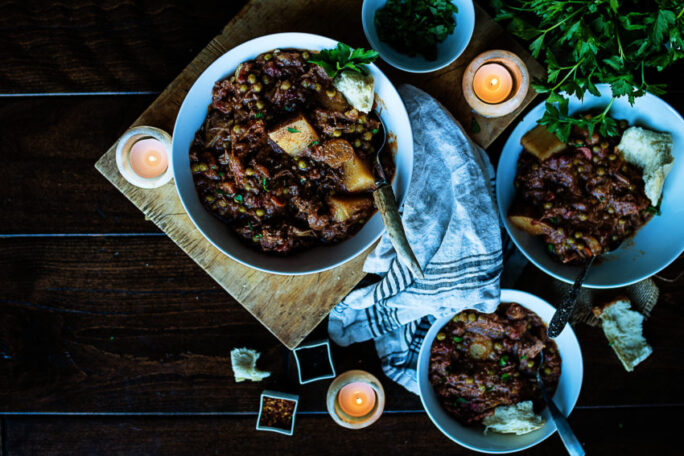 One of my favorite proteins to work with is lamb. I think it is an incredibly versatile meat that we just consume much here in the states. You can read more about my thoughts on why here (and check out that killer recipe for that rack of lamb while you're at it). It can be harder to source in our local markets, and reality is, not many people I know are willing to cook it because they associate it with a gamey sort of flavor.
But if you happen to find yourself with an opportunity to get ahold of some fresh lamb (and looking to up your St. Patrick's Day menu), the shoulder and lamb shank are perfect for a low and slow cook that produces a flavor loaded stew.
I happened to have a small lamb shank and bone-in shoulder, that I wanted to use and tossed them in the slow cooker for a few hours after hunting out a great local stout while exploring Eagle, Colorado. With light snow falling outside and the fireplace roaring inside, this went down in my epic playbook as a perfect recipe.
How to make great stews
They must be thick. I don't want a brothy bowl of weak soup. If I wanted to drink broth, I'd stick to sipping straight bone broth.
The flavors must be allowed to mingle. I'm talking low and slow cook times here. If you're really working the bonus points, make it a day ahead of time.
They must have fork tender meat. Low slow heat is perfect for more challenging cheaper cuts that don't do well for quick sears. Think of bulky shoulders and rumps that will break down beautifully over time.
They must be all about that base. A great stew is about layering flavors. It's about taking care to add and build but not overwhelm with just one thing.
They must have a variety of flavors. Which pretty much means add any additional veggie you can that works with the overall dish. Clean out the pantry and fridge.
They must make me want to come back for seconds. Yep, a great stew will fill you up, but damned if you won't want to dip that spoon in one more time to just to linger on the flavors a little longer.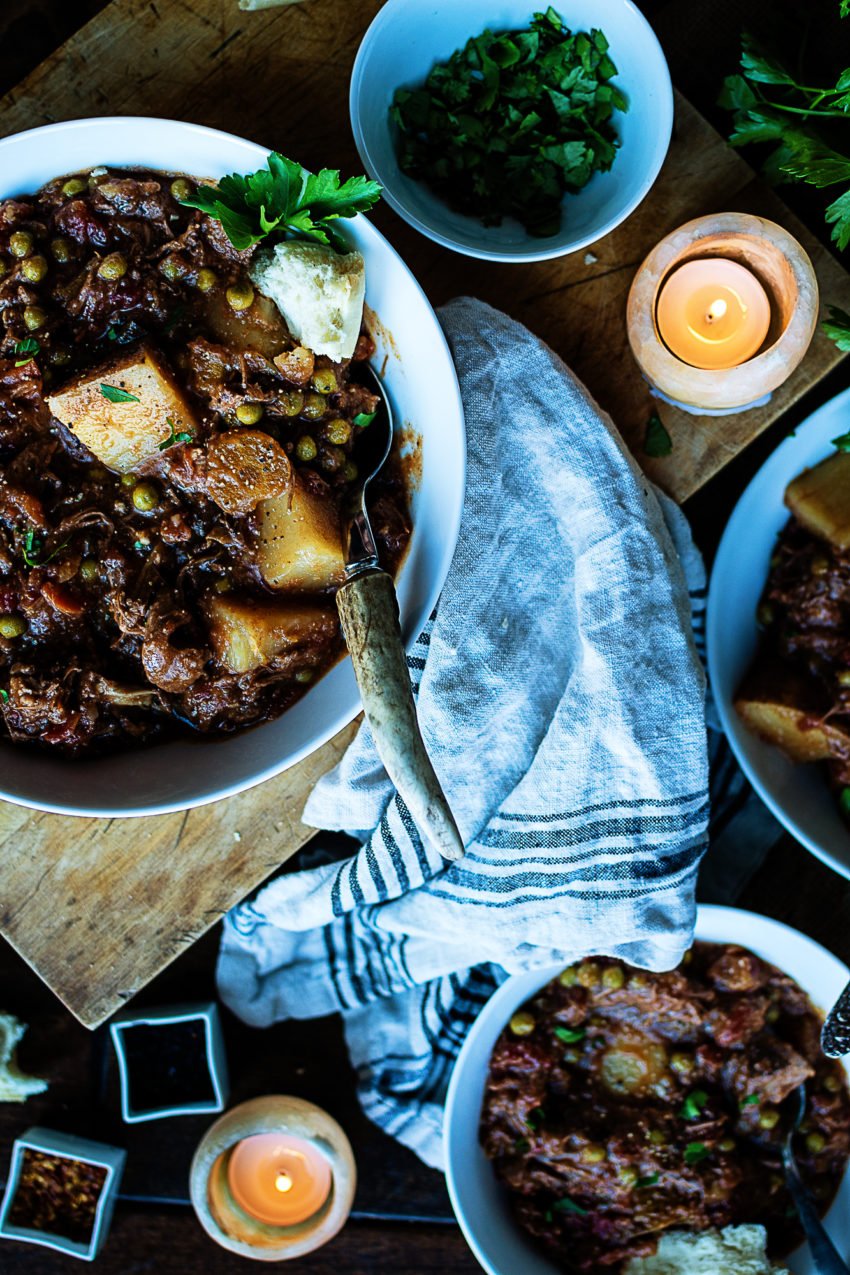 So What Makes It Irish Stew?
Truth be told, I pretty much took it at face value. But then I did a double take and doubled back on it. What the Leprechaun's Lucky Charm makes it Irish stew anyway? I mean why don't we just go ahead and call it Guamanian stew from now on?
Well, turns out there is a tale to tell which makes sense because the Irish are renowned storytellers. So, with all blarney aside…
A Brief History Of A Classic Pub Favorite
The original version of this classic dish featured mutton. You may have heard the word "mutton" in a pirate movie or something like that, but just thought it was the way they talked back in the day.
Here's the lowdown… Mutton is from two-year-old sheep.
It is tougher and gamier than a baby lamb. Sticking with the younger, juicier, and less gamey lamb makes a lot of sense. And it made sense to the poor working-class Irish folks too. Although lamb is pricier now, back in the day it was still way cheaper than beef.
For the immigrants on a serious budget, poor in cash but rich in tradition, coming to America meant a chance to change their fortunes. They may have left their homes, but they brought their beloved stew recipe.

Stobhach Gaelach
If you really want to get back to the old country, that is the Gaelic for "Irish Stew".
The great thing about it is that it still is actually pretty cheap to make. Because the stew is thickened by those hearty root vegetables and the flavor deepened by the bone shanks, the meat actually goes a lot further on even a tight budget.
Rich in tradition, but affordable in execution, and absolutely delicious in flavor, stobhach gaelach makes the "luck of the Irish" make sense.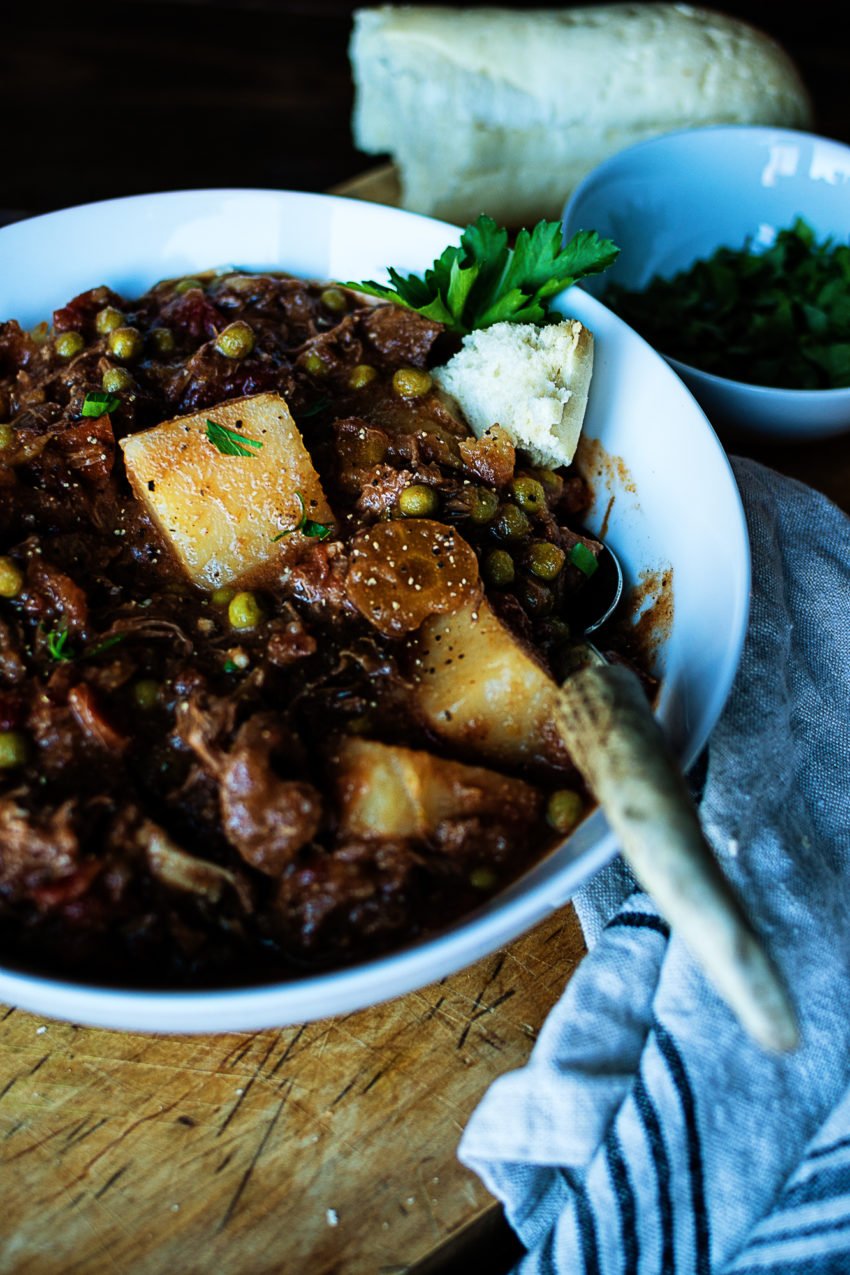 What Other Root Vegetables Work?
Like I said, work the vegetables that you have on hand into the dish. But if you don't have potatoes handy, then other tubers work great too. You can get away with using a rutabaga, or a turnip. No one is going to push the bowl away if you use a sweet potato or a yam either.
You get the picture. Big starchy root veggies work in place of potatoes. I find it hard to believe you don't have a potato handy though. Just look in the back of your pantry. You might find one that is growing roots, but just snap those off. That potato is still usable.
What If I Don't Have A Stout Handy?
Ok, in today's world, if you can't find a good stout to use, then I feel bad for you. I really do. Stouts are the answer when you get tired of drinking IPAs. I know you want to go with Guinness to keep it Irish, but Guinness can be hard to find in bottles or cans. (But it is definitely best on tap)
Regardless, there are many other great dark beers that work well too. A Modelo Negro from Mexico would work. Any brand of porter will do. Don't freak if you can't easily find a nice dark ale. If worse comes to worst, you can even use a light beer.
You just have to call it "Irish Stew Lite".

I am always looking forward to stew season. If only the weather could stay just a little warmer during it… If you need more ideas to ward off the chill, try these out! Nothing so comforting as a warm bowl in your hands.

Slow Cooker Loaded Veggie Beef Stew
Guinness Beef Stew Recipe
Bone Marrow French Onion Soup
If you've tried my Slow Cooker Smoky Irish Lamb Stew Recipe or any other recipe on GirlCarnivore.com please don't forget to rate the recipe and let me know where you found it in the comments below. I get inspired by your feedback and comments! You can also FOLLOW ME on Instagram @girlcarnivore as well as on Twitter and Facebook.
Slow Cooker Smoky Irish Lamb Stew
This is a hearty comforting lamb stew, loaded with shredded meat, a savory broth, carrots, peas and large bites of tender potatoes.
Ingredients
2

celery stalks

chopped

1

onion

chopped

2

carrots

cut into ¼″ slices

2

garlic cloves

minced

1

lbs

bone-in lamb shoulder

1

lbs

bone-in lamb shank 

salt and pepper 

2

tbs

smoked paprika

1

teas oregano

1 28

oz

can chopped tomatoes 

1 10

oz

stout beer 

4

cups

beef broth

2

large russet potatoes

washed and chopped

¼

cup

water

3 to 4

tbs

cornstarch or arrowroot powder

½

cup

frozen peas 

Fresh parsley

chopped for garnish
Instructions
Place the celery, onion, carrots, and garlic in a large slow cooker. Season the lamb with salt nd pepper and nestle into the slow cooker over the vegetables.

Add the smoked paprika and oregano. Pour in the tomatoes, beer, and broth. Cover and allow to cook for 5 to 6 hours on low.

Carefully remove the lamb and shred, discarding bones and any fat. Return to the crock pot.

Add the potatoes to the crock pot and cook for another 2 to 3 hours over low, until the potatoes are fork tender.

In a small bowl, whisk the water and cornstarch together to create a slurry. Stir into the crock pot and allow the stew to thicken, 30 to 40 minutes. Add the peas and heat through.

Ladle into warmed bowls and garnish with fresh parsley.
Notes
You can prep this recipe a day ahead, up until you add the potatoes. Allow the soup to cool, if making ahead, spooning any fat off from the surface and discard.

This stew is perfect in a Dutch oven or other stock pot as well if you do not want to make it in the crock pot. Just simmer over low. 
Nutrition
Nutrition Facts
Slow Cooker Smoky Irish Lamb Stew
Amount Per Serving
Calories 242
Calories from Fat 36
% Daily Value*
Fat 4g6%
Cholesterol 51mg17%
Sodium 869mg38%
Potassium 1024mg29%
Carbohydrates 26g9%
Protein 22g44%
Vitamin A 4800IU96%
Vitamin C 24.5mg30%
Calcium 94mg9%
Iron 4.4mg24%
* Percent Daily Values are based on a 2000 calorie diet.