Go big with your next home tailgating party with a giant platter of these loaded Philly cheesesteak fries!
Fresh steak, peppers, onions slathered in cheese over scoop-able fries… Heck yeah!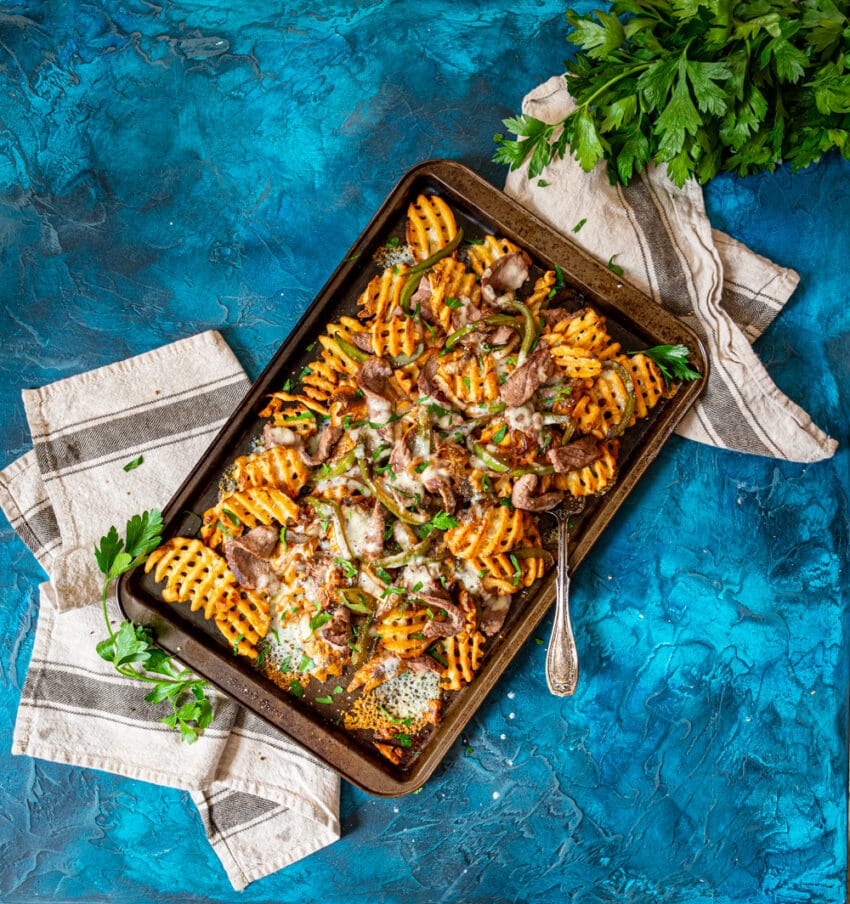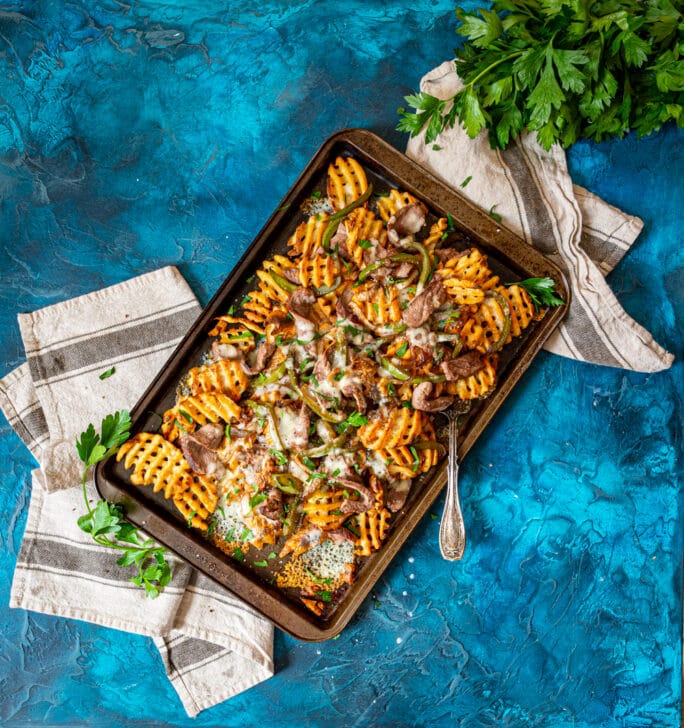 This post was sponsored by Mirum. All thoughts and opinions are my own.
Anyone who's ever ordered the real deal in Philly knows, it's wit or witout. Those are your options. Nothing complicated to a real Philly cheesesteak recipe.
Shaved beef tossed over a hot griddle with peppers and onions is the classic with provolone on top – or American, when making hard calls. But for myself, never ever with Whiz. 
Witout.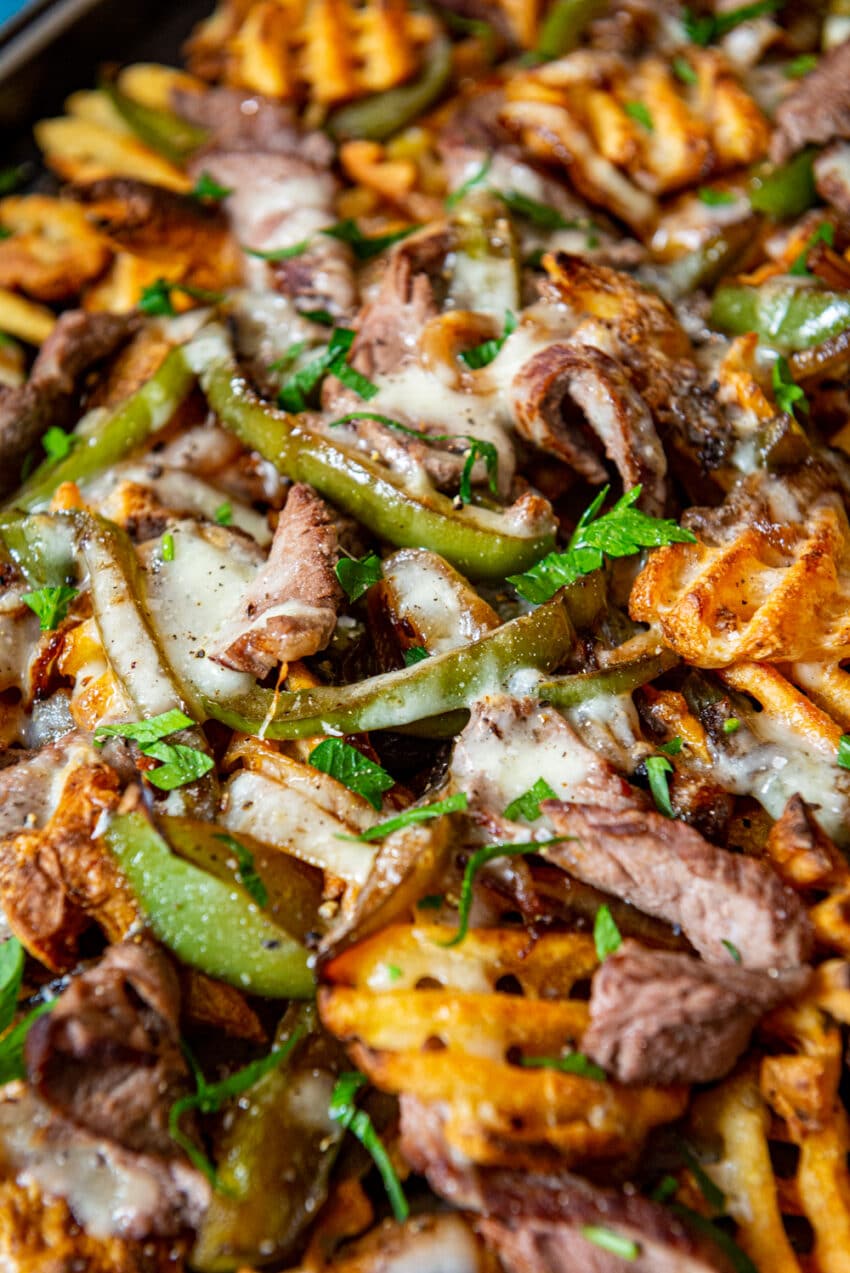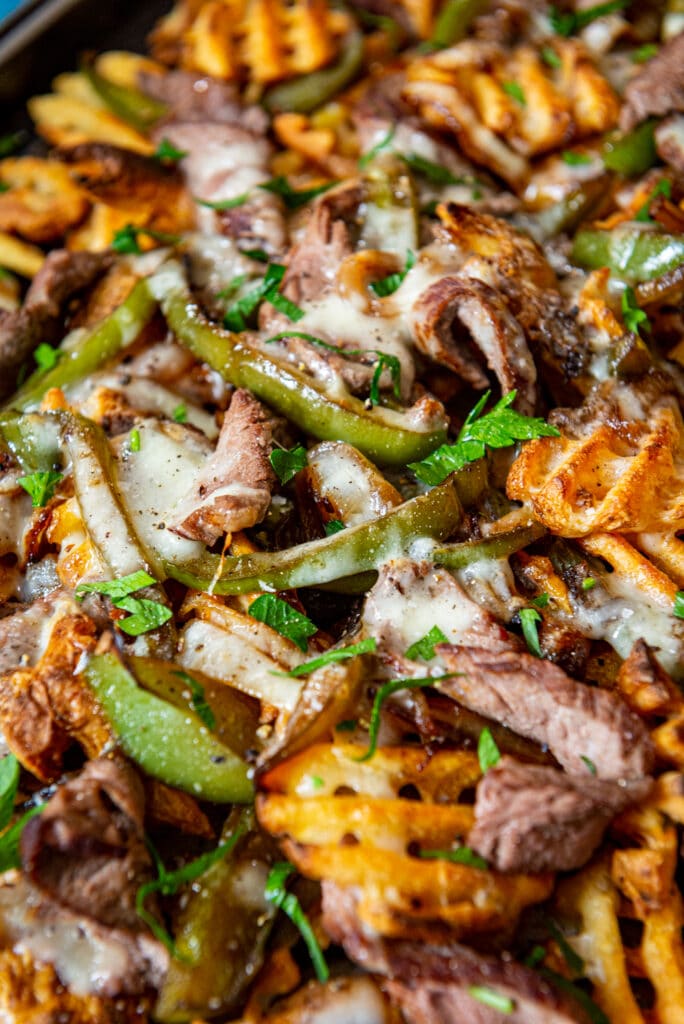 The True Philly Cheesesteak
Having traveled all over, I have seen all sorts of hot sandwiches calling themselves "Philly Cheesesteaks" (and my friends even like to pick on me about my passion for this), but if you have never been to Philly, chances are, you are missing out on the real thing.
And let's not even get into Pat's or Geno's (cuz Jim's).  If you have been, you know simplicity and a greasy mess is at its finest with a soft fresh roll and more napkins then you can count. 
All good, whether you like the tourist attraction version or the little spot in the neighborhood. But sometimes you have to branch out.
You have to take inspiration from the tried and true traditions, then discover something new.
Making Philly Cheesesteak Fries
These loaded fries are a quick, super easy, version of that classic with 5 ingredients that can be cooked in 30 minutes while everyone's just showing up or during half time. Perfect for your next tailgate.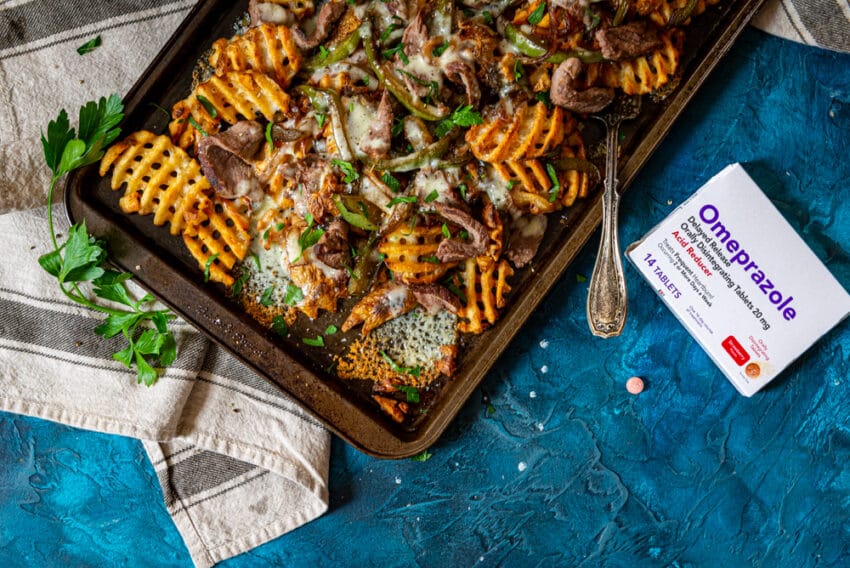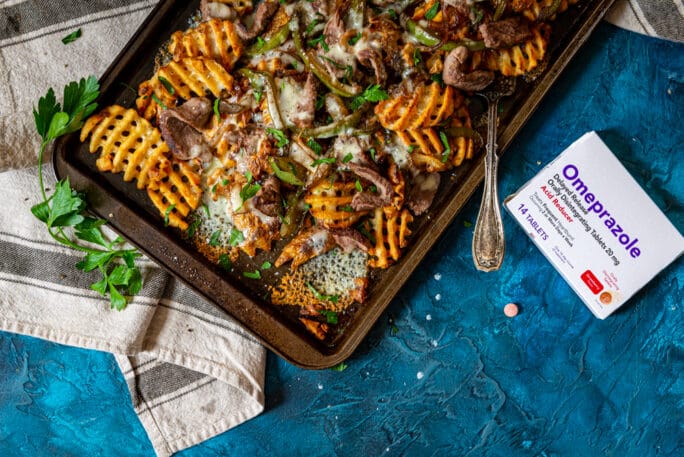 If Heartburn Might Be An Issue With Cheesesteaks
It's hard to miss out on any of the great eats during tailgating season, from brats to wings, I want to try everyone's recipes! But sometimes, I just can't do it all. I've been taking Omeprazole Orally Disintegrating Tablets though to help with heartburn. The easy-to-take strawberry flavored tablets dissolve right on my tongue, no water needed. 
Omeprazole ODT is designed to treat frequent heartburn, occurring 2 or more days per week. It's not intended for immediate relief and may take 1-4 days to feel the full effect. Take as directed for 14 days to complete the regimen. Do not take Omeprazole ODT for more than 14 days or more frequently than every 4 months unless directed by a doctor.
Back To Philly Cheesesteak Fries
Unlike my corned beef 'nachos' made with a whiskey fondue, I kept these cheesesteak fries simple and just added shredded provolone to the top, but if you want a great cheese sauce – check that one out.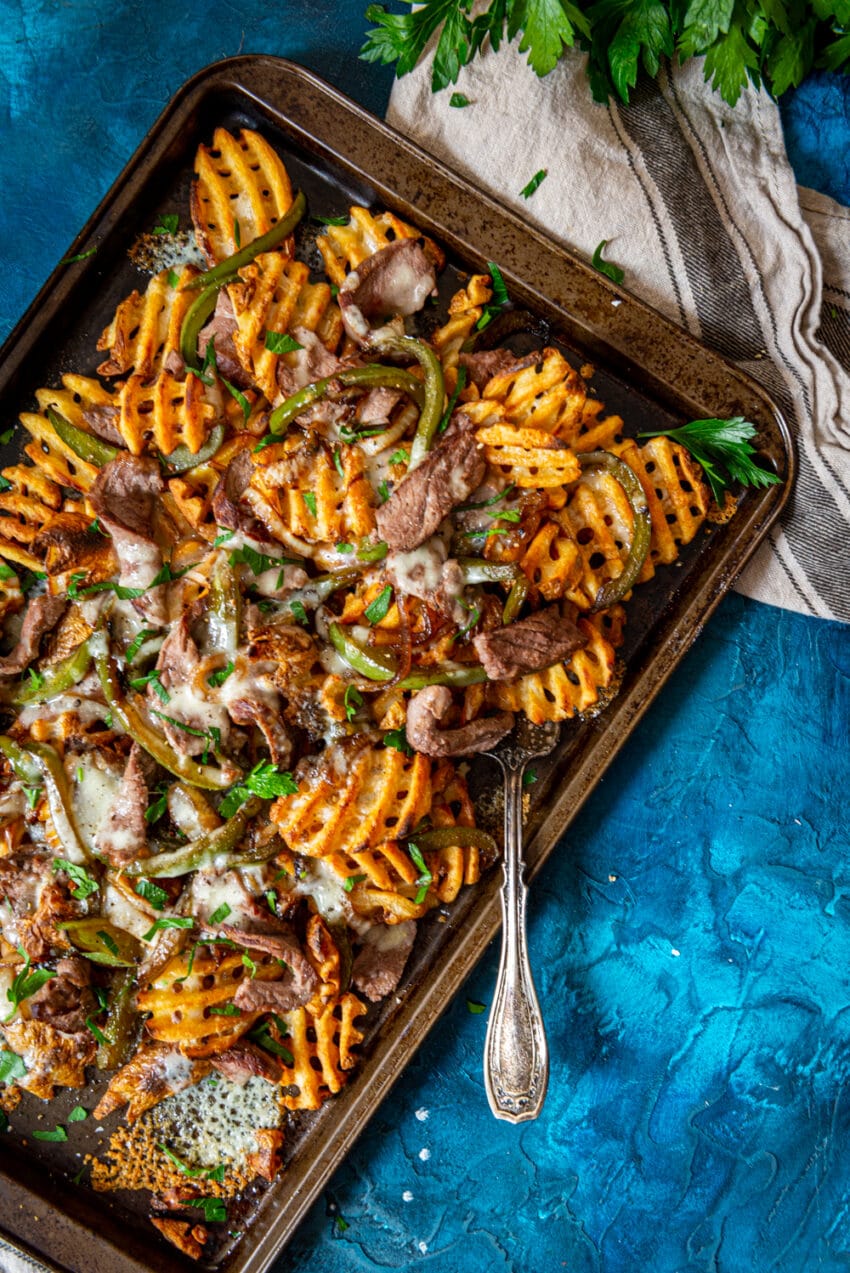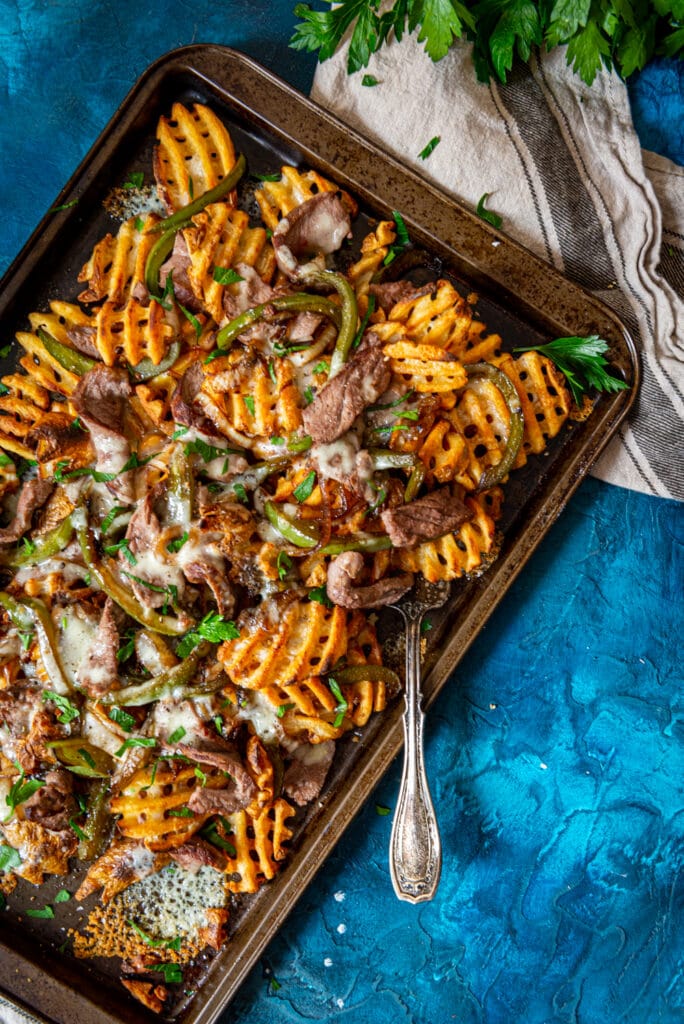 How to Make Cheesesteak Fries:
These are easy but here are a few tips from my recipe to make sure the fries stay crispy and everything gets an even coat of cheese.
Divide the fries onto two baking sheets while baking. This allows none to be double stacked and crispier edges to form. 
When building, work in layers. Add a layer of fries to the pan, cheese, slide in the oven to melt and repeat. 
Make the steak, onions, and peppers while the fries are cooking – so that everything is steaming hot when you serve it. 
Make sure to use waffle fries. They allow the fry to get crispy while cooking and have the mass to hold up the real steak strips and other toppings without falling apart. 
Don't overthink it – don't add anything fancy or extra (ok, maybe more cheese if you want), these cheesesteak fries are perfect. 
Using Waffle Fries
For Philly cheesesteak fries, you actually can use any type of French fry. I just happen to prefer waffle fries and I will explain why.
With waffle fries, you are essentially creating a platform to contain everything on top in every bit. With a thin or even a thick length cut typical fry, how are you going to do that? You have to really on your hand or a fork to pick up all the other tasty bits.
Whereas, with a waffle style cut fry, you essentially provide a perfect little basket for every bit.
Ok, Go Ahead And Cheese Whiz If You Want
If you want to have your Philly cheesesteak fries wit' Cheese Whiz, then have at it. I know there are cheesesteak aficionados who will cry that it really isn't quite a cheesesteak without it.
I am just personally not a fan. But if you are, then by all means, go for it. The goal here is to bring the genius of a Philly to the world of fries. Think of it as an Americanized version of Canada's poutine.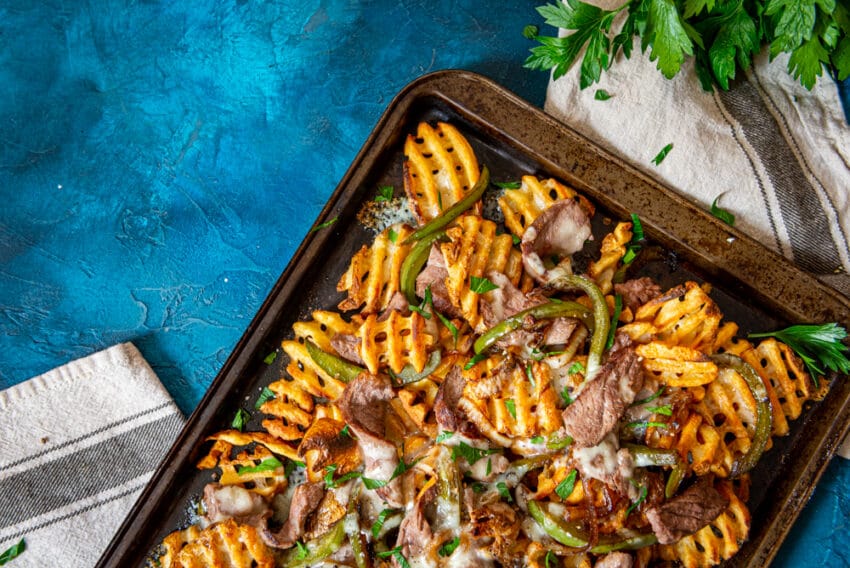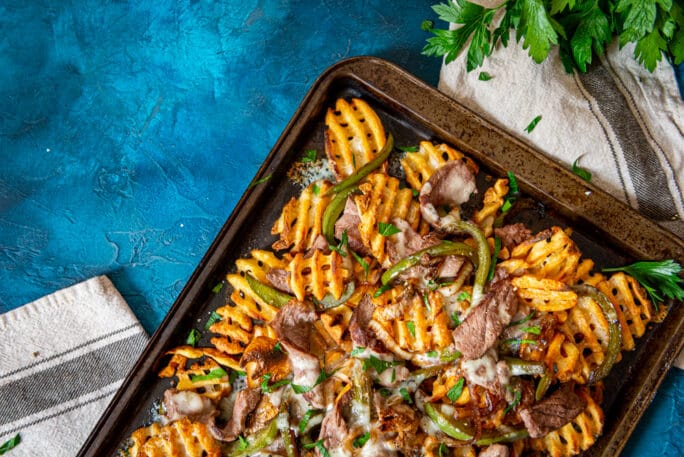 Want more easy tailgating inspiration? Try some of my favorite recipes
If you've tried my Philly Cheesesteak Fries Recipe or any other recipe on GirlCarnivore.com please don't forget to rate the recipe and let me know where you found it in the comments below. I get inspired by your feedback and comments! You can also FOLLOW ME on Instagram @girlcarnivore as well as on  Twitter and Facebook.
Yield: 1 platter
Philly Cheesesteak Fries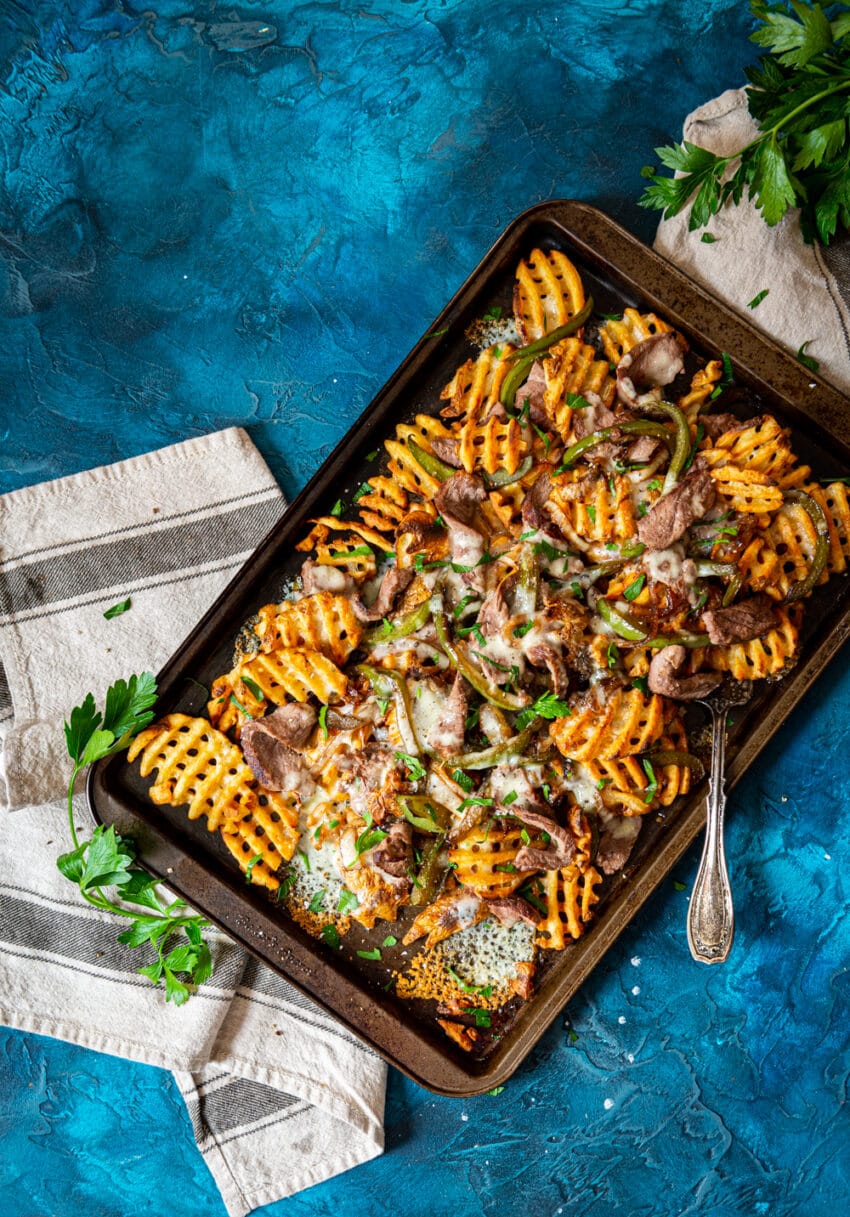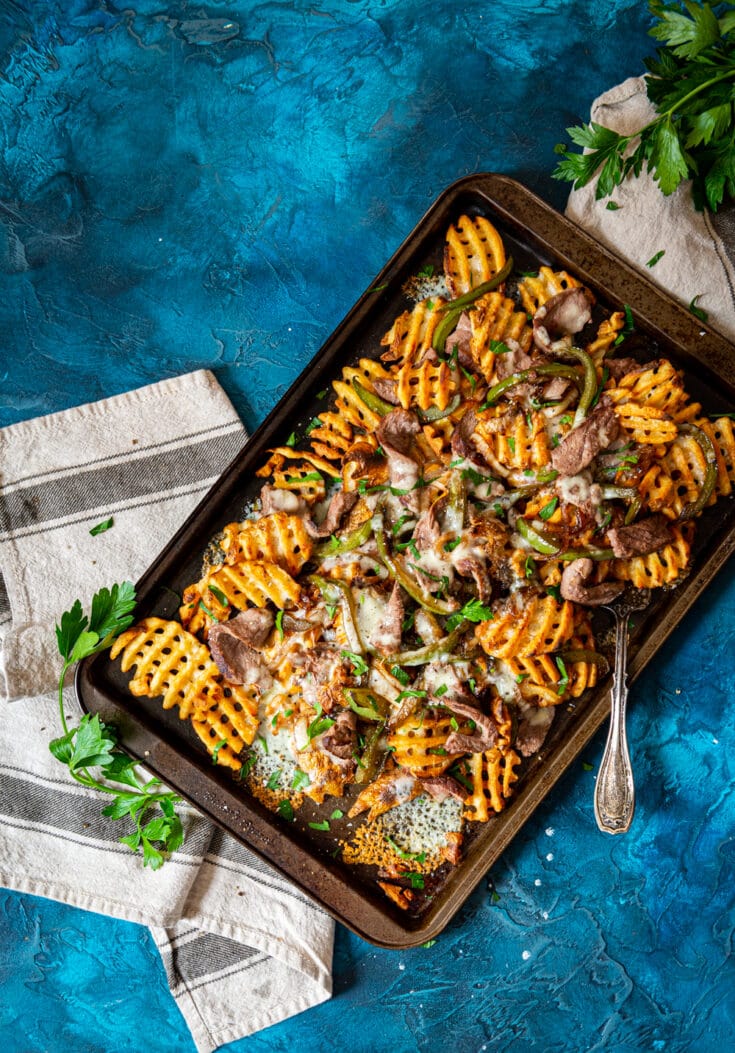 Go big with your next home tailgating party with a giant platter of these loaded Philly cheesesteak fries! Fresh steak, peppers, onions slathered in cheese over scoop-able fries - heck yeah!
Additional Time
5 minutes
Ingredients
1 24oz package frozen waffle fries
8 oz rib eye steak
salt
½ green bell pepper, seeded and sliced thin
½ onion, sliced thin
2 tbsp Worcestershire sauce
8 oz provolone cheese, shredded
Ground black pepper
Mayo, Ketchup or other desired condiments
Instructions
Preheat oven as instructed for the fries.
Arrange two baking sheets and divide the fries equally between the two in a single layer. Bake until golden brown and cooked through.
Meanwhile, season the steak liberally with salt.
Preheat a heavy-duty cast-iron skillet, to medium heat.
Cook the steak, 2 to 3 minutes a side, until a great crust forms and it pulls back without any resistance.
Remove the steak and wrap in foil.
In the same skillet, toss in the peppers and onions. Allow to caramelize for 3 to 5 minutes.
Add the Worcestershire sauce, black pepper, and cover. Cook until tender, about 5 minutes longer.
Slice the steak into paper thin strips.
Remove the fries from the oven and set to broil.
Arrange a layer of fries on the pan, top with ¼ of the cheese, ¼ steak, peppers and onions. Set under the broiler for 1 minute just to melt the cheese.
Carefully remove and pile the rest of the fries on top.
Cover in the remaining peppers, onions, steak and cheese.
Place under the broiler one more time for 2 to 3 minutes, until the cheese has melted.
Remove and allow the pan to cool to the touch placing safely but allowing guests to serve themselves from the warm platter of cheesy fries.
Recommended Products
As an Amazon Associate and member of other affiliate programs, I earn from qualifying purchases.
Nutrition Information:
Yield:
8
Serving Size:
1
Amount Per Serving:
Calories:

480
Total Fat:

25g
Saturated Fat:

10g
Trans Fat:

0g
Unsaturated Fat:

14g
Cholesterol:

64mg
Sodium:

938mg
Carbohydrates:

43g
Fiber:

2g
Sugar:

4g
Protein:

21g