Nothing tops a creamy scoopable chorizo cheese dip! It's loaded with spicy chorizo and onions. Makes a party must-have and easy go-to and always gets people coming back asking for the recipe. Their minds are blown when I tell them how easy it really is!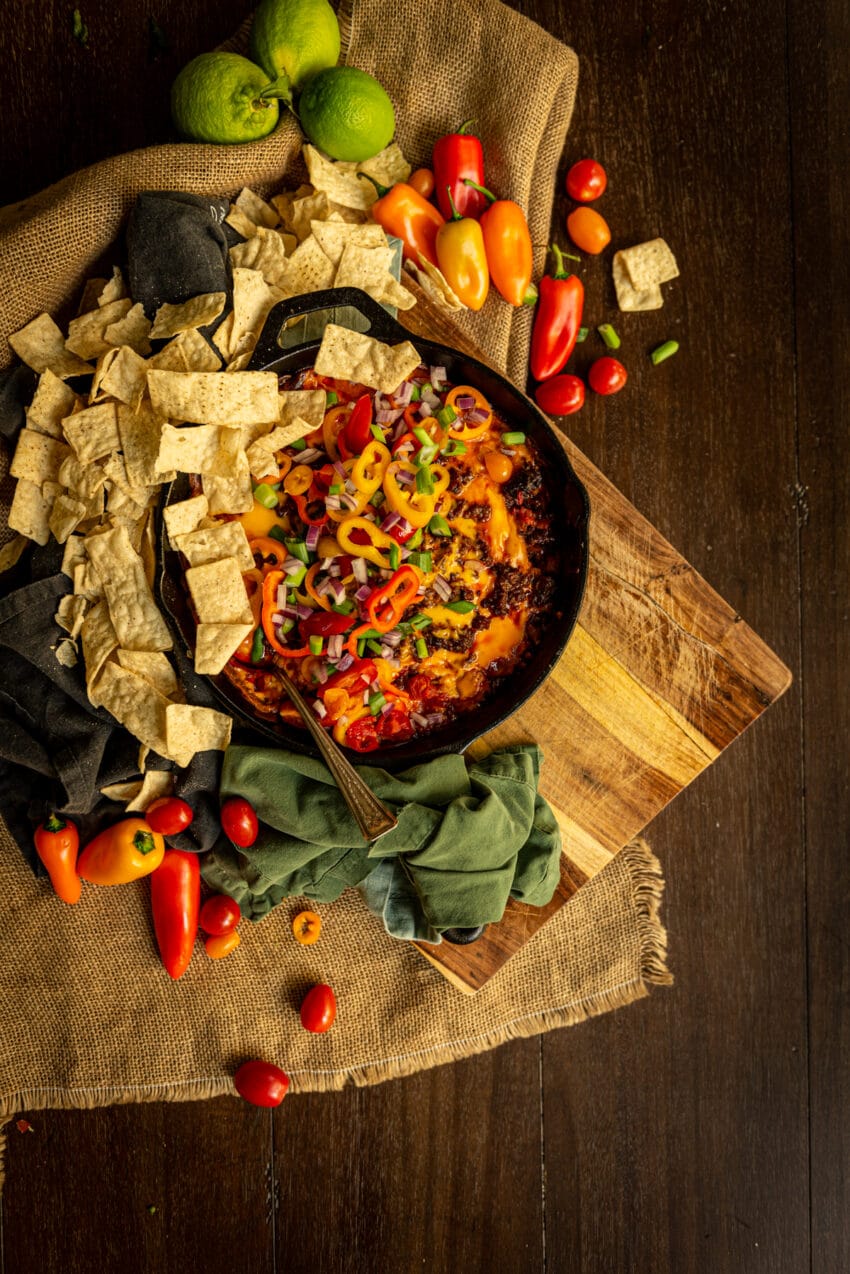 This is one of those cheese dips that I have been tweaking my whole entire life. Ok, at least since I can remember being old enough to steal some Velveeta and push a chair up to the microwave so I could use it. I would spoon leftover ground beef into a bowl and stir in the melted cheese. For a 5-year-old, it was pretty magic.
The Perfect Cheese Dip
Now, I make this dip with spicy chorizo and do it over a campfire or in my oven when I have friends over for the game, or sometimes I'm feeling lazy and make this Traeger Smoked Queso with Chorizo, which is almost as good (but there's no clean up).
This one has a few more steps from that easy first iteration, but it still stands as one of those magical comfort dishes where you will dig down to the very last crumb of a chip to scrape up the last bites.
Perfect for when you have a bunch of friends over, this recipe makes a full skillet of cheese dip and even on my best day, I lack self-control so dividing it up with my friends takes some of the pressure (or maybe that's portions) off my plate.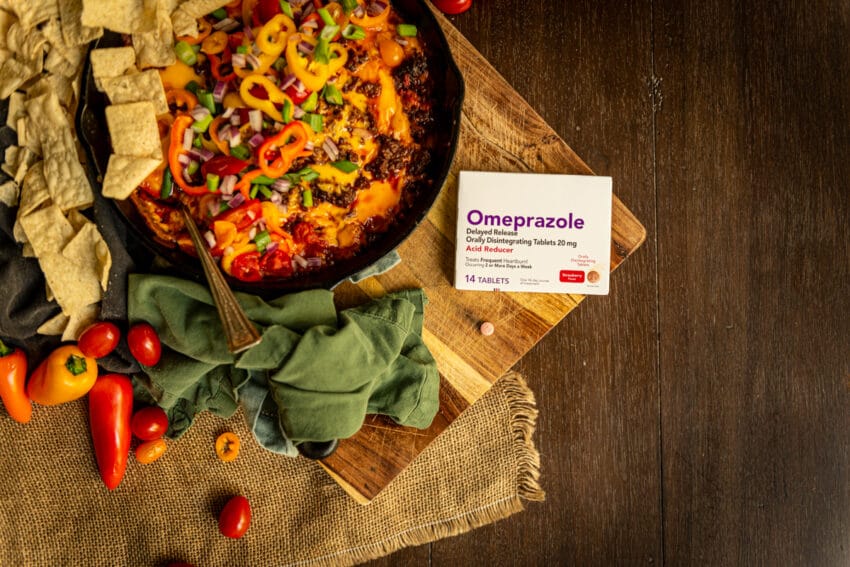 A short list of what you need for chorizo cheese dip
A few pantry staples and a little extra spice is all you need. Seriously, 6 ingredients! Woot.
This is an upgrade on the classic queso dip. All you need is ground chorizo, onions, and garlic to really level things up.
A good oven-safe skillet is a huge bonus for this recipe, too – one, for making from cooktop to baking – and two, for serving because it will stay warm while people nibble at the dip.
Where I really jazz this dish up is in the toppings. A few pops of bright toppings really make this dish look like so much more than just another game day appetizer. Plus, they bring a wonderful crisp crunch to every bite! So yeah, 'just dip' totally becomes 'what's your secret recipe' in a matter of seconds with a little impromptu food styling.
Now, if you aren't into all that, dumping some fresh salsa and a few sprigs of cilantro on top also counts. We all gotta know our comfort zone.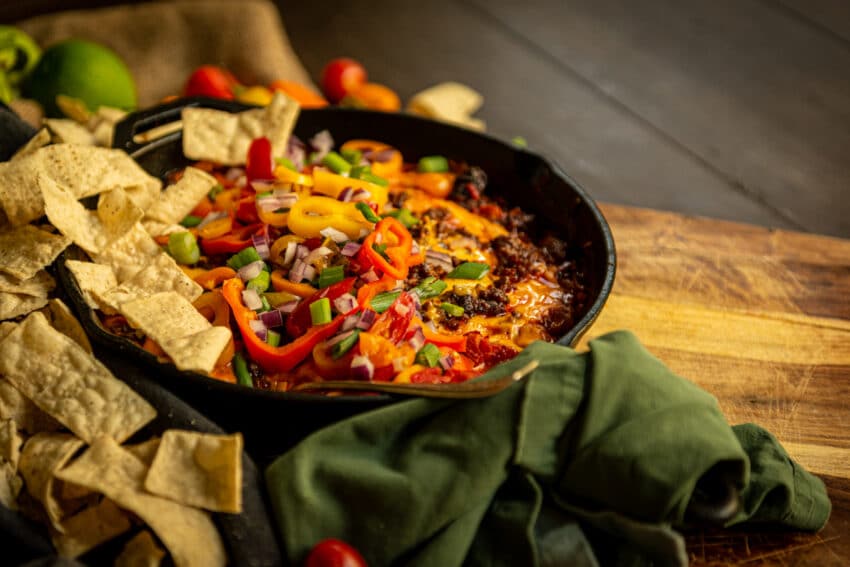 But how easy is it to make?
No really, that easy.
This is a one-skillet dish with minimal cleanup and a few easy steps. All you have to do is brown the chorizo then set it aside while you caramelize the onions in the leftover pan drippings. That means we cook them low and slow in the drippings until they have gone past soft, stirring occasionally. We are using the chorizo drippings instead of butter to really get that full-on sausage flavor throughout the recipe.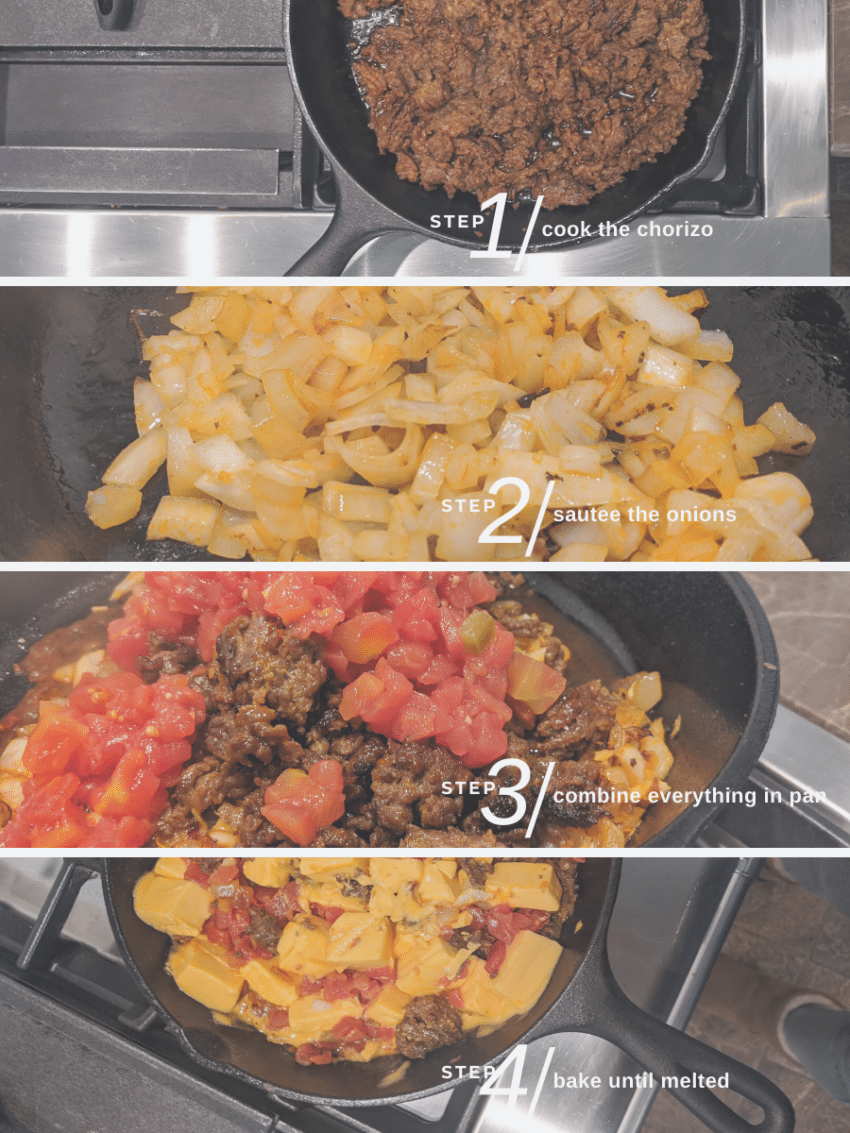 Once they are done, toss everything back into the same pan and finish off in the oven. The Velveeta works its magic and melts to create the perfect dippable blend.
Where to find ground chorizo?
Ground chorizo is something you won't find at every market, though I have seen a few major brands now starting to incorporate it into their standard lines. It is a regional thing and can be hard to source.
First place to check is in the refrigerator section where they keep Mexican cheese, crema, and other things. Sometimes, you can find chorizo here.
Otherwise, check the sausage department. Now, even if you can't find it ground alone in packaging, you could buy preformed uncooked links and remove the chorizo from the links by slicing the casing off.
Types Of Chorizo
Chorizo is spiced meat, either beef or pork, and there is even a veggie style chorizo. Spanish chorizo is a bit different than Mexican style chorizo in terms of ingredients, but there are plenty of regional variations between the two as well.
The red color is due to paprika or achiote, or a combination of both. Chili powder gives it the spicy side. A bit of pork fat is used to bind it all together when it is ground.
Most often, you find pork chorizo in supermarkets, but some carnicerias have beef chorizo too.
Can you make this is a slow cooker?
Heck yes. Chorizo cheese dip is perfect for a slow cooker. Actually, if you know you are going to be hosting with friends coming and going all day, this is great in a slow cooker over low or keep warm, as it keeps the cheese melty all day long.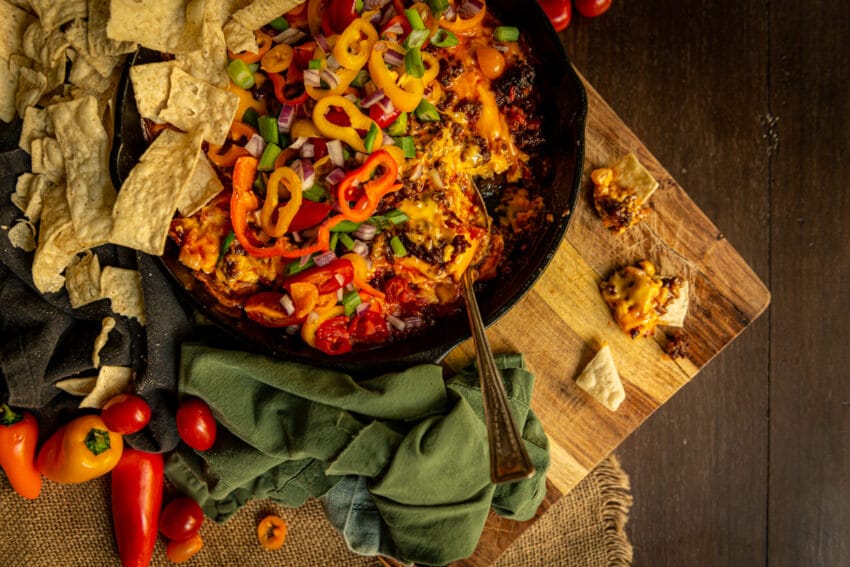 Looking for more game day eats? Try some of my favorite recipes
If you've tried this dip or any other recipe on GirlCarnivore.com please don't forget to rate the recipe and let me know where you found it in the comments below.
I get inspired by your feedback and comments! You can also join in on the adventures on Instagram @girlcarnivore, Twitter & Facebook.
Easy Chorizo Cheese Dip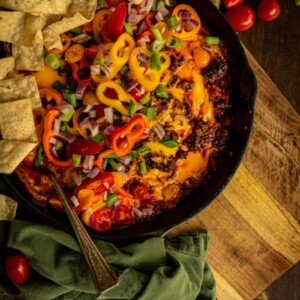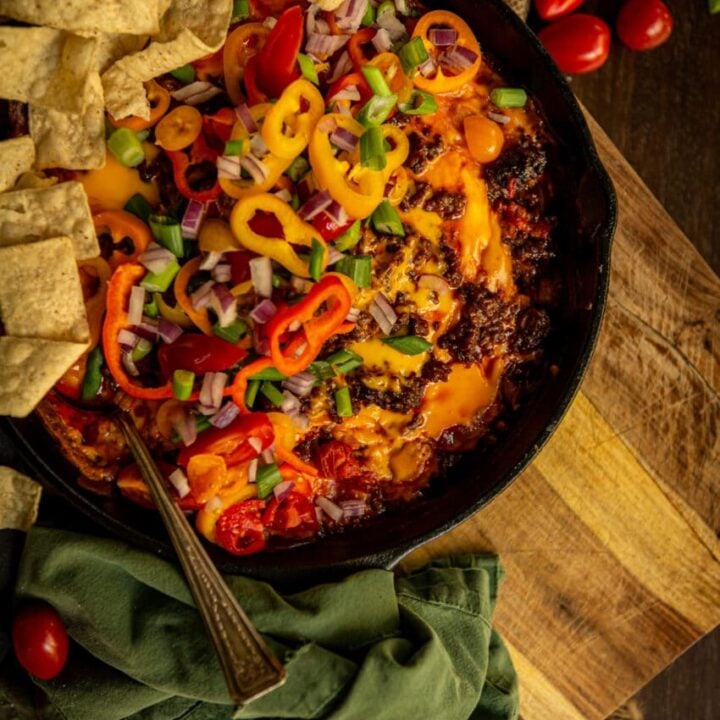 Classic cheese dip with a simple spicy upgrade? Heck yeah! This dip wins year after year at my half-time parties and it's so easy to make, looks amazing with a few simple toppings and is everyone's favorite!
Ingredients
1

lb

chorizo

1

onion

sliced

1

tspn

salt

4

cloves

garlic

minced

10

oz

Rotel Diced Tomatoes and Chilies

10

oz

Velveeta

diced into cubes
For Toppings
¼

Red onion

minced

2

Scallions

sliced

¼

cup

Tomatoes

sliced

3

Mini peppers

stemmed, seeded and sliced
Instructions
Preheat the oven to 425 degrees F.

In a large oven-safe skillet over medium-high heat, brown the chorizo until cooked through, 7 to 10 minutes. Break into small crumbles with a spatula as it cooks. Set aside, leaving the drippings in the pan.

Reduce the heat to medium.

Add the onion and coat with the drippings left in the pan. Season with salt.

Over low heat, stirring occasionally, cook the onions until they have softened and caramelized all over.

Add the garlic and cook 30 seconds longer.

Off heat, return the chorizo to the pan, stir in the Rotel, Velveeta.

Place in the oven and bake for 10 minutes, until the cheese has melted through.

Carefully, with an oven glove, remove the skillet from the oven and top with desired toppings.

Serve hot with a ton of chips or sliced baguettes.
Notes
Leftovers can be stored in an airtight container in the fridge for up to 3 days.
To reheat, place dip in a small skillet and heat in the oven at 350 degrees Fahrenheit.
I love using my trusted cast-iron skillet for this recipe. It holds the heat, so everything stays warm and melted while people snack. However, it holds the heat. So be sure to set it on a trivet and make sure everyone understands that cast iron that's been in the oven is hot.
Nutrition
Serving:
1
g
|
Calories:
209
kcal
|
Carbohydrates:
7
g
|
Protein:
13
g
|
Fat:
14
g
|
Saturated Fat:
6
g
|
Cholesterol:
40
mg
|
Sodium:
1229
mg
|
Potassium:
209
mg
|
Fiber:
1
g
|
Sugar:
4
g
|
Vitamin A:
792
IU
|
Vitamin C:
16
mg
|
Calcium:
178
mg
|
Iron:
1
mg