These juicy and delicious meatballs have a hidden and spicy surprise! They are stuffed with jalapeno popper goodness. Like my favorite go-to bacon-wrapped jalapeno poppers these are easy to make and loaded with flavor!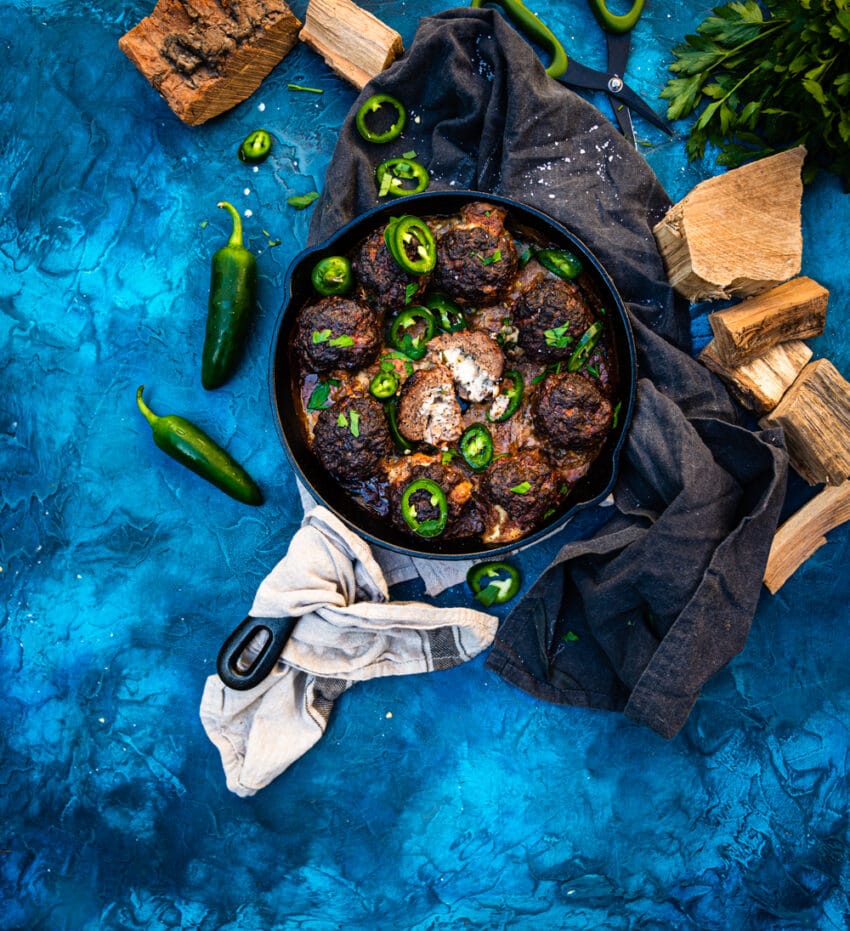 I have never met a meatball I didn't like. High fives if you can agree with that statement.
These homemade meatballs are ridiculously easy to make with minimal ingredients. First, the cream cheese filling can be mild or spicy depending on how many jalapenos you use (and you know what you like).
Then once ready to go, these smoke up quick, in under two hours. Cooking them in a cast-iron skillet over great wood chunks creates an amazing flavor that unsuspecting company will be totally wowed by!
Can you smoke a meatball – hell yeah you can. And the flavor is pure wizardry (but really, nothing that complicated at all).
The mild smoke flavor kisses these crazy easy to make meatballs with just a hit of great grilling flavor.
Like all things smoked, these little bites pack a ton of primal flavor that are perfect appetizers for football or tailgating or served as a bonus flavor bomb over a spicy mac and cheese.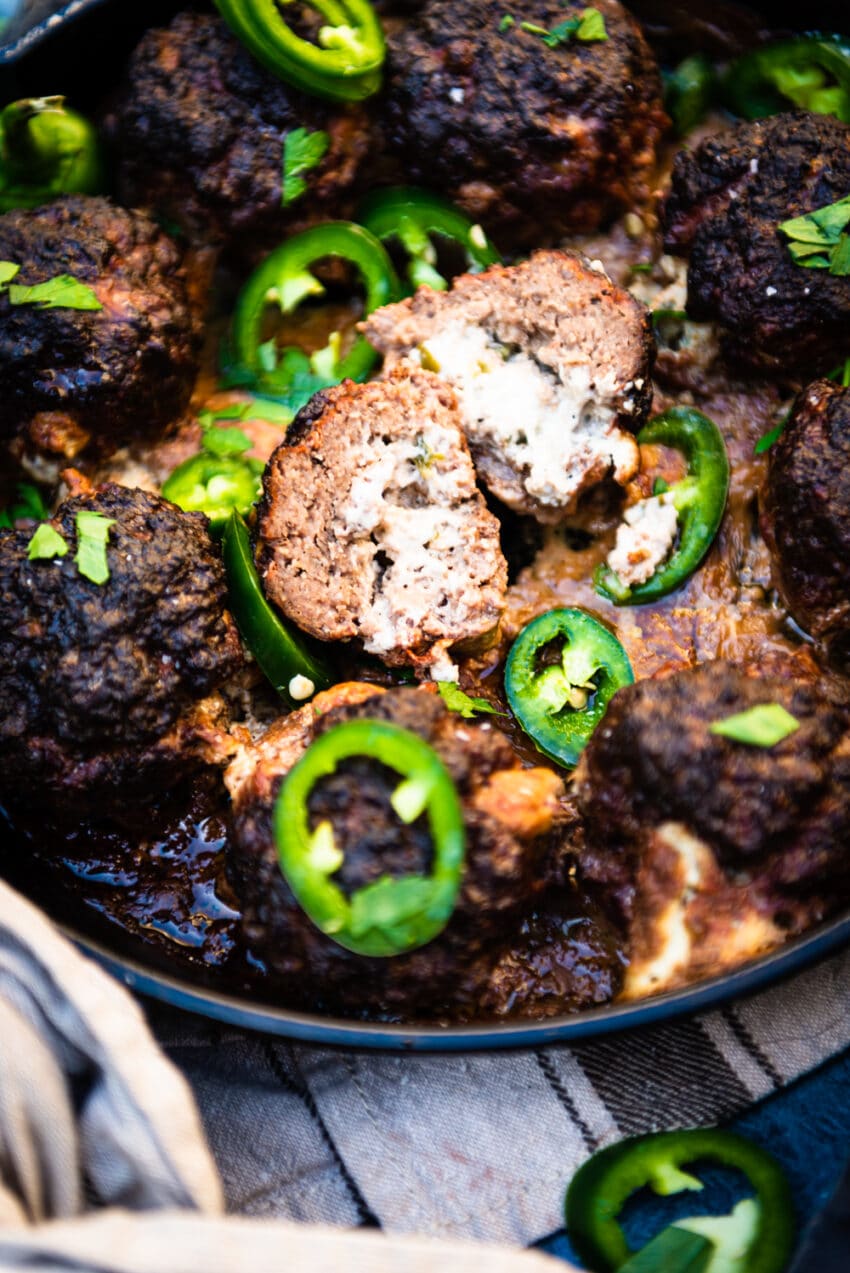 So, how do you make these magical little smoked meatballs?
My pro tip for grilling or smoking anything…. Don't overthink it.
This is one of the easiest recipes you can make (other than these rosemary smoked meatballs, that have no filling).
Let's talk about the filling first- it is literally 2 ingredients. TWO. Cream cheese and diced jalapenos. You can adjust the 'heat' of these by adding more or less of the jalapeno. Taste test a bit of the cream cheese mixture before you stuff the meatballs to see if you and your guests can handle more heat.
But, don't add too much heat! You can't take away extra tablespoons or two of minced jalapenos if you get a little risky in the kitchen – the only answer there is to add more cream cheese…. Bob Ross the spice and start with a little jalapeno and work your way up to the spice level you are happy with.
You can also use jarred jalapenos for the jalapeno popper filling. Just be sure to pat them dry of all their extra liquid.
The meatball mixture is a basic blend of beef, pork, minced jalapeno, egg, breadcrumbs, and garlic. By keeping the meat mix simple, we are letting the heat from the jalapeno popper and filling make its bold statement.
Smoking adds a ton of flavor with minimal work. All you need is a good smoker, hickory or post oak chunks (my favorite for heavy meat dishes), and an instant-read thermometer. About an hour later, bam smokey jalapeno stuffed meatballs oozing with flavor!
The trick is to close the lid and make sure the temp holds. If your smoker is holding temp at or around 225, you need to trust the process and not open that lid. Every time you open the lid you are letting smoke (aka flavor) escape AND causing fluctuations in the temperature. Let the smoker do its thing.
And when it's all said and done, expect a few photo-worthy pools of melted cream cheese filling.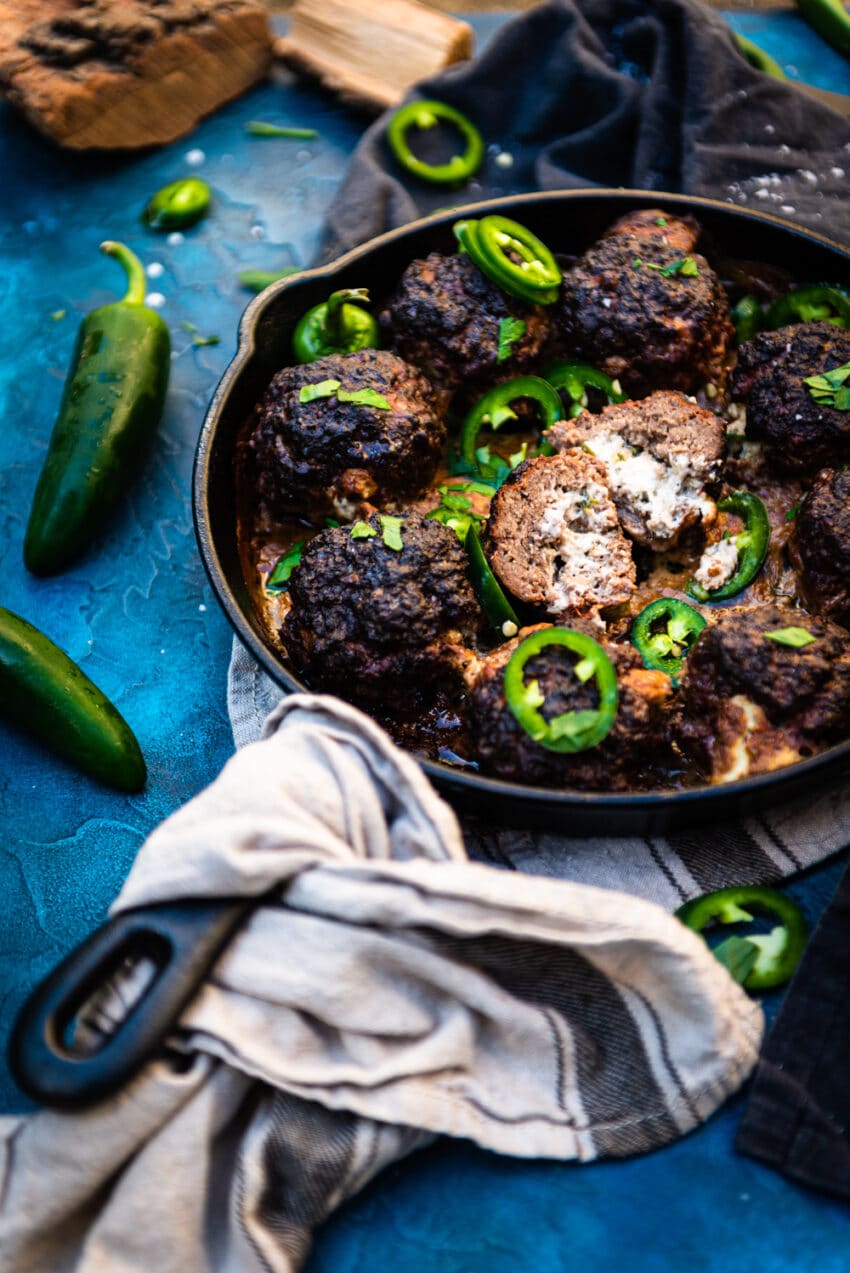 What you need to make jalapeno popper meatballs:
Low-fat ground beef is your friend for this recipe. 85% to 90% is ok. The fat in the ground pork makes up for the leaner beef here.
2 or 3 fresh jalapenos, as fresh as you can find them, with seeds removed OR jarred jalapenos that have been patted dry. Start with a smaller amount and work up in the cream cheese mixture to your heat level liking.
For heavy dishes, and yes, a meatball filled with cream cheese is indeed a heavy dish, I like a strong not-fruity wood. I used Western Woods Hickory Chunks on my Chargriller Akorn.
The only special tools you need is a cast-iron skillet and a quality instant-read thermometer.
Recipe Tips:
Make the meatballs in advance and allow them to cool overnight. This lets the fats in the meat firm back up and will help them stay firm when grilling. Just like burgers, I always chill the meat after it's been working. Being exposed to the air and body heat while we roll them heats the fats. The more solid they are when they hit the grill, the better the finished meatball.
What to serve with these jalapeno popper meatballs?
Everyone thinks pasta when we think meatballs, but think about these babies in a hoagie roll as a sub, overtop a creamy mac and cheese, or alongside a kale salad with bacon vinaigrette. I mean, and then, yes, there is always pasta.
How to temp meatballs?
Meatballs can be tricky to temp, especially when they get a good crust from cast iron or a good skillet on the outside, and then you let them finish cooking without seeing the inside. Because it's a mix of beef and pork, we have to make sure they are cooked to 160 / 165 for food safety.
To do this, you can use a probe while smoking, but I prefer an instant-read thermometer. Remove the skillet from the heat source and use the thermometer, inserted about halfway into the meatball (remember, they are stuffed with cheese, but this works for standard meatballs too) and read the temp. When they are 160 degrees, remove from heat and cover with foil to rest.
FAQs
Why are my meatballs falling apart?
When working with ground beef and pork and things won't hold, whether it's a meatball or a burger, there's usually not enough fat to binder (aka the dry things like breadcrumbs and eggs). A good trick is to soak the breadcrumbs – and when I have time, I LOVE doing this (bonus flavor layer), just make sure you squeeze as much of the milk from the bread as possible before mixing. And another is to make sure your egg/bread/meat ratio is on point. One egg per pound of meat is a good ratio.
Also, working quickly is important and keeping things cool. As we work the meat in our hands, the fats warm and get softer, which changes how they stick together. You can even chill between mixing the meatball ingredients and actually rolling the meatballs if you have the time. In this recipe, we chill between forming them and cooking to make sure everything's cool when they start cooking.
You want a meatball that is 'moist but not soggy' ok, but what does that mean? When you roll the meatballs, they shouldn't leave your fingers as soggy meat coated digits but a little tacky and moist. That usually tells me I have a good balance just by feel. If they are too soggy or sticky, I toss in a few more breadcrumbs or more meat if I have it just to keep it all together. And like many recipes, mastering the perfect meatball texture comes with a few practice runs.
Can you smoke meatballs on a pellet grill?
Yes. Once you have made the meatballs and started your pellet smoke through its warm-up process, set it to smoke for 15 to 20 minutes and then increase the temperature to 225 – 250 and cook until the temperature reaches 160, about another 40 minutes.
How about a gas grill?
Yes, you can totally smoke meatballs on gas grills. Gas grills get a lot of side-eye in the grilling community, but they are powerful tools with easy push start technology (which, somedays is a total win). You can smoke on them – and just about anything – you just need to finagle your grill a bit.
Make sure to preheat the grill for indirect heat, lighting the burners on one side and not the other, or setting those to the lowest possible heat. Then you want to fill a smoke box with wood chips and place them over the heat. It will take a few minutes before they start smoking. But, once they do, bam! You're gas grill is now smoking.
You can also use an aluminum pouch to hold the wood chips if you don't have a smoker box.
How to reheat smoked meatballs?
These are simple to reheat, I place my meatballs in a preheated oven in a skillet for 10 to 15 minutes at 325 degrees.
If you microwave them, they act like mini lava bombs and will also leave that lingering smokey smell in your microwave. Not my go-to method at all, but an option if you are in a pinch. Just reheat in the microwave at low power, rotating them every 20 seconds or so to try to get even heat.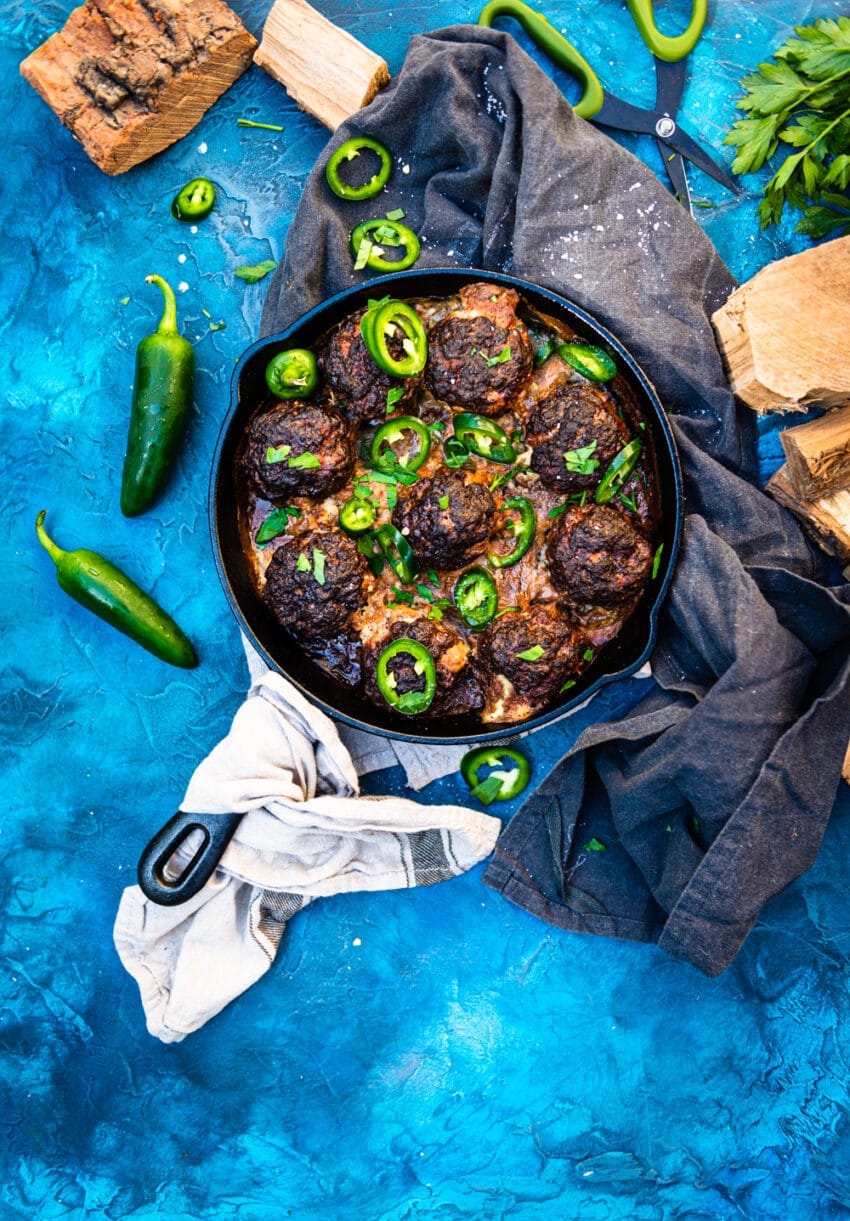 Want more appetizer recipes? Try some of my favorite recipes
If you've tried my Smoked Jalapeno Popper Meatballs Recipe or any other recipe on GirlCarnivore.com please don't forget to rate the recipe and let me know where you found it in the comments below.
I get inspired by your feedback and comments! You can also join in on the adventures on Instagram @girlcarnivore, Twitter & Facebook.
Smoked Jalapeno Popper Meatballs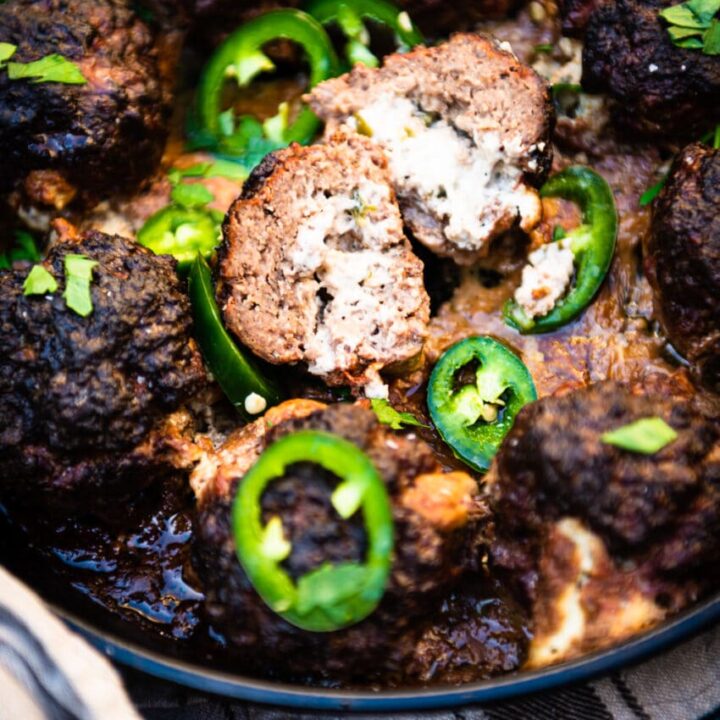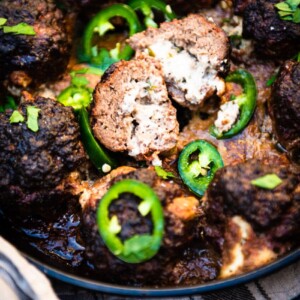 Meatballs stuffed with a creamy and spicy jalapeno popper filling? Heck yeah! And they are smoked for that kiss of barbecue flavor. Delicious!

Ingredients
½

lb

ground beef

½

lb

ground pork

¼

cup

bread crumbs

2

jalapeno

seeded and minced, divided

1

tsp

salt

½

tsp

black pepper

1

egg

1

clove

garlic minced

6

oz

cream cheese

1

jalapeno

seeded and sliced for garnish
Instructions
In a large mixing bowl, combine the beef, bread crumbs, 1 tbsp minced jalapeno, salt, pepper, egg, and garlic clove until well combined.

In the bowl of your stand mixer fitted with the whisk attachment, whip the cream cheese until smooth.

Add the minced jalapeno and whip until combined.

Prep the meatballs by scooping out a tablespoon into your hand and forming a round shell, like a bowl.

Spoon a dollop, about a teaspoon of the cream cheese mixture into the center.

Finish the meatball of with a pinch more meat.

Roll the meatball in your hands gently, to make sure all seams are pinched together.

Repeat until you have finished making all of the meatballs.

Place the meatballs on a tray. Cover with plastic wrap and refrigerate 1 to 8 hours.

When ready to smoke, prep your smoker for 225 degrees.

Place a cast-iron skillet on the grill once it is holding temp and allow it to heat for 5 to 10 minutes to preheat.

Add wood chunks to the smoker immediately before ready to smoke.

Place the meatballs evenly spaced in the preheated skillet.

Cover and smoke until meatballs reach 160 – 165 degrees internally.

Remove from skillet and allow to cool 5 minutes before serving.

Garnish with sliced jalapeno for extra spice and a bonus warning to anyone who may not notice that these are jalapeno popper meatballs!
Notes
Use cookie scoops or melon ballers with press releases for easy even portions and control. A large cookie scoop is perfect for the meat. Use a small melon baller to make scooping the cream cheese filling.
Use 85% or 90% beef for this since you will also be using ground pork, which will have enough fat in it to keep things moist and flavorful.
Nutrition
Serving:
2
g
|
Calories:
243
kcal
|
Carbohydrates:
4
g
|
Protein:
12
g
|
Fat:
20
g
|
Saturated Fat:
9
g
|
Cholesterol:
84
mg
|
Sodium:
427
mg
|
Potassium:
210
mg
|
Fiber:
1
g
|
Sugar:
1
g
|
Vitamin A:
372
IU
|
Vitamin C:
7
mg
|
Calcium:
39
mg
|
Iron:
1
mg
See the Web Store for Smoked Jalapeno Popper Meatballs