This steak sandwich is a next-level messy big beefy meal. But no, this ain't a classic Philly cheesesteak; it's a mountain of shaved steak, peppers, onions, mushrooms, cheese, and marinara between light fluffy focaccia bread. Cascading with bursts of flavor that will quickly make you forget just how messy this meal is.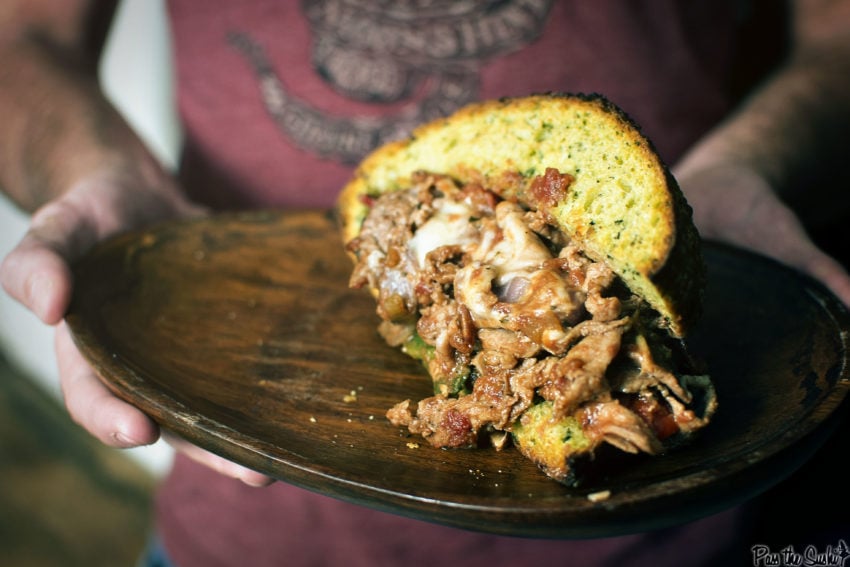 Steak Sandwiches in History
When it comes to steak sandwiches, you typically think of the Philly cheesesteak, a historic staple in American northeastern cuisine.
But the simple yet satisfying steak sandwich has roots in not just the cheesesteak but the Chicago Italian beef, the Canadian French dip, the Western New York "beef on weck," and the fast food classic roast beef sandwich.
And in this legendary steak sandwich recipe from a rocking little restaurant in Rockland, Maine called Cafe Miranda.
Traditionally made with cheese, peppers, onions, mushrooms, and a pile of shaved steak, Cafe Miranda, known for their from-scratch recipes, takes the classic quick meal to a whole new level with fresh marinara sauce and airy focaccia bread for the best steak sandwich for a great recipe you're going to love.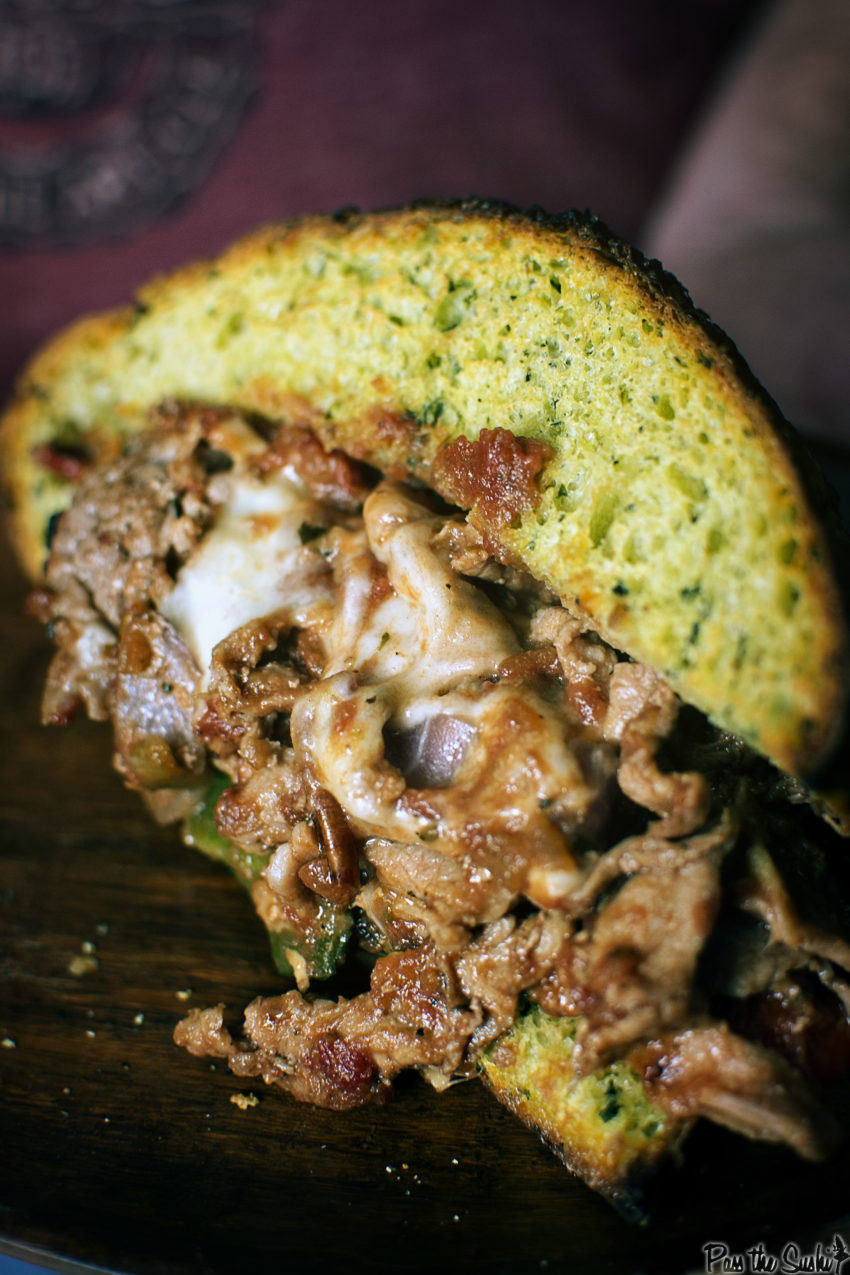 Why You'll Love This Recipe
Skip the minute steak and sink into a real beefy sandwich. This sophisticated variation on the steak sandwich takes a classic to the next level. With focaccia, melty cheese, and crunchy sliced onions, this is a great sandwich for almost any occasion. And if you play your cards right, you'll have lots of leftover steak for future sandwiches the next day. The deep golden brown toasty bread, seasoned steak, and hot pickled banana pepper garnish make this the ultimate steak sandwich with an explosion of flavors and textures.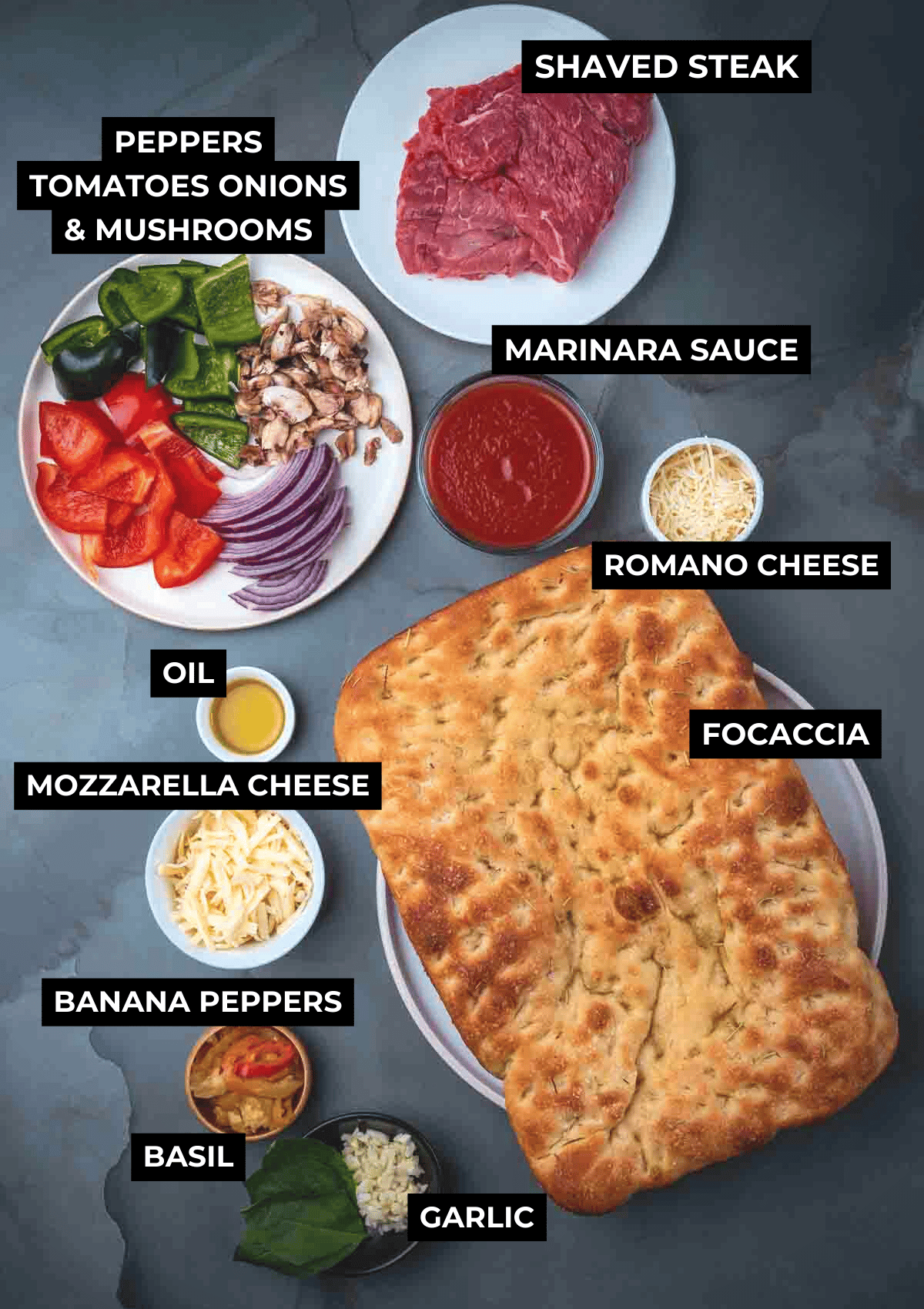 Ingredients
Mushrooms
Poblano pepper
Red bell peppers
Red onions
Steak sliced into thin strips – We love a thin sliced ribeye or even chuck steaks for this recipe. The marbling goes a long way for flavor.
Salt – we use kosher salt for cooking
Fresh basil
Fresh Garlic cloves
Marinara sauce – homemade is best but Roa's will also do the trick
Mozzarella cheese
Romano cheese
Focaccia or ciabatta bread
Hot pickled banana pepper rings
How to Make This Steak Sandwich
Start by preheating your oven to 400 degrees F. On a baking sheet lined with aluminum foil, toss the peppers and onions, sliced thinly, in a little olive oil. Arrange them in a single layer. Roast the veggies for about 20 minutes, then add the shaved steak and sprinkle with a pinch of salt. Pop it all back in the oven and cook through about five more minutes to cook the thinly shaved steak through.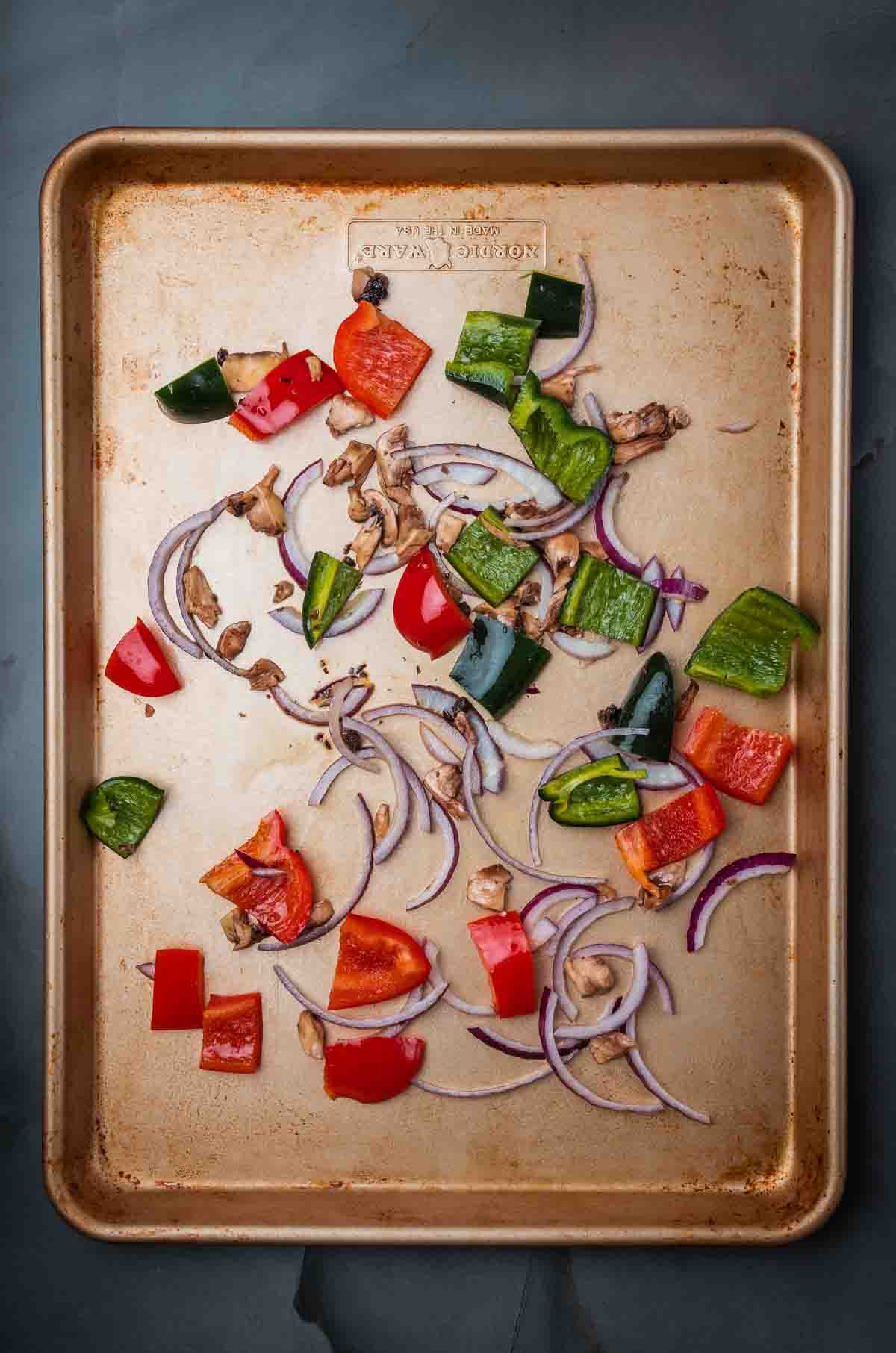 Add the basil and garlic to your veggie tray. Top everything with the marinara sauce, then the cheeses. Then, return the tray to the oven and allow the cheese to brown and melt all over everything.
Cut off a corner (the round edge) of your focaccia and split it down the middle of the soft part, leaving an edge intact. Layer the sandwich with your juicy meat and cooked veggie mixture, and top it all off with banana pepper rings. Pop the top bun on it all and a pile of potato chips on the side to serve.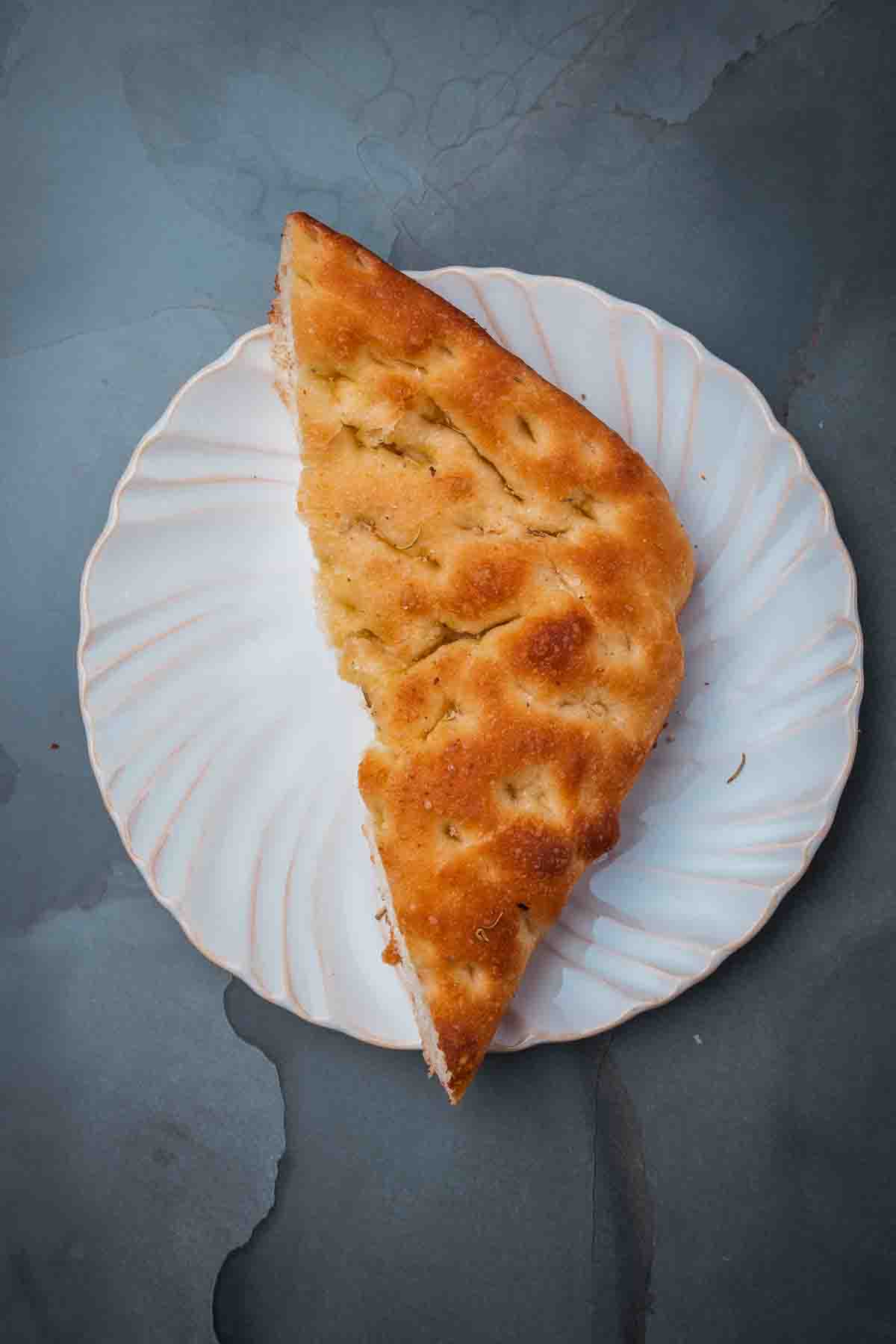 We recommend a pile of napkins instead of utensils and a dry red wine pairing for a great meal.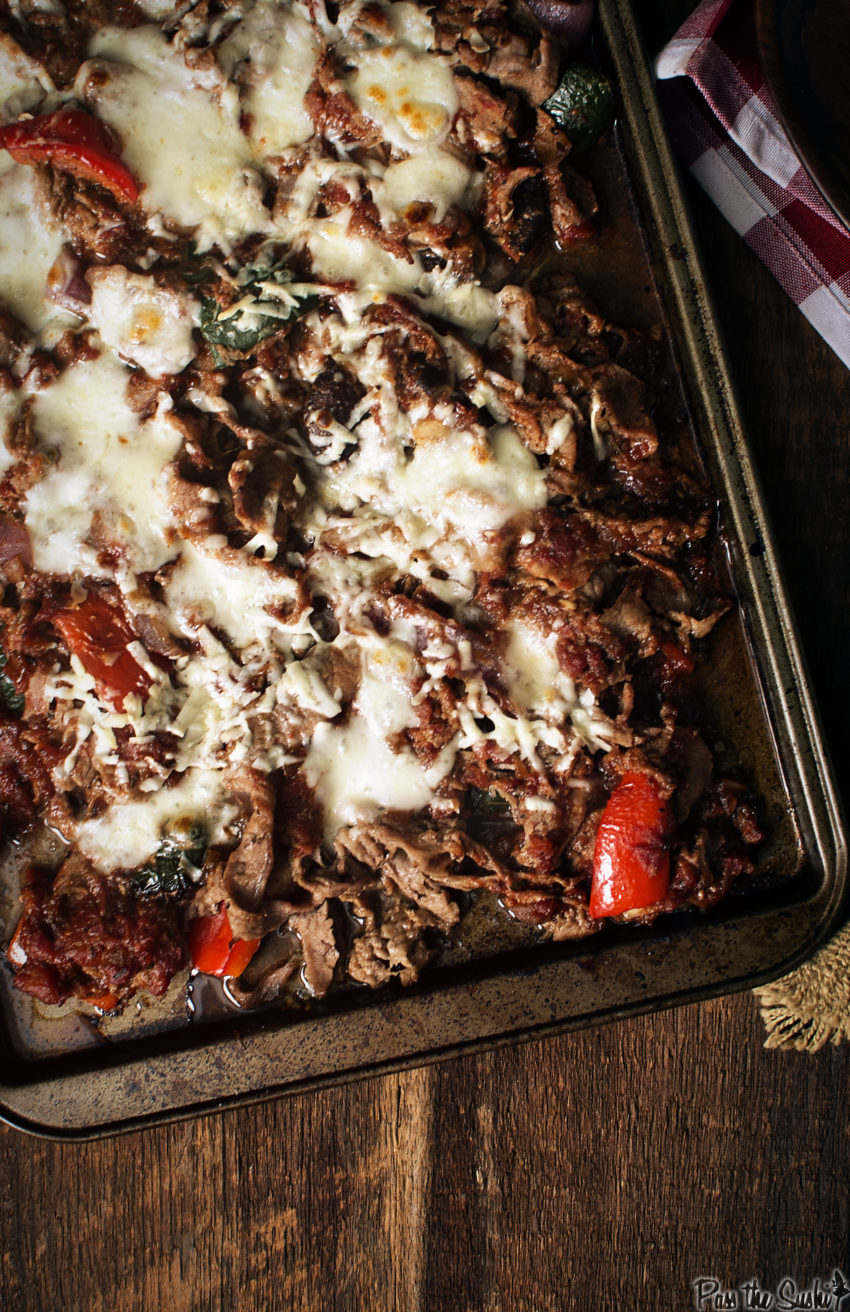 How to Store Leftovers & Reheating
To store leftovers, store just the beef and toppings in the fridge in an airtight container for up to 3-4 days.
You can easily reheat your sandwich filling in the oven or microwave (or even heat the ingredients up on the stove in a cast iron skillet and toast the bread). Assemble the steak sandwiches piled high on fresh bread with reheated ingredients for the best results.
What to Serve with Steak Sandwiches
This steak sandwich is best balanced out with a side salad (or you can go big or go home with fries or onion rings). It's hard to go wrong with pairings for the sandwiches–even roasted veggies or mashed potatoes would do the trick, but it would be a mighty filling meal. Alternatively, skip the crusty bread and pile the meaty filling on a bed of peppery arugula for an amazing steak salad.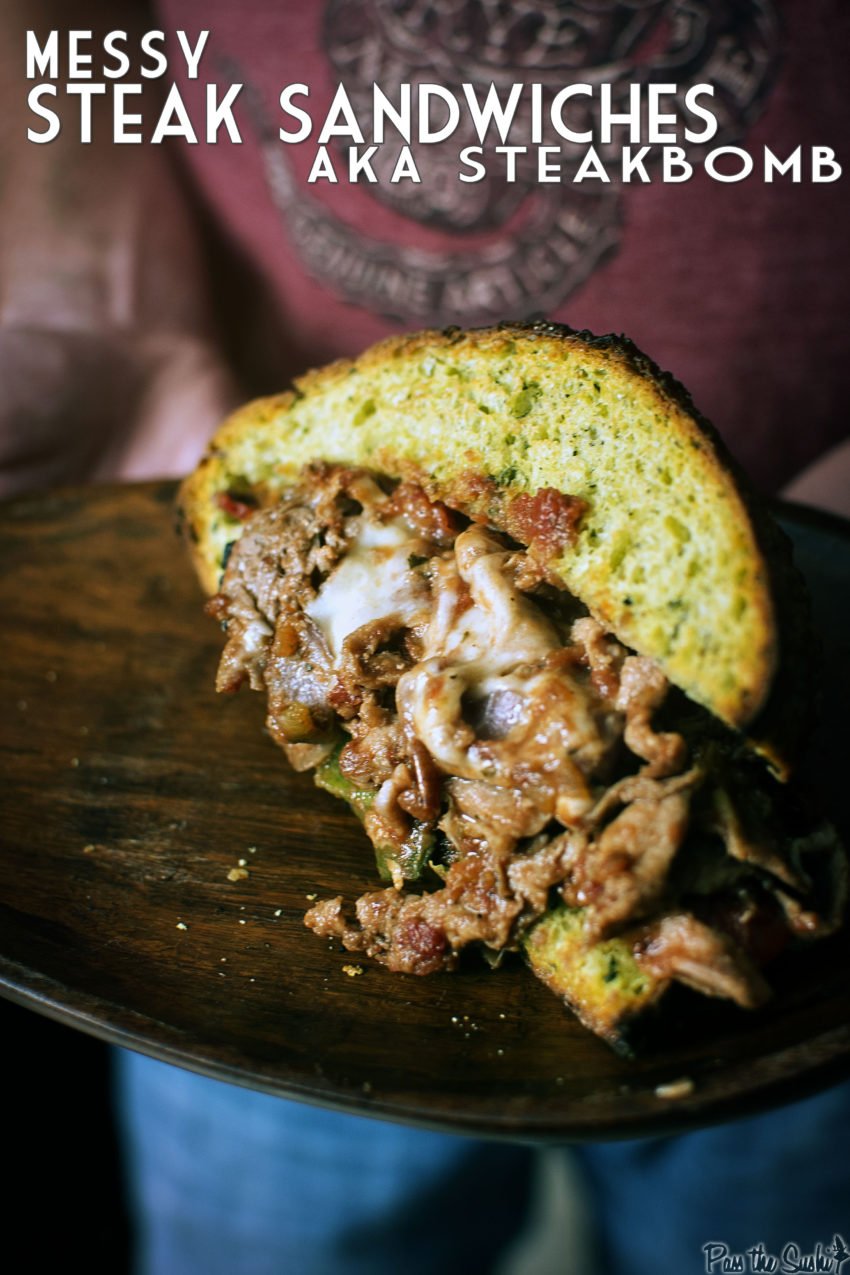 WHAT KIND OF STEAK SHOULD YOU USE FOR STEAK SANDWICHES?
The most tender cut of beef for this sandwich (and the one used traditionally in the Philly cheesesteak) is a ribeye steak. But you're more than welcome to experiment with your favorite steak cut; flank steak, New york strip steak, skirt steak, thinly sliced bavette steak, or sirloin steak if you're looking for delicious options. Really any beef that can be thinly sliced, with good marbling, will do the trick. Avoid lean cuts like tenderloin or sirloin, as they can dry out on the pan.
HOW DO YOU MAKE A TENDER STEAK SANDWICH?
In order to ensure tenderness for your steak sandwich, use a juicy ribeye steak. Be sure to shave it into thin slices for the best results. To do this, par-freeze the steak for 20 minutes and then use a sharp knife to cut the steak against the grain. 
More savory Sandwich Recipes:
What do you think? Not at all a 'cheesesteak,' but still one of our favorites! We hope you enjoyed this delicious steak sandwich! If you did, be sure to rate the recipe and let us know your side and beverage pairing of choice in the comments.
Steak Sandwiches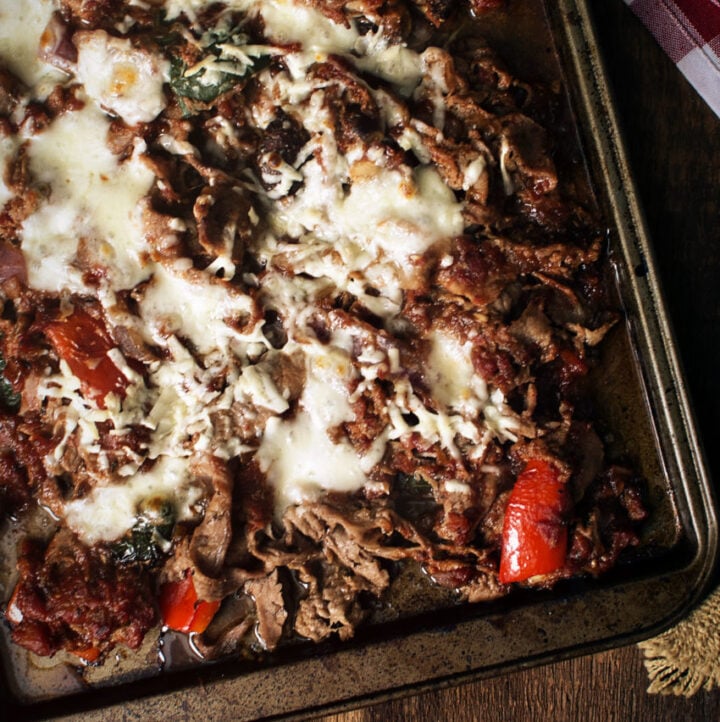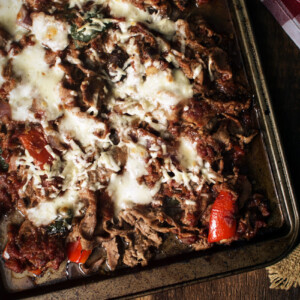 This marinara and veggie tossed cheesy steak sandwich is loaded with flavor between a light ficaccia bread. The messiest best steak sandwich recipe you can sink your teeth into!
Ingredients
2

tbsp

mushrooms

smashed

¼

cup

poblano pepper

seeded and ripped into 1″/2.5 cm pieces

¼

cup

red bell pepper

seeded and ripped into 1″/2.5 cm pieces

¼

cup

red onion

sliced

5

oz

steak

shaved

4

leaves

basil

2

cloves garlic

minced

½

cup

Marinara sauce

¼

cup

mozzarella cheese

shredded

2

tbsp

Romano cheese

grated

1

loaf

Focaccia

2

tbsp

hot pickled banana pepper rings
Instructions
Preheat your oven to 400°F.

Toss the mushrooms, peppers and onion in olive oil and spread them out on a cookie sheet in a single layer. Roast for about 20 minutes. Add the steak and cook for 5 minutes more, until cooked through.

Add the basil and garlic to the vegetables. Top with the marinara sauce, then the cheeses. Return to the oven to brown the cheese well.

Take your piece of focaccia and cut off a corner (or edge, if it's round) piece, about 8 inches/20 cm long and 3½ inches/9 cm wide. Split the soft part down the middle, leaving the edge intact. Shovel the filling into the bun and top with banana rings.

Arm yourself with multiple napkins. Resist the fork and knife. Chianti in an old jelly glass would be the traditional bev.
Nutrition
Serving:
1
g
|
Calories:
385
kcal
|
Carbohydrates:
52
g
|
Protein:
19
g
|
Fat:
12
g
|
Saturated Fat:
4
g
|
Cholesterol:
30
mg
|
Sodium:
788
mg
|
Potassium:
289
mg
|
Fiber:
3
g
|
Sugar:
4
g
|
Vitamin A:
557
IU
|
Vitamin C:
29
mg
|
Calcium:
69
mg
|
Iron:
1
mg