Tilapia is a great fish for simple meals at a perfect price point but is it possible to grill it for great flavor without losing all the meat between the grates? Yes, and this cast iron campfire recipe for charcoal grilled tilapia is just the solution for that.
I have come to realize there isn't much you can't grill over a good fire. A good bed of burning embers will hold heat. It's messy but gets us back to our roots. Something totally primitive, and oddly communal comes by grilling. But, I am admittedly and shamelessly biased.
So when asked to whip up an easy grilled tilapia recipe, I was happy to oblige. However, if you have ever cooked with tilapia, you know grilling it can be a challenge.
See the Web Story for Cast Iron Tilapia Here
Pause – What is tilapia?
Tilapia is a very mild white fish that's farm-raised in freshwater. It's low price point and mild flavor makes it a great entry to cooking fish and anyone who wants to explore different cooking methods without breaking open the bank.
If you have ever grilled tilapia you have probably seen or done it wrapped in foil. That's because it's one of those gentle fish that needs some extra tender care when handled on the grill. Yes, it can be grilled right on the grates, but that can often lead to it breaking and you sacrificing a filet or two to Ares. Since I wasn't in the mood to pay him any favors, I decided to pull out an old trick to guarantee success. 
Why this recipe works in cast iron?
This recipe uses tried and trusted cast iron to cook a simple filet right over the coals which turns out to make for amazing texture and keeps the filets together without poaching them in a foil packet. Being exposed to the smoke gives them the subtle grilled flavor we all love.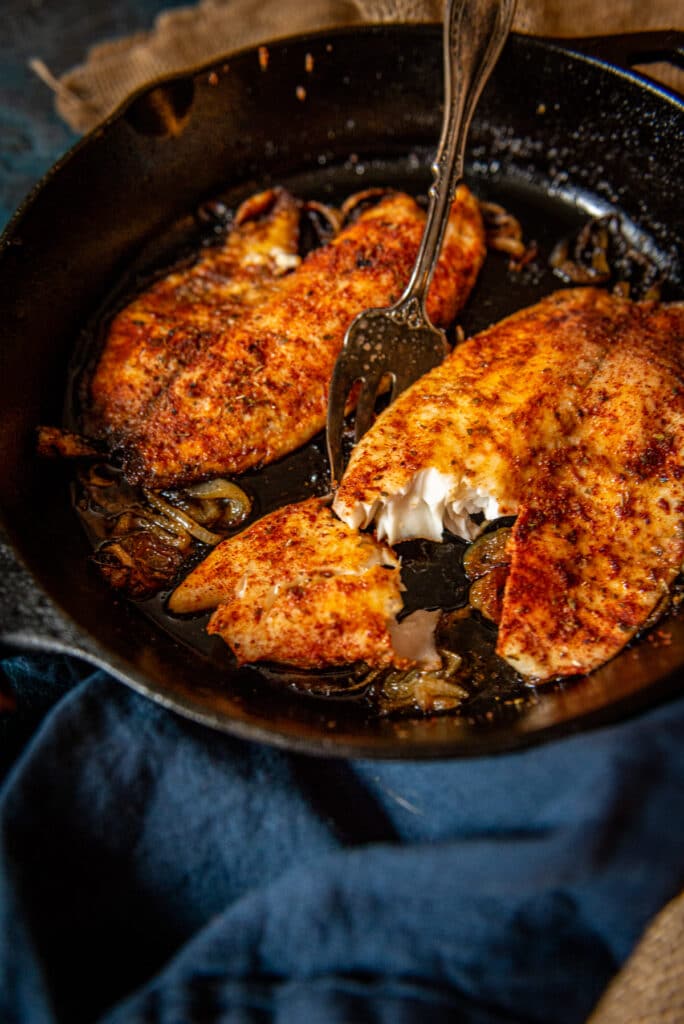 What you need for char-grilled fish:
You'll need: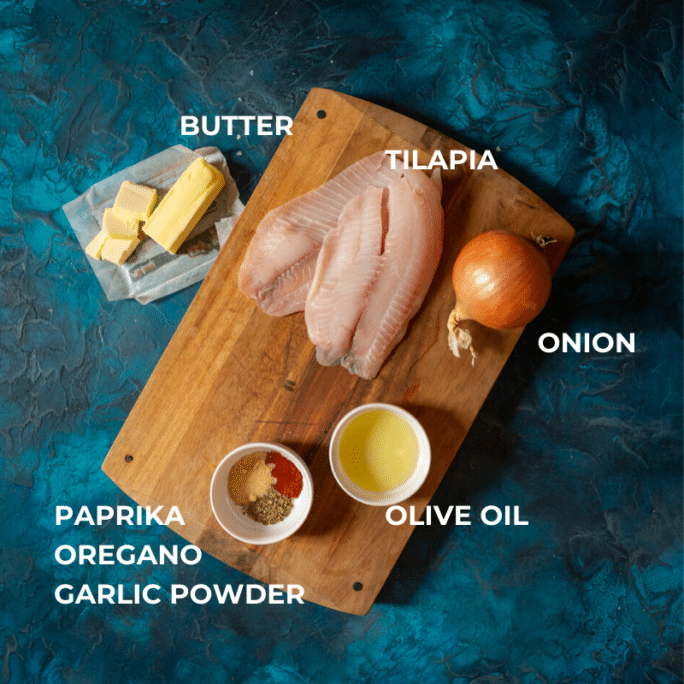 Tilapia: Make sure it's completely thawed. You can buy fresh or frozen for this, you just want to make sure the filets are similarly sized for even cooking.
Garlic Powder, Paprika, and Oregano: These classic pantry staples make the easy spice blend for this fish. Use smoked paprika for a hint of bonus flavor.
Hate Onion: Omit the onion from the recipe if you aren't into them but they do add a great bit of flavor to the recipe! Try adding mushrooms if you are feeling wild.
This is a simple recipe as far as ingredients go. The tilapia will be rubbed with the spice blend and sit over sauteed onions with a little butter to finish it all off. However, there are a few tools that can make grilling this recipe a breeze.
A charcoal chimney will help you light your coals and get everything burning in under 20 minutes without any lighter fluid. If you don't have one, I highly suggest investing in one (they are usually around $20) as it's my go-to method for starting a charcoal fire.
A 10" well-seasoned cast-iron skillet is every chef's second-best friend (a good knife is the first). With the onions and fish going right in this, you want it well oiled and well seasoned. A well-seasoned cast-iron skillet is naturally non-stick, which will help the fish to stay whole and not tear or fall apart when you serve it.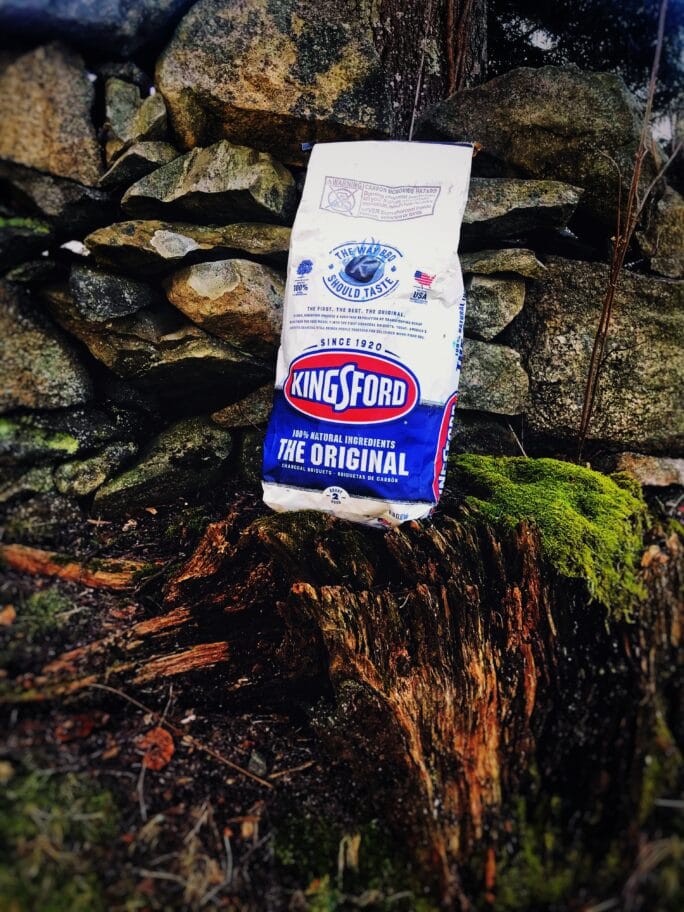 How to Grill Tilapia in Cast Iron
How to prep the grill for cast iron cooking
After the coals have gotten a layer of ash on them in the chimney, carefully, with heat resistant gloves, dump the coals onto the bottom of the grill in an even layer. Add about 15 new coals evenly over the top to keep the heat lingering on. The embers will burn for some time depending on the weather and environment. Adding new ones will help keep things going.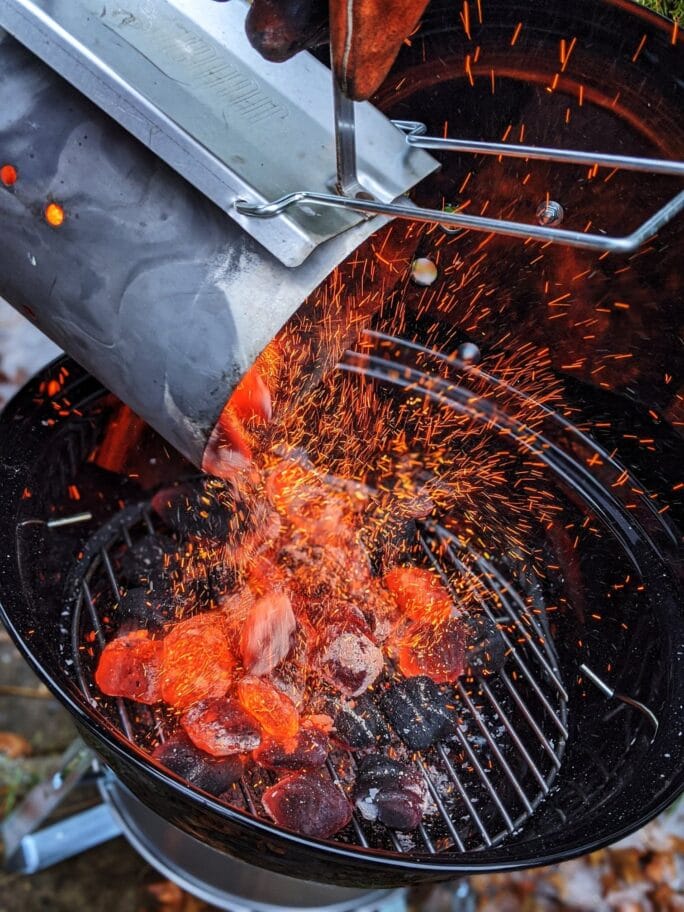 You will nestle the skillet right onto the embers, making sure it's flat and can't fall over. Cast iron can take direct heat, so don't be afraid to wiggle it to just the perfect position. Let the skillet heat up to almost smoking before adding the oil. You want it to get hot, and since wind, temps and other elements can affect the time when grilling, this is a moment to practice patience, aka, embrace the imperfection with friends. Besides, they will all love that you are cooking right over the coals.
How to Grill Tilapia
Make sure your tilapia is completely thawed before preparing. If buying fresh, ask the fishmonger if it has been previously frozen, where it's from and when it arrived just so you know that it's fresh and from a source you trust.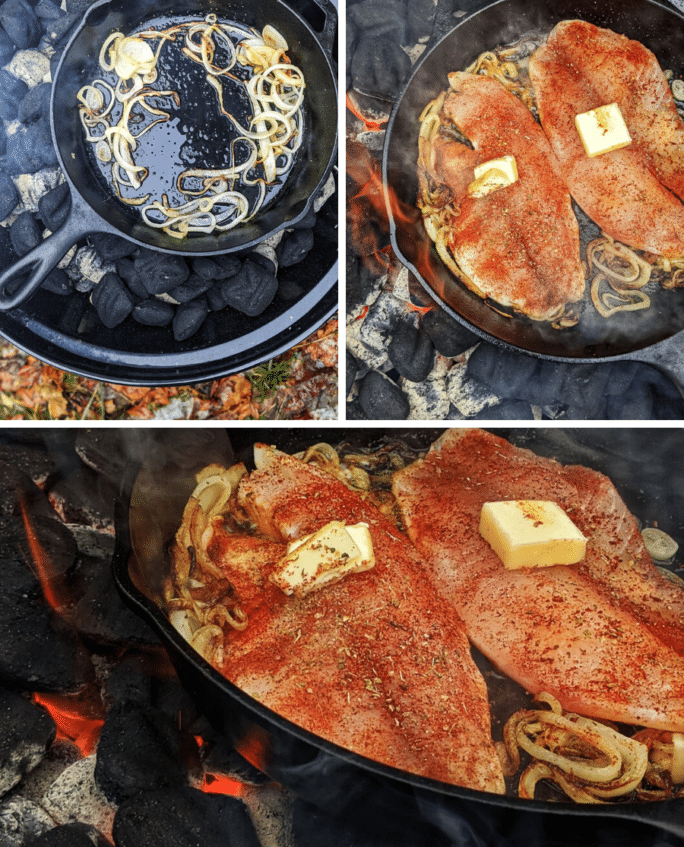 When you are ready to grill and the skillet is getting hot over your charcoal, pat the tilapia completely dry. Water can cause the oil to sizzle and pop and that's not fun for anyone. I look over the fish after I have dried it to make sure it's cleaned of all scales and bones.
From there I seasoning it liberally on both sides with my spice mixture. I love simple spices when cooking fish. This blend of paprika, garlic powder, and oregano reminded me of childhood when tilapia was broil or bust. So, we can call this my update to that classic.
Once you place the tilapia in the hot skillet, top with butter to melt in and add flavor and cover the grill to keep the heat in. The tilapia will cook in the now how skillet in 5 to 7 minutes.
How can you tell tilapia is cooked?
Tilapia is one of the easiest fish to see that it is done. It becomes a very opaque white and flakes easily with a fork. I will always test the thickest part by placing a fork in and pulling gently, if it flakes easily, the fish is done. If it is still soft and doesn't pull apart, give it another minute or two and try again.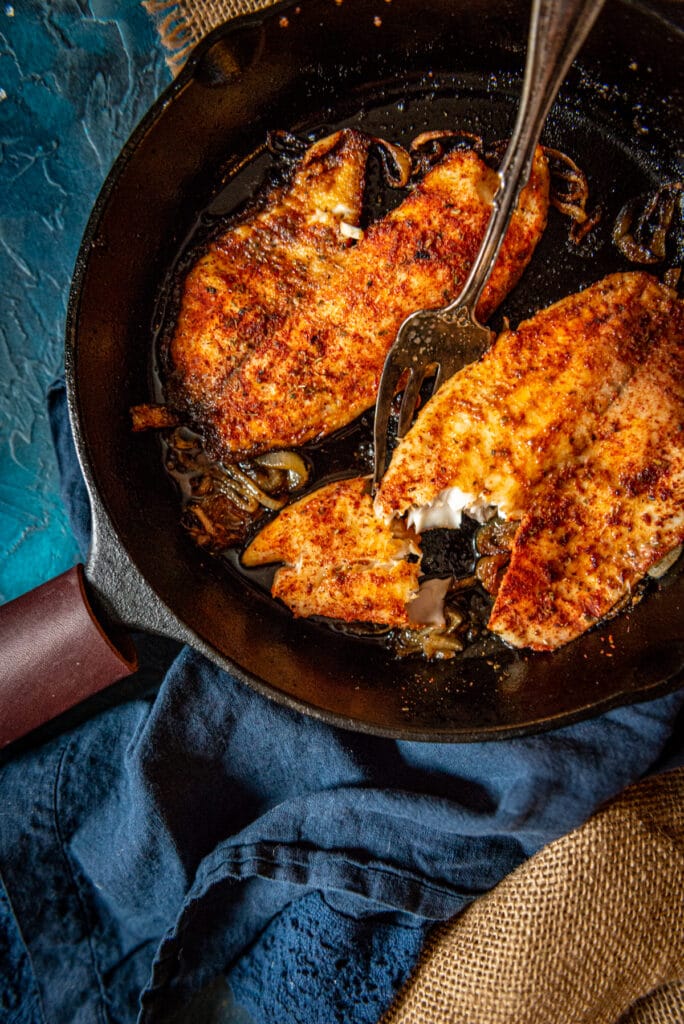 What to do with tilapia leftovers
Tilapia filets make a great fish sandwich the next day. I simply reheat them and put them on toast with sandwich spread when I am feeling particularly down-home.

It is also very tasty to be flaked into pasta with a light pesto sauce or turned into a breakfast hash with home fries and a fried egg. Add a little salsa if you are feeling wild.

This recipe would even be great served with tortillas and a build your own taco bar if you want to gather everyone around the grill for a fun meal together!
Hate Tilapia – What other fish can you grill in a cast-iron skillet
Swordfish
Tuna
Flounder (Love flounder with the skin on for a great crisp
Halibut – absolutely my favorite white fish for so much flavor but often a splurge at the market.
Not even a fan of fish? This cast-iron recipe works great on pork chops and chicken too!
Want more seafood recipe ideas? Try some of my favorites
If you've tried my Char-Grilled Tilapia Recipe or any other recipe on GirlCarnivore.com please don't forget to rate the recipe and let me know where you found it in the comments below.
I get inspired by your feedback and comments! You can also join in on the adventures on Instagram @girlcarnivore, Twitter & Facebook.
Cast Iron Grilled Tilapia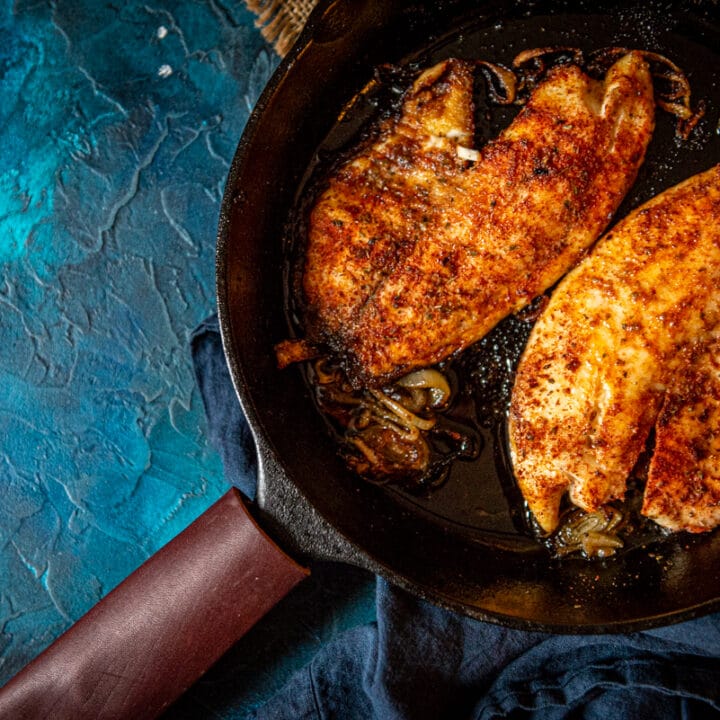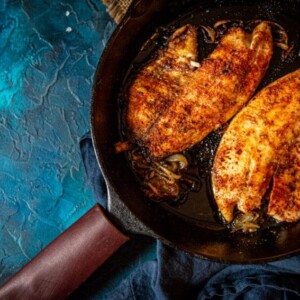 Forget cooking tilapia right over the grates, use cast iron instead to make sure the fish stays together while getting that char-grilled flavor!
Recommended Equipment
1 Chimney starter

1 10″ Cast Iron pan
Ingredients
1

tbsp

olive oil

1

onion

sliced thin

2

tilapia filets

½

tsp

paprika

½

tsp

garlic powder

¼

tsp

dried oregano

3

tbsp

butter

divided
Instructions
Prep your grill for cooking:
Arrange heated coals in an even layer and nestle a 10-inch cast iron skillet directly over the coals. Allow the cast iron to heat up.
Grill the Onions
When the skillet has heated, add the olive oil and, using a heat resistant glove and a long spatula, swirl to coat.

Lay the onion in the skillet and cover the grill. Cook until tender 5 to 7 minutes, checking occasionally and stirring.
Season the Tilapia
Meanwhile, pat the tilapia dry.

In a small bowl, mix the paprika, garlic powder and oregano together.

Sprinkle liberally over the tilapia filets on both sides.
Grill the Fish
Add one tablespoon of butter to the skillet and slide the onions to the outer edges.

Lay the tilapia directly into the skillet.

Top each fillet with a tablespoon of butter.

Cover the lid and allow the tilapia to cook through, 5 to 7 minutes until it flakes easily with a fork.

With heat resistant gloves, remove the skillet from the fire and transfer to a serving area.

If making more than 2 filets, leave the skillet on the fire, and transfer the onions and tilapia to a serving dish with a spatula and repeat as needed for quantity.
Notes
Notes: This is one of those one-pan easy recipes that can be made in a traditional kettle grill, on a camp grill or over a controlled live-fire. As long as you take the time to build a good amount of heat with the coals, it's a perfect campfire meal.
Nutrition
Serving:
1
g
|
Calories:
201
kcal
|
Carbohydrates:
3
g
|
Protein:
18
g
|
Fat:
14
g
|
Saturated Fat:
6
g
|
Cholesterol:
65
mg
|
Sodium:
121
mg
|
Potassium:
297
mg
|
Fiber:
1
g
|
Sugar:
1
g
|
Vitamin A:
386
IU
|
Vitamin C:
2
mg
|
Calcium:
17
mg
|
Iron:
1
mg