It's a summer of grilling and things are just starting to warm up. These Memphis style smoked pork ribs don't require any fancy grill tools and pair perfectly with the smoked jalapeno mac and cheese for a perfect barbecue.
Wet or dry? Pork or beef? These are the debates that go down at every backyard cook-off every Summer weekend and will continue for all time. Both have their place and are unarguably delicious.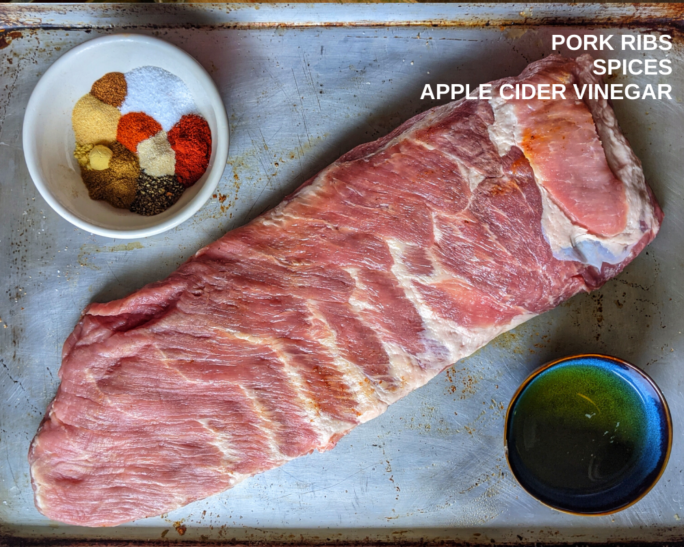 Looking for a great beginner rib? Try these Beginner Dry Rub Ribs – they are a little less hands on then these Memphis-style ribs that I char-grilled.
I like picking up pork ribs for testing recipes out or feeding large groups because they are often less expensive and easier to find than good quality beef ribs. In this particular little experiment, I'm happy I went with meaty little spare ribs. I was able to fit two market racks, cut in half at the 6th rib, onto my kettle grill and grill them perfectly.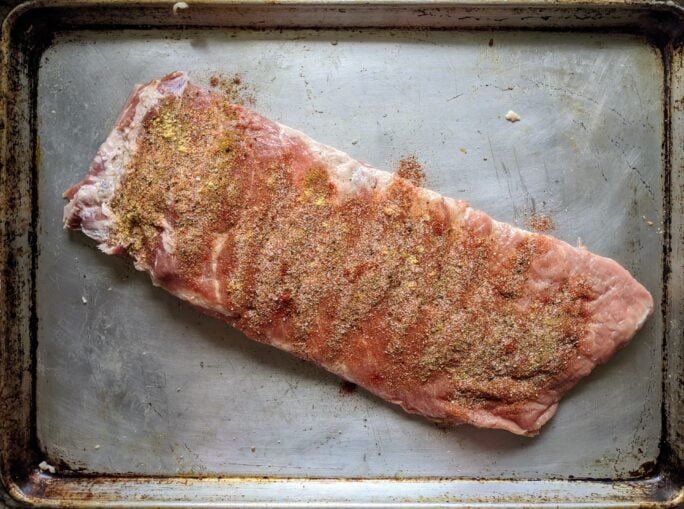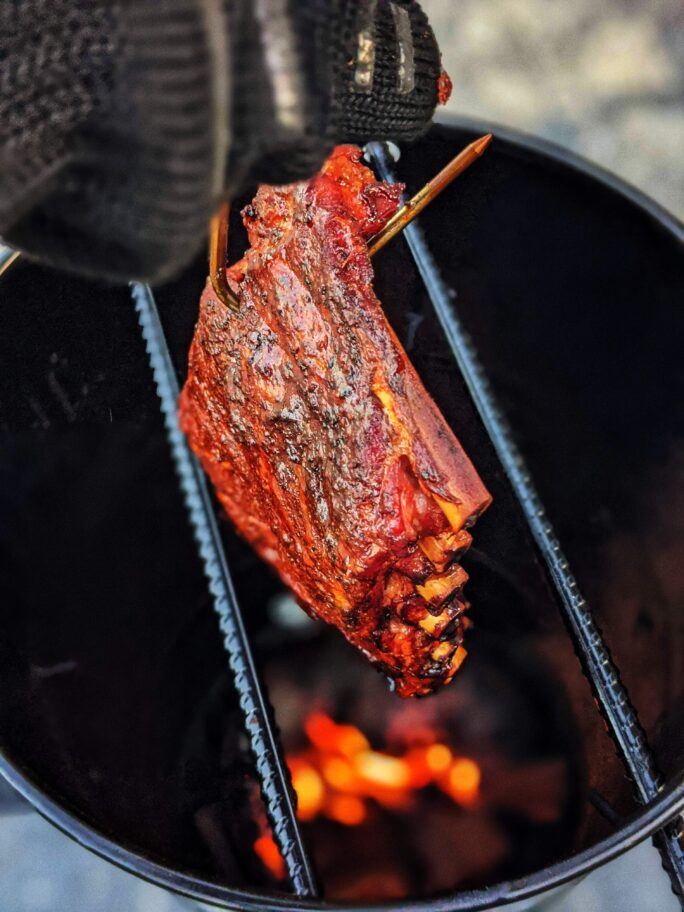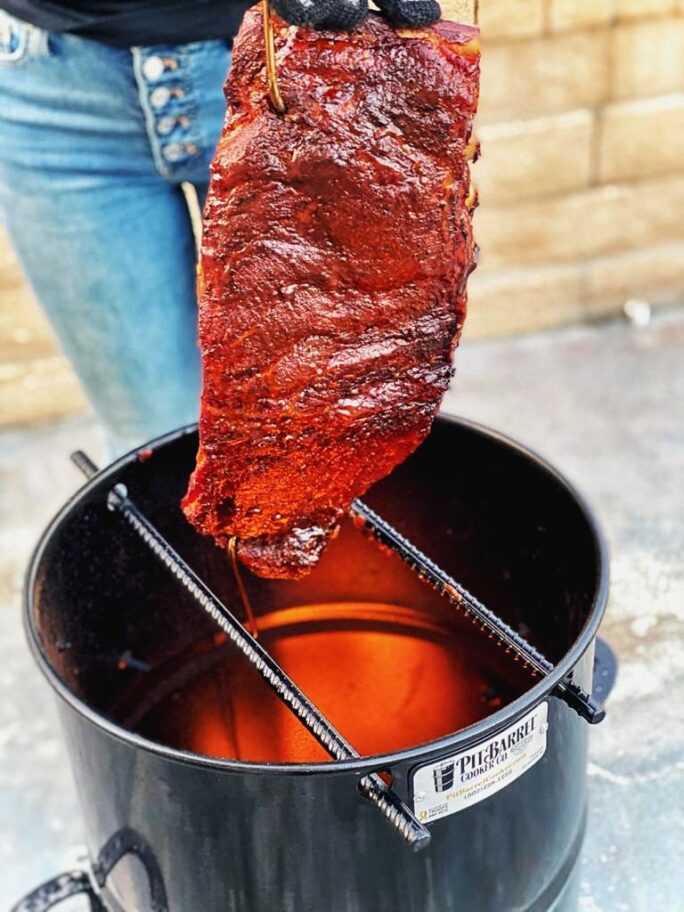 The leftovers were also pretty amazing for breakfast the next morning in hash!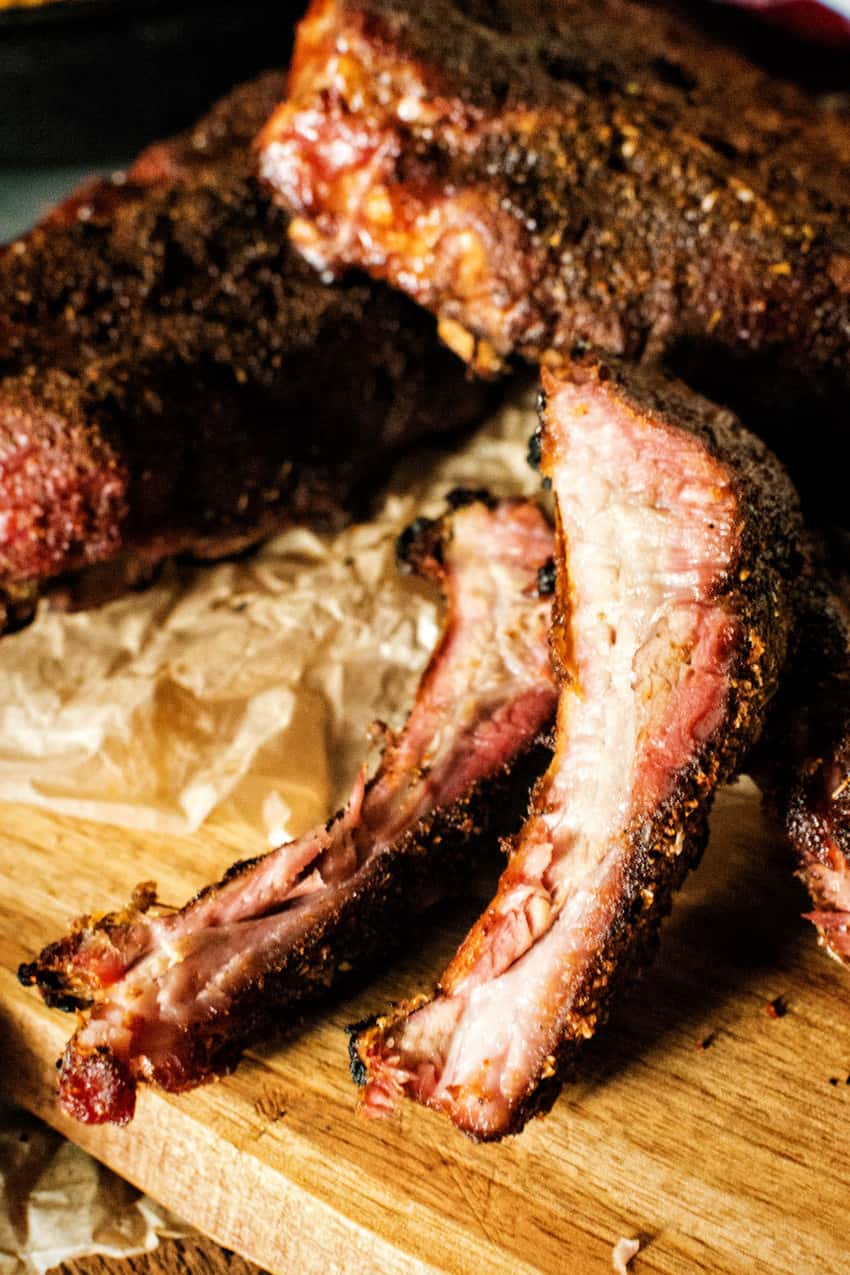 I may have been so pleased with these Memphis Style Smoked Pork Ribs that I reconsidered my stance on ribs as discussed in my Man Meat BBQ Podcast and ran around the house cheering for good smoke rings. All in a days work.
Need a side dish worthy of these ribs?
Memphis-Style Smoked Pork Ribs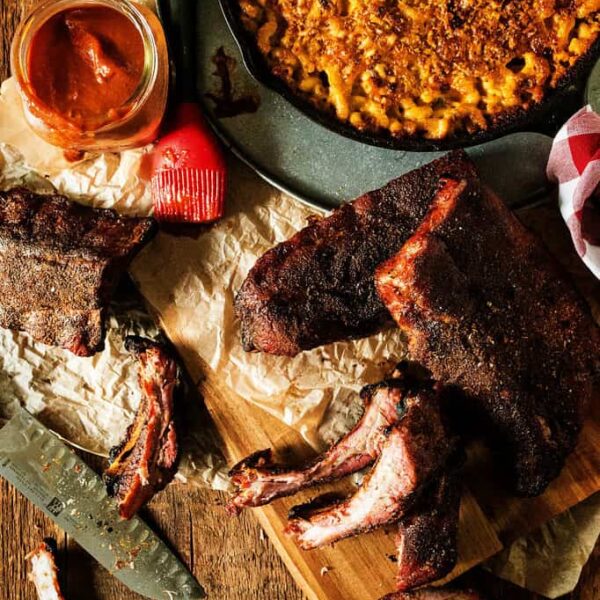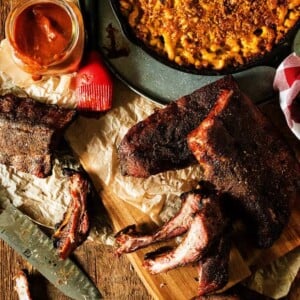 These smoked pork ribs are dusted with spices and cooked to perfection for a delicious salute to Memphis style bbq that you can make at home!
Ingredients
2

racks pork spare ribs

2-3

tbsp

brown sugar

1

tbsp

paprika

1

tbsp

black pepper

1

tbsp

salt

1

tsp

garlic salt

1/2

tsp

cayenne pepper

1/2

tsp

cumin

1/2

tsp

onion powder

1/2

tsp

chili powder

1/4

ground mustard

Apple Cider Vinegar
Instructions
Mix the brown sugar, paprika, black pepper, salt, garlic salt, cayenne pepper, cumin, onion powder, chili powder, and ground mustard in a large bowl.

Add one tablespoon more of brown sugar for a sweeter rib.

Remove one heaping tablespoon or the spice mix to be used later and set the rest aside.

Trim the membrane from the back of the pork ribs using a sharp knife and a good grip. After a few initial swipes, the membrane should pull off the back with a little tug. Use a paper towel to grip, making it easier to pull.

When the membrane has been removed, cut the racks in half.

Season all sides liberally with the spice mix.

Wrap and refrigerate for 8 to 12 hours before smoking.

When ready to cook, arrange heated coals for indirect heat with a drip pan positioned below where the ribs will be placed.

Allow the grill to preheat to 250 degrees.

Throw a few chunks of lump hardwood over the hot coals to create a delicious smoked flavor and arrange the racks of ribs over the drip pan.

Cover and cook for about 1 hour, keeping an eye on the temperature.

Baste, or spritz, the ribs with a bit of apple cider vinegar.

Cover and cook for another hour to hour and a half.

Continue to keep an eye on the temperature of the grill, adjusting the air vents as needed.

Baste the ribs once or twice more with the vinegar while cooking.

When ribs are close to done, baste the ribs one last time and sprinkle the tablespoon of spice mix you set aside over the meaty side of the ribs to finish the cook.

Pull the ribs off when the meat is fork tender and has pulled back from the bones.
Nutrition
Calories:
191
kcal
|
Carbohydrates:
8
g
|
Protein:
9
g
|
Fat:
13
g
|
Saturated Fat:
4
g
|
Cholesterol:
45
mg
|
Sodium:
2380
mg
|
Potassium:
195
mg
|
Fiber:
1
g
|
Sugar:
6
g
|
Vitamin A:
1030
IU
|
Calcium:
24
mg
|
Iron:
1.2
mg
This recipe was originally developed for my partnership with Char-Broil.