Talk about finger licking good! These Hickory Smoked Pork Ribs with Paleo BBQ Sauce are perfect for your Whole30 challenge and BBQ season!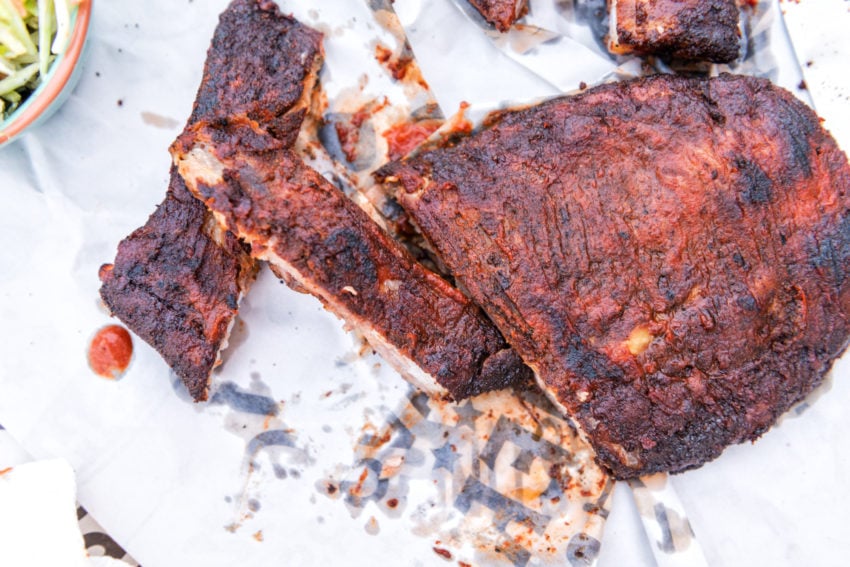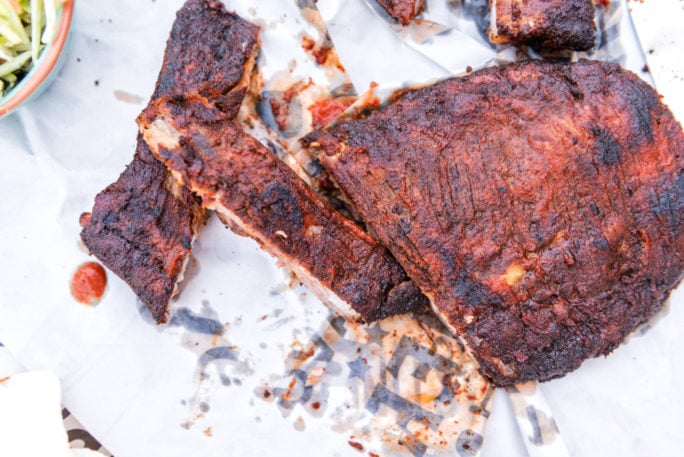 Truth, I am super picky about my smoked ribs. I may have even talked about it a little too much when I was interviewed for the Man Meat BBQ podcast. Ribs shouldn't be stringy, boring, dull, or chewy. They have to be good – I mean good. Ribs that have a ton of meat to their bones and not just teeny little toothpicks with gristle. Ribs have to have flavor, fall off the bone tender meat, and shouldn't require saucing (optional, totally ok). Now that we've gotten the prerequisites out of the way, let's get to the actual Hickory Smoked Pork Ribs.

For these babies, I stopped by Whole Foods and grabbed a few slabs of manageable length ribs, knowing it would be easier to handle in my smoker and grill. They I started the research portion of the plan. The one where I wonder how to bring out the sweetness in the ribs without sugar since I am mastering this Whole30 thing. I decided to let Mother Nature work her magic by marinating the ribs in sweet all natural pineapple juice and a little coconut aminos for balance. I then rubbed the baby backs and smoked over hickory wood chips for a few hours while making a smokey Paleo BBQ sauce to be used for basting. Back to the truth of things, it was actually really good. I didn't even miss the sugar – not that pineapple juice isn't really sweet to begin with. It made for a great alternative and let the smokey flavor shine through.
Now on to the napkins.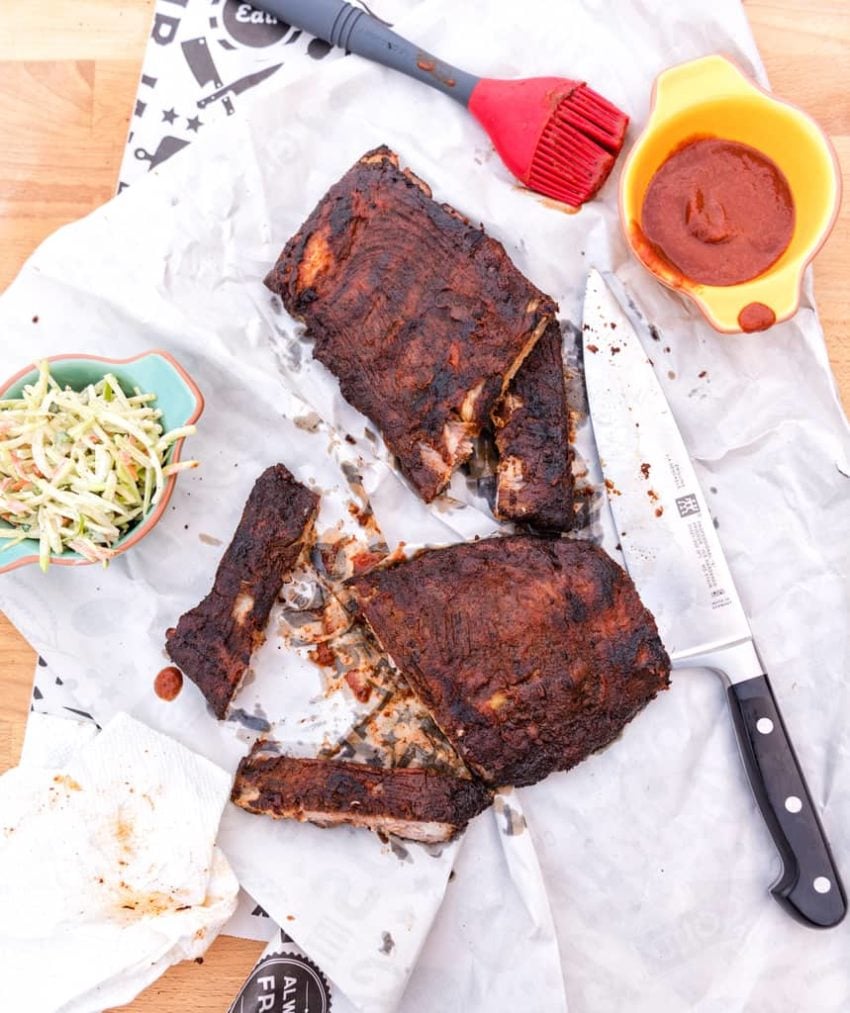 On a sponsored-not-so-sponsored note, I wanted to mention a new partner for the year, Cowboy Charcoal. They are working on some rad things and I can't wait to share them with you. But for now, I wanted to shine some light on a little something they have going for the Female Pitmasters out there. Cowboy Charcoal is going to be partnering with KCBS for Cowboy Charcoal Fire and Ice Women's Championship Barbecue Series. Talk about kick ass – they are not only highlighting the best of the boss ladies in BBQ but also letting them duke it out over the coals for some serious diamond jewelry prizes and a chance to play at the World Food Championships. Hell, I may register just to see how far I get! It would certainly be worth the bragging rights alone. But for those ladies that are seriously into BBQ out there – they should make sure that they are registered. If you are competing in the KCBS circuit, might as well start earning those points for the final cookoff. 
I have plans to document some serious women BBQ teams this year and would love to hear if you know of one that I should make sure to meet on my travels!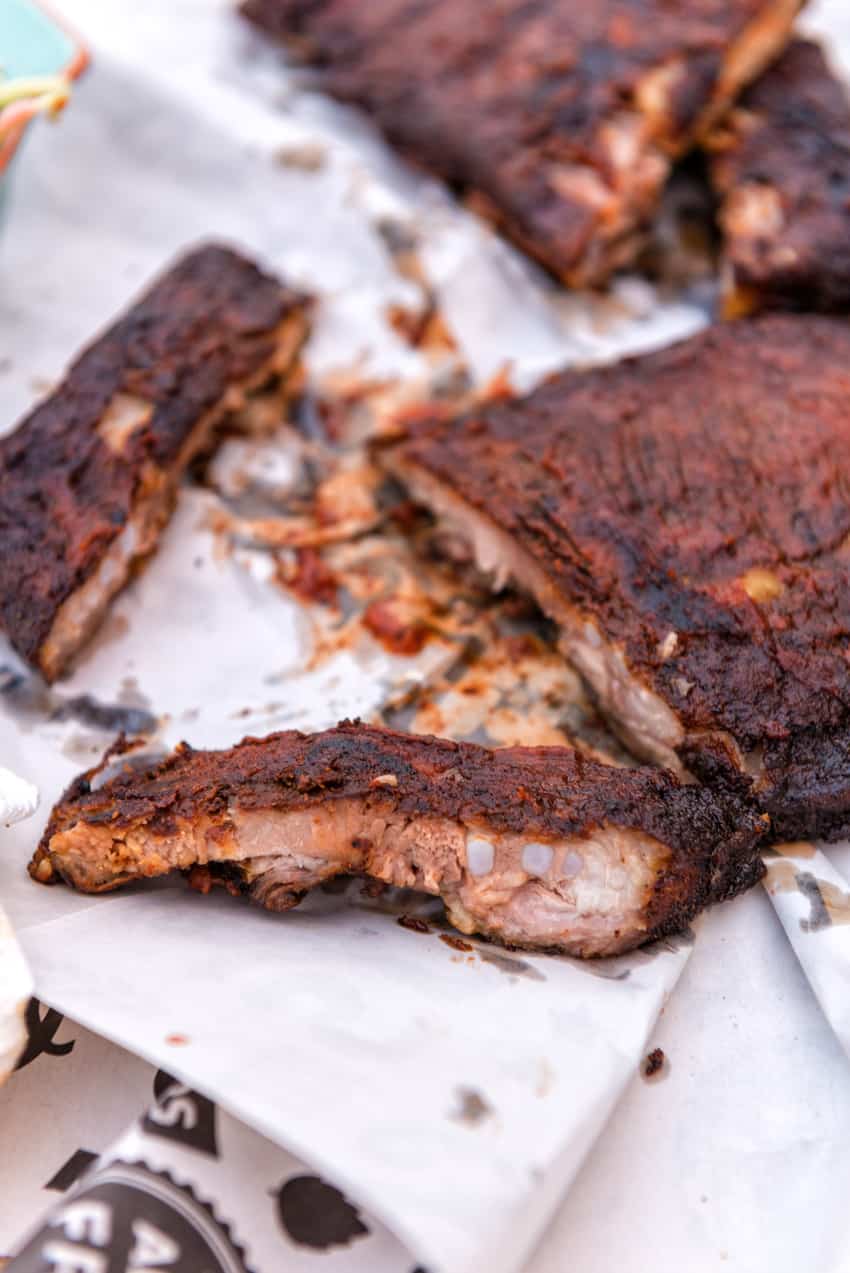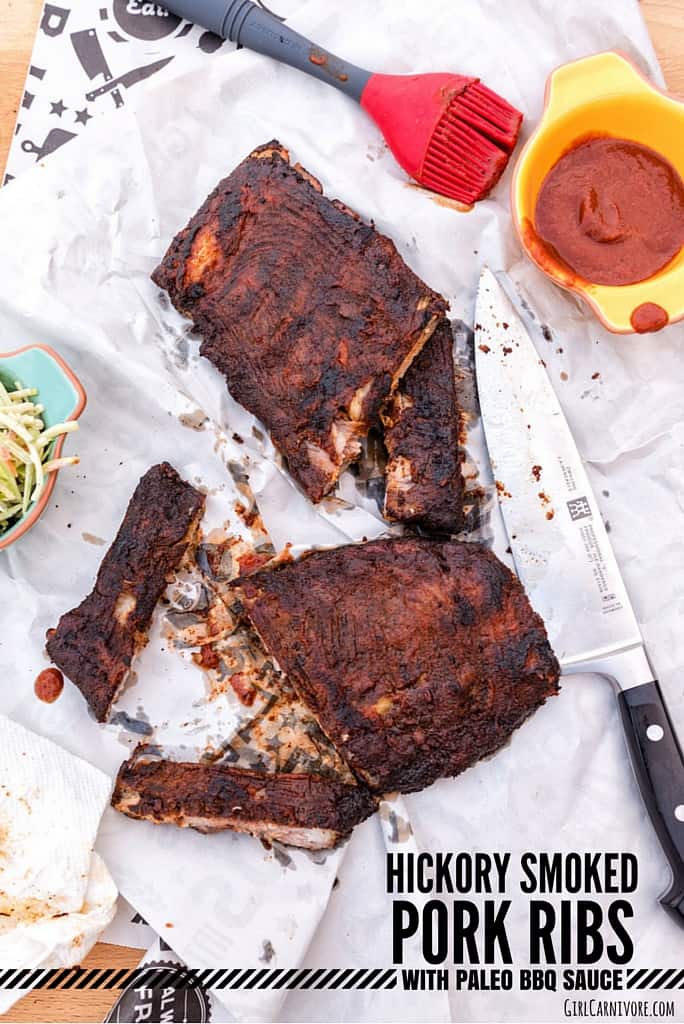 Now, let's get to the Hickory Smoked Pork Ribs & Paleo BBQ Sauce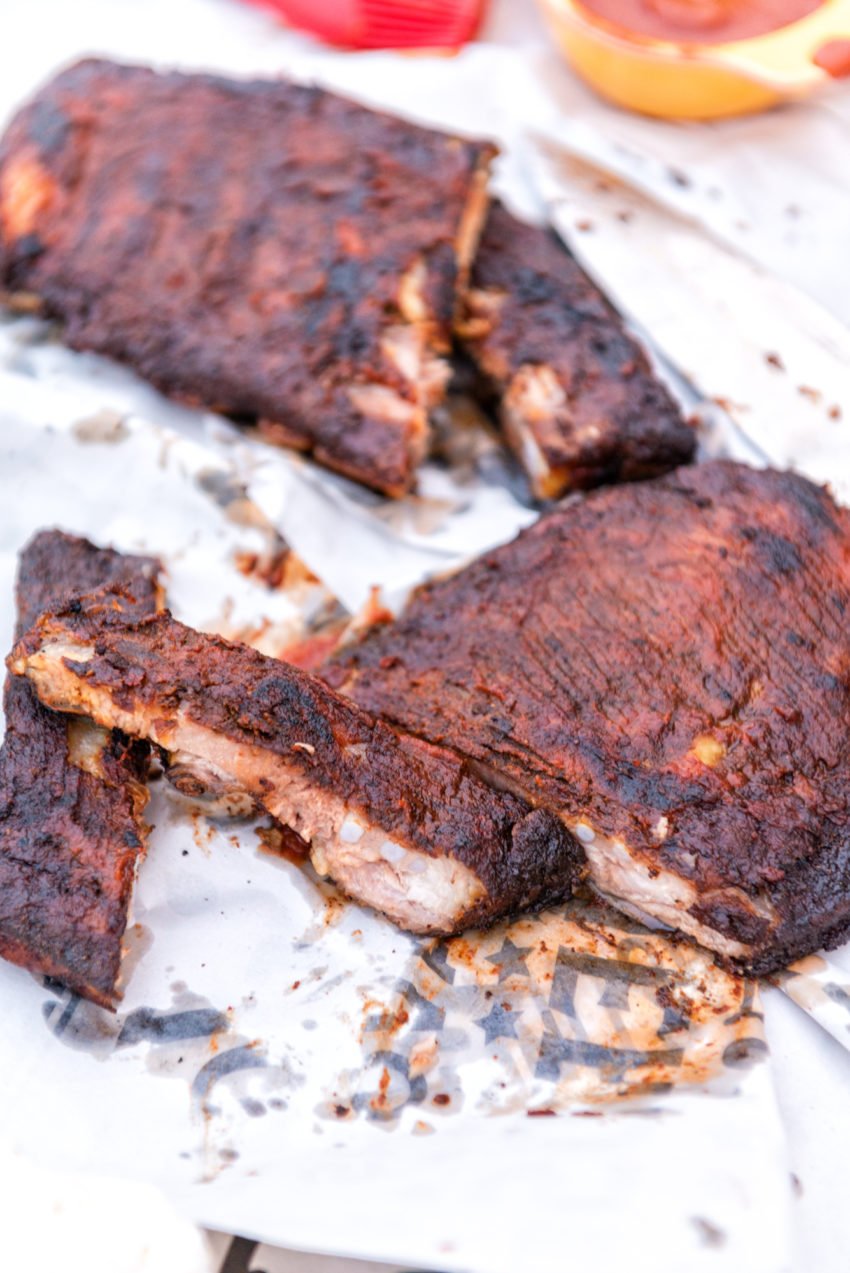 Ingredients
For the Rub
1

tbs

salt

1

tbs

paprika

1

teas cumin

1/2

teas cinnamon

1/2

teas chili powder

1/2

teas garlic powder

1/2

teas onion powder

1/2

teas pepper
For the Paleo BBQ Sauce
1

tbs

ghee or cooking fat

1

onion

chopped

2

garlic cloves

minced

6

oz

tomato paste

1/4

cup

tomato sauce

1/2

cup

pineapple juice

this with more if needed

1/4

cup

balsamic vinegar

Juice from half a lemon

1

tbsp

coconut aminos

use Worcestershire if not paleo or whole30

1 1/2

teas chipotle chili powder

1

teas mustard powder

1

teas smoked paprika

1/2

teas chili powder

1/8

teas all spice

Kosher salt and pepper
Instructions
Marinate
Marinate your ribs in the pineapple juice and coconut aminos for 4 to 6 hours before smoking.
For the rub Rub
Pat the ribs dry and arrange on a clean work surface. Remove the the thin membrain from back the ribs carefully with a knife. Combine the rub ingrediants and pat onto the ribs in a heavy layer on all sides. Set aside.
To Smoke
Preheat the smoker to 225 degrees F and soak your wood as recommended by the manufacturer (20 minutes for chips, 30 minutes for small chunks and so on - always read the label just to be sure). When the smoker is ready, smoke the ribs for 4 to 6 hours, adding more wood as needed.
For the Sauce
Saute the onions in the cooking fat in a large skillet over medium-high heat until soft, 5 to 7 minutes. Add the garlic and stir to combine. Cook for 30 seconds. Reduce the heat to medium. Add the tomato paste and mix in until rust colored and coating everything (about 30 seconds). Stir in the sauce and pineapple juice. Whisk in the vinegar, lemon juice, and coconut aminos to combine. Lastly, whisk in the spices, the chipotle chili powder, mustard, paprika, chili powder, and all spice. Let simmer on low for 10 minutes. Season with salt and pepper as needed.

Lastly, for a smooth sauce, perfect for ribs, transfer the sauce to a blender or food processor and pulse until smooth. Store in a resealable jar until ready for use.
To Serve
When the ribs are pulled from the smoker, baste in the bbq sauce and sear on a grill for the final touch of.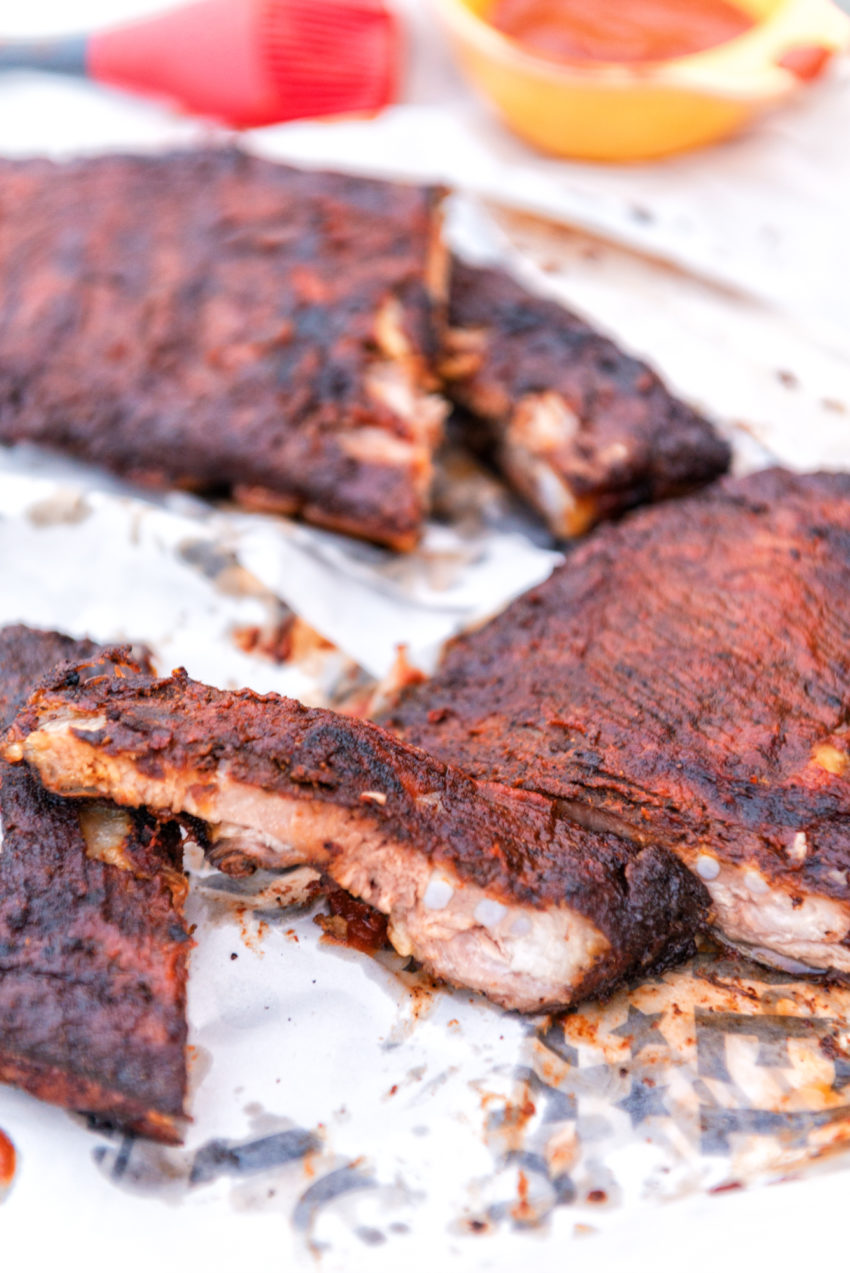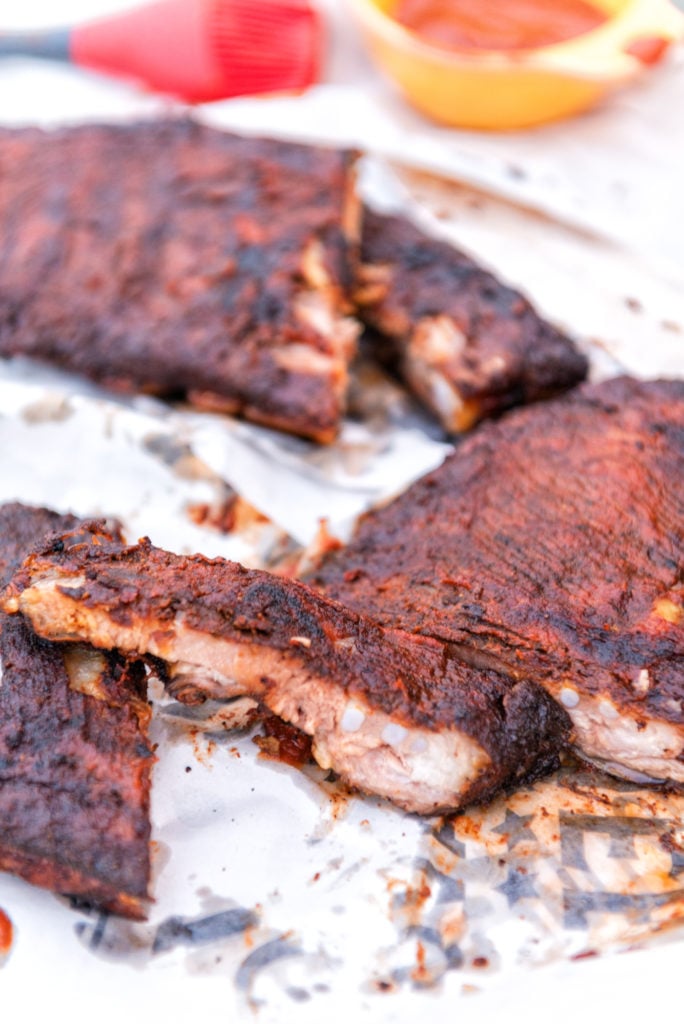 Cowboy Charcoal has asked me to mention their upcoming Fire and Ice Cookoff and will be sponsoring me for my time. My thoughts on kick ass ladies of BBQ are all my own.