This post may contain affiliate links. Please read my disclosure policy
Want crazy good smoked ribs? Hang them. Yep, hang them in a drum smoker for the best flavor and perfect bite every time. No lie, even the neighbors are gunna come knocking for this one.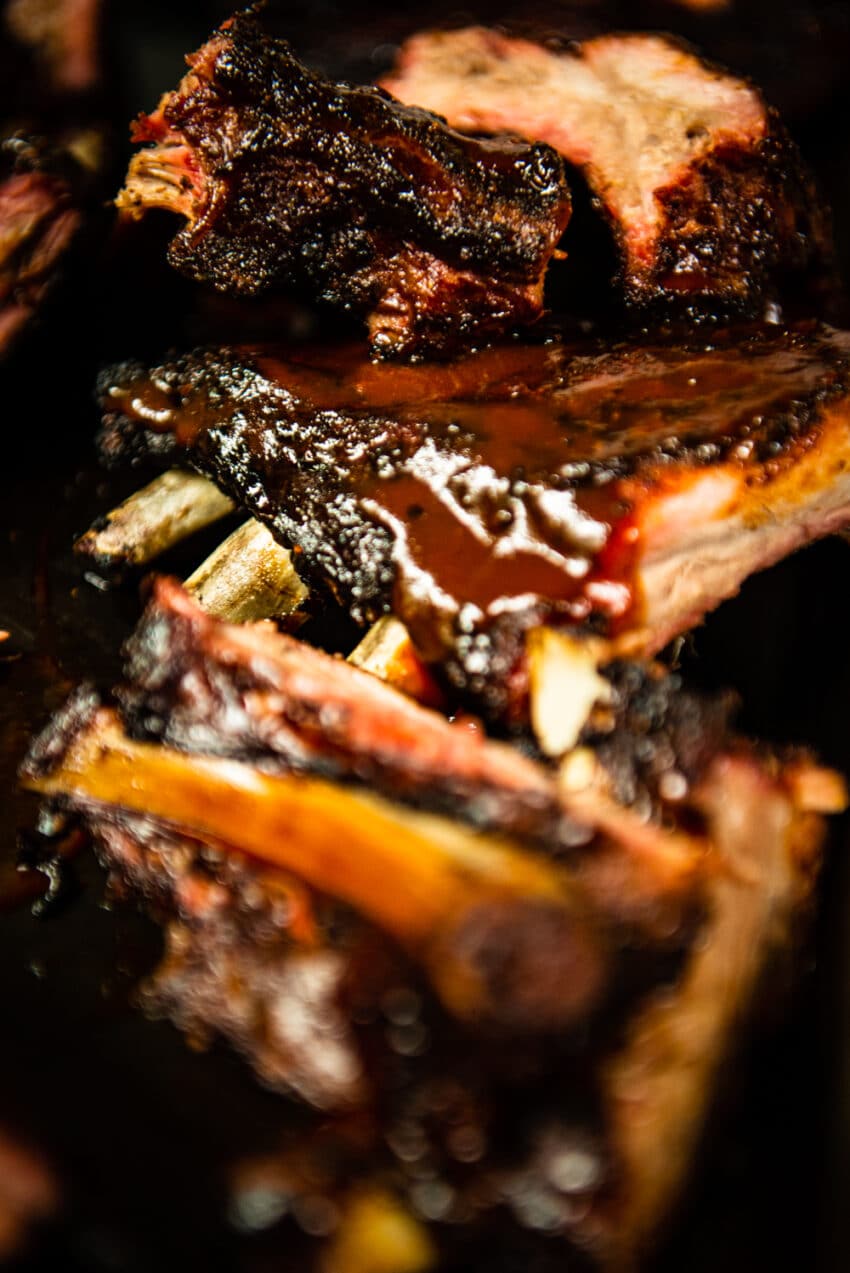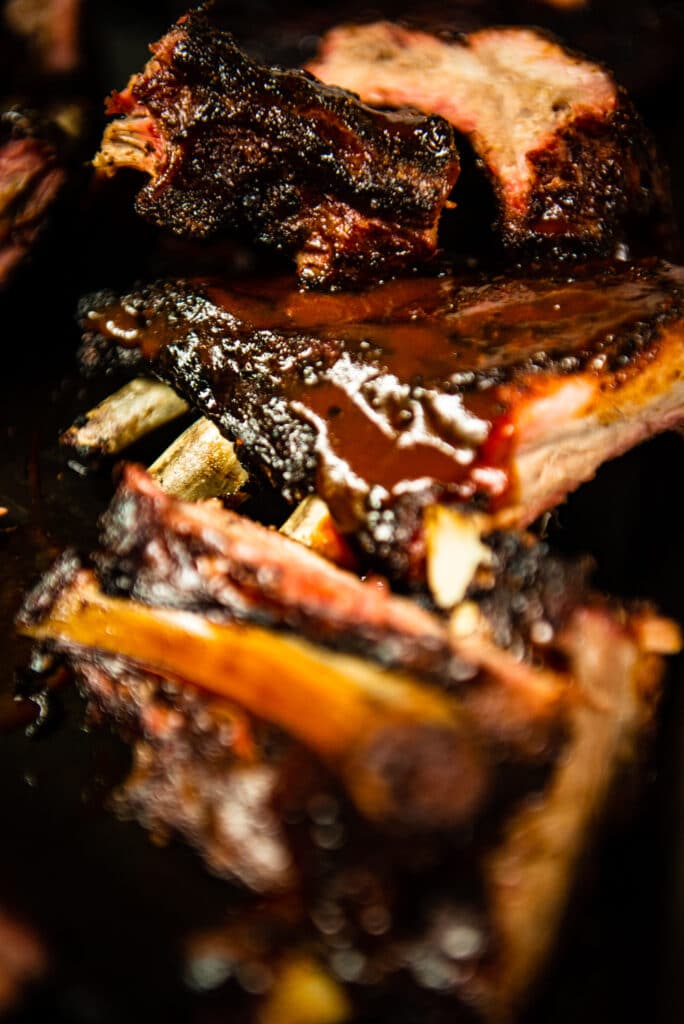 This post was sponsored by Western Wood Products, all thoughts and opinions are my own.

Vertical smokers, also known as drum smokers or barrels smokers are about as old school as it gets before we dig a pit and lay leaves over our meat. They are simplicity at its best and have quickly become one of my favorite ways to smoke anything. I find that hanging meat is the perfect way to get that amazing smoke ring and back a ton of flavor without sacrificing moisture or mouthfeel.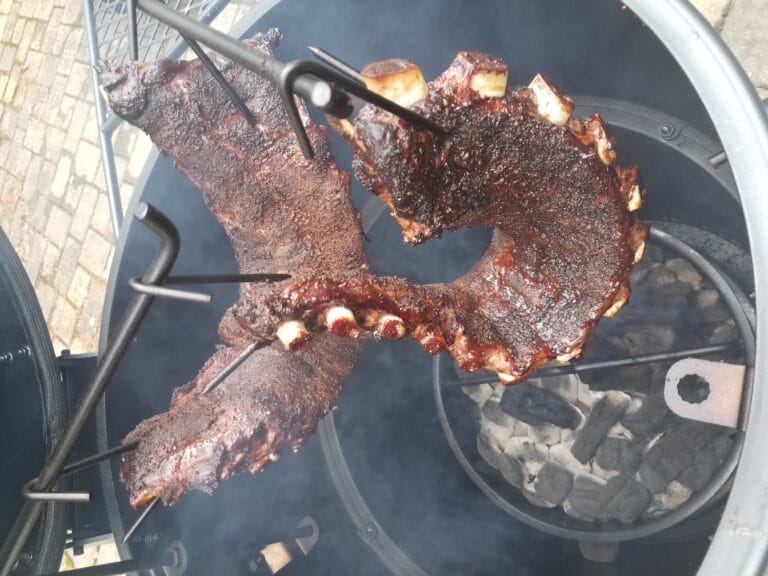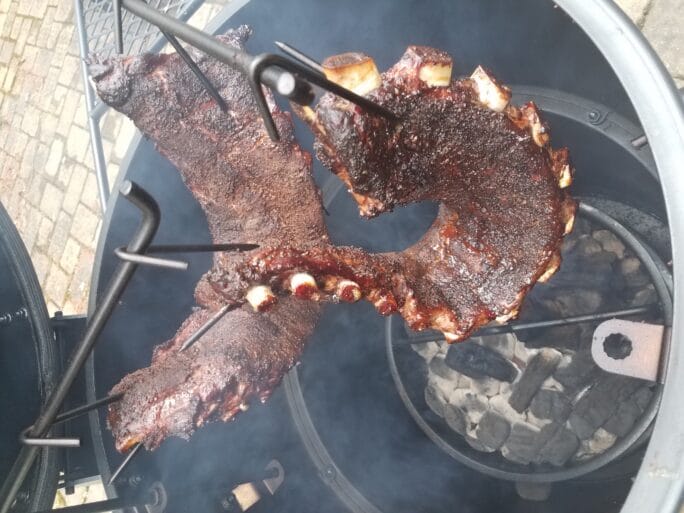 For ribs, drum smoking is the perfect and most simplistic way of achieving perfection. Hanging the ribs to smoke removes the need to maneuver around the heat source or for the need to pull and wrap. I love classic 3-2-1 Rib as much as the next girl carnivore, but since I started hanging my ribs, this has been my go-to method.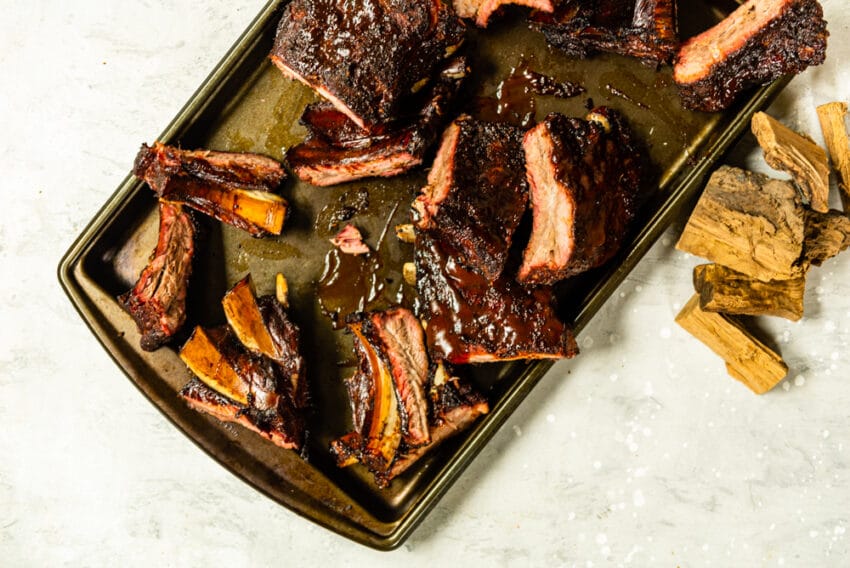 I feel like I always get amazing flavor when I use a vertical smoker, which is why I use it more often than my other smokers. But the magic is in the wood.
Why use good wood for smoking:
Make sure to add quality wood chunks to your smoker once the coals are good to go. This is what produces that magic smoke ring and the delicious smoked flavor!
Simply place a few solid chunks over the coals and close the lid. Smoke will immediately fill your drum smoker and start working its magic. Picking great chunks, like Western Wood is key to getting a good smoke. They burn consistently and the flavor you will get is exactly the stuff of barbecue dreams. I have been hooked on the Post Oak lately, as I don't get to play with it too often and I think I may never go back.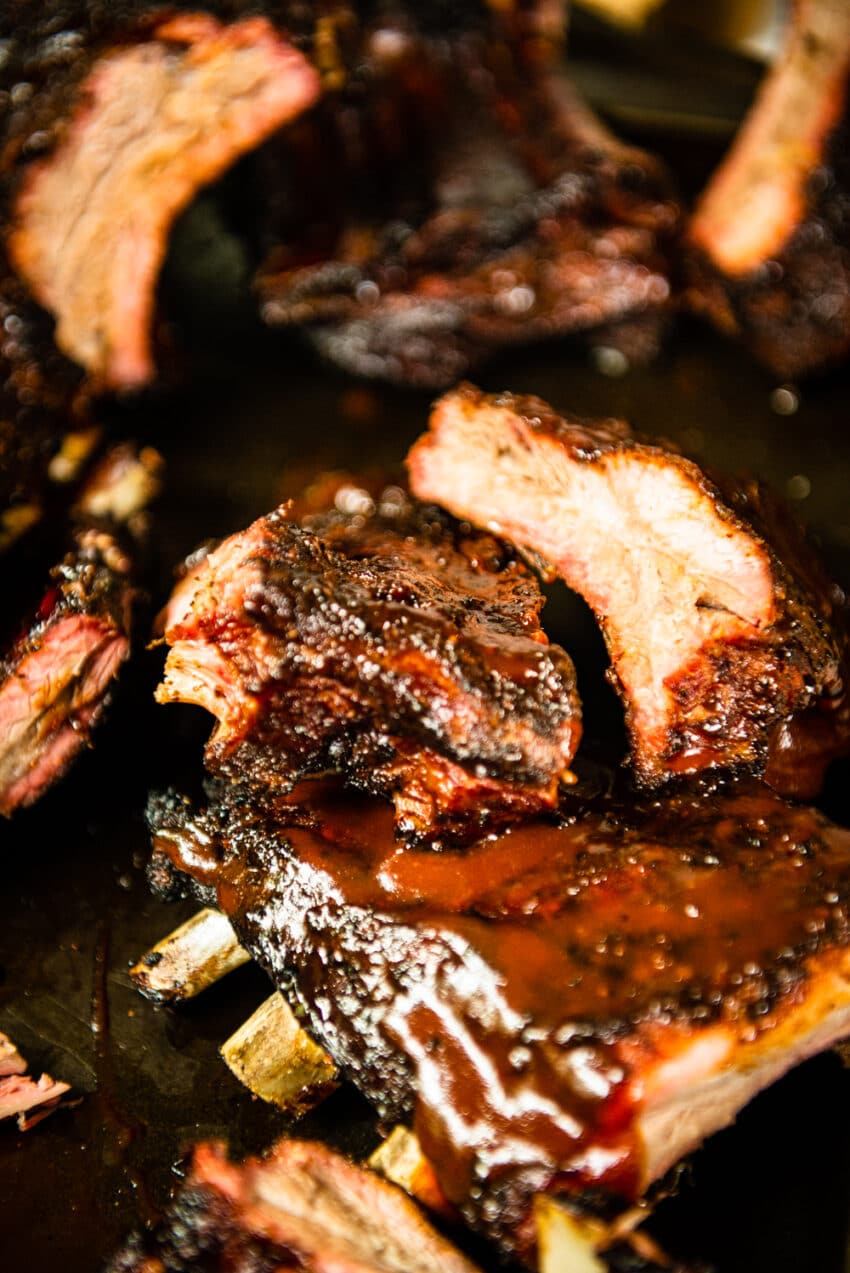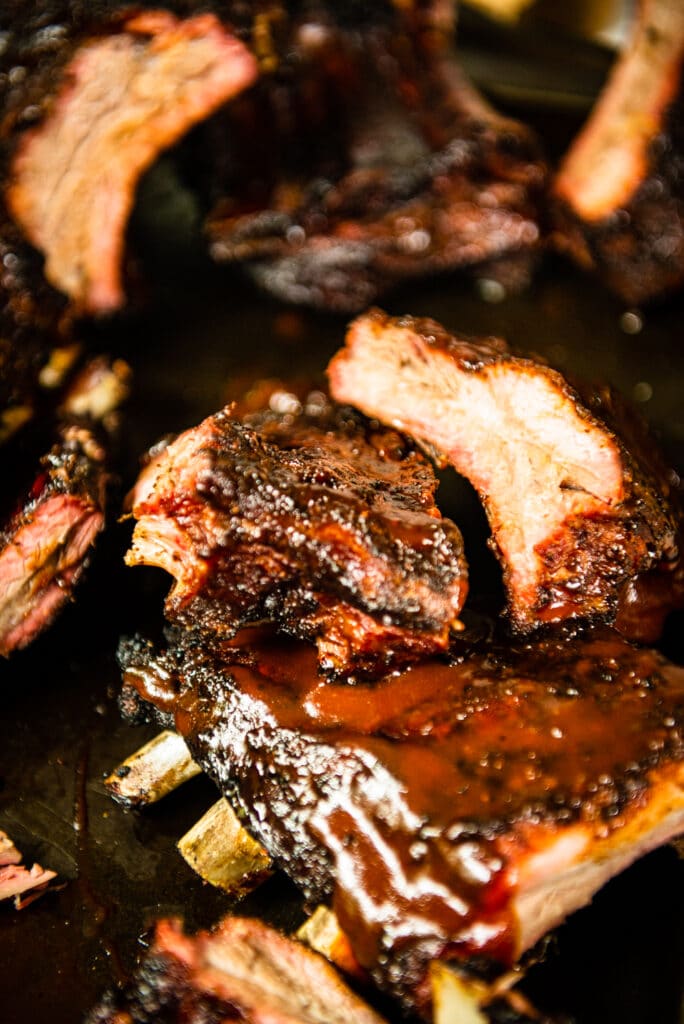 Getting your drum smoker set up and going the first few times can be a bit of a learning curve. Getting the dampers positioned for optimal airflow will change depending on where you are in elevation. And the first few times you smoke, you may even notice some spots where smoke is leaking out that you will want to seal up tighter. For a drum smoker, efficient heat control is the most important thing. But once you have it locked in, they are pure magic.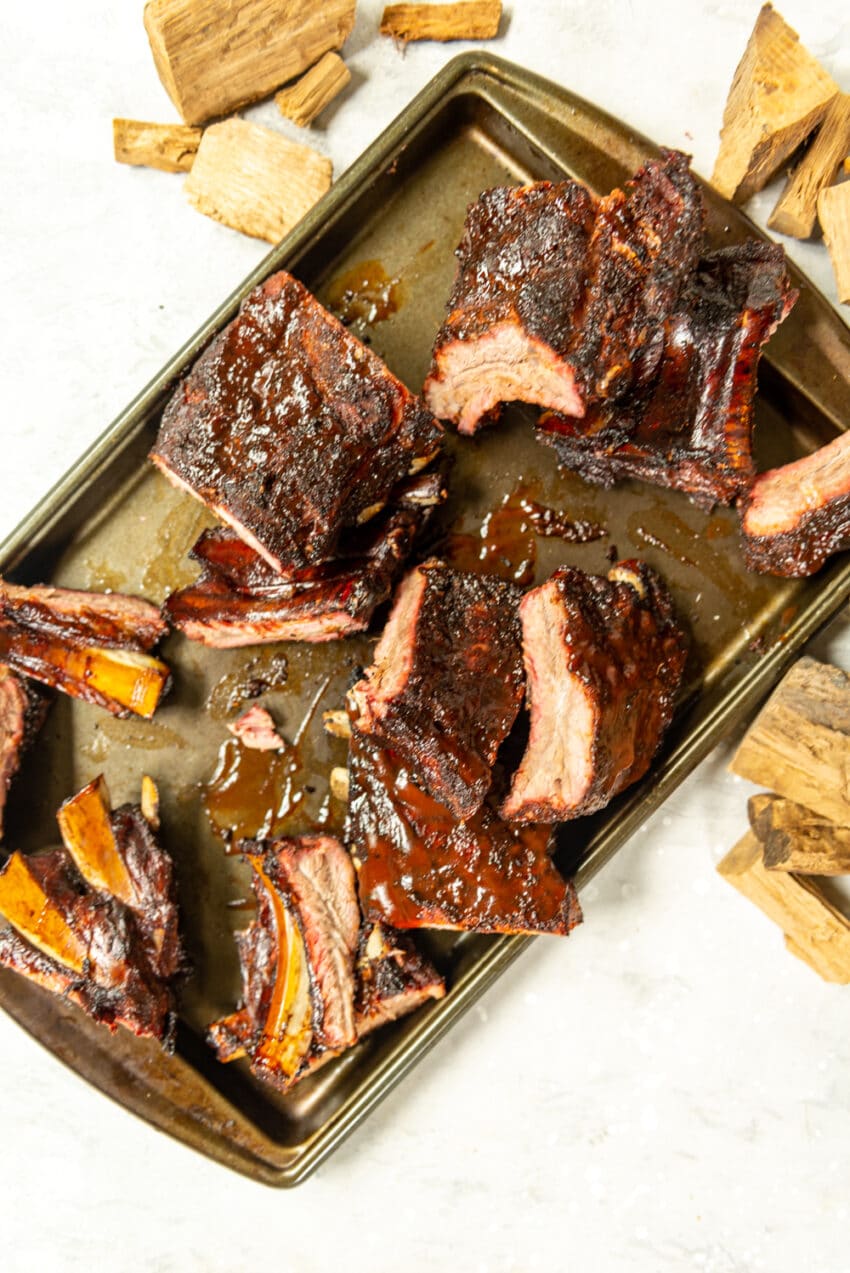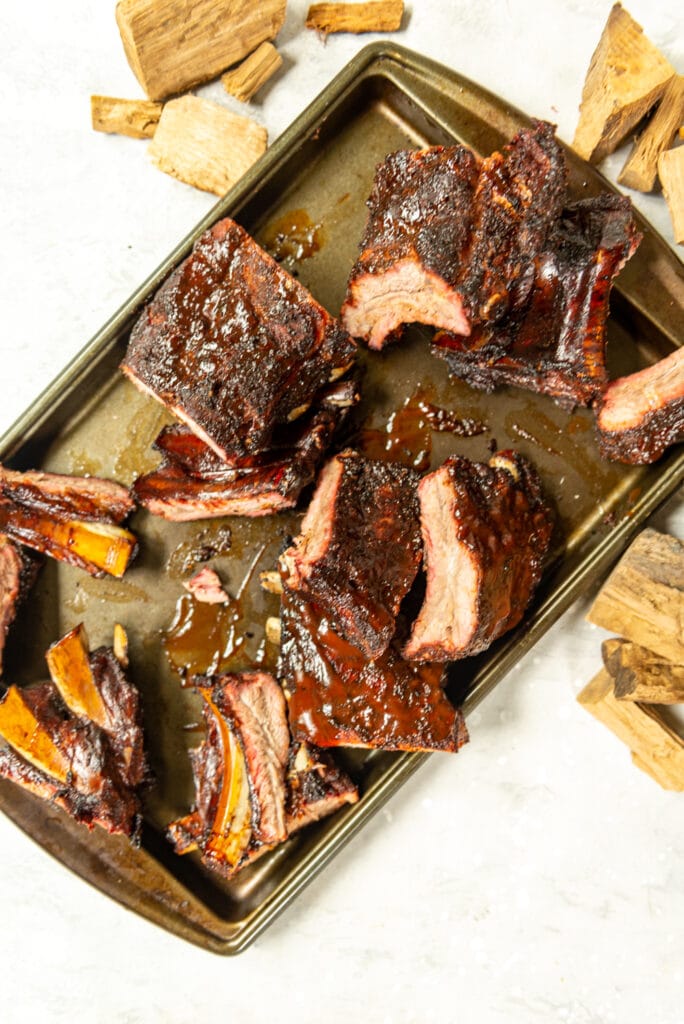 How to Smoke Ribs in a Drum Smoker:
Safety first. Don't leave your smoker unattended. I mean, that's basic Smokey the Bear right there. Now that we have that covered….
Make sure the ribs aren't too long for your smoker. As in oops, they touch the coals when you hang them (been there, done that). If they are, cut the racks in half OR use two hooks and form a U shape with the ribs to smoke. Hanging too low can cause the meat to burn or unneeded flare-ups if the meat is touching the heat source.
Once you have the ribs hung, try to open the lid as minimally as possible! Opening the lid causes the smoke to vanish faster and fluctuates the temperature causing major drops. This makes it harder for you to control the integral temperature point.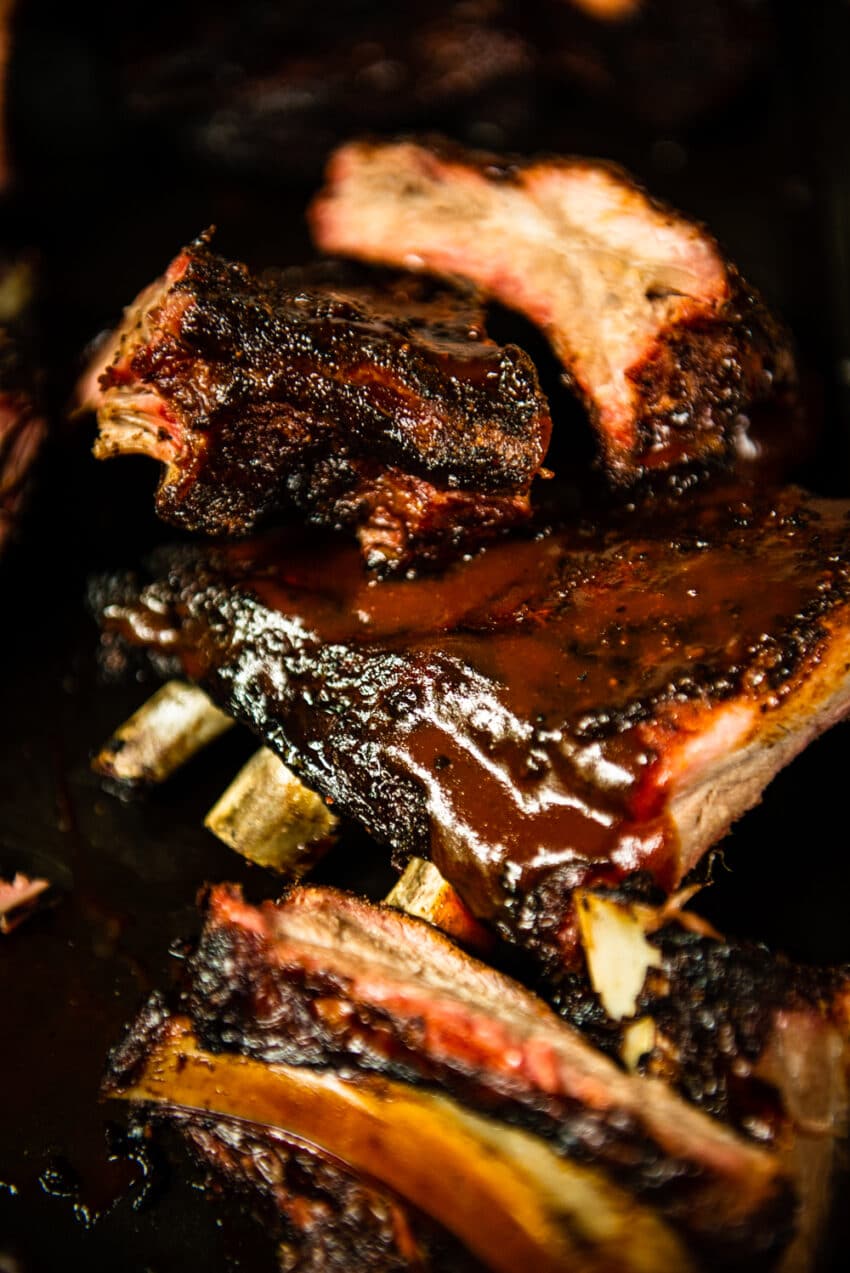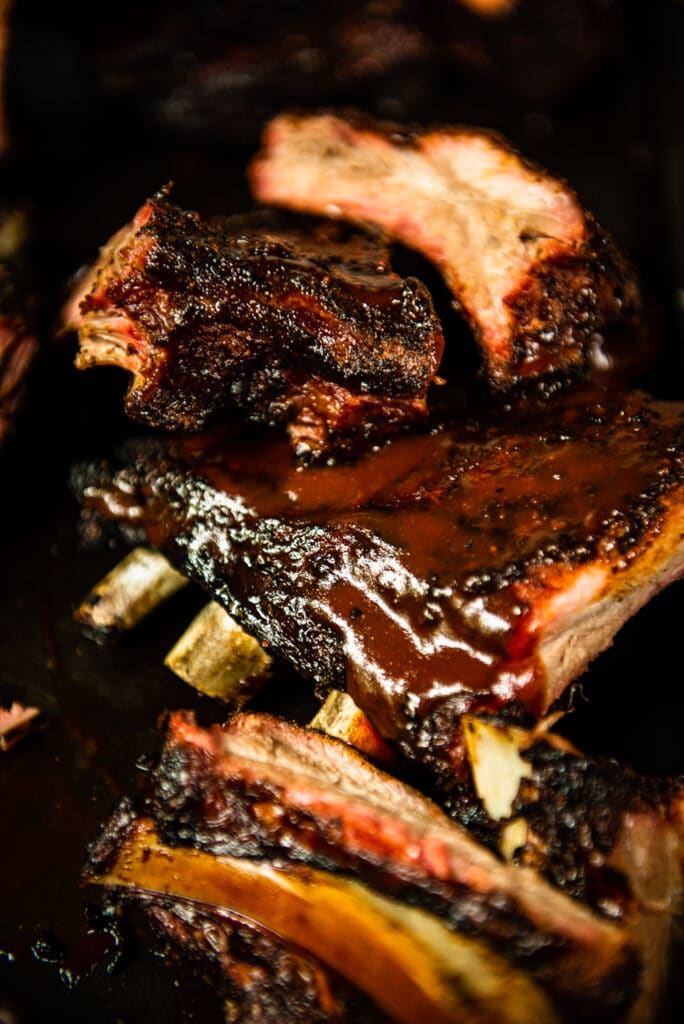 When the ribs are tender and pulling back from the bone, remove from the smoker and, if desired, add sauce and put the ribs over direct heat on a grill for that crisp finish. I often skip this step just because I am too excited to wait for some sauce.
I love ribs and chicken for my vertical smokers while I am breaking them in and getting a feel for them. They are easy to hang and cook quickly, in a few hours, making getting the feel for a new smoker an easily managed project.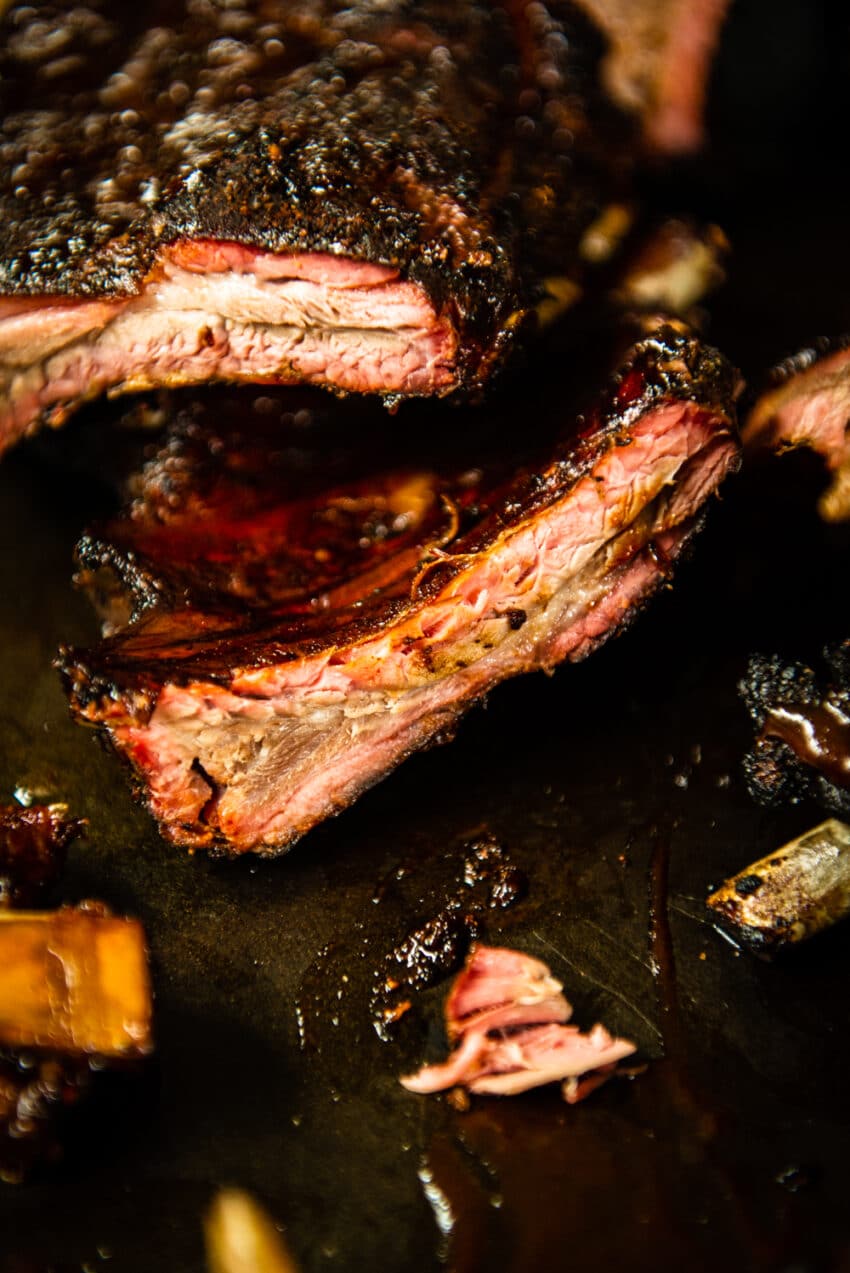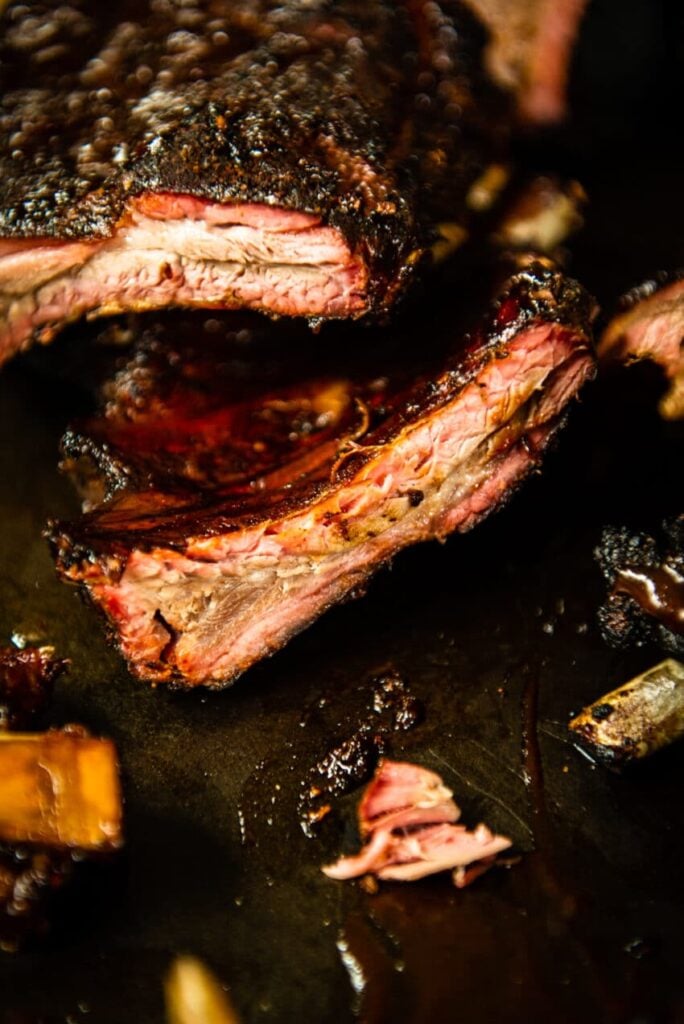 Want more smoker inspiration? Try some of my favorite recipes
If you've tried my Easy Vertical Smoked Ribs Recipe or any other recipe on GirlCarnivore.com please don't forget to rate the recipe and let me know where you found it in the comments below. I get inspired by your feedback and comments! You can also FOLLOW ME on Instagram @girlcarnivore as well as on Twitter and Facebook.
Easy Vertical Smoked Ribs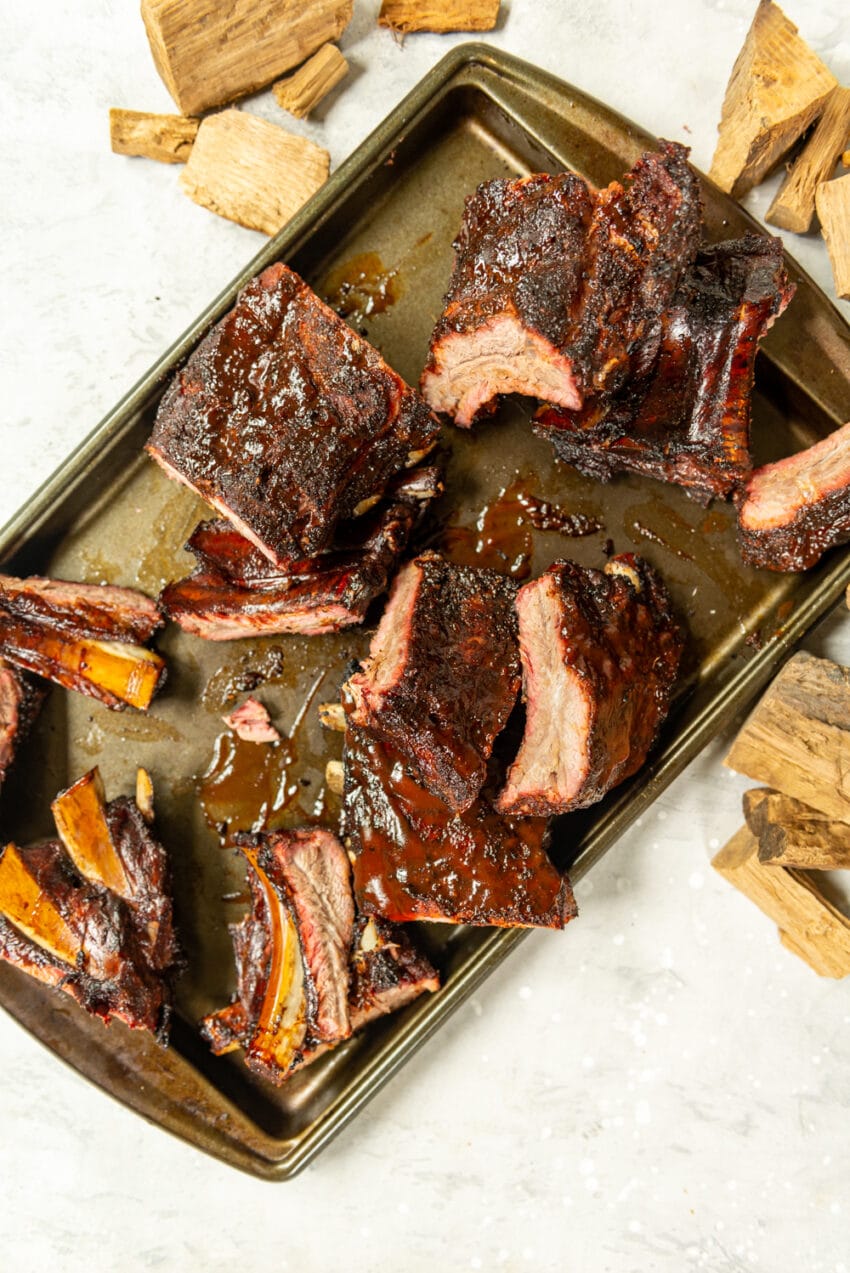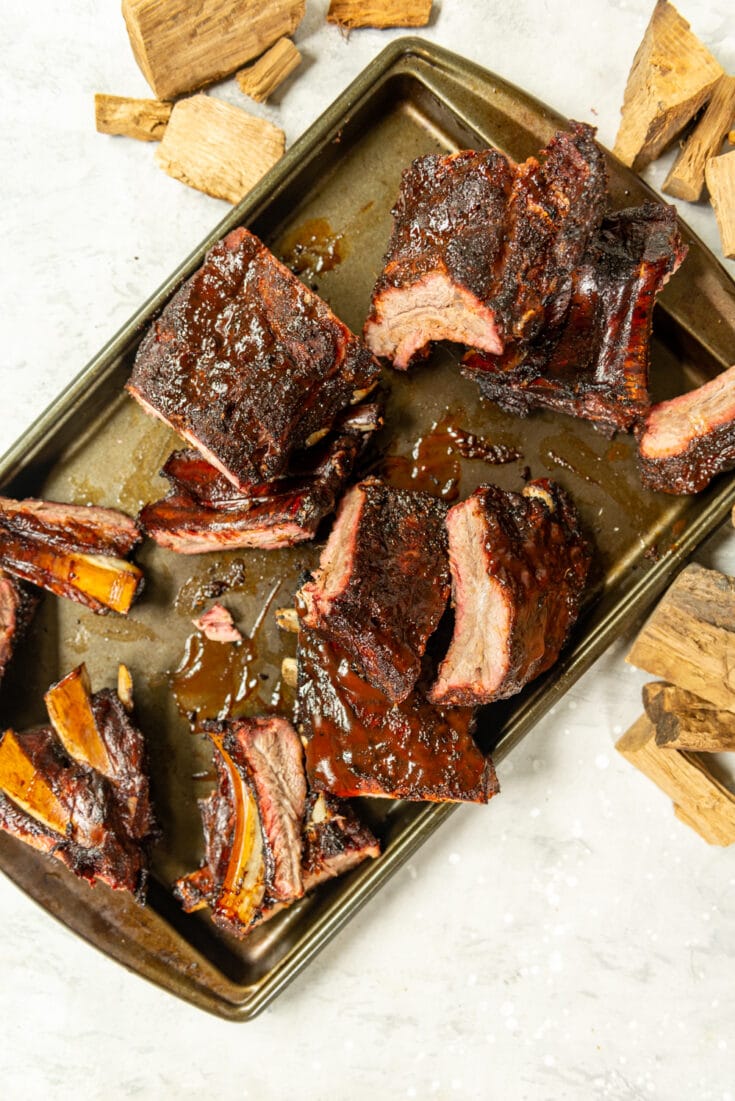 Crazy easy vertical smoked ribs - aka the only way you will ever want to smoke your ribs again. Promise
Prep Time
3 hours
10 minutes
Additional Time
10 minutes
Total Time
6 hours
20 minutes
Ingredients
For the Ribs
2 racks pork back ribs, membrane removed
1 cup sweet and spicy seasoning blend (always go for one with low sugar to avoid burning)
For the spicy bourbon barbecue sauce
1 tbsp olive oil
1 onion, minced
Salt and pepper
1 tsp mustard powder
1 tsp chili powder
1 cup ketchup
1 tbsp tomato paste
1 tsp Worchestershire sauce
1 tsp apple cider vinegar
1 tbsp brown sugar
½ cup bourbon
Instructions
For the ribs: 
Prep the ribs by patting them dry and removing the membrane. Cover liberally with seasoning blend, patting with your hands to coat. Cover with plastic wrap and place in the refrigerator for 2 hours. 
When ready to smoke: Prep your drum smoker for a temp between 225 - 250. When the grill is holding temp, set up your area to add wood chunks and the ribs without having to run back and forth opening the lid unnecessarily. 
Add the Western wood chunks to the coals at the bottom. 
Hang the ribs, with the hook slide between the second bone and then from the meat hooks in the smoker. 
Close the smoker and adjust the dampers, watching the temperature to maintain a temp between 225 and 250.
Allow the ribs to smoke for about 2 ½ hours. The ribs are ready when the ends of the bones are showing and the meat pulls from the bone without much resistance. (We don't want it too soft, but a good bite here is key). 
Meanwhile, make the barbecue sauce: 
In a large skillet over medium heat, add the olive oil to coat the pan. 
Saute the onion 5 minutes, until just browning.
Add the mustard and chili powder, stirring to coat the onions, cooking 30 seconds. 
Add the ketchup, tomato paste, Worcestershire sauce, and cider vinegar and stir to combine. 
Add the brown sugar and stir until completely dissolved. 
Reduce the heat to a simmer and add the bourbon. 
Cook, whisking occasionally until the sauce has thickened. 
Season with salt and pepper as desired. 
When the ribs are done smoking: 
Carefully with heat resistant gloves or the hook tool, remove the ribs from the smoker. 
Add fuel for direct grilling. 
Baste the ribs in barbecue sauce and place, meat side down over the fire to crisp the sauce up. Cook for 5 to 7 minutes, rotating as needed. 
Allow the ribs to cool for 10 minutes before cutting between the bones and serving. 
Recommended Products
As an Amazon Associate and member of other affiliate programs, I earn from qualifying purchases.
Nutrition Information:
Yield:
6
Serving Size:
1
Amount Per Serving:
Calories:

222
Total Fat:

9g
Saturated Fat:

2g
Trans Fat:

0g
Unsaturated Fat:

5g
Cholesterol:

31mg
Sodium:

12611mg
Carbohydrates:

20g
Fiber:

3g
Sugar:

12g
Protein:

10g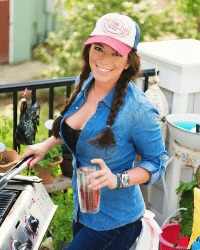 Hey, I'm Kita, the Meat Maven, outdoor junkie, campfire connoisseur, adventure-seeking and world traveled recipe developer and photographer behind GirlCarnivore.com. My mission is to break down savory eats and inspire you to get a little grit under your nails while having fun with your food. READ MORE