These easy foil-wrapped brats are the perfect way to cook hearty brats nestled over a bed of sauerkraut and whiskey before stuffing it all into buns and topping it with a rich gouda cheese sauce. This recipe takes make-ahead campfire meals or tailgating to a whole new gourmet level. But, promise, it's effortless to make!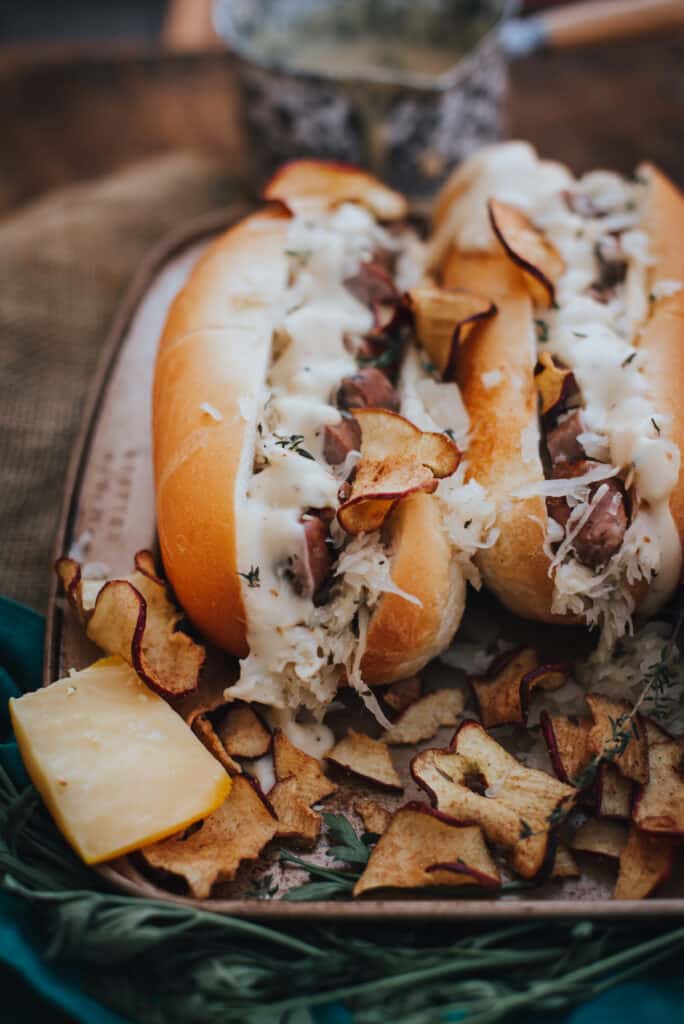 We've all had great beer brats, heck I've made them myself, but I wanted to really take things up a notch when I was whipping up this campfire recipe and who doesn't love whiskey? I decided to make tin foil packets to slowly simmer the brats in a bed of sauerkraut and whiskey, letting them really bath in the flavor and gently cook.
Then, to really up the game, I took whiskey gouda, a perfectly creamy cheese, and infused it with more liquor, a little umami powder, and herbs to smoother these sandwiches.
All in all, it was an over-the-top experience that really took the basic brat and turned it into a perfect dinner for camping using the most basic camp cooking hack, foil packs.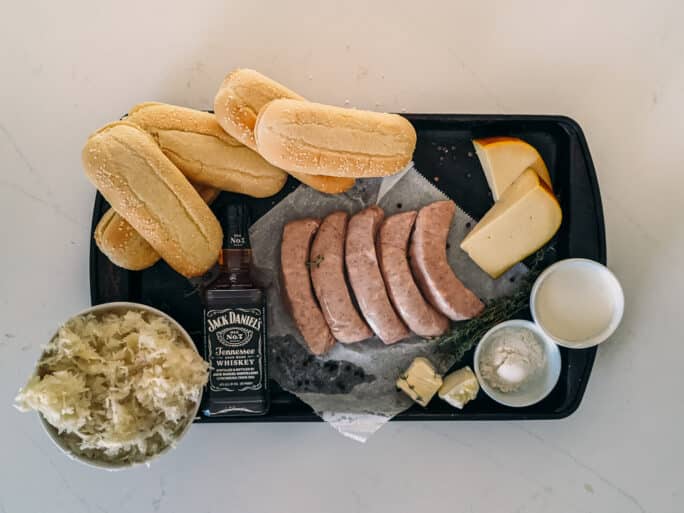 What you need to make this recipe
Pork Brats
Sauerkraut – look for the kind in the deli department in a bag of liquid or jar. I find it tastes better then the version in the condiment aisle.
Thyme – fresh or dried
Black pepper – go for thick coars ground to make a bold pop of flavor
Whiskey – Use a brand you enjoy drinking as there will be leftovers.
Butter
Flour
Half and Half – or heavy cream
Ooomami Umami Powder – What the heck is umami powder? Check out my guide on what it is and how to use it.
Whiskey Infused Gouda Cheese – any gouda will do if you can't find one that's whiskey infused. Try a good smoked gouda for a substitute.
Buns – Don't skimp, you're going to need a hearty bun for this one or the sandwich will fall apart in your hands.
Apple Crisps – these can be bought in bags. Find them near produce or in the snack aisle. They add a sweet salty crunch to the sandwich that's excellent.
How to make foil wrapped brats
Assemble the brats
Start by arranging your foil out in a large clean sheet and filling the center with the sauerkraut to nestle the brats into. Place the brats on top of the sauerkraut and the thyme, black pepper, and whiskey.
Make sure to use heavy-duty aluminum foil for this recipe or double wrap the foil to prevent tearing or holes.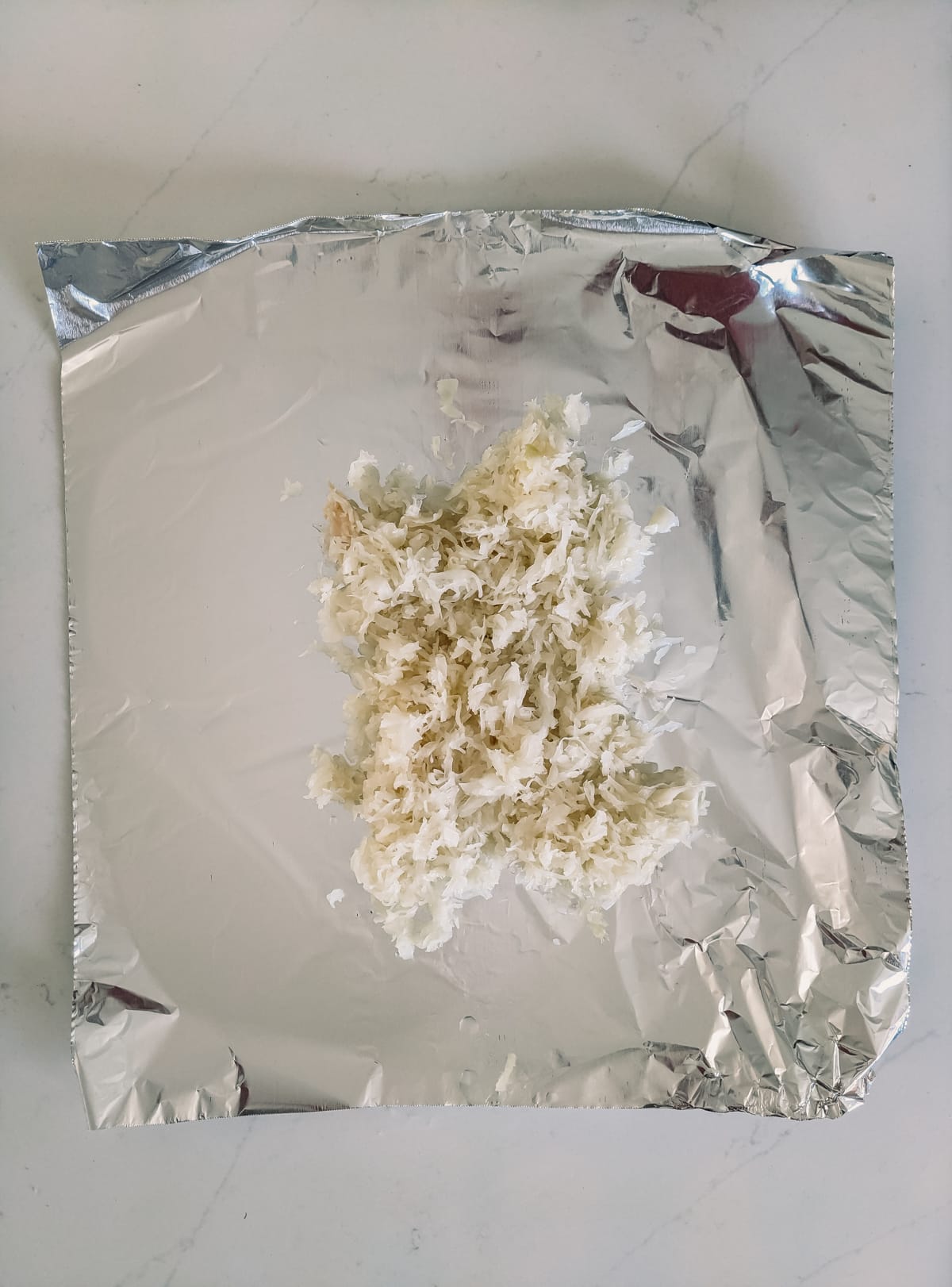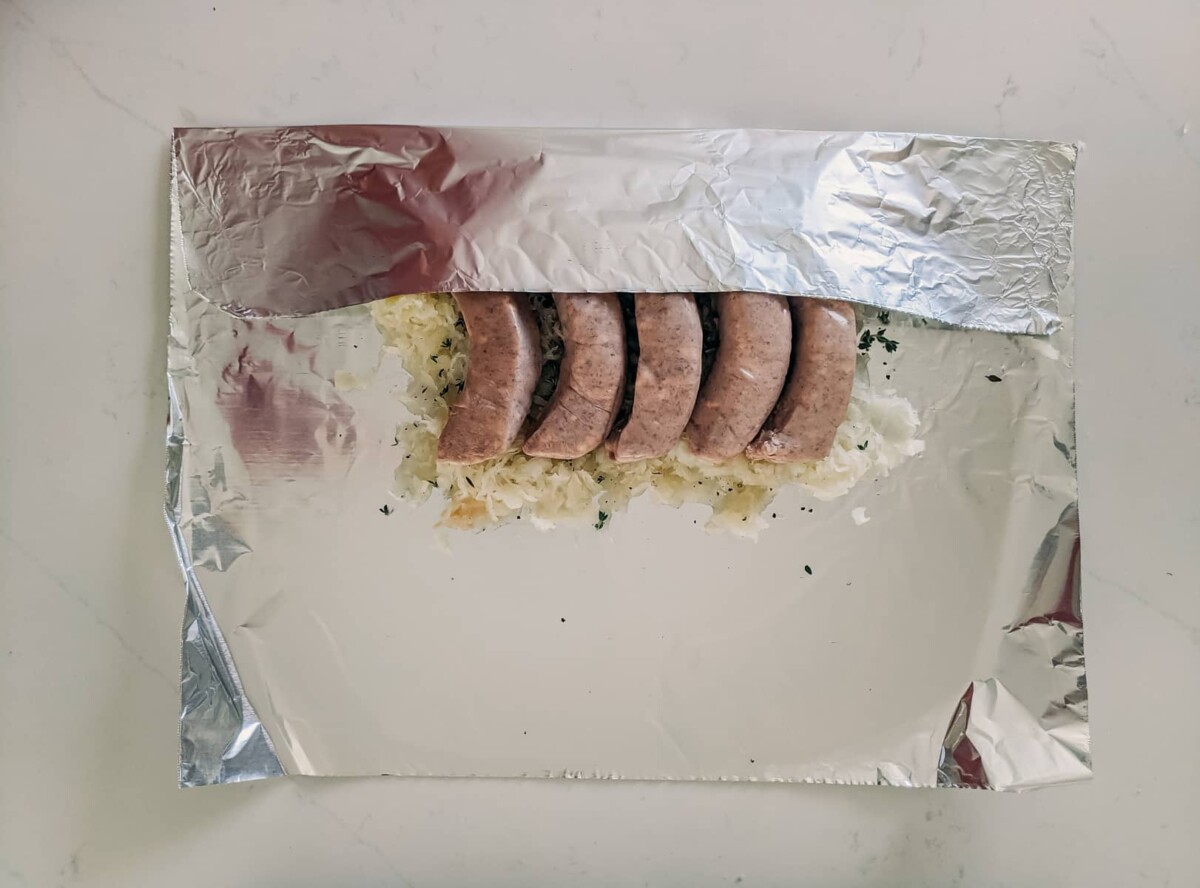 Starting on one long edge, fold up the packet, pinching the short edges shut. Leave the top open a little to act as a vent to allow steam to escape.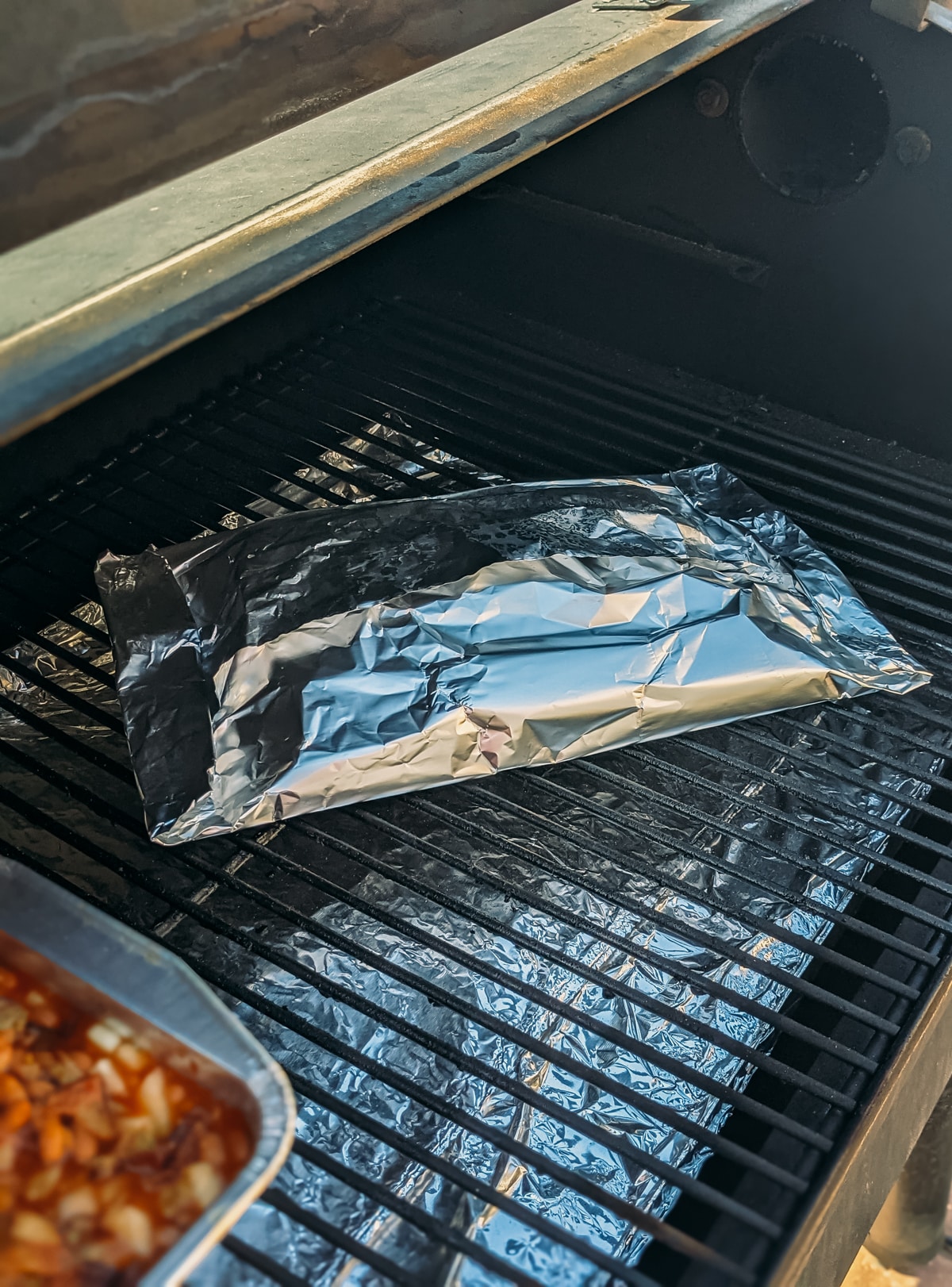 Next, place the foil packet on the cooler side of a preheated grill or campfire and allow the brats to slowly simmer for an hour.
Make the Gouda Whiskey Cheese Sauce

Start by melting the butter and whisking in the flour to make the base of your roux. Next, add in the whiskey and allow the roux to cook, forming a paste-like texture before adding in the Ooomami powder.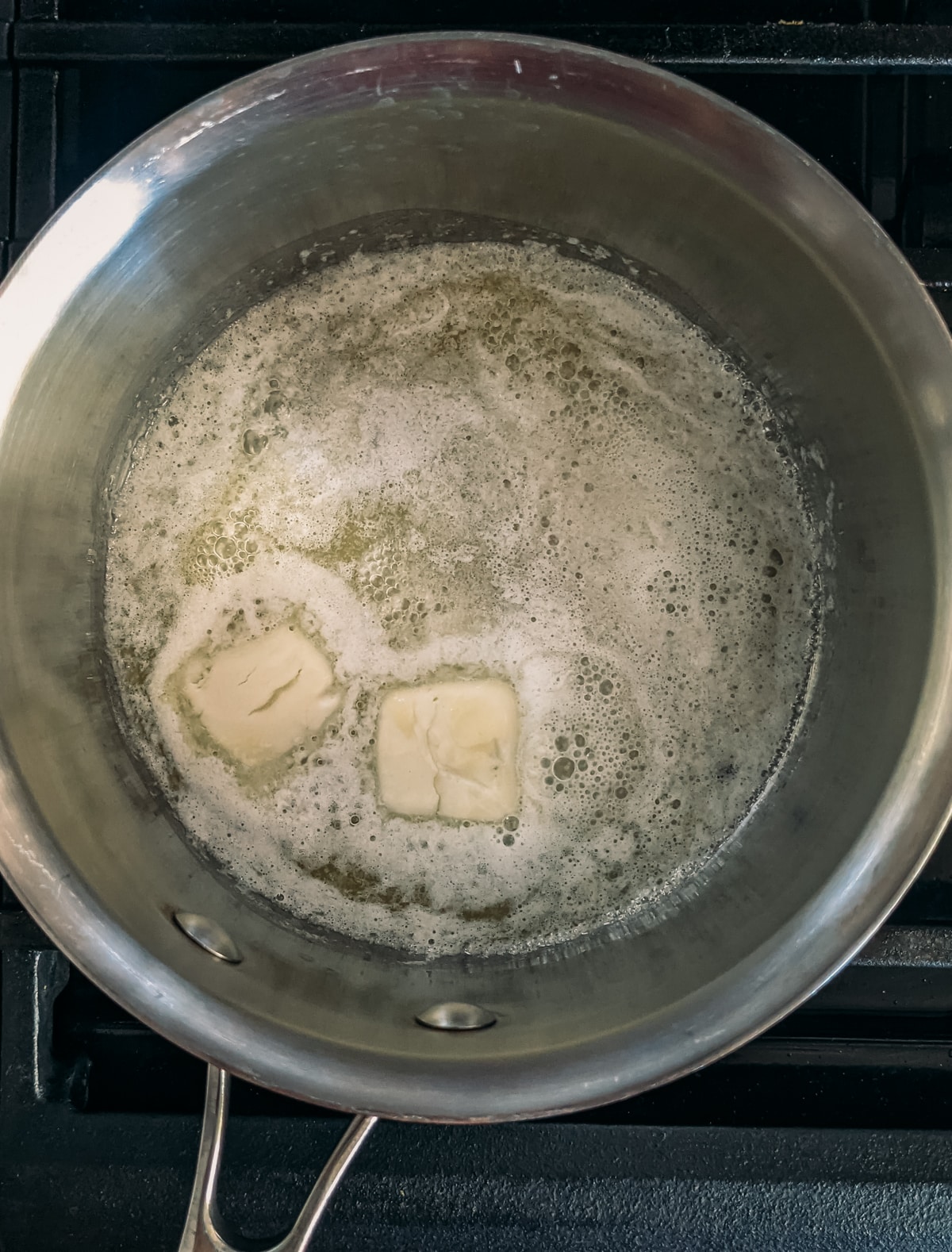 Then, whisk in the half and half. Consistent whisking and a slow pour help to avoid any clumps. Add the thyme and black pepper.
Finally, whisk in the cheese until it's melted through and smooth all the way through.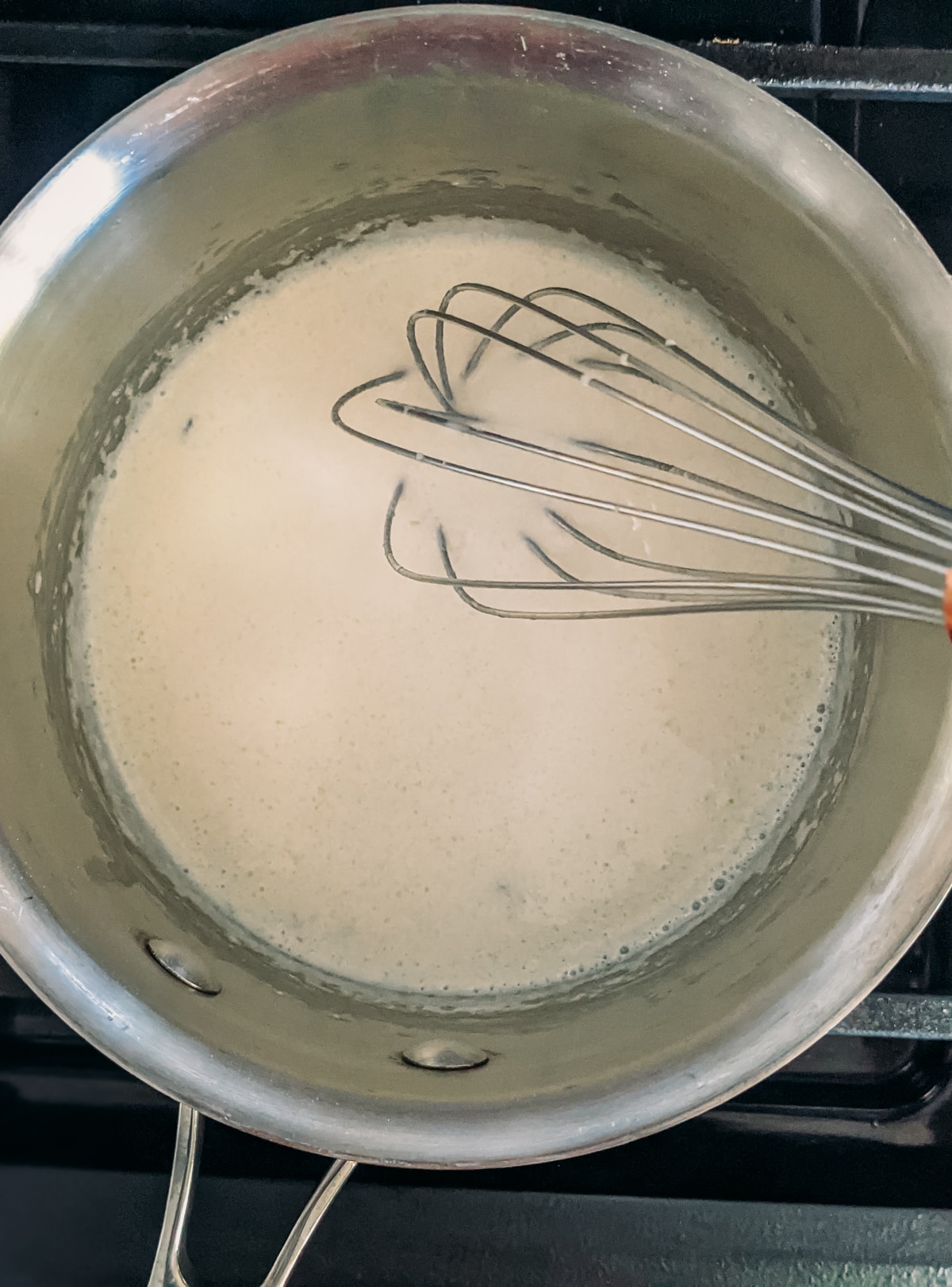 Lastly, assemble the sandwiches by piling the sauerkraut evenly onto the buns. Slice the brats and put them on top of the kraut before drizzling the cheese sauce on top of it all.
If you're feeling fancy, garnish with extra thyme and apple crisps.

Tips and tricks for this foil packet whiskey brats
If you aren't camping, you can make this recipe in the oven. Use an oven preheated to 350F and bake the brats, wrapped in foil per the recipe instructions until heated through to 165F, about 1 hour.
This recipe calls for a few seasonal items that I was able to find at my local market. But, if you can't find whiskey-infused gouda, first, suggest it to your store manager, cuz it's amazing, and choose another gouda to substitute for it.
The apple crisps are a sweet snap on top of these brats and apple always pairs well with pork but if you can't find them, try crunchy onions or potato straws to add texture.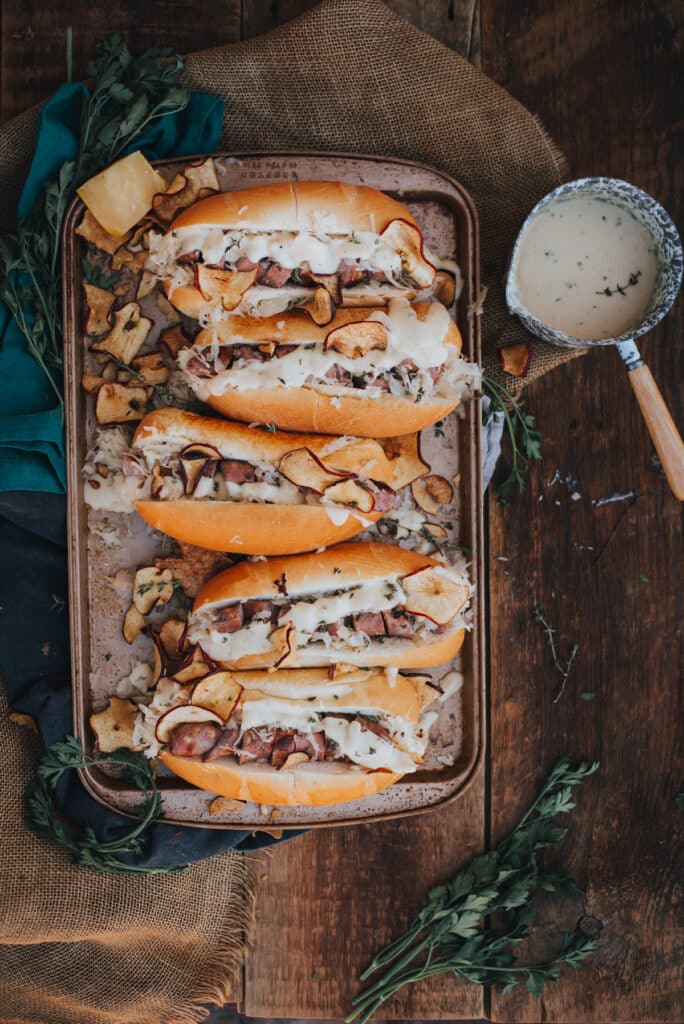 To make ahead
If you want to prep the brats the day before, simply tightly wrap them in the foil with the sauerkraut the day before. When you are ready to cook, gently open the packet and add in the whiskey.
The cheese sauce can be made ahead as well and stored in an airtight container for up to three days. To bring back to temp, add a tiny splash of water, or milk, and whisk the cheese sauce in a small saucepan over low heat until it's heated through.
How to store
In order to avoid any soggy mess, store each element independently. Wrap the brats and sauerkraut tightly in foil and the gouda cheese sauce in its own airtight container. Store in the fridge for up to three days.
To reheat, simply place the brats, still wrapped in foil, back over the grill, campfire or in the oven and cook, rotating as needed, until heated through.
What to serve with foil wrapped brats
Since these were designed for tailgating, football parties, and just general fall comfort food, we love pairing these foil wrapped brats with cream of jalapeno soup, crispy beef tallow fries, and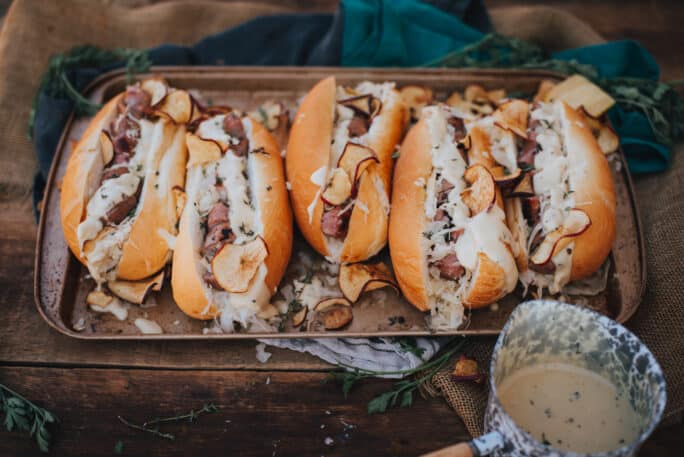 More camping foil meals you'll love
f you've tried my whiskey brats recipe, or any other recipe on GirlCarnivore.com please don't forget to rate the recipe and let me know where you found it in the comments below. I get inspired by your feedback and comments! You can also FOLLOW ME on Instagram @girlcarnivore as well as on Twitter and Facebook.
Foil Packet Whiskey Brats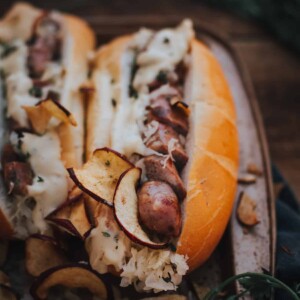 You're going to love every bite of these whiskey brats. Wrapped in foil over a bed of sauerkraut and slathered in a cheese sauce, these are brats on a whole new level.
Ingredients
For the Foil Packet Brats
1.5

lbs

Pork Brats

16

oz

Sauerkraut

1

tbsp

Thyme

1

tsp

Black pepper, coarsely ground

1

tbsp

Whiskey
For the Gouda Cheese Sauce
2

tbsp

Butter

2

tbsp

Flour

1

tbsp

whiskey

1

tbsp

GirlCarnivore Ooomami Powder

1

tsp

Thyme

1/2

tsp

Black pepper

coarsely ground

1/2

cup

Half and Half

8

oz

Whiskey Infused Gouda Cheese

shredded
Instructions
Assemble the brats
Arrange a large sheet of of aluminum foil on a clean work surface.

Allow the sauerkraut to drain, reserving 1/2 cup of liquid.

Arrange the sauerkraut onto the center of the foil.

Nestle the brats in a row atop the sauerkraut.

Add the thyme and black pepper.

Add the whiskey over the sauerkraut to prevent it spilling everywhere and add in the reserved liquid.

Starting with a long edge, fold over the brats and repeat on the other edge.

Fold the edges up, pinching and sealing in but allowing the top fold to vent to allow steam to escape.
Cook
Make a 2-zone fire for indirect heat and allow it to preheat until the coals are ashen over and holding an even heat.

Place the foil packet on the cooler side of the grilling grate.

Allow the brats to simmer in the foil packet, rotating every 20 minutes to avoid burning, for up to 1 hour, until cooked through. The brats should temp at 165F internally per USDA guidelines.
Make the Gouda Whiskey Cheese Sauce
In a saucepan over medium-low heat, melt the butter.

Whisk in the flour and stir to cook.

As the flour and butter come together to form a paste, add in the whiskey and continue to stir until a paste like texture forms.

Add the umami powder, thyme and pepper and stir to combine.

1 tbsp GirlCarnivore Ooomami Powder,

1 tsp Thyme,

1/2 tsp Black pepper

Working slowly to avoid clumps, whisk in the half and half.

Once the sauce has thickened, about 3 to 5 minutes, add the cheese a little at a time, stirring until completely incorporated.

8 oz Whiskey Infused Gouda Cheese
Assemble the Sandwiches
Once the brats are cooked through, allow the packet to cool for 5 minutes before opening.

Arrange the buns on a clean work surface and divide the sauerkraut evenly between then.

Slice the brats and netsle the slices in equal portions over the sauerkraut.

Top with a drizzle of the cheese sauce.

Garnish with the apple chrisps, fresh thyme and ground black pepper to serve.
Notes
To add a little color to the brats once they are cooked, and right before you're ready to eat them, toss them onto the grill. Allow them to brown just a bit, rotating as needed. 
Make sure to use heavy-duty foil to prevent any tears or double wrap standard foil. 
Use sub rolls or deli rolls for this recipe. Hot dog buns won't hold up to the filling.
Nutrition
Serving:
1
g
|
Calories:
628
kcal
|
Carbohydrates:
15
g
|
Protein:
27
g
|
Fat:
50
g
|
Saturated Fat:
22
g
|
Polyunsaturated Fat:
4
g
|
Monounsaturated Fat:
21
g
|
Trans Fat:
1
g
|
Cholesterol:
145
mg
|
Sodium:
1817
mg
|
Potassium:
645
mg
|
Fiber:
3
g
|
Sugar:
6
g
|
Vitamin A:
494
IU
|
Vitamin C:
14
mg
|
Calcium:
350
mg
|
Iron:
2
mg