If you love cheesesteak, then you will flip for this take on that timeless classic, the prince of steak sandwiches, the fuggedaboutit-because-nothing-compares Philly cheesesteak. Instead of the bread though, you pack the steak slices, cheese sauce, and peppers into a potato.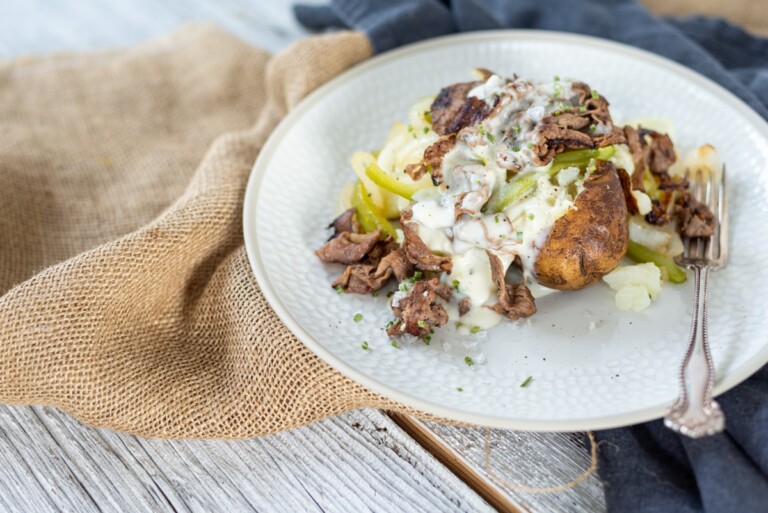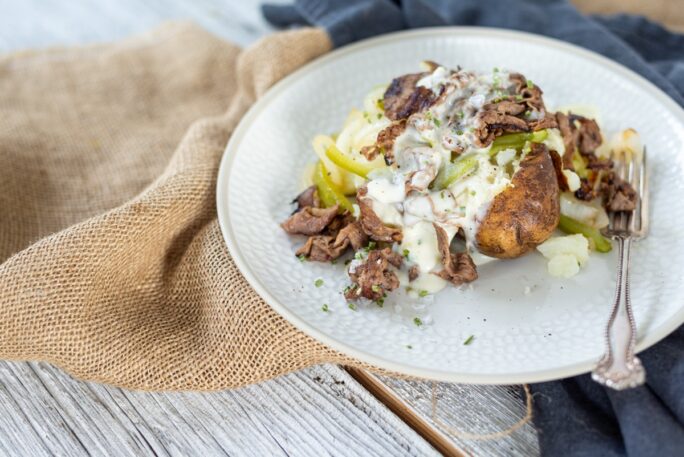 This recipe was created for the Idaho Potato Commission but all thoughts and opinions are my own.
What's not to like about a fully loaded, drenched in cheese sauce, beef topped baked potato? Steak and potatoes exist to prove the greatness of each other's destiny with deliciousness.
Adding cheese sauce to that equation just makes it like icing on the cake. Cheese sauce on a cheesesteak is actually so good it makes me wonder why we don't say "puts the cheese sauce on the steak" instead of "puts the icing on the cake"… Ponder that.
Stuffed Cheesesteak Baked Potatoes
These baked potatoes are topped with that signature Philly cheesesteak combo – ideally made with thinly shaved rib-eye. No wonder it is so flavorful, right? Then, the steak is loaded with sauteed peppers and onions.
Peppers and steak together is the heart of what makes chili so great, but in a cheesesteak, you get to understand why. Because you can take away the chili seasoning. Leave the beans and tomato paste out. Just steak, onions, and peppers… that is sheer greatness right there.
Adding the creamy cheese sauce on top just takes it over the top.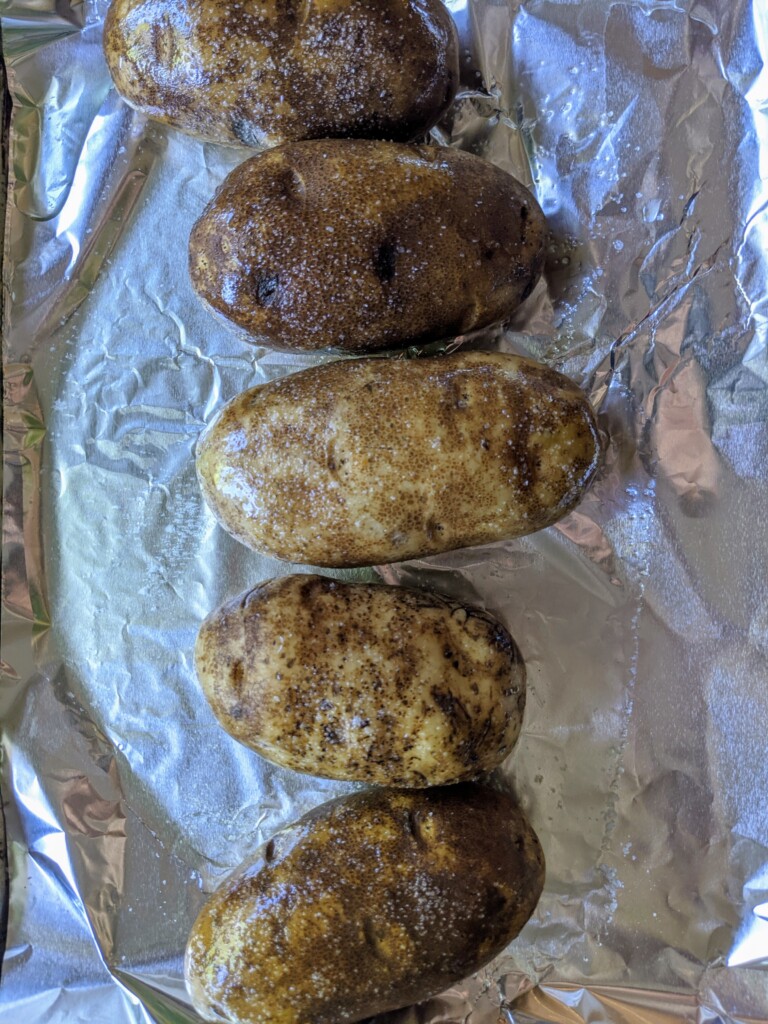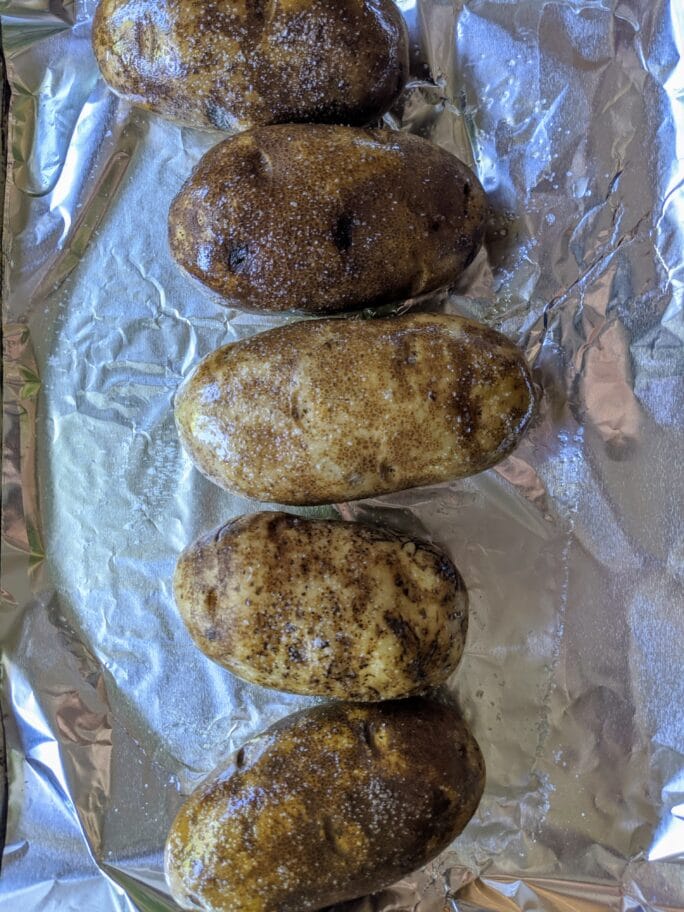 What potato works best?
An Idaho russet potato is the way to go for several reasons. One, you can find them in every single grocery store anywhere potatoes are sold. Two, they are big enough and hearty enough to stand up to the filling. So you can bake them and not worry about it being overcooked and falling apart when the stuffing starts.
Finally, they are just plain tasty. That is why they are used for french fries and potato chips so often.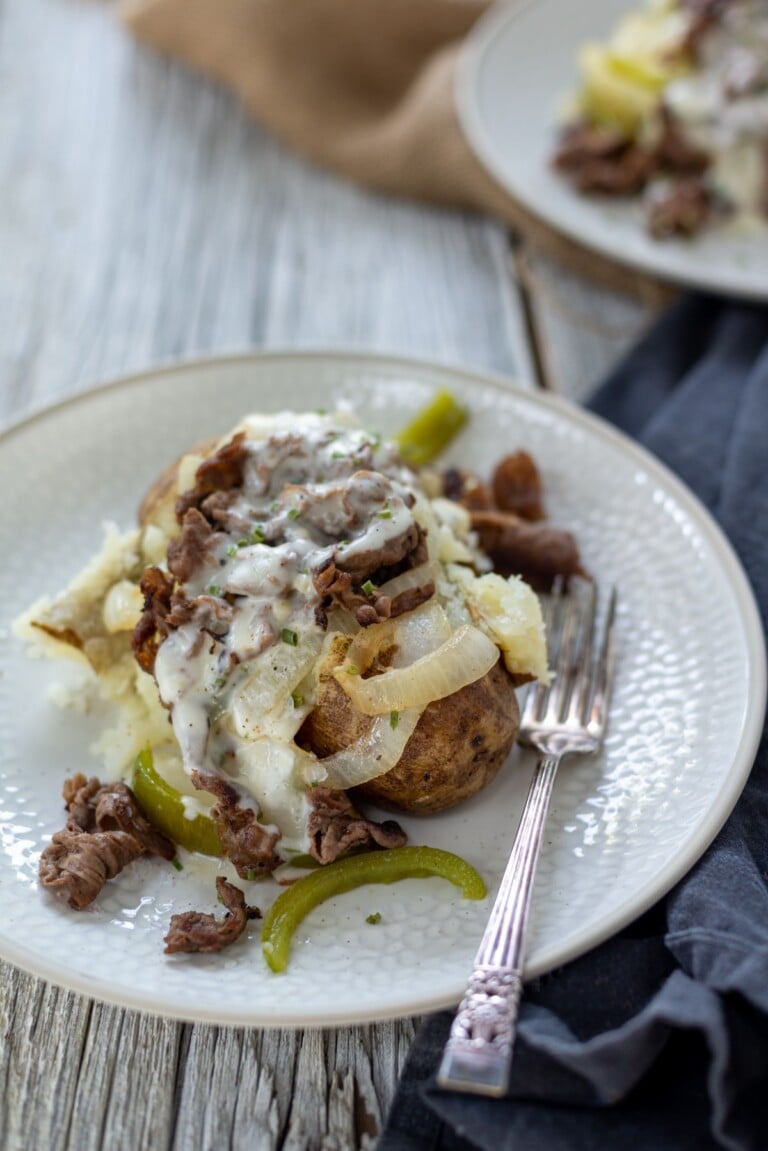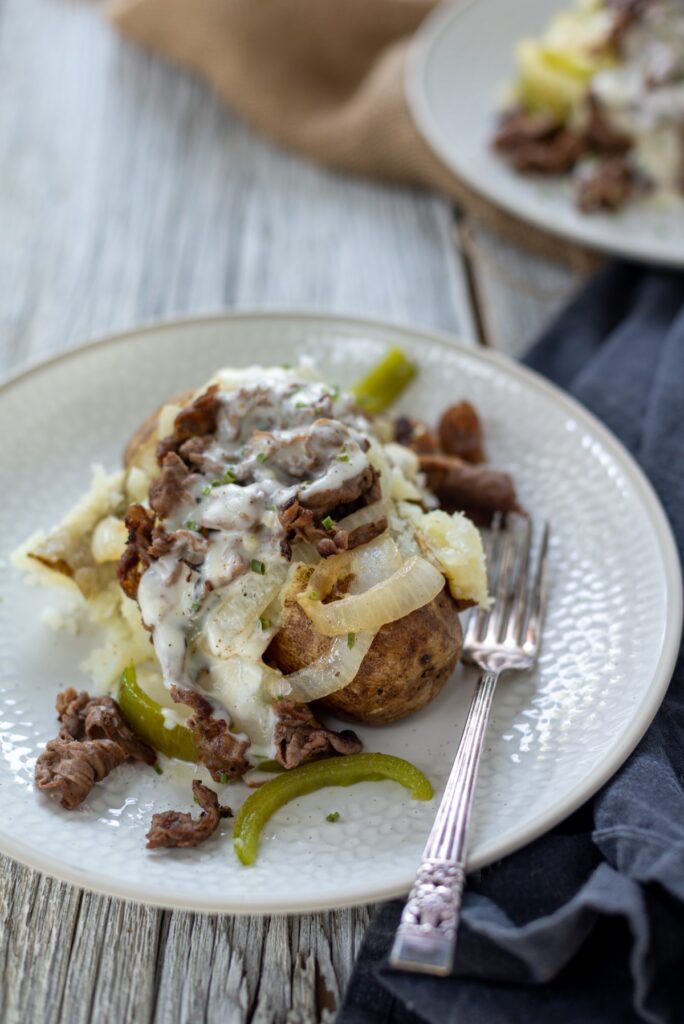 Shaved ribeye steak
Nowadays, you can actually find frozen shaved steak intended for Philly cheesesteak sandwiches. It will be in the meat side of the freezer section in the market. It is ok, but getting a ribeye and shaving it yourself is not hard to do even if you don't have a slicer like the butcher has.
Just freeze the steak until it is just cold and hard enough (about 25 minutes) where it is just frozen enough to make cutting thin slices off it easy. You will be surprised how many slices a typical sized half to ¾ pound ribeye can produce.
Also, if you prefer, just pick a steak up at the meat counter then ask the butcher to slice it up for cheesesteak. They will be happy to do it for you and don't consider it an inconvenience. Really, most butchers actually appreciate when customers call on them for service like that.
It provides for some pleasant customer interaction and takes them out of the slog of just chopping, sawing, slicing, and dicing on meat all day.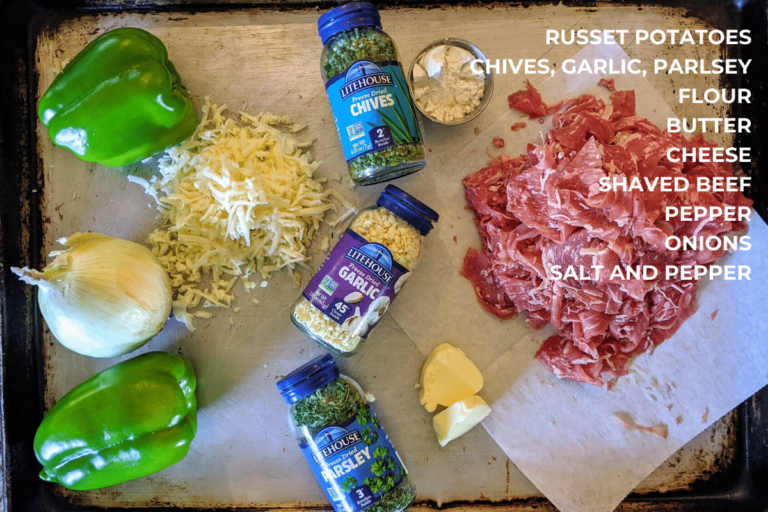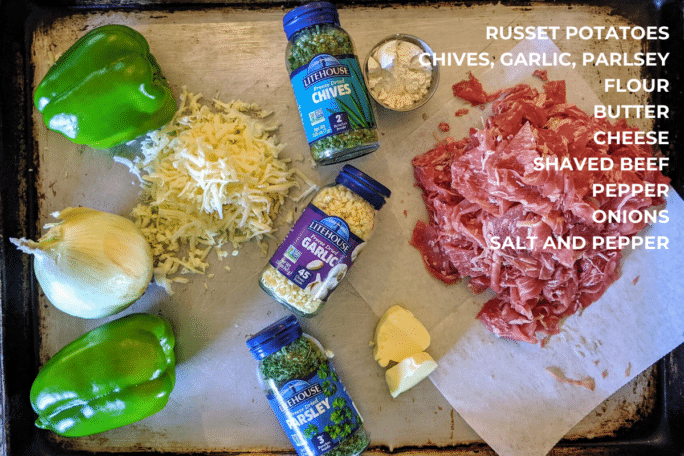 What kind of cheese is best for the cheesesteak sauce?
In a classic Philly cheesesteak, the cheese sauce is made from cheese whiz, provolone, and American cheese. If you do anything different then people from Philly will be sure to point out that you are doing it wrong.
Too bad. I am from Philly and I recommend using Monterey Jack for this cheese sauce. Why?
I don't have anything against using provolone and if you want, then go ahead and use it. American cheese? Well, monterey jack is essentially as American as apple pie and it actually is very similar to provolone in the way it tastes and melts.
As for the cheese whiz…
I am not really sure that it is even cheese. If you must have it, then go for it. But leaving it out is not going to get you banned from ordering a cheesesteak sandwich at Geno's or Pat's in Philly. (but really, go to Jim's)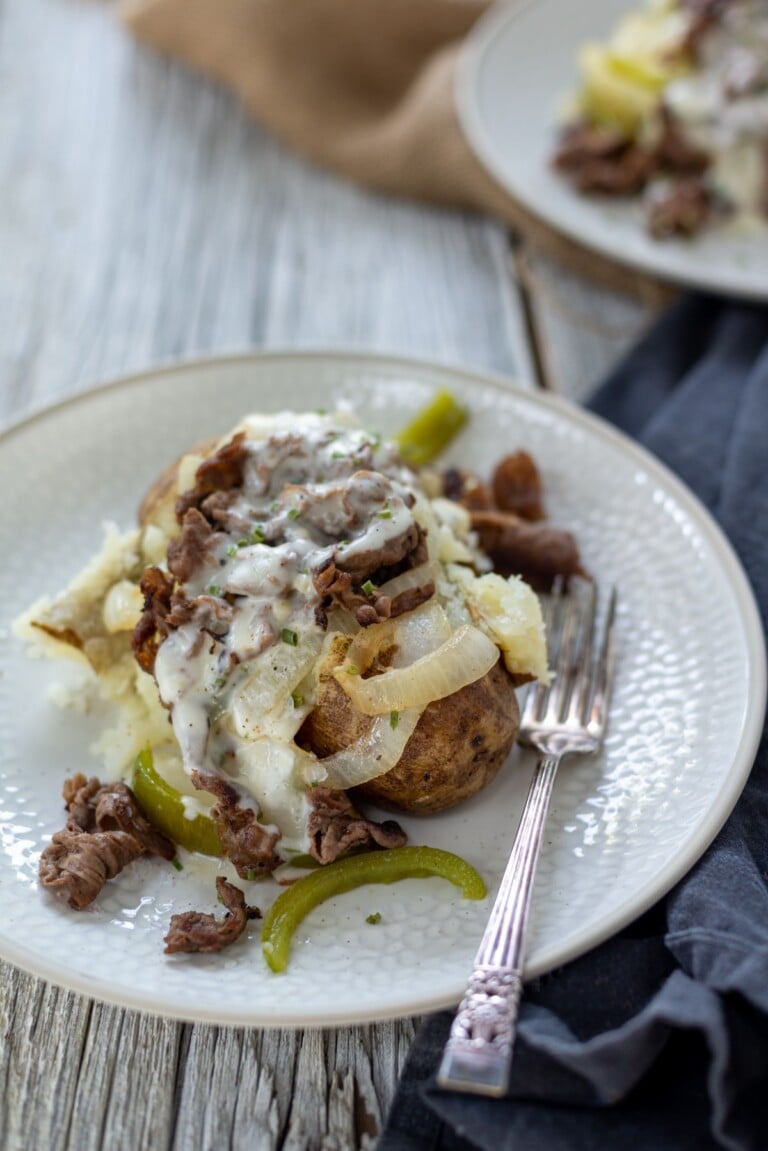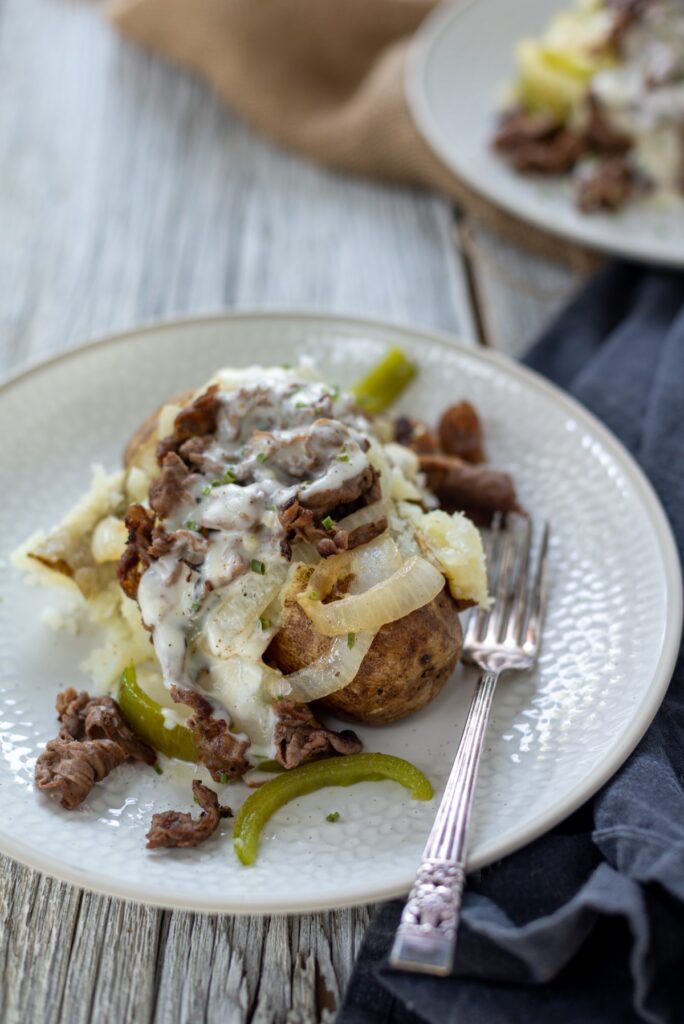 More stuffed potato ideas
A stuffed potato works as a main or a side so having a few options to work with is always handy. This twice baked potato stuffed with cheese and bacon is a timeless classic. A pizza stuffed potato will make you see pizza in a whole new light too.
My Philly cheesesteak fries is another way to approach this as well – just with a more finger food approach.
Philly Cheesesteak Baked Potatoes
Layer a perfectly baked potato with thin shaved steak, sauteed onions, peppers and a heaping of cheese sauce for a fun and filling meal!
Ingredients
5

medium Idaho Russet Baking Potatoes

about ¾ to 1 pound each

2

tbsp

oil

1

tsp

salt
For the Sauce:
2

tbsp

flour

3

tbsp

butter

1

tsp

Litehouse Garlic

1

cup

milk

½

cup

Litehouse Ranch Dressing

1

tsp

Litehouse freeze-dried Chives

6

oz

Monterey jack cheese
For the Cheesesteak Filling:
1

onion

sliced into thin strips

1

green pepper

stemmed seeded and sliced into thin strips

14

oz

shaved steak

Salt and Pepper

1

tbsp

Worcestershire sauce

1

tsp

Steak Seasoning
Instructions
Prep the Potatoes:
Wash and try the potatoes.

Preheat the oven to 400 degrees.

Prick the potatoes with a fork several times on all sides.

Rub the potatoes in oil and a liberal coating of salt.
Bake the Potatoes:
Place on a foil-lined baking sheet and bake for 1 hour or until the potatoes are 210 degrees internally and easily pierced with a fork.
Make the Cheese Sauce:
Meanwhile, in a small pot, whisk 2 tablespoons butter until melted over medium heat.

Add the flour and whisk until combined.

Add the garlic and cook for 30 seconds longer.

Slowly whisk in the milk, making sure no clumps form. The sauce should smooth as the milk is whisked in.

Add in the ranch dressing and chives. Stir to combine.

Add the cheese, melting a little at a time, until completely incorporated.

Remove from heat, but keep the pot on the stove to keep warm.
Make the cheesesteak filling:
Heat a skillet over medium-high heat.

Add the remaining tablespoon of butter and swirl to coat the pan.

Add the onion and pepper and saute until they are soft and the onion is translucent, beginning to brown.

Remove from the skillet and set aside.

In the same pan, set over medium heat add the shaved steak, Worcestershire sauce, and steak seasoning.

Break up any clumps of meat and spread it event in the pan, tossing as needed to brown on all sides. The meat will cook quickly.

Remove from heat immediately and toss the peppers and onions back in to combine.
Assemble:
Arrange the potatoes, split down the middle with the inner flesh fluffed with a fork.

Divide the meat and veggie filling between them on top.

Drizzle the cheese sauce over each potato, adding more or less per your taste.
Serve:
Serve the potatoes hot.

Season with salt and pepper if desired and sprinkle extra chives.
Notes
To check the potato doneness: Test the potatoes by piercing them with a for at 50 minutes to see how done they are. If the fork penetrates the potato easily, it is done. An internal temp of 210 is perfect in the middle for a tender potato all the way through. 
When the potatoes are cooking, whip up the cheese sauce and filling in the last 20 minutes. 
For a perfectly sliced baked potato, pierce the potato with a serrated knife in a zig zag pattern across the top. Using your hands, and some foil or gloves as a protective layer from the heat, push the potato from the sides. This separates the potato easily making a perfect surface to add all of the toppings. 
Nutrition
Nutrition Facts
Philly Cheesesteak Baked Potatoes
Amount Per Serving (1 g)
Calories 749
Calories from Fat 432
% Daily Value*
Fat 48g74%
Cholesterol 110mg37%
Sodium 1080mg47%
Potassium 1338mg38%
Carbohydrates 50g17%
Protein 32g64%
Vitamin A 1337IU27%
Vitamin C 41mg50%
Calcium 375mg38%
Iron 4mg22%
* Percent Daily Values are based on a 2000 calorie diet.