Steak and Potato Soup is a hearty cold-weather soup that is loaded with flavor. Quick to make with inexpensive ingredients, it's perfect for any chilly night.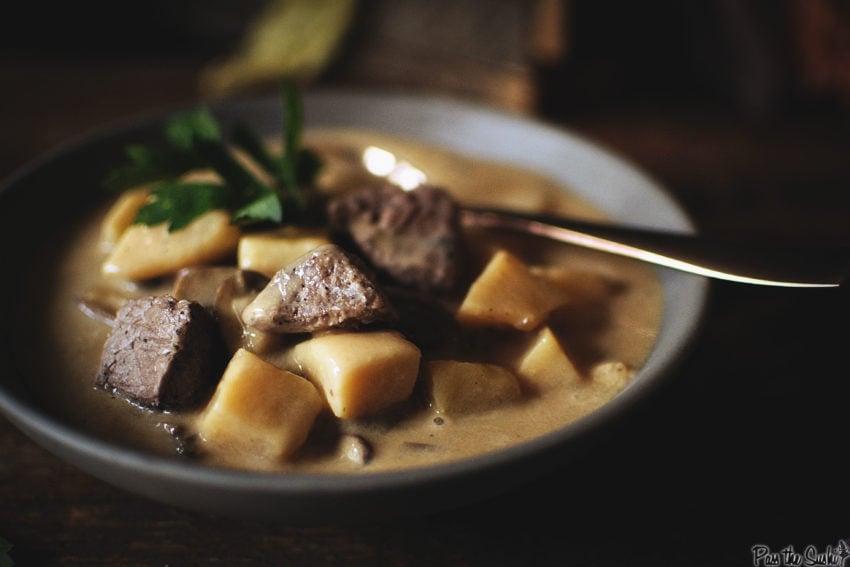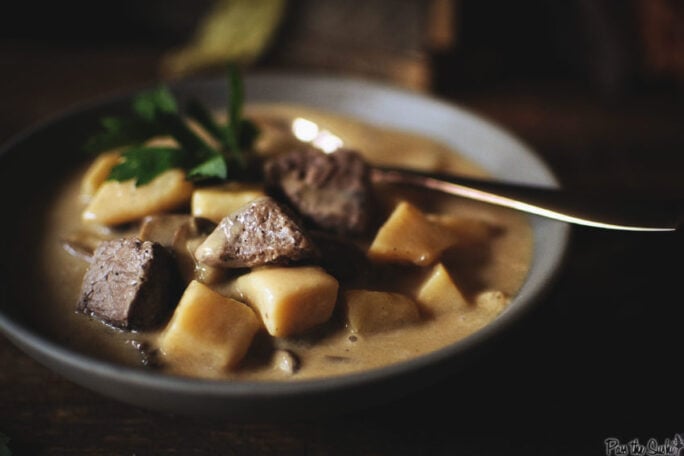 Talk about comfort food. There is nothing more comforting than steak and potatoes. So why shouldn't that be the same for soup?
Imagine hearty chunks of tender beef in a creamy soup with tender potatoes and mushrooms. It's pretty much an umami spoonful in every bite of an entire pot of meat and potatoes.
See the Web Story for Steak and Potato Soup!
Fast, hearty, and so darned good – this soup is all of that!
What I love about this recipe is that it's actually really easy to make, and altho we use top sirloin, it's one of those recipes where any inexpensive cut of meat will do.
Also, it can all be made in a slow cooker, if you didn't want to make it on the stove top. As long as the beef is browned you can almost get the same results if you toss this all into the crockpot on low for a few hours.
It's a great way to stretch a buck. I often am left with one or two potatoes and (forgetting the magic of a classic baked potato) are often left to figure out what to do with them. This allows you to use up that last pound with some meat and feed a small hungry army!
So, if you are like me and craving some serious creamy beefy comfort food, you'll want to try this recipe.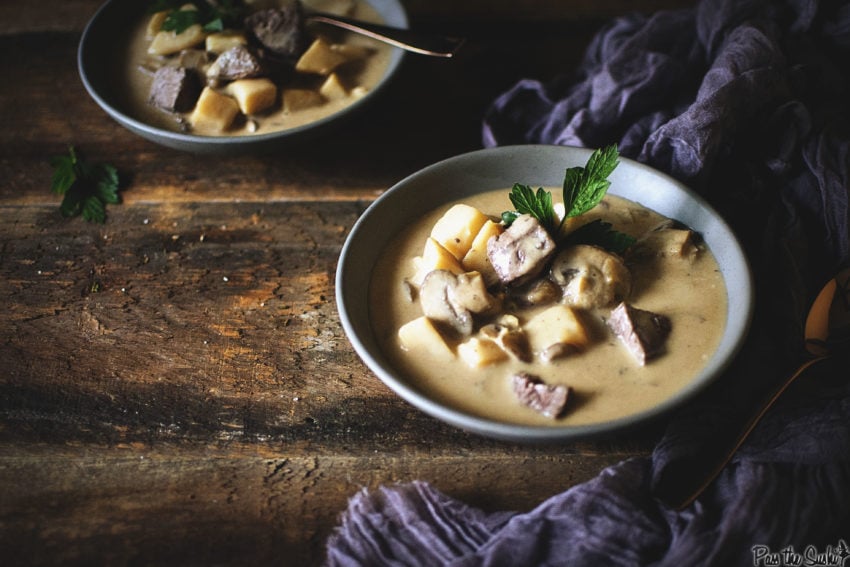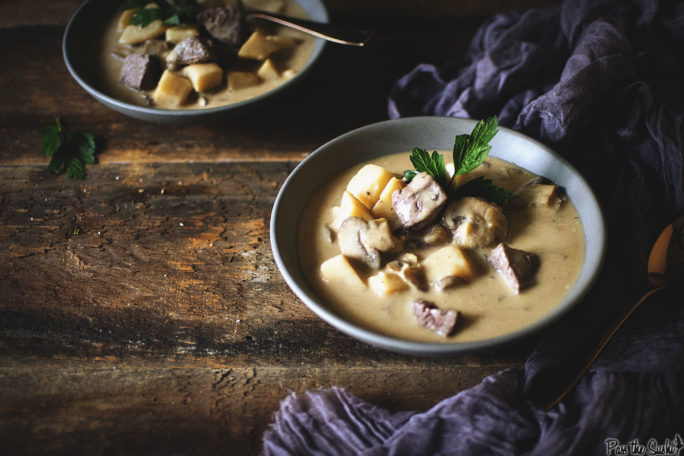 How to make steak soup
This recipe is truly an easy soup recipe – and that's what I love about it.
You sear the steak in the Dutch Oven and then sauté the onions and mushrooms before making a quick roux by sprinkling flour and whisking it in with a little beef broth.
That's the trick to thickening this up and making it stick to your ribs hearty. Well, that and … yeah, the russets.
Lastly, you bring it all to simmer with the potatoes so they get nice and fork-tender.
This truly tastes like a classic steak and potato dinner – but in the comfort of a soup! Bonus points if you take the loaded baked tater and add cheese on top. It's like the ultimate carnivore soup!
Some quick answers to those burning Qs
How to spice up potato soup
Potato soup can be well…. boring. So, I tend to stay away from it. It's heavy and often needs a LOT of salt to make it magic. In this recipe tho, we use the browned bits from when we brown the steak, and scrape them up as we make the roux and add the broth in a little at a time. Those bits are LOADED with savory flavor.
We triple the umami power in this recipe with mushrooms, that triggers the same savory sensation on our tongue as red meat. From there, dijon and steak sauce – yeah, I went there, old fashioned A1 – add a subtle and magical kick to this recipe.

Other great add-ins are red pepper flakes, scallions, and of course, bacon bits. We are sticking with the classics after all.

A pro secret would also be a dash of liquid smoke, just a few drops while searing the steak to add in barbecue flavor.
What cheap cuts can you use for this soup?
Check the 'clearance' section of the meat department for this recipe. You can often find chuck, sirloin, rounds, or even rib-eye marked down for day of sale! Avoid thin grain heavy cuts, like flank or flat iron for this, they won't cube up and give you the bite you are looking for. But, otherwise, a lot of common cuts are just as delicious cut into cubes and seared for this recipe.
Don't stress it. This recipe is great to stretch a few bucks and turn it into a full-on meal – so pick a cheap cut and run with it!
What cuts of beef have the most flavor?
The great news is those cheap cuts of beef have more flavor than even very expensive cuts – as long as they are cooked properly. A top sirloin might take longer to cook to get it tender, but that concentrates the beef flavor along the way.
You can't go wrong there.
The importance of browning the beef
A great stew must start with browning the beef. Make sure to brown all sides. Get the temp nice and hot so to get a serious sear on there. If you dust the beef liberally first with flour, then that help the browning.
But most important, besides the sear, season that meat! The salt and pepper being browned into the meat creates that ever so important maillard reaction. (That's French for make it taste better through chemical reactions involving sugars and amino acids and what not.)
Can you use leftover beef for this recipe?
Have some leftover steak (we need to talk….)? If its already been grilled or cooked, then the outside should have already been browned in some fashion. Simply cube it up and skip the first step in the recipe. If there are any drippings, make sure to add them when you are whisking the roux.
Can I substitute lamb for steak?
The virtue of this dish is making use of cheap steak to make a great soup. Lamb isn't cheap, but it sure is tasty. So it will make a great substitute for the steak.
Just be patient. One day you will see it on sale for 50% off. Snap it up because it works great if you want to try it.
What potatoes are best for stews?
For a stew this hearty, you need a potato that holds the line. That means one thing. Big russets. Russets have enough starch to hold up just enough during the low and slow simmer.
Those fancy little taters will just disintegrate. That might be fine for thickening the sauce, but you need a few bites of potato in there to go with the beef. Use russets, also known as Idaho potatoes.
What goes well with steak and potato soup?
There are a few side dish suggestions I have if you are up for checking them out.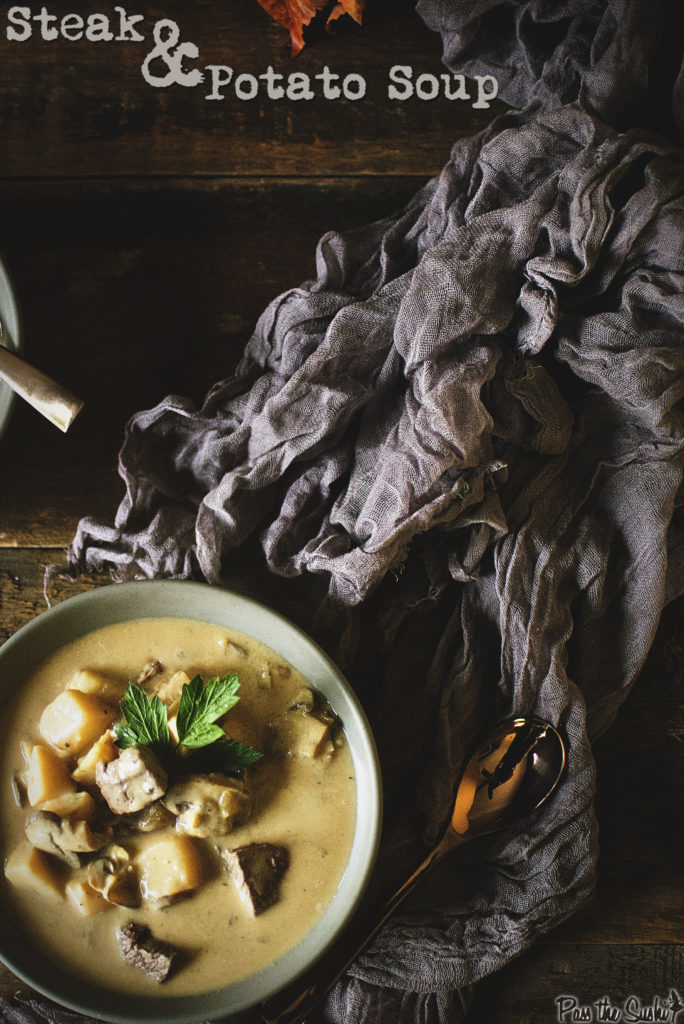 Need more beef soup inspiration? Check out these recipes:
If you've tried my Steak and Potato soup recipe, or any other recipe on GirlCarnivore.com please don't forget to rate the recipe and let me know where you found it in the comments below. I get inspired by your feedback and comments! You can also FOLLOW ME on Instagram @girlcarnivore as well as on Twitter and Facebook.
Steak and Potato Soup
This hearty steak and potato soup is a perfect cozy meal for chilly nights. Use inexpensive top sirloin and cube the meat yourself to save pennies.
Ingredients
1

lbs

beef top sirloin

trimmed and cut into ½″ pieces

salt and pepper

1

tbs

olive oil

2

tbs

unsalted butter

1

onion

diced

12

oz

baby bella mushrooms

sliced thin

2

garlic cloves

minced

2

tbs

flour

5

cups

beef stock

3

thyme

fresh sprigs are best

1

lb

russet potatoes

peeled and cut into ½″ pieces

½

cup

heavy cream

1

tbs

Dijon mustard

Spicier the better

2

tsp

steak sauce
Instructions
In a large Dutch Oven, heat 1 tbs oil over medium-high heat.

Season the beef with salt and pepper and sear on all sides, 2 to 4 minutes.

Remove from pan and set aside. Cover with foil.

In the now empty pan, add the butter and swirl to coat.

Add the onion and cook 5 minutes, until soft.

Add the mushrooms and cook until water has evaporated, and they are browned.

Add the garlic, and cook 30 seconds until fragrant.

Sprinkle with the flour and cook for 2 minutes, stirring often.

Whisk in the stock, 1 cup at a time making sure no clumps form.

Add the thyme and bring to a boil, stirring every now and then.

Add the potatoes and reduce heat to maintain a simmer.

Cook for 15-20 minutes, until potatoes are tender.

Stir in the cream, mustard, and steak sauce and simmer 5 minutes longer.

Divide the steak between bowls and ladle soup over top.
Notes
From : 300 Sensational Soups
This is one of those recipes that I have made a hundred times and still love. I use all types of beef – really anything I can turn into enough to make this with – so don't over think that. 
This keeps in the fridge for up to 3 days in an airtight container. 
Reheat over low heat in a pot. 
Nutrition
Nutrition Facts
Steak and Potato Soup
Amount Per Serving
Calories 338
Calories from Fat 144
% Daily Value*
Fat 16g25%
Cholesterol 81mg27%
Sodium 504mg22%
Potassium 1250mg36%
Carbohydrates 23g8%
Protein 24g48%
Vitamin A 435IU9%
Vitamin C 6.8mg8%
Calcium 74mg7%
Iron 2.9mg16%
* Percent Daily Values are based on a 2000 calorie diet.