When it comes to prime rib, can you cook it on a traditional gas grill and still get tender medium-rare slices filled with flavor? Yes. And with a few easy tricks, this smoked prime rib on a gas grill just may be the easiest way to cook the traditional holiday roast.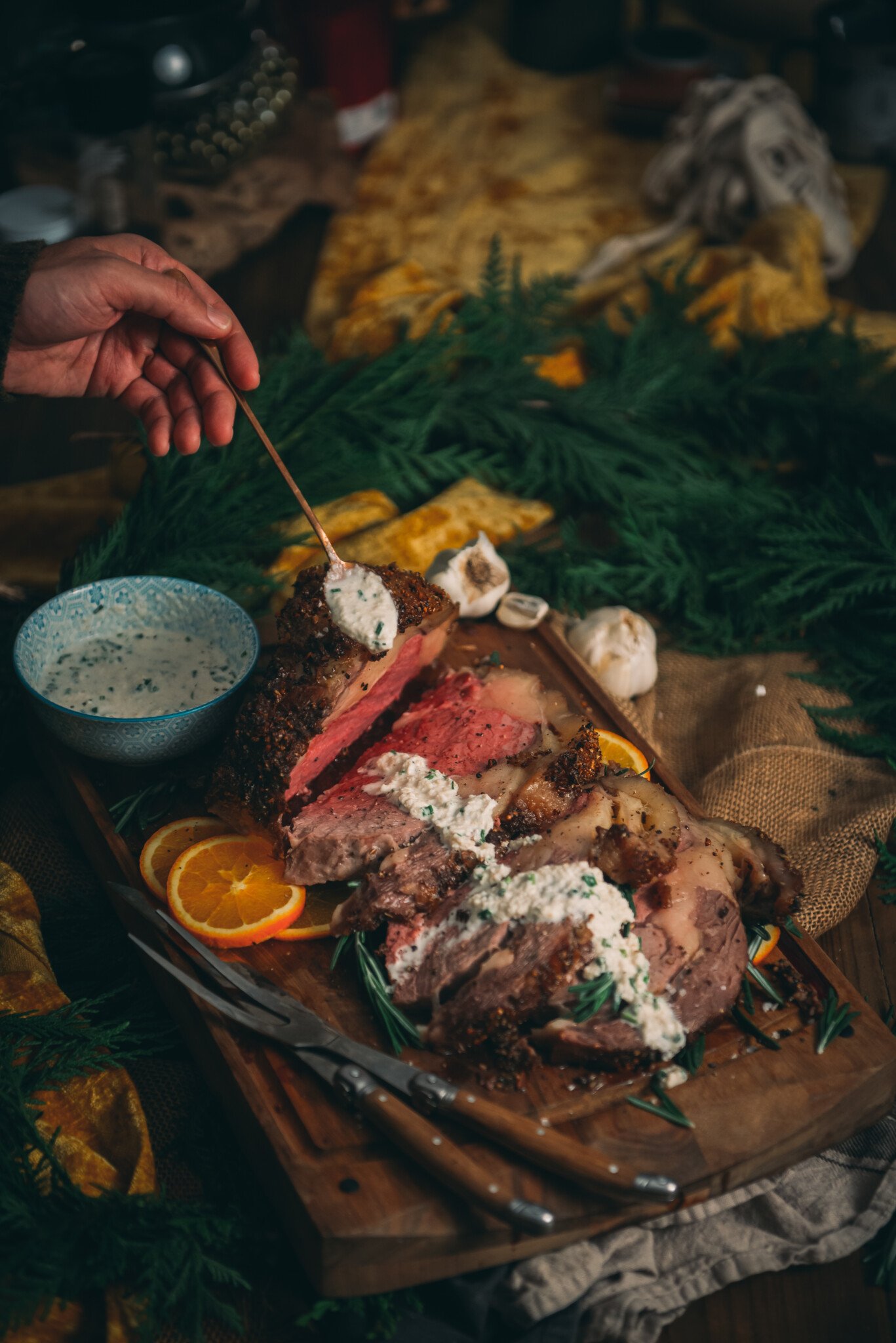 This Prime Rib recipe is one of our favorite recipes to make during the holiday season, especially if you're tired of turkey. Perfect for hungry crowds, this Prime Rib Roast is the showstopper of the holidays, and for good reason – it's flavorful, tender, and slow-cooked to perfection! What's not to love?
What Is Grilled Prime Rib Roast?
The standing rib roast is a holiday classic. It's the big brother to the favored rib-eye steak, with tons of marbling and tons of flavor. Unlike the beef tenderloin, which has a more mild beef flavor, this cut packs tons of bang for the buck.
Due to the size of the roast, it requires a slow cook for the internal temperature to get to the recommended 125F for rare, which can make cooking this roast tricky. It's not just a rare to medium-rare center that makes this one. It's the flavors you use to layer on the outside that permeate the meat.
This cut of meat is perfect for grilling over indirect heat, just like our smoked leg of lamb, so that it reaches a slow and steady temperature. And by using a gas grill, you can easily control the ambient temperature and infuse smoky flavor by using wood chips for smoke. However, you can use a charcoal grill if that's all you have!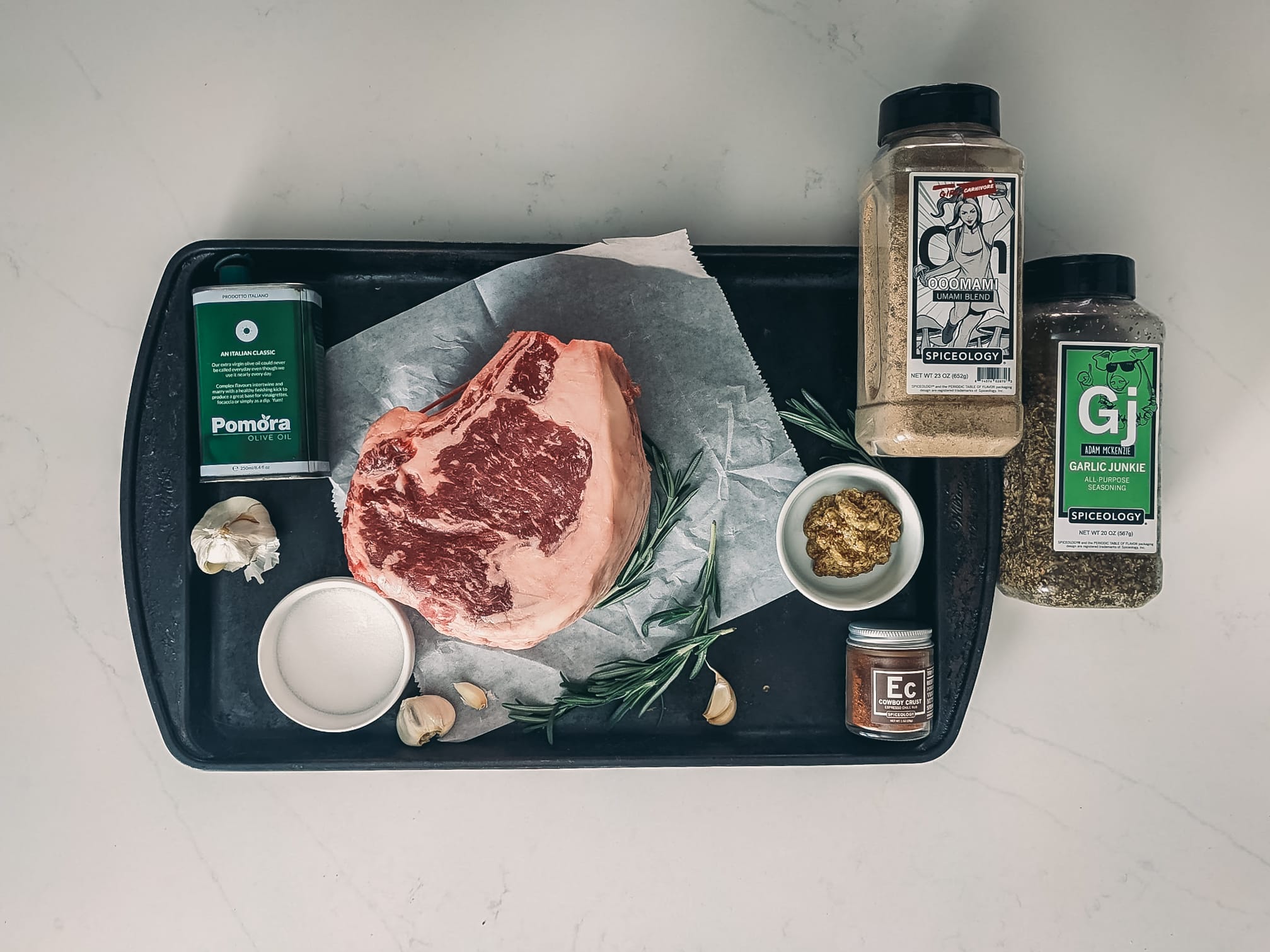 Prime Rib Ingredients
FOR THE SMOKED PRIME RIB
Prime Rib – we ordered ours from Porter Road for this recipe.
Salt
Olive Oil – if you have rosemary-infused olive oil, try it for this.
Mustard – use a creamy Dijon for the best flavor.
Ooomami Umami Powder – for a base of extra flavor.
Garlic Junkie – for an amazing crust.
Cowboy Crust (or other steak seasoning)
Rosemary
FOR THE HORSERADISH CREAM SAUCE
Prepared horseradish – read the label for real horseradish, not horseradish condiments.
Mayo
Heavy cream
Black pepper
Chives
Salt
GirlCarnivore Pro Tip:
Prime rib goes on sale the week leading up to Christmas and New Year's Eve, making it a great time to pick one up from your local market if you aren't ordering from a specialty online butcher shop.

How to Make Prime Rib on the Grill
Start a few days ahead to brine the entire roast. First, trim excess fat from the rib and then score the remaining fat.
Rub a liberal coating of salt on all sides of the beef and place it on a wire rack on a baking sheet. Set it in the fridge for up to 48 hours before cooking.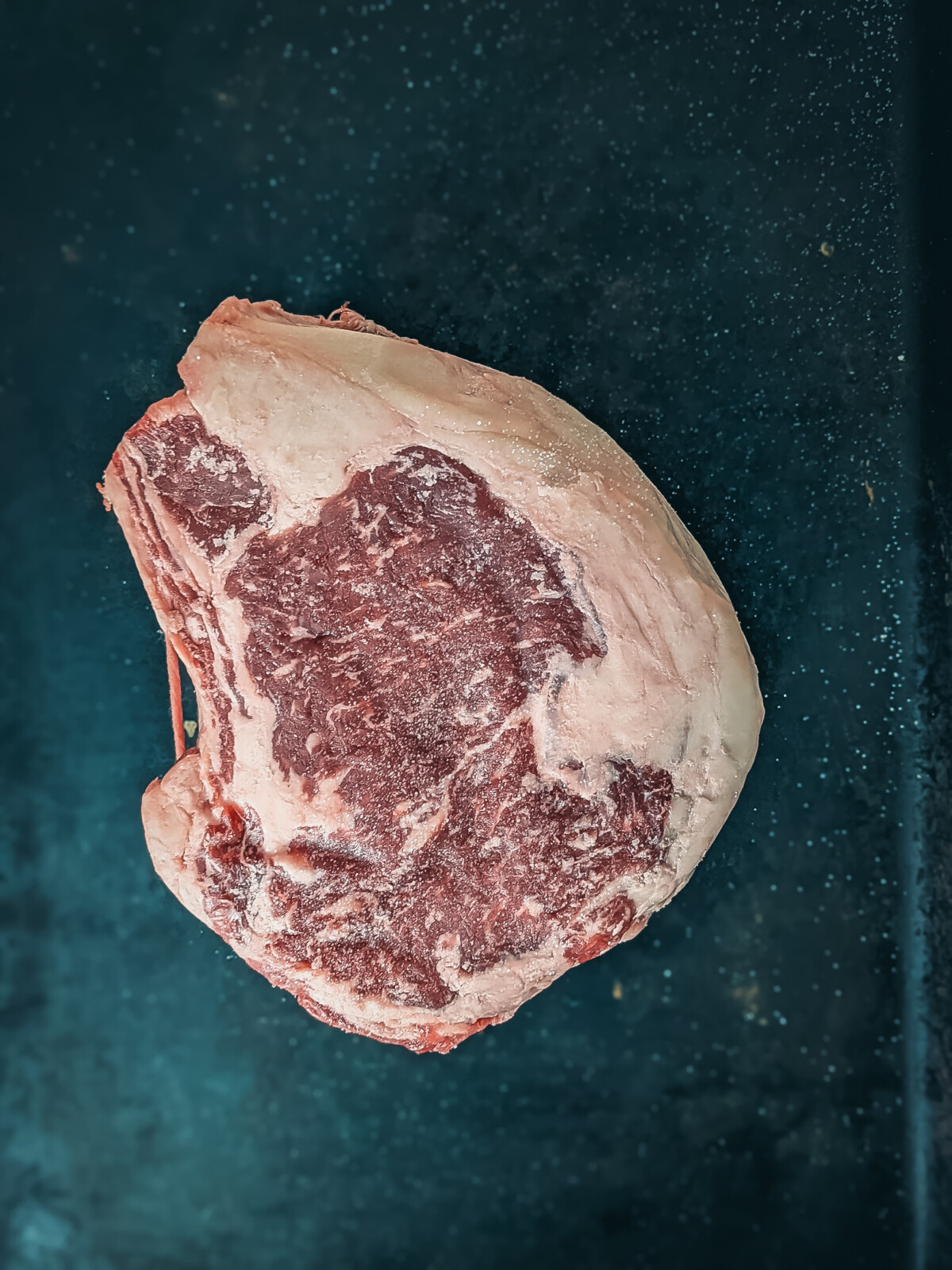 On the day of cooking, mix the mustard, oil, Ooomami powder, a tablespoon of garlic junkie spice mix, and the Cowboy Crust spice together to form a paste.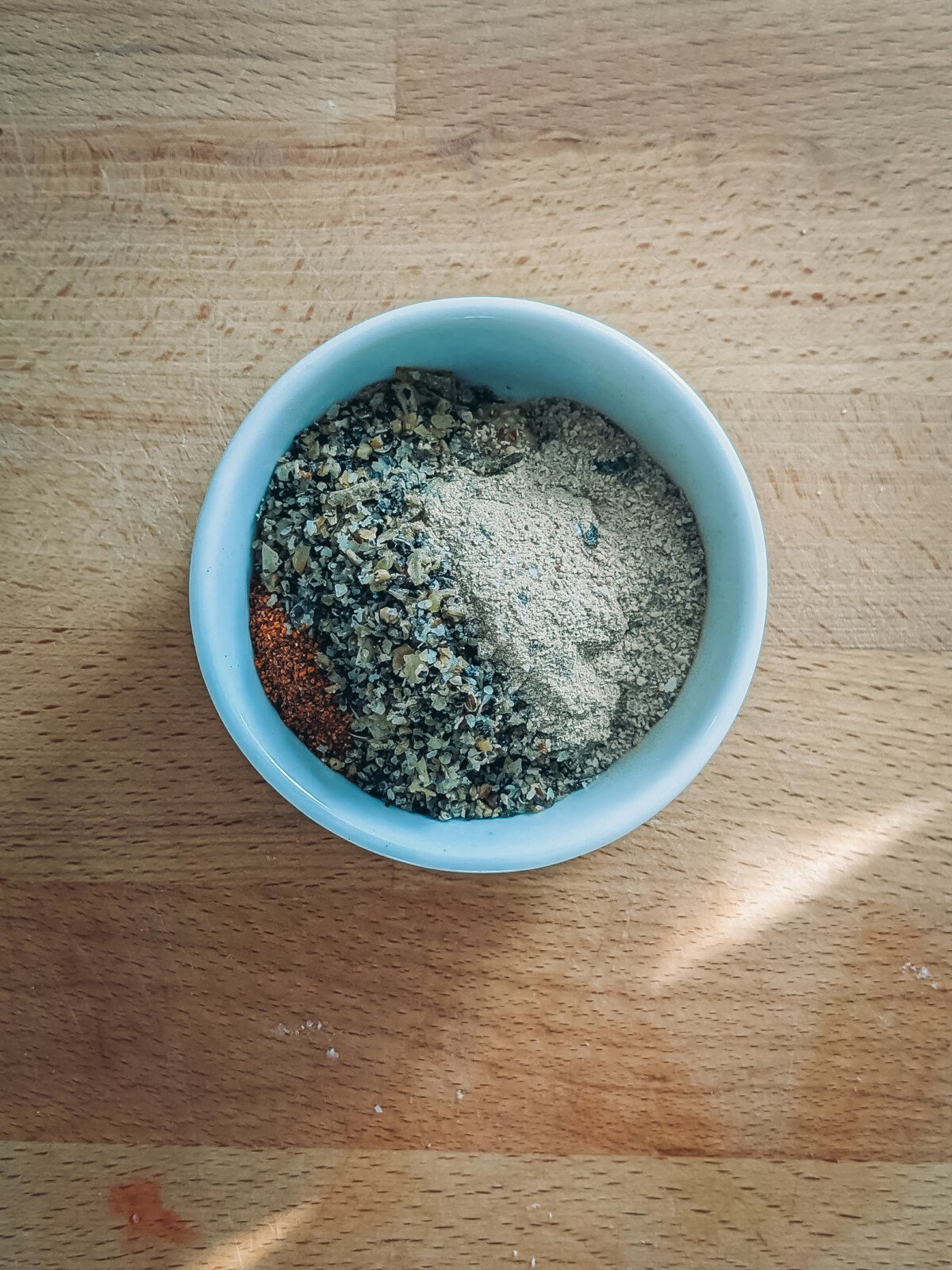 Rub the mustard paste all over the roast.
Whisk the remaining garlic junkie seasoning with the minced fresh rosemary in a bowl and coat the rib roast with it on all sides. Make sure even the prime rib bones are coated, as it all adds flavor.
Then, let the roast come to room temperature before grilling.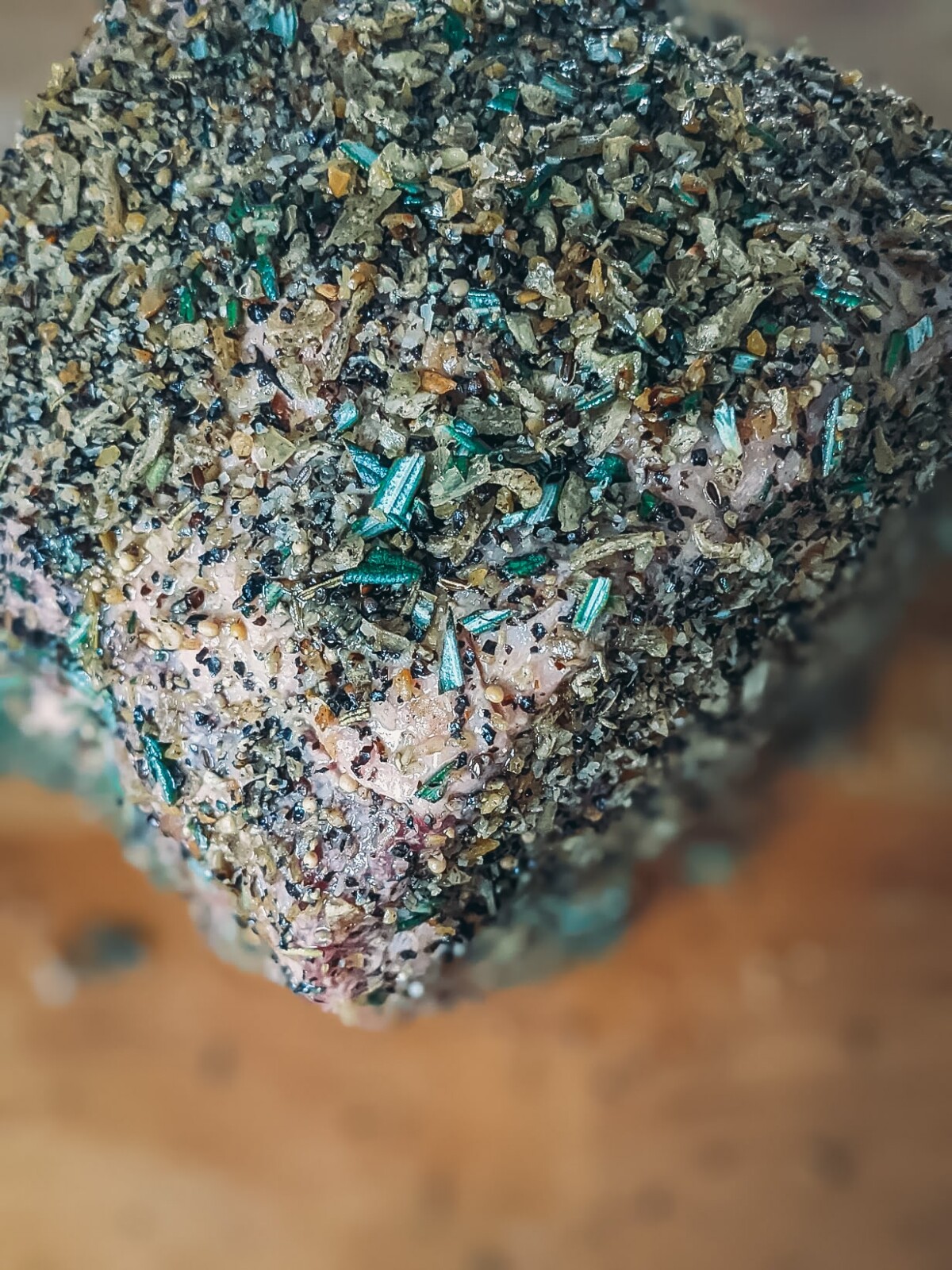 Prep the grill for 225F and make your foil packs for the wood chips, or prep a smoker box or tube with Jack Daniel's wood chips or wood chips of your choice (but who doesn't want a little Jack Daniels with their holiday feast, so we suggest sticking with those).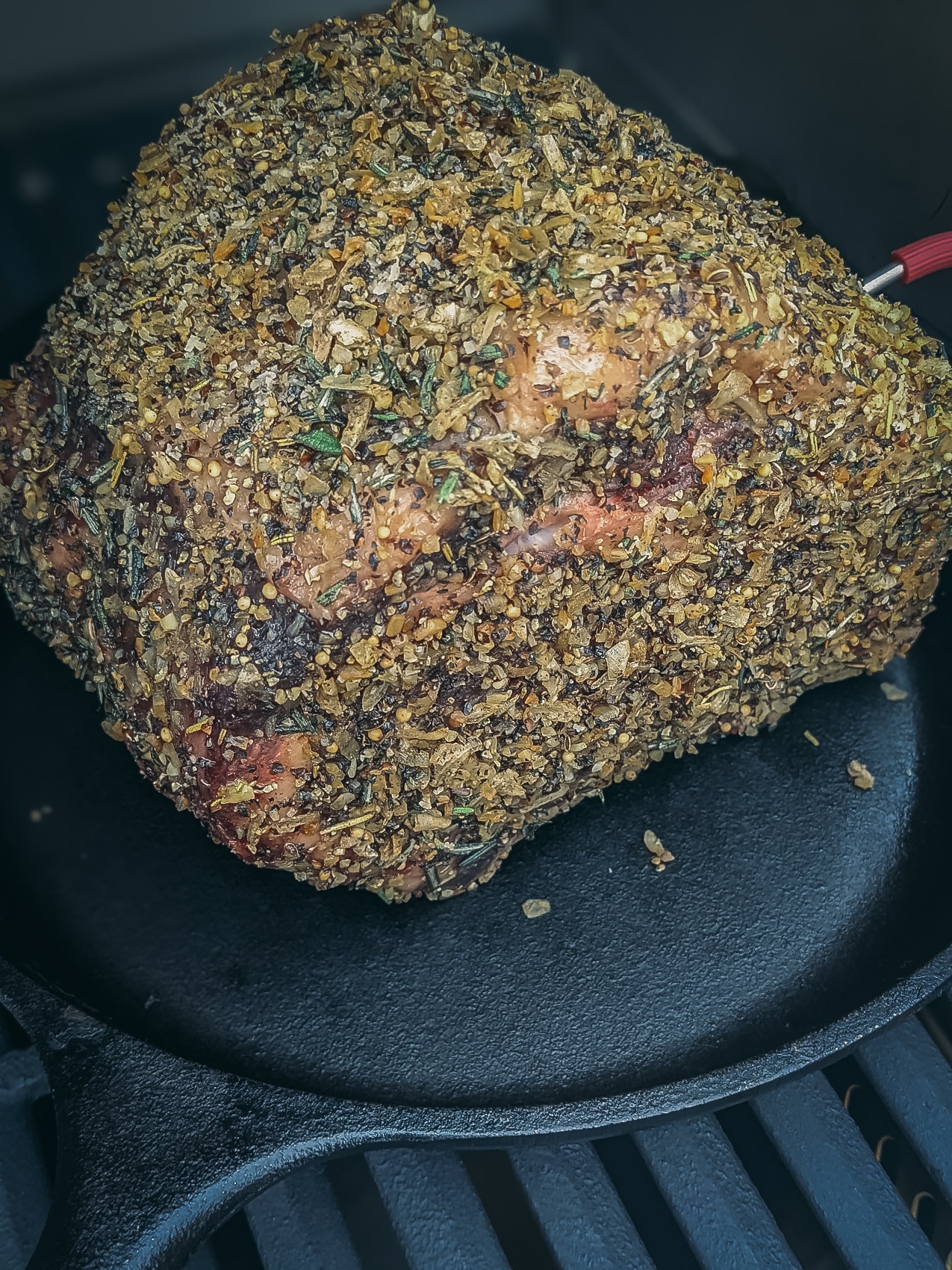 Next, grill the prime rib over indirect heat until it reaches an internal temp of 120F or your desired temperature. It will continue to cook when seared and resting due to carryover cooking. Pull it from the grill 5 to 10 degrees below your preferred temperature.
Finish the prime rib with a sear by heating the cast iron over direct heat and placing the roast back in the pan, searing evenly on all sides.
Then, let the roast rest for a good 20 minutes to allow the juices to return. While the meat rests, whisk the ingredients together for the horseradish cream sauce.
Finally, grab a sharp knife and a cutting board. Then, slice the bones from the roast and slice the smoked prime rib into even portions for serving.
Allow everyone to spoon the cream sauce onto their plates as desired over the prime rib or on the side.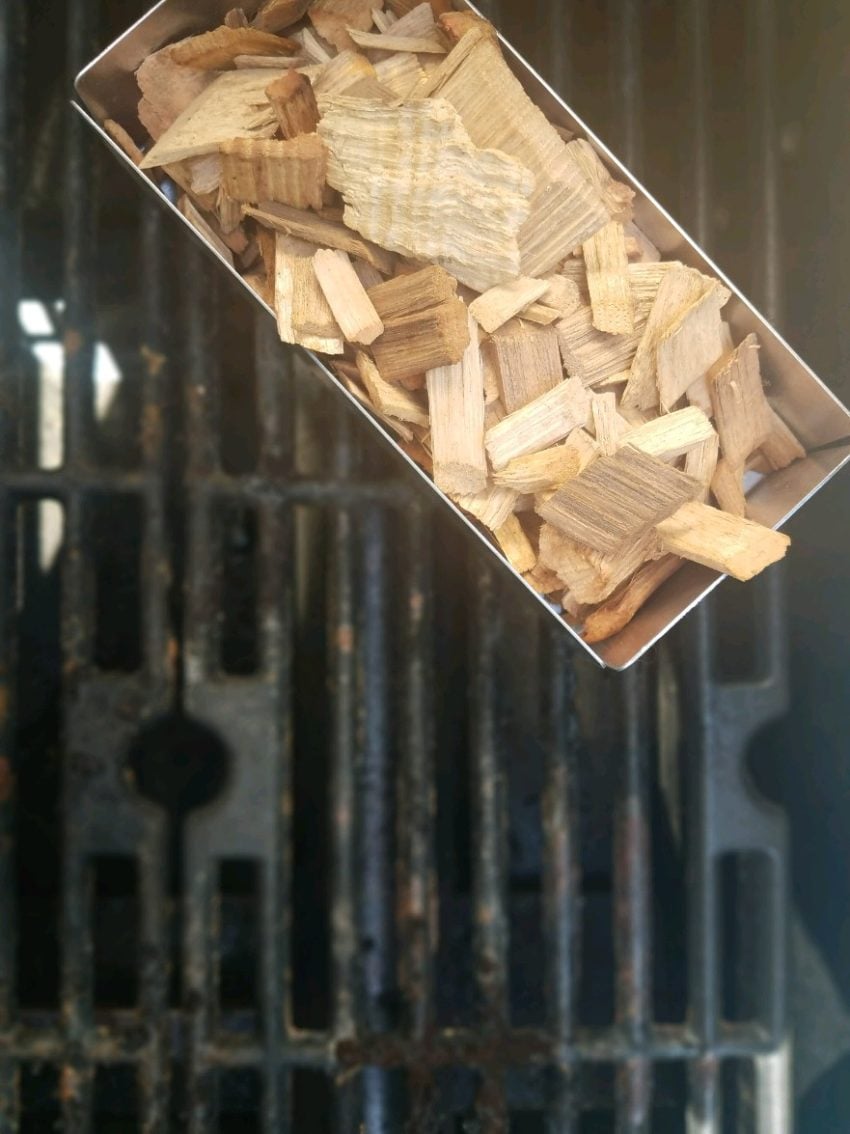 HOW TO SMOKE ON A GAS GRILL
Smoking on a gas grill is easy. See our full article on how to smoke on a gas grill using foil packets for in-depth tips.
In short, use foil to make a packet or a smoker box over the direct heat side of the grill to infuse your gas grill with smoked flavor. You can add that classic barbecue flavor to anything you grill, from burgers to chicken wings, using this trick.
Make sure to swap out the wood chips every 25 to 30 minutes and keep an eye on them, as when they are directly over heat, they can catch fire.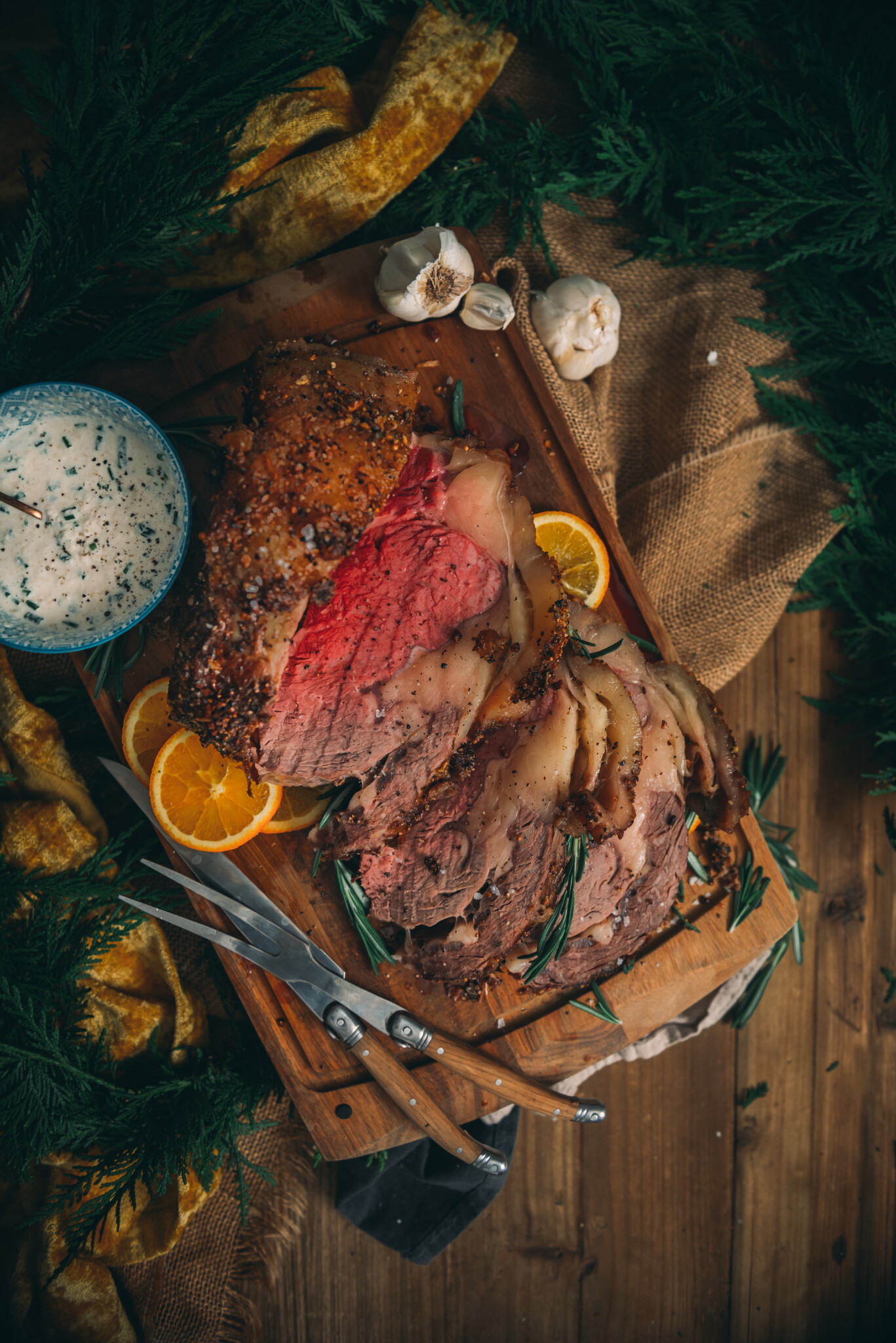 What to Serve With Delicious Prime Rib
Prime rib will definitely be the showstopper on the dinner table, but add a few side dishes just to round things out. Try this with hearty smoked brussels sprouts (can be made on the same grill), duck fat domino potatoes, a smoked baked potato, or mama's homestyle mashed potatoes, blanched green beans, and if you're sticking to keto, try mashed rutabagas and turnips with chives.
Leftovers & Reheating
Prime rib is best served fresh while hot, sliced, and enjoyed. However, leftover prime rib can be stored wrapped in foil in the fridge for up to 3 days.
​
To reheat, slice off the needed portion and chop to use in nachos, omelets, hash, or even on loaded Philly cheesesteak fries or reheat wrapped in foil with a spritz of beef broth to keep moist in an oven preheated to 325F until hot, about 15 minutes.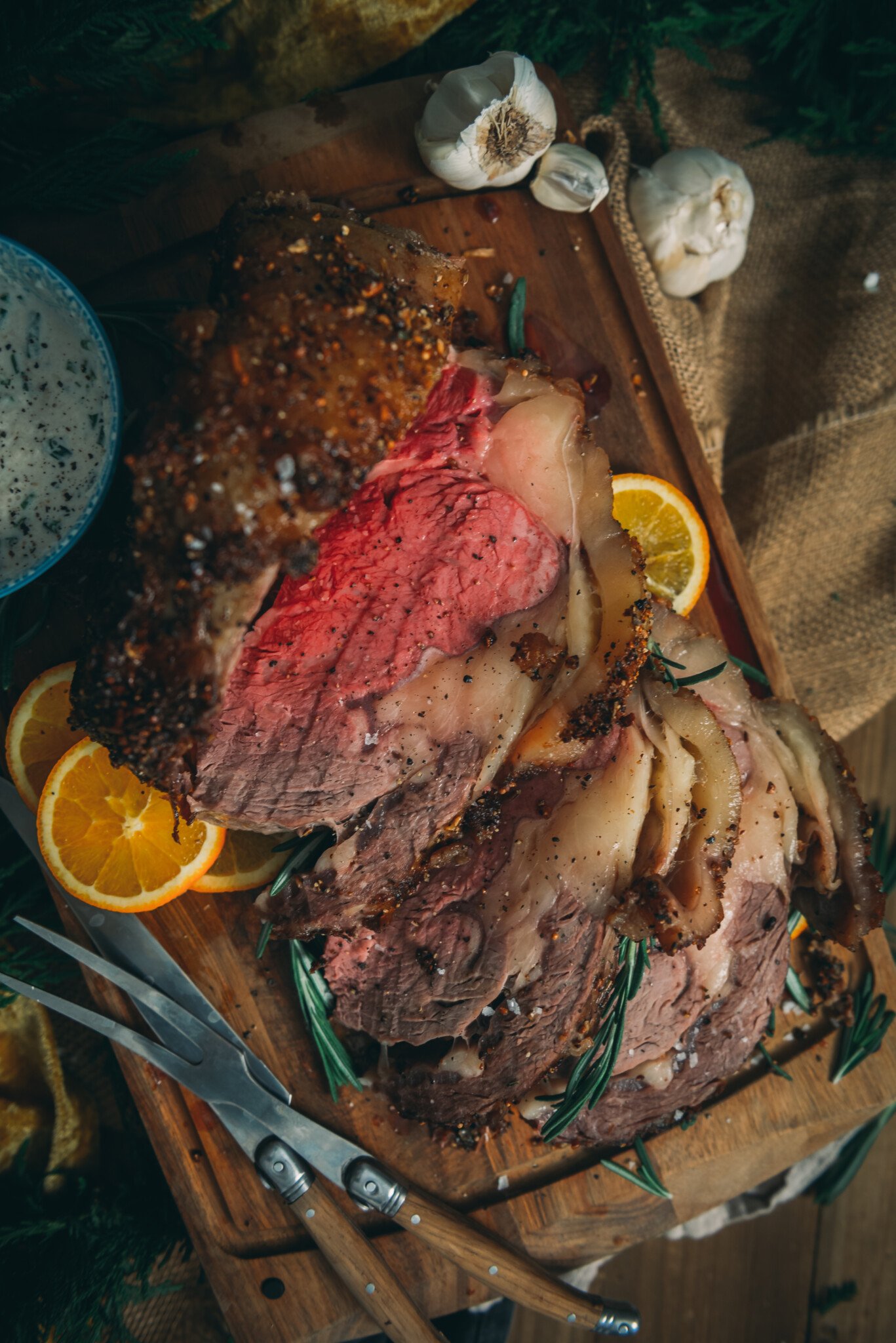 More Prime Rib Rost Recipes
Whether you're making this Prime Rib Roast recipe for a special occasion, a great holiday meal, or a random day, you'll love this perfect Prime Rib on the grill! If you try this recipe, please rate the recipe card and leave a comment below to help out the next reader!
Save this recipe for later by clicking the ❤️ button on the recipe card. Did you know you can save all of your favorite recipes right to your own recipe index on GirlCarnivore to find them easier later on?
Have you tried this recipe? Do us a favor and rate the recipe card with the ⭐ ⭐ ⭐ ⭐ ⭐ and drop a comment to help out the next reader.
Smoked Prime Rib on a Gas Grill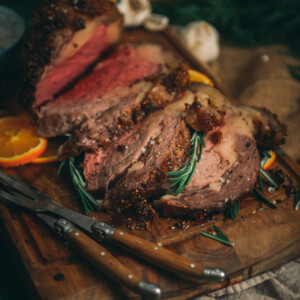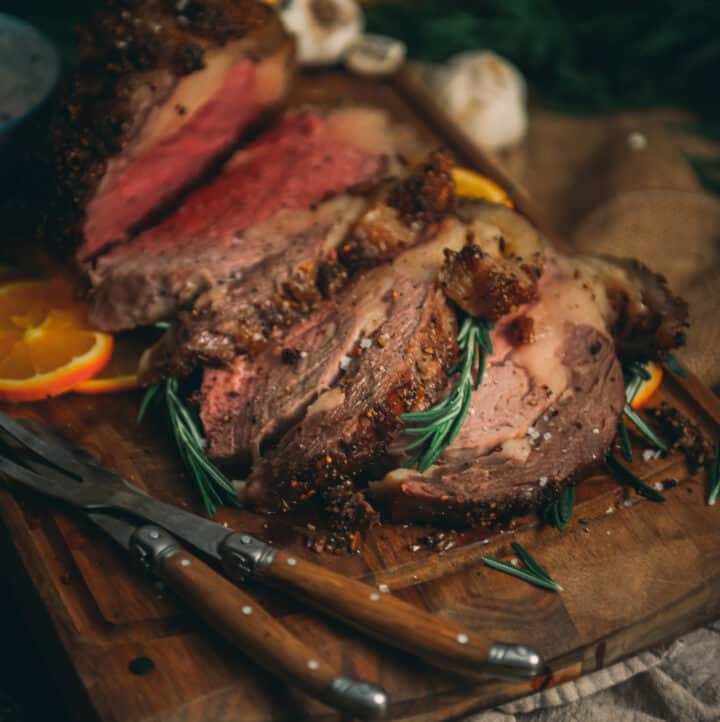 Prime rib coasted in a thick garlic crust with an umami kick, slowly smoked on a gas grill with Jack Daniel's wood chips finished with a cast iron sear to lock in flavor and served with a spicy horseradish cream sauce. A classic holiday recipe.
Ingredients
For the prime rib
5 to 8

pound

bone in prime rib roast

1

tbsp

Salt

1

tbsp

Olive Oil

1

tbsp

Mustard

1

tbsp

Girl Carnivore Ooomami

Umami Powder

4

tbsp

Garlic Junkie

1

tsp

Cowboy Crust

or other steak seasoning

4

tbsp

fresh Rosemary

minced
For the Horseradish Cream Sauce
4

tbsp

Prepared horseradish

¼

cup

mayo

1

tbsp

Heavy cream

1

tsp

black pepper

1

tbsp

fresh chives

minced

¼

tsp

Salt
Instructions
Brine the Prime Rib
Remove the Prime Rib from packaging and pat dry. If there is excess fat on the outside, consider trimming it off now, leaving a layer at least ¼" thick.

5 to 8 pound bone in prime rib roast

Score the prime rib fat cap by running a knife gently along the fat, pressing about ¼" in and then rotating the roast, and making a cross hatch pattern by running the knife again perpendicular to your previous cut.

Season the beef liberally with salt on all sides.

Place the roast on a wire rack sitting on a rimmed baking sheet in the fridge for 24 to 48 hours.
Season & Bring to Room Temperature
Mix the Olive oil, mustard, umami powder, 1 tbsp Garlic Junkie and Cowboy Crust (or steak seasoning) in a small bowl.

1 tbsp Olive Oil,

1 tbsp Mustard,

1 tbsp Girl Carnivore Ooomami,

4 tbsp Garlic Junkie,

1 tsp Cowboy Crust

Rub the mustard spice mix all over the prime rib in an even layer.

Whisk the chopped rosemary and remaining Garlic Junkie seasoning in a bowl together.

4 tbsp fresh Rosemary,

4 tbsp Garlic Junkie

Sprinkle rosemary mix over the meat, pressing as needed, to form a thick crust on all sides.

Allow the roast to come to room temperature, about 1 hour.
Prep the gas grill
Prep the grill for indirect heat by setting 1 burner to high and the others off, to maintain 225F with a cool side and a hot side.

Make your foil packet, or arrange your wood chips in a smoker box and place over the direct heat.
Grill the Prime Rib
Place the prime rib in a cast iron skillet, bone side down.

If using a probe thermometer, make sure it is properly inserted into the meat and set up now.

Place the skillet on the cooler side of the grill.

Close the lid and allow the prime rib to cook until the internal temperature reaches 120F. About 30 minutes per pound with a grill running at 225F.

Carefully remove meat from the skillet and set aside.
Sear the Prime Rib
Turn the heat up on the burners until the cast iron skillet is just smoking. The cast iron skillet will have drippings from the meat in it and can get smokey.

Sear the roast on all sides, about 2 to 4 minutes a side, until a good crust forms.
Rest
Remove the prime rib from heat and tent with foil.

Allow the prime rib to rest for 20 to 30 minutes before slicing.
Make the Horseradish Cream Sauce
While the meat rests, whisk together the horseradish, mayo, heavy cream, black pepper, minced chives and salt to taste.

4 tbsp Prepared horseradish,

¼ cup mayo,

1 tbsp Heavy cream,

1 tsp black pepper,

1 tbsp fresh chives,

¼ tsp Salt

Add more or less horseradish for your desired taste.

Cover and chill until ready to serve.
Slice and Serve
Slice the bones from the prime rib in an even cut by running the blade of your knife along the edge of the bones.

From there, slice the beef into even portions and serve with horseradish cream sauce on the sides.
Notes
We used Ooomami, an umami powder to add a subtle extra beefy flavor. Garlic Junkie because it's an amazing chunky garlic spice blend (read, no mincing required), and Cowboy Crust because it has a little kick of coffee for a really savory crust for this prime rib. If you don't have those, use 4 to 6 cloves of freshly minced garlic, coarse sea salt, and a robust steak seasoning as the blend to coat the meat.
Make sure to check your prime rib as the weight of the meat, your elevation, and weather will influence the cook time on the grill.
This recipe also works on pellet smokers and traditional grills.
Nutrition
Serving:
1
g
|
Calories:
748
kcal
|
Carbohydrates:
3
g
|
Protein:
31
g
|
Fat:
67
g
|
Saturated Fat:
27
g
|
Polyunsaturated Fat:
5
g
|
Monounsaturated Fat:
28
g
|
Trans Fat:
1
g
|
Cholesterol:
142
mg
|
Sodium:
937
mg
|
Potassium:
550
mg
|
Fiber:
1
g
|
Sugar:
1
g
|
Vitamin A:
78
IU
|
Vitamin C:
3
mg
|
Calcium:
49
mg
|
Iron:
4
mg
Recipe FAQs
How do you order a prime rib?
When choosing a rib roast for a holiday feast, aim for about a half pound per person. Take into account that the bones will be removed before slicing and serving the roast.
You can have the butcher slice the bones from the roast and tie the toast back up for grilling. This makes slicing the roast so much easier at home!

What wood chips should I use with prime rib?
When it comes to prime rib, the meat can handle strong flavors. We used Jack Daniels wood chips for this for oak with a sweet touch, but we would also use post oak, hickory, and maybe even add some pecan or maple for an extra layer.

How long does it take to grill a prime rib?
Weather, elevation, and weight of the roast will all play a factor in your cook time for grilled prime rib. Once the grill temperature is holding at around 225F, the roast should take about 30 minutes per pound. Use an internal probe thermometer while cooking this to ensure success (one that watches internal temperature and ambient temperature is the best option as the gage on the grill is often incorrect).