Steak au Poivre; a flavorful cut of beef drizzled with a boozy peppery sauce and ready to be appreciated.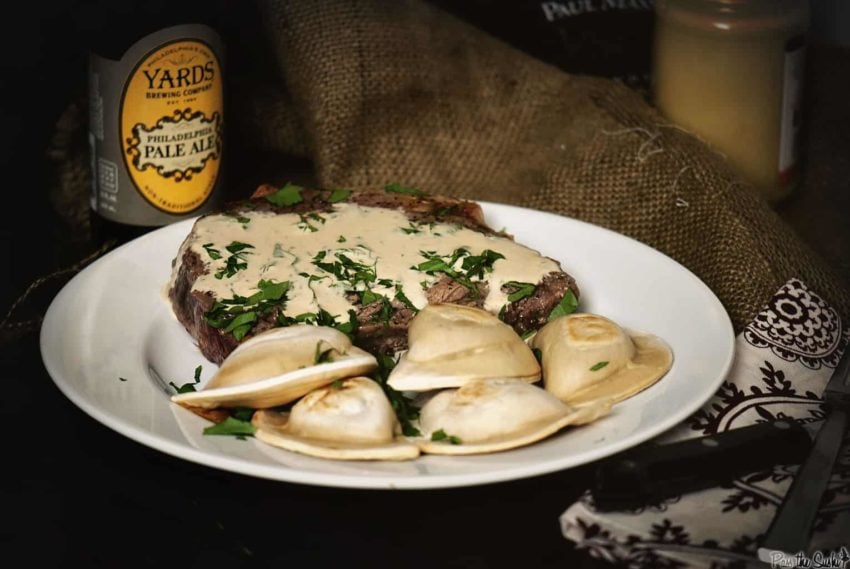 Behold the elegant and oh-so-fancy Steak au Poivre – a French twist on your typical beef recipes. This elegant dish takes your typical Grilled Top Sirloin Steaks to a whole new level. Get ready to impress your taste buds and show off your culinary prowess with this classic French recipe. Think of it like our Bavette Steak, but with a rich, creamy sauce. Who needs a reservation at a fancy restaurant when you can whip up this steak masterpiece right in your own kitchen? So let's dive into the world of indulgence and give those taste buds a reason to celebrate!
What is Steak Au Poivre?
According to Merriam-Webster, steak au poivre is a steak that has had coarsely ground black pepper pressed into it before cooking, is served with seasoned sauce, and is often flambeed with cognac.
You get the flavors of peppercorns mixed with a boozy aftertaste from the alcohol. Served with scallion mashed potatoes, it's a dish that will make the taste buds melt.
This isn't just any old steak recipe. Steak au Poivre has a particular pedigree. In culinary terms, it is a classic French recipe that chefs are forever judged by. Every single famous chef from Julia Childs to Gordan Ramsey has thrown down with the dish. So, just going for it puts you in fine company. But instead of being one of those dishes so complex you need a culinary degree to master it, this is actually very simple. The sauce is made in the same pan as the steaks and comes together in minutes.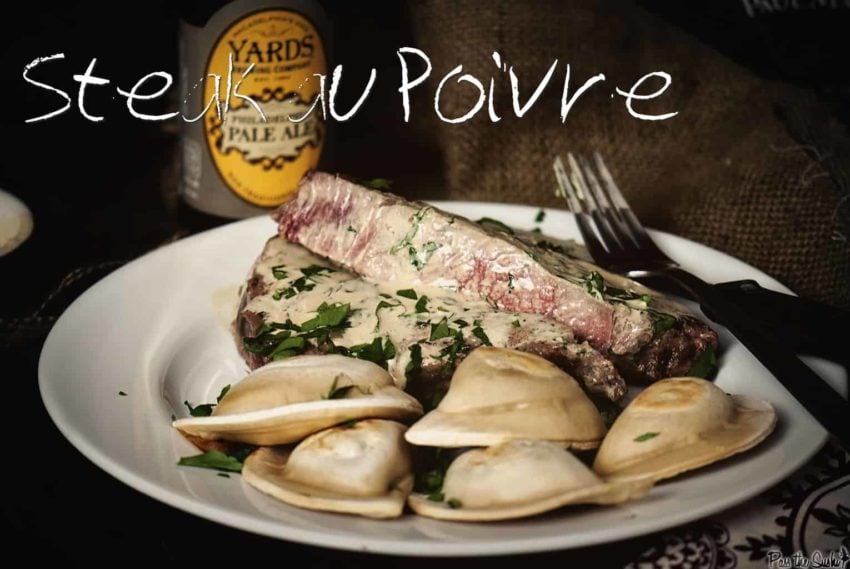 Ingredients for Steak Au Poivre
Thick Boneless Steaks – Grab some that are about 1 inch thick. We love tenderloin filets or sirloin steaks for this recipe.
Salt and Whole Black Peppercorns – We're grinding the peppercorns ourselves; trust us, it makes a HUGE difference!
Butter
Brandy – Use any type of brandy you like.
Beef Broth
Heavy Cream
Dijon Mustard – Use any brand you like. 
Fresh Parsley
How to Make Steak Au Poivre
Let your steaks sit at room temperature for 10 minutes while the skillet heats up. Sprinkle them with salt and pepper. Once the skillet is at medium-high heat, it's ready.
Melt the butter on the skillet and then add the steaks.
Cook them to your desired doneness, flipping once in the middle. For medium rare steaks, opt for 5-7 minutes.
Transfer steak from the heat to a plate, cover them and let them rest.
Reduce the heat on the skillet and add brandy and broth.
Scrape up any brown bits. Stir in your cream and mustard and let it come to a boil.
Reduce the heat again and simmer for 5 to 6 minutes. Season with more pepper.
Serve your steaks with sauce drizzled on top. Add parsley if you wish.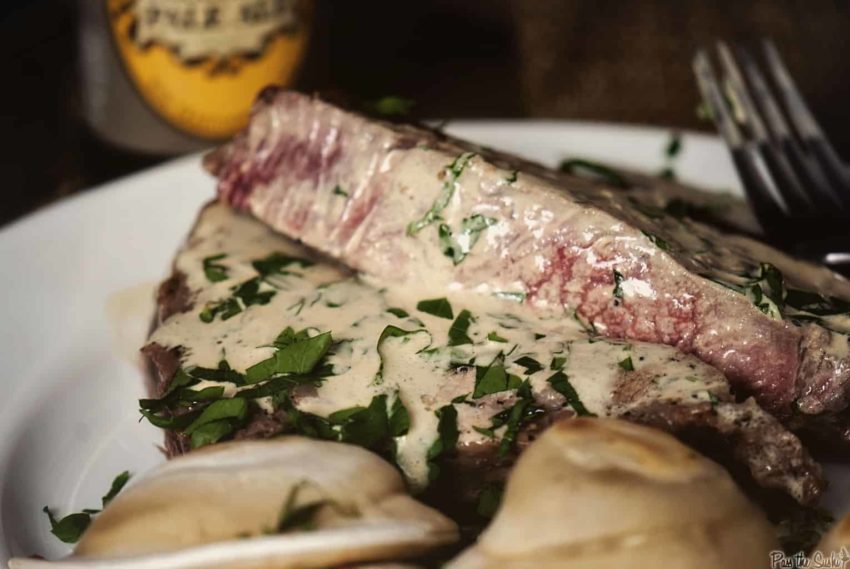 Girl Carnivore EXPERT RECIPE TIPS
Be sure to soak up all those meat juices in the sauce. It's the easiest way to achieve the creamy sauce in your heavy skillet.
Letting your meat rest allows the juices to redistribute within the meat instead of running out. You don't want them to lose their delicious flavor. The end result will thank you.
Don't buy pre-crushed peppercorns. It defeats the purpose. Purchase large peppercorns and crack them over your steaks while cooking. You'll get the good flavors in the meat and the peppercorn sauce.
Use an instant-read thermometer to ensure the internal temperature of your steak reaches your desired doneness.
What to Serve With Steak Au Poivre
When you think of steak, you most likely think of green beans and mashed or smoked baked potatoes! Other amazing sides include seasoned duck fat french fries, pureed carrots, risotto, and a classic salad. The crunchy peppercorn crust pairs so well with a variety of sides. Pretty much anything you can think of, the steak is perfect for.
Leftovers and Reheating
You'll likely finish every last bite of this au Poivre recipe, but just in case, store your steaks in an air-tight container in the fridge. They will keep for about 3 days.
The best way to reheat leftover steaks is to place them in a deep microwave dish and add some of the sauce or beef stock on top while reheating. You can also reheat the steaks at medium heat on a large skillet or grill until they reach the desired temperature.
Take your leftover Steak Au Poivre; if you have any left, place them on top of a salad, and make a Steak Salad! Or, turn this classic French dish into steak frites for a great main dish for the whole family.
Recipe FAQs
Are pepper steaks and steak au Poivre the same?
Steak au Poivre and pepper steak may be confused as the same thing in name alone. Where this steak is coated in peppercorns, pepper steak is often a stir-fry style dish of strips of pepper and steak in a brown sauce.
What kind of peppercorns to season steaks?
Some recipes call for black peppercorns, others green peppercorns. Some black and green. We recommend using coarsely ground black peppercorns. They are packed with pepperiness. You probably have them handy already. And finding the green ones can sometimes be a challenge.
Tenderloin vs Ribeye for Steak au-Poivre
This recipe is a flavorful cut of beef drizzled with a boozy sauce and ready to be appreciated. The traditional cut is a thick-cut filet mignon steaks, but ribeyes often have better flavor. Filet mignon is fork tender, though, so choose the cut you prefer.
More delicious Steak recipes
Here are a few recipes to check out when you are thinking about steak and can't abide anything else…
With its velvety cream sauce and crunchy peppercorn crust, this classic steak dish is truly a crowd-pleaser. Whether impressing guests on a special occasion or treating yourself to a gourmet meal, Steak au Poivre is the perfect main course to elevate any dining experience. No need to travel to the bistros of Normandy or wait for special occasions to enjoy this delicious meal! Also, please rate the recipe card and leave a comment below to help out the next reader!
Steak au Poivre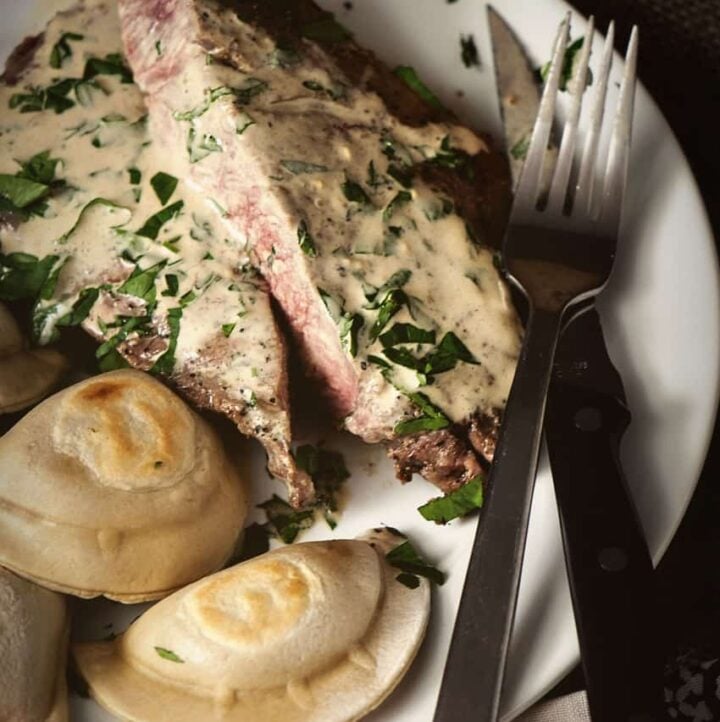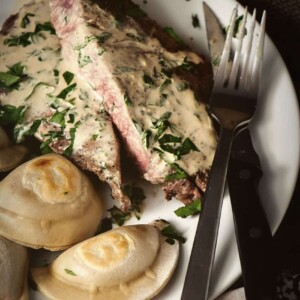 Experience the elegance of French cuisine with our Steak au Poivre recipe, showcasing a perfectly seared, peppercorn-crusted steak. Paired with a rich, creamy pan sauce, this dish is sure to delight the senses and impress any guest.
Ingredients
2-4

small thick boneless steaks

at least an 1″ thick

salt and large freshly ground black peppercorns

2

tbsp

butter

1/4

cup

brandy

1/4

cup

beef broth

1/2

cup

heavy cream

2

tbsp

Dijon mustard

Fresh parsley
Instructions
Let steaks sit at room temperature for 10 minutes while skillet heats to medium high. Sprinkle them with a heavy coating of salt and pepper.

Heat a skillet to medium-high.

Melt the butter in the skillet and when it is nice and hot, add the steaks.

Cook to desired doneness, flipping once. (I cook mine 5-7 minutes a side for medium rare).

Remove steaks from pan, cover and let rest.

Reduce the heat the to medium, add the brandy and broth.

Scrape up any browned bits. Stir in the cream and mustard. bring to a boil.

Reduce heat to a gently simmer and cook for 5 to 6 minutes longer. Season with pepper.

Serve steaks with sauce drizzled over top and fresh parsley.
Notes
BHG Special Interest Comfort Food
Nutrition
Calories:
429
kcal
|
Carbohydrates:
1
g
|
Protein:
23
g
|
Fat:
33
g
|
Saturated Fat:
17
g
|
Cholesterol:
124
mg
|
Sodium:
261
mg
|
Potassium:
335
mg
|
Vitamin A:
630
IU
|
Calcium:
32
mg
|
Iron:
2.1
mg