Steak au Poivre; May I present you with a flavorful cut of beef drizzled, with a boozy peppery sauce and ready to be appreciated.
Yeah, you know you want it.
Steak Au Poivre From Julia Child To Gordon Ramsey
This isn't just any old steak recipe. Steak au Poivre has a particular pedigree. I think in culinary terms, it is one of those classic French dishes that chefs are forever judged by.
Every single famous chef from Julia Childs to Gordan Ramsey has thrown down with the dish. So, just going for it puts you in fine company.
But instead of being one of those dishes so complex you need a culinary degree to master it, this is actually very simple. The sauce is made in the same pan as the steaks and stirs together in minutes.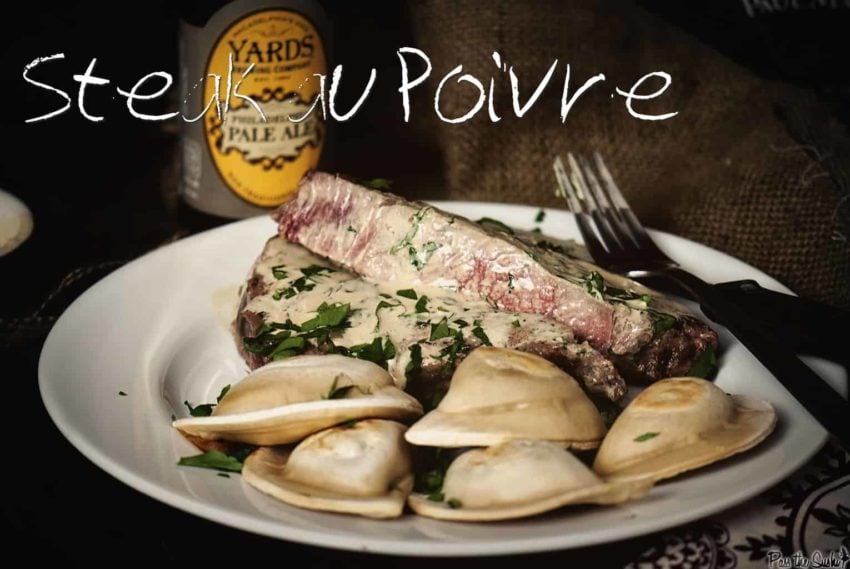 Archer Demands Proper Steak Au Poivre Too
If you aren't watching Archer – one of those down and dirty shows that requires a special sense of humor to be able to swallow – then you probably don't need to be. Not everyone can handle it, and those who can't, are generally pretty offended by the off-color jokes.
I, however, would love to sit down at a bar with any of the fictional characters on the show and pick their brains. Well, not that it would get me anywhere, as most of them are too self centered to have a two way conversation.  Either way, they are 'characters'  of the type I could share a strong drink with.
In an episode earlier this season, in typical fashion, Archer is drunk and enjoying an overpriced honeymoon suite complaining that his Steak au Poivre came without peppercorns.
Which is the whole damn point to Steak au Poivre.
What Kind Of Peppercorns For Steak Au Poivre?
Some recipes call for black peppercorns, others green. Some black and green. I suggest using coarsely ground black peppercorns. They are packed with pepperiness. You probably have them handy already. And finding the green ones can sometimes be a challenge.
Steak au Poivre, Girl Carnivore style
A steak traditionally coated with peppercorns, cooked in a skillet to medium rare, and served with a pan sauce. This appealed to my foodie sensibilities, and off to the kitchen I went. Plus it was way past dinner time, so why the hell not.
Tenderloin Vs Ribeye For Steak Au Poivre
May I present you with just that. A flavorful cut of beef drizzled with a boozy sauce and ready to be appreciated. Sure, I didn't use the traditional thick cut filet mignon because I believe rib eye's to have better flavor (however, filet mignon is fork tender so really pick the cut you prefer).
But it's still damned tasty. I paired this with perogies for a quick and easy option to soak up that extra sauce. And because I was too lazy to make mashed potatoes from scratch.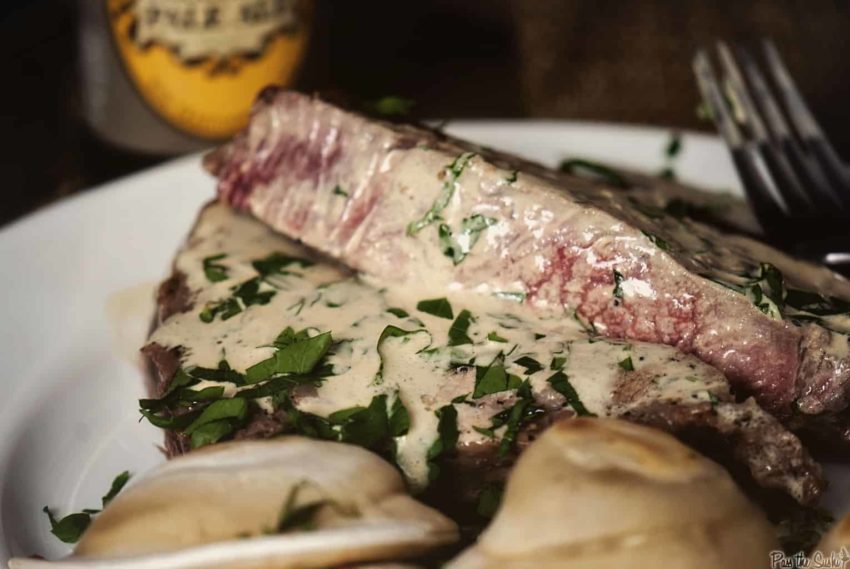 Since We Are Talking Steaks
Here are a few recipes to check out when you are thinking about steak and can't abide anything else…
If you've tried my Steak au Poivre recipe, or any other recipe on GirlCarnivore.com please don't forget to rate the recipe and let me know where you found it in the comments below. I get inspired by your feedback and comments! You can also FOLLOW ME  on Instagram @girlcarnivore as well as on  Twitter and Facebook.
Steak au Poivre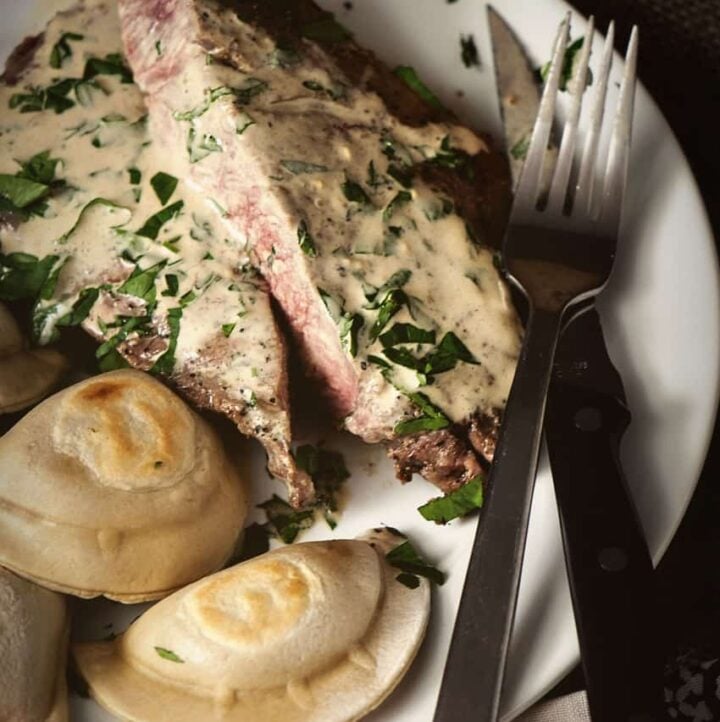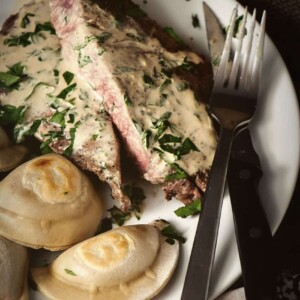 Steak au Poivre; May I present you with a flavorful cut of beef drizzled, with a boozy sauce and ready to be appreciated. Yeah, you know you want it.
Ingredients
2-4

small thick boneless steaks

at least an 1″ thick

salt and large freshly ground black peppercorns

2

tbsp

butter

1/4

cup

brandy

1/4

cup

beef broth

1/2

cup

heavy cream

2

tbsp

Dijon mustard

Fresh parsley
Instructions
Let steaks sit at room temperature for 10 minutes while skillet heats to medium high. Sprinkle them with a heavy coating of salt and pepper.

Heat a skillet to medium-high.

Melt the butter in the skillet and when it is nice and hot, add the steaks.

Cook to desired doneness, flipping once. (I cook mine 5-7 minutes a side for medium rare).

Remove steaks from pan, cover and let rest.

Reduce the heat the to medium, add the brandy and broth.

Scrape up any browned bits. Stir in the cream and mustard. bring to a boil.

Reduce heat to a gently simmer and cook for 5 to 6 minutes longer. Season with pepper.

Serve steaks with sauce drizzled over top and fresh parsley.
Notes
BHG Special Interest Comfort Food
Nutrition
Calories:
429
kcal
|
Carbohydrates:
1
g
|
Protein:
23
g
|
Fat:
33
g
|
Saturated Fat:
17
g
|
Cholesterol:
124
mg
|
Sodium:
261
mg
|
Potassium:
335
mg
|
Vitamin A:
630
IU
|
Calcium:
32
mg
|
Iron:
2.1
mg