A perfectly cooked oven-roasted pork tenderloin hits for a quick and simple meal every time. This easy recipe uses a few simple ingredients for a versatile main dish with many dinner options.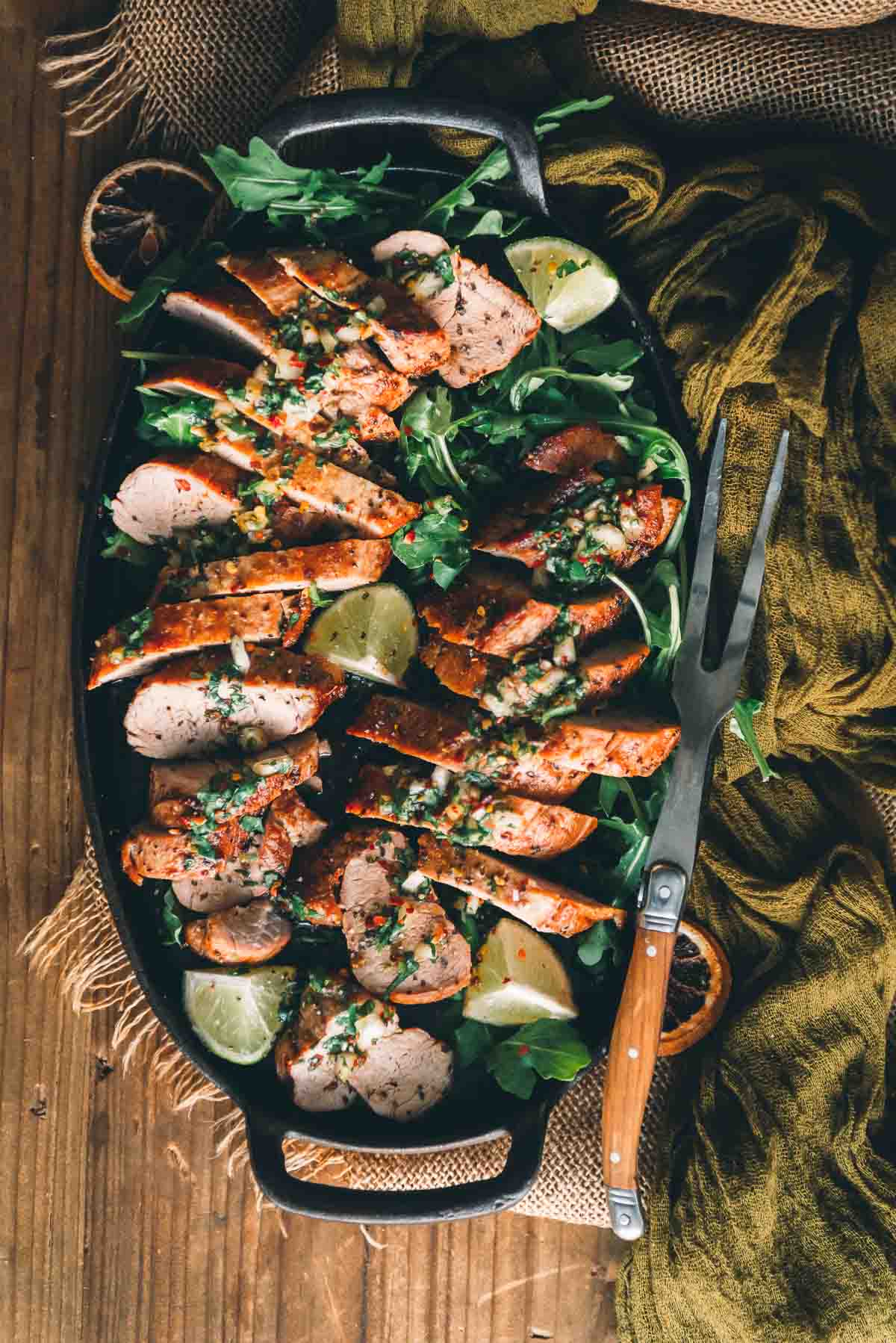 One of our favorite pork cuts, the tenderloin, is the filet mignon of pork at a fraction of the cost. It can handle a variety of flavors and pairings for easy weeknight meals. And the leftovers, sliced thin for sandwiches or tossed into other dishes for weekly meal plans. We love this roasted pork tenderloin recipe for fun meals with sautéed peppers and onions with a Latin flare, mixed in with creamy, cheesy gnocchi and pasta, or even served with coconut curry sauce and Southeast Asian flavors. Tenderloin is the perfect cut for so many great recipes.
For this essential tenderloin recipe, we start with a high-temperature sear and finish in the oven by roasting the pork in a hot oven until cooked through. The whole dish is fast, like 30 minutes fast. And it's the perfect sort of thing for special occasions OR easy dinners.
The Cut: What is Pork Tenderloin
Cut from the back of the loin area of the pig, pork tenderloin is similar to beef tenderloin. It is an incredibly lean cut of meat and very tender. This small cut, around one pound each, is perfect for a date night or special occasion. They are often sold in two-packs at the market, making them an excellent choice for family dinners.
Pork is a versatile cut that takes well to the high heat of a pan sear and roasting, as shown here, grilled pork tenderloin or even smoked pork tenderloin. The goal for juicy tender pork (not the dried-out version we all grew up with) is to ensure the internal temperature doesn't exceed 145 degrees F. We always use a Thermapen instant read thermometer when cooking for the most accuracy.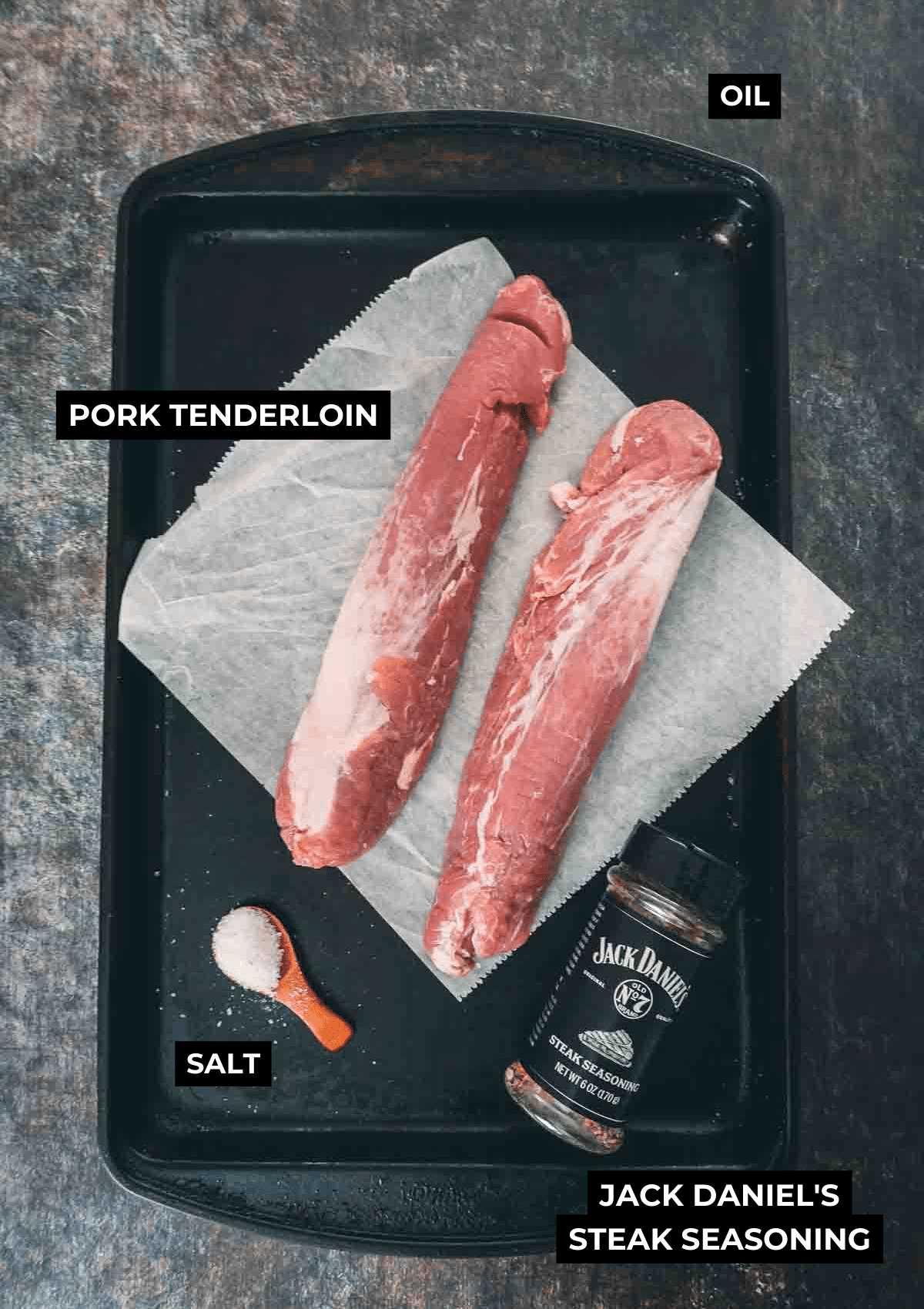 Ingredients
This delicious recipe uses only a few pantry staples for a fantastic dinner.
Pork tenderloin – these are often sold as packs of two tenderloins, which is perfect for a small family or dinner party.
Salt – we use Kosher salt when cooking.
Jack Daniel's Steak Seasoning – or your favorite spice rub. What we love about pork tenderloin is it goes well with so many flavor profiles. This recipe works with cumin and chili powder for a Latin profile or rosemary and thyme for a light herbaceous profile. We like Jack Daniel's steak seasoning blend with its peppery bite for a quick and easy meal, but any savory spice mix will do.
Oil – avocado, olive oil, or your favorite neutral cooking oil
How to make roasted pork tenderloin
Start by preheating the oven temperature to 400 degrees F and prepping the pork. Remove the tenderloins from the package and pat dry with paper towels.
Trim the tenderloin of any fat and silver skin using a sharp knife. Remove the silverskin by placing the tip of a sharp knife just under the silver skin. Then gently pull up to run the knife blade between the silver skin and meat away from your body towards the edge of the pork or silver skin. We love this fillet knife when trimming meat.
Then rub the tenderloin with the salt and spice blend on all sides.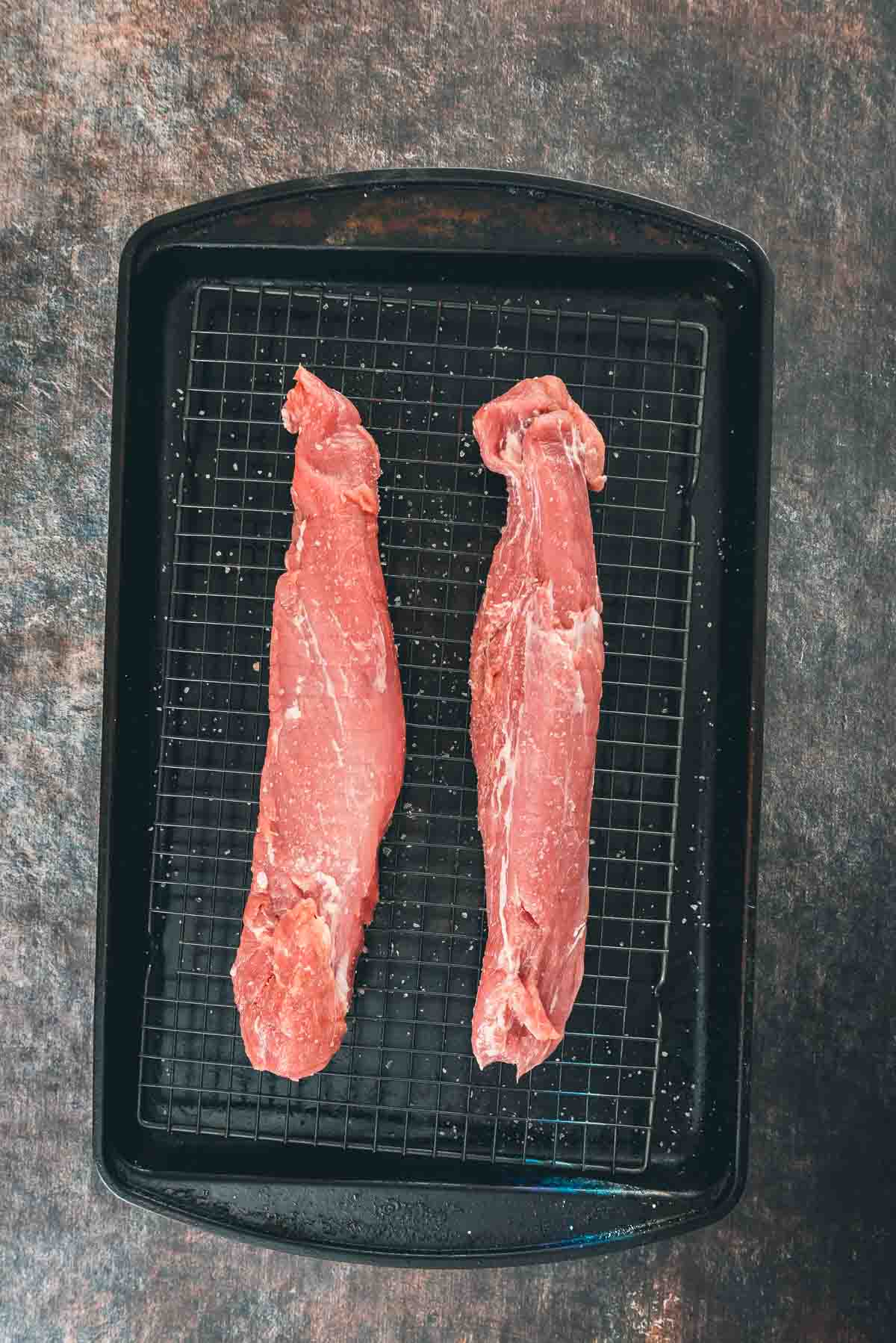 Next, preheat a large skillet with oil. When the oil is just smoking, add the tenderloins, one at a time to the pan and sear on all sides, rotating to brown the meat evenly.
When the pork is seared on all sides, carefully transfer the skillet to the oven to finish cooking the pork, uncovered. Cook the pork to an internal temperature of 140 degrees F with an instant-read thermometer for about 12 to 19 minutes.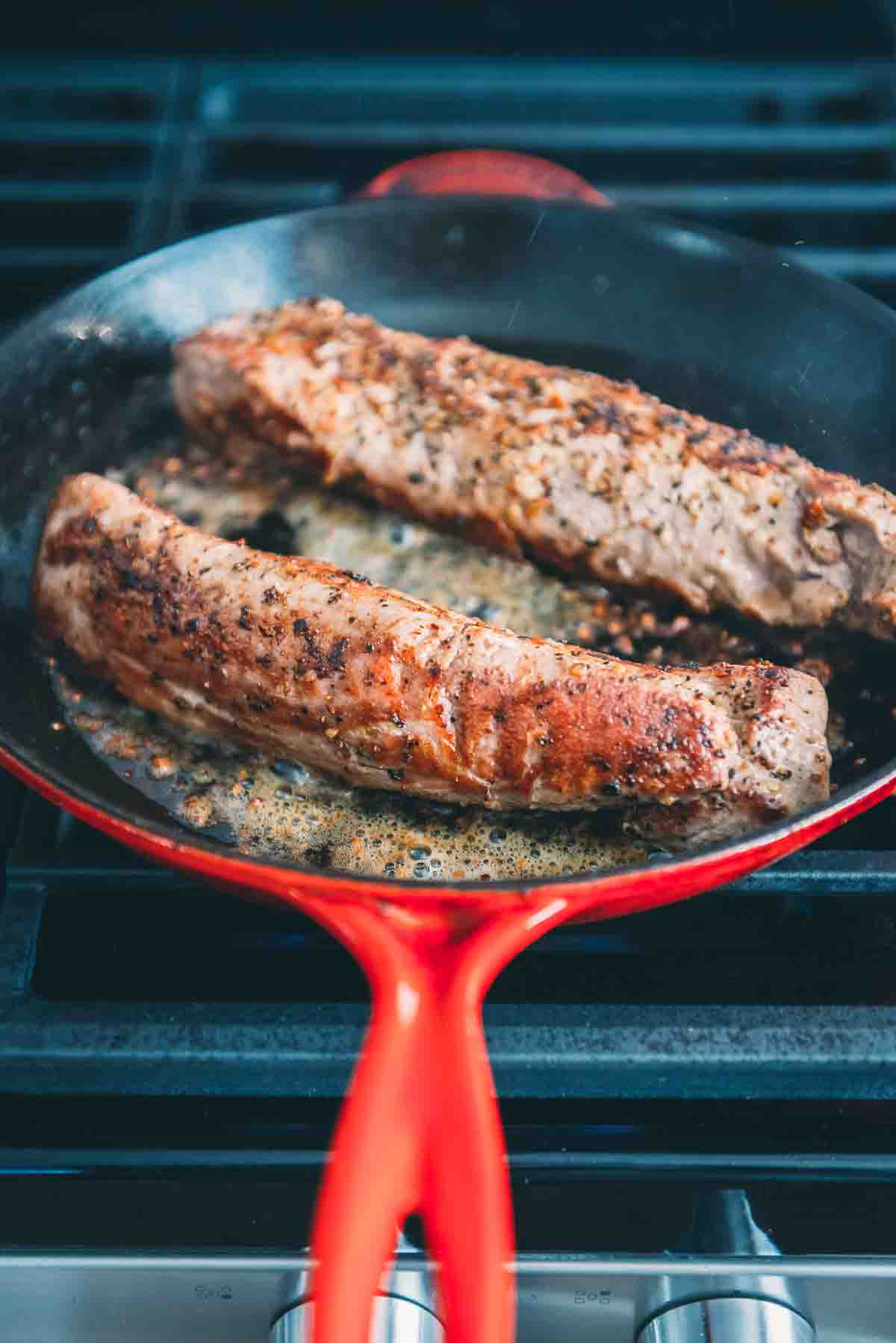 Finally, carefully remove the pan from the oven and transfer the roasted pork tenderloin to a clean work surface or cutting board. Add a dollop of homemade compound butter to the top while it rests, and loosely cover with aluminum foil until you slice. Let the meat rest for 5 to 7 minutes.
Serve the juicy pork tenderloin by slicing it into thin strips.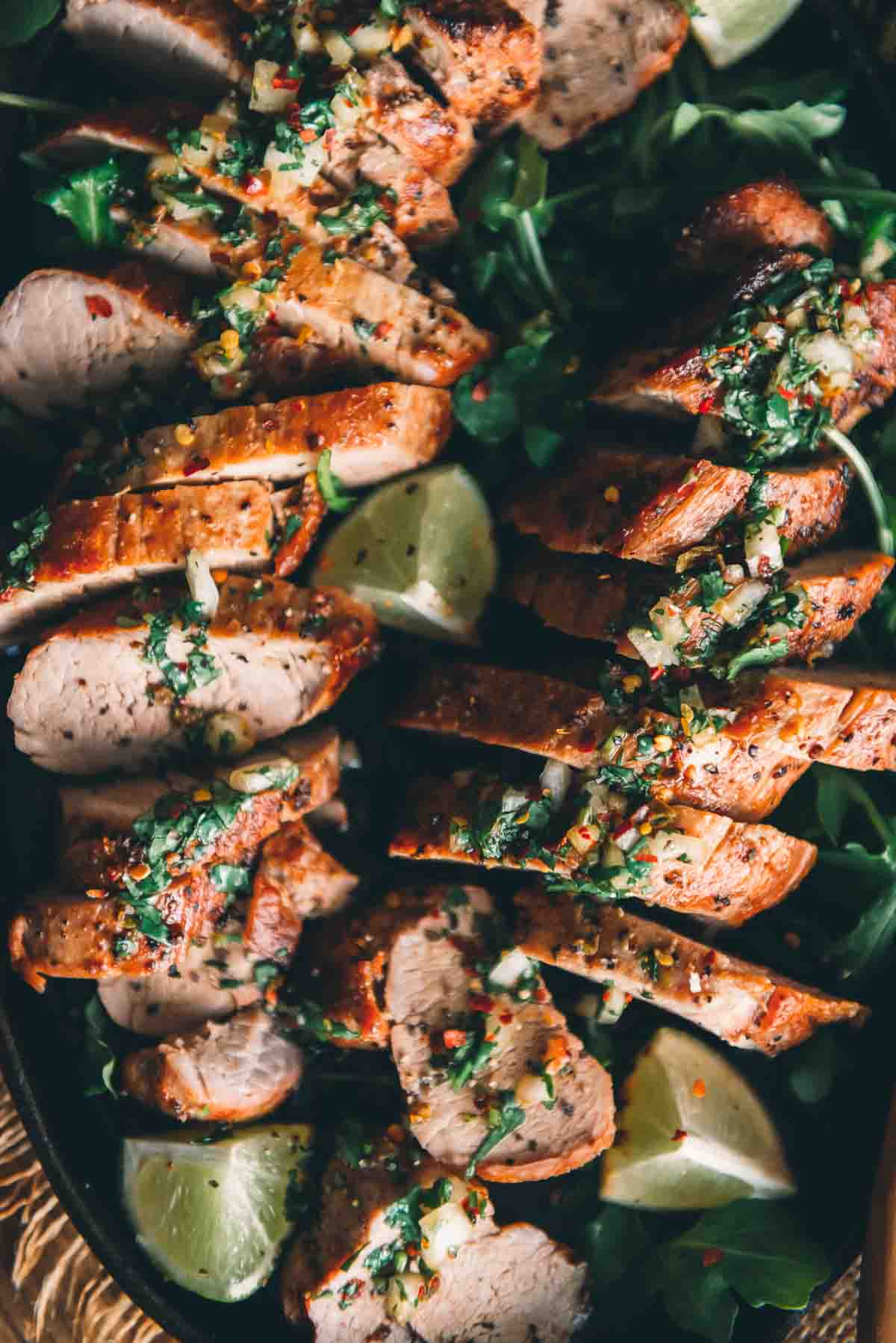 GIRL CARNIVORE EXPERT TIPS
The USDA and National Pork Board recommend an internal temperature of 145 degrees F on pork tenderloin. Use a quality instant-read thermometer for the most accurate reading. Insert the probe on the side of the meat at the thickest part of the meat to get a precise reading.
For the best results, we cook our roasted pork tenderloins to 140 degrees and let the carryover cooking raise the temp 5 degrees while the meat rests.
We use a large cast iron skillet. It's oven safe, going from range to the oven, so we don't need to dirty a baking dish.
What to serve with Roasted Pork tenderloin
Pork is excellent with so many side dish recipes. We love to serve this roasted tenderloin with rajas con Crema and smoked cabbage. Pair it with creamy homestyle mashed potatoes or smoked mac and cheese. Fresh green beans or smoked brussels sprouts are also simple recipes to pair with this cooked pork tenderloin. Or save yourself some time, and make savory roasted turnips at the same time this is cooking.
This pork recipe is also fantastic with homemade chimichurri, a bold chimichurri rojo, a lemony gremolata, Alabama white sauce, or classic bbq sauce for a serious extra pop of extra flavor.
Leftovers and Reheating
Wrap any leftover pork tenderloin tightly in foil or plastic wrap or store in an airtight container and store in the fridge for up to 4 days.
Reheat in an oven preheated to 325 degrees F, wrapped in foil until heated through, 10 to 15 minutes. Reheat only what you plan to eat to avoid the tenderloin drying out.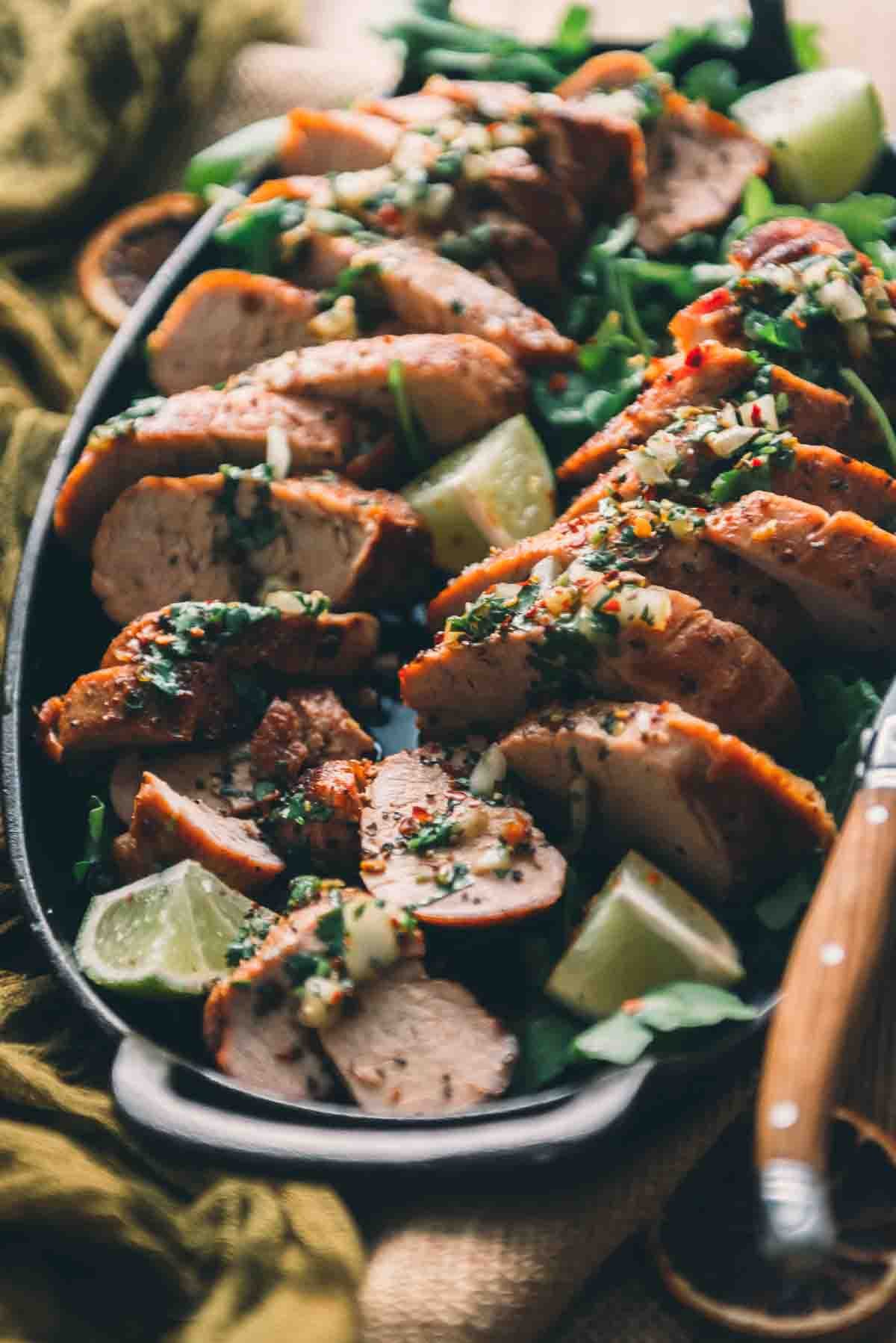 Recipe FAQS
Pork Loin Vs. Pork tenderloin
Not to be confused with the pork loin, pork tenderloin is smaller, and they are different cuts of meat. The loin comes from high up on the animal, along the backbone. Pork loin is thicker and can be cut into a pork loin roast, boneless, or bone-in pork chops. Check the label carefully, as loin and pork tenderloin are different cuts.
Pork tenderloin is cut from the back of the loin area, behind the ribs. It's an underworked area of the animal, maintaining the incredibly tender cut of pork.
Why sear pork tenderloin before roasting?
The sear helps to add a beautiful color and texture to the outside of the roast, called the Maillard reaction, before it finishes cooking in the oven. The oven helps the tenderloin cook evenly, so it doesn't dry out. You don't have to sear the pork, but we find it speeds up the cooking time and adds a wonderful texture to the outside of the roast.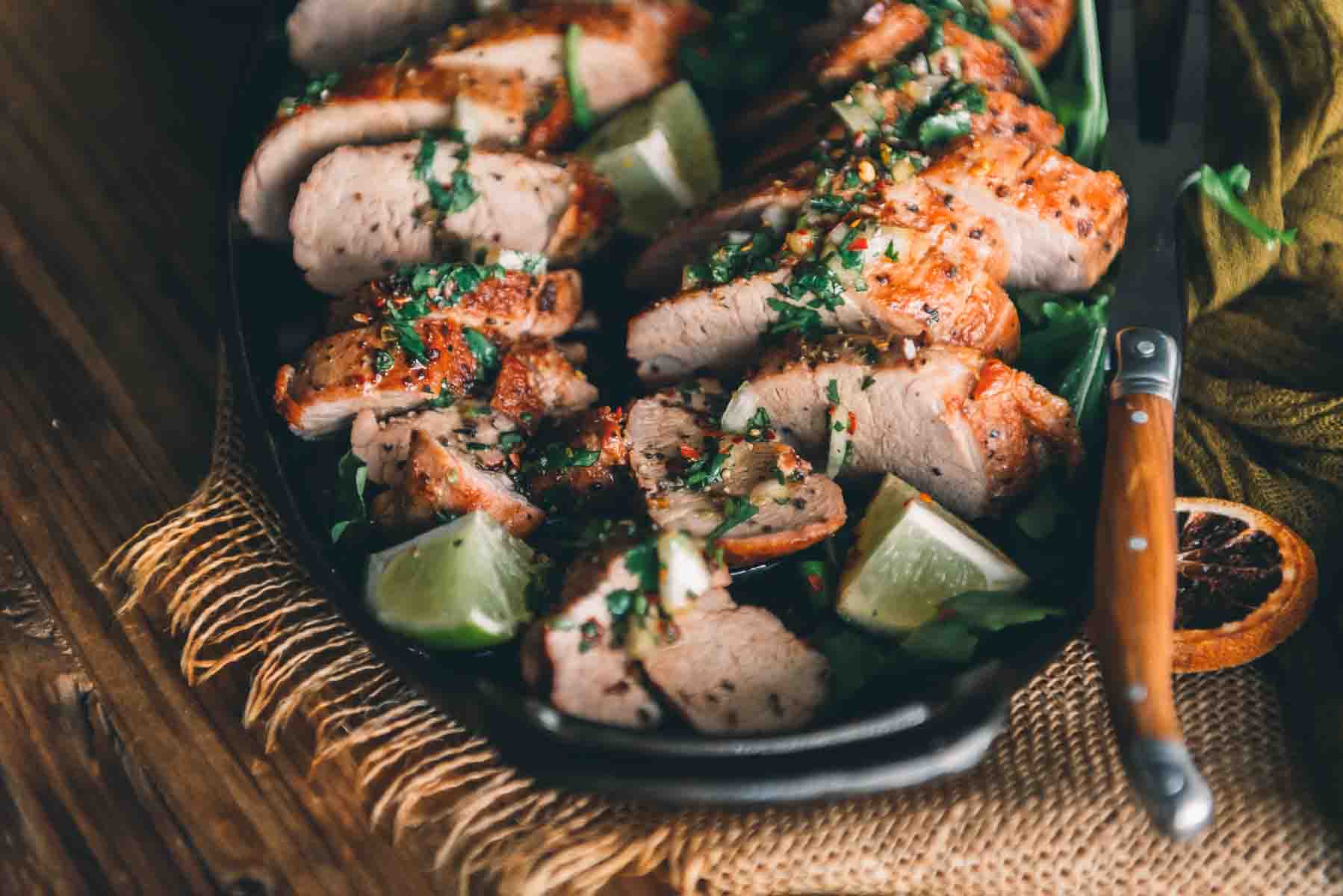 MORE EASY PORK TENDERLOIN RECIPES
We love a quick and easy meal on busy weeknights, and roast pork tenderloin is one of our favorite pork recipes. What about you? If you've tried this recipe, be sure to rate the recipe and leave a comment to help the next person. These little actions help us continue to bring you new recipes from the GirlCarnivore Meat Labs.
Oven Roasted Pork Tenderloin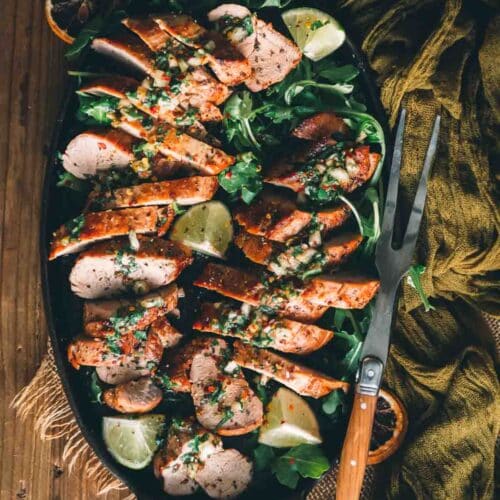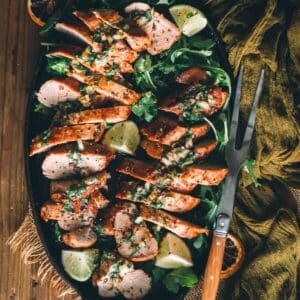 Our go-to recipe for an easy dinner is this roasted pork tenderloin, seared on the outside with a juicy, tender inside and fantastic flavor. It's so simple and goes with all of your favorite side dishes. This easy method is one of our favorite ways for tender pork.
Ingredients
2

lbs

pork tenderloin

2 tenderloins, about 1 pound each

1

tbsp

salt

1

tbsp

Jack Daniel's Steak Seasoning

or your favorite spice blend. Try a bbq spice blend or Italian seasonings for a variety of flavor options.

2

tbsp

Oil

avocado oil, olive oil, or your favorite neutral cooking oil.
Instructions
Prep the Pork tenderloin
Preheat the oven to 400 F.

Remove the pork from the packaging and pat dry with a paper towel.

With a flexible boning knife, trim the tenderloin of any unnecessary fat and carefully remove the silver skin.

Season the pork on all sides with salt and the Jack Daniel's Steak seasoning.
Cook the pork
Preheat a large cast iron skillet over medium-high heat.

Add oil and swirl to coat the pan.

Add the pork tenderloin to the pan, one at a time to avoid crowding the pan, and sear on all sides, 2 to 4 minutes a side, rotating as needed.

Carefully transfer the skillet to the preheated oven and bake until the tenderloin reaches 140 degrees F with a digital meat thermometer, about 12 to 18 minutes.
Rest and Serve
Remove the skillet from the oven and transfer the roasted pork tenderloin to a clean work surface to rest.

Top with compound butter and tent with foil. The tenderloin's internal temperature will continue to increase as it rests to 145 degrees F.

Slice the pork tenderloin into thin strips or medallions and arrange it on a serving dish.
Notes
Per the USDA, pork tenderloin should be cooked to 145F for serving, which produces a tender, juicy bite that may have a slightly pink center.
Serve with a drizzle of homemade cilantro chimichurri or chimichurri rojo over the top.
Nutrition
Serving:
1
g
|
Calories:
337
kcal
|
Carbohydrates:
1
g
|
Protein:
47
g
|
Fat:
15
g
|
Saturated Fat:
3
g
|
Polyunsaturated Fat:
3
g
|
Monounsaturated Fat:
8
g
|
Trans Fat:
0.1
g
|
Cholesterol:
147
mg
|
Sodium:
1862
mg
|
Potassium:
899
mg
|
Fiber:
0.1
g
|
Sugar:
0.03
g
|
Vitamin A:
31
IU
|
Vitamin C:
0.1
mg
|
Calcium:
25
mg
|
Iron:
3
mg