Bust out the butter and the napkins because it's all about Grilled King Crab Legs! Sweet, succulent, and meaty crab gets to new levels of deliciousness when grilled over an open flame. Easy to make and always impressive, jazz up your next grilled meal and seafood recipes with this show-stopping entree!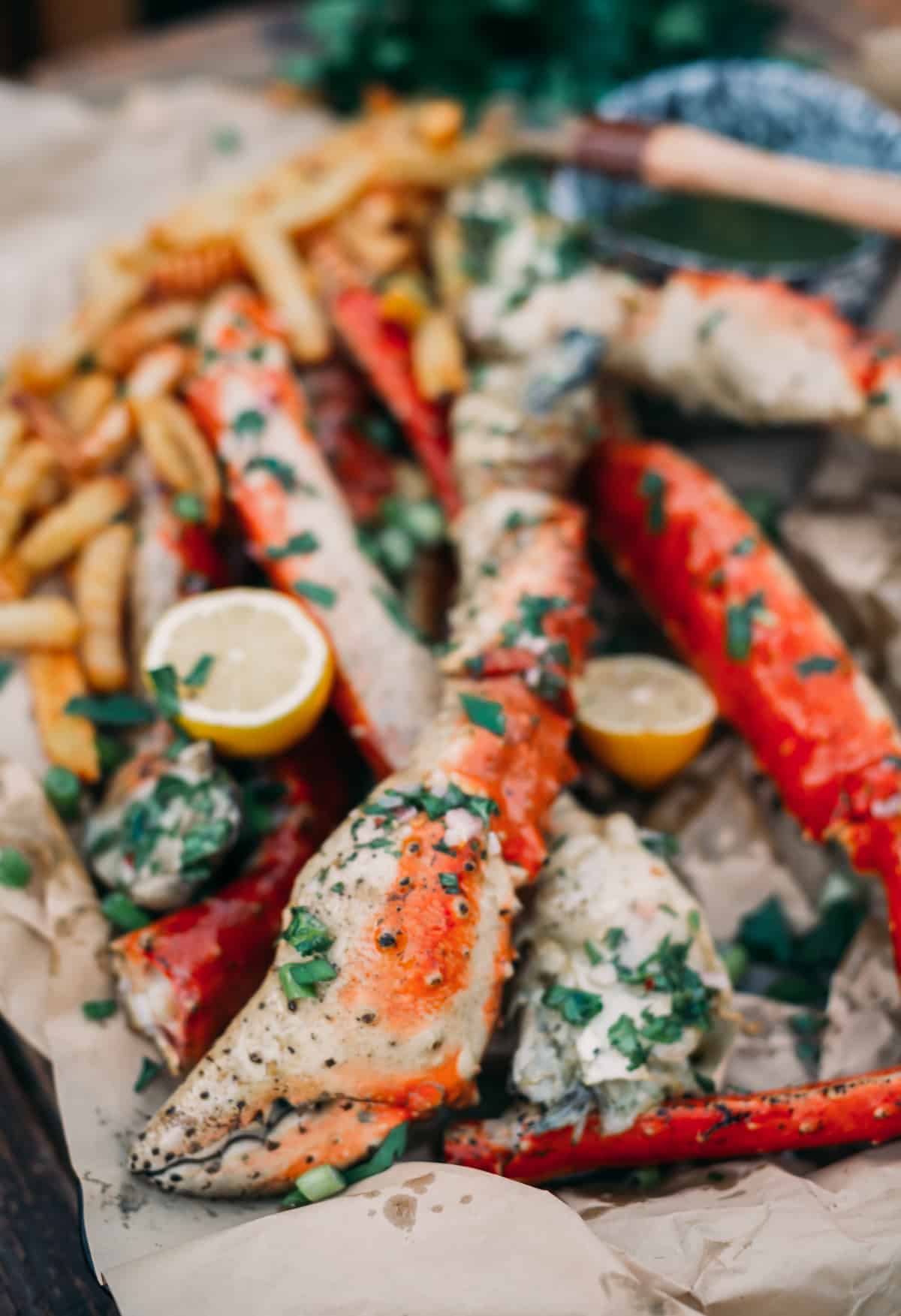 When it comes to crab, I am always on the hunt to try all the varieties! And these are, Whoa! A lot of bang for a lot of bucks! But, for a special occasion, worth it.
Cooked over a campfire or your backyard BBQ, grilled crab legs are always a delicious treat. I love grilling them and then passing out napkins and grilled lemons to go with them.
Digging into meat crab legs drizzled with grilled lemon and herb butter is just about the best thing on the planet. A cold beer or glass of wine and fabulous sides complete the feast – the only question is, who would you invite?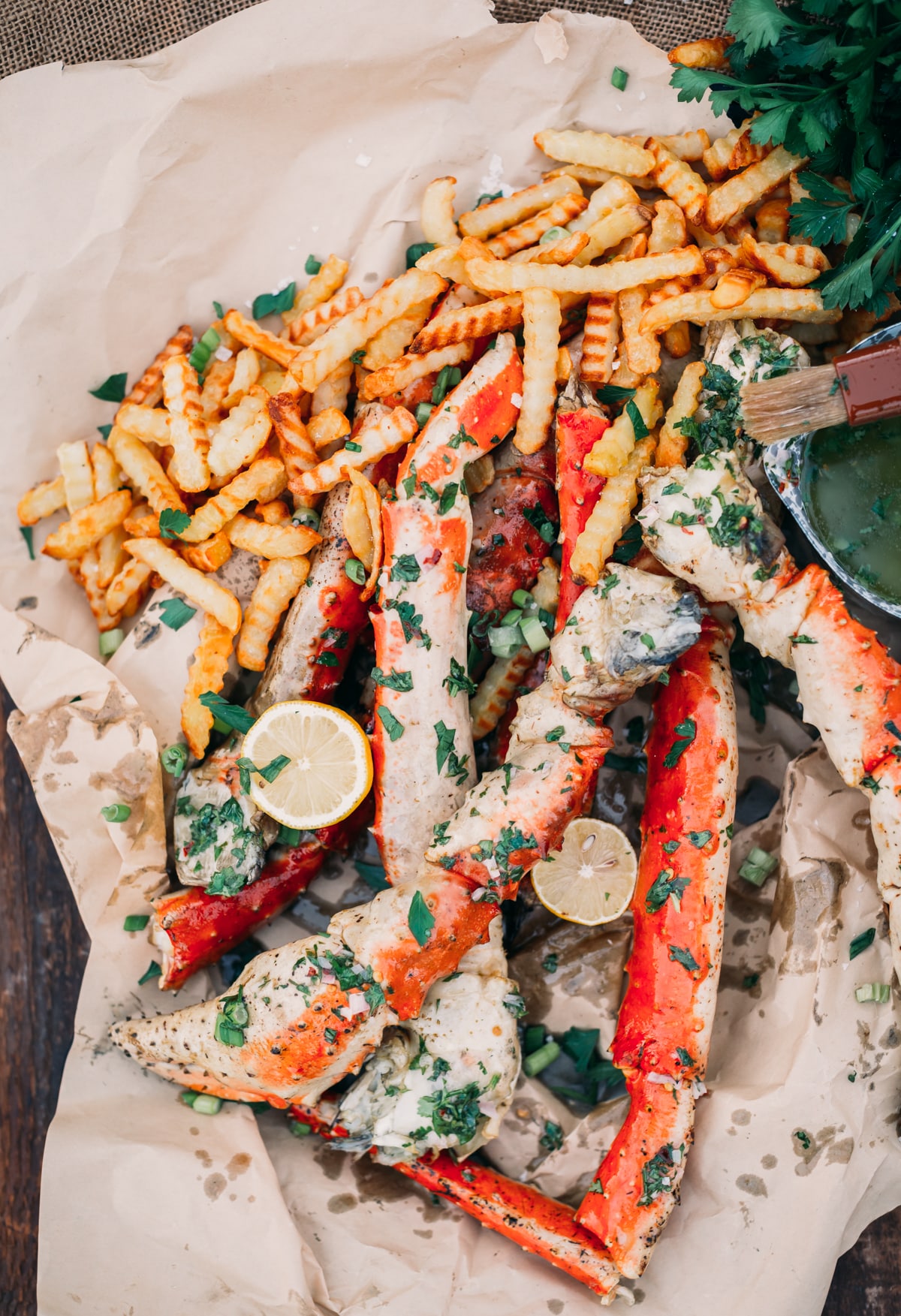 The Difference Between Snow Crab and King Crab Legs
Frozen and fresh crab legs are available from seafood purveyors and the seafood counter of most large supermarkets.
Snow crabs have thinner legs with a softer shell that can easily be snipped or snapped open. The meat is tender and sweet, but there's not a lot of it, and you'll need to go through quite a few crab legs to fill up.
Alaskan king crab legs, however, are another story. Possibly harder to find – depending on where you live – these are like snow crab legs on steroids. They're massive in comparison and have a hard, spiny shell that you'll need to cut through with kitchen shears or a good, sharp knife.
The trouble is well worth it! The meat is silky and delicate and comes out easily in big chunks, so you can sink your teeth into it.
How To Buy King Crab Legs
King crab can come in different sizes, but it's often sized by how many crab legs would be in 10 pounds. So, size 12-14 crab legs mean there are about 12-14 crab legs per pound.
When grilling king crab legs, look for medium-sized crab legs (small is around 4-7, jumbo can be up to 21-24.) Medium-sized crab legs will be more affordable but still yield plenty of meat for their value.
You can buy crab legs fresh or frozen. Frozen ones are still good-quality as they're frozen right off the boat to preserve their freshness. If using frozen crab legs, be sure they're thoroughly thawed before grilling them.
We watch for when they are in season and buy them from Costco just like fresh Dungeness crab legs.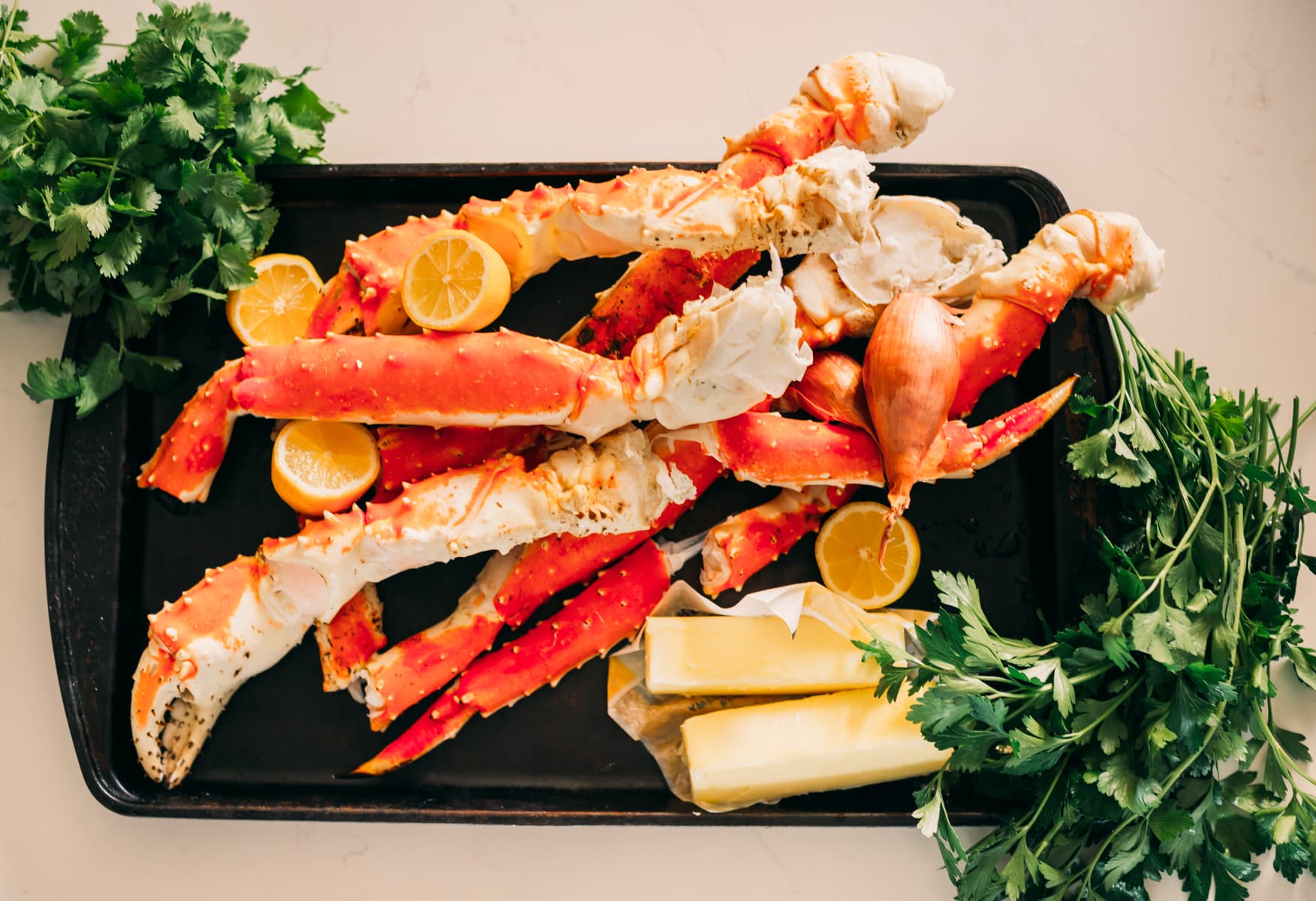 What You'll Need
King crab legs – thaw them in the refrigerator over night if previously frozen.
Butter – salted or unsalted butter is fine.
Shallot – finely minced or smoked garlic confit
Salt
Cilantro – fresh and finely chopped for the chimichurri butter.
Parsley – also for the chimichurri butter.
Red pepper flakes – to give the chimichurri butter a bit of a kick.
Lemons – Count on about ½ lemon per person.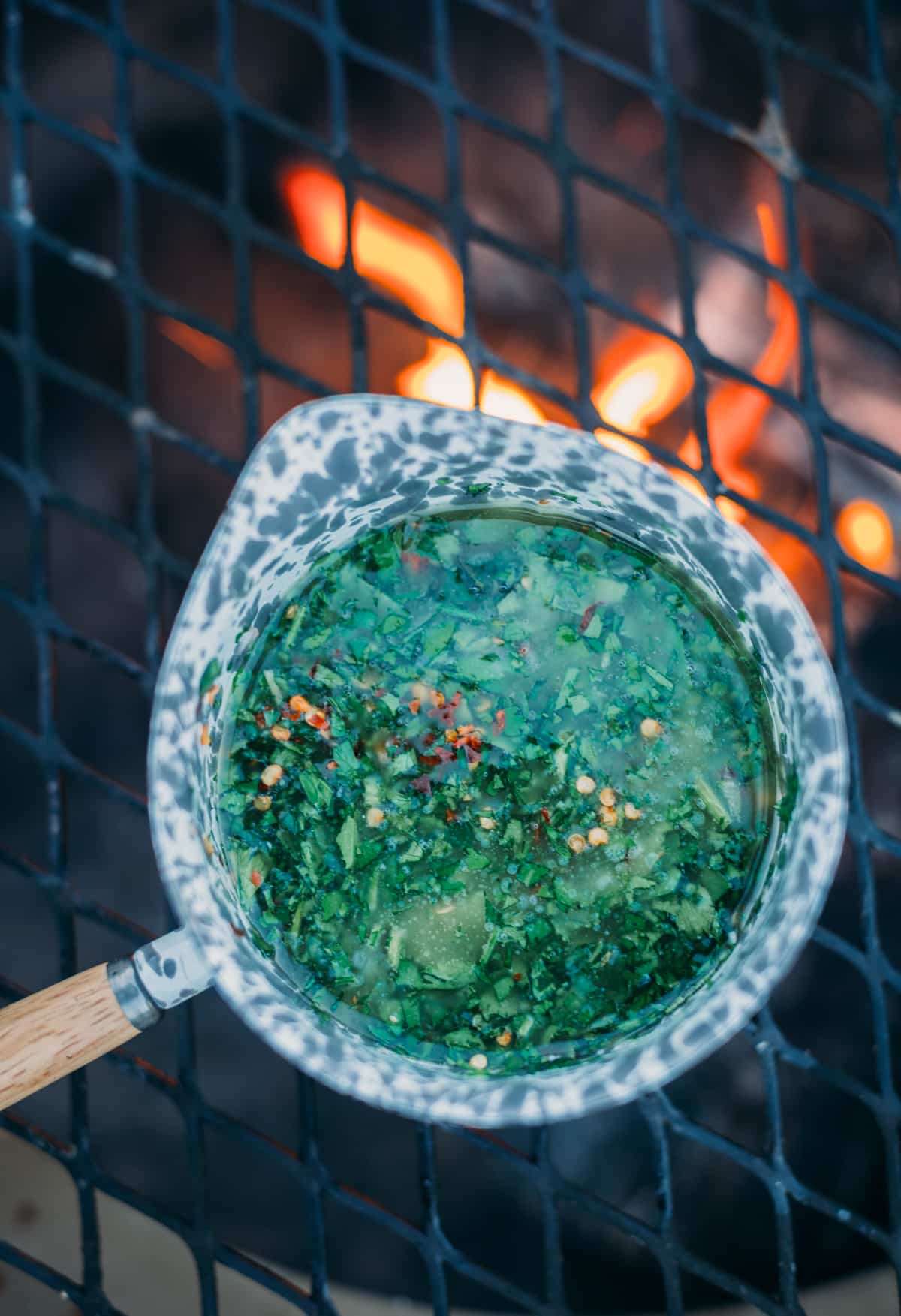 What is Chimichurri Butter?
Crab meat loves melted butter, and I love flavor, so why not jazz up the butter for these crab legs with some serious flavor!
Chimichurri is a South American condiment that's made with fresh herbs, oil, and an acidic element. I'm fusing those flavors into a scrumptious butter that's oh-so-perfect for dipping and dunking chunks of crab.
How To Make Grilled King Crab with Chimichurri Butter
Prep the grill for indirect heat by building a hot side with coals. If using a grill with burners, keep one side of the grill hot and the other side cooler.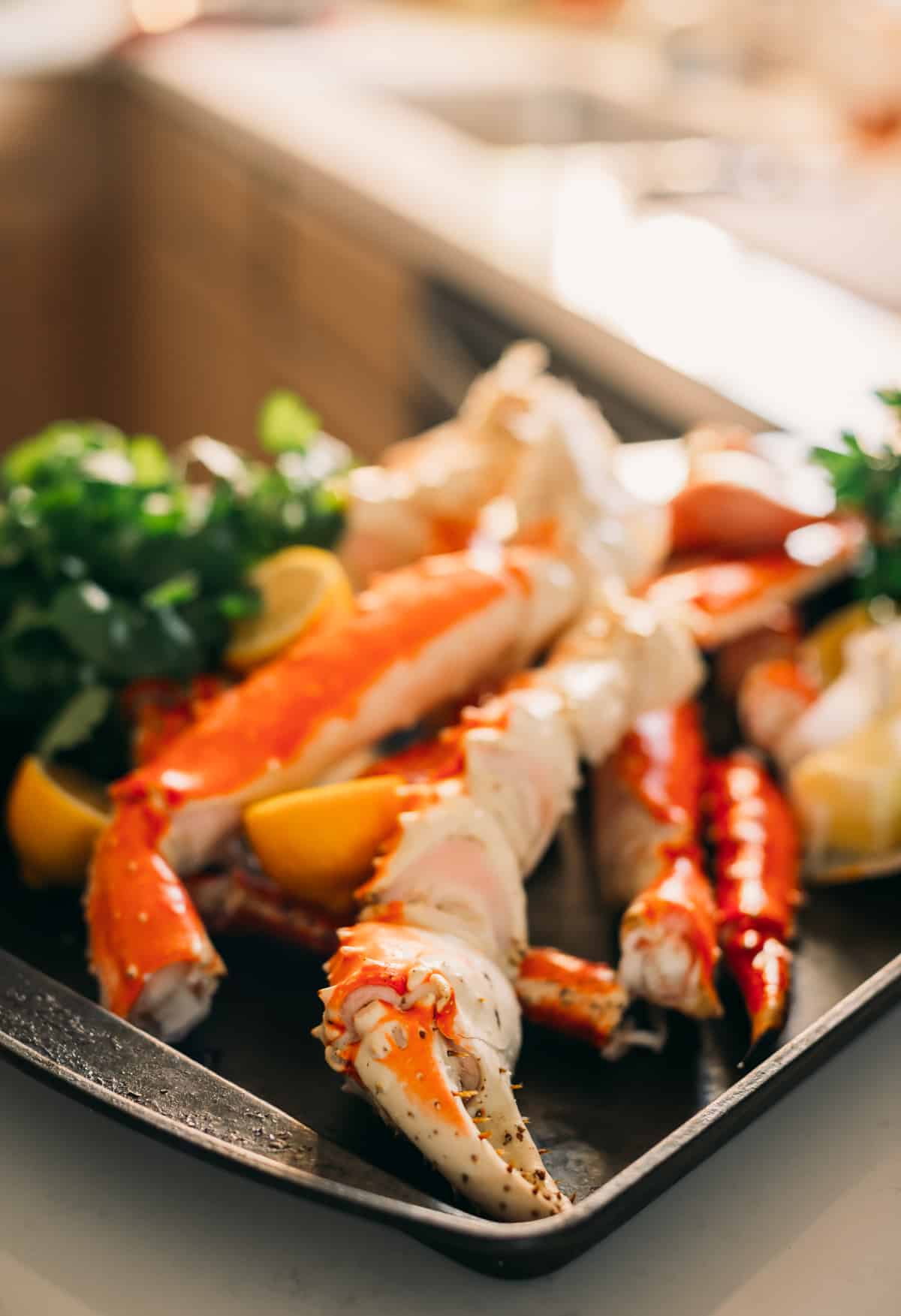 Place the crab legs on the direct heat side of the grill to grill crab legs.
Rotate the crab legs to prevent burning.
Move the crab legs to the cooler side once heated through. It won't take long to cook king crab legs over a hot grill.
Char the lemons on the hot side of the grill, then set them aside.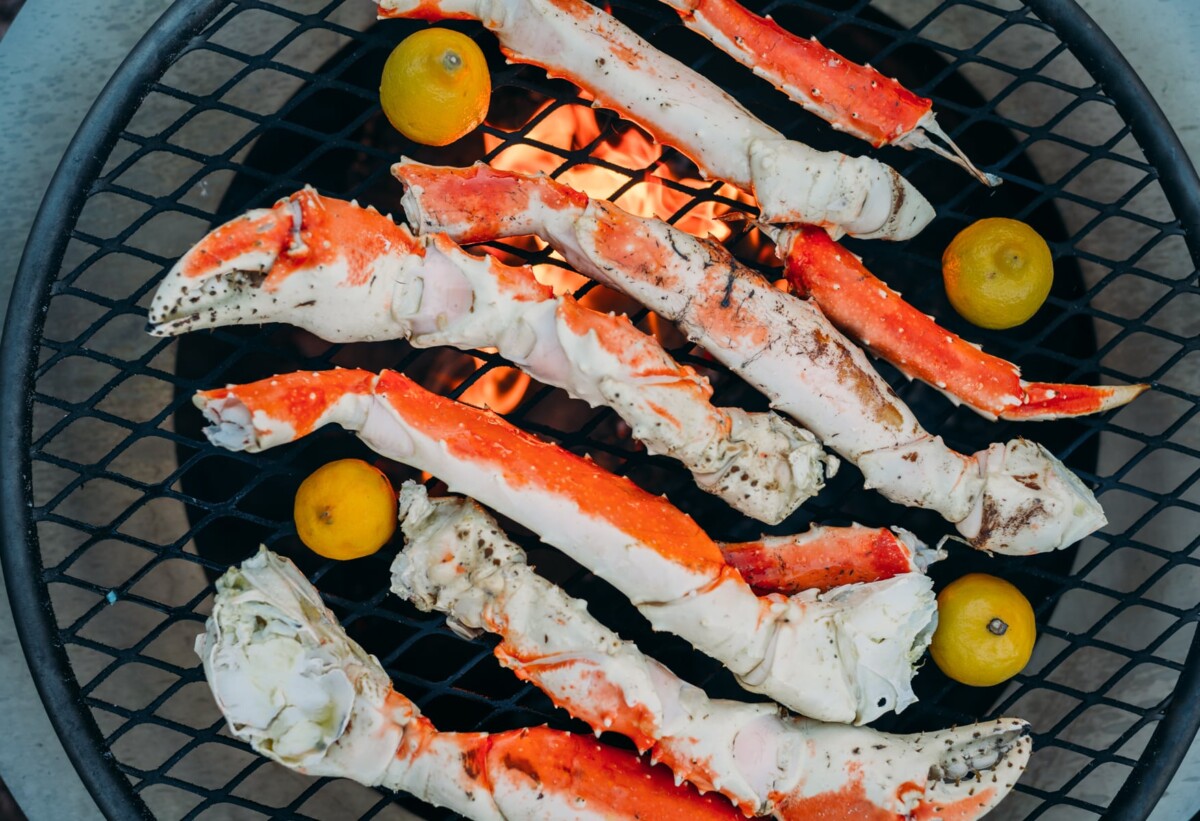 To make the Chimichurri Butter
Add a small cast-iron pan to the hot side of the fire and add the shallots and saute until soft.
Move the pan to the cooler side and add the butter to melt.
Stir in the chopped herbs and red pepper flakes.
Season with salt to taste.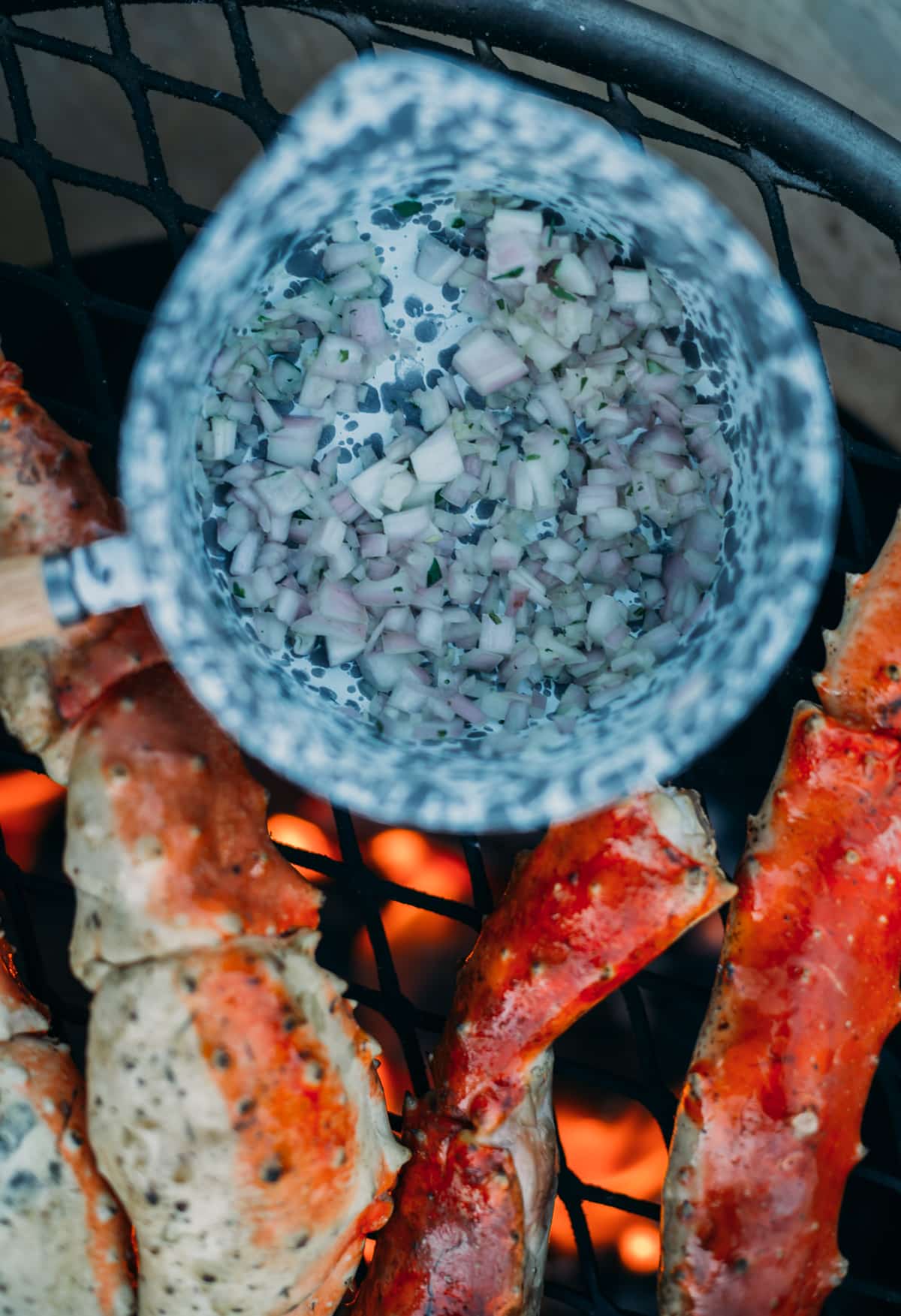 To serve:
Split the crab legs with a knife or kitchen shears and baste the split crab legs with the butter.
Serve immediately with charred lemons (or fresh lemon wedges) and additional butter for dipping.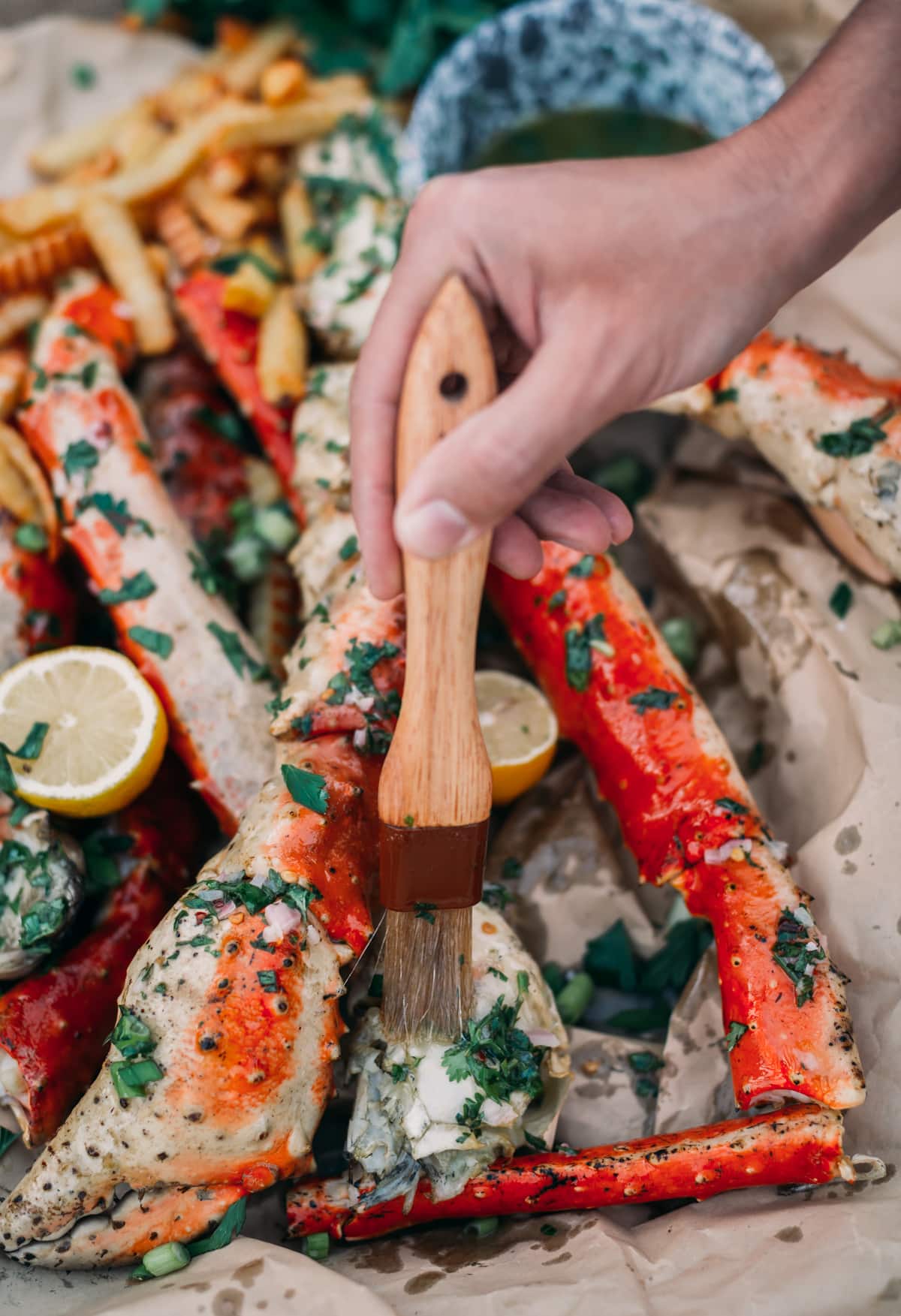 Recipe Tips
Crab, including king crabs, are usually sold precooked, so all you need to do is heat it through.
How to slice open the crab
Use a kitchen towel or tongs to hold the crab legs steady as you cut through them – they'll be too hot to hold with your hands. Or use a pair of kitchen shears to cut them open.

How much crab per person?
I usually count on 1 ½ – 2 pounds of crab legs per person.

Make the butter ahead of time
The butter can be made ahead of time on the stovetop, so it's ready to go when the crab legs are hot. Keep it over low heat to

Have the prep ready
Cooking crab legs on the grill doesn't take long, so have everything prepped and ready to go when you start cooking.
Acid adds flavor!
Don't skip the lemons! Fresh lemon juice adds so much to the crab and cuts the richness of the butter.
Serving Suggestions
Serve Grilled King Crab Legs with napkins, the extra butter for dipping (keep it warm on the grill), and the charred lemon.
You can also turn this into a seafood feast with dishes like Garlic Butter Shrimp and grilled salmon.
Serve with regular or sweet potato fries to keep this a finger-food meal.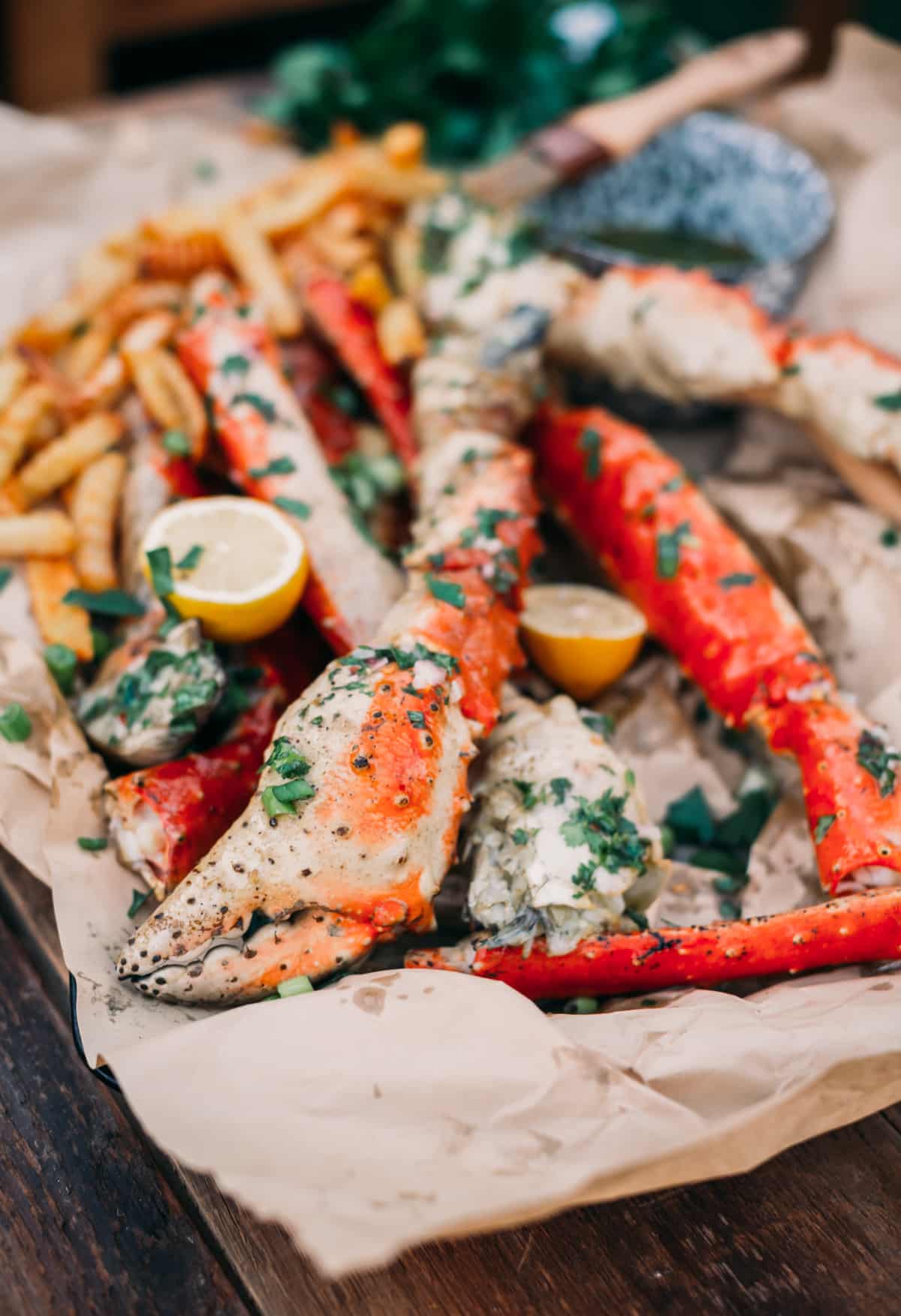 Storage Instructions
King crab (and any shellfish) is very perishable, even if refrigerated. If you don't gobble up your crab right away, refrigerate the leftovers for a day, maybe 2.
Other Delicious Crab Recipes
Grilled King Crab Legs with Chimichurri Butter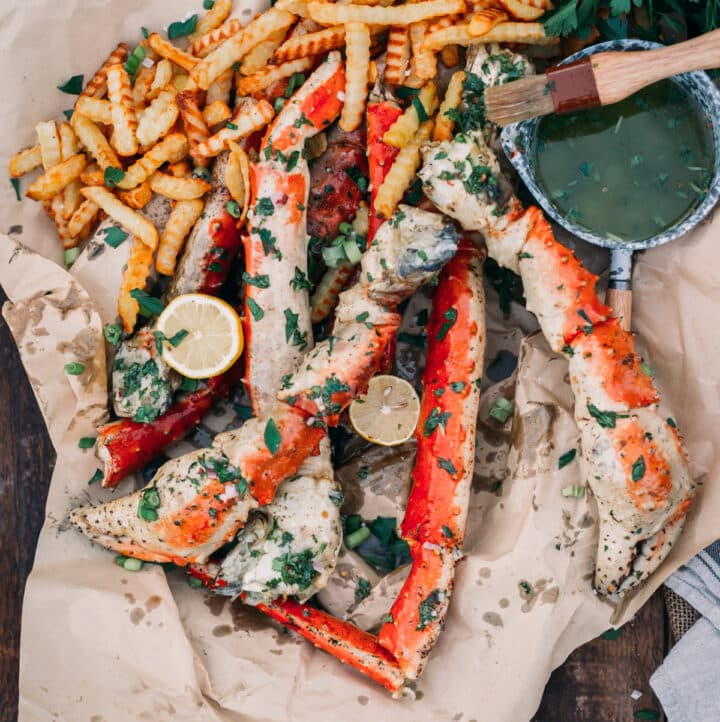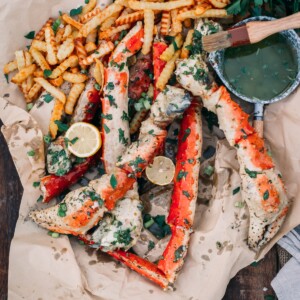 King crab is only in season from October to January. They have huge legs filled with meat, and these grilled king crab legs are basted in a chimichurri butter for succulent delicious bites!
Ingredients
5 to 6

lbs

fresh king crab legs thawed

8

tbsp

butter

1

shallot

minced

Salt

Cilantro

Parsley

Red pepper flakes

Lemons
Instructions
Prep the grill:
Make sure your crab legs are thawed

Prep your grill for indirect heat by building a hot side of the grill with the coals or burners heating on side of the grill surface and the other side left cooler.
Grill the crab legs:
Place the crab legs over the direct heat side of the grill and allow the legs to grill to heat them up.

Rotate the crab legs as needed to prevent burning as they warm

Move the legs to the cooler side if needed, making sure all of the king crab legs are heated through.
Make the chimichurri butter:
Add a small pan to the hot side of the fire and add the shallots.

Saute until softened.

Carefully move to the cooler side of the grill.

Add the butter to melt.

Add the parsley, cilantro, and red pepper flakes.

Stir to combine

Add the salt and season to taste.
Serve:
Char the lemons in the hot side of the grill

Split the crab legs with a knife and baste with the butter

Serve with charred lemons and additional butter for dipping.
Notes
This recipe would work for snow crab legs, stone crab, or any fresh crab that's already been steamed you have and want to grill. The chimichurri butter is great on all of it! 
Nutrition
Serving:
1
g
|
Calories:
454
kcal
|
Carbohydrates:
1
g
|
Protein:
69
g
|
Fat:
17
g
|
Saturated Fat:
10
g
|
Polyunsaturated Fat:
1
g
|
Monounsaturated Fat:
4
g
|
Trans Fat:
1
g
|
Cholesterol:
199
mg
|
Sodium:
3281
mg
|
Potassium:
790
mg
|
Fiber:
1
g
|
Sugar:
1
g
|
Vitamin A:
557
IU
|
Vitamin C:
27
mg
|
Calcium:
180
mg
|
Iron:
2
mg