This irresistible Smoked Garlic Confit makes the perfect spread, soft and full of rich flavor! It's perfect to fold into soups, stews, mashed potatoes, or on top of crusty bread!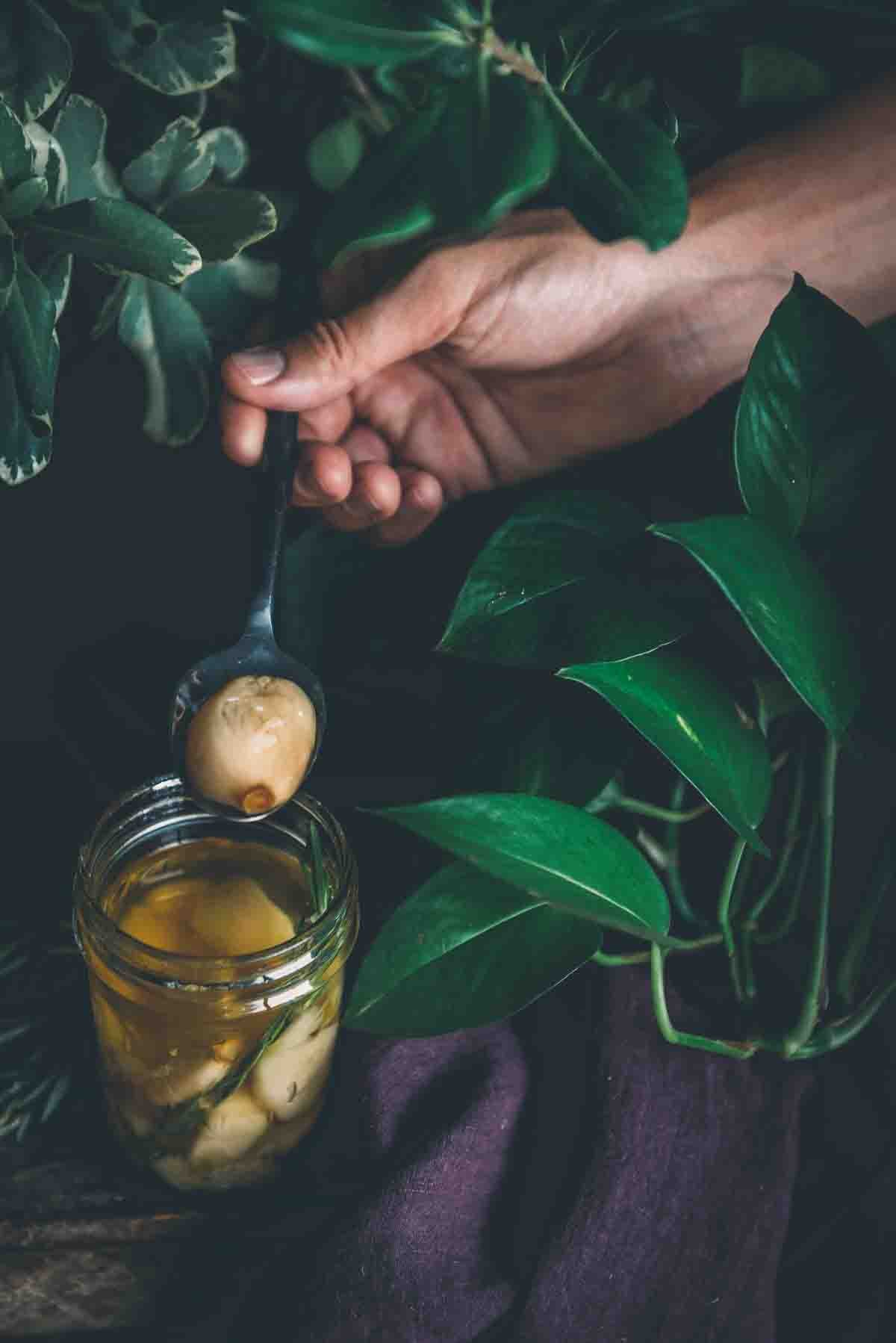 Garlic confit can be traced back to the middle ages (est. 14th century). If it has stuck around for several centuries, it has to be good, right?
Smoked garlic confit is a more modern twist to the original recipe that adds even more richness. It will add a rich, savory, and slightly sweet touch to anything you choose to pair it with.
It's one of my favorite things to prepare because it's super easy to make and so incredibly versatile. You will be pressed to find garlic confit quite as tasteful as this simple recipe!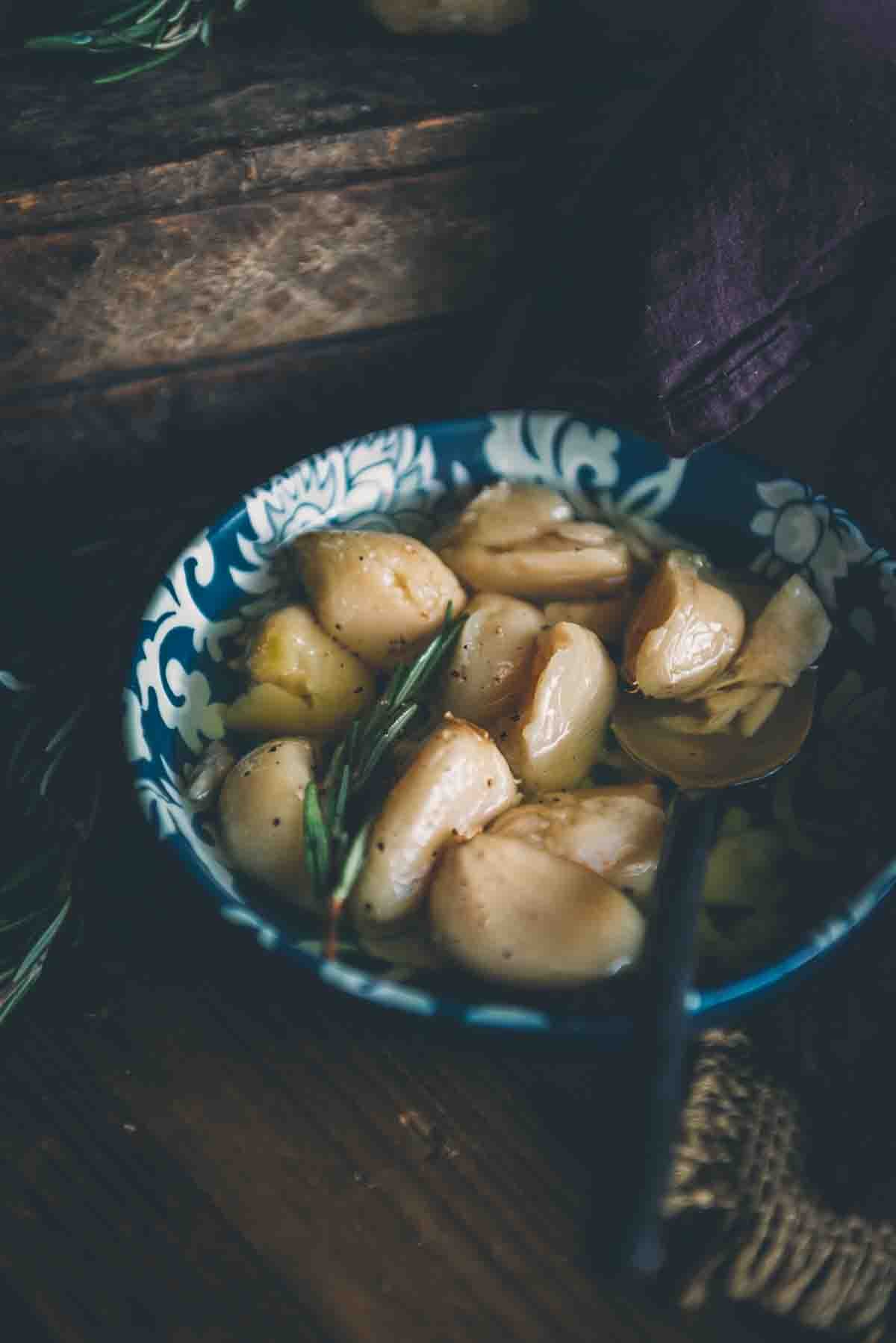 What Is Smoked Garlic Confit?
To confit is the French method of slowly cooking food in oil or fat. This was a technique used for preservation. We happen to feel it infuses a TON of flavor as well.
Smoked garlic confit is when you take a ton of raw garlic, smoke it, and let it soak for weeks in a rich blend of olive oil (and other fresh herbs). As a result, you will have soft cloves, a spreadable and delicious ingredient, perfect for spreading across garlic bread, blended in mashed potatoes, and so much more. There are so many unique ways to use confit cloves.
It's a great way to extend the life of fresh garlic and have it readily on hand as an amazing condiment to grab and use.
Garlic confit is also a great addition to an elaborate charcuterie board so friends and family can use it as a spread with their cheese. All you have to do is use the back of a spoon to mash or spread these tender cloves easily. You can also spread it on your favorite sandwich.
To learn more about how to use garlic confit, keep reading, and happy cooking!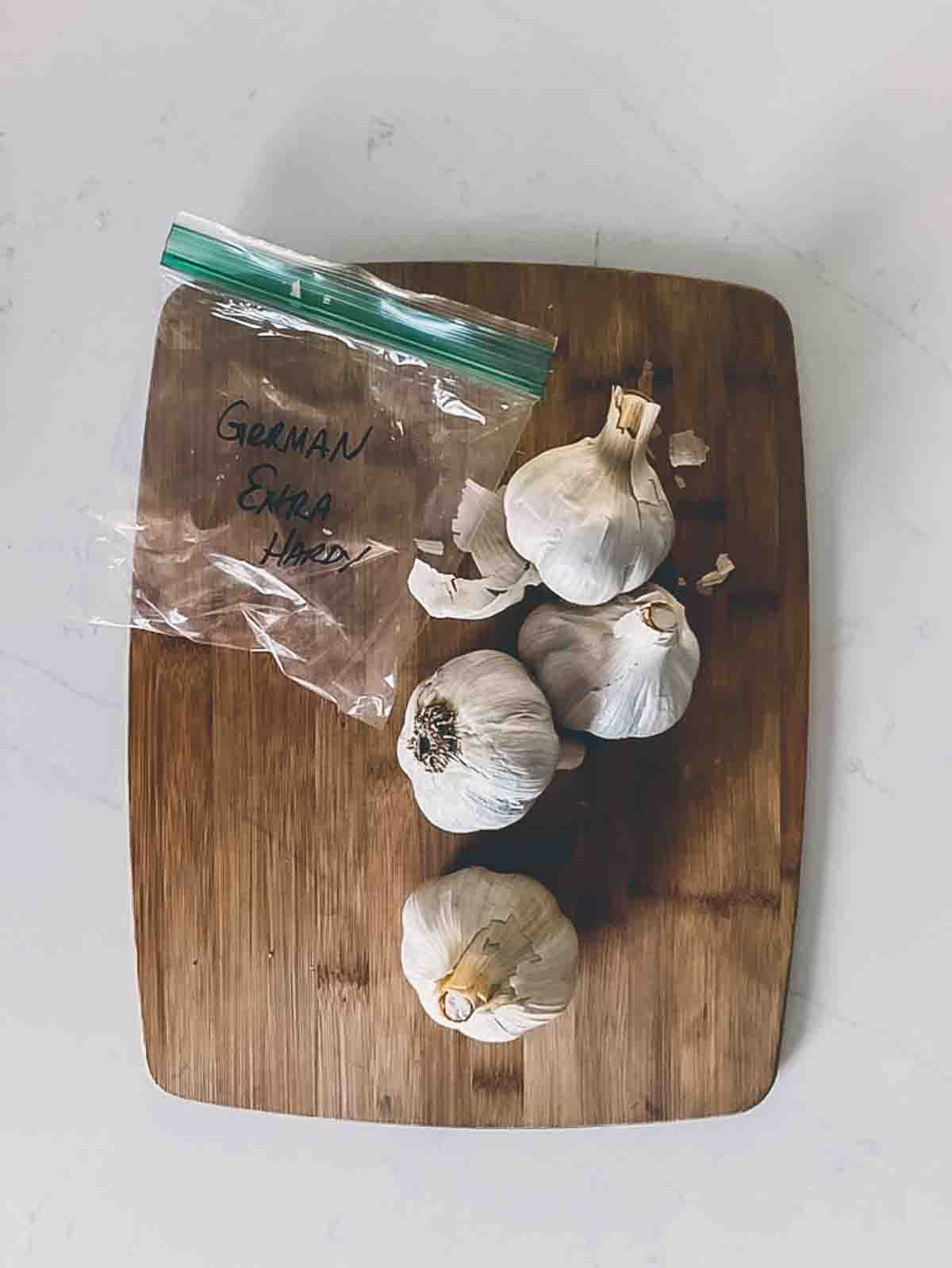 Smoked Garlic Confit Ingredients
Four heads of garlic
Olive oil
Sprigs fresh rosemary
Black peppercorns
How to Make Smoked Garlic Confit
We used a Traeger pellet smoker for this recipe. We wanted an even low heat without an overpowering acidic smoke flavor and knew the pellet grill would deliver just that without worry. Because charcoal can jump in temp and have a more aggressive wood flavor, we recommend a pellet grill for this recipe. (and it's probably the only time ever we would say that).
The first step is to prep the smoker to 250° degrees F.
Then, peel the papery skins off of the cloves of garlic.
Next, place the fresh garlic into your foil pan in a single layer so they are not overlapped. You'll want to cover the peeled garlic cloves with olive oil and then place them on the wire rack of the pellet smoker and close the lid to smoke for 2 to 2.5 hours.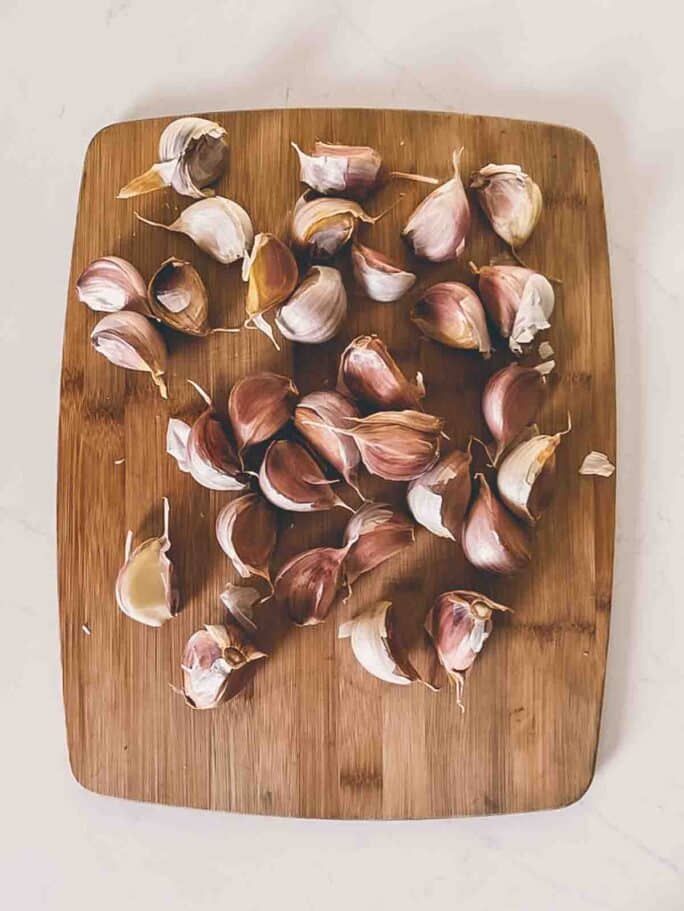 Remove from the grill and set aside. Meanwhile, add rosemary sprigs and peppercorns and allow the oil to cool completely.
Once cooled, place into a wide-mouth mason jar (or however many is needed), with the oil mixture, and seal properly. Then you're going to store it in the fridge for up to two weeks. This may sound like a long time, but trust me on this one, it will build the rich flavor to its peak strength!
Before using, let the garlic set at room temperature. The oil will liquify and make it easier to scoop out the cloves.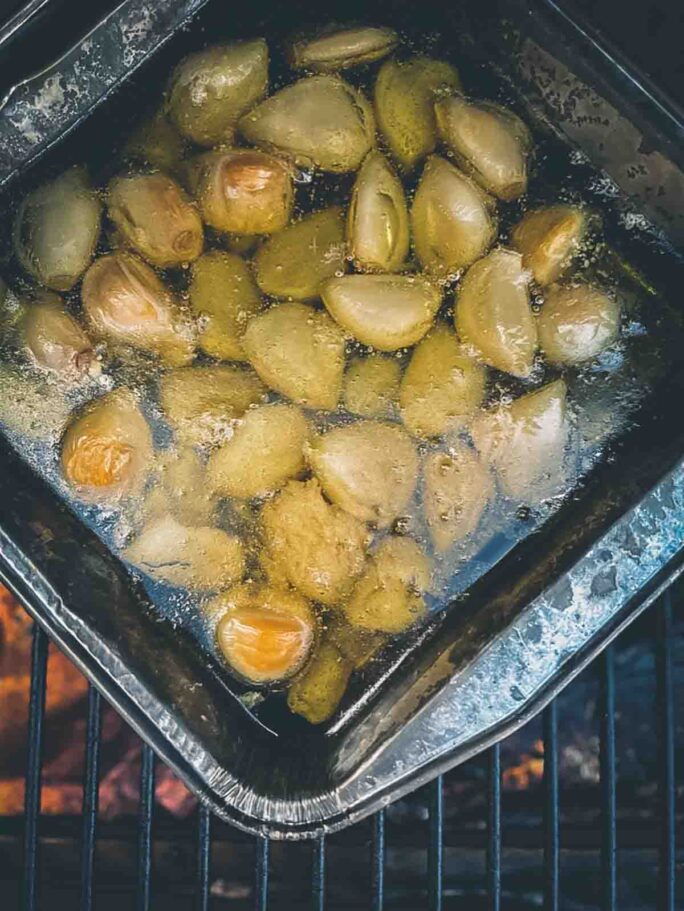 Storage/Leftovers
Store garlic confit in an airtight container (I just use glass mason jars) and keep it in the refrigerator; it should never be stored at room temperature. In this recipe, I suggest storing it for up to two weeks in the fridge. I would use them within a week after that for the best results.
If stored properly in a freezer-safe storage container, garlic confit can also be frozen for up to three months. Some suggest using an ice cube tray (with a lid or wrapped) filled with olive oil over the top of the inserted cloves. That way its easy to use a little at a time in the future.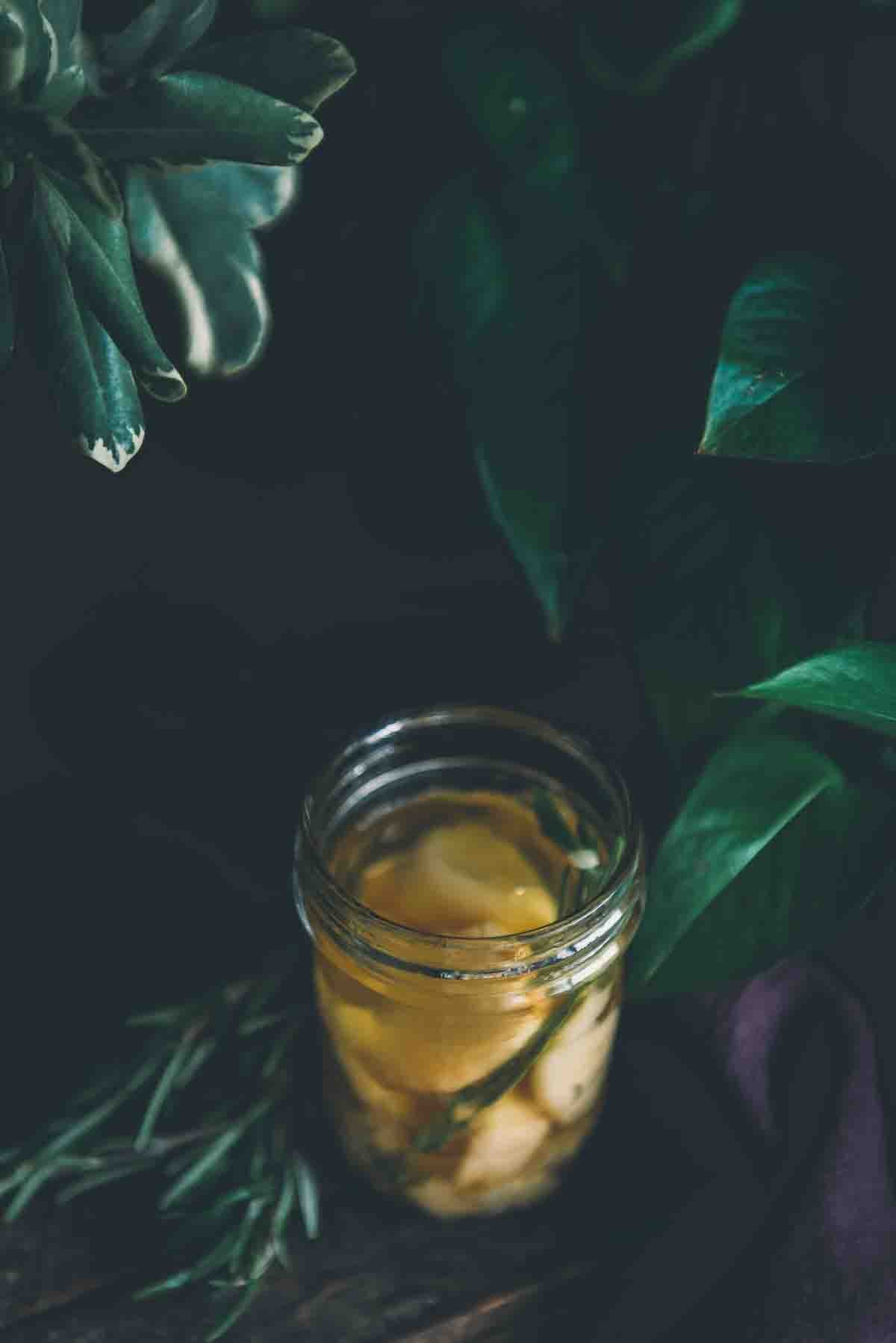 How to Use Smoked Garlic Confit
Here are some of my favorite ways to use smoked garlic confit:
In cilantro chimichurri or other condiments
Smashed onto toasted garlic bread
Use over top bone marrow (try mixing into our Bone Marrow French Onion Soup)
In herb butter, like the steakhouse herb butter we use on our smoked prime rib!
Mix into aioli (like the umami aioli we made for these ground venison burgers) or homemade salad dressings
Over pan-seared ribeye steaks, pan-seared veal loin chops, cast iron pork chops, and more!
Use garlic confit anywhere a recipe calls for roasted garlic or substitute it for regular garlic for a unique rich flavor. It generally makes a delicious spread and will take all of your dishes to the next level.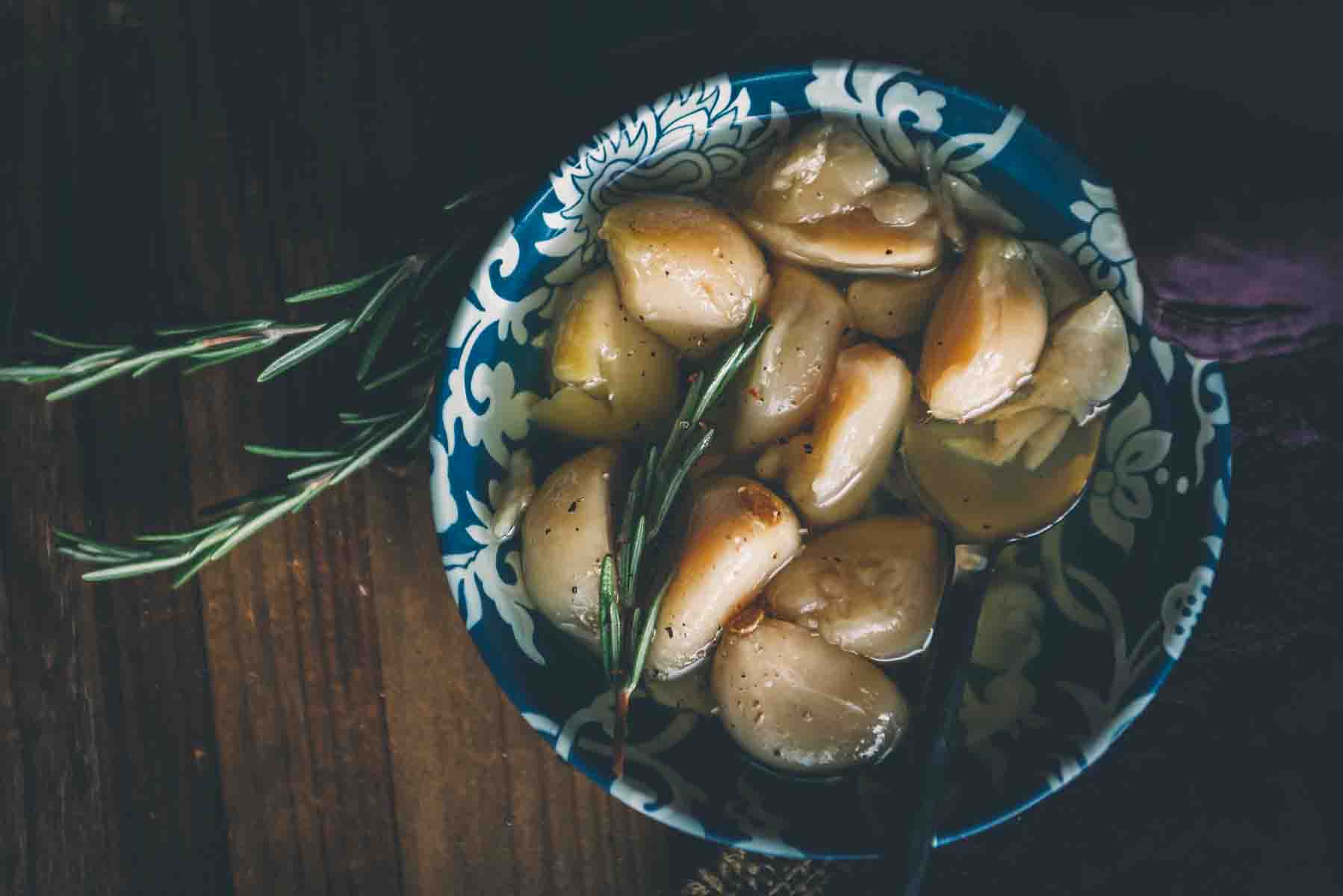 FAQs
What does confit garlic taste like?
Generally, confit garlic tastes rich and nutty—but this recipe is unique in that it's smoked. This smoked garlic confit recipe will taste rich and smoky, with hints of rosemary and peppercorns.
Why is my garlic confit bitter?
If you accidentally overcook your garlic, it will burn and turn into a more bitter taste. Ensure you follow the recipe card instructions below for the best results.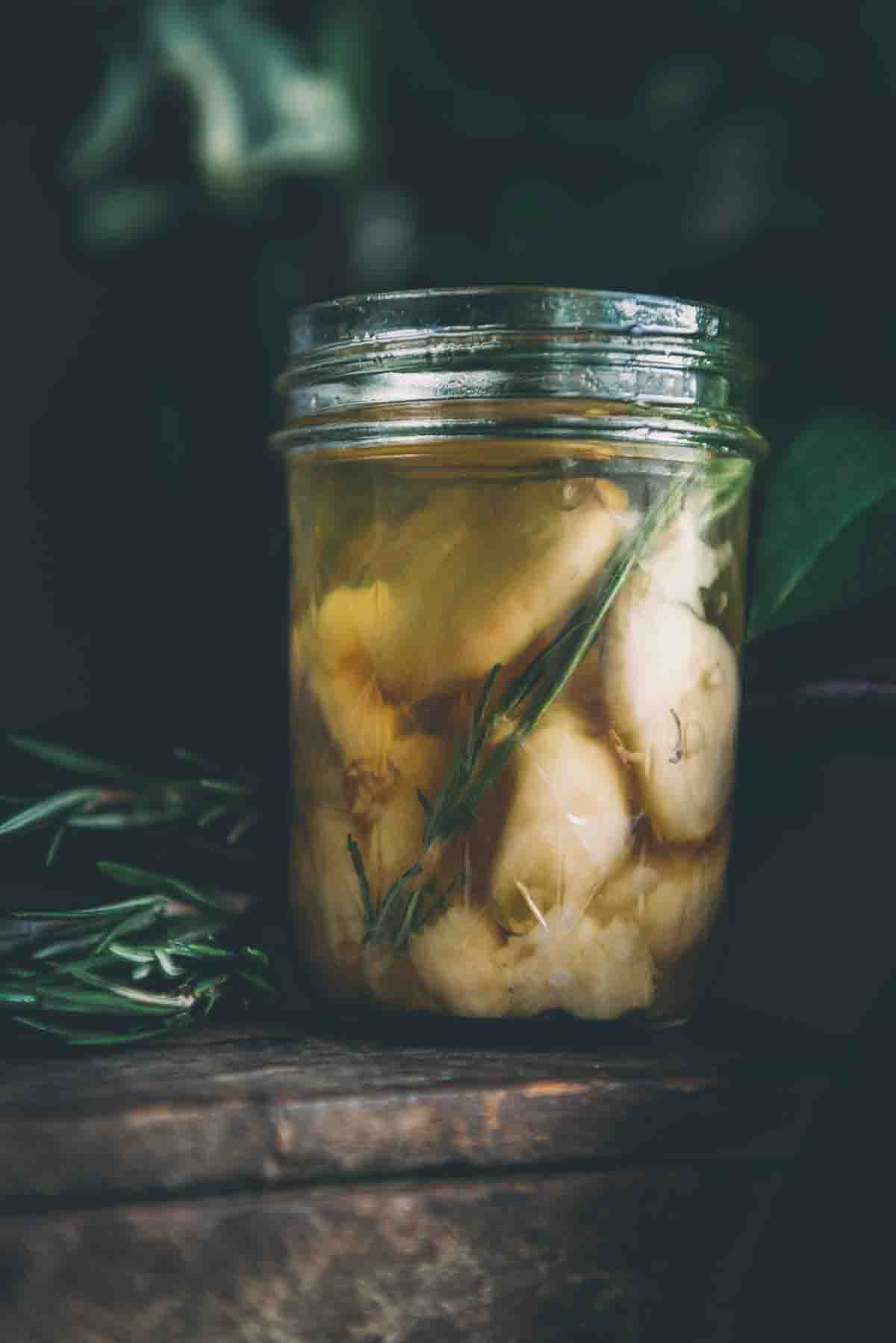 More Must Make Condiment Recipes
I hope you enjoy this rich Smoked Garlic Confit recipe! Don't forget to rate this recipe below. I would love to know how it turned out; leave a comment and let me know!
Smoked Garlic Confit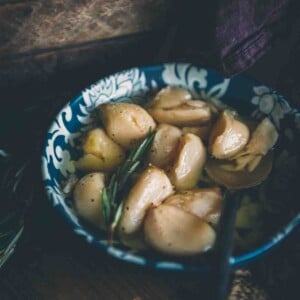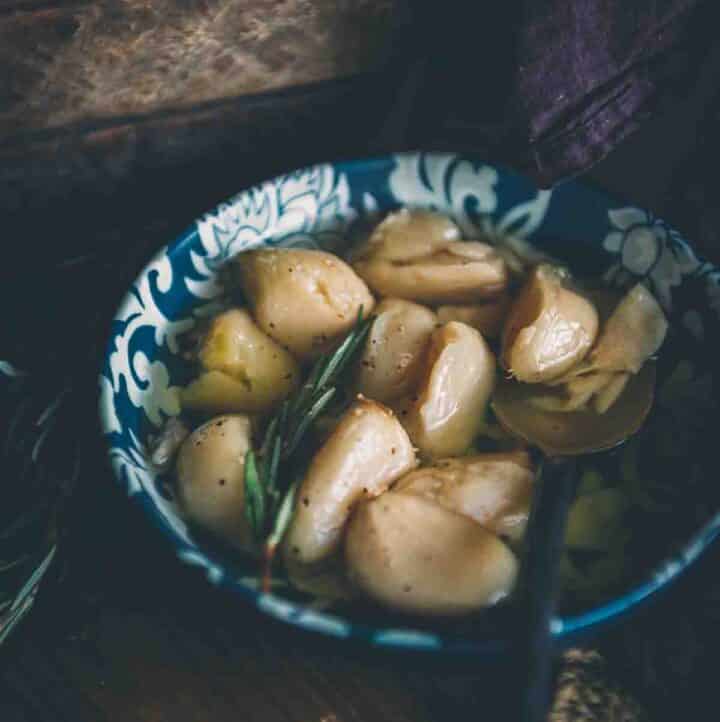 This easy recipe makes amazing smoked garlic confit. It stores well and can be used on bread, in sauces, marinades, and more to add delicious flavor!
Ingredients
4

head of garlic

2

cups

Extra Virgin Olive Oil

4

sprigs rosemary

½

tsp

black peppercorns
Instructions
Prep the Smoker
Prep the smoker to 250 degrees F
Prep the Garlic
Peel the individual cloves of garlic and place them in a 9×9 foil pan.

Cover with the avocado oil and place on the wire rack of the grill.

Close the lid and smoke for 2 to 2 ½ hours.
Cool the garlic confit
Carefully remove from the grill and set aside.

Add the rosemary sprigs and peppercorns.

Allow the oil to cool completely.
Store
Once cooled, divide the garlic, oil, and herbs into wide-mouthed mason jars and seal.

Store in the fridge for up to 2 weeks.

Be sure to return the garlic to room temperature to use. The oil will return to liquid form and you can easily scoop out the cloves.
Notes
This recipe was made on a Traeger pellet smoker. For more smoke flavor, we add a smoker box filled with hickory wood chips on the grill grates while the confit smokes.
To avoid picking up too much acrid overly-smoked flavor, we do not recommend smoking confit over a stick fire.
The garlic becomes soft when cooked in oil. It is easily mashed and spread. See the notes in our full post on delicious ways to use garlic confit and how to store and freeze it. 
Nutrition
Serving:
1
g
|
Calories:
162
kcal
|
Carbohydrates:
0.2
g
|
Protein:
0.04
g
|
Fat:
18
g
|
Saturated Fat:
2
g
|
Polyunsaturated Fat:
2
g
|
Monounsaturated Fat:
13
g
|
Sodium:
0.1
mg
|
Potassium:
3
mg
|
Fiber:
0.04
g
|
Sugar:
0.01
g
|
Vitamin A:
1
IU
|
Vitamin C:
0.2
mg
|
Calcium:
2
mg
|
Iron:
0.02
mg