Fire up the grill and let the magic unfold with these mouthwatering grilled lamb chops. Whether you're a meat enthusiast or looking to explore new grilling adventures, these succulent chops are a culinary delight that will have everyone asking for seconds!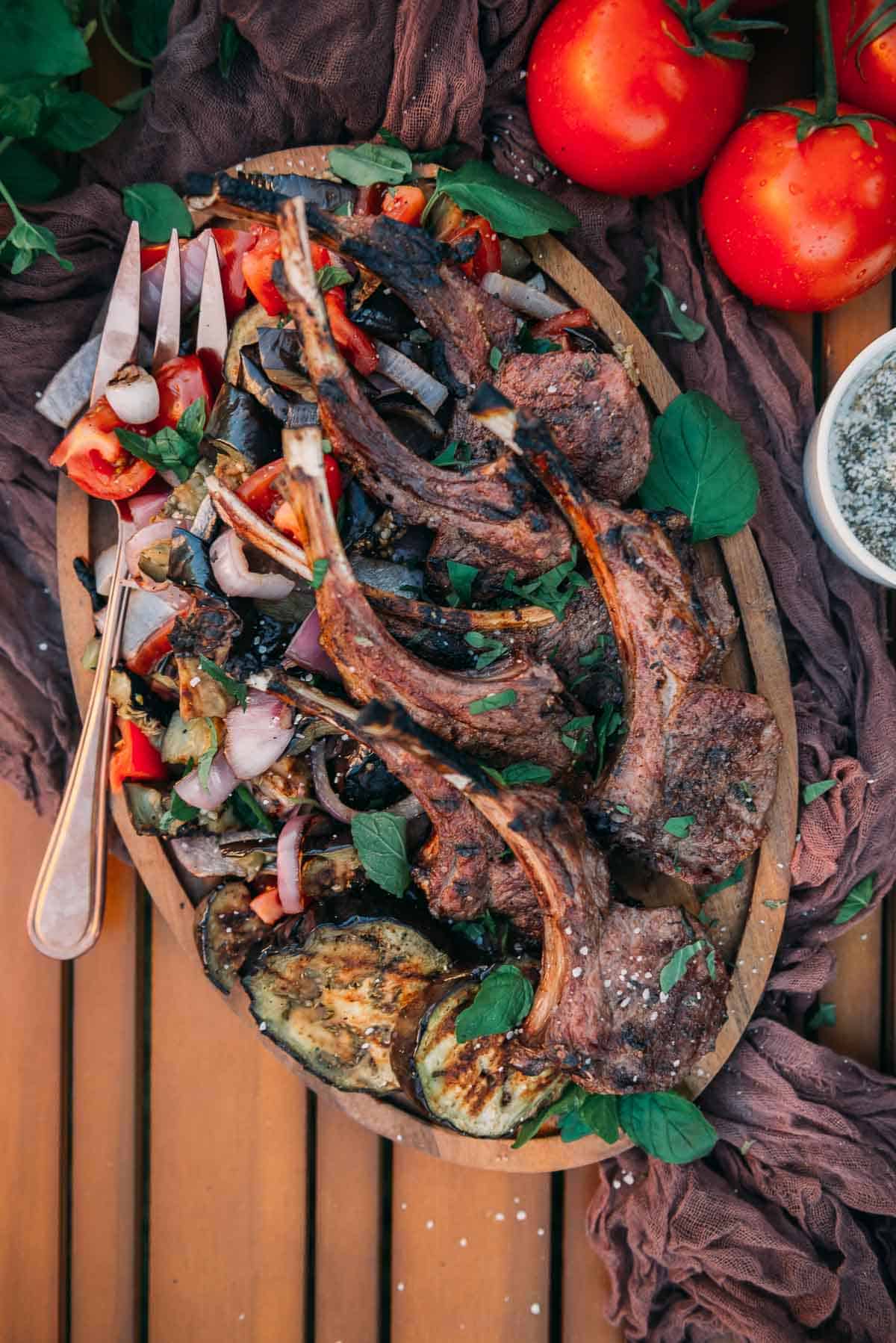 Grilled Lamb Chops with Lavender Salt. Quick to make and kinda healthy. Who doesn't want a filling but light dinner?
This easy dinner recipe is loaded with flavors. The addition of fresh herbs makes this lamb chop recipe one for the books. If you love the flavor of lamb, you will enjoy this delicious recipe. And if you don't think you love lamb recipes, we encourage you to try grilled lamb chops. Because they are a smaller cut, they pick up a lot of the grilled flavor and have none of the 'gameness' people often associate with lamb.
What are Grilled Lamb Chops
Lamb chops are a cut of meat taken from an angle off of the upper rib cage, near the spine, the same as a rack of lamb, but sliced into individual cuts. This dish is usually served with the bone in. Lamb chops are a delicacy all over the world, whether like this or lamb loin chops (little t-bones). These quick-cooking cuts of lamb are so easy to add to grilling recipes. For best results, keep the ingredients simple. Lamb lovers will understand.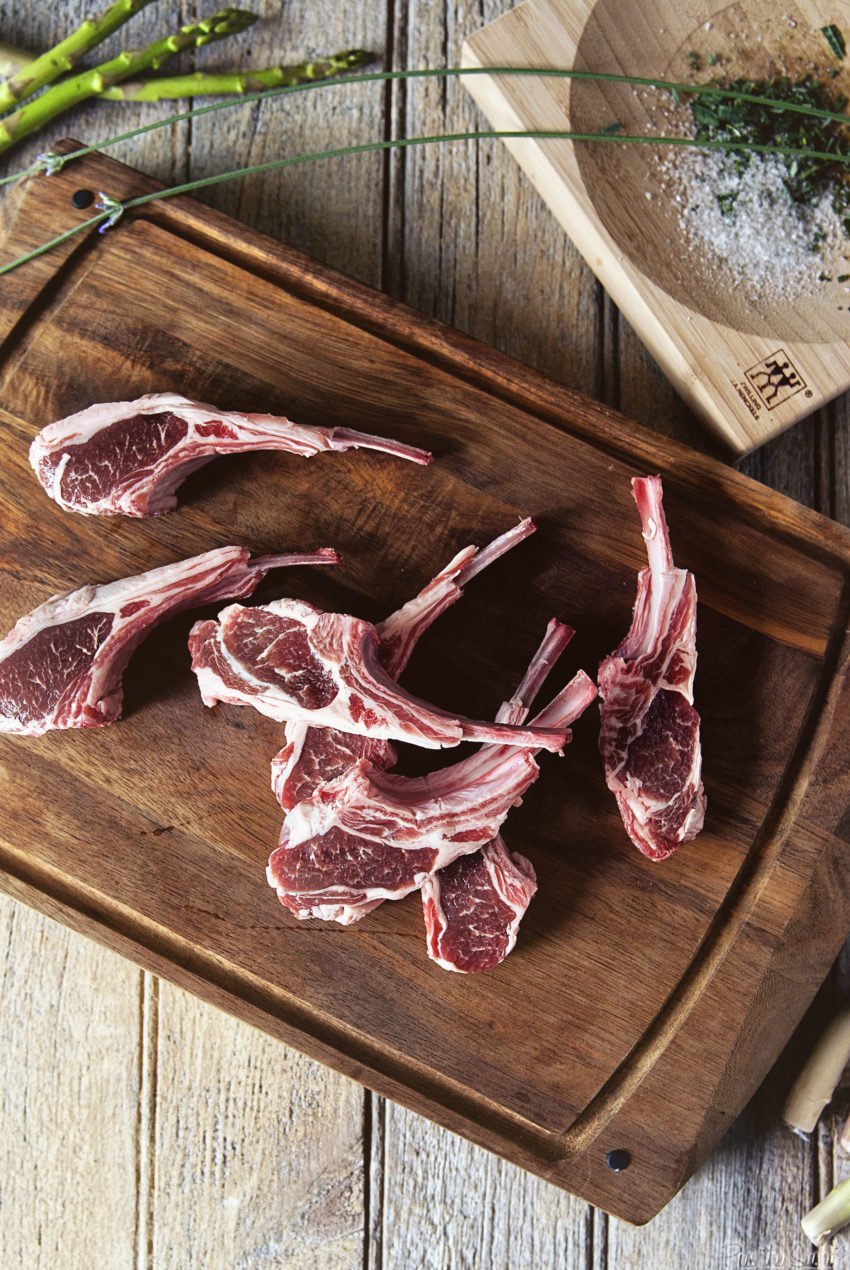 Ingredients for Grilled Lamb Chops
Dried Lavender
Flaky Sea Salt – really brings out the flavor
Lamb Chops – as many as you need to feed your family
Olive Oil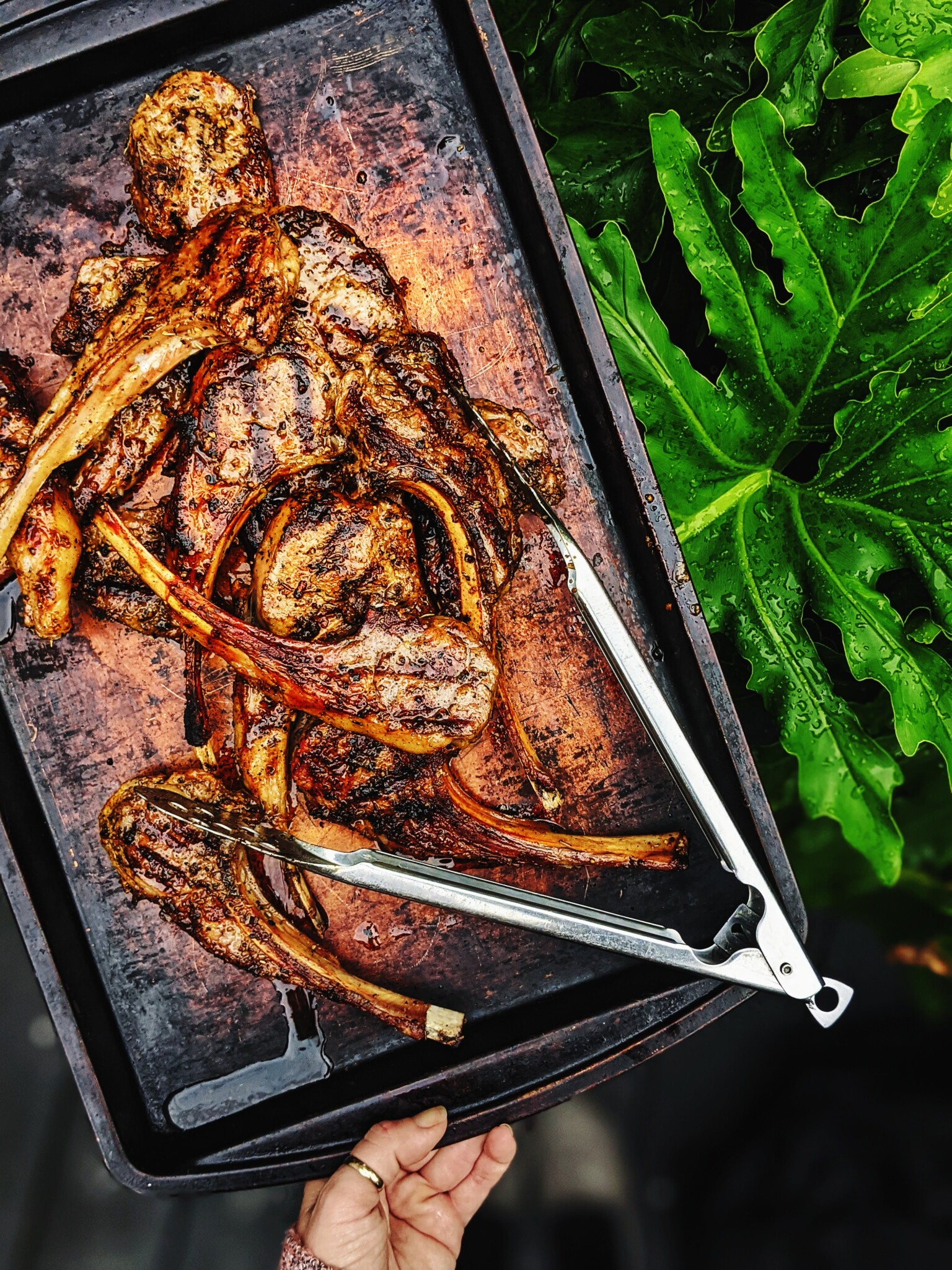 How to Grill Lamb Chops
Follow these step-by-step instructions to get the best lamb ever.
To begin, rub the lavender roughly between your fingers. this brings out the oils. In a small bowl, combine the lavender with the salt and set it aside.
Set the lamb chops out at room temperature for about 20 to 30 minutes before cooking. You don't want them frozen or too cold when you start cooking. They should be at room temperature when you begin.
Prep a charcoal grill by bringing it to medium-high heat.
Brush the lamb chops with olive oil and place them on the hot grill. Cook for 2 to 3 minutes on each side over direct heat for medium rare. Remove them from the grill and sprinkle them with lavender salt. Serve and enjoy!
See how simple that was?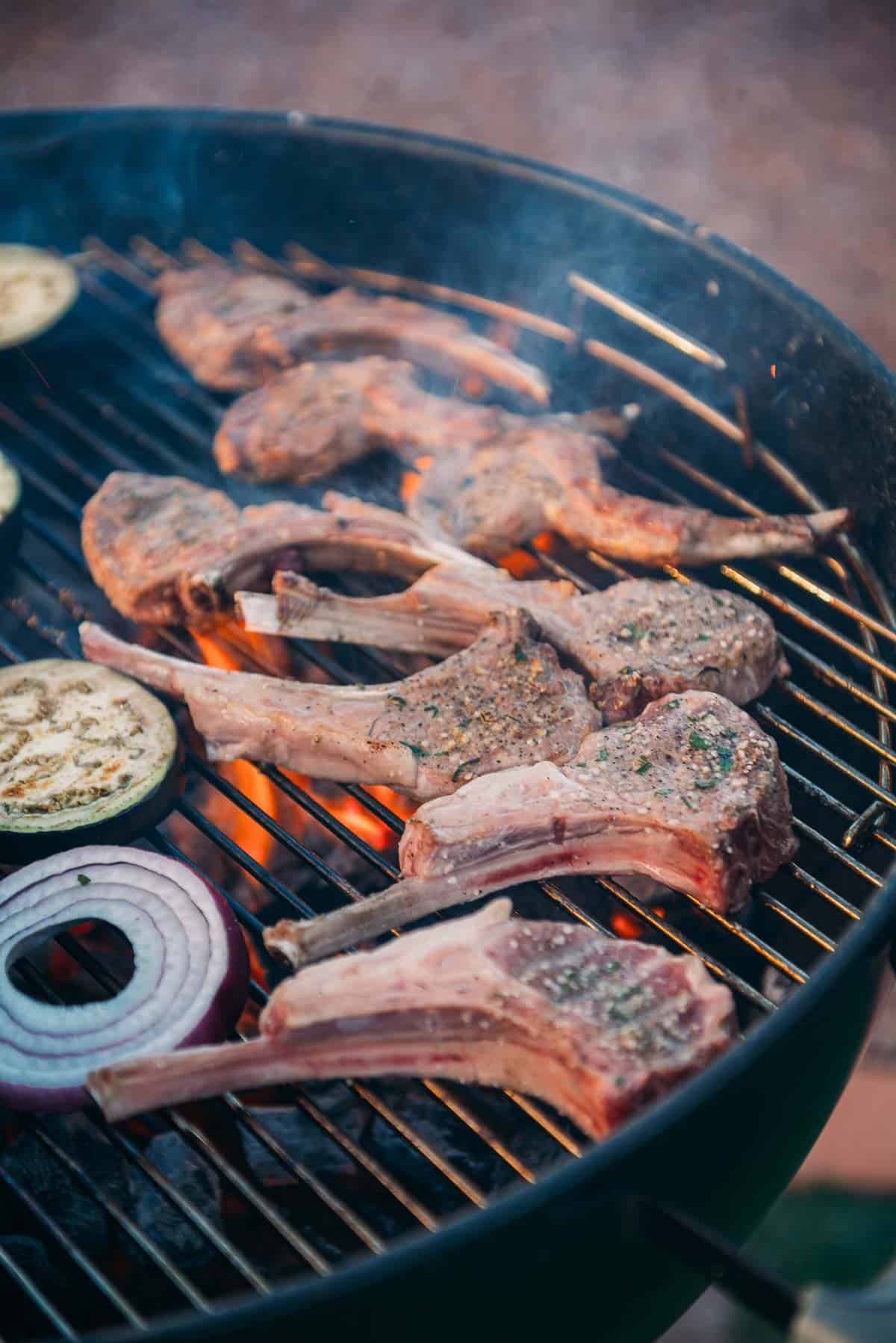 Girl Carnivore EXPERT RECIPE TIPS
Maintain the unique flavor
Instead of adding tons of seasonings and marinades, stick to the simple ingredients. The best chops are made with minimal ingredients. Stick to fresh thyme or fresh rosemary to add the tiniest bit of flavor. You don't much extra for easy recipes like this one.
What to Serve with Grilled Lamb Chops
Lamb chops pair well with many different vegetables and sides. Try this recipe with Steakhouse Keto Creamed Spinach or Umami Smoked Mushrooms. You also can't go wrong with a Smoked Baked Potato or Dutch Oven Mac and Cheese.
You might also try a tasty potato salad or a side of potatoes with these delicious lamb chops.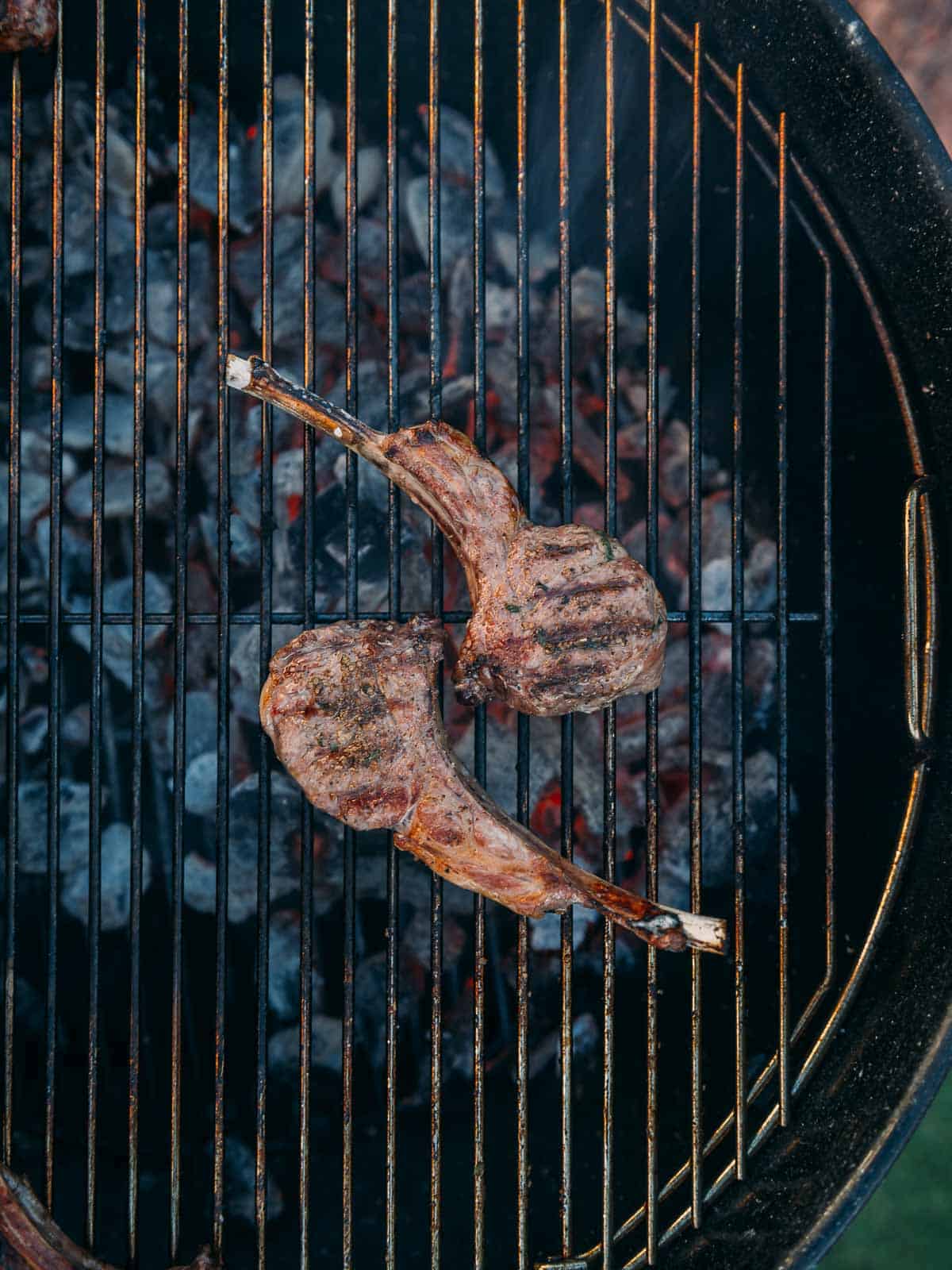 Leftovers and Reheating
Store your leftover lamb chops in an airtight container in the fridge for 3 to 4 days.
To reheat them, wrap them in aluminum foil and place them in the oven. This will help the heat stay inside and heat the meat through. You can also reheat the chops on the grill or in the microwave, depending on how much time you have. Sprinkle a little bit of water over the meat before reheating to add moisture.
Let's be honest, having leftover meat in the fridge is a gift. It allows you to make lunch sandwiches and delicious dishes throughout the week. Add the leftover lamb to your favorite bread with some sauce and toppings, and you have a quick lunch the next day. Honestly, you won't even need the sauce!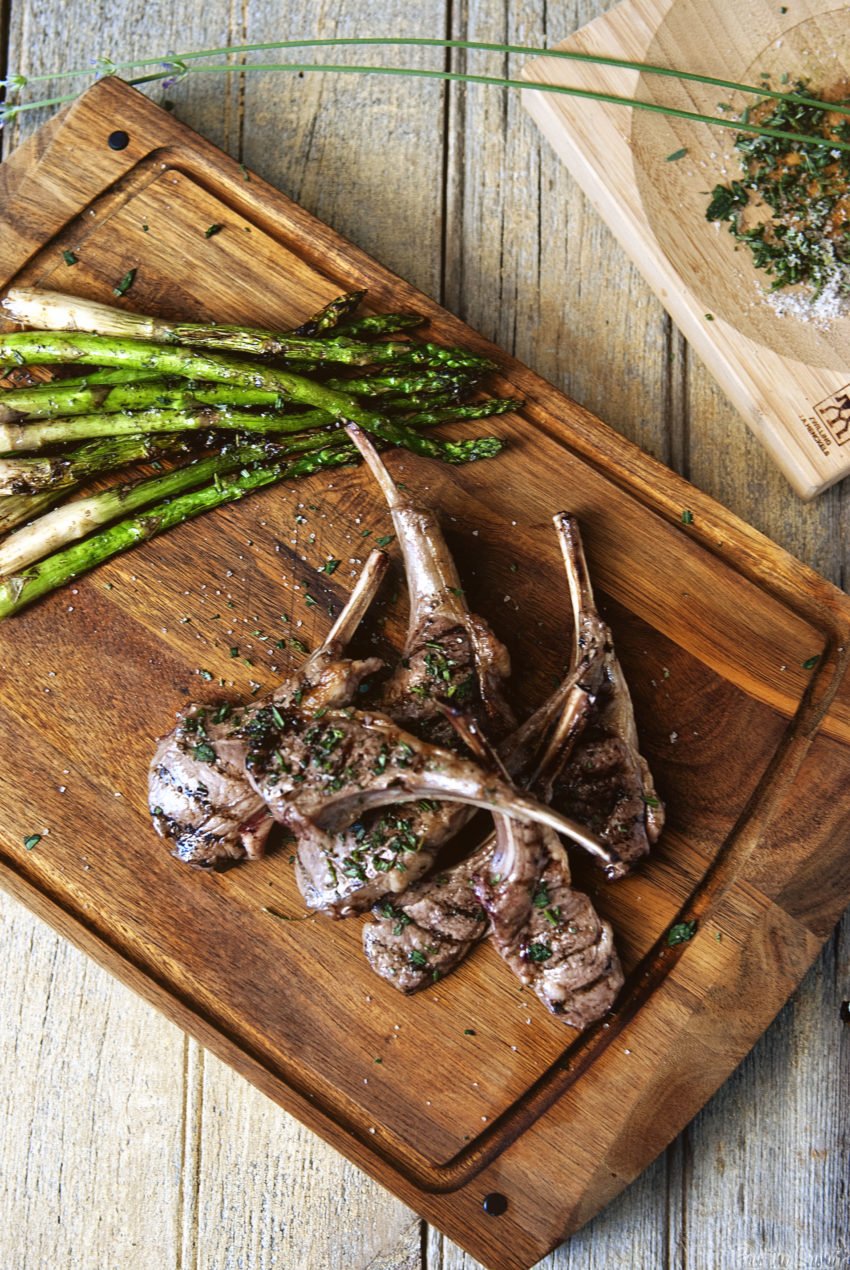 Lamb Chop FAQs
Should I sear the lamb chops before grilling?
For this recipe, you do not need to sear the chops first, no. Cooking them all at once on the preheated grill should suffice. Some people like to cook the chops on low heat first and then sear them over high heat. This is a personal preference. But searing is part of the grilling process.
How do you keep lamb chops tender?
The key to cooking lamb is the temperature. Undercooking the lamb will leave them chewy, and overcooking them with make them taste dried out. Lamb rib chops should be cooked to an internal temperature of about 130 degrees F. Loin chops are better at 135 degrees F.
Can I cook lamb chops on a cast iron skillet?
Yes! A cast-iron skillet is extremely versatile. Follow the same instructions to make your lamb on a skillet. The meat may need to heat through a little longer because you won't have the grill covering, so just keep your eye on the meat. Be sure to use an instant-read thermometer to check the internal temperature before consuming. You'll get almost as much flavor from this way of cooking than from an outdoor grill, but more crust! It's a great tradeoff.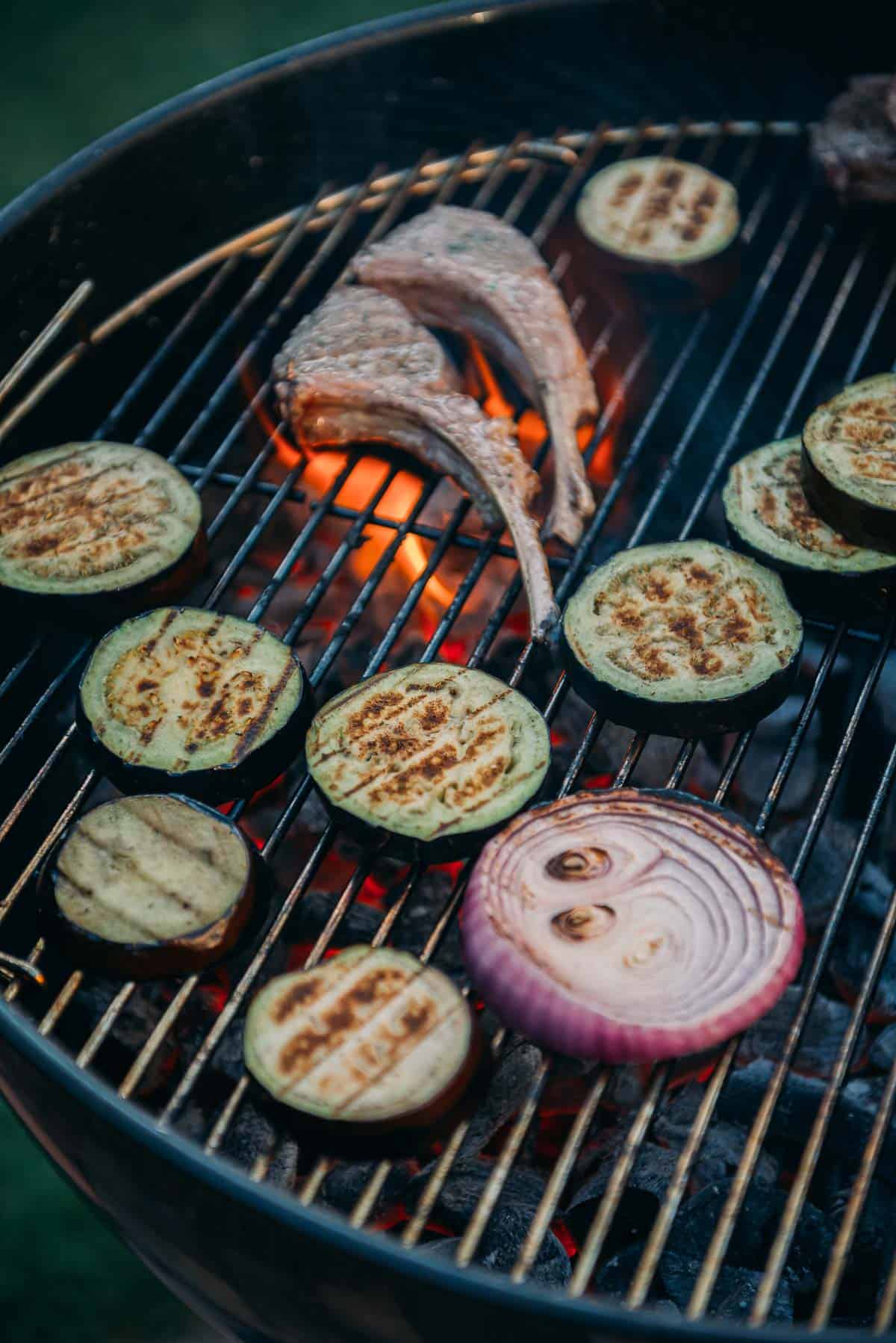 For amazing flavor profile using simple ingredients, try this tasty grilled lamb chops recipe. Your family will enjoy the flavor and you'll enjoy how simple it is to make. Use it at gatherings or for simple weeknight meals. As a bonus, the leftovers make great sandwiches and sides for the rest of the week.
Grilled Lamb Chops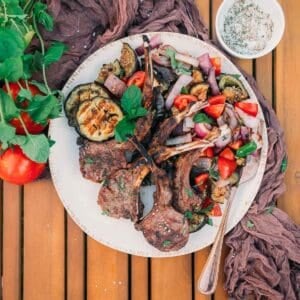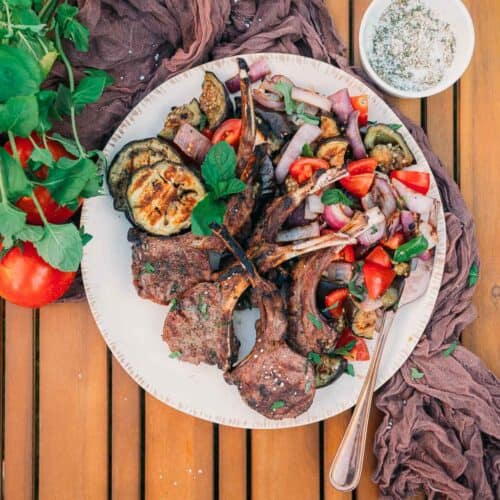 Savor the juicy tenderness of grilled lamb chops, seasoned to perfection and seared over high heat to achieve that beautiful char. With a medley of aromatic herbs and spices, these chops will be the star of your next grilling masterpiece!
Ingredients
2

tbs

dried lavender

I used fresh

1/2

cup

flaky sea salt

24

lamb chops

no I did not have 24, I don't have that kind of cash!

Olive Oil
Instructions
Rub the lavendar roughly between your fingers to bring out the oils (alternative, I used fresh and finely minced it).

In a small bowl, combine it with the salt. Set aside.

Bring the chips to room temperature, 20 to 30 minutes before cooking. Prep a charcoal grill to medium-high heat.

Brush the chops with the olive oil and place on the grill. Cook 2 to 3 minutes per side, for medium-rare. Remove from grill and sprinkle with lavender salt. Serve.
Notes
Inspired by Michael Symon's Carnivore recipe. If you want to save some cash, and who doesn't, you could use pork chops instead.
Nutrition
Calories:
570
kcal
|
Protein:
83
g
|
Fat:
23
g
|
Saturated Fat:
9
g
|
Cholesterol:
257
mg
|
Sodium:
4915
mg
|
Potassium:
1071
mg
|
Vitamin A:
5
IU
|
Vitamin C:
0.3
mg
|
Calcium:
48
mg
|
Iron:
7.6
mg