Infuse global flavor into your next pizza with this campfire pizza, Aka, Moroccan Lamb Pizza. A fun stuffed bread baked over a classic campfire.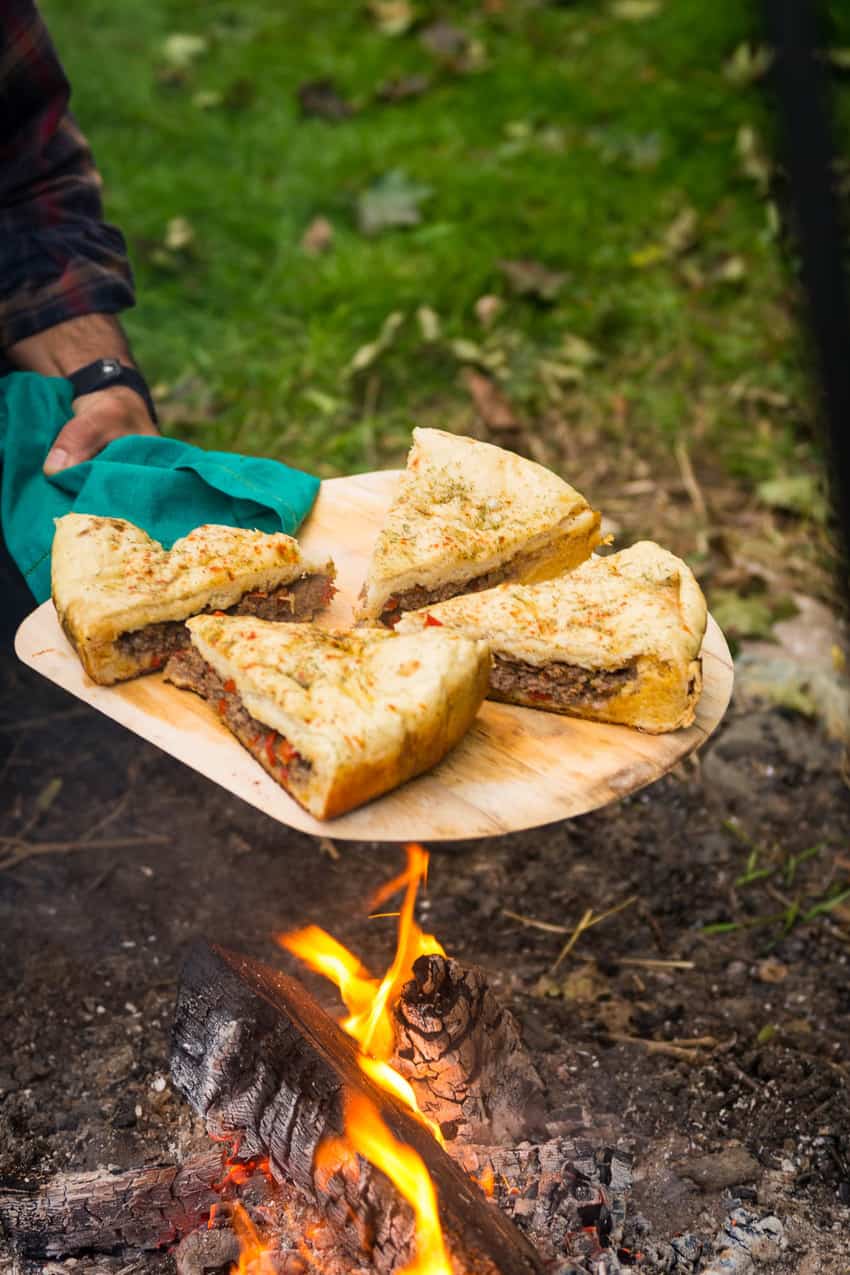 This is a sponsored conversation written by me on behalf of The American Lamb Board. The opinions and text are all mine.
In the sands of the Sahara desert live a wonderful people collectively known as "Berbers". This is a westernized term, and one that can have both positive and negative connotations – depending on how it is used. In the positive sense, it refers to the Imazighen or Amazigh people of Northern Africa. Forget the negative connotations. Who has time for any of that nonsense? I only mean it here and forever in the most positive terms.
One night, while exploring Morocco, I was able to enjoy their version of a baked dough dinner, they playfully told me, was Berber Pizza.
What is Medfouna?
The more traditional version would be Medfouna, a stuffed bread dish baked, is similar to a stromboli or calzone, with a hearty meat filling. The flavors were so unexpectedly delicious I knew it was a recipe I would be recreating and sharing in my own kitchen.
Traditional medfouna's can be stuffed with a variety of things, but I happen to love this playful spin on "Berber" Pizza with American ground lamb as the lead. I love the flavor of American ground lamb and it takes to North African spices perfectly!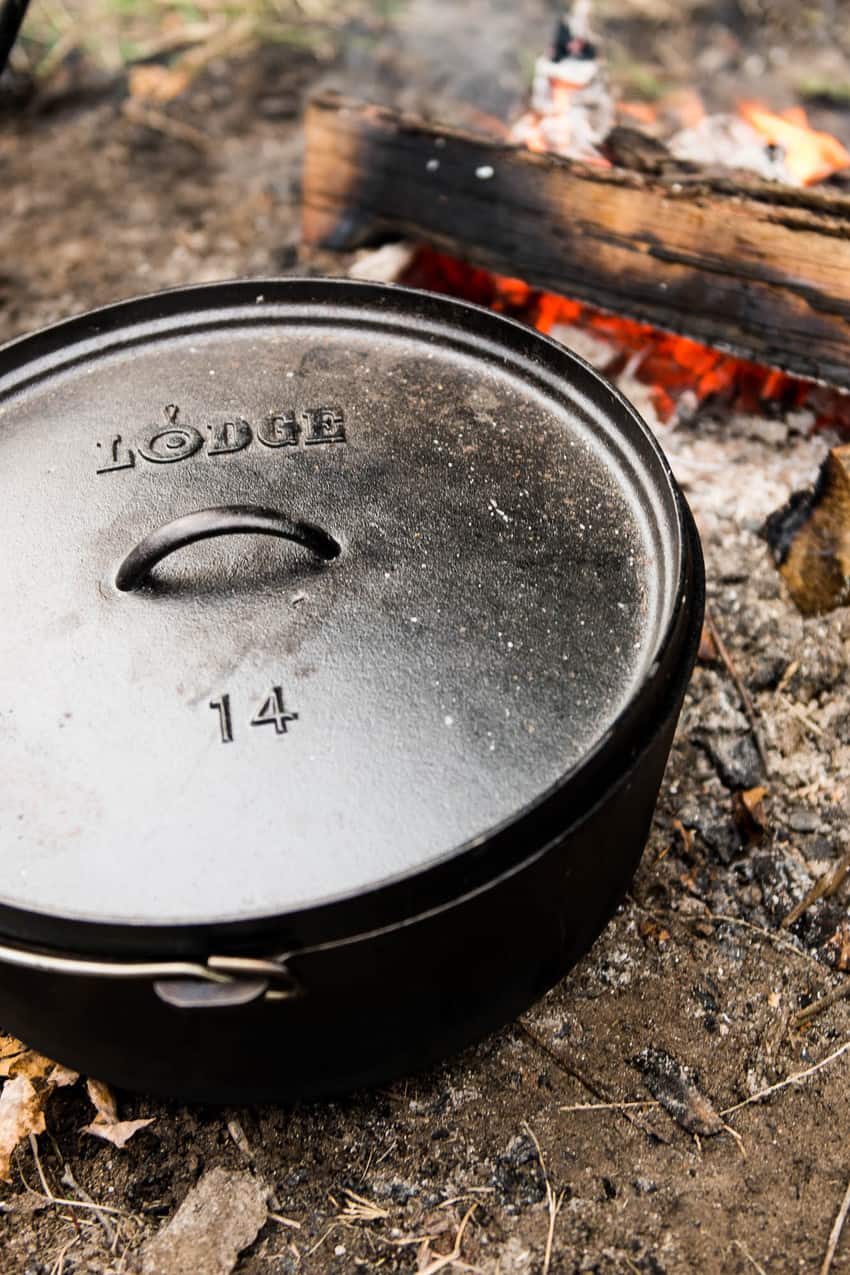 Lamb kofta and tangines were a huge part of my daily food exploration while traveling through Morocco. Definitely, I took notes on the recipes. Back home and loving lamb, because the fresh ground lamb I get is perfect for this recipe.
Undoubtedly, nothing works better for infusing with traditional Moroccan herbs and spices.
We tested this recipe with both browning the American ground lamb ahead of time and then leaving it raw to cook within the bread. I found the version of it steamed and cooking in the bread produced a less soggy, more crisp crust and perfectly seasoned lamb.
(A tangine is both a clay pot for cooking and a dish made in the pot)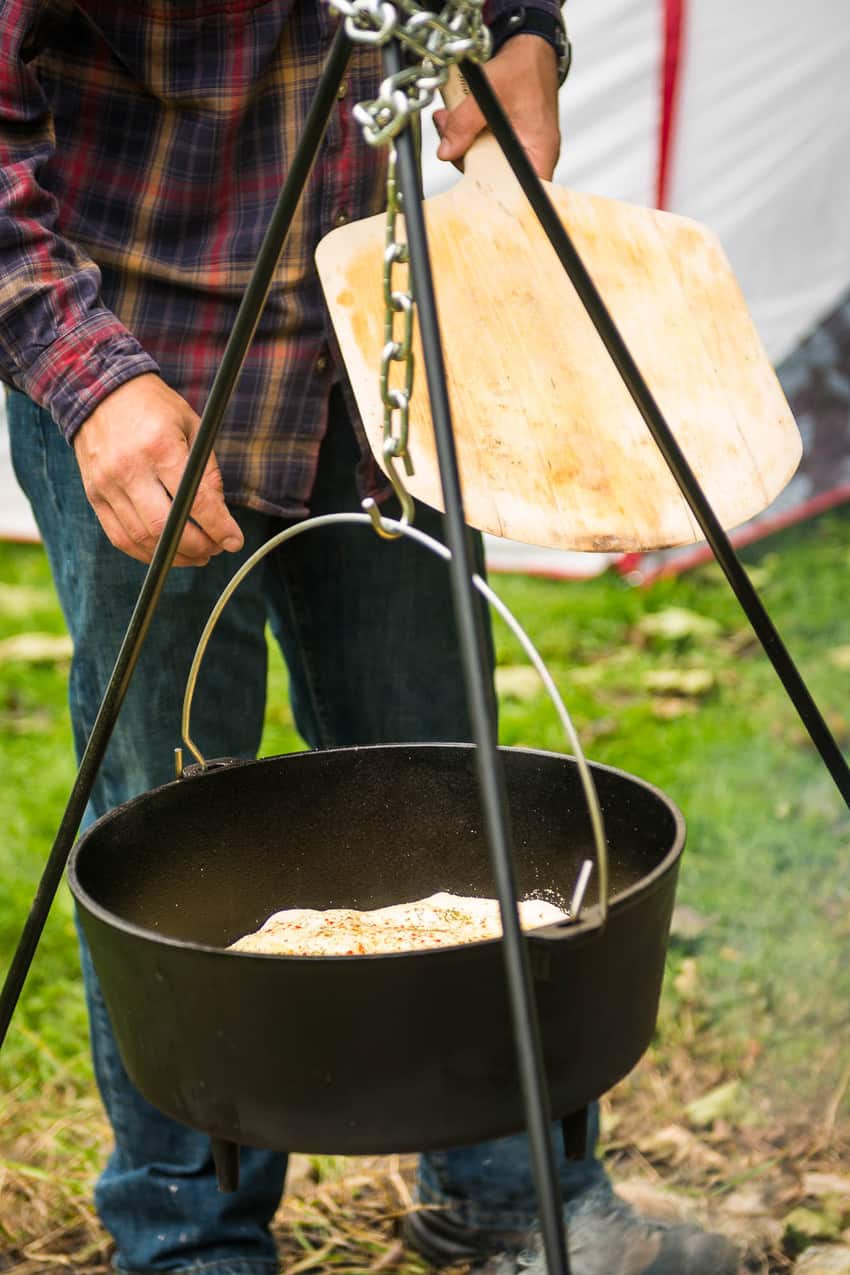 Wanting to spice things up for your own American spin on Moroccan Lamb Pizza?
Try additional spice combinations like harissa paste or Ras el Hanout to the mix in place of the paprika for more authentic Moroccan cooking. Or, as you build on your global adventure palette, start with the paprika. Then, work your way all the way to the North African lands of Morocco.
Make it an adventure. Let your taste buds be your guide!
This is the perfect recipe to try out on friends for any given Sunday Funday – but especially right now! Check out the cool campaign American Lamb Board has going on right now. Celebrate the outdoor enthusiasts with prizes from Yeti, Sur La Table, and Magnolia (hello cutest tumbler ever!).
What spices are in Ras El Hanout?
Moroccan spice blends are so wonderfully complex and unique. Although Ras El Hanout has many regional variations, the core ingredients typically include sweet and hot paprika, fenugreek, clove, cinnamon, nutmeg, mace, allspice, dry ginger, chili peppers, cardamom, cumin, coriander seed, peppercorn, and dry turmeric.
Talk about complexity! So genius. I guess in a sense it is sort of North African version of a curry seasoning.
What is in Harissa?
Harissa is another wonderful spice like Ras El Hanout. Honestly, once I discovered both of these seasonings I wanted to use them in everything for a while. They are exotic and mysterious, yet familiar and comforting.
Harissa can be found "wet" or "dry" depending on the ingredients. Typically in the wet version, you find a blend of olive oil with spices, including caraway, cumin, coriander, mint, plus hot chili peppers, and garlic. Some other common ingredients include sun dried tomatoes and rose petals.
Dry harissa won't be in olive oil or use sun dried tomatoes and tends to be heavier on the hot paprika.
Both are fabulous and add wonderful complexity to any dish, but lamb to me is the perfect vehicle for both harissa and Ras el Hanout.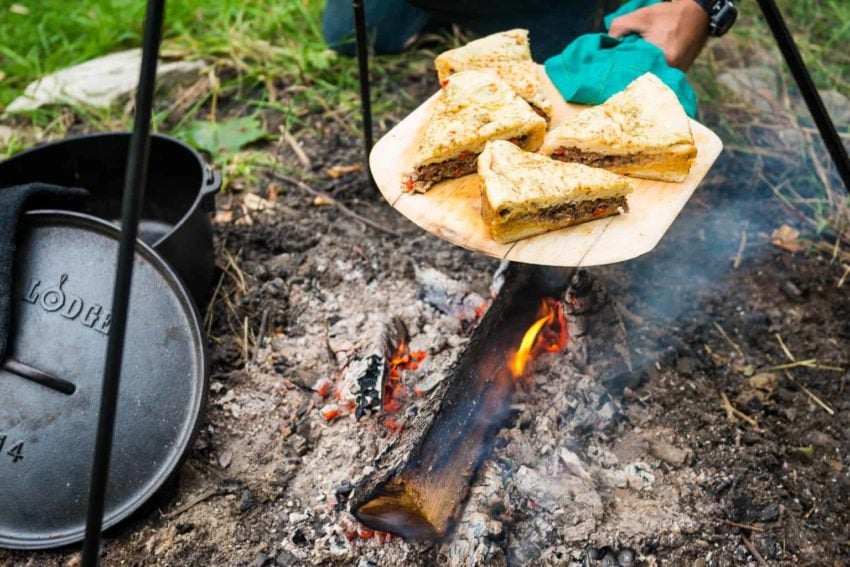 More great lamb recipes
Lamb is one of my favorite red meats. If you are a fan of lamb too, then check these recipes out too for inspiration?
If you've tried my Moroccan Lamb Pizza, or any other recipe on GirlCarnivore.com please don't forget to rate the recipe and let me know where you found it in the comments below. I get inspired by your feedback and comments! You can also FOLLOW ME on Instagram @girlcarnivore as well as on Twitter and Facebook.
Berber pizza, Aka, Moroccan Lamb Pizza
Infuse global flavor into your next pizza with this campfire Berber pizza, Aka, Moroccan Lamb Pizza. A fun stuffed bread baked over a classic campfire.
Ingredients
For the Dough
2

cups

warm water

1

tablespoon

active dry yeast

1

tablespoon

sugar

4

cups

bread flour

1

tablespoon

EVOO

1

teaspoon

coarse salt
For the Filling
1

tablespoon

olive oil

2

onions

3

cloves

garlic

1

large bell pepper

1

Guadjillo chili pepper

24

oz

ground lamb

1

teaspoon

cumin

1

teaspoon

paprika

½

teaspoon

salt

½

teaspoon

pepper
Instructions
First, make a fire and arrange your tri-pod according to the heat. You will want moderate heat for this cook and solid cast iron.
To make the dough:
Combine water, yeast, and sugar in a heavy bowl, mix thoroughly. Let sit until yeast bubbles, about 5 minutes.

Add 2 cups of flour and oil to the yeast mixture. Mix quickly with a sturdy spoon

Add salt and remaining flour, mixing until the dough becomes shaggy and loose.

Working with your hands, fold and shape together the dough until it forms a cohesive ball. Cover and set aside.
To make the filling:
Wipe out your Dutch oven and heat it over the fire for about 30 minutes.

Coat the inside of the pan with olive oil and add the onions and peppers and saute about 5 minutes, until soft.

Add the garlic and cook 30 seconds longer. Carefully remove from the pan.

In a large bowl, add lamb and spices to the onion mix.
For the Berber pizza assembly:
On a clean lightly floured work surface, divide dough into two equal portions.

Shape one half of the dough into a ball.

With a pin or your hands, press and roll the ball of dough into a large flat circle, about 10" in diameter and ½" thick.

Dust a pizza peel or easily maneuvered cutting board with cornmeal or flour. Transfer the disk to the pizza peel.

Place the lamb filling onto dough, covering evenly, leaving a ¾" border from the edge.

Shape the remaining dough into a ball and roll out into a similar round to the first.

Wet the outer edge of the lower dough with a bit of water, then cover the dough and filling with the second half, pressing to seal, and slightly rolling the edge under, on itself.

Carefully slide the pizza into Dutch oven and cover.

Check at 20 minutes, then more frequently.  When the upper crust is dry and the bottom is crisp, it is done, raising or lowering from proximity to heat as your fire needs.

Carefully remove from heat and Dutch oven and allow to cool for 5 minutes before slicing and serving.
Notes
Alternatively, this dish can be baked in an oven pre-heated to 400 degrees for 35-40 minutes. Watch the dough carefully to make sure the bottom doesn't burn as the top crisps up. 
Nutrition
Nutrition Facts
Berber pizza, Aka, Moroccan Lamb Pizza
Amount Per Serving
Calories 528
Calories from Fat 216
% Daily Value*
Fat 24g37%
Cholesterol 62mg21%
Sodium 494mg21%
Potassium 370mg11%
Carbohydrates 52g17%
Protein 22g44%
Vitamin A 660IU13%
Vitamin C 29.5mg36%
Calcium 36mg4%
Iron 2.3mg13%
* Percent Daily Values are based on a 2000 calorie diet. Nutrition information provided is an estimate. For specific health concerns, please put the recipe into your Dr recommended nutrition calculator.