A daring fusion of fresh Baja and spicy Cajun cuisine these grilled shrimp tacos have it all! With succulent grilled shrimp, crispy slaw, and a spicy lime crema all ready in under 20 minutes!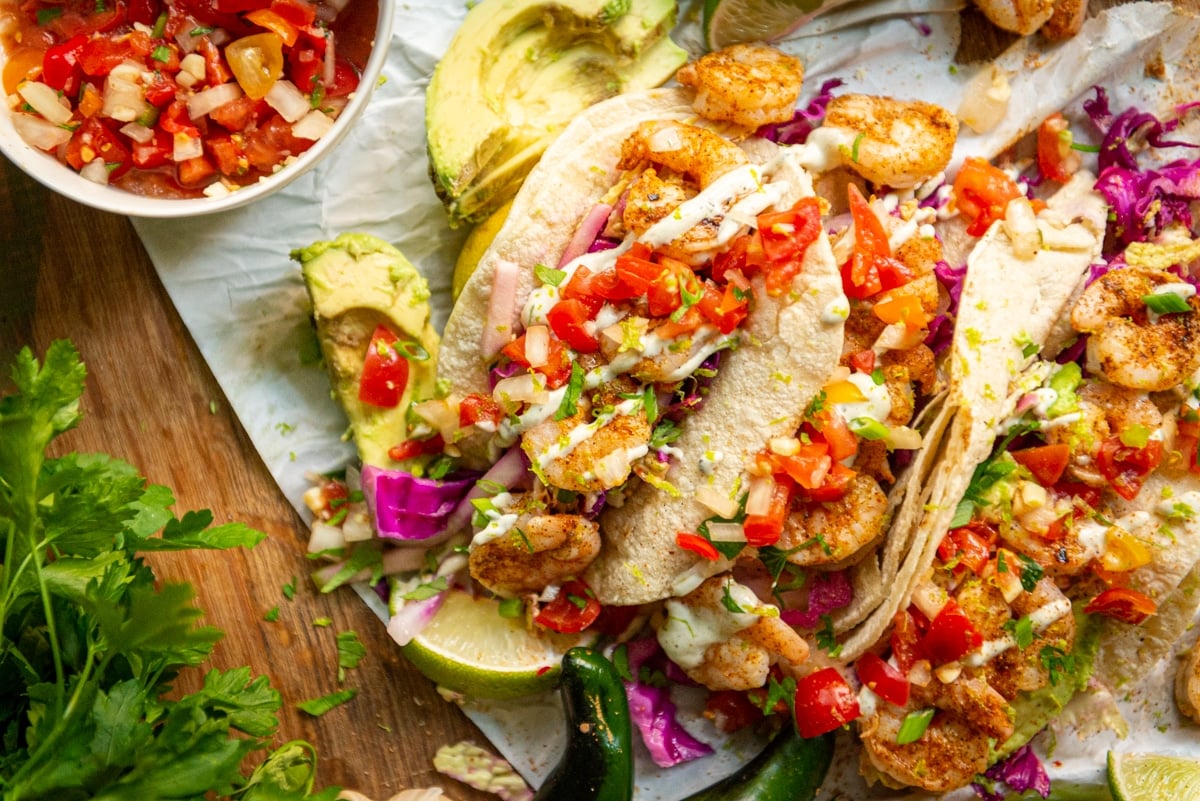 Truth. Tacos are my love language. I mean really, can one have a taco it not be a happy thing – no matter what the taco or filling is? But then when you have shrimp, it's like the perfect happy bite every single time.

Thing is, I have traveled the world, and Central America and the islands are some of my favorite places. Weather, people, all of it. And of course, the food. There's just a brightness and freshness to all of it – and you can't not have seafood!
Why you'll love this zesty grilled shrimp taco recipe
This is not an authentic Mexican or Baja recipe. This is a quick, easy, and light shrimp recipe; for when you want a ton of flavor and minimal prep time with the perfect cabbage crunch and hit of lime and cilantro!
Consider these tacos de camerones a Cajun spin on a Baja classic. With a spicy rub down from Creole Seasoning, the shrimp are fired off on the grill. Then nestled into warmed tortillas and topped with a tangy vinegar-based slaw before a spiced lime crema goes on top! And it's all ready in under 20 minutes! That is happiness in a bite. Ok, every bite.
And, I'm doing something good for myself, cuz, shrimp tacos are totally good for you, right? Well, like all things, moderation. I am not going to say slathering crema over every bite is a good idea. But, given each delicious shrimp is only around 7 calories (for a medium one), it's certainly a healthy weeknight meal by my dietary standards.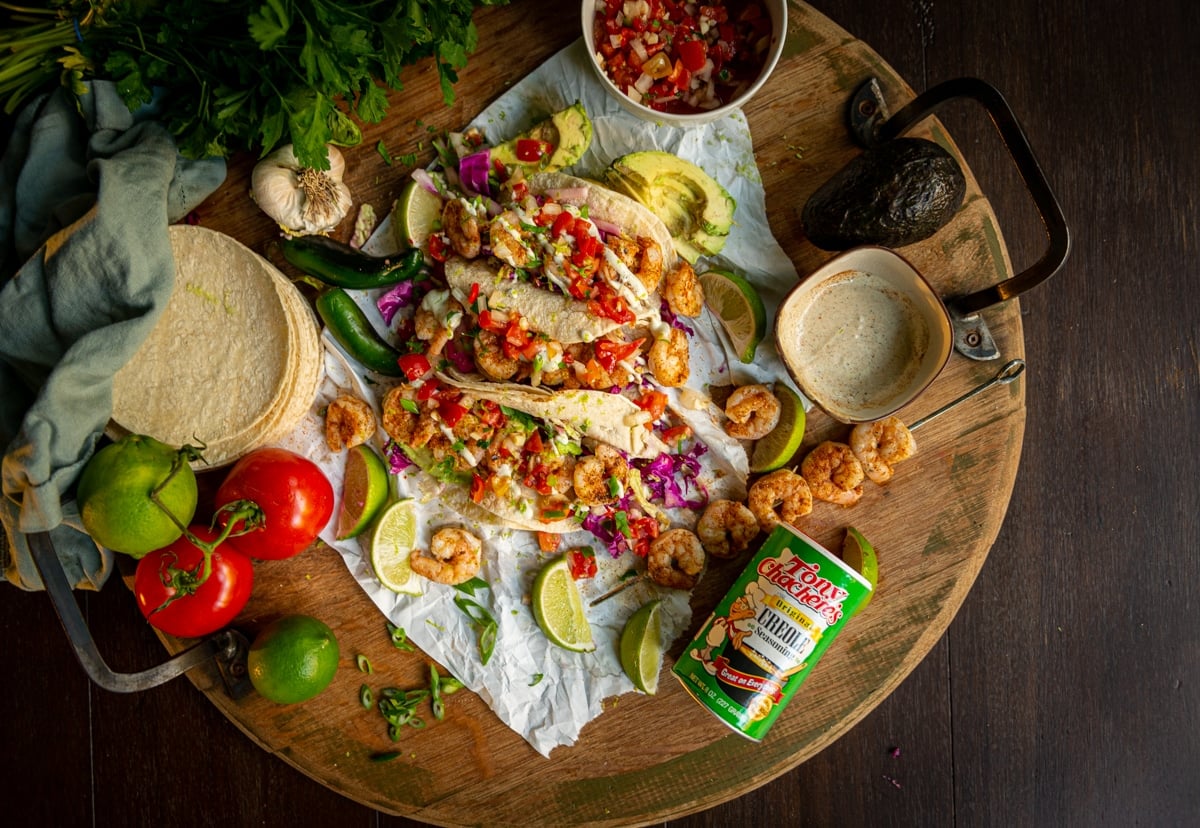 Ingredients
For the spicy grilled shrimp:
Fresh thawed shrimp, peeled (otherwise, get to work). We use medium or large shrimp that have been deveined
Oil
Tony Chachere's original Creole Seasoning (unless you are feeling BOLD and then well, go for their BOLD seasoning… sorry for the bad word choice there)
For the tangy slaw
Apple Cider cabbage
pineapple juice
Red and green cabbage
Garlic cloves
Onion – we love red onion or white onion for this recipe
jalapenos
granny smith apple
For the Spicy Lime Crema
Crema
More Creole seasoning
Tequila
fresh lime juice
Fresh Cilantro
For serving:
Warm corn tortillas
Pico de gallo
Sliced avocado or guacamole
Lime wedges, and any other of your favorite toppings!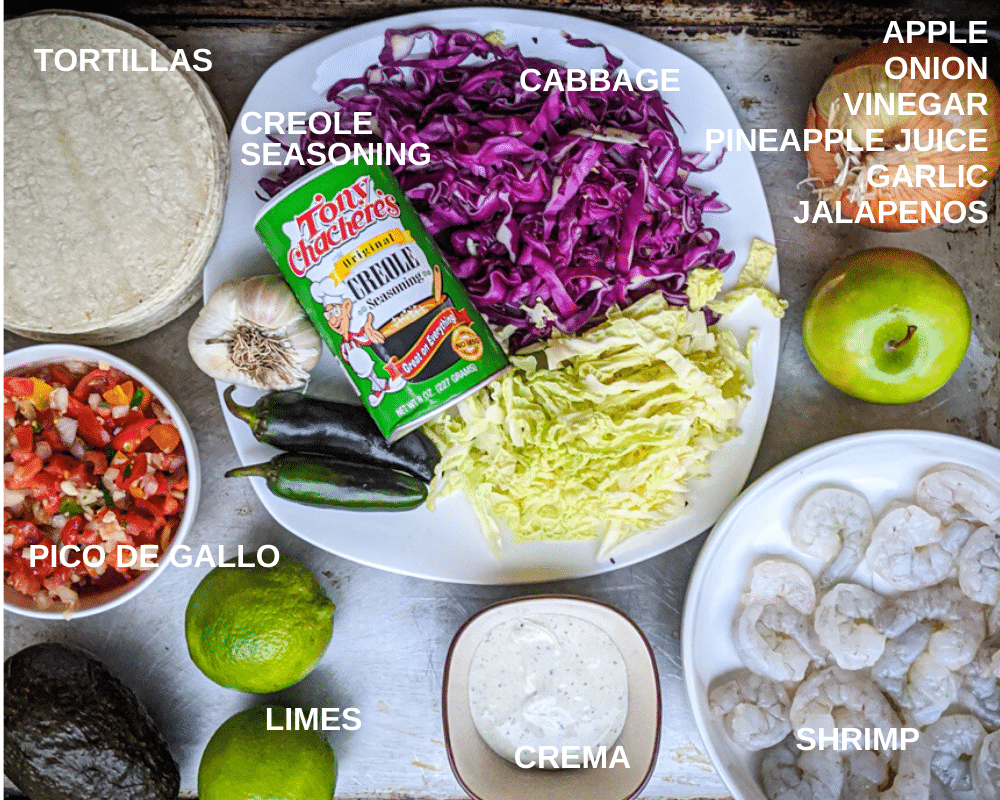 Pro Tip: I am all for saving pennies, but cabbage is hard to justify if you don't have a few meals planned with it. Even on sale for $0.69, they are dense and it will add up. So, if this is a one time use for you, price out the convenient bags of pre-sliced slaw mix for less food waste.
Bout that crazy good lime crema sauce…
All you need is 4 ingredients for the Spicy Lime Crema – the perfect taco sauce! The Mexican crema used could be substituted for a sour cream mayo blend if you can't find it, but check your local markets cold Latin section first. I use crema all of the time as a smooth option for toppings and blends. And omg, drizzled over nachos it's better (and less heavy feeling, than sour cream. Simply whisk all the ingredients together in a small bowl, cover and set in the fridge until you're ready to use.
Filling, slaw, sauce – let's get to dinner!
How to Make Grilled Shrimp Tacos
Step one – and the most important for these easy shrimp tacos – Make sure the grill is ready when you are – my first trick when seamlessly getting through any cook. Just like cooking with an oven, you have to let the grill heat up before you can cook on it. Also, make sure the grill grates are well cleaned and oiled. No need to sacrifice any grilled shrimp to a nasty stick when the grates aren't well cleaned.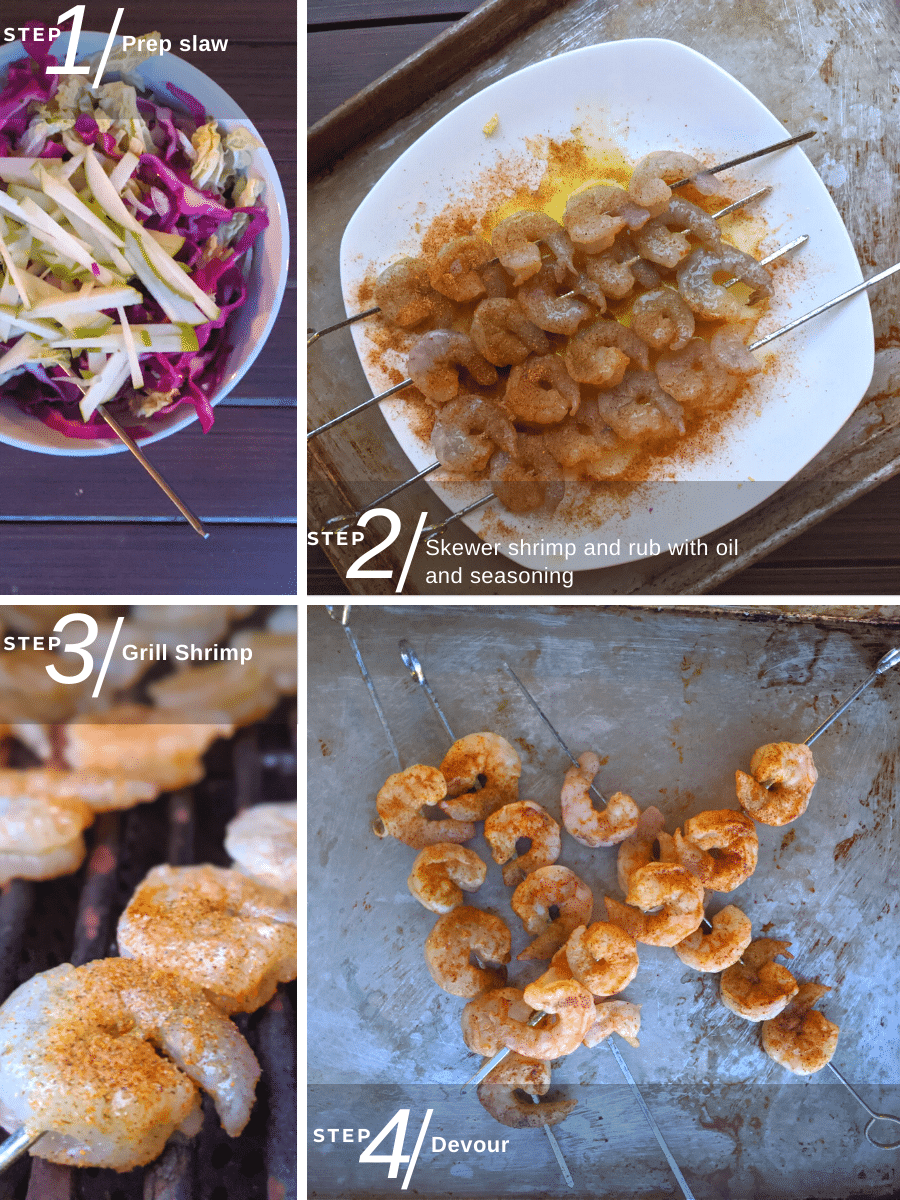 Prep the slaw ahead by tossing all the ingredients for it together and let it sit while you grill the shrimp and warm the tortillas. Whisk the crema up and be ready to go when the shrimp come off the grill. Dinner literally can be a 20-minute thing – unless you add like 3 minutes to shake up a killer margarita to pair with it.
Coat the shrimp with a little oil. Then sprinkle the Creole seasoning all over them and thread shrimp onto bamboo skewers (that were soaked for 20 minutes) or metal skewers for easy cooking.
You can also cook these just tossing them on the grill, but with a skewer or even those wire grilling crates for seafood make flipping these babies easier.
Grill the shrimp until they are cooked through. you can tell because they become white and opaque. Or check them with a digital meat thermometer to make sure they reach an internal temperature of 120 degrees F.
Remove the Shrimp from the skewers and proceed to the build your own taco bar – layer tortillas with slaw and avocados before drizzling with crema and adding pico de gallo.
Pro Tip: Peeled shrimp are quick to work with and make this meal a breeze, however, I do love grilling shrimp with the shells still on – I feel like it really locks in the juicy flavor. If you want to grill these with the shells on, rub them down with the Tony's beforehand, and then once they are grilled, sprinkle with a bit more while they are still hot after you have quickly peel them.
Yep, these are really the easiest Shrimp taco recipe with a devilish crunchy cabbage slaw and spicy sauce!
What goes with shrimp tacos?
Tacos, in my expert foodie opinion, stand alone on a platter. They are the be all end all of the meal but making sure the fixings that are paired with them harmonize is crucial homemade guacamole and salsa are a MUST to serve with spicy shrimp tacos. And to be honest, black beans, or refried beans, and yellow rice are also perfect sides when you are looking to balance out the plate.
Grilled pineapple and mango salsa are yummy additions as well for a burst of sweet fruit flavor. And for those who want to pull a little attention away from the taco, elotes are pretty magical to serve with grilled shrimp tacos too.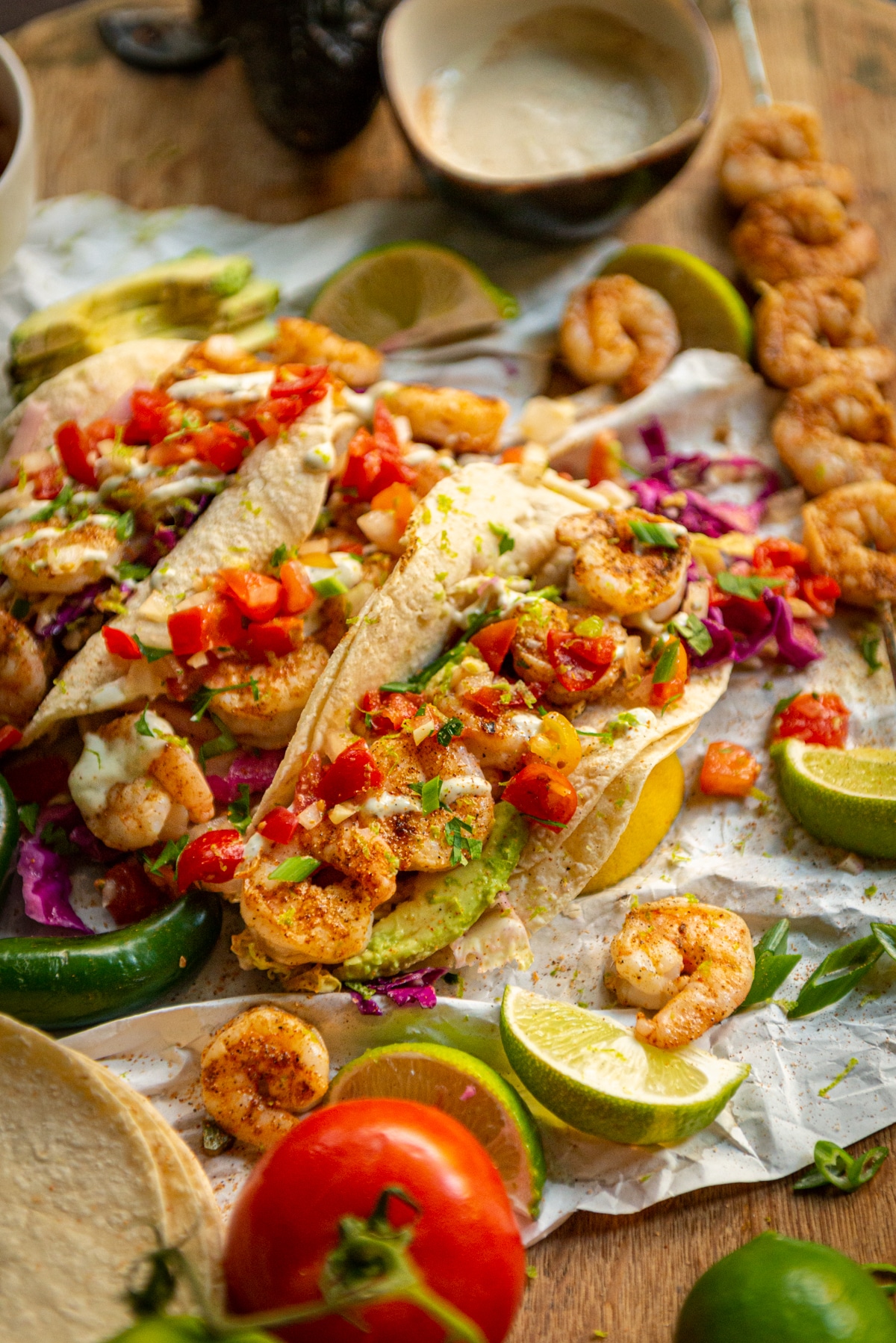 MORE DELECTABLE shrimp RECIPES
If you've tried this grilled shrimp taco recipe please rate the recipe and let me know where you found it in the comments below.
I get inspired by your feedback and comments! You can also join in on the adventures on Instagram @girlcarnivore, Twitter & Facebook.
Cajun Grilled Shrimp Tacos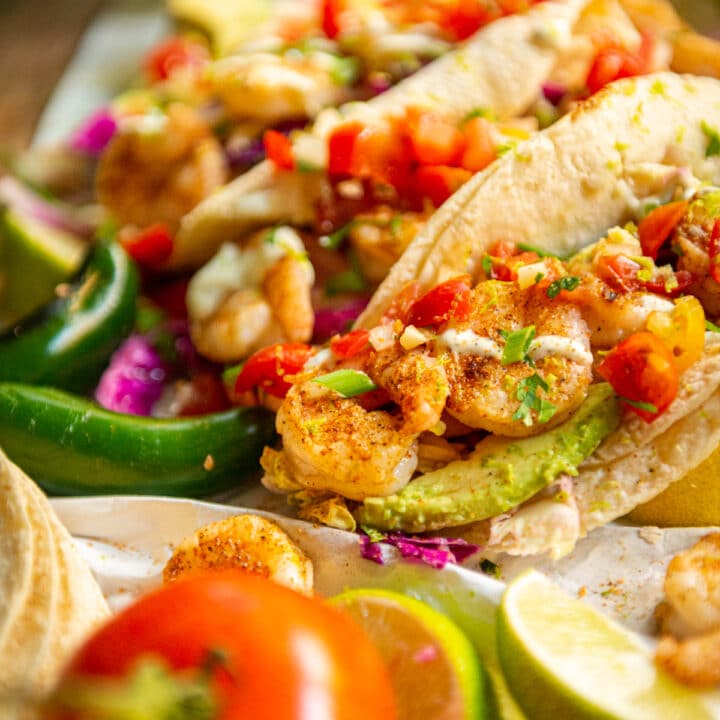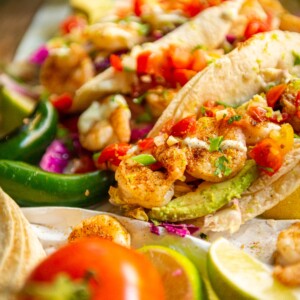 This quick and easy grilled shrimp recipe is a fusion of Baja and Cajun flavors with a bold rub and fresh tangy slaw – all ready in under 20 minutes!
Recommended Equipment
grill

Grilling Skewers

Mixing Bowls

Whisk
Ingredients
1

lbs

Shrimp, Large 31/35

thawed peeled and deveined

2

tbsp

Olive oil

4

tbsp

Tony's Seasoning
For the Tangy Vinegar Slaw
1

tbsp

Apple Cider Vinegar

1

tsp

Pineapple Juice

1

cup

Red Cabbage

chopped

1

cup

Cabbage

chopped

2

cloves

Garlic

minced

¼

Onion

sliced

½

Jalapenos

minced

1

Granny Smith Apple

sliced
For the Spicy Lime Crema:
½

cup

Mexican Crema

1

tbsp

Tony Chachere's

1

tsp

Tequila

1

tsp

Lime juice

1

tbsp

fresh Cilantro

finely minced

Freshly ground black pepper
For Assembly
Fresh Cilantro

Tortillas

1

Avocado

Fresh Pico de gallo
Instructions
Prep the grill:
Preheat the grill and make sure the grates are cleaned and oiled.

Set the grill to indirect heat by turning 2 of the 3 burners to low. For
Heat the Tortillas:
When the grill is warm and ready, wrap the tortillas in a double layer of foil and place over cooler side of the grill.

Allow the tortillas to heat up, flipping the package once or twice to avoid burning the outer most tortilla.
Prep and Make the Tangy Vinegar Slaw:
In a small bowl, whisk the vinegar and pineapple juice together.

In a large bowl toss the cabbage, julienned apple, sliced onion, and minced garlic with the vinegar to coat. Let sit, covered for 5 minutes and toss again to make sure the flavors are incorporated.
Prep and Make the Spicy Lime Crema:
In a small mixing bowl, whisk the crema, Tony Chachere's, tequila, lime juice, and cilantro together.

Set aside.
Grill the Shrimp:
Evenly divide the shrimp onto the skewers, brush with olive oil and season liberally with Tony Chachere's Creole Seasoning.

Place on the grill and cook for 2 to 3 minutes per side, flipping once, until the shrimp are opaque and cooked through.

Remove from heat and carefully slide the shrimp off the skewers.
Serve:
Divide the grilled shrimp in between double layered tacos shells on plates. Top with crispy tangy slaw and drizzle the crema over top. Garnish with chopped cilantro, avocado, and pico de gallo
Notes
Shrimp sizes can be tricky, ranging from small to colossal. I used large shrimp 31/35 for this recipe but medium would also work. 
Heating the tortillas in foil instead of directly on the grill keeps them from getting too dry and brittle. So that they are warm when serving, but still soft and pliable.
You can substitute agave or honey for the pineapple juice if you don't have any on hand.
If you are serving littles, skip the tequila in the crema.
Crema can be made and stored in an airtight container in the fridge up to 2 days ahead.
Slaw can be made up to a day ahead, but it loses crunch over time, so it's best within 24 hours.
Pro Trick (or one all taco lovers already mastered): Double the tortilla layers because corn tortillas break – so this helps keep everything in perfect taco form!
Nutrition
Serving:
1
g
|
Calories:
377
kcal
|
Carbohydrates:
21
g
|
Protein:
27
g
|
Fat:
22
g
|
Saturated Fat:
2
g
|
Cholesterol:
301
mg
|
Sodium:
1022
mg
|
Potassium:
662
mg
|
Fiber:
8
g
|
Sugar:
9
g
|
Vitamin A:
4483
IU
|
Vitamin C:
35
mg
|
Calcium:
256
mg
|
Iron:
5
mg