Crispy well-cooked beef makes for the perfect hearty filling for street-style steak tacos. All it takes is a simple marinade and a quick sear on a smoking hot grill before you're slicing the beef to fill your tortillas with all your favorite toppings.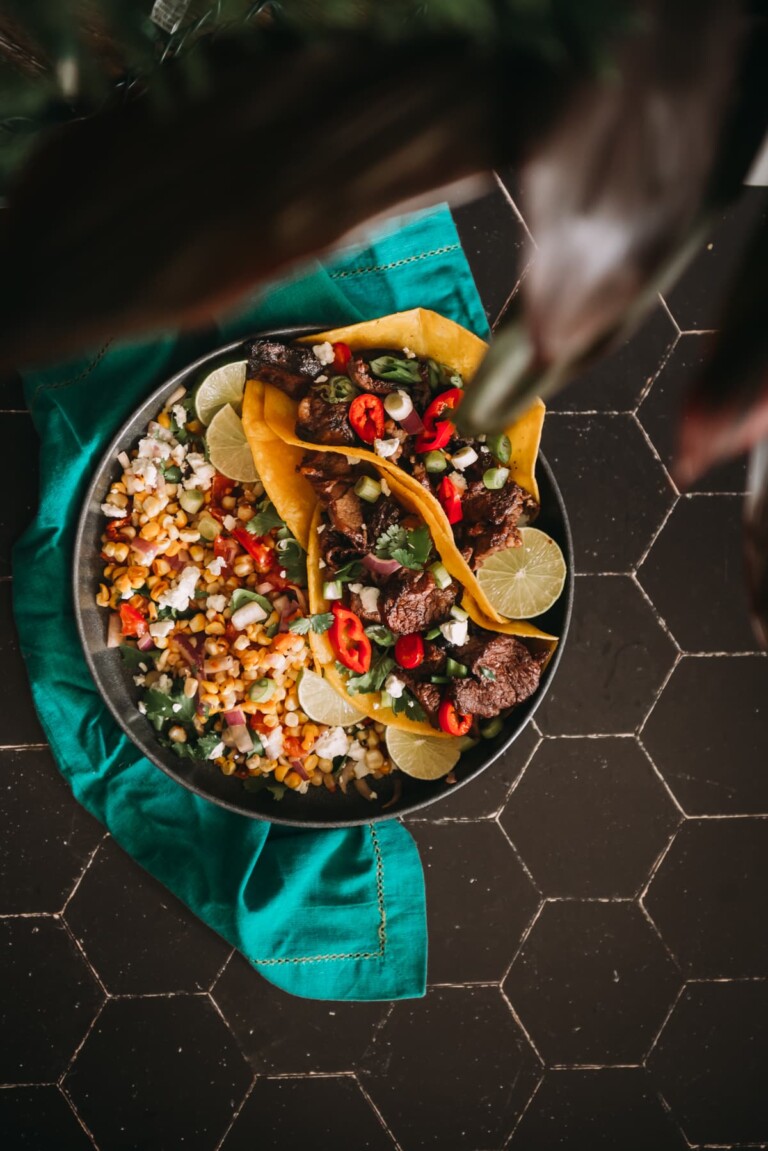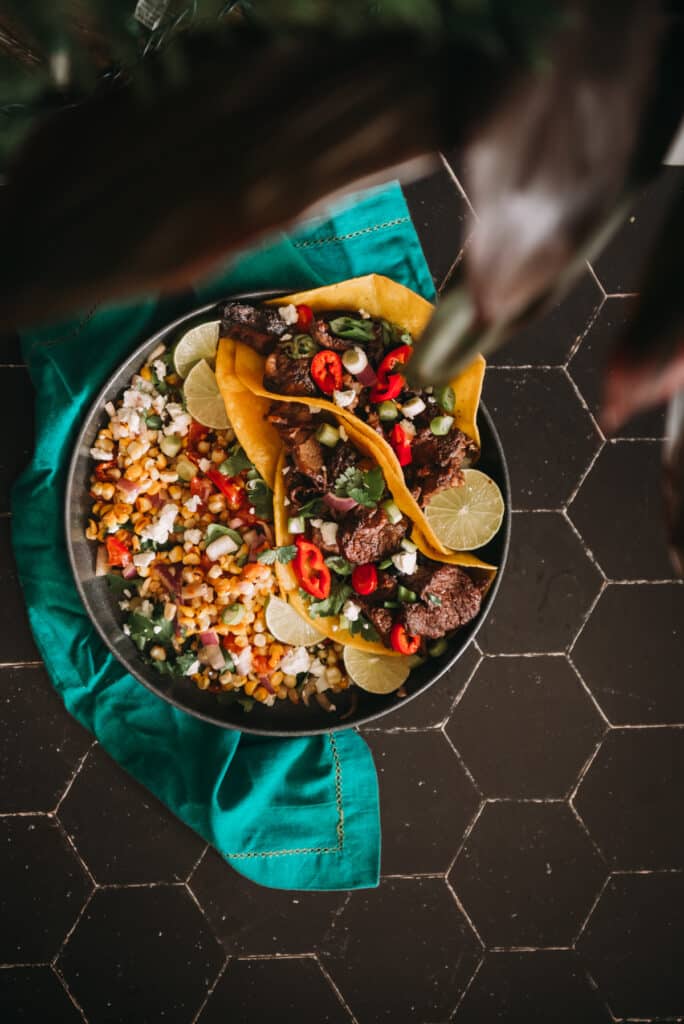 This post was sponsored by Head Country Barbecue. Have you tried their all-purpose marinade yet? I'm kinda crushing on it. And obvs, all thoughts and opinions are my own. 
Nothing calls my name like the street vendors you find in bustling markets and street corners on travels. It's hard for me to pass up the wafting aromas of seared beef, citrus, and spice that rise from the griddle or grill surfaces. With fresh tortillas and a spritz of fresh lime juice, some of the best meals I have had have been right on the side of the road with great company.
With a little inspiration from a new-to-me cut at the market and a craving for those immersive food memories, I decided it was time to make steak tacos as good as those I had experienced abroad. Or at least, good enough until I could get back to the adventuring.
These did not disappoint, actually, they got better with every bite and the "cheap" cut was the perfect choice for recreating the salty, spicy, citrus flavors I was craving.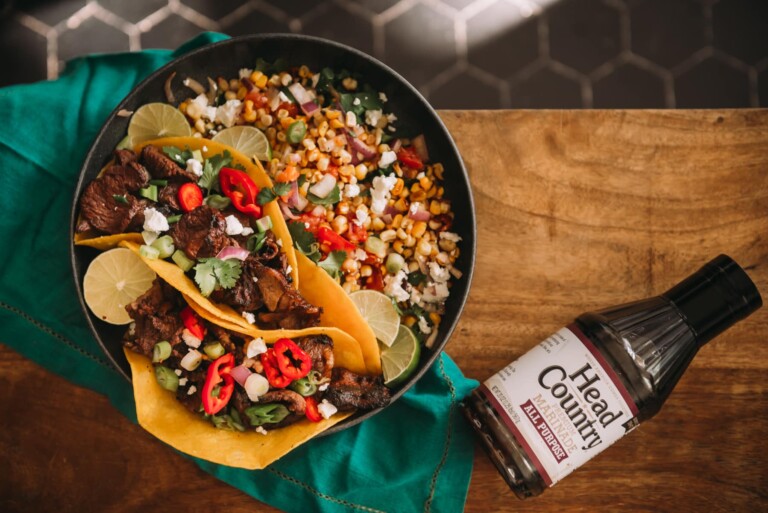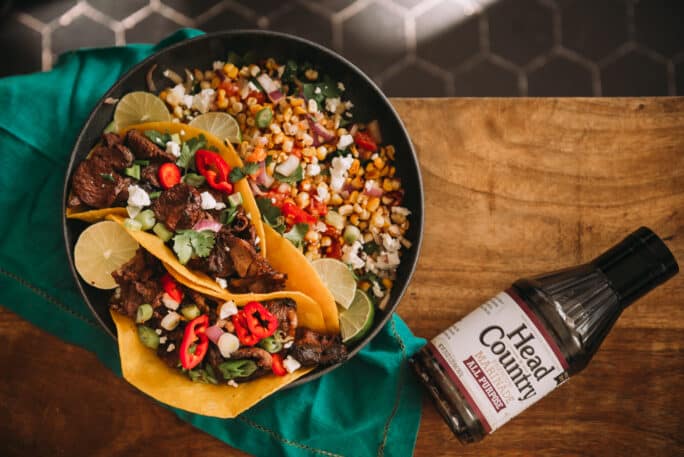 4 ingredients for easy tacos
This recipe calls for thin-cut beef, a quick mixture of Head Country All-Purpose marinade (seriously, it does most of the work), some citrus, and cilantro for the base of the steaks. It's the easiest steak taco marinade ever! How you dress up your tortillas once the steaks are sliced is 100% up to you.
For great steak tacos, thin-cut chuck steak is where it's at.
New to my local market at thin cut chuck steaks. Now, I've been a fan of chuck for years, I love its marbling and overall bold beefy flavor. Chuck makes a great grind for burgers and a perfect base for stew beef cubes or is a great option for shredded beef.
But, these thin, well-marbled, and inexpensive steaks? Could they hold up to the heat….
I saw them and immediately thought of how quickly they would pick up a great sear and solid crust over high heat on the grill. I had to test my idea!
These steaks cooked quickly and absorbed a ton of flavor from the marinade. This isn't like the thin medium rare strips you get from a sliced flat iron or tri-tip, because of the sheer thinness of the cut, they crisp up, allowing for a lot of that overall sear texture we crave.
After grilling, I chopped the meat for crispy beef bites.
How to grill quick steak tacos
Simply whip up a quick marinade of Head Country All-Purpose marinade, lime juice, and cilantro.
The beef absorbs a ton of flavor while in the marinade so it is important for these grilled steak tacos to allow the beef to sit in the Head Country marinade for at least 6 hours.
From there, toss the steaks right over direct heat on a hot grill (watch out, there will be flare-ups), rotating quickly and often to sear all sides.
But, there is a lot of fat connecting chuck steaks, so cook these steaks a little longer, past that oh-so-desirable rare, to allow the fat to render. Don't be afraid to flip, move and shuffle the meat on the grill as needed to avoid burning and cook everything evenly.
The hardest part of this recipe is grilling the steaks (read: super easy). Chop the beef and assemble tacos to your heart's desire and enjoy!
These steak tacos are best enjoyed immediately after they come off the grill but the beef can be stored in an airtight container in the fridge for up to three days.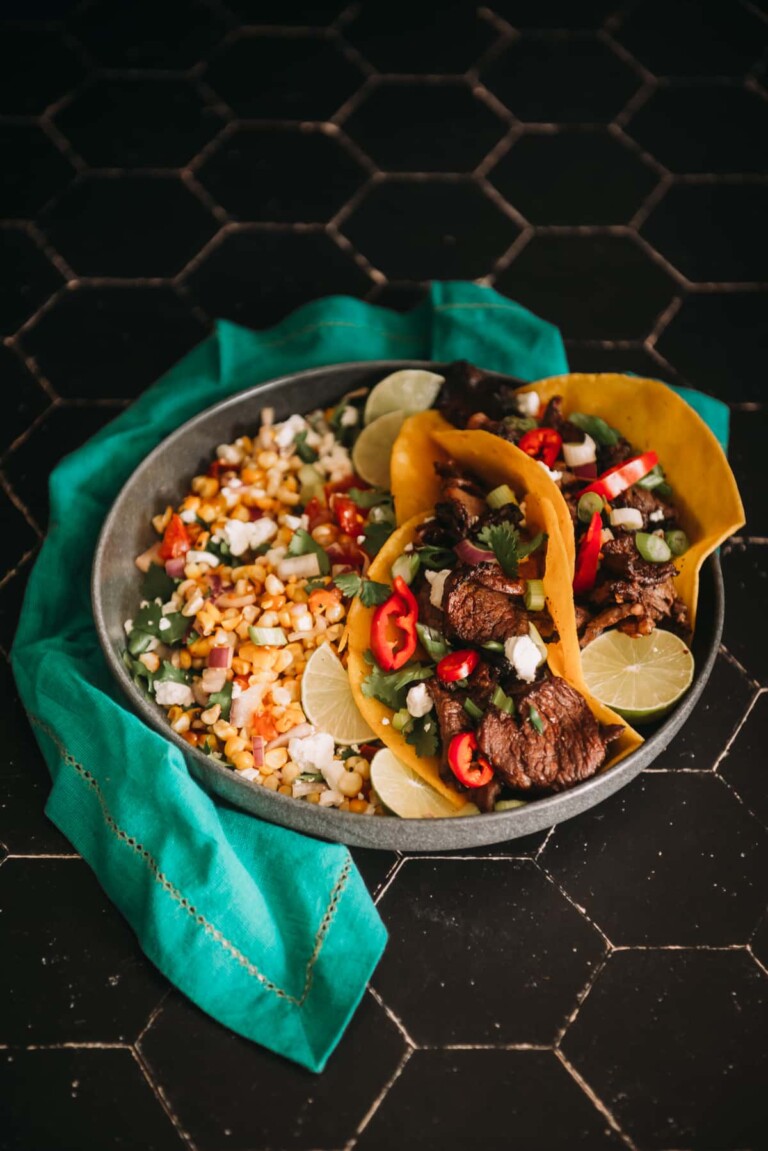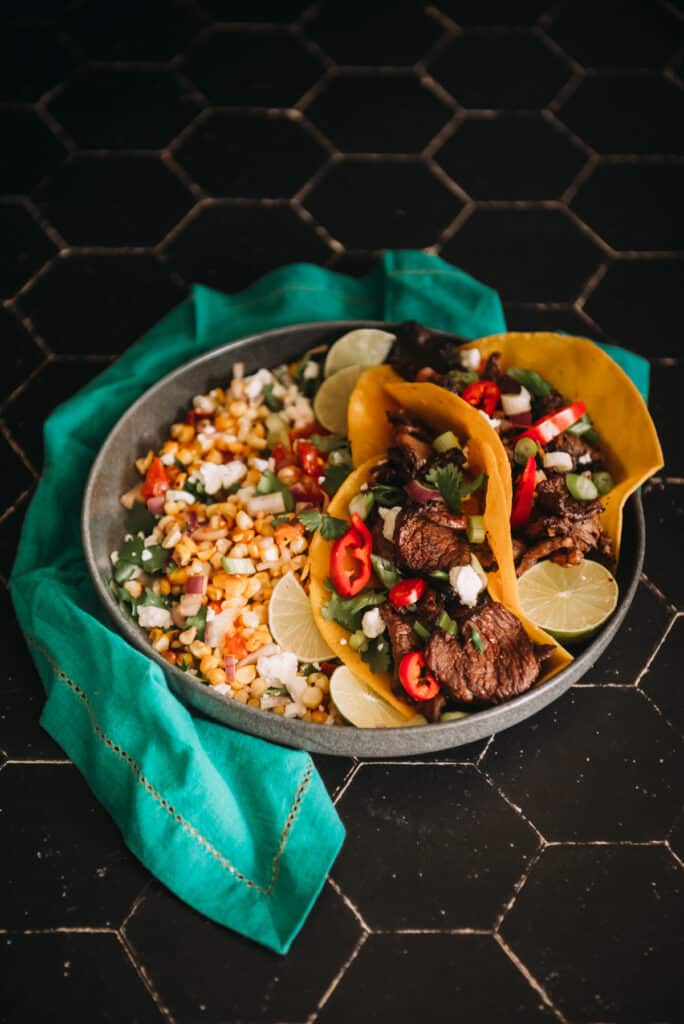 Be sure to store all taco toppings and accouterments separately to avoid any soggy toppings.
Want more inexpensive crazy good recipe inspiration? Try some of my favorites!
If you've tried my Smoked Maple Pork Tenderloin with Cayenne Recipe or any other recipe on GirlCarnivore.com please don't forget to rate the recipe and let me know where you found it in the comments below. I get inspired by your feedback and comments! You can also FOLLOW ME on Instagram @girlcarnivore as well as on Twitter and Facebook.
Quick and Easy Steak Tacos
Hands up if you're hungry for tacos! This steak taco recipes uses thin cut chuck steaks in an easy marinade for a totally quick and delicious grilled meal! Now all you have to do is figure out the toppings.
Ingredients
For the chuck steaks
2

lbs

thin cut chuck steaks

3

Limes

juiced

¼

cup

Cilantro

chopped
For the tacos
Corn tortillas

Cotija

Red onion

Sweet peppers

Lime

Scallions

Cilantro
Instructions
Make the Marinade
In a large resealable bag, mix the Head Country All-Purpose Marinade with the lime juice.

Add the beef and cilantro.

Seal the bag and using your hands, move everything around to evenly coat the chuck steaks.

Place in the fridge for 6 hours to marinate.
Grill the beef
When ready to grill, preheat your grill for direct heat around 400-450F degrees.

Remove the beef from the marinade, discard the marinade, and place the beef directly on the grill. The liquid from the marinade will cause flareups that should quickly subside; use long grilling tongs and caution.

Grill the chuck steaks, rotating and maneuvering as needed to evenly cook all of the portions.

Grill to desired doneness.

Remove the steaks from the grill and allow to rest for 5 minutes.
Assemble the tacos
Chop the steaks into thin strips and spritz with fresh lime juice.

Set up a taco bar with toasted corn tortillas and all of your desired toppings. Invite everyone to build their own tacos.
Notes
Beef is safe at 135 per USDA, however, the chuck steaks have a lot of fat in them and I find that for these steak tacos the beef is better when the fat renders and they are cooked past medium-rare. If the steaks are too long, cut them into manageable portions for grilling before placing them in the marinade. No grill? This recipe works on a griddle or in cast iron as well. This beef makes for a great taco salad or power bowl if you aren't feeling the corn tortillas (or a great use for leftovers)
Nutrition
Nutrition Facts
Quick and Easy Steak Tacos
Amount Per Serving (2 g)
Calories 151
Calories from Fat 81
% Daily Value*
Fat 9g14%
Cholesterol 39mg13%
Sodium 318mg14%
Potassium 216mg6%
Carbohydrates 6g2%
Protein 12g24%
Vitamin A 32IU1%
Vitamin C 4mg5%
Calcium 12mg1%
Iron 1mg6%
* Percent Daily Values are based on a 2000 calorie diet.