When it comes to flavor, it's hard to beat tacos with chorizo. It's a spicy ground pork that makes the perfect filling topped with vibrant fresh flavors and a drizzle of lime crema that remind me of street vendors in Mexico. These amazing little chorizo street tacos are perfect for quick and easy weeknight dinners!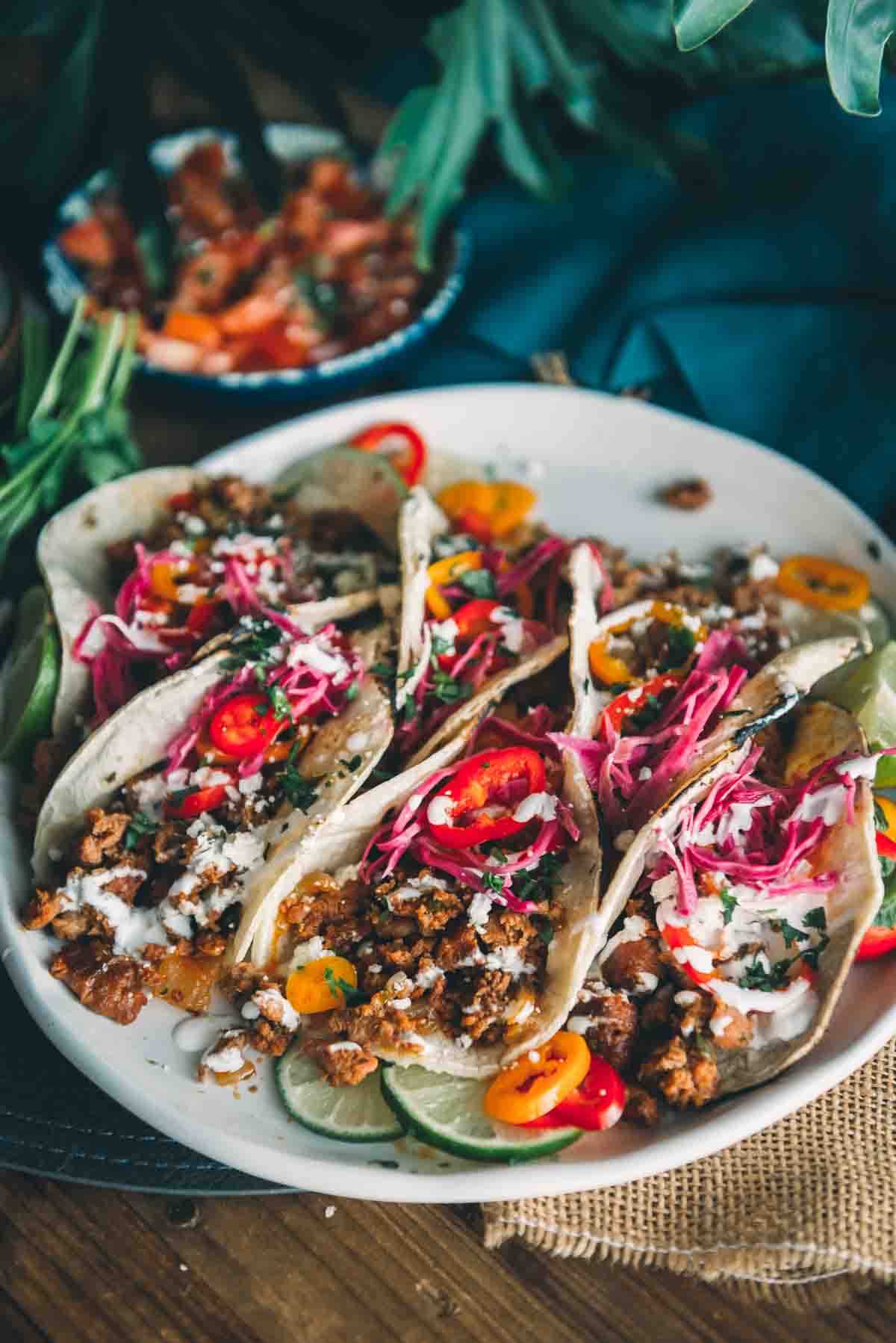 When it comes to epic taco recipes, we all have our favorites. And we have never met one we didn't love. From crispy grilled shrimp tacos to quick grilled steak tacos, there's something universal about everyone loving them. And when it comes to homemade street tacos, we're convinced these mighty little easy chorizo tacos are at the top of our list.
They are messy, spicy, and loaded with crispy, crunchy fresh flavors, and a lime crema taco sauce to calm the heat.
What is chorizo?
If you're ready to take your tacos to a whole new level, ditch the classic ground beef and opt for this spicy Mexican sausage instead. Chorizo is a spicy ground pork sausage found in Mexican and Spanish cuisine. Often smoked and cured in European countries and seasoned with paprika, Mexican chorizo is different.
In Mexican dishes, chorizo is raw ground pork seasoned with a blend of native ground chili peppers, giving it its distinct red color and signature spicy flavor. Because the fresh chorizo needs to be cooked, it's a fantastic meat for tacos, breakfast burritos, empanada filling, and almost anywhere you would use regular ground beef. Worried the spice will be too much? Try our delicious ground pork tacos instead.
Where a messy gooey quesabirria taco may be perfect for some nights, this chorizo taco recipe works on the fly, in under 30 minutes, on any night for the best tacos!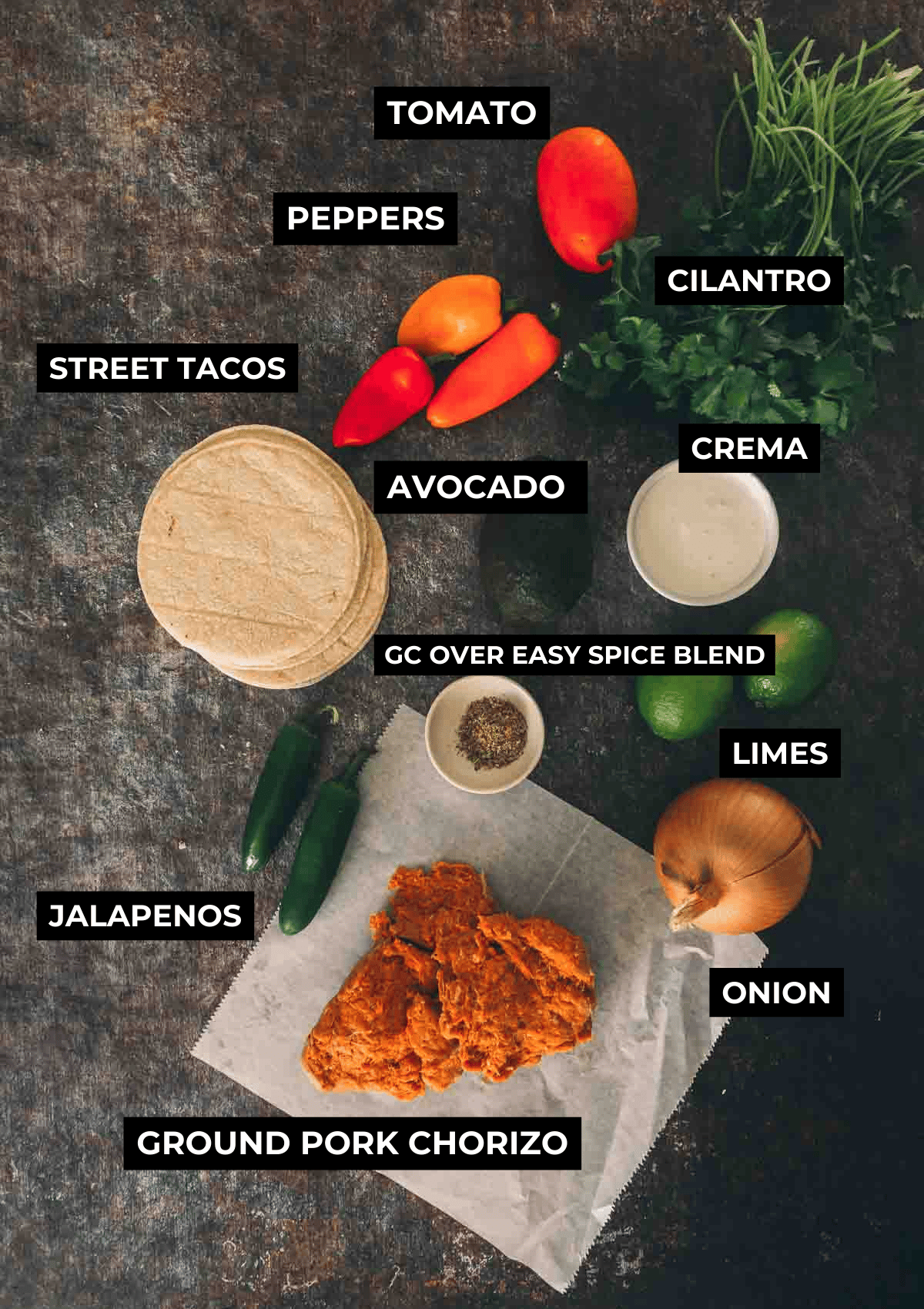 Ingredients
For the chorizo tacos
Ground pork chorizo – you can find this in the pork area of your local grocery store or check our guide for where to buy meat online for good quality chorizo.
White onion 
Jalapeno
For the lime crema
Mexican crema – or sour cream thinned with a bit of whipping cream
Fresh lime juice from limes
GirlCarnivore Over Easy Spice Blend
Salt – we always use kosher salt
Fresh cilantro
For Serving
Corn tortillas – look for the small street taco size, 3 to 4 inches
Sweet peppers
Avocado
Tomato
Pickled red cabbage
Fresh lime wedges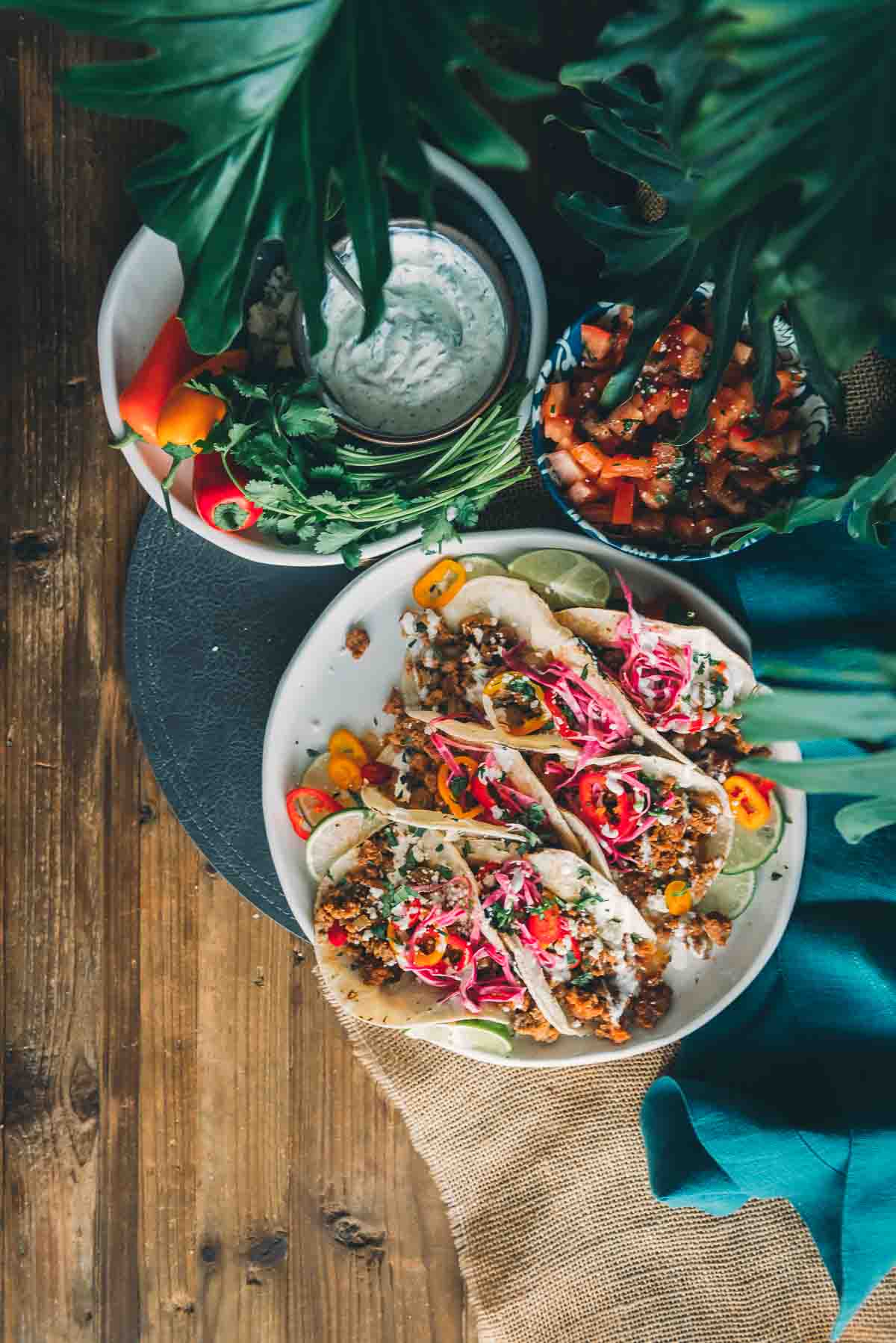 How to make tacos with chorizo
cook the chorizo
Start by preheating a large skillet over medium heat until just smoking. Add the ground chorizo in, and using a firm spatula or wooden spoon, start breaking the ground pork into smaller chunks as it cooks, 4 to 5 minutes.
Continue to break up the chorizo as the meat cooks, and then add the chopped onions and minced jalapeno as it continues to cook.
Let the ground pork cook until its starting to brown all over, is cooked through, and the onion has softened, about 8 to 10 minutes longer (or cook it longer if you like your meat extra crispy, but use caution, as it will also start to dry out a bit).
Remove the ground chorizo mixture from the heat and keep warm.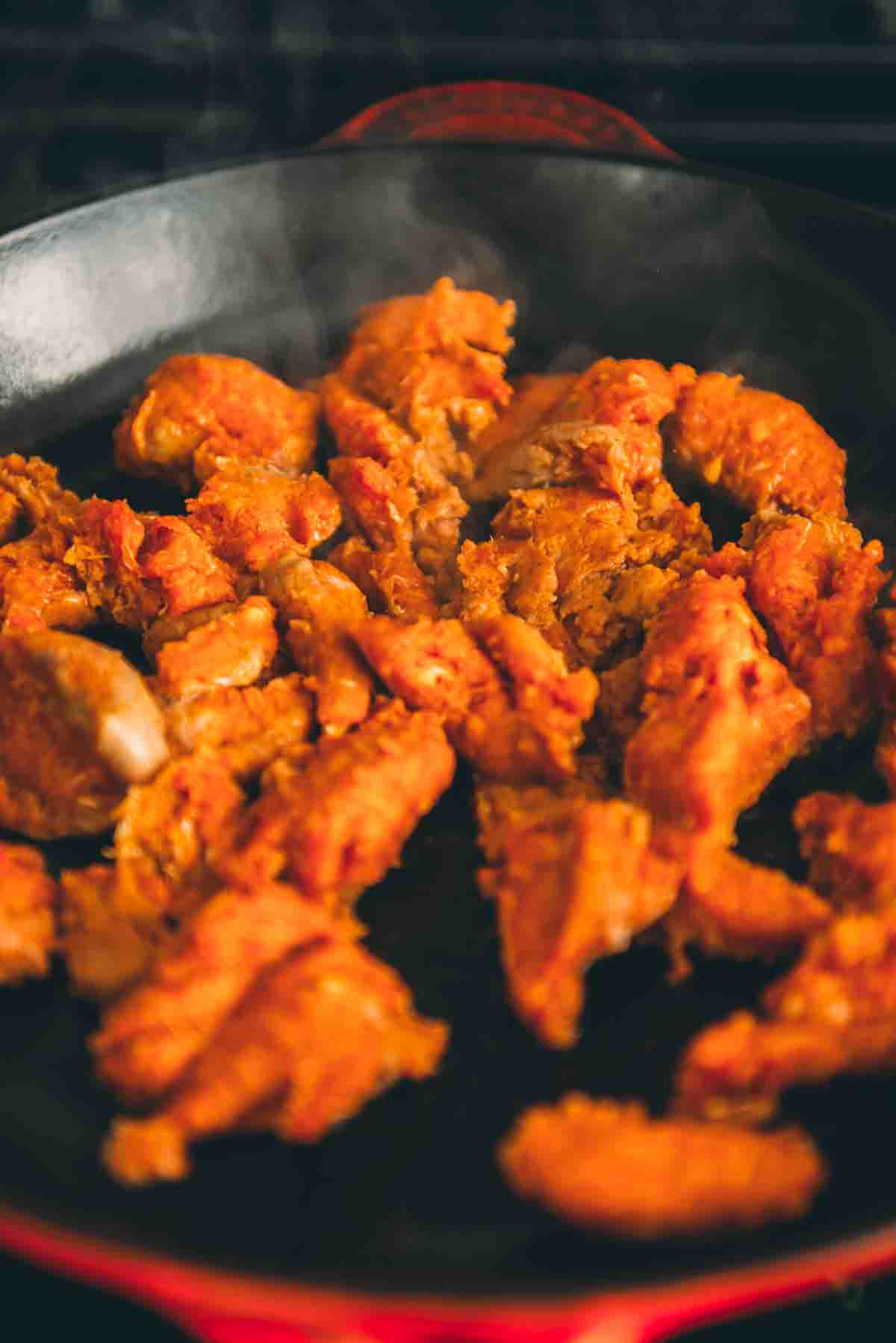 make the Lime Crema
Then, while the chorizo is cooking, mix the crema, lime juice, GirlCarnivore Over Easy Spice blend, salt, and chopped cilantro in a bowl until combined. Cover with plastic wrap and store in the fridge until ready to use.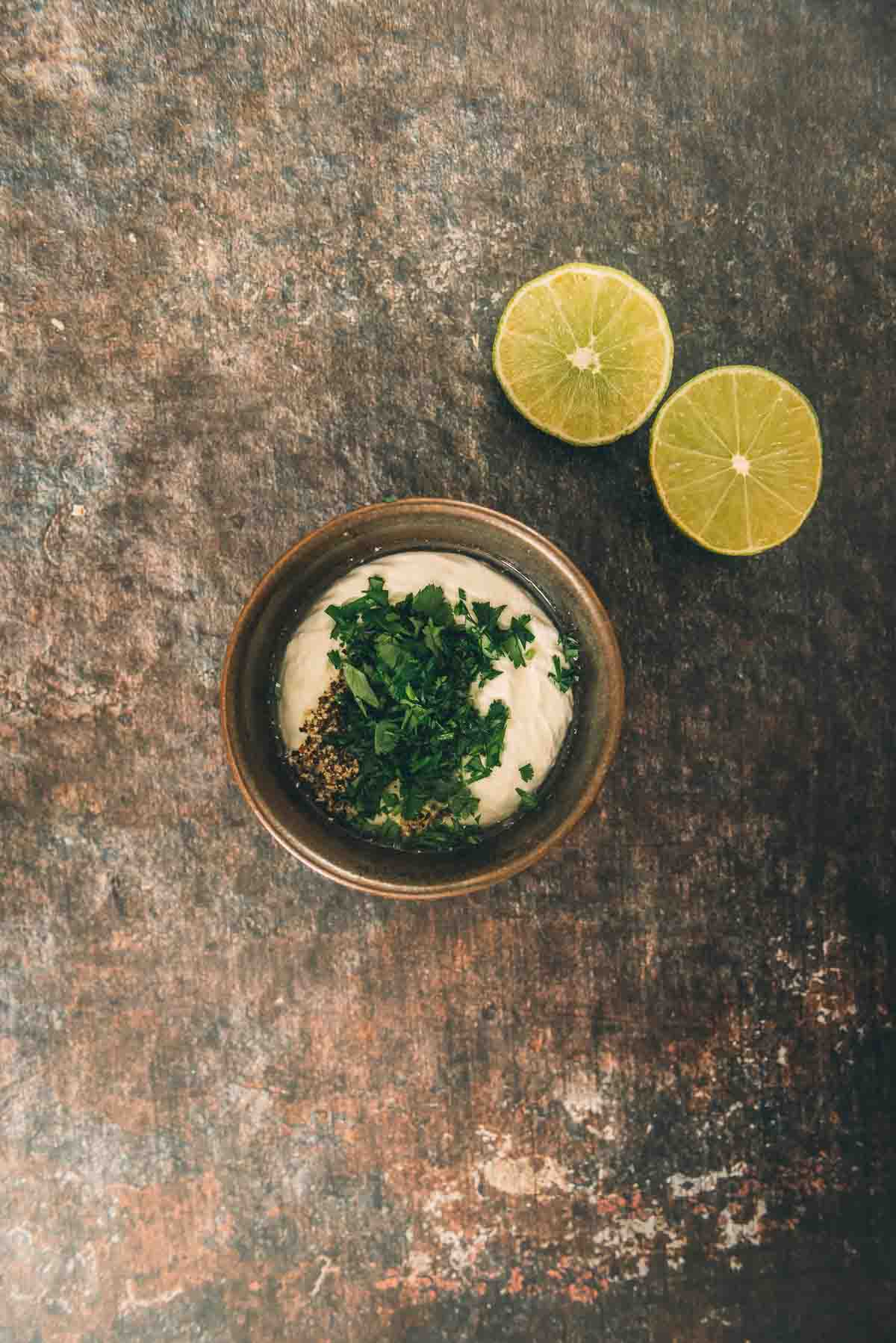 Assemble the tacos
When ready to serve, heat tortillas over a hot griddle, skillet, open flame, or grill until pliable and warmed with a few charred spots.
Then spoon cooked chorizo into the warmed corn tortillas and assemble the taco bar for all of your desired toppings and let everyone build their own tacos.
GirlCarnivore EXPERT TIPS
Once cooked, keep the chorizo warm for serving by transferring it to a crock pot set to 'warm' or 'low.'
Keep the tortillas warm by wrapping them in foil and popping them into the oven at its lowest temp, 180 to 200 degrees F.
Layer two corn tortillas on top of one another to serve. That way, if one breaks, the whole taco doesn't fall apart.
If you don't have chorizo, you can quickly make it with ground pork by adding tons of flavor from spices like ground chili pepper or chili powder, garlic powder, smoked paprika, oregano, salt, and pepper. This is also a great alternative if you're serving someone sensitive to heat; you can make the flavor milder.
Skip the jalapeno and add a deeper flavor by roasting poblano peppers, removing the blistered skins and seeds, and using them in place of the jalapeno as the chorizo cooks.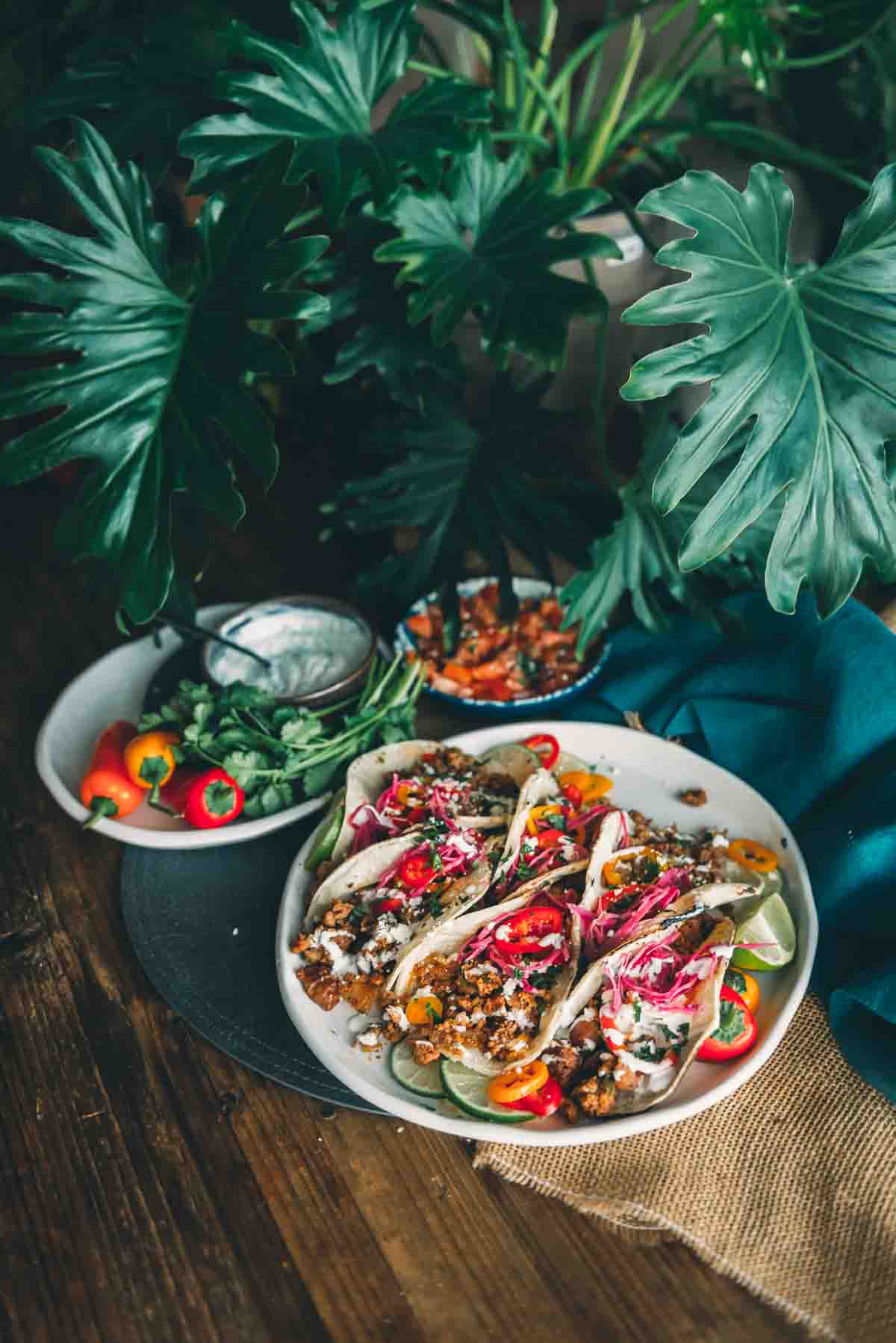 What to serve with chorizo tacos
We love these tacos laid out as a taco bar with all your favorite toppings, allowing people to dig into as many as they want with pice de gallo, guacamole, and fresh tortilla chips. If you want to beef up your taco night a bit, try adding side dishes like fried cauliflower rice, rajas con crema, smoked corn on the cob, slaw, refried beans, black beans, or a light green salad.
We also love our roasted poblano crema for a great taco topping.
How to store leftovers and reheat
Store leftover chorizo in an airtight container for up to four days. Reheat as needed in batches in the microwave or in a preheated skillet. Mix leftover cooked chorizo into scrambled eggs, chorizo hash, use it to make amazing nachos or even stuffed peppers.
Have you given this chorizo tacos recipe a try for your Taco Tuesday rotation? Please rate the recipe and drop a comment to help out the next person who's trying this recipe.
Chorizo Taco Recipe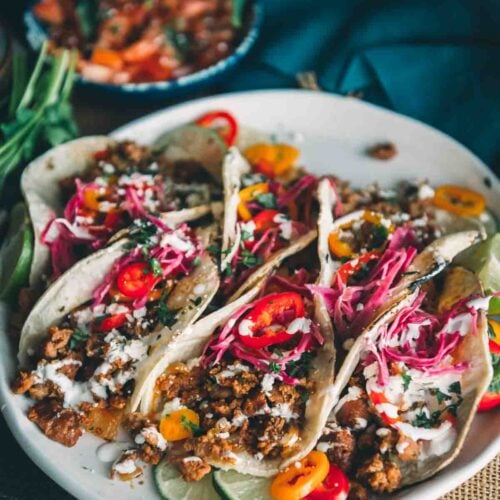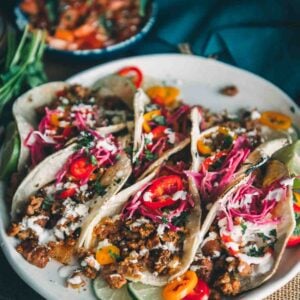 When it comes to amazing taco recipes, it's hard to beat spicy chorizo tacos! This quick recipe uses ground pork chorizo, layers of simple fresh flavors, and a zesty lime crema drizzle for our favorite easy taco dinner.
Ingredients
For the chorizo tacos
1

lbs

ground pork chorizo

½

onion

minced

1

jalapeno

stemmed, seeded and minced
For the lime crama
1

cup

Mexican crema

2

tbsp

lime juice from fresh limes

1/2

tsp

salt

1

tbsp

cilantro

minced
To serve the street tacos:
12

corn tortillas

street taco size, 3 to 4 inches

Sweet peppers

minced

Avocado

pit removed, peeled and sliced for serving

Tomato

diced

Pickled red cabbage

Lime Wedges
Instructions
Cook the chorizo
Preheat a large heavy-bottomed cast iron skillet over medium heat until just smoking.

Add the ground pork chorizo and, using a firm spatula, steak breaking the ground pork into smaller pieces.

Cook the chorizo for 3 to 5 minutes

Continue to break the chorizo up into small pieces as it cooks.

Add the onion and jalapeno. Stir to combine.

Continue to cook the chorizo until the onion has softened, and the pork is cooked through and starting to brown all over. About 8 to 10 minutes longer.

Remove from heat and keep warm.
Make the Lime Crema
Spoon the crema into a large bowl.

Add the lime juice, Girl Carnivore spice blend, salt, and cilantro.

Stir to mix well.
Assemble the tacos
Working in batches, toast the tortillas over an open flame until pliable and just browning in a few spots.

Alternatively, toast the taco shells on a griddle or preheated grill.

Build the street tacos by spooning the cooked chorizo onion mix into the warmed tortillas and top as desired with minced onion, cilantro, the lime crama, diced peppers, avocado and pickled red cabbage or any of your favorite taco toppings.
Notes
The lime crema can be made up to a day ahead of time. Store covered with plastic wrap in the fridge until ready to use.
Nutrition
Serving:
2
g
|
Calories:
213
kcal
|
Carbohydrates:
16
g
|
Protein:
8
g
|
Fat:
13
g
|
Saturated Fat:
4
g
|
Polyunsaturated Fat:
0.4
g
|
Monounsaturated Fat:
0.2
g
|
Cholesterol:
34
mg
|
Sodium:
460
mg
|
Potassium:
77
mg
|
Fiber:
2
g
|
Sugar:
1
g
|
Vitamin A:
329
IU
|
Vitamin C:
3
mg
|
Calcium:
74
mg
|
Iron:
1
mg