Perfect for the campfire, these loaded nachos are layered with all the fixings; freshly grilled carne asada smothered in cheese, and cooked in an aluminum foil pack right on the coals before being pulled high with your favorite toppings. Which also means, clean-up is a breeze.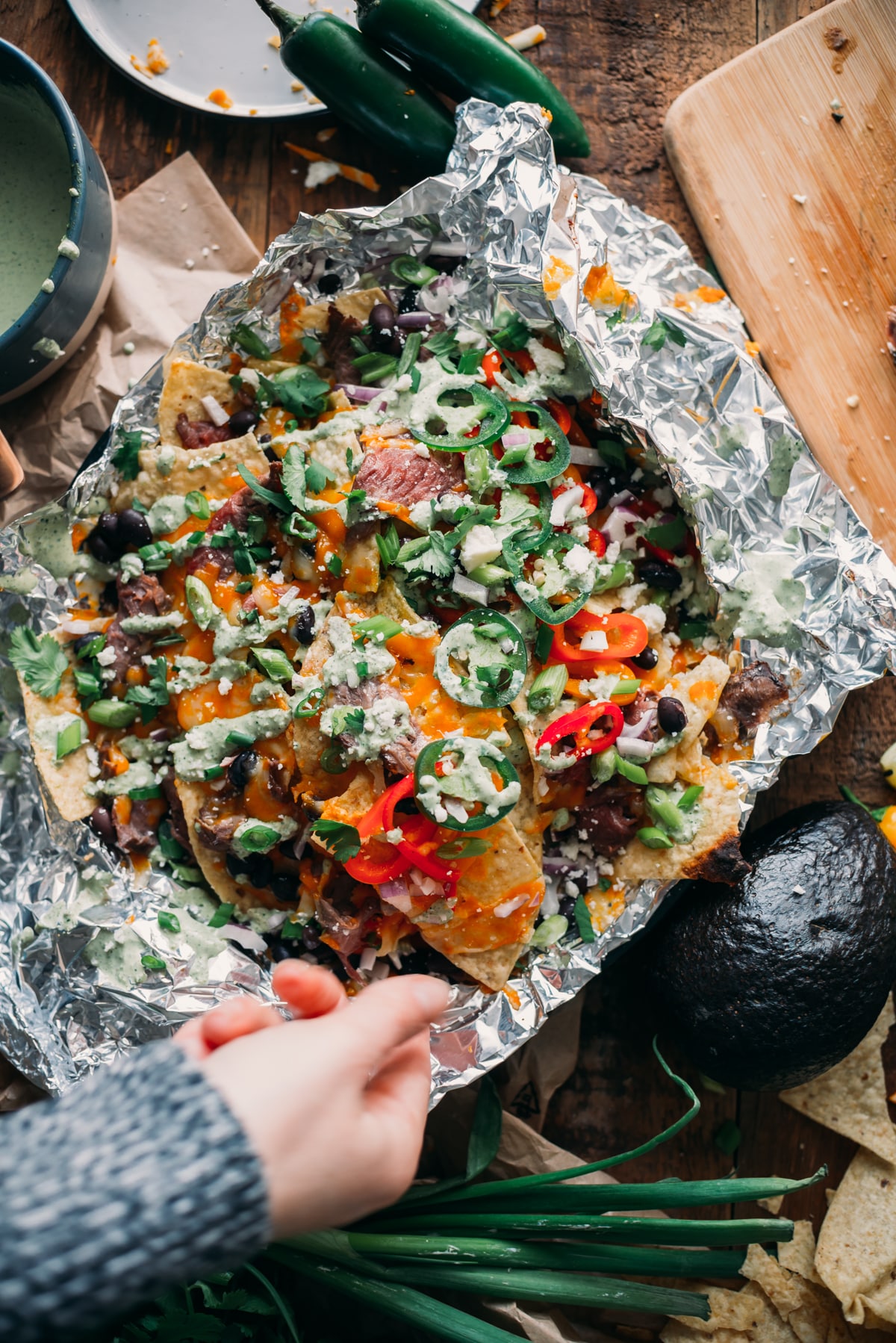 This recipe was created for GoRVing because we all know I love to #GetOutside. All thoughts and opinions are my own.
Nachos. Everyone's favorite grab-and-go platter for pubs and quick weeknights everywhere. But have you tried them while camping?
I love making nachos while camping and using up the last bits of any salsas, veggies, or cheese that is lingering before packing up. Plus it's just a fun meal to make that everyone loves digging into! By adding this crazy good carne asada recipe to my nacho game, things really leveled up!
My trick to amazing nachos is to wrap them in foil and toss them right on the coals. Campfire meals in foil are kind of my jam for all things when I don't want to work too hard while camping like these steak and potato packets, make-ahead breakfast burritos, or these crowd-pleasing actually grilled grilled cheese!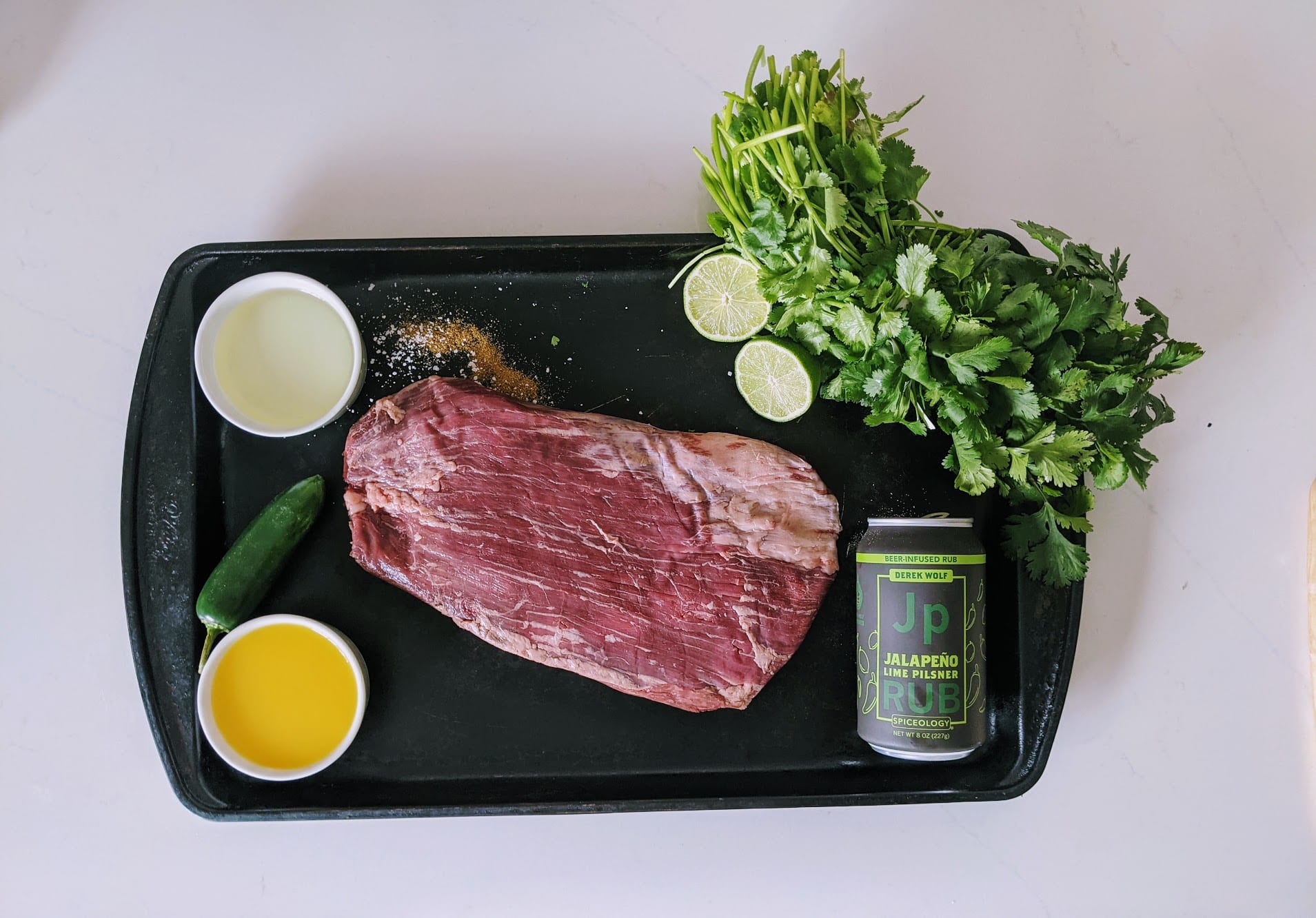 What you need for photo-worthy campfire nachos:
Making carne asada nachos is pretty easy. This recipe starts with a simple citrus marinade for the flank steak of orange juice, jalapeno, oil, spices, lime juice, and cilantro which can be made ahead of time and stored in a resealable ziplock container in the cooler or fridge until ready to grill.
GirlCarnivore Pro Tip: Marinate your steak ahead of time and pack it in. Place everything in a resealable ziplock container stored in a cooler or in the fridge until ready to grill.
From there you just need all the nacho fixins starting with tortilla chips and any signature items like beans, cheese, salsa, onion, peppers, cilantro, limes, sour cream, and in my case, a creamy fire-roasted poblano crema!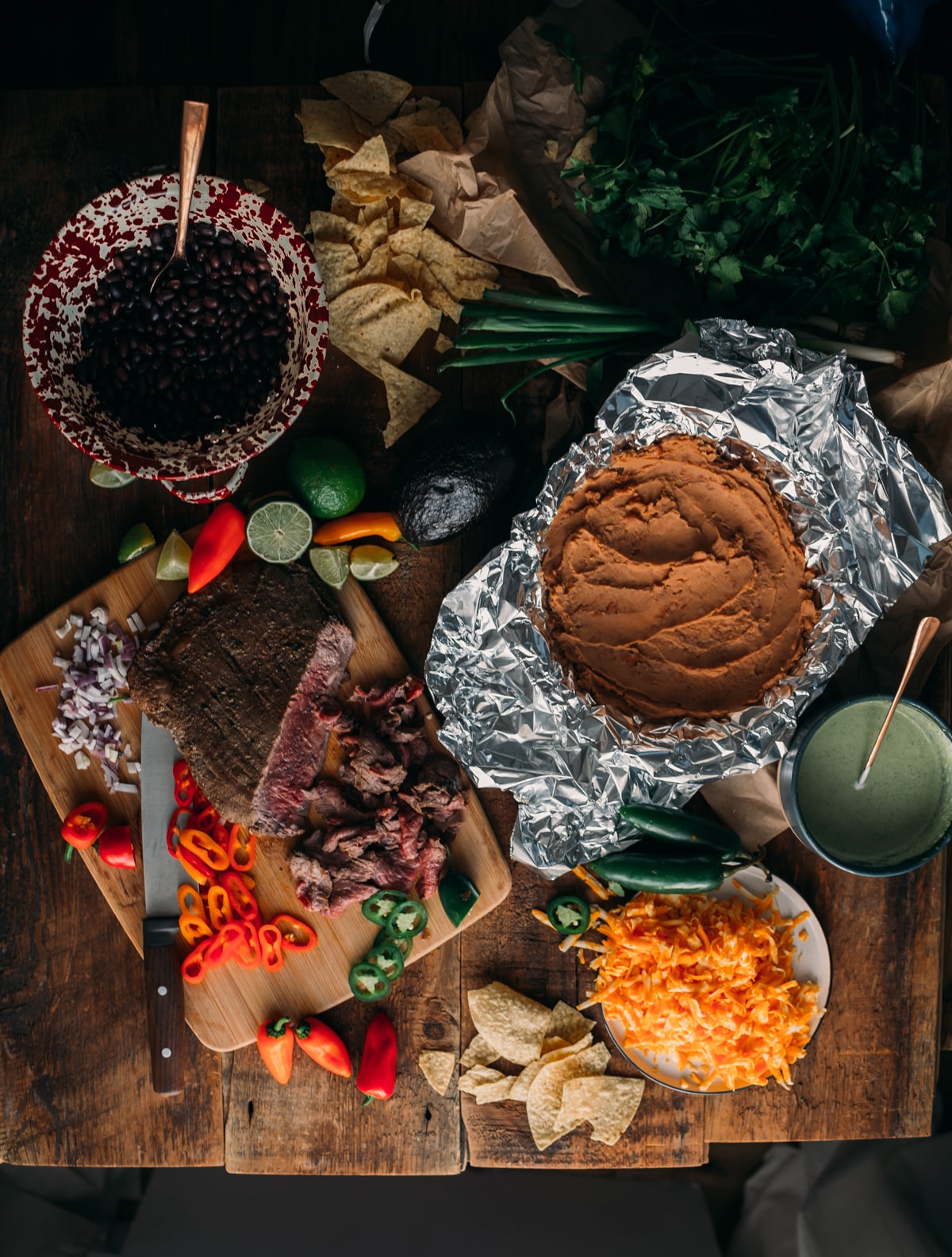 How to Grill Foil Wrapped Nachos:
Establish a campfire built for indirect grilling with a cooler and hotter side by arranging the coals to one side of the firepit or box. Place the grilling grate over the fire and let it even out.
Once the coals are stable, and not flaring up, start with grilling the carne asada over direct heat. The flank steak pics up a wonderful char from the coals and all of the marinade flavor. The drippings may cause flair-ups so use long tongs and practice safety (especially if you are camping).
Once the steak has grilled to your desired internal temp, wrap it in foil and let it rest for 15 minutes before slicing.
To grill the nachos, I start with a layer of refried beans on a long sheet of aluminum foil, the diameter of my nacho pile. This acts as a protective layer to not burn the bottom layer and gives bonus scoopable bites when everyone thinks the coveted top layer is gone.
I then pile on the tortilla chips working in layers stacking chips, meat, beans, and cheese in two or three layers before folding the packet up and pinching it shut. No one likes when it's a bunch of naked chips below a single layer of cheese, so my stack-and-repeat method (like lasagna) makes sure every layer is more exposed to good bites.
After that, I toss it onto the cooler side of the campfire and let it cook until the cheese has melted through.
Finally, carefully remove the packet, open and top it with all of the fixings before devouring it!
No Carne Asada, No problem
If you don't have fresh grilled carne asada for this recipe, you can substitute store-bought carne asada, often preseasoned and found at the meat counter. But really, any meat works when making nachos, so use what you have.
This nacho recipe is a base recipe, so if you have pulled pork, leftover grilled chicken, or even ground beef, anything works as the 'meat' layered in. It's the layers of melted cheese and meat that makes it a-maz-ing.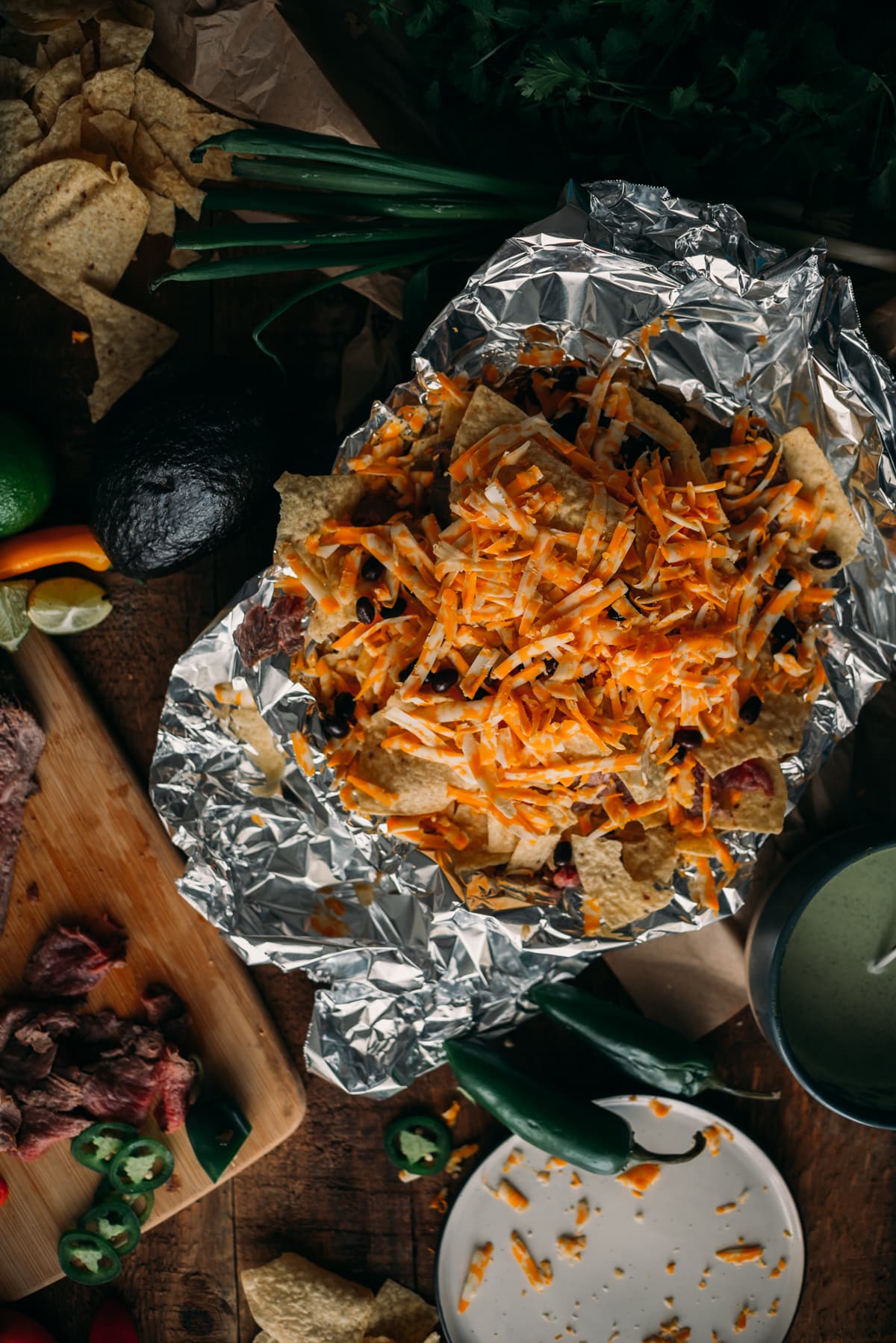 Cast Iron or Foil Pack Nachos?
Making this recipe in a cast-iron skillet or Dutch oven is also a perfect way to whip up a big batch of campfire nachos for everyone. Follow the recipe as instructed just placing foil over the top of the nachos to make them for a while so every layer of the cheese gets melted through.
By wrapping the nachos in foil, we are trapping the heat inside, creating a little convection pocket of warmth to make sure all the layers get heated through.
Tips for even better nachos!
Nachos for One: For fun, you can customize these nachos by making individual packs for every person – because we all know that guy who doesn't like beans on his nachos.
Make packets for each person with just one layer of tortilla chips each – and cut the time over the coals down to make sure things don't get too crispy.
Make a nacho-bar! Allow everyone to assemble their own nachos toppings of choice by letting them pick and choose from a myriad of toppings and keep it fun without the worry of who likes what and fighting over the desirable chips (we've all been there).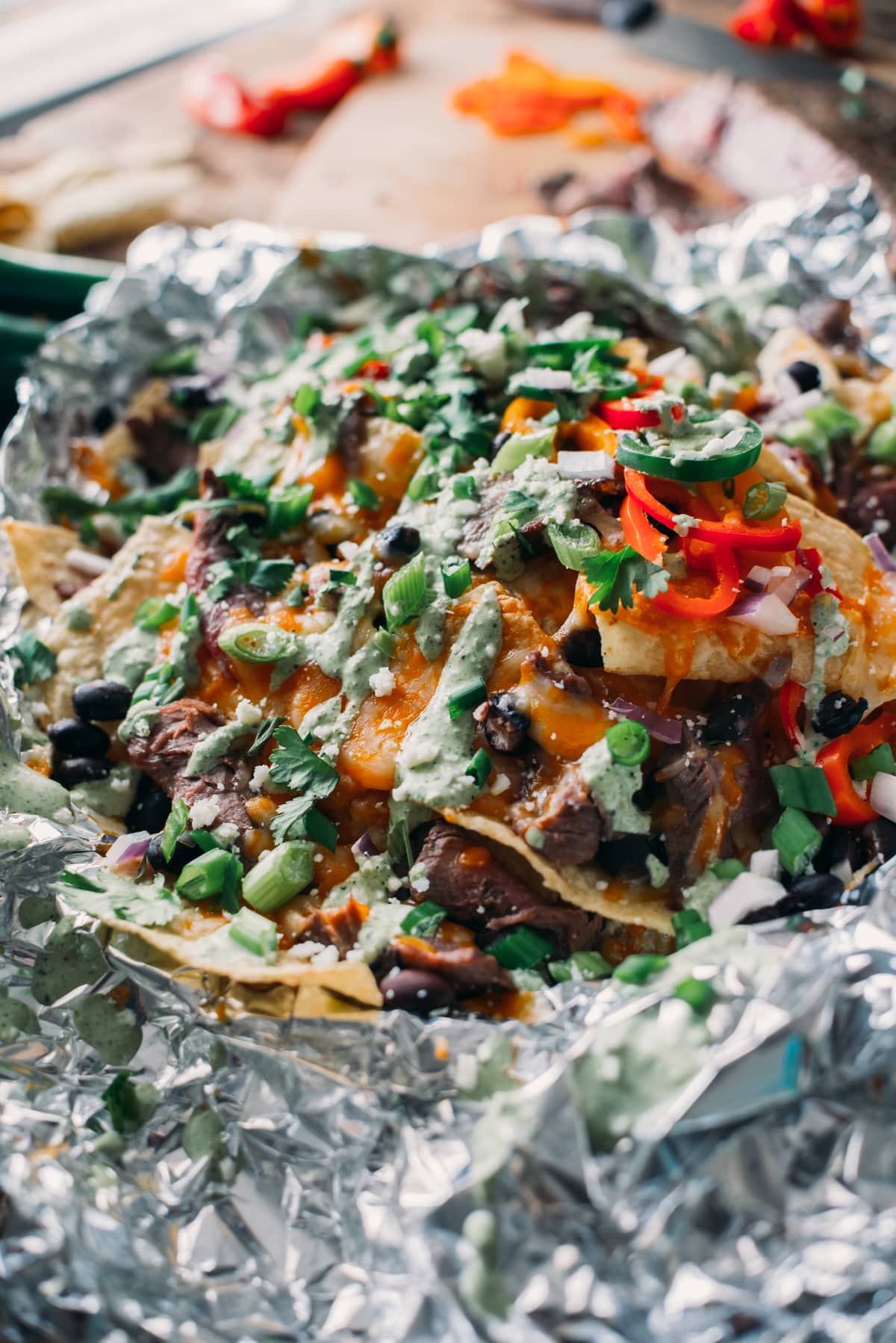 Want more nacho inspiration? Try some of my favorite recipes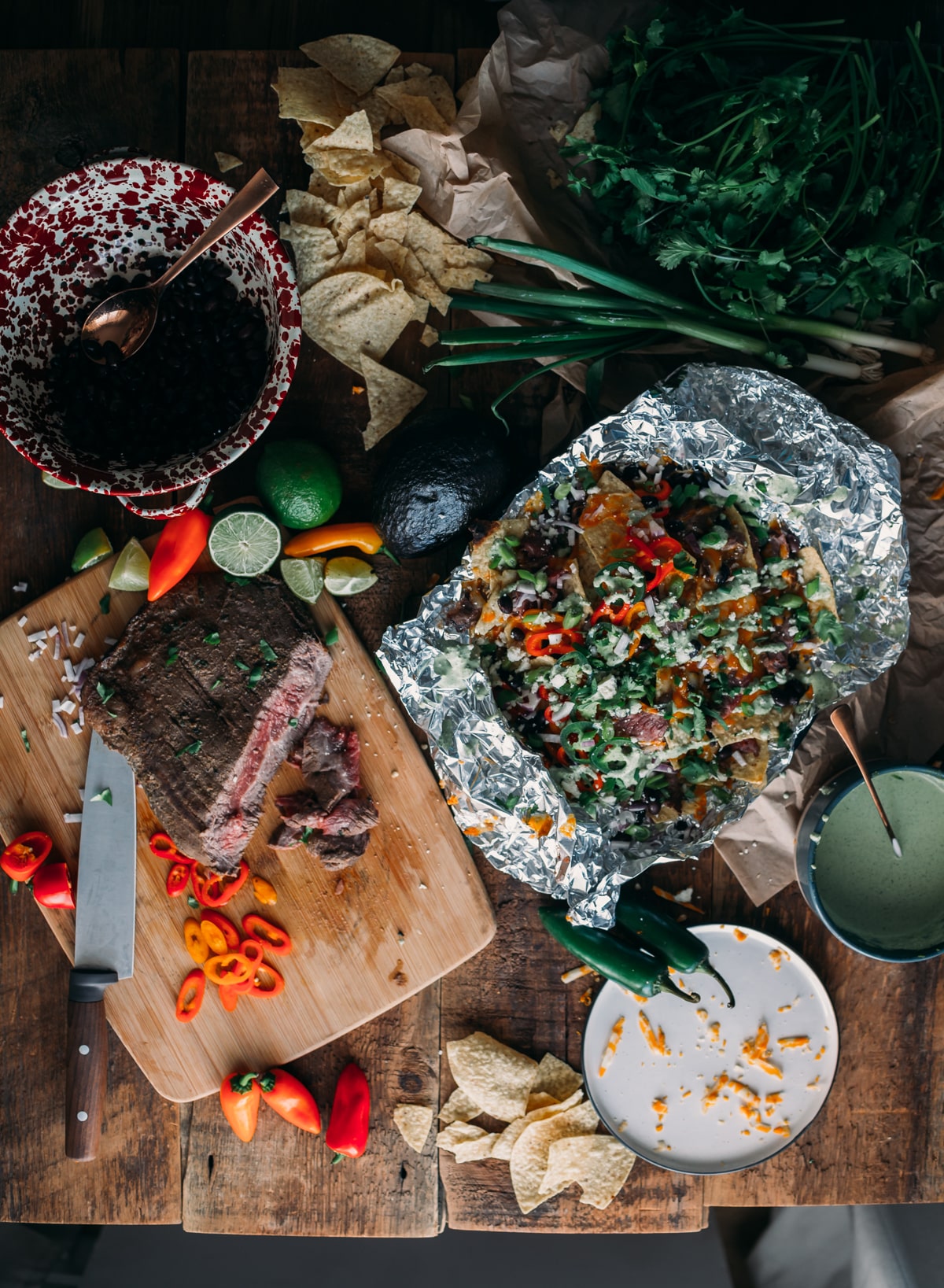 If you've tried this recipe for campfire nachos or any other recipe on GirlCarnivore.com please don't forget to rate the recipe and let me know where you found it in the comments below. I get inspired by your feedback and comments!
FOLLOW Along on Instagram @girlcarnivore as well as on Twitter and Facebook.
Foil Pack Carne Asada Nachos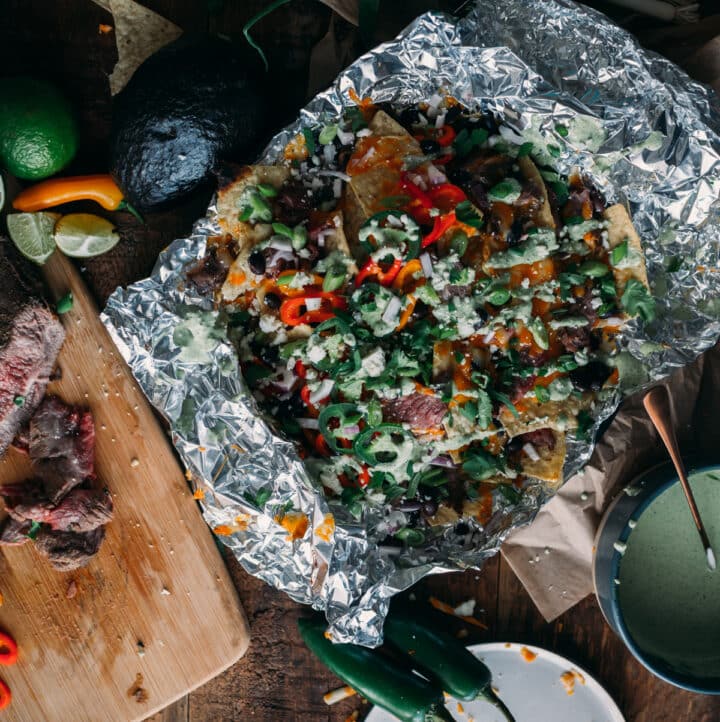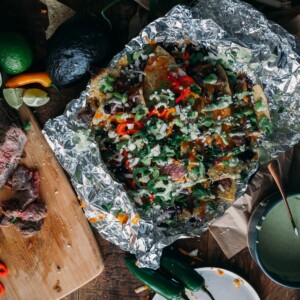 These are perfect foil-packet nachos for camping! Fresh char-grilled carne asada with bright flavors layered onto fully loaded cheesy tortilla chips with beans all nestled into aluminum foil and cooked over the campfire is a perfect base for every nacho topping you desire. What do you put on your nachos?
Ingredients
For the Marinade:
1/2

cup

Orange juice

1/2

cup

Oil

2

limes

juiced

3

Garlic cloves

minced

1

Jalapeno

stemmed seeded and sliced

1 tbsp

Jalapeno Lime Rub

from Spiceology

1

tsp

Cumin

2

tbsp

fresh Cilantro

chopped
For the Carne Asada:
1.5

lbs

Flank Steak

Salt and pepper
Nachos:
10

oz

Refried Beans

13

oz

Tortilla Chips

8

oz

Colby Cheese

shredded

4

oz

Beans

rinsed and drained
Nacho Toppings
Crema

see note

1/4

cup

queso fresco

crumbled

Salsa

1

Jalapeno

sliced

1

Lime

sliced

2

Scallions

chopped

Avocado

chopped

Cilantro

chopped
Instructions
Marinate Steak
Using a gallon sized resealable bag, mix the orange juice, oil, lime juice, garlic cloves, and jalapeno slices together by tossing them all in.

Pat the steak dry with paper towels and rub it with the Jalapeno rub and cumin.

Add the steak and the cilantro to the bag and seal, pressing out as much air as possible.

Using your hands, rub the bag, making sure all of the ingredients are mixed and coating the beef.

Allow the steak to marinate at least 2 hours, or up to over night in a chilled cooler or refrigerator.
Grill Steak
Place the steak over direct heat and grill, flipping often, until the beef has cooked to your desired internal temp, at least 135 degrees, 15 to 20 minutes.
Rest the Meat
Wrap the flank steak in foil and allow it to rest for 15 minutes before slicing.
Slice thin
Slice the beef into thin strips working aginst the grain on a biase for the best bite.
Make the Nachos:
Arrange a long sheet of aluminum foil on a clean work surface.

Dollop the refried beans onto the center of the foil and using the back of a spoon, spread the refried beans into a circle, creating the base of your nachos. Make sure this isn't too big as you need to fold the foil up around the pile of chips.

Once the base is make, add a thin layer of tortilla chips.

Top the layer with thin slices of hte carne asada, cheese, and black beans.

Repeat for two or three more layers, making sure the top layer has extra cheese.

Fold the long ends up the foil up over the chips carefully, as to not break the chips, and pinch the edges shut.

Carefully place the foil packet over indirect heat and allow the nachos to cook, so the cheese melted through on every layer, checking every 7 minutes or so depending on the heat of your fire.

Once the cheese has melted through, carefully remvoe the foil pack nachos from the campfire and open the packet.

Using a variety of topping, cover the top of your nachos with sliced avocado, scallions, sliced jalapeno, red onion, and sweet peppers.

Serve liquid items like sour cream, guacamole or salsa on the side to prevent soggy chips.

Garnish with cilantro and crema if desired.
Nutrition
Serving:
1
g
|
Calories:
656
kcal
|
Carbohydrates:
42
g
|
Protein:
34
g
|
Fat:
40
g
|
Saturated Fat:
11
g
|
Trans Fat:
1
g
|
Cholesterol:
81
mg
|
Sodium:
678
mg
|
Potassium:
587
mg
|
Fiber:
6
g
|
Sugar:
4
g
|
Vitamin A:
469
IU
|
Vitamin C:
20
mg
|
Calcium:
358
mg
|
Iron:
4
mg