This Corned Beef Sandwich shouldn't be complicated. It is a smash-and-grab of what you have lying around, piled high to create the best damn bite you can shove in your mouth all at once. So Good.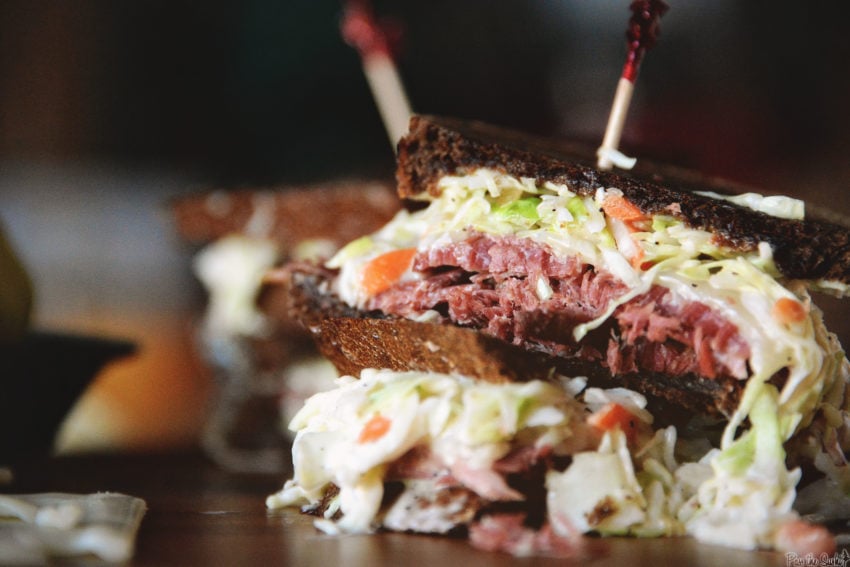 Imagine layers of smoked corned beef, crisp slaw, and perfectly hearty pumpernickel bread. The combination is a deli favorite that is just as easy to make at home. Whether using homemade smoked pastrami for a pepperier bite or slices of corned beef from the deli, a good sandwich should require napkins and be messy. Make your eyes roll back, and you sigh in joy. They should make your lover worry. Then, they should make that lover sit back in proud satisfaction.
What is a Corned Beef Reuben?
There are parts of a cow that just aren't easy to eat. Brisket is tough and generally chewy. But, let it sit in a brine for a while, then slow cook it all day, and suddenly it is tender as can be and full of flavor. This is why we make corned beef. And the end product is well worth the wait.
A corned beef sandwich is a simple recipe packed with corned beef, mustard, sauerkraut, and tangy relish. Everything is piled high on your favorite toasted rye bread for the perfect sandwich.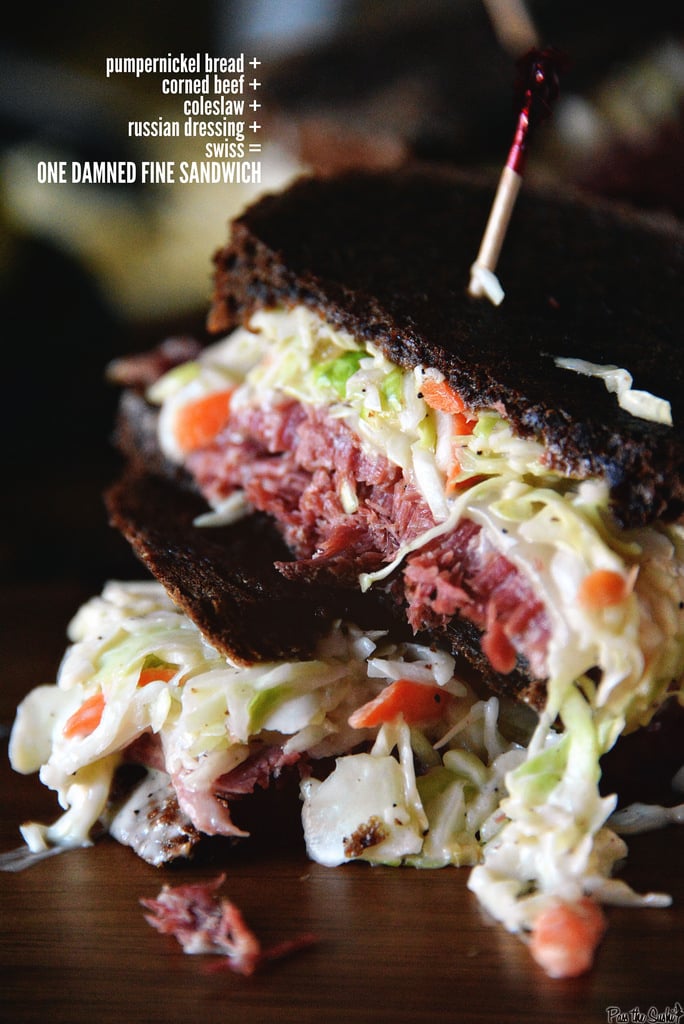 Ingredients to Make Corned Beef
Butter – just like making grilled cheese, you need something to brown the bread. We use unsalted butter.
Fresh Pumpernickel or Marbled Rye Bread – Choose one of these options for bread to make the best Reuben sandwiches.
Russian Dressing – Smear this over your bread to make the best corned beef sandwich. Alternatives include thousand island dressing.
Coleslaw – Homemade is preferred, but storebought works in a pinch.
Salt and Pepper – use kosher salt and freshly ground black pepper
Sliced Corned Beef – Make the meat the day before or use leftovers. Then, just add your corned beef to slices of bread, and you have a simple meal the next day.
Swiss Cheese – the sandwich isn't complete without melted cheese, and tangy Swiss is by far the best option for this hot corned beef delicacy.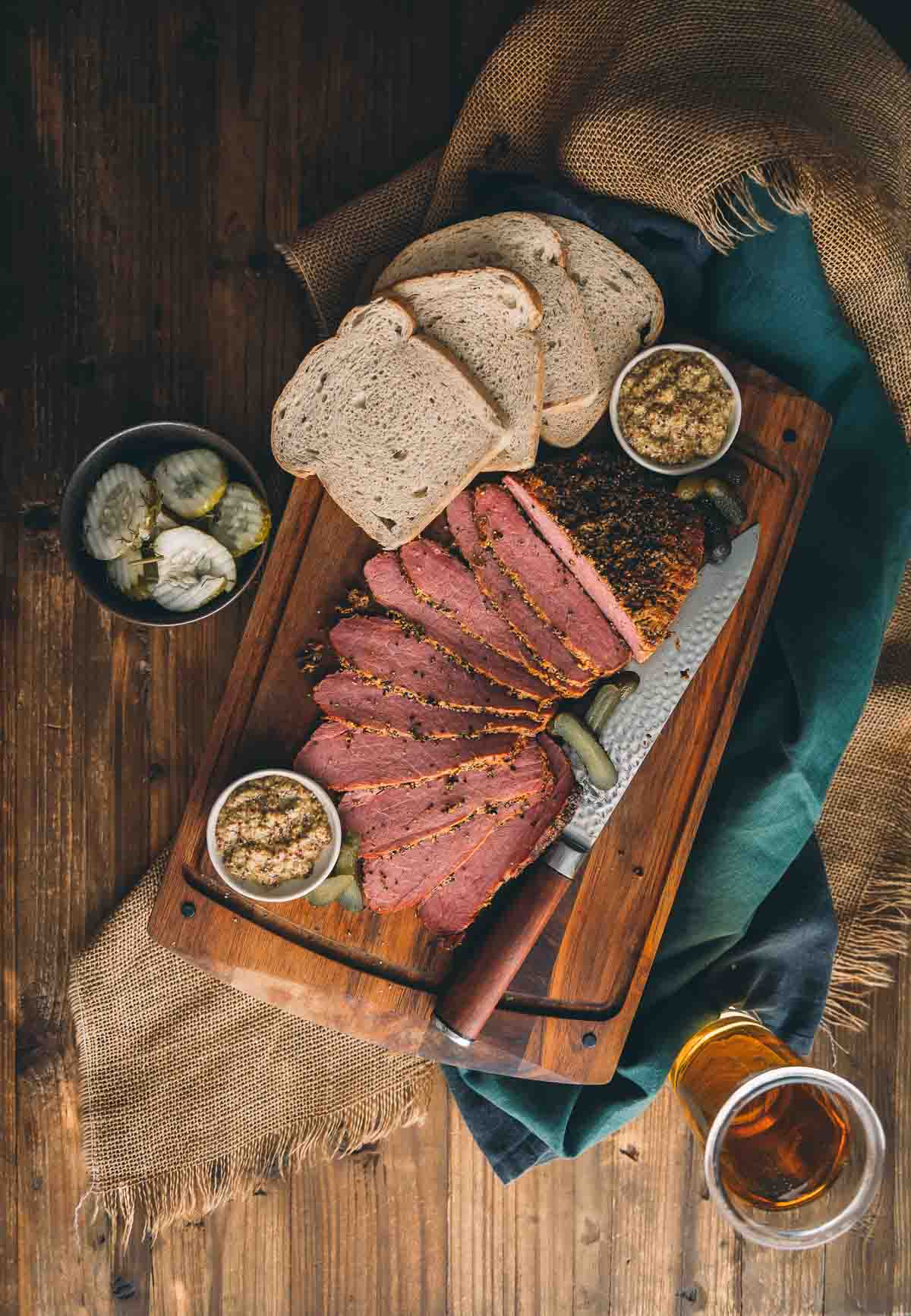 How to Make a Corned Beef Sandwich Recipe
Preheat your skillet or pan on medium-high heat.
Smear a generous helping of Russian dressing onto your choice of bread. Add your coleslaw and season with salt and pepper if you wish. Top the coleslaw with heaping piles of sliced corned beef and a slice or two of cheese. Add the remaining bread half.
Melt the butter in the pan and place the sandwiches in. Press them down to help the bottom of the bread brown quickly and cook for 3 to 4 minutes before flipping and doing the same on the other side. Toast each side until golden brown.
The corned beef rueben is finished when the cheese is melty, and things start to get messy. Serve with dill pickles, and enjoy.
Girl Carnivore Expert Tip
Skip the butter and use mayo on the bread when toasting for edge-to-edge golden brown bread. We also use this trick any time we make grilled cheese.
Beef Leftovers and Reheating
Curious about what to do with leftover corned beef sandwiches? For starters, don't store your corned beef and coleslaw ON the bread, it will definitely get soggy that way. Store your bread and toppings separately and prepare the dish from scratch the next day. These delicious sandwiches are easy to keep on hand as long as you have the individual ingredients.
What to Serve with Corned Beef
If you are looking for yummy sides to serve with your class Reuben, try fried pickles, dill pickle dip, a smoked cabbage recipe, sugar-glazed carrots, Irish nachos, or fried mac and cheese bites. If you don't want to try bites, try smoked mac and cheese.
Other great options include spinach artichoke dip, creamed spinach, and Irish Soda bread. Of course, they are also perfect with crispy beef tallow french fries or potato chips, because what sandwich isn't!? They're deli staples.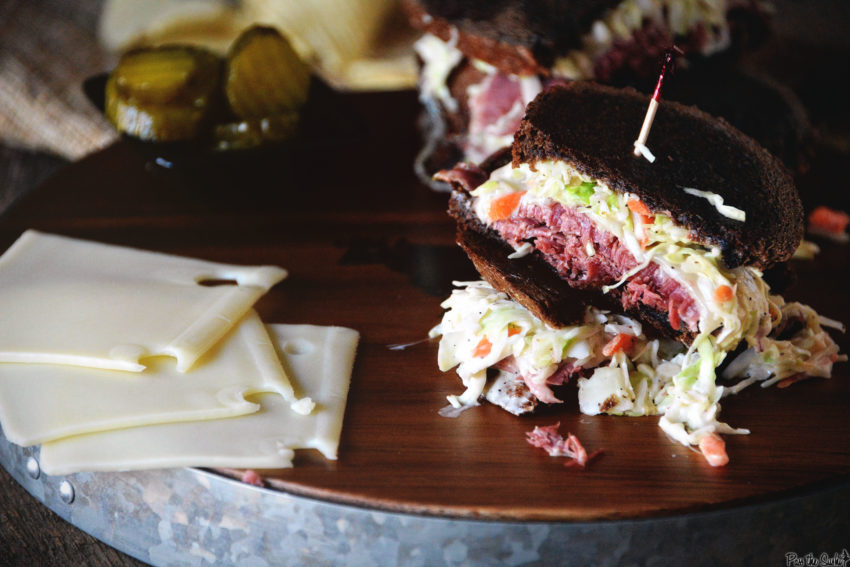 Recipe FAQs
Are a Corned Beef and a Reuben Sandwich the Same?
Another name for a corned beef sandwich is the Reuben. They both use pre-cooked corned beef, served with a Russian dressing recipe, delicious sauerkraut, and coleslaw piled on rye or pumpernickel.
Does Mayo go on a corned beef sandwich?
The classic Reuben sandwich combines corned beef, coleslaw and relish, cheese, and a condiment (often Russian dressing, which is a blend of spicy mayo, regular mayo) and sometimes mustard. So yes, mayonnaise can go on a corned beef sandwich. The condiment is up to the creator.

Which cut of meat is best for corned beef?
When choosing your beef for making corned beef from scratch, like our smoked corned beef, the best cut to use is the flat cut. This portion of the beef brisket is long and thin. It has a layer of fat on top that keeps the meat moist even during cooking. It's perfect for slicing and is what you'll find in the deli section of your grocery store.
MORE DELICIOUS Sandwich RECIPES
Add this traditional Reuben to your menu and enjoy the deli experience right from home. Be sure to leave a comment if you've made this recipe and rate the recipe to help the next person out! These little actions help fresh recipes keep coming from the Girl Carnivore Meat Labs.
Corned Beef Sandwich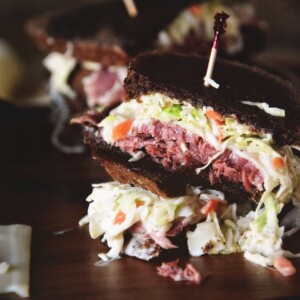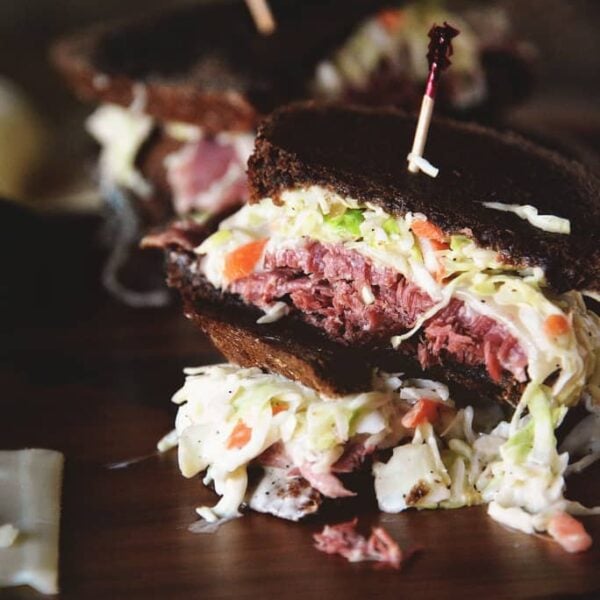 Pile the pastrami on high for the best corned beef sandwich!
Ingredients
1

tbs

butter

4

slices

fresh pumpernickel or marbled rye bread

1

tbs

Russian dressing

3/4

cup

fresh homemade coleslaw

salt and pepper

3/4

lbs

sliced leftover corned beef

2

slices

swiss cheese
Instructions
Preheat skillet or griddle over medium-high heat.

Smear one side of each slice of bread with the Russian dressing. Pile generous portions of coleslaw over the bottoms. Season with salt and pepper if desired. top with even more generous portions of sliced corned beef and a slice of cheese. Top with remaining bread halves.

Melt the butter in the skillet and place the sandwiches in. Press each to get a good brown on the bottom of the sandwich and cook 3 to 4 minutes before flipping and finishing off the other side to a nice toasted golden brown, about 3 to 4 minutes longer.

The cheese should be melted and things should be starting to get messy.

Serve with pickles.
Nutrition
Calories:
660
kcal
|
Carbohydrates:
29
g
|
Protein:
37
g
|
Fat:
43
g
|
Saturated Fat:
17
g
|
Cholesterol:
134
mg
|
Sodium:
2558
mg
|
Potassium:
679
mg
|
Fiber:
4
g
|
Sugar:
2
g
|
Vitamin A:
435
IU
|
Vitamin C:
55.5
mg
|
Calcium:
279
mg
|
Iron:
4.6
mg