Sandwiches shouldn't be complicated. They should be a smash and grab of what you have laying around piled high to create the best damn bite you can shove in your mouth all at once. They should require napkins and be messy. They should make your eyes roll back and you sigh in joy. They should make your lover worry. Then, they should make that lover sit back in proud satisfaction. Proud that you didn't try to delicately slice up your masterpiece and eat it with a knife and fork. Proud that you are brave enough to go all in with bold combination of flavors. So look across the table, raise an eyebrow, take a bite. And see how your lover reacts.
Either they get it, or it just wasn't meant to be.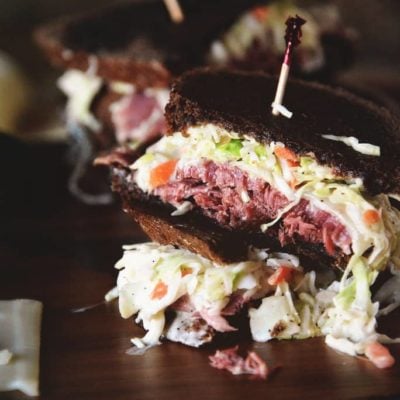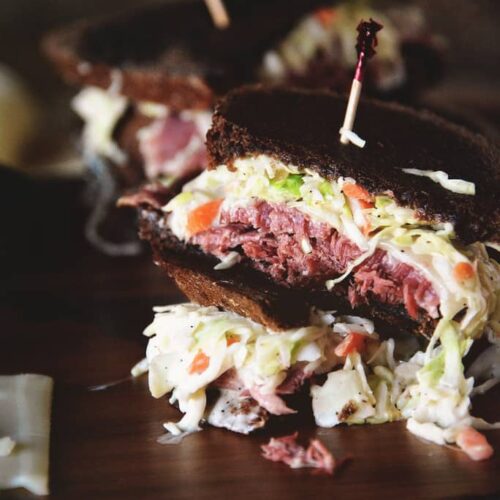 Ingredients
1

tbs

butter

4

slices

fresh pumpernickel or marbled rye bread

1

tbs

Russian dressing

3/4

cup

fresh homemade coleslaw

salt and pepper

1/2 to 1

lbs

sliced leftover corned beef

2

slices

swiss cheese
Instructions
Preheat skillet or griddle over medium-high heat.

Smear one side of each slice of bread with the Russian dressing. Pile generous portions of coleslaw over the bottoms. Season with salt and pepper if desired. top with even more generous portions of sliced corned beef and a slice of cheese. Top with remaining bread halves.

Melt the butter in the skillet and place the sandwiches in. Press each to get a good brown on the bottom of the sandwich and cook 3 to 4 minutes before flipping and finishing off the other side to a nice toasted golden brown, about 3 to 4 minutes longer. The cheese should be melted and things should be starting to get messy.

Serve with pickles.