Nothing screams good old-fashioned bar food like a glorious platter of nachos soaked in cheese. Now, image Corned Beef Nachos with Herbed Whiskey Fondue. Bring happy hour home.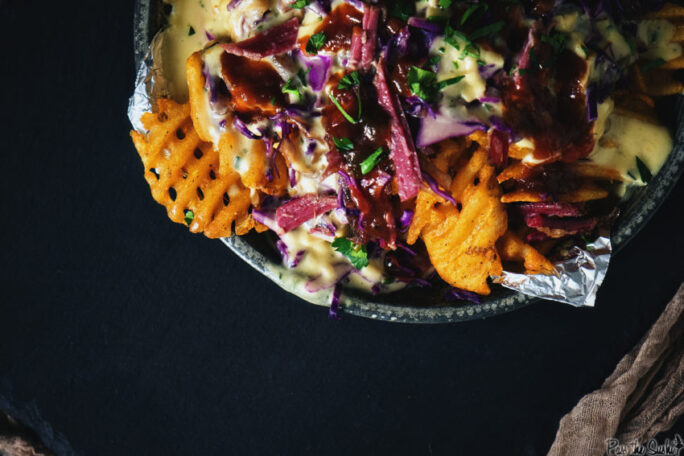 Got some corned beef leftovers laying around?
Corned beef, although popularized by St Patty's Day menus everywhere, isn't actually a traditional Irish dish at all. It was more used as a bacon substitute when times were tight in the early 1900's.
Corned beef is actually a beef cut that has been salt cured. That's why it can be cooked low and slow for hours and retain a ton of flavor and it's signature pink colour. Where corned beef is a term for the curing process of the beef, the cut doesn't technically have to be any one in particular but is often the fatty brisket. Which, explains why it's important to watch the local market adverts.
I mean, cuz corned beef was on sale recently and I know I stocked up.
Corned beef leftovers shouldn't have to wait for St. Patty to bust out the godforsaken green beer, it should be an all year long sort of thing. So, yeah, I have a leftover corned beef stash just ready and waiting for weak moments like this.
Weak moments that result in glorious piles of waffle-cut fries bathing in a herbed stout fondue…
What to do if you can't find any?
The craving for corned beef nachos sets in. Only it isn't St Patrick's Day and the stores don't have any in stock. Don't panic. It is actually pretty dang simple to corn your own beef. The first thing you need to do is tell the person at the meat counter that they have deprived you of a right to eat corned beef any time of the year you darn well please.
Stare 'em down hard.
Then ask where the cuts are that work best for turning into corned beef.
The Best Cuts For Making Corned Beef
Corned beef typically is made from the brisket cuts of the beef. The brisket is the lower neck and chest of the cow. When you see packaged corned beef you might notice that it comes in two distinct types. Flat or round cut is the same thing. Point cut is different.
The round cut has more fat content and comes from the chest. While the point cut is from the lower neck. People debate which is better but they are both excellent for making corned beef. Supposedly the point cut has more flavorful meat but the round cut has more fat layer and marbling.
I think both are great so really it comes down to whichever you see and like in terms of weight and price.
Brine Your Own
It is easy to brine your own corned beef. Usually, you can get a piece of brisket that fits into a one-gallon zip-seal bag. Ideally, you want to use large kernels of salt like edible rock salt. Kosher salt works. Also, you can use that pink salt curing salt, but don't feel like you have to run out to the store for it if you don't have it.
Truth be told, any salt will do the trick.
Using about a cup of salt, rub it into the meat then place it into the bag, add some water to cover and throw in pickling seasonings. Let it sit for 5 to 7 days. Remove, rinse, repeat. Then it is ready to slow cook on low heat until done. Let it cool a bit so it is easier to cut.
If you don't have pickling spices handy then you can put your own together pretty easily with some peppercorns, coriander seeds, bay leaves, and some dill if you want.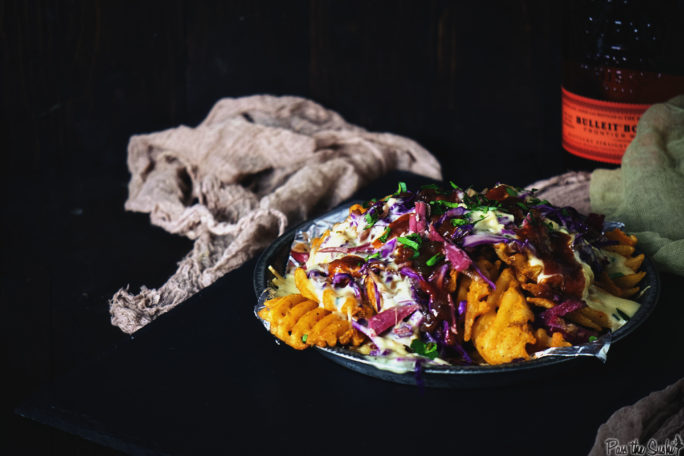 The Pastrami VS Corned Beef Question
Corned beef and pastrami are similar but they are not the same. Small wonder though that people get confused about which is which. To set the record straight, both corned beef and pastrami come from similar brisket cuts of beef. Both are also brined in various pickling seasonings like coriander, black peppercorns, bay leaves, and such.
However, this is where the similarity ends.
Pastrami goes the extra mile and is smoke cured. The smokiness is what makes pastrami special. It takes the brisket and essentially makes it like beef bacon. Now you know why pastrami costs so much more than corned beef.
The good news is you can easily smoke your own corned beef to make homemade pastrami!
If you DON'T have corned beef stockpiled, let me give you some inspiration (besides these nachos) to make you run to the market right now….
The classic corned beef and cabbage (seriously, once a year, this is amazing).
Think about homemade pastrami…. yep. Homemade Pastrami.
And then there's piled high Corned Beef Sandwiches, Rueben hot dogs and more.
Now, get to making these Irish Nachos so you can dive in!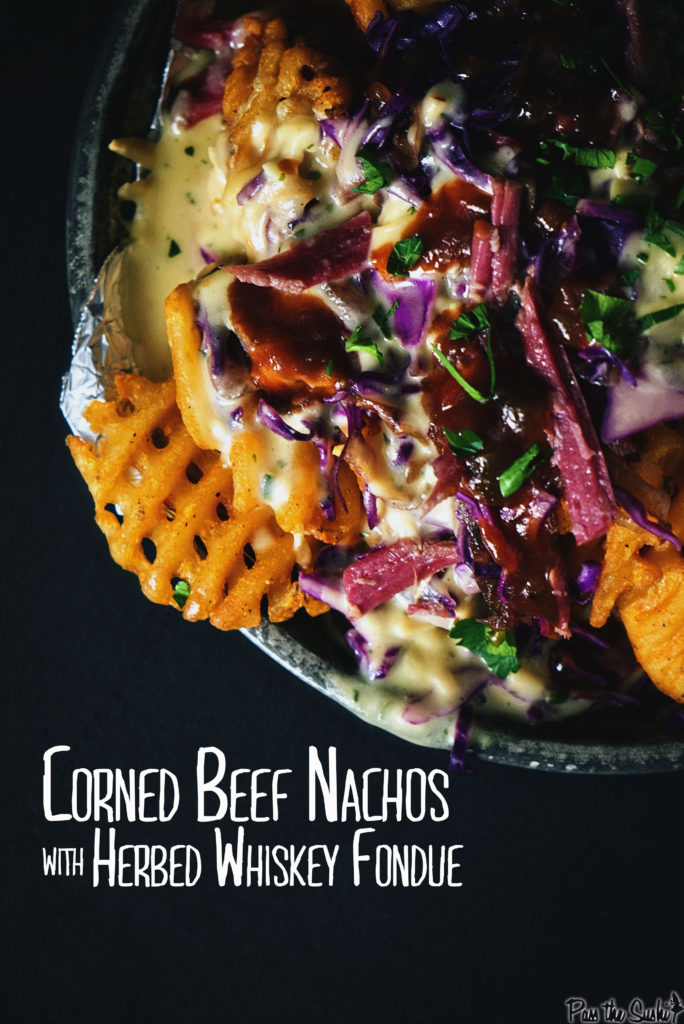 If you've tried my Corned Beef Nachos with Herbed Whiskey Fondue recipe, or any other recipe on GirlCarnivore.com please don't forget to rate the recipe and let me know where you found it in the comments below. I get inspired by your feedback and comments! You can also FOLLOW ME on Instagram@girlcarnivore as well as on Twitter and Facebook.
Corned Beef Nachos with Herbed Whiskey Fondue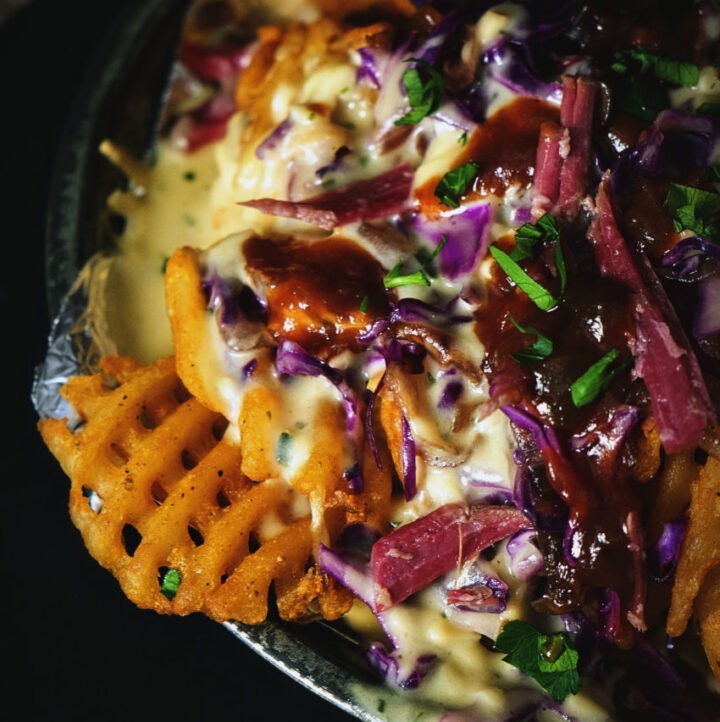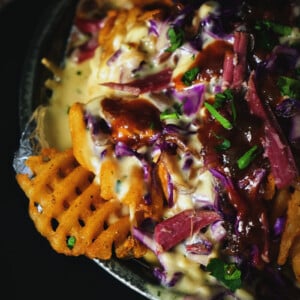 Bring the pub home and dig into this platter of corned beef over creamy whiskey infused cheese sauce all drizzled over thick waffle fries.
Ingredients
For the nachos
1

bag frozen waffle fries

1/2

lbs

corned beef

cooked and shredded

1/2

cup

shredded cabbage
For the Whiskey Sauce
1/4

cup

whiskey

2

tbs

honey

1

tbs

brown sugar

1

onion

sliced
For the cheese sauce
3

tbs

flour

3

tbs

herb butter

4

oz

whiskey

2

oz

Dubliner cheese

2

oz

Skellig cheese

2

oz

smoked gouda cheese

1/3

cup

milk

1

tbs

Dijon mustard

Additional cheese for topping

freshly snipped parsley
Instructions
Prepare the waffle fries according to directions on package.

Meanwhile, whisk the whiskey, honey, and brown sugar in a small saucepan. Bring to a boil; reduce heat to a simmer and allow to reduce.

Toss in the sliced onions and allow to simmer on low until soft, 8 to 10 minutes.
Make the cheese sauce.
In a saucepan over medium heat, melt the butter and flour and cook for 3 to 4 minutes.

Stir in the whiskey. Add the cheese a little at a time, the milk, and the Dijon.

Stir until melted. Keep heated over low until ready to use.

Toss the corned beef with the onions in the whiskey sauce and arrange over the cooked waffle fries in layers.

Stir any remaining sauce into the cheese sauce.

Pour over the fries, being sure to give a little pool at the bottom for dipping.

Top with cabbage, sprinkle with remaining cheese and toast under the broiler until everything is melted.

Garnish with fresh parsley and serve.
Nutrition
Serving:
1
g
|
Calories:
369
kcal
|
Carbohydrates:
14
g
|
Protein:
14
g
|
Fat:
21
g
|
Saturated Fat:
9
g
|
Cholesterol:
52
mg
|
Sodium:
759
mg
|
Potassium:
197
mg
|
Fiber:
1
g
|
Sugar:
10
g
|
Vitamin A:
515
IU
|
Vitamin C:
14
mg
|
Calcium:
229
mg
|
Iron:
1
mg