This post may contain affiliate links. Please read my disclosure policy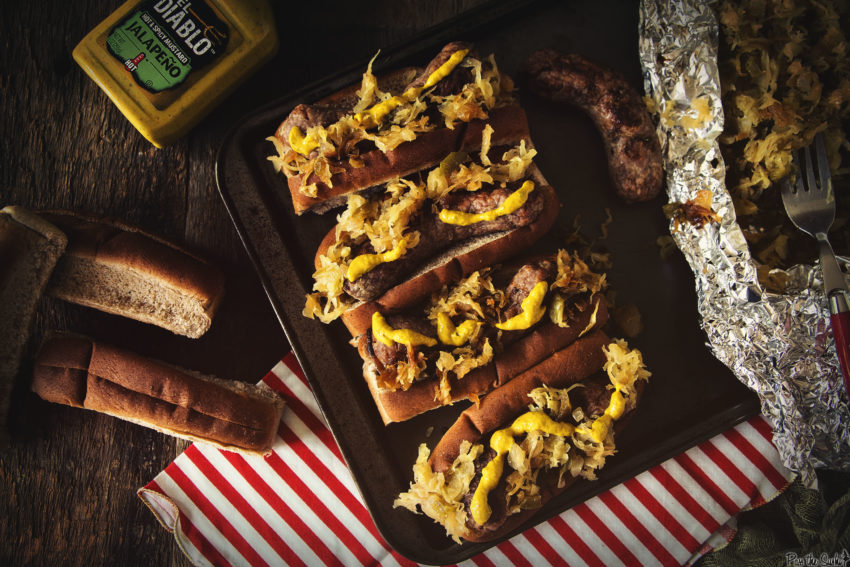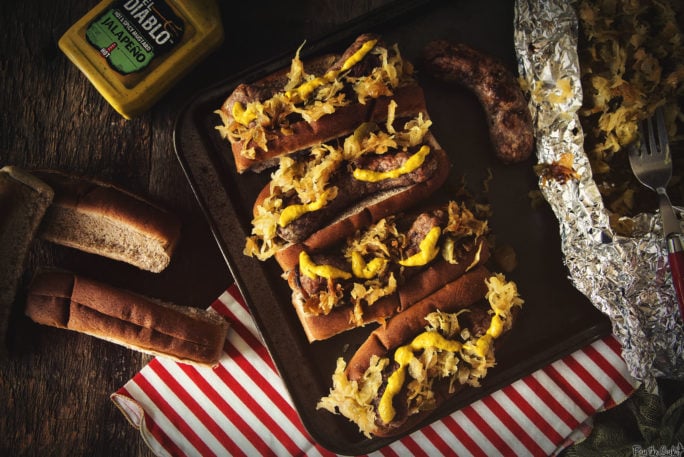 It's full on step up the bat, hit a home run, drop the mic and call it a day grill season. Time to flex those burger flipping forearms and proudly wear that barbecue sauce stained apron like your lucky socks. Time to turn up the heat and add a little spice to the classics. Not all are going to make the cut. Some won't be able to handle the heat. But for those who do, the cheers of friends and the satisfaction of toughing it out and enjoying the bold flavors is all the prize they'll need.
Today we have not just one but 9 delicious recipes inspired by the versatile flavors of El Diablo Hot & Spicy Mustards from 10 fabulous food bloggers from across the country to celebrate National Grilling Month (May). And a pretty extreme giveaway. (Hint, check out all the bloggers participating!)
Souffle Bombay – Bacon Wrapped BBQ Shrimp with a Chipotle Mustard Glaze
All Day I Dream About Food – Cocoa-Rubbed Pork Tenderloin with Chipotle Mustard Sauce
Little Kitchie – Grilled Spicy Mustard BBQ Chicken Pizza
Musings of a Housewife – Sweet & Spicy Baked Beans with Ham
Sugar Dish Me – Hot Honey Mustard Wings
The Vintage Mom – Spicy Mustard Mayo Chicken Kabobs
The Suburban Soapbox – Grilled Beef Tenderloin Sandwich with Spicy Steakhouse Aioli
Welcome to the Cookout – Championship Baby Back Ribs 
It's time to #GetGrilling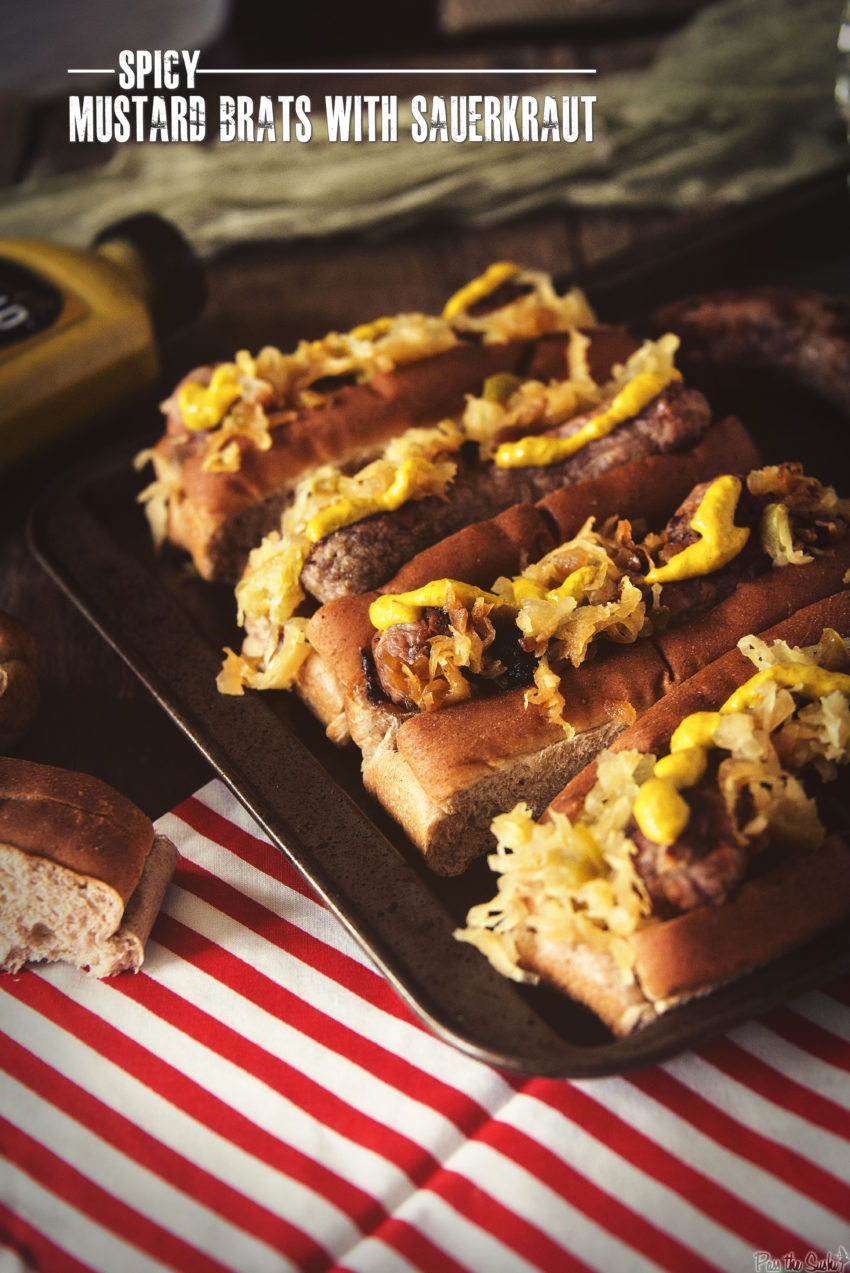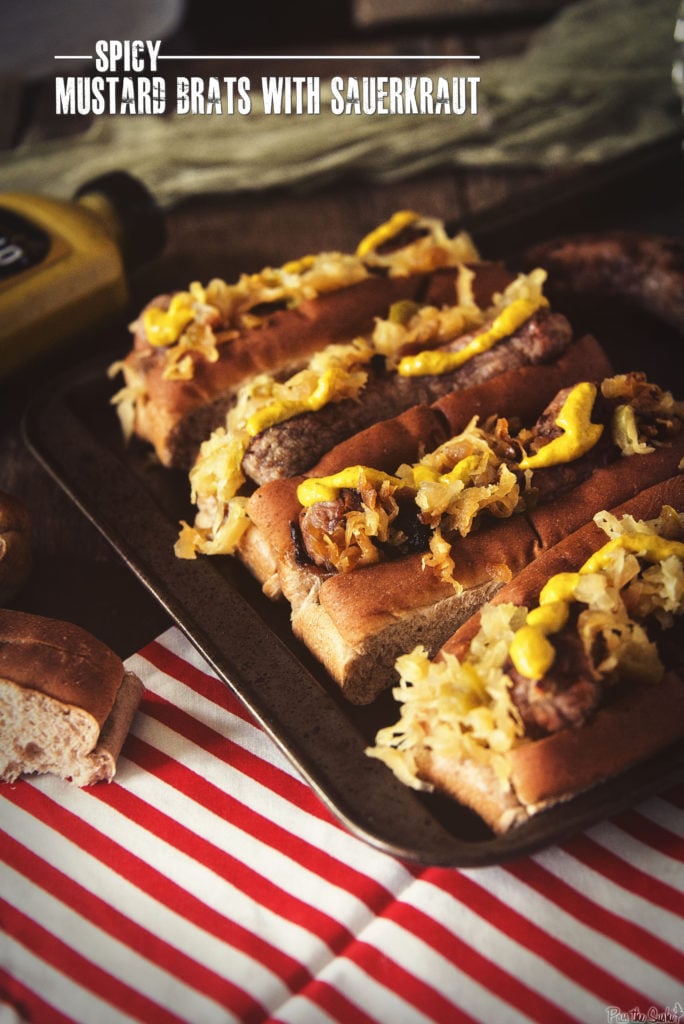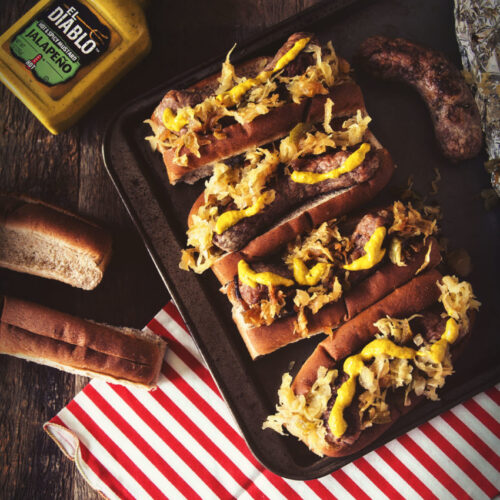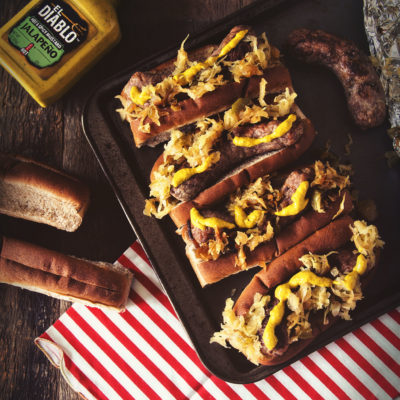 Ingredients
1

tbs

butter

1/2

half green pepper

seeded and diced

1

small onion

diced

2

tbs

brown sugar

2

teas El Diablo Jalapeno Mustard

1

cup

sauerkraut

drained

6

bratwursts

rolls
Instructions
In a large skillet over medium heat, melt the butter. Add the onions and peppers and sautee until soft, about 5 minutes. Stir in the brown sugar and El Diablo Jalapeno mustard. Stir in the sauerkraut. Remove from heat.

Make a foil pouch using two sheets of heavy duty foil and fold together the edges. Place the sauerkraut mix in the middle and pinch the edges closed, leaving room for steam.

Preheat a grill to medium-high. Prick holes in the brats.

Arrange the brats over a drip pan on the hot grill. Add the sauerkraut packet and grill, until brats are cooked through, about 20 minutes, flipping once, a little over half way through cook time.

Serve on toasted buns with kraut and extra El Diablo Jalapeno Mustard for those brave enough to try more heat.
Prize Package One features the Blue Rhino Gas Grill, Rhino Coupon for Free Propane and a 3-Piece Ergo Handle Tool Set all fromwww.mrbbq.com and www.bluerhino.com and a 6-pack of El Diable Mustard.
The Backyard Grill 4-Burner Gas Grill  features an attractive stainless steel lid and a cast iron cooking surface with a 28-burger capacity. This outdoor gas grill also boasts a large warming rack, a convenient stainless steel tube handle, a built-in bottle opener and a handy temperature gauge. Two plastic wheels help to make positioning quick and easy. This full-size grill is a must-have for anyone who takes their outdoor cooking seriously.
The 3-Piece Ergo Handle Tool Set  includes a long-handled spatula, fork and tongs. The set is made with high-quality stainless steel construction and patented, arched handles for maximum comfort and control.
Blue Rhino Coupon for Free Propane  will get you cooking on your gas grill right away!
Prize Package Two features the new Hot Box Grills 360+ plus a 6 pack of El Diable Mustards. Values at over $400.00
 "The Hot Box Grills 360+  is the most versatile outdoor cooker you'll ever own. Grill, Roast & Smoke your favorite foods to perfection. You can configure the separate charcoal and food grates in hundreds of different ways, allowing you to cook all of your backyard and tailgating favorites. Grill a dozen or more big juicy hamburgers, roast two beer can chickens or smoke a 20 pound pork butt low & slow.  Because of the unique patent-pending design clean-up, transporting and storing the Hot Box Grills 360+ is easy.

It's an American made, full-size heavy-duty powder-coated steel cooker that you can take just about anywhere. Tuck it behind the seat of your truck or place in the trunk of your car – the compact design leaves plenty of room!"

Disclosure: I was not compensated for this post, however, who wouldn't want a chance to bring you a kicking grill giveaway. All opinions are my own (duh).  Huge thanks to the very generous brands that made this giveaway possible – El Diablo Mustard, Mr BBQ and Hot Box Grills!!