A Chili cheese dog is seriously awesome. There are hot dogs, and there are HOT DOGS. This Chili Cheese Dog is definitely the latter. Loaded with Chili & Cheese, you can't have just one.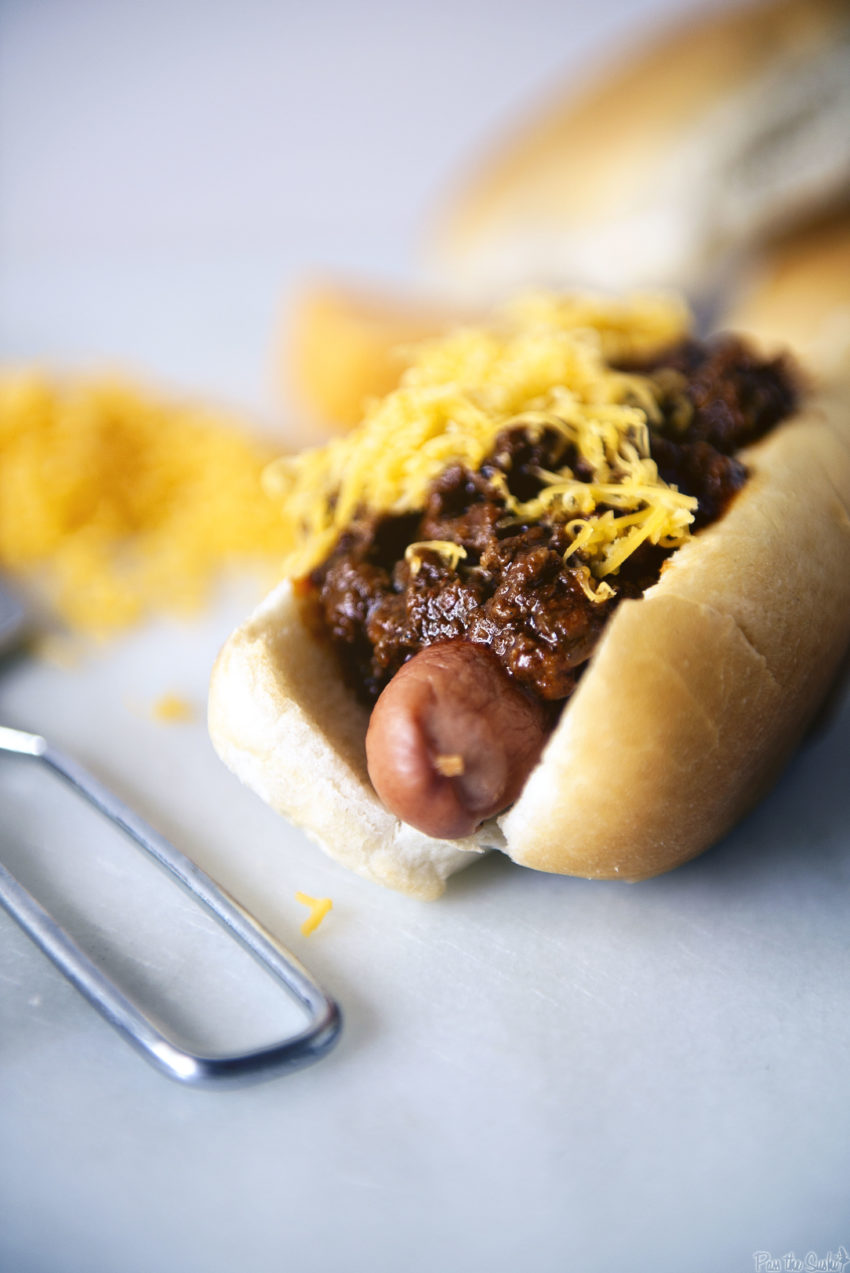 Get ready to indulge in the ultimate comfort food: Chili Cheese Dogs! This mouthwatering recipe combines the deliciousness of hot dogs smothered in homemade chili, topped with gooey cheese, and served on a toasty bun. So whether you're hosting a game day party or just craving some cheesy goodness, this recipe is the best way to satisfy your taste buds. So grab your favorite hot dog sausages, stock up on lots of cheese, and get ready to take your chili dogs to the next level!
What Is a Chili Cheese Dog?
Picture this: a perfectly toasted bun cradling a juicy hot dog, generously slathered with a heaping amount of savory chili. As if the chili and hot dog weren't enough, we crown this creation with a blanket of gooey, melty cheese, taking the humble hot dog to new heights of deliciousness.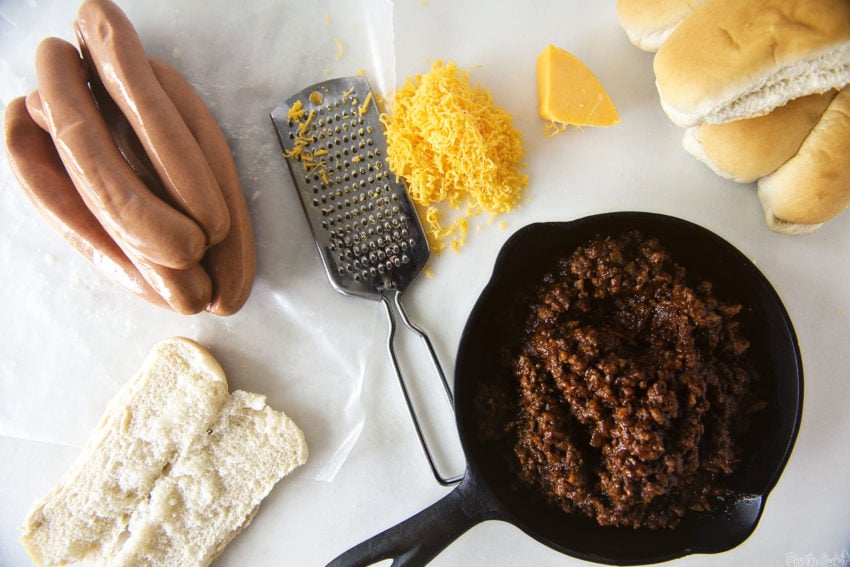 Chili Cheese Dog Ingredients
Spicy Southwest Chili – Use regular chili if you don't like spicy.
Hot Dog Buns – Use whatever kind of hot dog buns you prefer!
Hot Dog – Beef and Pork
Shredded Cheddar Cheese – We use cheddar cheese in this recipe but feel free to use your favorite cheese.
How to Make a Chili Cheese Dog
Prepare the spicy southwest chili (this can be made in advance)
In a pot large enough to bring just enough water to cover the dogs to a boil. Boil for 8 to 10 minutes or until done.
Place the hot dog in the bun, scoop a heaping pile of chili sauce over the top, and sprinkle cheese over the dog.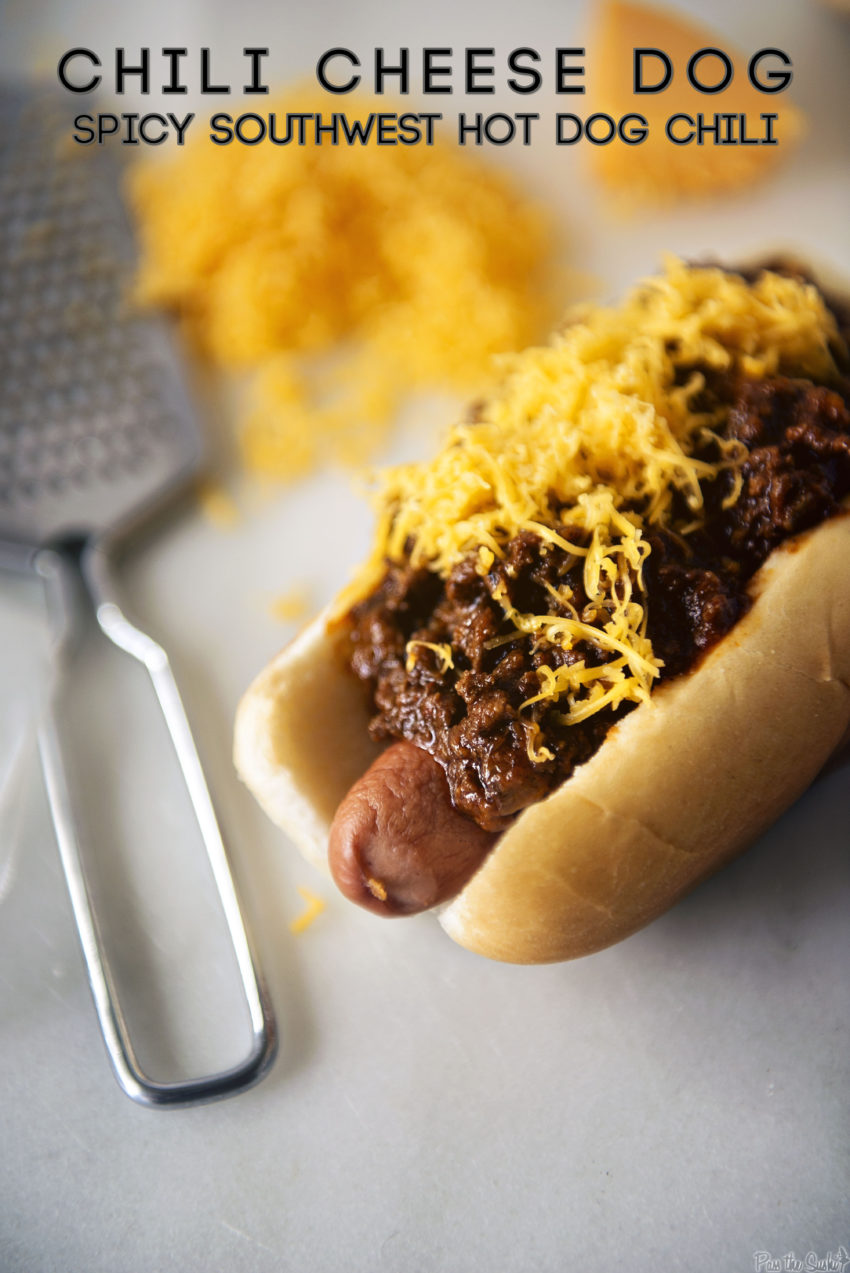 Girl Carnivore EXPERT RECIPE TIPS
Don't limit yourself to the classic toppings. Experiment with various toppings like diced red onions, green onions, bell peppers, or even nacho cheese sauce. These additions will take your chili dogs to new heights of flavor.
If you like your chili dogs with a spicy kick, add some hot sauce or diced banana peppers to your chili for an extra fiery flavor. Adjust the amount based on your heat tolerance and enjoy the sizzling sensation.
Add a dollop of sour cream, a drizzle of sweet relish, a sprinkle of chopped white onions, or any of your favorite toppings!
Leftovers & Reheating
Storing
If you manage to have any chili cheese dogs left (no judgments here), remove the buns and any tasty toppings like onions or relish before storing. Place them in an airtight container and pop them in the refrigerator.
Reheating
Zap them for 30-second intervals until they're warmed through. After reheating, add a toasty bun, sprinkle some freshly shredded cheese on top, and pop them back in the microwave for a quick cheese rejuvenation. Add your toppings, and enjoy!
What to Serve With Chili Cheese Dogs
Sure, you could eat these dogs by themselves, but why not add a little extra food to fill your plate (literally). Some great dishes to pair with these delicious chili dogs are an Easy Smoked Baked Potato, Cast Iron French Fries with Chili (because more chili is always the right answer), or Grilled Jalapeno Popper Fries!
Recipe FAQs
What Are The Best Hot Dogs To Use For Chili Cheese Dogs?
There are so many varieties of hot dogs these days. All beef, all vegetarian, turkey, beef, and pork, you name it. But not all hot dogs are created equally. Sure, any hot dog you wish to use is fine, but if you aren't a vegetarian, we recommend a pork and beef dog or an all-beef dog. We recommend the Costco and Trader Joe's brands and the Safeway Signature brand. Or check out our favorites from Porter Road, one of the best places to buy meat online. All good quality at a great price. Otherwise, the classic and well-known Nathan's dogs are great.
What Is The Best Chili For Chili Cheese Dogs?
When it comes to chili, there are selections from mild to wildly spicy. You have to read the room on this one. What is a perfect level of spice for one person is a five-alarm fire for someone else. We use the Southwestern style chili because it has just enough chili heat that you don't mistake it for sloppy joe sauce. If you want more heat, add additional chili seasoning to anyone wanting to take on a super spicy challenge!
There you have it, folks! An easy chili dog recipe the whole family will love! And if they don't, well, you don't need that kind of negativity in your life anyway. Right? (Just kidding). But seriously, though. These deliciously spicy, hearty chili dogs are to die for. Made with spicy Southwest chili and topped with melty shredded cheddar cheese, these Chili Cheese Dogs will leave you howling with joy! (Pun intended) Also, please rate the recipe card and leave a comment below to help out the next reader!
Chili Cheese Dog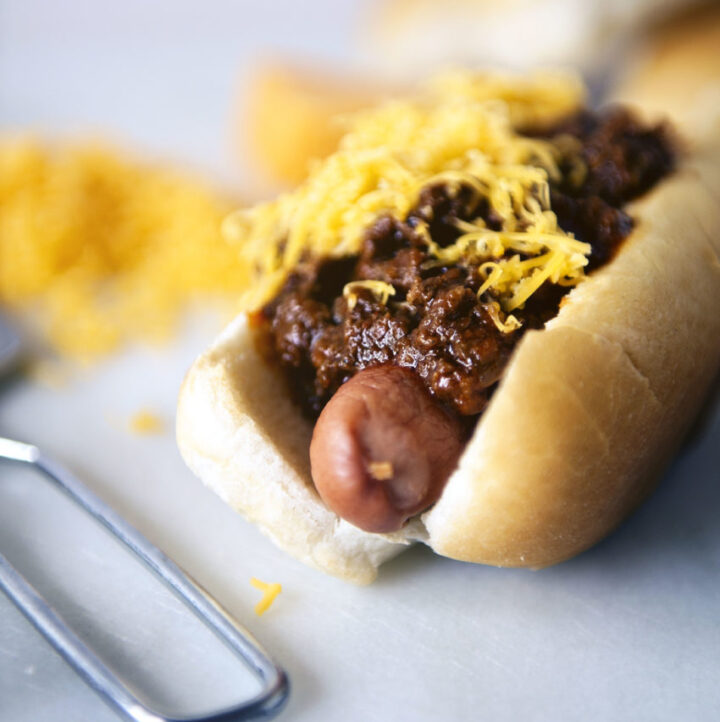 Sink your teeth into our irresistible chili cheese dog. Grilled hot dogs nestled in soft buns, topped with homemade chili, and generously smothered with melted cheese. Add your favorite toppings like onions, mustard, or jalapeños for the perfect balance of flavors. It's a classic favorite that will satisfy your cravings with every bite!
Ingredients
8

oz

Spicy Southwest Chili

4

hot dog buns

4

hot dog

Beef and pork

4

oz

Shredded cheddar cheese
Instructions
Prepare the spicy southwest chili (this can be made in advance)

In a pot large enough to bring just enough water to cover the dogs to a boil. Boil for 8 to 10 minutes, or until done.

Place the hot dog in the bun, scoop a heaping pile of the chili sauce over top and sprinkle cheese over the dog.
Notes
Nutrition
Calories:
402
kcal
|
Carbohydrates:
41
g
|
Protein:
17
g
|
Fat:
17
g
|
Saturated Fat:
8
g
|
Cholesterol:
50
mg
|
Sodium:
1454
mg
|
Potassium:
357
mg
|
Fiber:
4
g
|
Sugar:
8
g
|
Vitamin A:
670
IU
|
Vitamin C:
9.7
mg
|
Calcium:
300
mg
|
Iron:
3.2
mg