A Chili cheese dog is this side of seriously awesome. There are hot dogs, and there are HOT DOGS.  This Chili Cheese Dog is definitely the latter.  Loaded with Chili & Cheese, you can't have just one.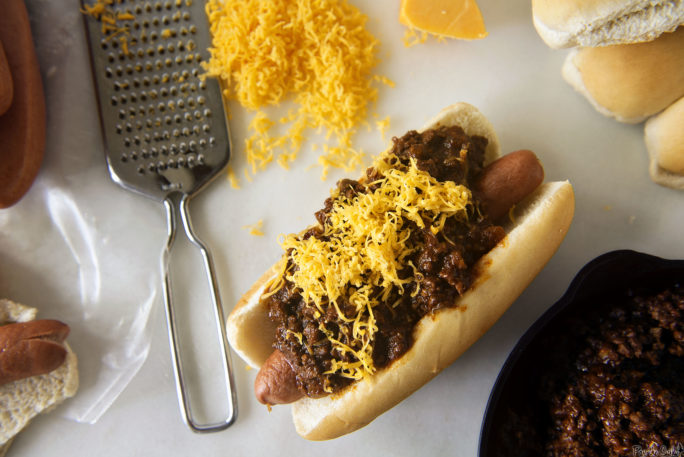 Who knew hot dogs could be a thing? Sure, we all have our family barbecues with franks and frozen patties on the grill. Your weird cousin may put crushed Cheeto's on his wiener under a pile of coleslaw, but really… It's just a hot dog…  A classic American staple of summer.
And it just got reinvented.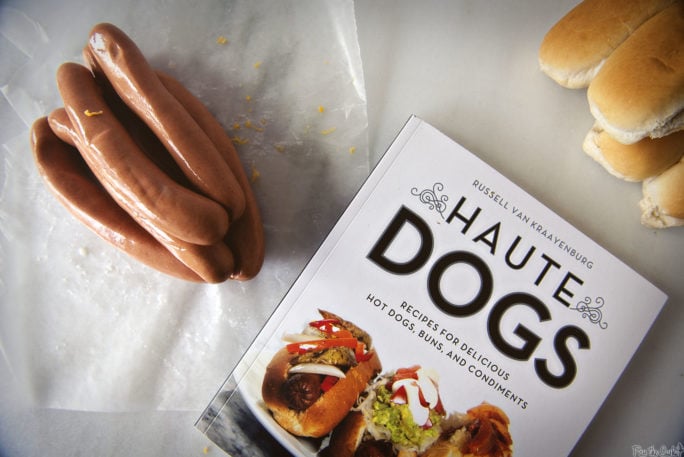 Haute Dogs by Russell Van Kraayenburg is a collection of the finest sausage concoctions with limitless frankfurter imagination. From down home corn dogs to well traveled weenies inspired by global flavors, Haute Dogs is more than just a novelty book for the casual culinary fan. It's a serious hot dog cookbook for those looking to step up their summer sizzle.
And for the few brave enough to create their own dogs from scratch, there is even a chapter with quality recipes on stuffing your own sausage. Including fixings, sauces and specialty topping recipes, nothing is overlooked, and many of the recipes are highlighted with stunning photos.
Haute Chili CheeseDog
Haute Dogs, Recipes for Delicious Hot Dogs, Buns, and Condiments promises to step up your summer sizzler. Recipe inspired by the Haute Dogs chili cheese dog recipe. (Full disclosure… I have an affiliate link to the book in the Amazon below if you want to pick up a copy). I seriously like the book's approach to all things Hot Dog.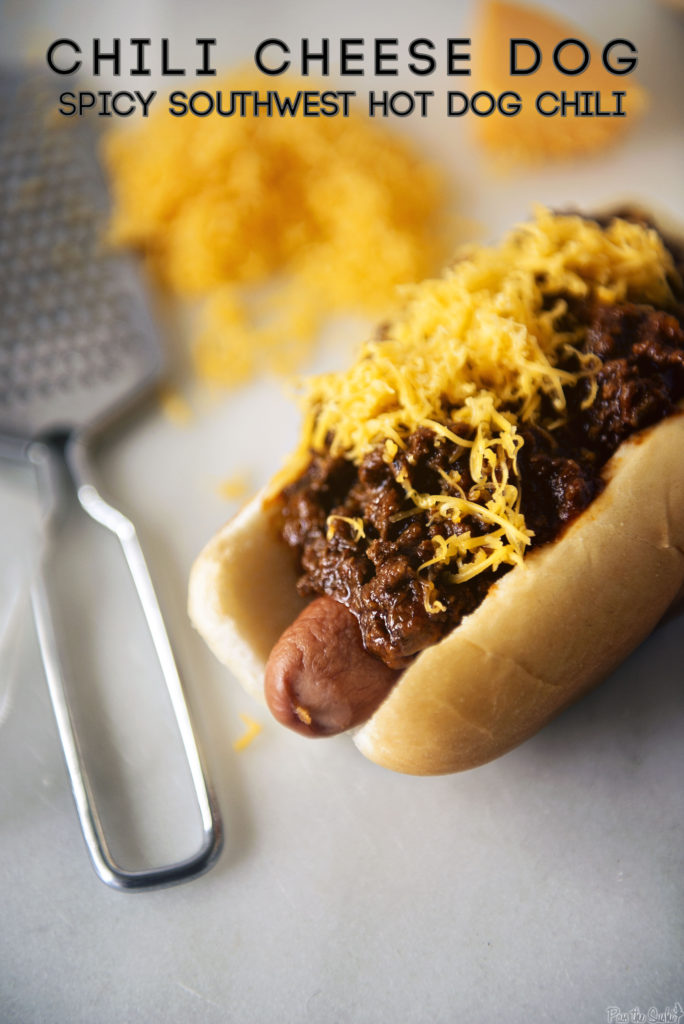 What Are The Best Hot Dogs To Use For Chili Cheese Dogs?
There are so many varieties of hot dogs these days. All beef, all vegetarian, turkey, beef and pork, you name it. But not all hot dogs are created equally. Sure, any hot dog you wish to use is fine, but provided you aren't a vegetarian, then I recommend a pork and beef dog or an all beef dog.
A great hot dog needs to have a certain plumpness, a bit of snap, some saltiness, juiciness, and a good texture.
You would think the higher priced brands must offer better quality, but that isn't necessarily the case. I personally recommend the Costo and Trader Joes brands, plus the Safeway Signature brand. All good quality at a great price. Otherwise, the classic and well known Nathan's dogs are great.
Just be careful if you decide to start eating them competitively.
What Is The Best Chili For Chili Cheese Dogs?
When it comes to chili, there are selections from mild to wildly spicy. You have to read the room on this one. What is a perfect level of spice for one person is a five alarm fire for someone else.
I use the Southwestern style chili because it has just enough chili heat that you don't mistake it for sloppy joe sauce. The way I approach the challenge of the heat is to offer additional chili seasoning to anyone that cares to throw heat on the fire.
More Hot Dog Recipes
If you've tried my Chili Cheese Dog recipe or any other recipe on GirlCarnivore.com please don't forget to rate the recipe and let me know where you found it in the comments below. I get inspired by your feedback and comments! You can also FOLLOW ME  on Instagram @girlcarnivore as well as on  Twitter and Facebook.
If you're truly motivated, make a chili for lunch or dinner the day before. This Easy Beef Chili is a great place to start.
Chili Cheese Dog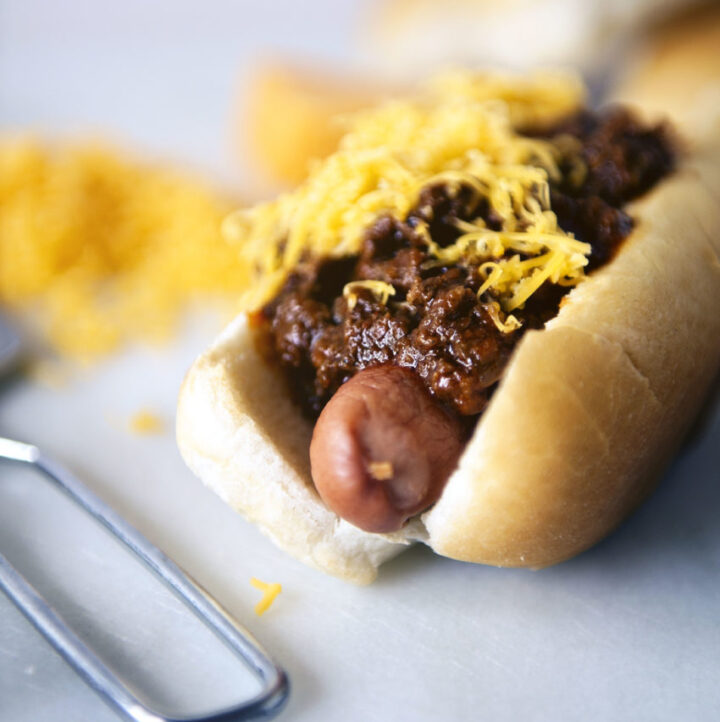 The perfect chili cheese dog recipe for all time.
Ingredients
8

oz

Spicy Southwest Chili

4

hot dog buns

4

hot dog

Beef and pork

4

oz

Shredded cheddar cheese
Instructions
Prepare the spicy southwest chili (this can be made in advance)

In a pot large enough to bring just enough water to cover the dogs to a boil. Boil for 8 to 10 minutes, or until done.

Place the hot dog in the bun, scoop a heaping pile of the chili sauce over top and sprinkle cheese over the dog.
Notes
Nutrition
Calories:
402
kcal
|
Carbohydrates:
41
g
|
Protein:
17
g
|
Fat:
17
g
|
Saturated Fat:
8
g
|
Cholesterol:
50
mg
|
Sodium:
1454
mg
|
Potassium:
357
mg
|
Fiber:
4
g
|
Sugar:
8
g
|
Vitamin A:
670
IU
|
Vitamin C:
9.7
mg
|
Calcium:
300
mg
|
Iron:
3.2
mg