Take camping recipes up a level with these ultimate chili fries. Cooked over the camp stove, these potatoes fry up perfectly and are topped with a leftover pulled pork Dutch Oven chili before being topped with all of your favorites! Nothing is as good as real cast-iron French fries!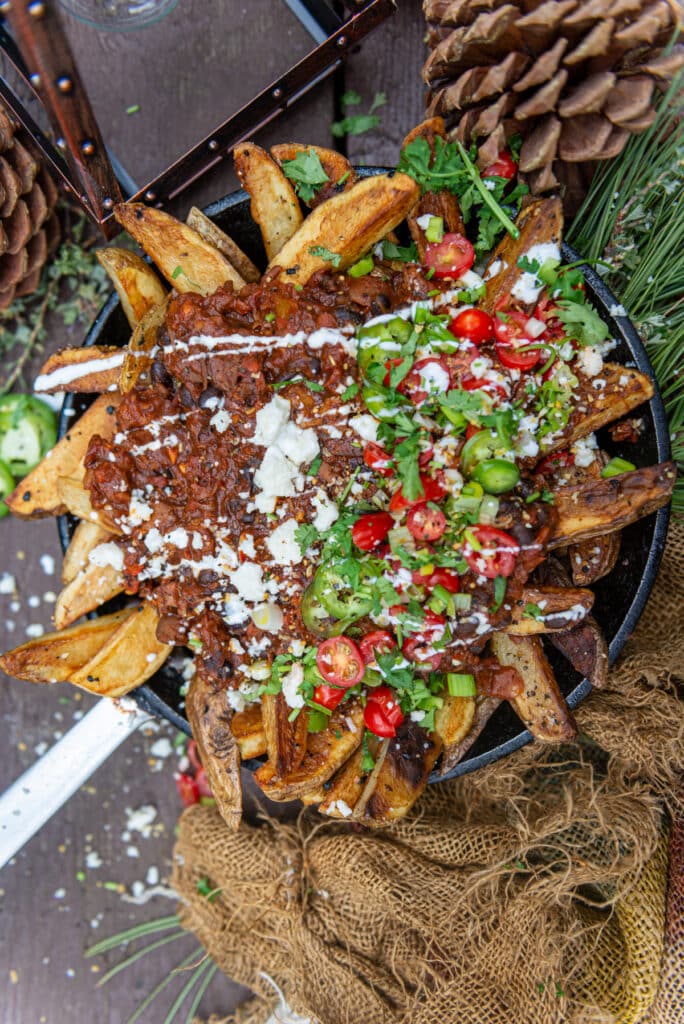 This post was sponsored by the Idaho Potato Commission. All thoughts and opinions are my own.
These aren't your typical camp fries. Well, if one has typical camp fries. These are next level 'fried' at camp, served hot and covered in a hearty Dutch oven chili fries. And then topped with whatever the heck you want.
Why? Because camp food doesn't have to be boring.
But what makes these special?
Well for starters they are actually fried. Not deep fried, but crisped on all sides in cooking oil, so that you get that delicious 'french fry' experience while camping.
I love making fries while camping, it's a hearty way to fuel up and is a finger food. And I don't know about you, but when I camp, I don't want to be doing a lot of dishes.
I have made foil-wrapped fries on the coals before, and they also work great for crisping up frozen fries. But, I wanted to work with fresh potatoes and achieve piping hot salty strips this time, so I went with a simple method of heating just enough oil to coat the pan.
What I love about frying the potatoes for camping is that they get crispy on all sides evenly. Yes, these are a little more work than popping fries into an oven on a baking sheet, but for some meals, it's worth it. With a large enough fry pan though, you can make a substantial batch in one go.
The key is to make sure the potatoes are in a single layer and have room to be flipped. As well as paying attention to any hot spots in the pan that may happen while cooking over fire or on a camp stove.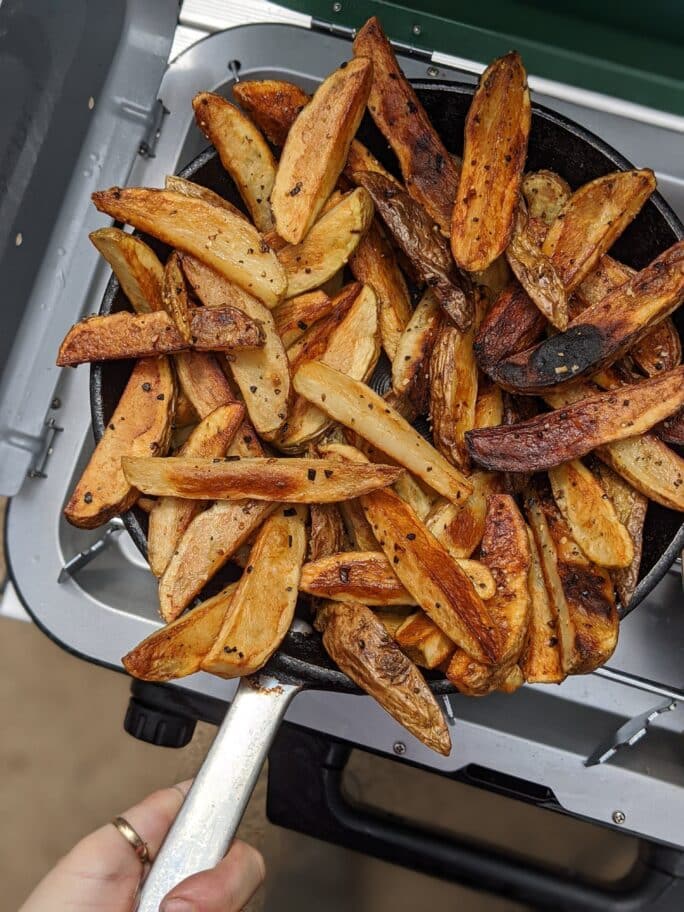 What Potatoes are the Best for Campfire Fries?
Russets. Hands down. Russets are perfect for frying into french fries. They are a starchy potato (ok, all potatoes are starchy) but low in moisture, making Russets are easy to work with and fry up perfectly.
There are a lot of potatoes on the market, and it can be hard to choose, but Idaho Potato Russets are perfect for camping. And they are great as a potato for a lot of recipes.
So, if I know I am camping with a lot of people, I will toss a bag in the food bin knowing I can make hashbrowns, mashed potatoes, or other easy dishes, like campfire baked potatoes, on the fly.
Girl Carnivore Tip: Soaking the sliced potatoes for 30 minutes in water will help them cook to pull out some starch and producse a much crispier fry. Soak them and then leave them to air dry on a wire rack before placing in the fry pan.
Tips for Making French Fries From Scratch
Here are a few handy tips for mastering that french fry crunch every single time.
Evenly Slice the Potatoes: Evenly slicing potatoes is key to controlling cook times. In any form of cooking, variations in sizes and thickness changes the cooking time, so go boot camp style perfection here when slicing the potatoes into even strips.
Soak the potatoes: giving the potatoes a quick, or even overnight soak in water helps pull out starch, making them crisp up better and have an overall better mouthfeel of a softer fluffy inside when enjoying.
But then let them dry: No really, adding water to oil is DANGEROUS. Patting any excess moisture off the potatoes and allowing them to air dry for 20 minutes before placing them in hot oil will help reduce any unnecessary splatters.
Make sure the oil is hot: The key to an even fry is letting the oil heat enough. If the oil is not warm enough, the potatoes will just be soaking in an oil bath absorbing it all, and well, no one wants that. Hot, but not smoking, oil is the key for golden brown crunchy success.
Keep fries crispy: To keep the fries hot, if working in batches, lay them on a baking sheet, covered loosely with foil over indirect heat while you finish things up. Wrapping tightly in foil causes steam to get trapped in, making soggy fries.
Season twice: I love a well-seasoned fry. So, I season with salt before frying and once again when things come out of the oil.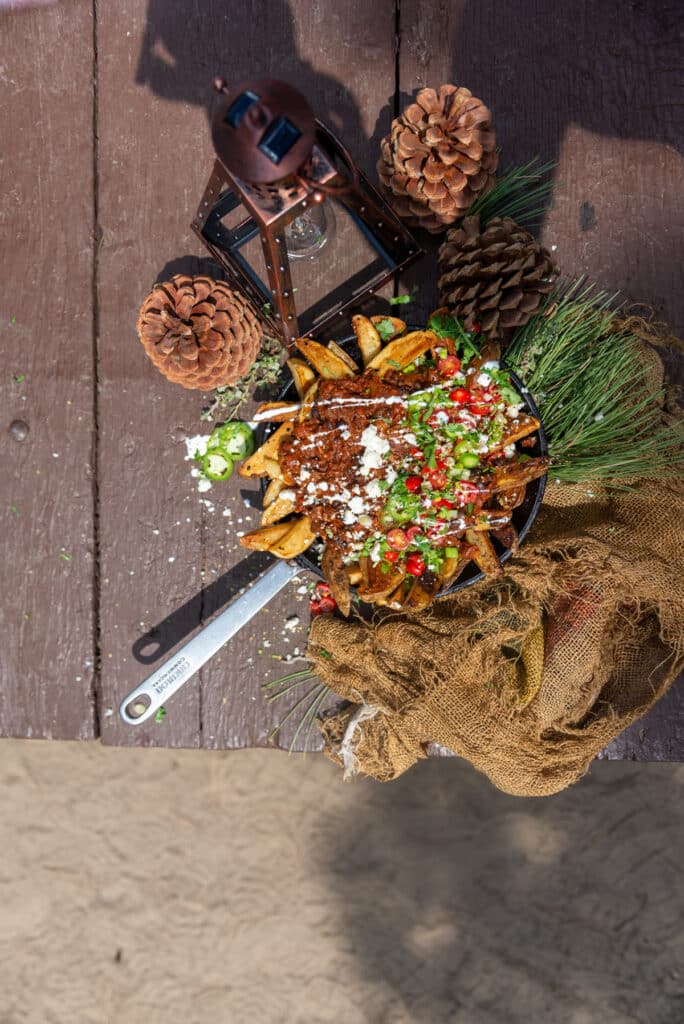 Tools you Need for Campfire Cooking
Before you start cooking over the campfire, it's important to make sure you have the right tools. I hate being that guy, but, it really does change the game. These aren't tools for through hiking, that's a whole other type of cooking. But for car camping, drive up, or RV camping this is a shortlist for success.
For starters every camp kitchen needs:
Camp Stove (with propane)
Heavy Duty Cast Iron Skillet or Fry Pan
Tongs
Lighter
That's the stripped-down essentials list to get you started. Everything else you add to the cart just makes life a little more comfortable.
Girl Carnivore Tip: Working with hot oil, a level surface is a must just for safety. So make sure your prep table or cook surface is level before adding oil to the pan.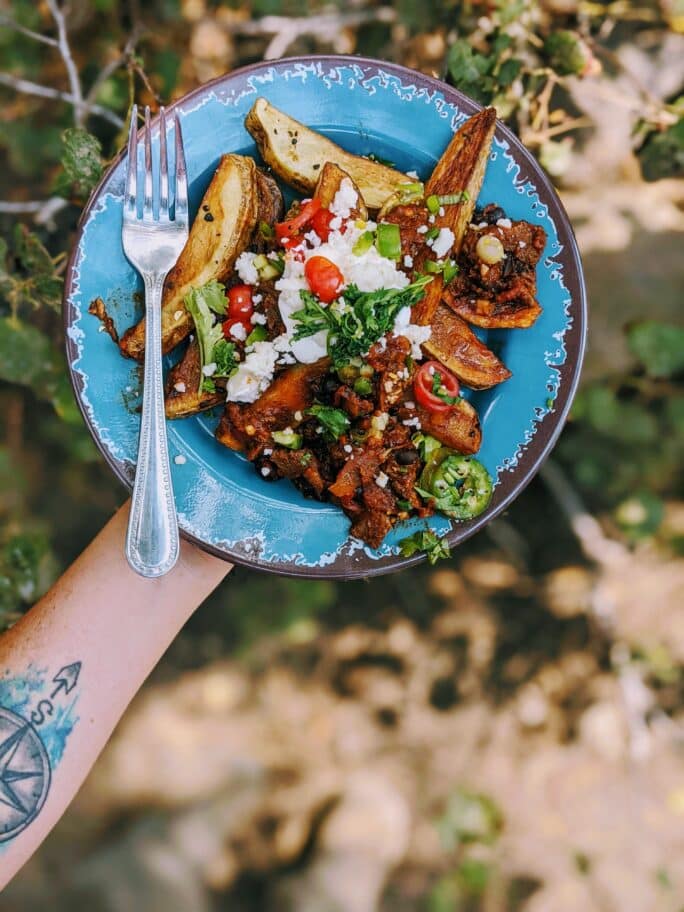 As for the Dutch oven chili… Is it even possible to camp without making a batch of chili? It's the perfect camp food and whips up amazing for leftovers (like with this recipe) and gets richer flavors as the days go on.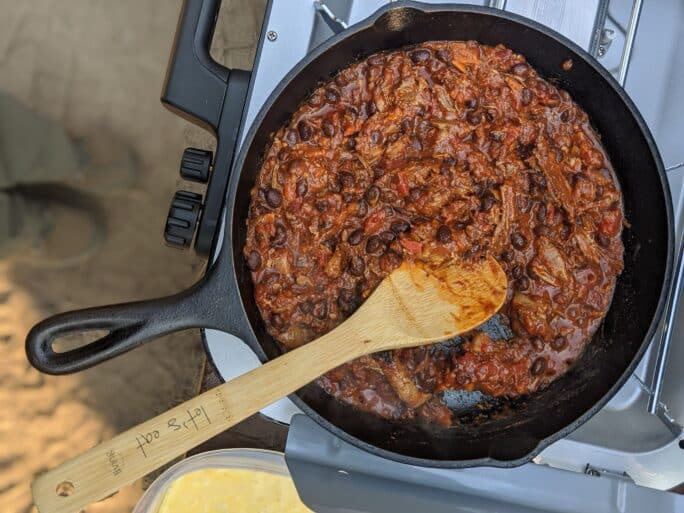 But, if you aren't feeling the chili, these fries are perfect alongside brats, topped as loaded cheesesteak fries, or even alongside a campfire chicken panini or juicy burger.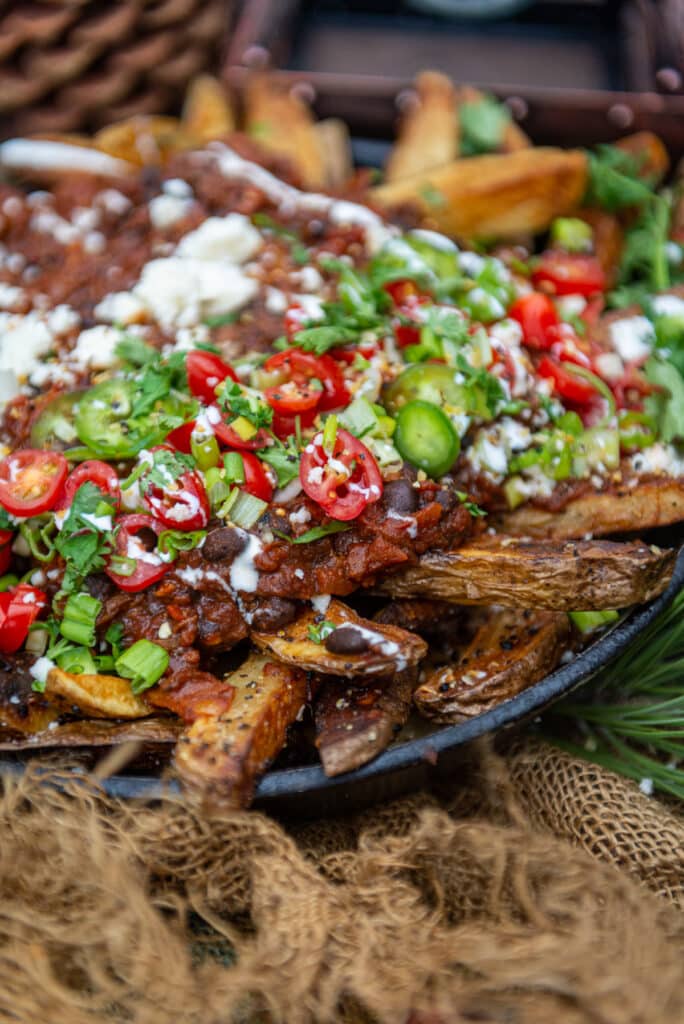 Want more camping recipes? Try some of my favorite recipes
If you've tried these cast iron french fries or any other recipe on GirlCarnivore.com please don't forget to rate the recipe and let me know where you found it in the comments below. I get inspired by your feedback and comments! You can also FOLLOW ME on Instagram @girlcarnivore as well as on Twitter and Facebook.
Cast Iron French Fries with Chili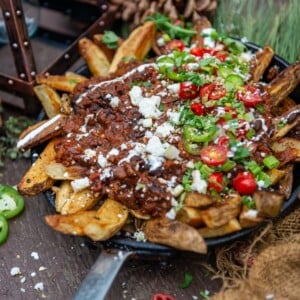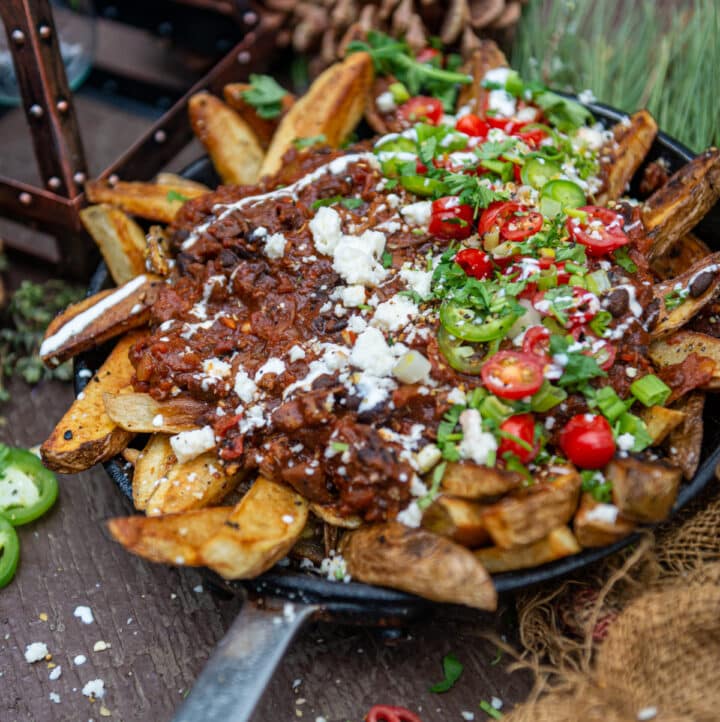 Combine two favorites with these camp fire cast iron French fries smothered in a Dutch oven pulled pork chili layered topped with a heavy portion of all your favorite chili fry toppings!
Recommended Equipment
Camp Stove

Cast Iron Fish Fry Pan or other large high rimmed cast iron pan

dutch oven

Grilling tongs
Ingredients
For the Dutch Oven Campfire Chili:
1

tsp

cooking oil

1

Onion

chopped

4

cloves

Garlic

minced

2

oz

Tomato paste

1

tbsp

Cumin

1

tsp

Espresso chili powder

1

tsp

Dark Chili powder or Ancho powder

1

tsp

Salt

½

tsp

Pepper

½

tsp

garlic powder

1

tbsp

Brown sugar

1 8

oz

beer

2

cups

Tomatoes crushed

1

lbs

leftover pulled pork

1

cup

black beans

rinsed and drained

Juice from 1 lime
For the Fries:
½

cup

oil for cooking

1 ½

lbs

pound Idaho Russet potatoes

washed, dried and sliced into even wedges

Salt

Garlic Junky seasoning blend

or other garlic herb blend
Assembly:
4

oz

crumbled cotija or queso fresco

2

tbsp

Crema

1

jalapeno

seeded and sliced

2

scallions

minced

¼

cup

grape tomatoes

sliced thin

Cilantro
Instructions
Make the Dutch Oven Chili
In a large Dutch oven over medium heat, add the oil and coat the bottom of the pan.

Add the onion, and sautee until soft, about 4 minutes.

Add the garlic and cook 30 seconds longer.

Stir in the tomato paste to coat the veggies.

Add the Cumin, Espresso chili powder, Dark Chili powder or Ancho powder, salt, pepper, garlic powder, and brown sugar.

Whisk in the beer slowly, scraping up any browned bits as needed on the bottom.

Add the crushed tomatoes, leftover pulled pork, and black beans.

Bring to a simmer and let the flavors mingle for about 45 minutes to 1 hour.

Remove from heat and add the juice from the lime.

Cover the Dutch oven to keep the chili warm.
Make the Fries:
In a large deep bottomed fish fry pan, Dutch oven, or high rimmed cast iron skillet, heat the oil until it is just smoking and looks shiny.

Toss the potatoes with salt and garlic seasoning.

Carefully, place a single layer of fries in the hot oil.

Allow the fries to cook, browning, on each side, rotating them as often needed.

Remove, once browned on all sides, to a paper towel-lined plate. Cover and repeat as needed until all the potatoes are cooked through.

Season with a touch more of salt and fresh garlic seasoning.
Assemble:
If using leftover campfire chili, reheat the chili in a Dutch oven or large skillet before assembling.

Arrange the hot fries on a plate making a divot in the center.

Spoon the warmed chili over top and garnish with crumbled cotija cheese, crema, sliced jalapenos, tomatoes, scallions, and cilantro.
Serve
Serve as individual portions or family-style, using a large spatula to spoon out servings onto each persons plate.
Notes
To cook the fries, I use a large cast-iron fish fry pan on a duel burner Coleman camp stove for even and level frying.
When frying, always use caution.
Nutrition
Serving:
1
g
|
Calories:
433
kcal
|
Carbohydrates:
43
g
|
Protein:
15
g
|
Fat:
23
g
|
Saturated Fat:
5
g
|
Cholesterol:
39
mg
|
Sodium:
955
mg
|
Potassium:
766
mg
|
Fiber:
5
g
|
Sugar:
15
g
|
Vitamin A:
645
IU
|
Vitamin C:
18
mg
|
Calcium:
161
mg
|
Iron:
3
mg