Hot dog fans have I got a taste sensation for you! Rueben Hot Dogs have got it all going on! Imagine biting into a grilled hot dog wrapped in pastrami and piled with tangy sauerkraut. Can you taste it? When you're craving an over-the-top hot dog, give this one a try!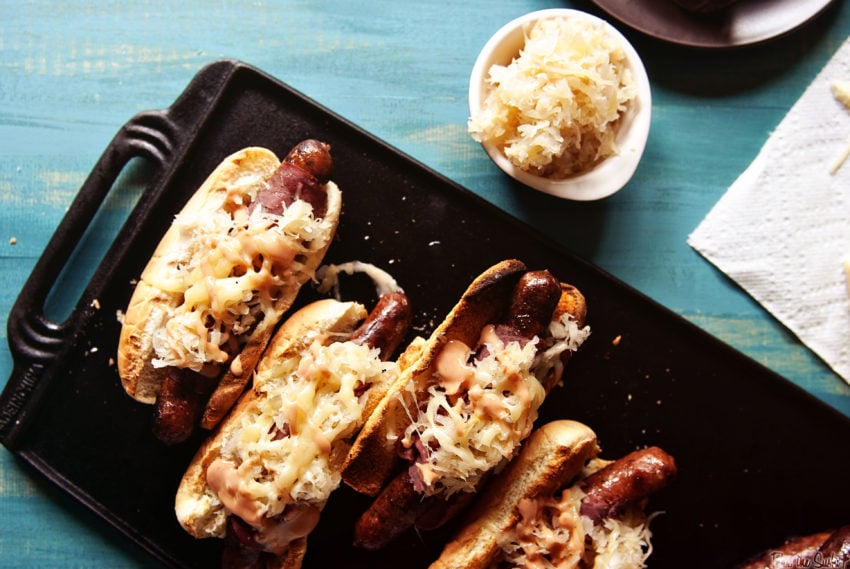 I've got a confession to make: I'm a hot dog purist. Give me a grilled weenie, a simple roll, diced onions, and maybe a little ketchup (blasphemy, I know) and I'm in heaven.
For me, the simpler the hot dog the better. I've been to places where you can pack your frank with a variety of toppings and have it served on a bun overflowing where you have to cut and eat it with a knife and fork. Not my kind of dog (except for that once.. because that was amazing). I like mine naked.
But every now and then I try to think about you and ponder what sort of summertime recipes you may like to try. 
And I think, "a hot dog wrapped in pastrami?" Well, you have my attention. Do I have yours? Cuz this ain't a traditional hot dog.
Sauerkraut? Yeah, one would think they aren't a fan. But I dare you to pile it on your dog and not think about it too much; its sole purpose is just for these links. Oh man, the flavor combo of this knockwurst sandwich is crazy good!
I double-dog dare you to try it!
What's a Reuben Hot Dog?
Have you ever had a Reuben sandwich? You know, a mile-high sandwich filled with corned beef, sauerkraut, and tangy dressing? This easy hot dog recipe is a riff on that classic sandwich, but I'm opting for pastrami which has more flavor. 
What's the difference between pastrami and corned beef? In my book, they're both delish, but when it comes down to these hot dogs and pastrami vs corned beef, pastrami is the winner every time. Pastrami is pickled like corned beef, but then it is rubbed in amazing spices and smoked low and slow to bring out all the flavor.
That smoked flavor is going to make these the most epic hot dogs you've ever had.
What You Need To Make Reuben Hot Dogs
Knockwurst links – See my notes below.
Hot dog rolls – Get the best bakery-fresh buns you can find!
Pastrami – Sliced, from your supermarket's deli.
Sauerkraut – 1 jar or can. You can freeze the leftover sauerkraut for your next Reuben dog.
Swiss cheese – Shredded or sliced, but shredded melts easier.
Thousand island dressing
What is Knockwurst?
Knockwurst is a specialty sausage that looks similar to but tastes so much better than a regular hot dog. You can find knockwurst at delis or European markets.
Knockwurst are made with ground pork and veal, and sometimes beef. They're seasoned with garlic and aged then smoked. There's nothing quite like the flavor of these amazing sausages when cooked.
There's no shame in using a good-quality store-bought hot dog if you can't find knockwurst. Use kosher hot dogs to make these kosher Reuben-style hot dogs.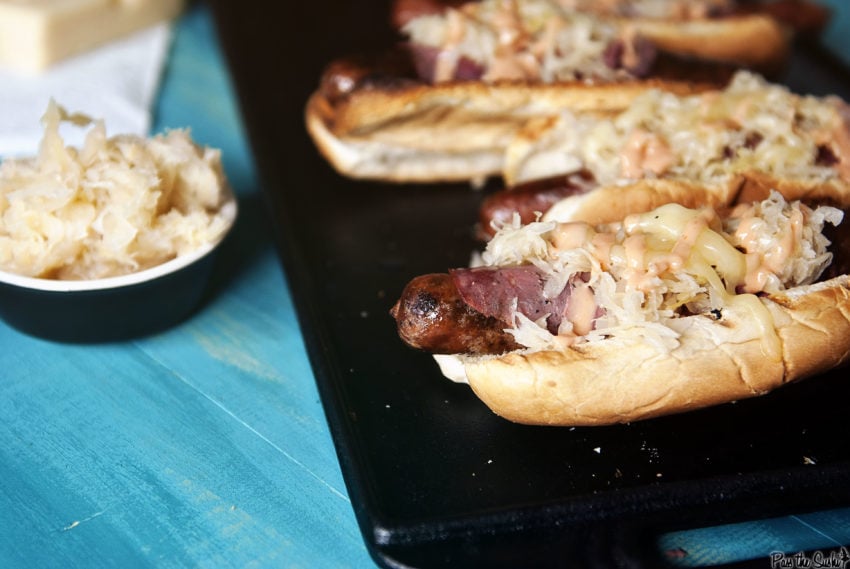 How To Make Reuben Hot Dogs
Fire up your grill, and when hot, grill the hot dog links until they're heated through and have nice grill marks on them.
Preheat your broiler.
Wrap each link in pastrami (add as many slices as you like!), then nestle it into a bun. Top the bun with heaping piles of sauerkraut (trust me!) and sprinkle with shredded Swiss cheese.
Broil for 1 minute or just until the cheese melts.
Serve with thousand island dressing on top.
Recipe Tips
Depending on how much sauerkraut you pile on the hot dogs, it may not heat through under the broiler. If you're using loads of sauerkraut (no judgment), then consider heating the sauerkraut first before topping your hot dog.
You can warm the buns up on the grill if you like them a little toasty.
Give the sauerkraut a bit of a squeeze if it is really juicy. You don't want to flood your hot dog.
With the sauerkraut, cheese, and dressing, these are messy hot dogs – pass the napkins around!
Save the leftover sauerkraut for these amazing whiskey brats.
If you can't find pastrami, use corned beef.
What To Serve With Reuben Hot Dogs
These are simply the BEST hot dogs in the world, and if you agree, you may not even need any side dishes because you're too busy filling your face with these amazing hot dogs.
If, however, you're wondering what to serve with Reuben Hot Dogs, then these are my suggestions:
Skillet corn – A flavorful dish with bacon, crema, cheese, and more!
Your favorite salad
Fully loaded fries
Storage Instructions
Once assembled, hot dogs should be eaten. They won't keep well once the hot dog, sauerkraut, cheese, and dressing have been added to the bun – the buns will get soggy. BUT you can keep the individual components of this dish in the fridge for 3-4 days, and they'll be just fine.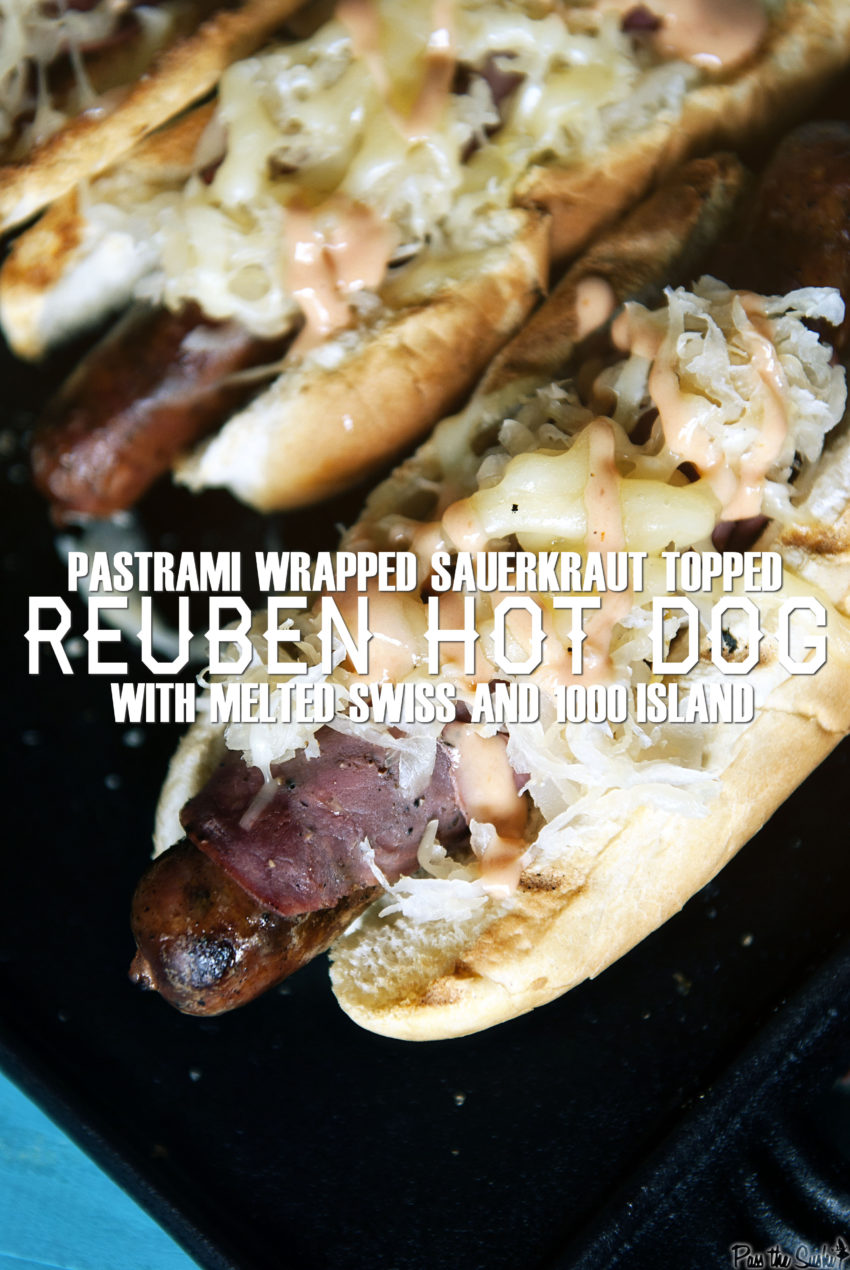 Frequently Asked Questions
Can I use all-beef hot dogs to make beef Reuben hot dogs?
Yes, ultimately you can use whatever kind of hot dog you want to make these amazing grilled hot dogs, even all-beef wieners. 
Is this Reuben hot dog recipe easy to make?
Yes, it's super simple. You don't even need to grill the hot dogs first, though that is my suggestion. It's all about the pastrami, sauerkraut, cheese, and dressing – so however you make the hot dogs is fine!
How many Reuben-style hot dogs per person?
Well, that all depends on how hungry they are and how much you're serving with it. I'd count on at least 1-2 hot dogs per person.
More Hot Dog Recipes
If you've tried my Reuben Hot Dogs Recipe or any other recipe on GirlCarnivore.com please don't forget to rate the recipe and let me know where you found it in the comments below. I get inspired by your feedback and comments! You can also FOLLOW ME on Instagram @girlcarnivore as well as on Twitter and Facebook.
Reuben Hot Dogs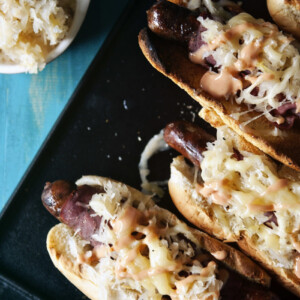 A char-grilled hot dog wrapped in pastrami topped with sauerkraut, 1000 island and Swiss? Welcome to heaven.
Ingredients
8

knockwurst links

a specialty at your local meat market

8

hot dog rolls

1/2

lb

sliced pastrami

1

small can sauerkraut

1/2

cup

shredded swiss

1/2

cup

thousand island dressing
Instructions
Prepare your5 grill for direct grilling by lighting a charcoal chimney and allowing it to pre-heat before adding it to the center of the grill.

Cover with the lid and open the vents to allow the grill and grates to heat up.

Place the knockwurst over the direct heat and cook, rotating until cooked through, with and internal temperture of 160F

Arrange the hot dog buns in a single layer in a baking dish.

Carefully, wrap each knockwurst in strips of the pastrami.

Arrange each wrapped link in a bun and top with a heaping pile of sauerkraut and Swiss cheese.

Place under broiler for 1 minute, until cheese has just melted.

Carefully remove from the broiler.

Serve with thousand island dressing on top.
Notes
Check the deli area of your local market for knockwurst. 
If you cant find knockwurst, substitute hot dogs or brats. 
Nutrition
Serving:
1
g
|
Calories:
452
kcal
|
Carbohydrates:
26
g
|
Protein:
20
g
|
Fat:
30
g
|
Saturated Fat:
10
g
|
Polyunsaturated Fat:
6
g
|
Monounsaturated Fat:
11
g
|
Cholesterol:
67
mg
|
Sodium:
1330
mg
|
Potassium:
281
mg
|
Fiber:
1
g
|
Sugar:
5
g
|
Vitamin A:
89
IU
|
Vitamin C:
10
mg
|
Calcium:
134
mg
|
Iron:
3
mg