This is one of those amazing burgers that stuffed with cheddar and then topped with a simple but crazy good apple slaw, and of course crisp bacon. The blend of beef, cheese, and crunch is out of this world.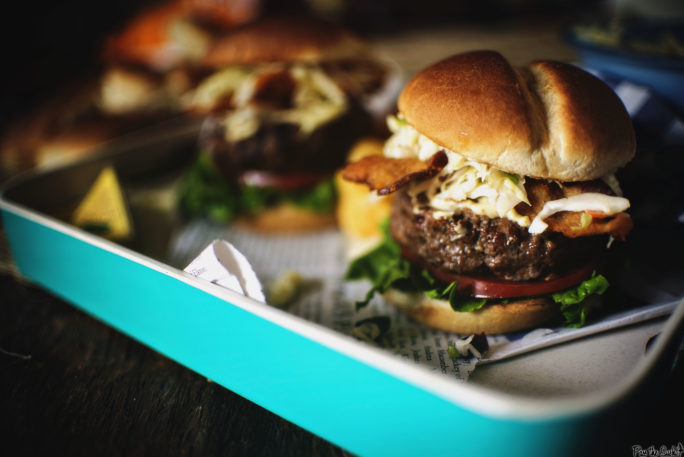 There is nothing more satisfying than a great burger. I get it, pizzas amazing, and I love a taco. But when it comes down to that craving for serious carnivores, it's the burger that wins. And the thing about great burgers is that they have to shine with big beefy flavor and amazingly fresh toppings that balance each other out, not overwhelm.
This burger does just that. I stuffed the sharp cheddar inside of my all-beef patty for a perfect salty cheesy pop when you bite into it. And the crisp apple slaw is a blend of tart and sweet flavor with the granny smith, vinegar, and just enough mayo to make it creamy. Then we add a strip of crisp cooked bacon because a burger never suffered from a slice of pork atop it.
This was one of those burgers where you sit back and savor every single bite with gluttonous glee and you don't even care who's watching.
Now, who's ready to slip into their fat pants.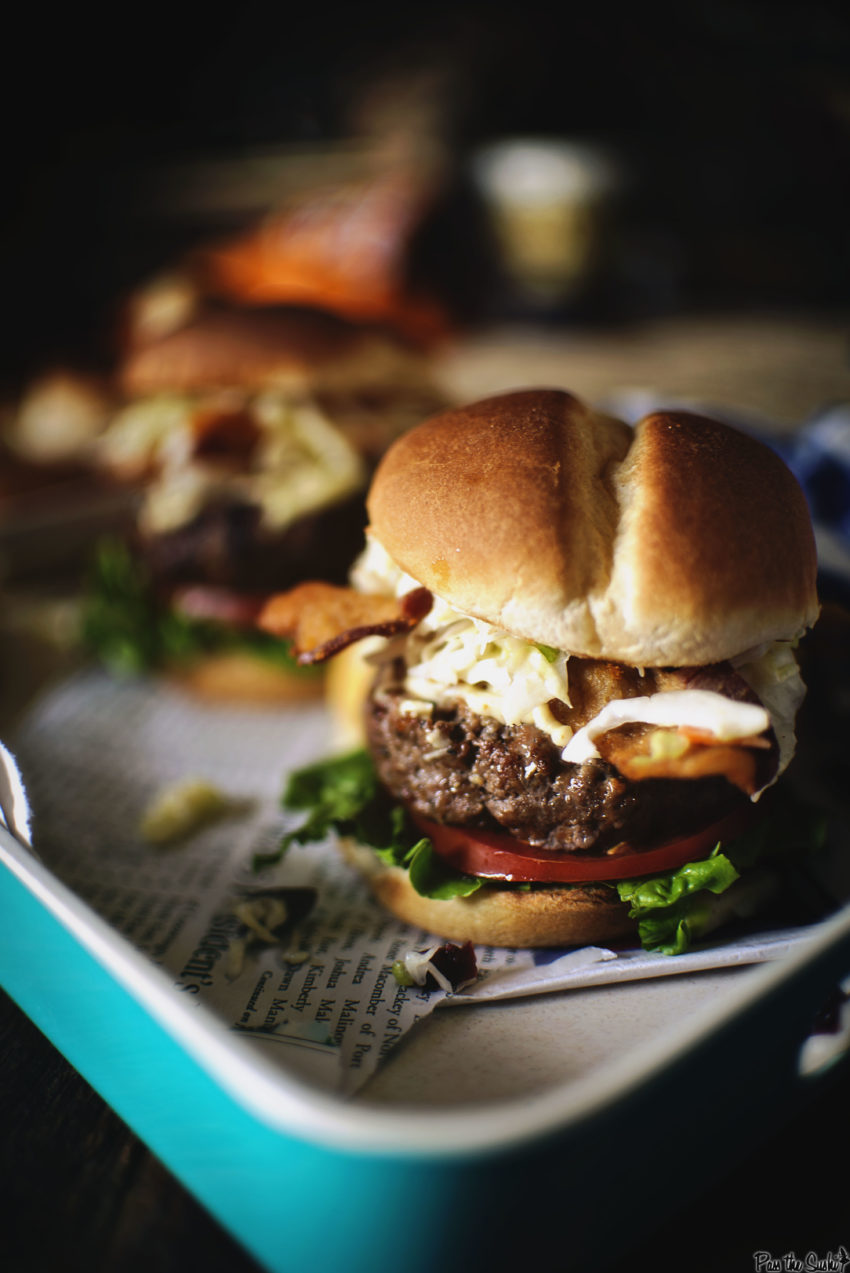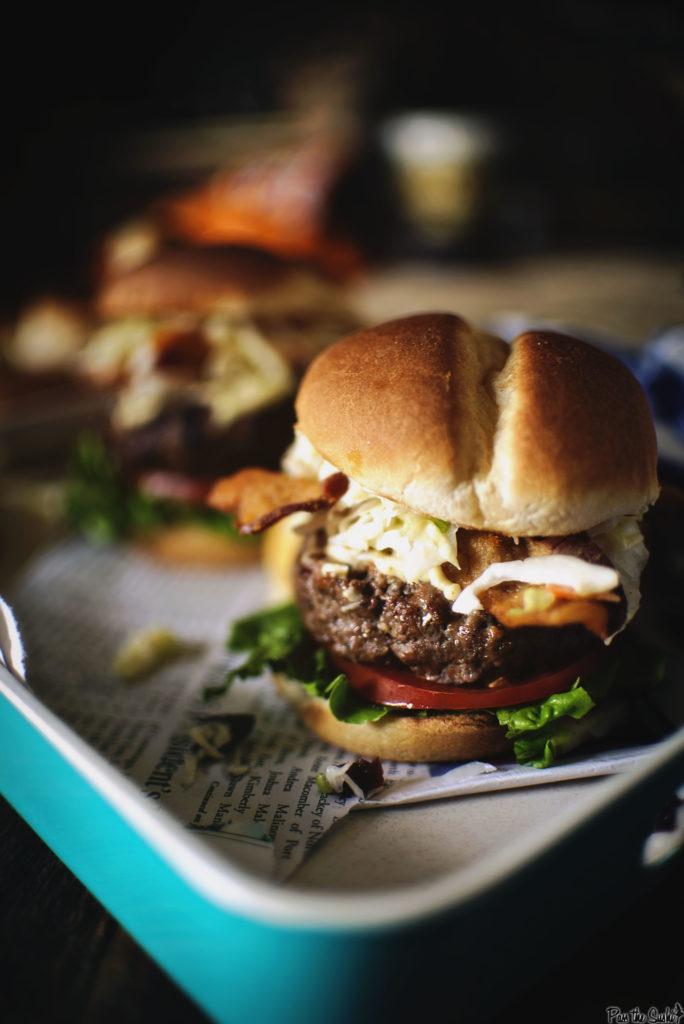 For the burger blend
I stick with my favorite burger blend here. Easy 85% lean ground beef, a dash of Worcestershire, pepper, and a liberal application of pepper.
A lot of people ask me what I do to my burgers to make them so juicy and flavorful. Truth is, not much. I am not about eggs or breadcrumbs or adding anything – unless the meat is too lean and needs a little extra something-something. And it works. Most of my burgers, cheddar stuffed or not, at home are just that blend over coals.
Tips for Stuffed Burgers
When you stuff a burger you are working the meat a little more than you would if you were just quickly making patties and tossing them on the grill. Here are a few tips to making sure they fire off great.
Divide the meat into little balls before shaping them to make sure they are all even, as you divide the meat into 8 even portions. Start smaller than you think you will need because you are doubling the layers here.
Work with cold meat. As you work with the meat, your body heat warms up the meat, and the fats as well, which causes them to cook faster or loosen. So, work quickly with chilled meat, and then once you have formed the patties, put them back in the fridge for 20 to 30 minutes before grilling. This will help keep them all locked in.
Speaking of locked in, with a cheese-filled burger, you want to make sure your edges are pinched super secure. It takes just a second, but it helps from the cheese melting and spilling out while grilling.
The meat and cheese will expand when cooking, so don't forget the golden rule of great grilled burgers, that dimple in the center. This will be hard to do, not wanting to squish that perfect patty you just formed around the cheese, but a gentle dimple with your thumb in the center will help the burger cook more evenly over the grill.
With a cheese-stuffed burger, skip the desire for rare (and really, unless you are grinding your own meat, we can save that conversation for another day) and go for making sure the burger is cooked through for food safety. If you want to make cheddar stuffed turkey burgers, temping is a MUST for food safety, 165 or bust.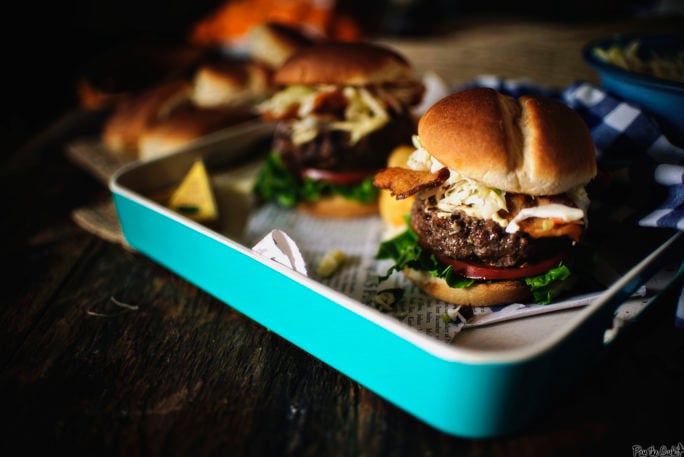 Bonus points if you make the slaw ahead of time too for ease of assembly while cooking. It can be made up to 2 days ahead, but I find the longer you wait to eat it, the soggier it gets and I enjoy it within the first 24 hours most.
Want more juicy gourmet burger recipe ideas? Try some of my favorites
If you've tried this burger or any other recipe on GirlCarnivore.com please don't forget to rate the recipe and let me know where you found it in the comments below.
I get inspired by your feedback and comments! You can also join in on the adventures on Instagram @girlcarnivore, Twitter & Facebook.
Cheddar Stuffed Burger with Apple Slaw
Juicy beef burgers filled with cheddar cheese, grilled to perfection and topped with a creamy apple slaw. Heck yeah. You're going to want to make these.
Ingredients
1

lbs

85% lean ground beef

salt and pepper

1

tablespoon

Worcestershire sauce

2

oz

Aged Cheddar Cheese
For the Slaw
½

head cabbage

shredded

2

carrots

shredded

½

onion

diced

⅓

cup

dried cranberries

1

apple

julienned

salt and pepper

¼

cup

mayo

1

tbs

apple cider vinegar

1

tspn

brown sugar
For the Stack
4

oz

bacon

fried nice and crispy

2

spreadable cheese

4

Whole wheat buns

1

tomato

sliced

½

onion

sliced

2

oz

green leaf lettuce
Instructions
Make the Slaw
Meanwhile, Mix the cabbage, carrot, onion, dried cranberries, and apple in a large bowl.

Season with salt and pepper and let rest a few moments.

Whisk the mayo, vinegar, and brown sugar in a small bowl until sugar is dissolved. Pour over the cabbage mix and toss to coat.

Let sit while preparing the burgers.
Form the Burgers
Season the ground beef with salt and pepper.

Pour Worcestershire over top and mix with your hands. Form into 8 thin patties.

Press a bit of the cheddar Cheese into 4 of the patties and top with the remaining for patties being sure to pinch the edges shut well.

Chill for 20 to 30 minutes before grilling.
Grill the Burgers
Pre-heat the grill for medium-high heat. Clean and oil the grate as needed.

Toss the patties on the grill and cook about 4 to 5 minutes per side, depending on desired doneness. Toast the buns while you're at it.

When ready to serve, spread the cheese over the top of the hot buns (it will melt a little with the warmth of the toasting) or directly onto the burgers. Arrange leaf lettuce on the bottom of each bun, top with a patty, bacon, a heaping pile of slaw, and the top bun.

Serve and enjoy.
Notes
Make the slaw up to 2 days ahead of time to save your self some prep time. However, it does get soggier over time, so I like using it within the first 24 hours. Store in an airtight containter in the fridge. 
You could even stuff the burgers up to 24 hours ahead of grill time if desired. 
Nutrition
Nutrition Facts
Cheddar Stuffed Burger with Apple Slaw
Amount Per Serving (1 g)
Calories 753
Calories from Fat 423
% Daily Value*
Fat 47g72%
Cholesterol 117mg39%
Sodium 739mg32%
Potassium 990mg28%
Carbohydrates 50g17%
Protein 35g70%
Vitamin A 6679IU134%
Vitamin C 54mg65%
Calcium 239mg24%
Iron 6mg33%
* Percent Daily Values are based on a 2000 calorie diet. Nutrition information provided is an estimate. For specific health concerns, please put the recipe into your Dr recommended nutrition calculator.