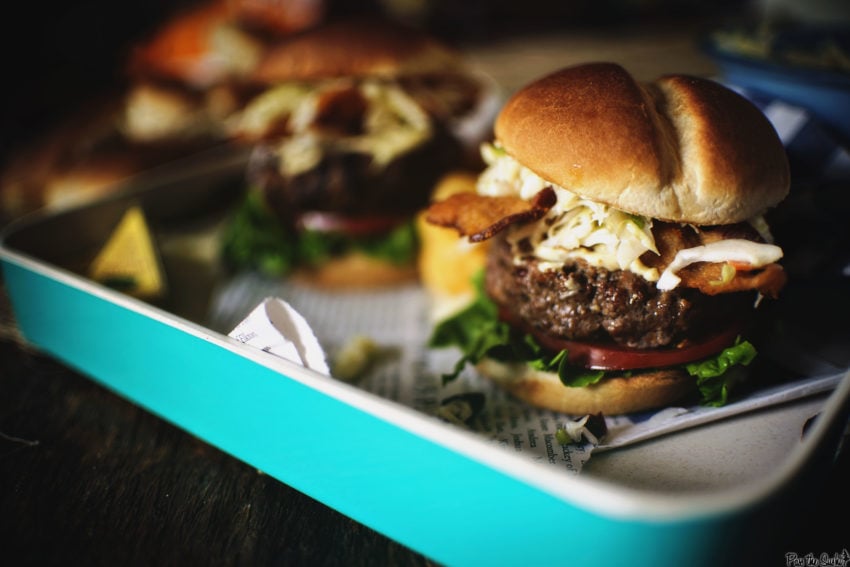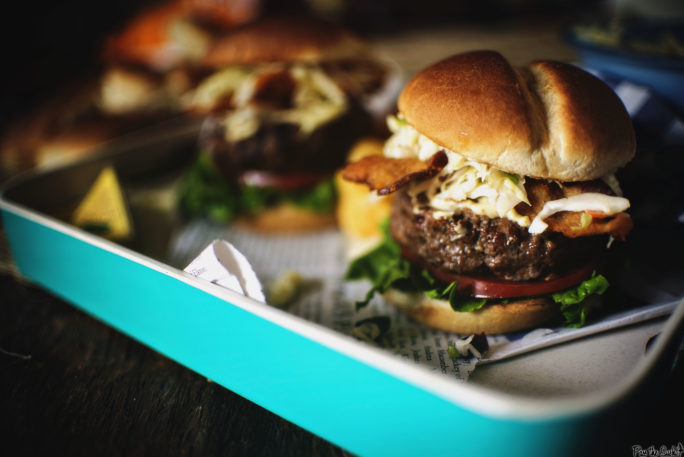 It's time to kick off #BurgerMonth 2015! That's right! Over 30 epic bloggers bringing you a month-long celebration of the most epic creations we could slam between two buns. There have been countless burgers tried and tested to bring you the most extreme 'GirlCarnivore' worthy concoctions imaginable. Only the best make the cut and are worthy to be included among the ranks of the Girl Carnivore Burger Month event. Start salivating.
I'd like to toss out a special thank you to all 30 (+) talented food writers participating and making #BurgerMonth 2015 a blast. I can't wait to see some of the recipes they have in store for you. Just reading the menu over was pretty exciting for me. Check back daily on Facebook to see who I am highlighting as the month continues and those burgers keep rolling in.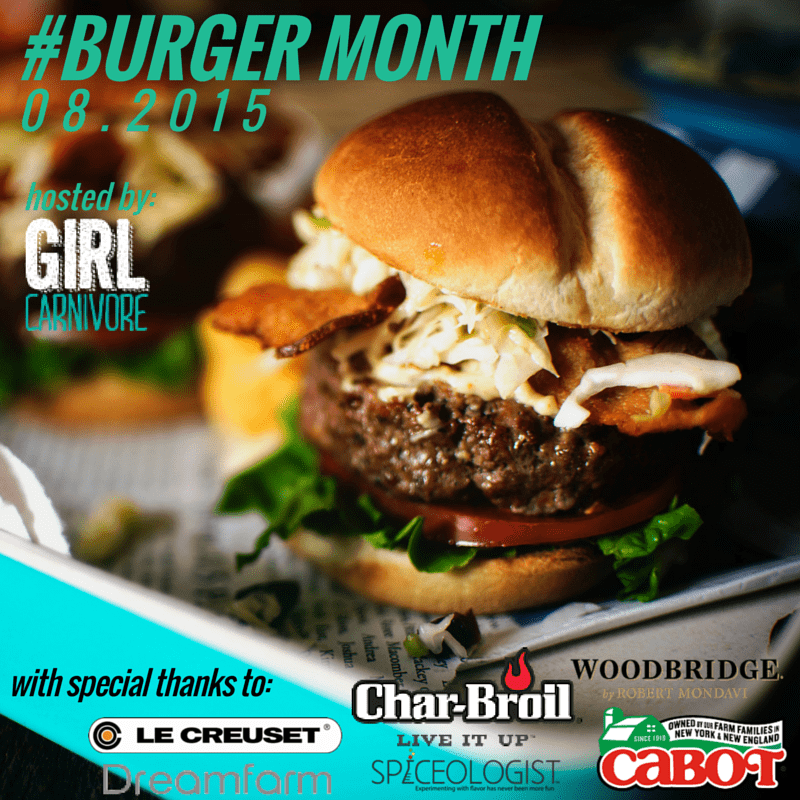 Now, a party wouldn't be awesome without prizes. And we have a pile of them for you from some great fans of burgers. A huge thank you to Char-Broil, Cabot Cheese, Le Creuset, Dreamfarm, Spiceologist & Woodbridge Wines for donating awesome prices. Every day, there will be a link to the giveaway – with opportunities to enter – so be sure to not miss out! What's included? Check this list out
1 Char-Broil Kettleman™ TRU-Infrared™ 22.5″ Charcoal Grill
1 Le Creuset Signature 10 1/4″ Iron Handle Skillet
1 Set Dreamfarm Chopula & Clongs
1 Cabot Cheese Legacy Gift Box – 2 each Farmhouse Reserve, White Oak & Alpine Cheddar  – 1 each New York Vintage & Seriously Sharp & 1 Wine Bottle Opener
 1 Spiceologist 4 Pack of Grilling Rubs (Smoky Honey Habanero Raspberry Chipotle Greek Freak Black & Bleu)
2 Woodbridge Wine 'Cue Sauce Packages (5 bottles each)
Scroll on down to see more about that.
Now, who's ready to slip into their fat pants.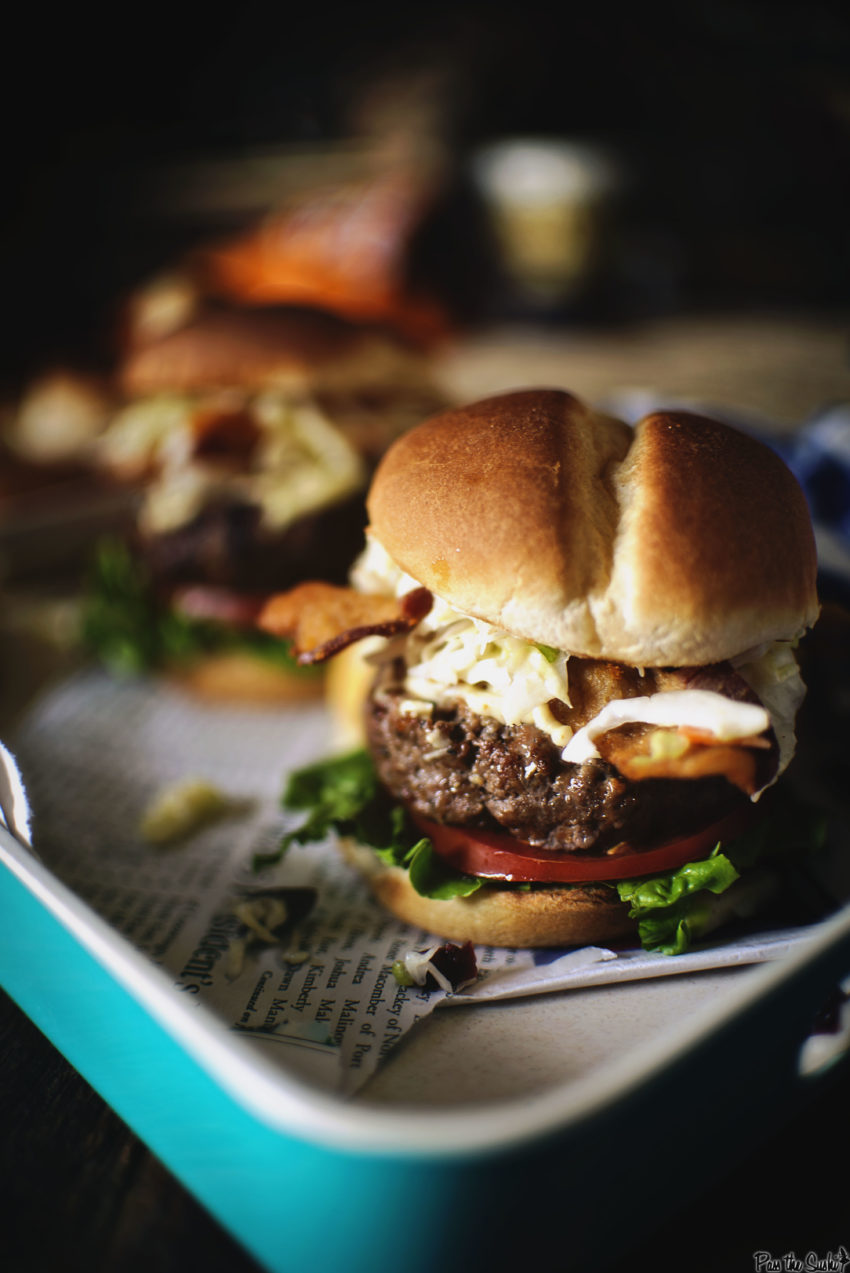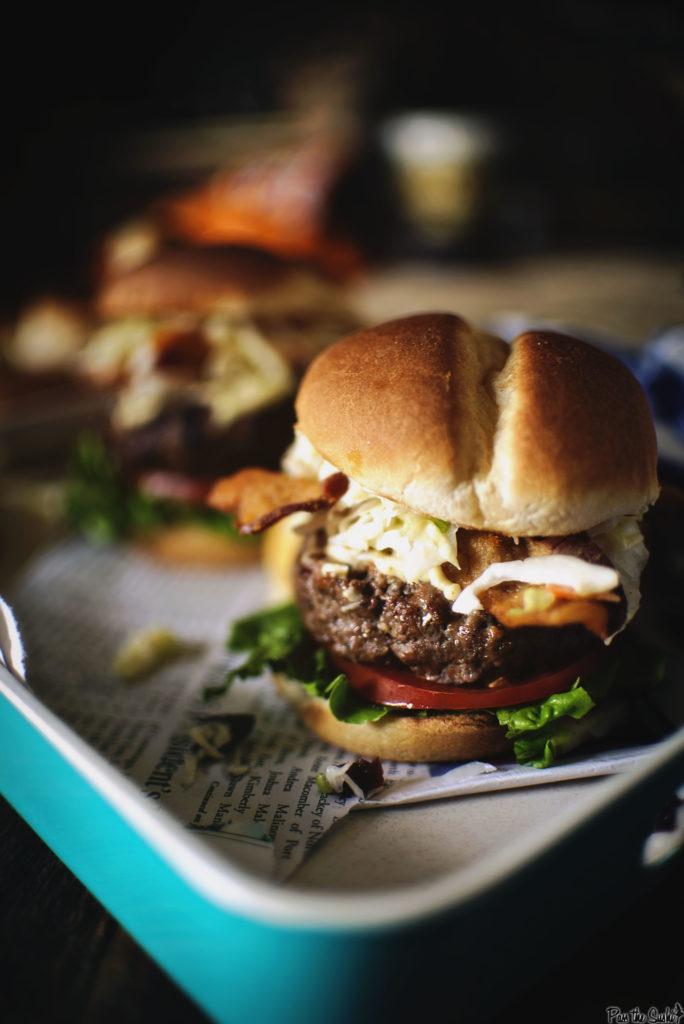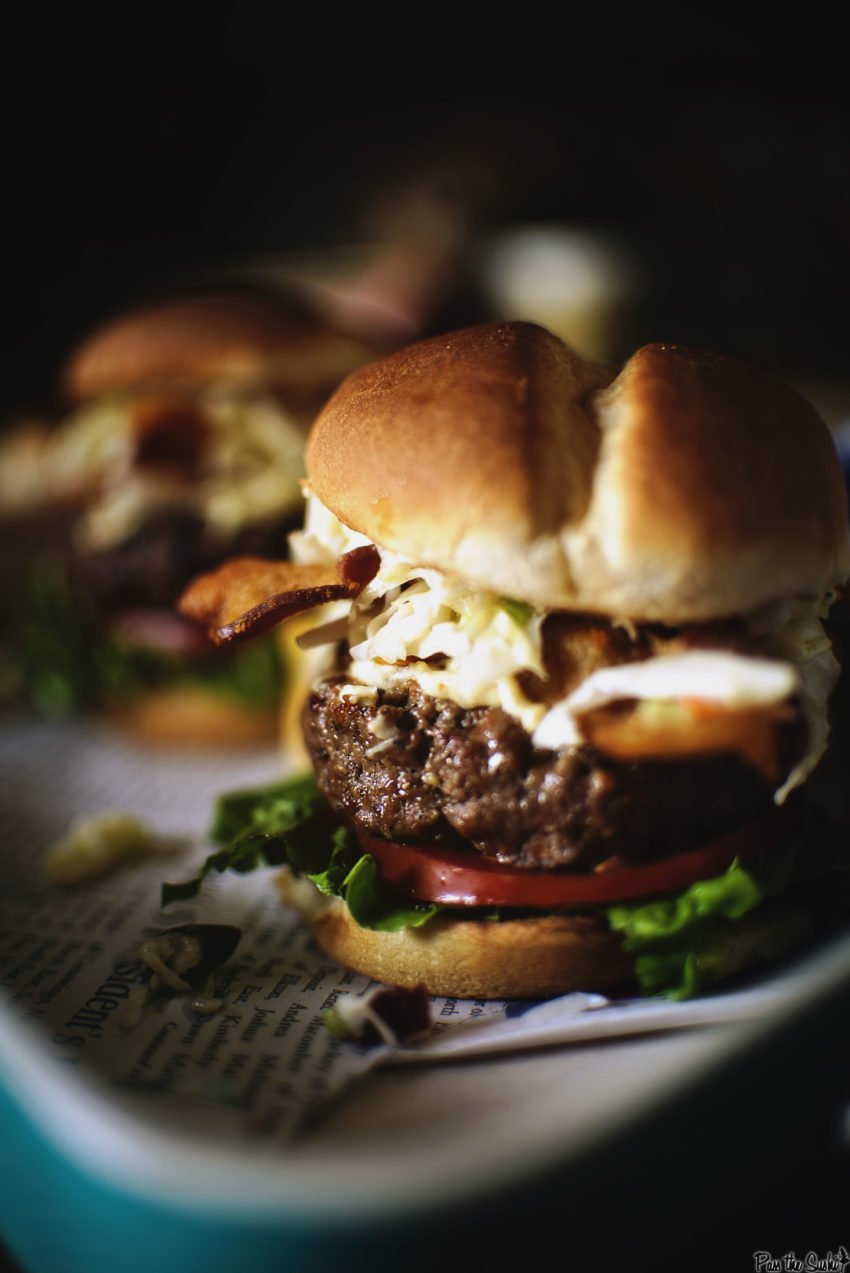 Ingredients
1

lbs

85% lean ground beef

salt and pepper

1

tbs

Worcestershire sauce

2

oz

Aged Cheddar Cheese
For the Slaw
1/2

head cabbage

shredded

2

carrots

shredded

1/2

onion

diced

1/3

cup

dried cranberries

1

apple

julienned

salt and pepper

1/4

cup

mayo

1

tbs

apple cider vinegar

1

teas brown sugar
For the Stack
bacon

fried nice and crispy

2

individually wrapped Kerrygold Spreadable Doubliner Cheese

Whole wheat buns

1 to

mato

sliced

diced onion

grean leaf lettuce
Instructions
Pre-heat the grill for medium-high heat. Clean and oil the grate as needed.

Meanwhile, Mix the cabbage, carrot, onion, dried cranberries, and apple in a large bowl. Season with salt and pepper and let rest a few moments. Whisk the mayo, vinegar, and brown sugar in a small bowl until sugar is dissolved. Pour over the cabbage mix and toss to coat. Let sit while preparing the burgers (or make ahead, cover with plastic wrap and set in fridge until ready to eat)

To make the burgers, season the ground beef with salt and pepper. Pour Worcestershire over top and mix with your hands. Form into 8 thin patties. Press a bit of the Aged Cheddar Cheese into 4 of the patties and top with the remaining for patties being sure to pinch the edges shut well.

Toss the patties on the grill and cook about 4 minutes per side, depending on desired doneness. Toast the buns while you're at it.

When ready to serve, spread the Dubliner over the top of the hot buns (it will melt a little with the warmth of the toasting) or directly onto the burgers. Arrange leaf lettuce on the bottom of each bun, top with a patty, bacon, a heaping pile of slaw, and the top bun.

Serve and enjoy.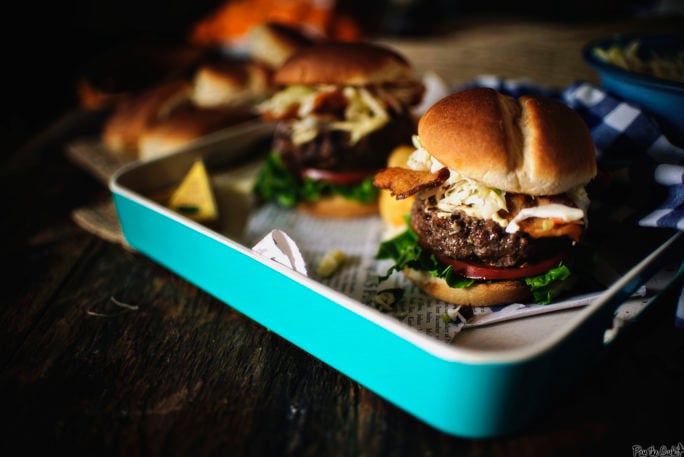 A huge thanks to all of the creative bloggers who were just as inspired by a month of burgers as I was and the awesome companies that have donated prizes to #burgermonth, Char-Broil, Cabot Cheese, Le Creuset, Dreamfarm,Spiceologist & Woodbridge Wines
This post is part of the #burgermonth celebration happening all month long here at GirlCarnivore and across the interwebs with 30 other talented bloggers!! Be sure to follow #BurgerMonth to check them all out!