These French Onion Burgers are a dreamy mess of everything you want in a burger! A perfect pan-seared patty is layered with melty Gruyere, zesty mustard, and piles of sweet caramelized onions.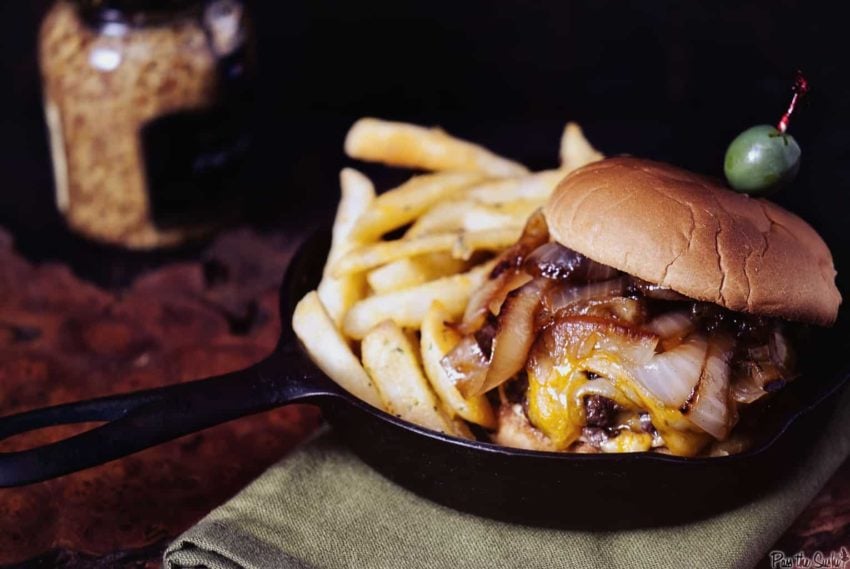 There's nothing quite like sinking your teeth into a juicy, flavorful burger – the toasty bread, tender beef, and melty cheese all combine to create an explosion of flavors in your mouth. After enjoying a truly great burger, you should either be basking in its glory or eagerly looking forward to the next one. And if you're in search of a burger that will make you feel that way again, look no further than this French Onion Burgers recipe! They're one of our favorite beef recipes and for good reason – they're to DIE for!
Don't feel like French Onion Burgers, check out these epic burger recipes instead?
What Are French Onion Burgers?
French Onion Burgers? Please. As if regular burgers weren't already delicious enough, someone had to go and make them even better. But hey, who are we to complain? These juicy, flavorful burgers are an easy recipe that requires simple ingredients and a large skillet. Just brown some ground beef, mix in some Worcestershire sauce and herbs, shape into patties, and grill to perfection. Top with caramelized onions, melty cheese, and coarse-grain mustard for an added kick! Serve on a toasted bun, and voila! You've got yourself a delicious burger that will make you question why you ever settled for a plain old cheeseburger in the first place!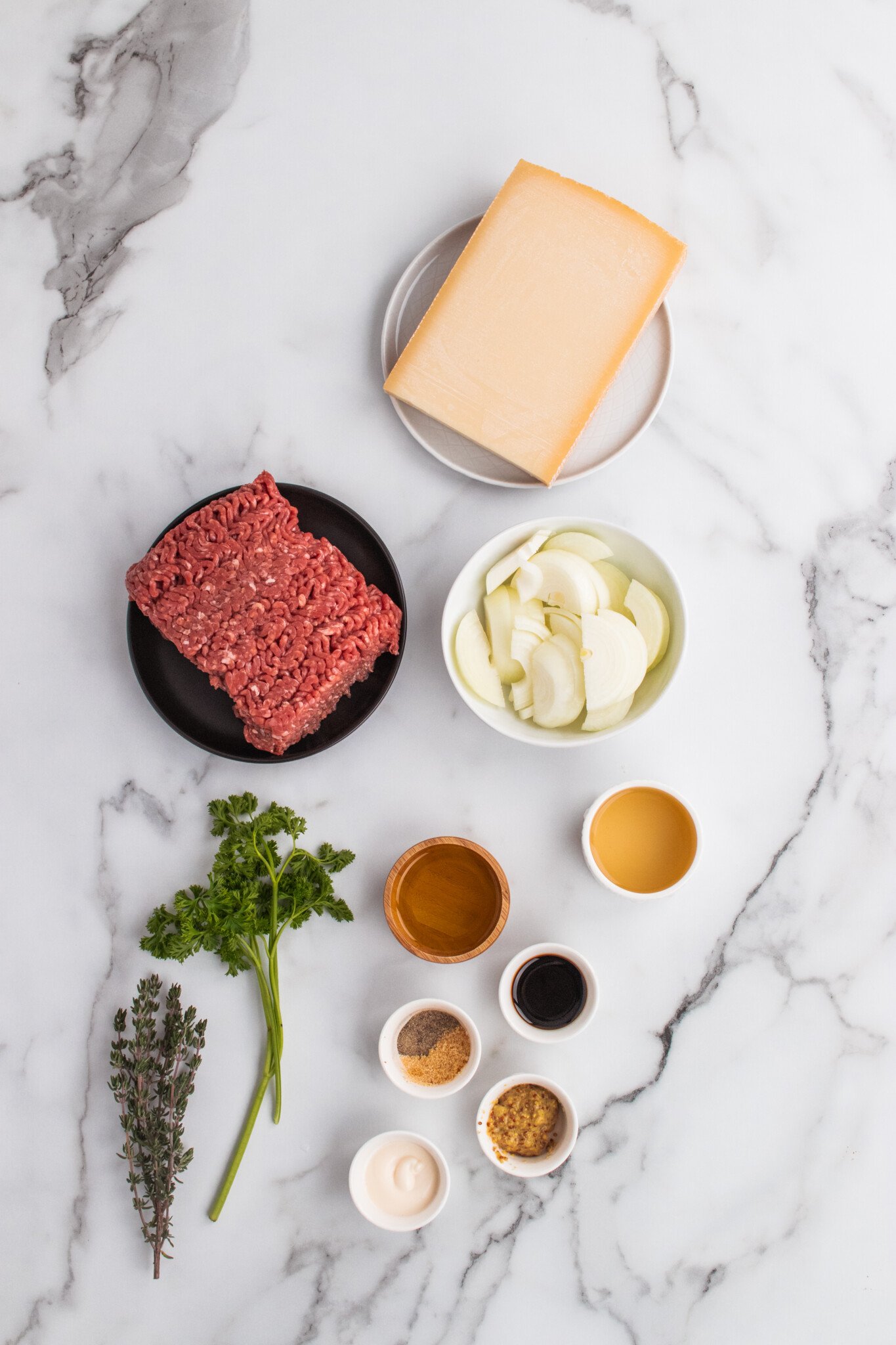 French Onion Burger Ingredients
Ground Beef – We recommend using slightly lean ground beef (80/20 works great) so the burgers aren't too greasy. Check out our How to Make Ground Beef Patties guide to learn how to make your own ground beef patties!
Worcestershire Sauce – Adds flavor and helps tenderize the meat.
Parsley and Thyme – We recommend fresh herbs for the best flavor.
Garlic Salt and Black Pepper – A simple seasoning duo to give the burgers just the right amount of flavor.
Olive Oil – Used to cook the onion and burger patties.
Onion – Yellow onion is the classic one used for French onion, but other types will work as well.
White Wine – Simmered with the onion to bring out the sweetness.
Gruyere Cheese – We love gruyere in this recipe, but sharp cheddar, Swiss, or provolone cheese would also be delicious.
Coarse Grain Mustard and Mayo – For topping!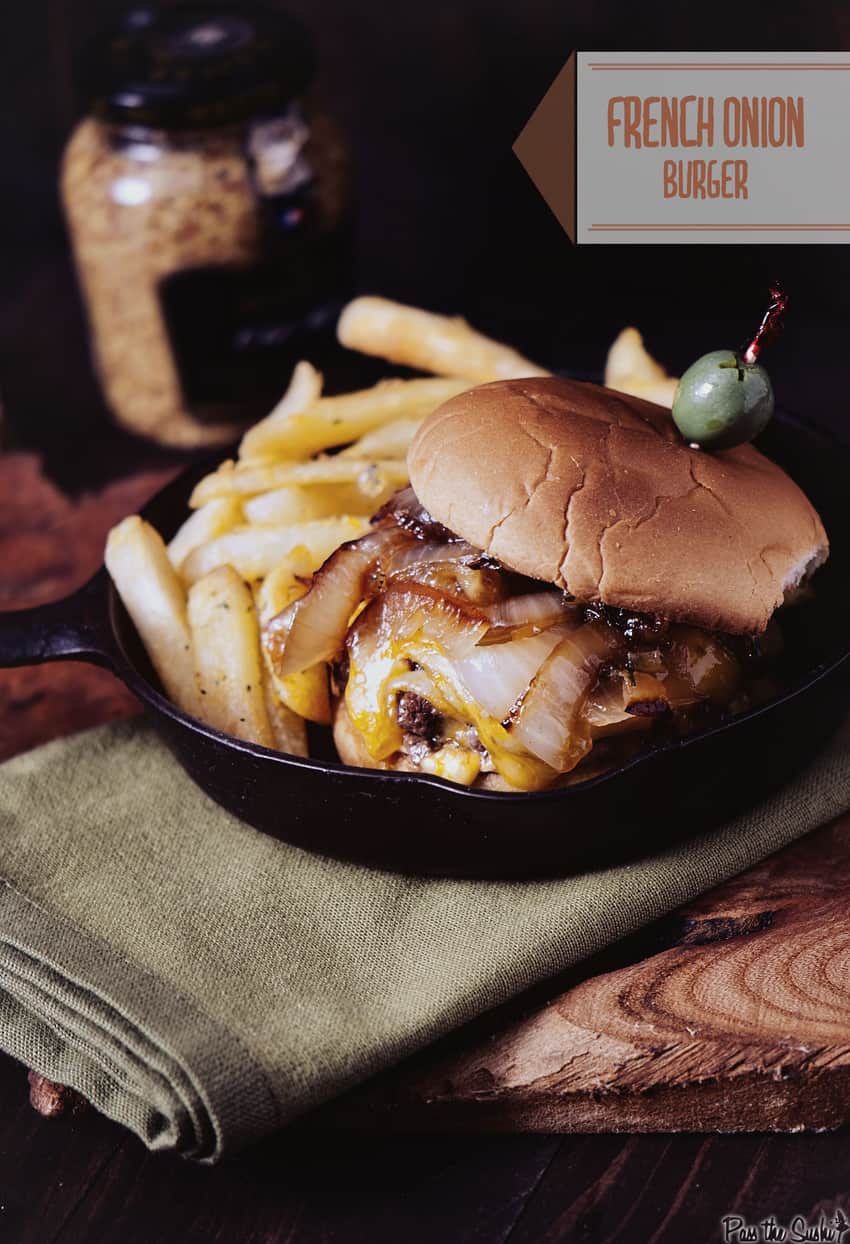 How to Make French Onion Burgers
First, combine the beef with Worcestershire, herbs, and seasonings in a large bowl. Once the meat mixture is combined, form into four patties. Cover and refrigerate for at least one hour.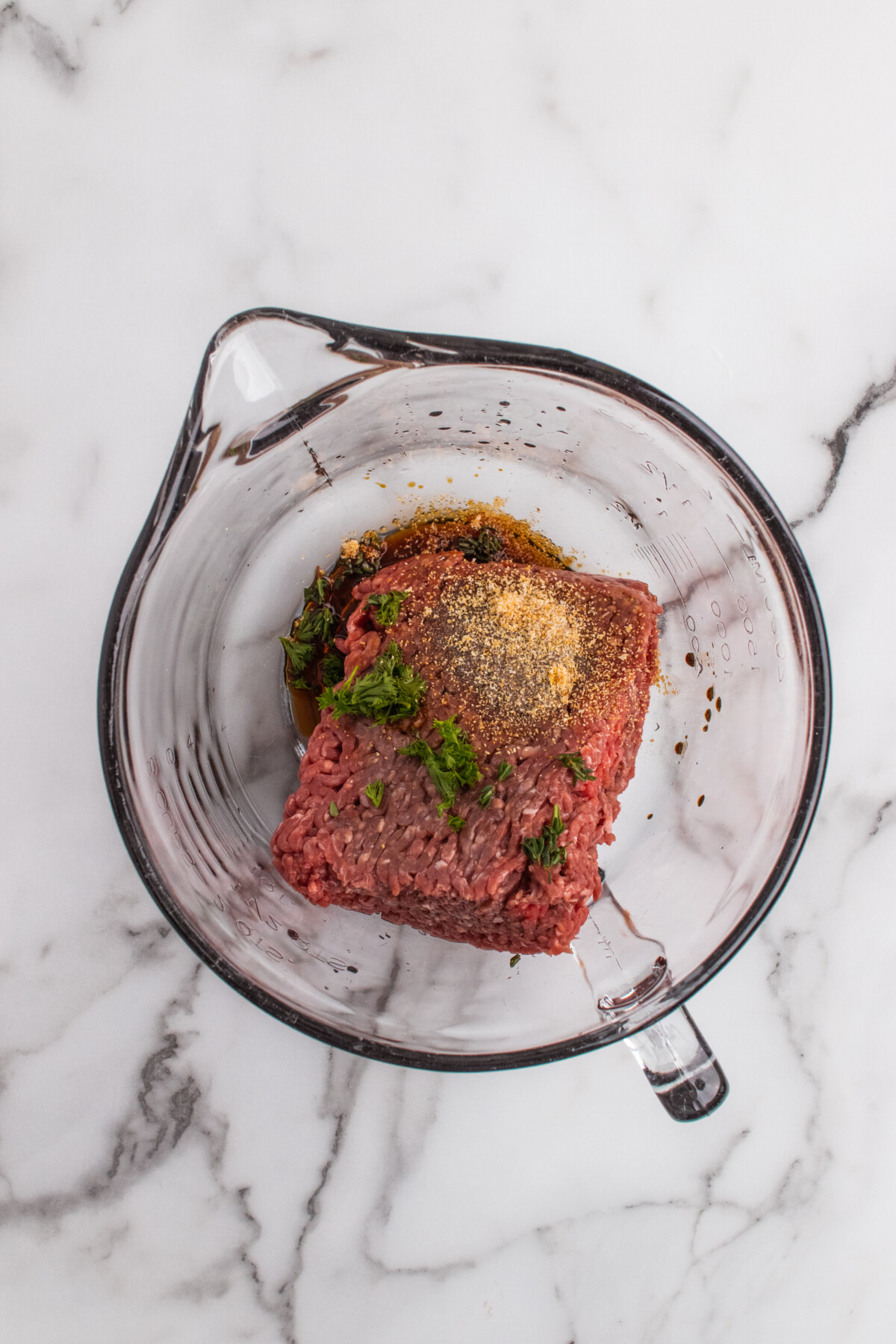 In an oven-proof skillet, heat oil over medium heat, then add the onion and cook until starting to brown. Add the wine, cover, and cook for another 10-15 minutes. Remove, cover with foil, and set aside.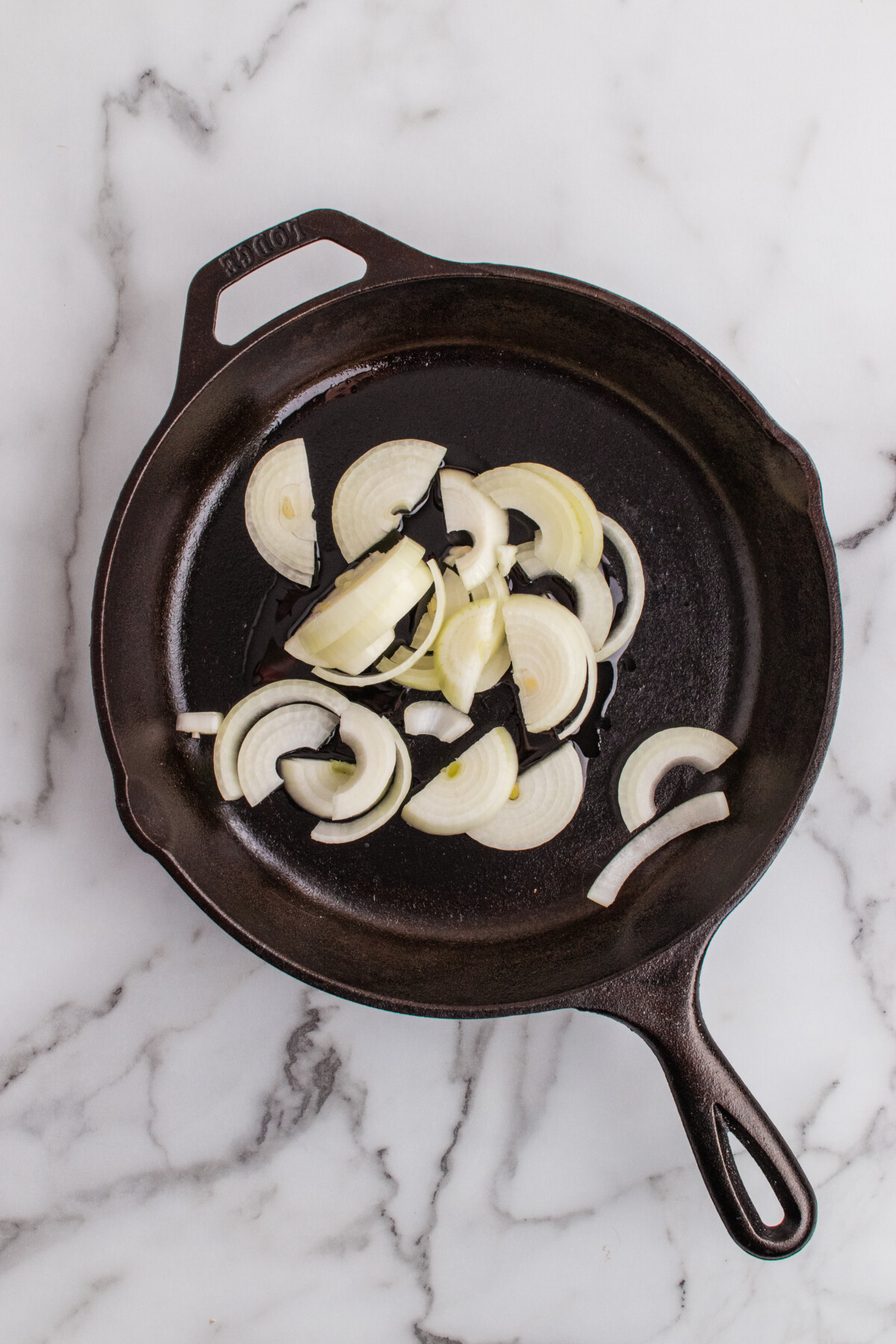 Wipe the skillet clean, increase the heat to medium-high, then add oil. Salt each patty and cook in the hot oil until a crust forms. Flip and cook the other side until the internal temperature reaches at least 160 degrees F.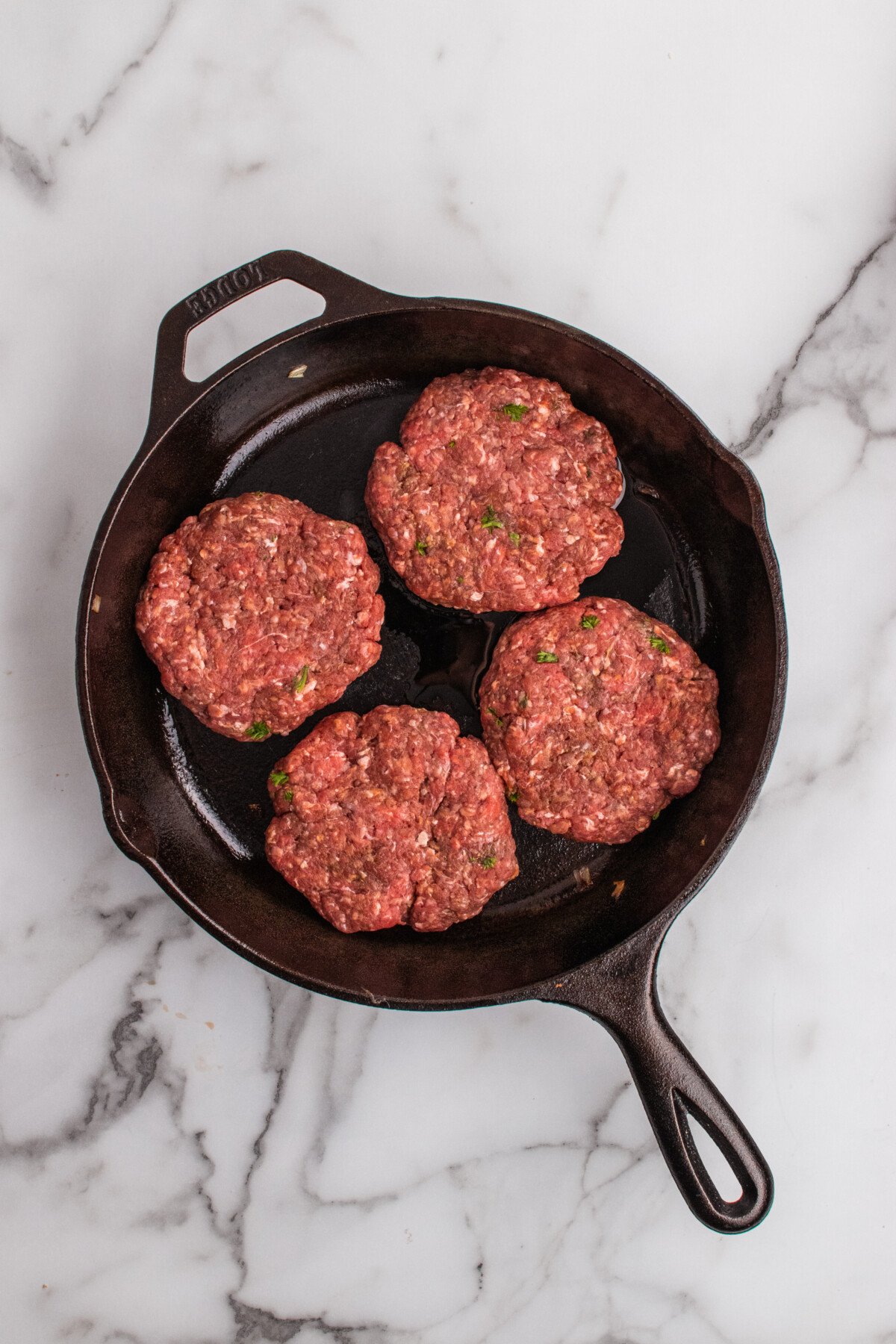 Layer a slice of cheese on the burgers, then place the skillet under a preheated broiler until the cheese is melty. Mix together the mayo and mustard and spread on toasted buns.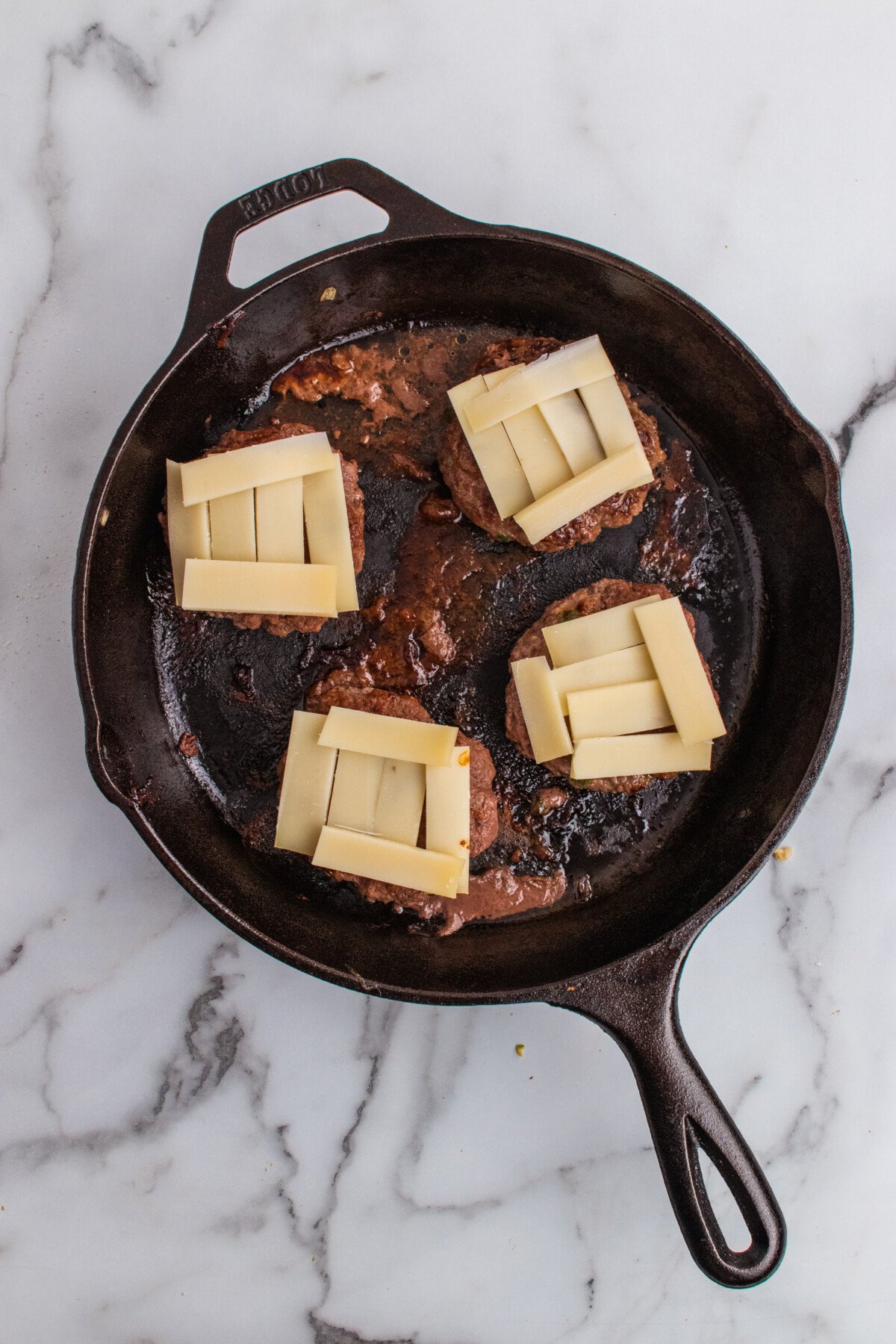 Assemble the juicy burgers by topping the prepped hamburger buns with a patty and a spoonful of caramelized onions on top of each burger, then serve and enjoy!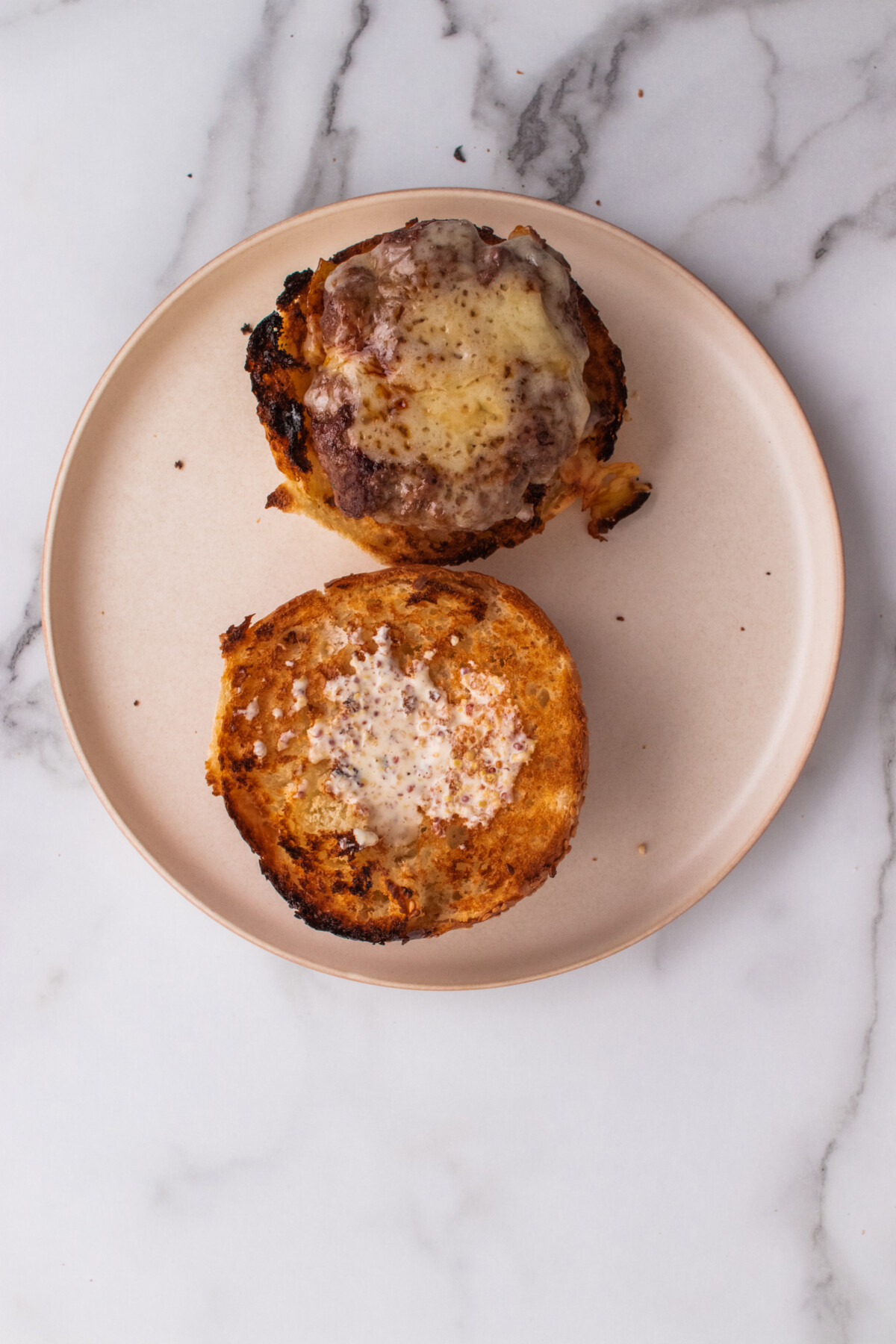 Girl Carnivor eEXPERT RECIPE TIPS
Take the buns to the next level by spreading some smoked garlic confit over them before serving! 
Don't overmix – Mix the ingredients for the burger patties only until just combined. If you over-work the meat, it can become dry and tough.
Indent the patties – Before you cook the burgers, use your thumb to press a soft indent into the center of the patties. This helps the meat cook more evenly.
Be careful not to overcook – No one likes a dry burger! Use a meat thermometer to check the internal temperature of the patties.
Toast the buns – Toasted buns hold up better next to the juicy meat and caramelized onions.
Add bacon – For another layer of smoky flavor, add some crispy bacon to the burger.
Leftovers & Reheating
Cooked burger patties will last in an airtight container in the fridge for 3-4 days or in the freezer for up to 4 months. To reheat, thaw in the fridge if frozen, then warm on the stove with a drizzle of oil until heated through.
Cooked onions will last in an airtight container in the fridge for 3-5 days. To reheat, warm on the stove with another splash of white wine or oil.
What to Serve With French Onion Burgers
These French onion burgers are perfect with all the classic burger sides! Serve them alongside beef tallow French fries, smoked potato salad, homemade macaroni and cheese, or a simple pile of roasted veggies!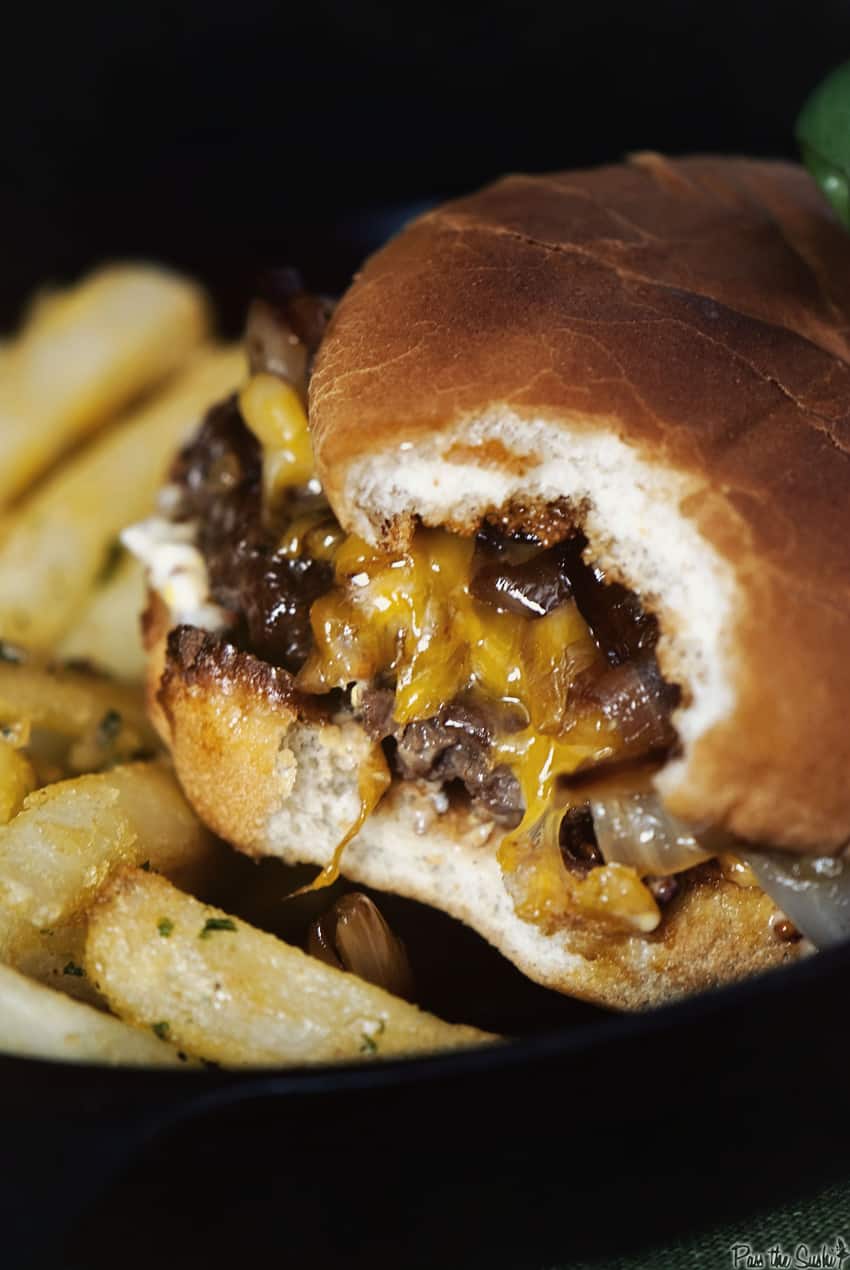 Recipe FAQs
WHAT ONIONS ARE BEST FOR BURGERS?
Classic French onions are made using yellow onions, which we used for this simple recipe. The sweeter flavor of yellow onions pairs deliciously with the white wine. If you don't have yellow onions, sweet onions, red onions, or shallots will also work.
What kind of cheese works best for a French onion burger?
Gruyère or Swiss cheese are the popular choices for French onion burgers. They melt well and add a great nutty flavor. Plus, the Gruyère, is a typical cheese used in traditional French onion soup recipes. However, you can also use other types of cheese, like provolone, fontina, or mozzarella as substitutes.
Can I cook the burgers on a stovetop or grill, and what's the difference in results?
You can cook these burgers on a grill, but we recommend the cast iron skillet whether you are grilling them or cooking on the stovetop. These burgers are seared in the same cast iron as the caramelized onions for added flavor and minimal clean up.

How do I know when the burgers are cooked?
Always use a digital meat thermomter to determin the doneness of your patties when cookin them. Remoce the patties from the skillet for an accurate reading.
Rare: 120°F to 125°F
Medium-rare: 130°F to 135°F
Medium: 140°F to 145°F
Medium-well: 150°F to 155°F
Well-done: 160°F +
The USDA recommends ground beef be cooked to 160 degrees F.

MORE BURGER RECIPES YOU'LL LOVE
French Onion Burgers are one of the best easy dinner recipes that are sure to become a family favorite! With simple ingredients and a few easy steps, you can create a delicious burger that is bursting with flavor. Whether you're a seasoned burger expert or just looking for a new twist on an old classic, these French Onion Burgers are the perfect way to add some excitement to your mealtime. So go ahead and give them a try – with a recipe this good, it's no wonder they'll become your new favorite burger! Also, please rate the recipe card and leave a comment below to help out the next reader!
French Onion Burgers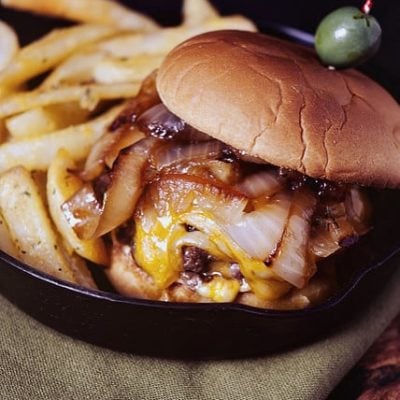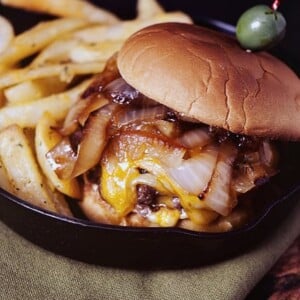 Delight in our tantalizing French onion burger recipe, featuring juicy beef patties smothered in caramelized onions and melted cheese. Experience an unbeatable combination of flavors and textures that will make this dish a new favorite at your next cookout or family dinner.
Ingredients
1

lbs

ground beef

1-2

tsp

Worcestershire sauce

1

tsp

fresh snipped parsley

1/2

tsp

fresh thyme

1/2

tsp

garlic salt

plus a dash

1/4

tsp

pepper

2

tbs

olive oil

1

onion

sliced

2

tbs

white wine

sliced Gruyere cheese

1

tbs

coarse grain mustard

1

tbs

mayo
Instructions
In a medium bowl, combine the ground beef with Worcestershire, parsley, thyme, garlic salt, and pepper.

Form into 4 patties.

Cover and set in refrigerator until ready to cook, at least one hour.

Preheat broiler.

Heat 1 tbs olive oil in a large ovenproof skillet over medium heat. Add the onion and cook for 8-10 minutes until just starting to brown.

Add the wine, scraping up any browned bits, cover, reduce heat to low and cook for 10 – 15 minutes more.

Remove from skillet, cover with aluminum foil, and set aside.

Wipe out the skillet, increase heat to medium-high. Add 1 tbsp oil and heat until just smoking. You want the skillet hot.

Sprinkle a dash of salt on the top and bottom of every patty and place in the skillet without over overcrowding your skillet. Cook until a nice crust forms on bottom, about 4 minutes.

Flip and cook 4 to 5 minutes longer. Remove skillet from heat.

Place slices of cheese on burgers and place skillet (if oven safe) under the broiler until cheese is golden and melty, about 1 minute.

Mix the mustard and mayo together and spread on toasted buns. Top with a patty and a heaping portion of onion.
Nutrition
Calories:
394
kcal
|
Carbohydrates:
3
g
|
Protein:
19
g
|
Fat:
32
g
|
Saturated Fat:
10
g
|
Cholesterol:
81
mg
|
Sodium:
447
mg
|
Potassium:
358
mg
|
Sugar:
1
g
|
Vitamin C:
2.1
mg
|
Calcium:
27
mg
|
Iron:
2.4
mg