Grab some napkins. These French Onion Burgers are a dreamy mess of everything you want in the perfect pan seared patty with piles of onions, zesty mustard, and Gruyere cheese.
Nothing quite hits the spot like a great burger. There's something about the over indulgence, the soft bread, the ground beef, the melted cheese and all the flavors. One never looks back from a burger with anything other than a smile, unless it was a crappy burger, at which point you probably shouldn't have shoved the whole thing in your face but rather demanded your money back. If it get's to that point, it's your fault. And the bastard who isn't preparing top-notch burgers fault.
You can sort of blame him too.
Expect a lot of burgers on Girl Carnivore.
As I am on the quest for what makes a perfect patty Is it a great skillet, an aged griddle, the aroma a charcoal-heated grill gives, or something else?
We're going to be grinding our own beef – because it really makes a difference – and seasoning our own meat and making you salivate like a caveman staring down a sleeping saber-toothed cat. If you are hopping over here from Pass the Sushi you will know my love of burgers runs deep and that I created a whole page dedicated to it.
There was a plan to launch a burger club, but then this plan hatched and I knew it was coming so I eased off. Expect it here. And get pumped, cuz it's coming.
On a scale of one to ten – how good were these French Onion Burgers?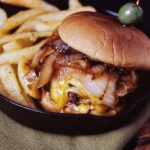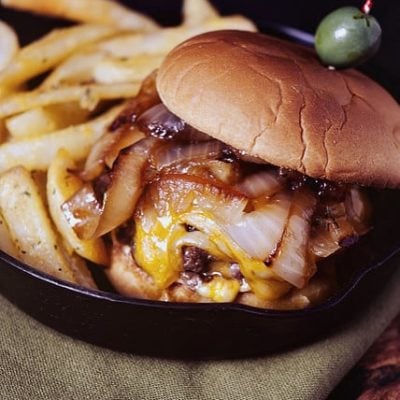 French Onion Burgers
Ingredients
1

lbs

ground beef

1-2

teas Worcestershire sauce

1

teas fresh snipped parsley

1/2

teas fresh thyme

1/2

teas garlic salt

plus a dash

1/4

teas pepper

2

tbs

olive oil

1

onion

sliced

2

tbs

white wine

sliced Gruyere cheese

1

tbs

coarse grain mustard

1

tbs

mayo
Instructions
In a medium bowl, combine the ground beef with Worcestershire, parsley, thyme, garlic salt, and pepper. Form into 4 patties. Cover and set in refrigerator until ready to cook, at least one hour.

Preheat broiler.

Heat 1 tbs olive oil in a large ovenproof skillet over medium heat. Add the onion and cook for 8-10 minutes until just starting to brown. Add the wine, scraping up any browned bits, cover, reduce heat to low and cook for 10 – 15 minutes more. Remove from skillet, cover with aluminum foil, and set aside.

Wipe out the skillet, increase heat to medium-high. Add 1 tbs and heat until just smoking. You want the skillet hot. Sprinkle a dash of salt on the top and bottom of every patty and place in the skillet without over overcrowding your skillet. Cook until a nice crust forms on bottom, about 4 minutes. Flip and cook 4 to 5 minutes longer. Remove skillet from heat.

Place slices of cheese on burgers and place skillet (if oven safe) under the broiler until cheese is golden and melty, about 1 minute.

Mix the mustard and mayo together and spread on toasted buns. Top with a patty and a heaping portion of onion.