If you want Mexican street food at its finest in a gringo kitchen, these pork carnitas are not going to let you down. You'll get the flavors you crave from a Mexican restaurant without leaving your kitchen.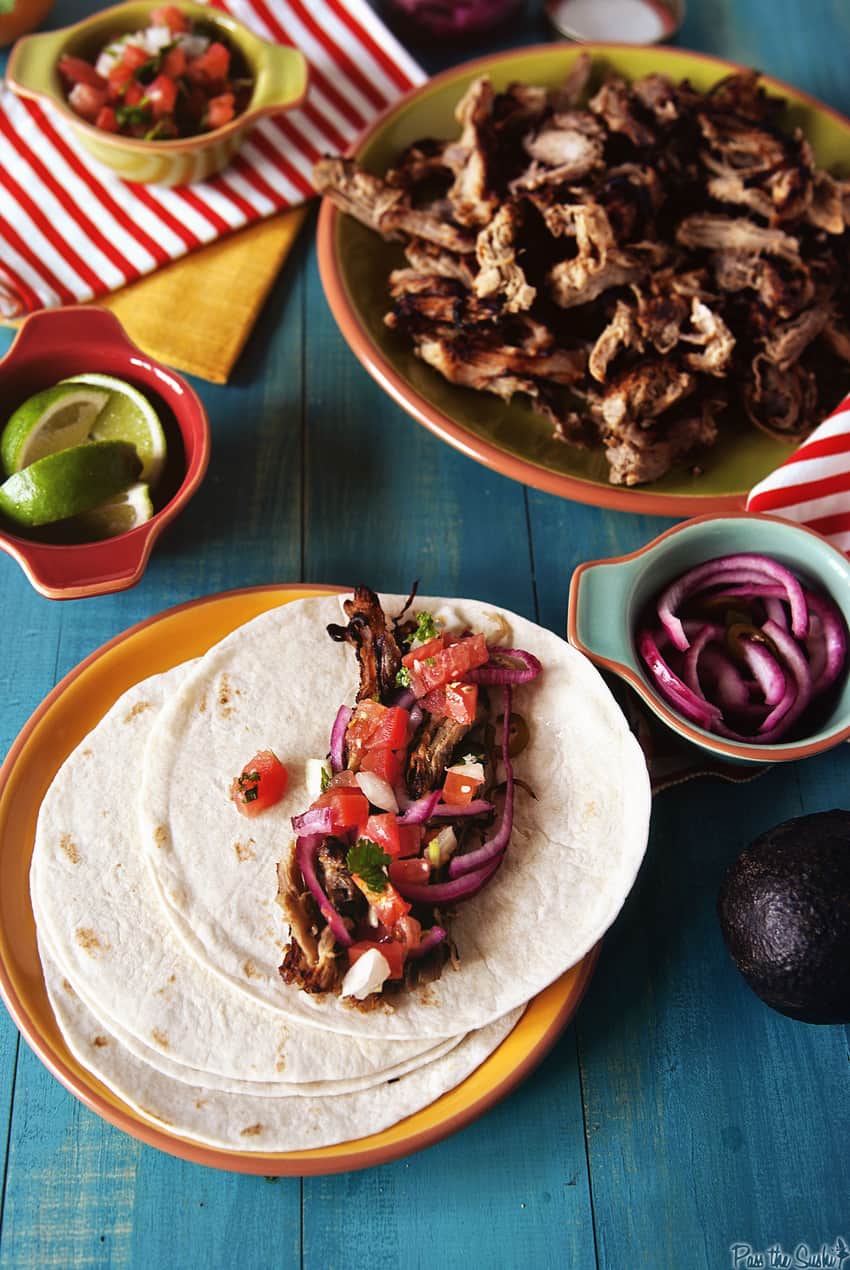 The pork has a perfectly crisp exterior and unleashes incredibly seasoned flavors.
Taco night is a weekly event in many homes. There's just something about the perfect proportion of meat, tortillas, and toppings. It's the perfect harmony of flavors in one perfect messy bite. If your family partakes in Taco Tuesday or regular taco nights, this recipe is for you. They're the best carnitas you've tasted in a while.
What is Pork Carnitas
Pork carnitas are Mexican tacos made from pulled pork and other delicious, traditional toppings. In the south, they are typically prepared with a shredded barbequed pork shoulder. Variations make the pulled pork in a pressure cooker, slow cooker, or smoked over wood. The meat is shredded by hand and mixed with various sauces. Add your favorite toppings and you have the best ever pork carnitas ready to eat.
Ingredients for Pork Tacos
These are surprisingly simple ingredients for such a flavorful and delicious meal!
Boneless Pork Butt – you will need about 4 pounds
Water
Onion
Lime Juice
Seasonings – You will need dried oregano, ground cumin, salt, and pepper
Bay Leaves
Orange – The juice and orange slices will provide extra flavor while searing your pork meat.
Tortillas – Choose fajita sized tortillas or larger corn tortillas based on your preference.
Toppings – favorite toppings include red onion, cilantro, thinly sliced radishes, pico de Gallo, sour cream, and lime wedges.
Other favorite toppings include adobo sauce, lettuce, tomato, cheese, sour cream, hot sauce, green chiles, or jalapenos.
How to Make this Pork Carnitas Recipe
To prepare this dish, preheat your oven to 300 degrees.
In a Dutch oven, add your onion, lime juice, oregano, cumin, bay leaves, salt, pepper, and pork butt. Add water to the top to just barely cover the meat.
Squeeze juice from the orange into the Dutch oven and add the spent orange pieces as well.
Bring this mixture to a simmer and then transfer it to the oven to cook for about 2 hours. Flip the meat once about halfway through the cook time.
Once the meat is finished cooking, shred it with two forks. You'll want to shred it into smaller pieces. You can remove the onion, bay leaves, and orange.
Place a pot over high heat and simmer the liquid. Stir occasionally until is it a syrupy mixture. This should take about 8-12 minutes.
Set your oven to broil.
Mix your shredded pork chunks with the syrup and lay the mixture on a single layer of aluminum foil on a sheet pan.
Broil the meat for about 5 to 8 minutes. The meat should be crispy but not charred.
Remove from the oven, flip the meat, and broil again for another 5 to 8 minutes.
Serve your carnitas with your favorite toppings.
Girl Carnivore EXPERT RECIPE TIPS
Searing the meat is best
Instead of adding a dry rub to the meat, searing the meat in plenty of juices allows it to soak up all the flavor.
Use a Boston Butt
When choosing your cut of meat, a Boston Butt will give you some of the best flavors you've ever tasted. The boneless pork shoulder is simple to cook with this easy recipe.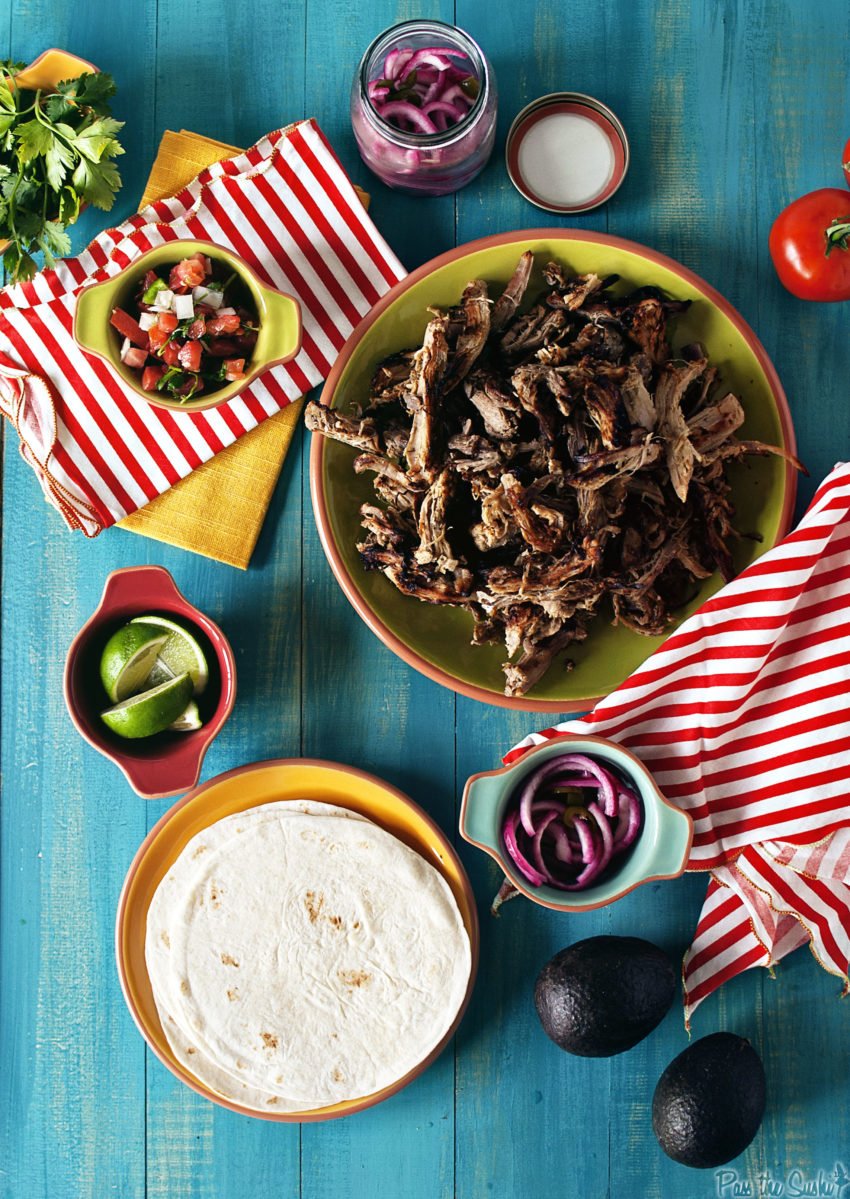 What to Serve with Mexican Pulled Pork?
Some of the best side dishes for pulled pork or pork tacos include guacamole, coleslaw, and smoked potato salad. Other side dishes include seasoned rice, smoked corn on the cob, chips, and salsa, or black beans. Rice bowls are the perfect dish to add cooked pork to.
If you love recipes like this, be sure to try Instant Pot Birria, Quesabirria, Barbacoa. and Chorizo tacos! These are perfect meal prep items for the next day. They will last you all week, and they all have so much flavor.
Storing and Reheating Shredded Pork Tacos
Store your leftover pork carnitas and toppings separately and assemble leftover carnitas when you are ready to eat them. An airtight container always works best for food storage. The leftover meat is also great for making Leftover Carnitas Power Bowls.
Reheat the pork in the microwave or pop it in the oven on a baking sheet for a few minutes until it is cooked through. Then, serve is on corn tortillas or in a bowl with desired toppings.
Recipe FAQs
How do you know when carnitas are ready?
Your cut of meat is done cooking when you can easily shred it with a fork. Crispy carnitas cook for about 2 hours.
Can you cook the pork in an instant pot?
Yes! Instant pot carnitas are a simple way to serve this delicious dinner. Cook the meat for about 45 minutes to an hour once the instant pot has heated up. Be sure to let it release steam fully before removing the meat. You'll want to allow about an hour and a half for the heating, cooking, and cooling process. So, all in all, it's not too much quicker but you don't get the same depth of flavor as the low and slow version.
If you love serving Mexican food the traditional way, this recipe is a simple place to start. Traditional carnitas never tasted better with this simple recipe. It's our favorite way to prepare this Mexican dish, and it will quickly become yours as well. Tried this recipe? Be sure to rate the recipe card and leave a comment to help the next guy.
Carnitas: Mexican Pulled Pork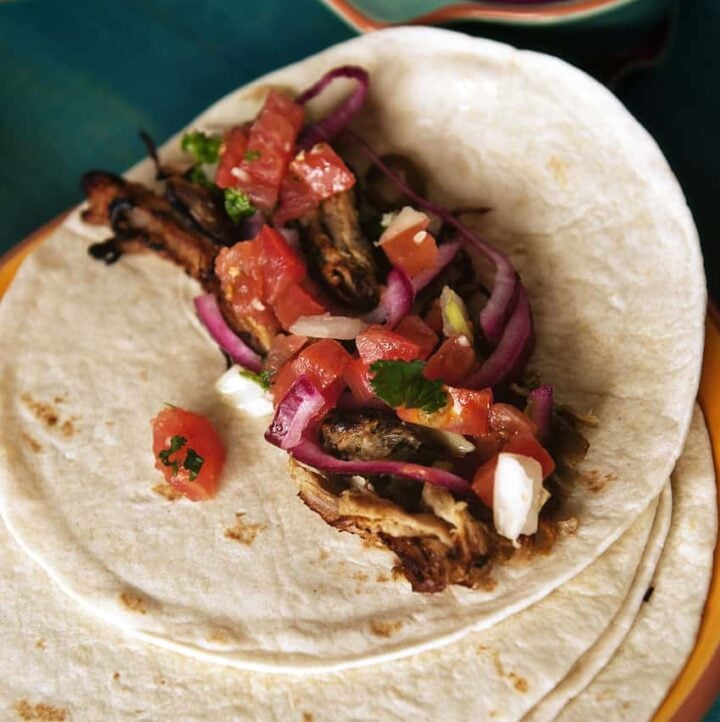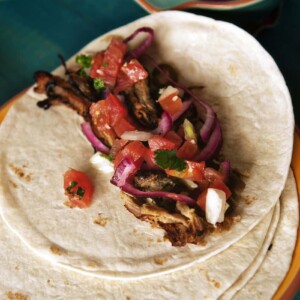 Master the art of making Pork Carnitas, featuring slow-cooked, tender pork with irresistibly crispy edges. Enjoy this versatile Mexican classic in tacos, burritos, salads, and more for a truly satisfying, crowd-pleasing meal.
Ingredients
1

3 1/2 – 4 lbs boneless pork butt, fat trimmed to 1/8″, cut into 2 chunks

2

cups

water

more or less

1

onion

peeled and halved

2

tbs

lime juice

1

tsp

dried oregano

1

tsp

ground cumin

2

bay leaves

salt and pepper

1

orange

halved

Tortillas

Toppings: Minced red onion

fresh cilantro, thinly sliced radishes, pico de gallo, sour cream, and lime wedges
Instructions
Adjust the oven rack to the lower middle position and preheat the oven to 300 degrees.

Place the pork in a Dutch oven with the onion, lime juice, oregano, cumin, bay leaves, 1 teas salt and 1/2 teas pepper. Add the water, it should cover just barely cover the meat.

Squeeze the juice from the orange into the Dutch oven and throw the spent orange halves in there as well.

Bring the mixture to a simmer over medium-high heat. Cover and transfer to oven.

Cook for 2 hours, until meat is easily shredded with two forks, flipping the meat once halfway though cook time.

Remove the meat from the Dutch oven and discard the onion, bay leaves, and orange.

Place pot over high heat and simmer the liquid stirring occasionally until it leaves a trail when a spatula is run through it and it is thick and syrup like, about 8-12 minutes. It bubbles while cooking so use caution.

Turn the oven to broil.

Shred the pork into bite sized chunks.

Fold in the syrup and spread out mixture in a single layer onto an aluminum foil lined baking sheet.

Broil on lower middle rack for 5 to 8 minutes, until meat is crispy but not charred.

Carefully remove from oven, flip the meat and broil again for 5 to 8 minutes longer.

Serve carnitas with desired toppings.
Notes
Cook's Illustrated Mexican Favorites
Nutrition
Calories:
71
kcal
|
Carbohydrates:
2
g
|
Protein:
8
g
|
Fat:
2
g
|
Cholesterol:
27
mg
|
Sodium:
32
mg
|
Potassium:
195
mg
|
Sugar:
1
g
|
Vitamin A:
30
IU
|
Vitamin C:
8.7
mg
|
Calcium:
19
mg
|
Iron:
0.7
mg