Sink your teeth into these meaty little bites. Umami dusted char-grilled Korean short ribs paired with roasted poblanos, blistered tomatoes, and of course, a fried egg makes for a savory recipe you won't want to stop eating!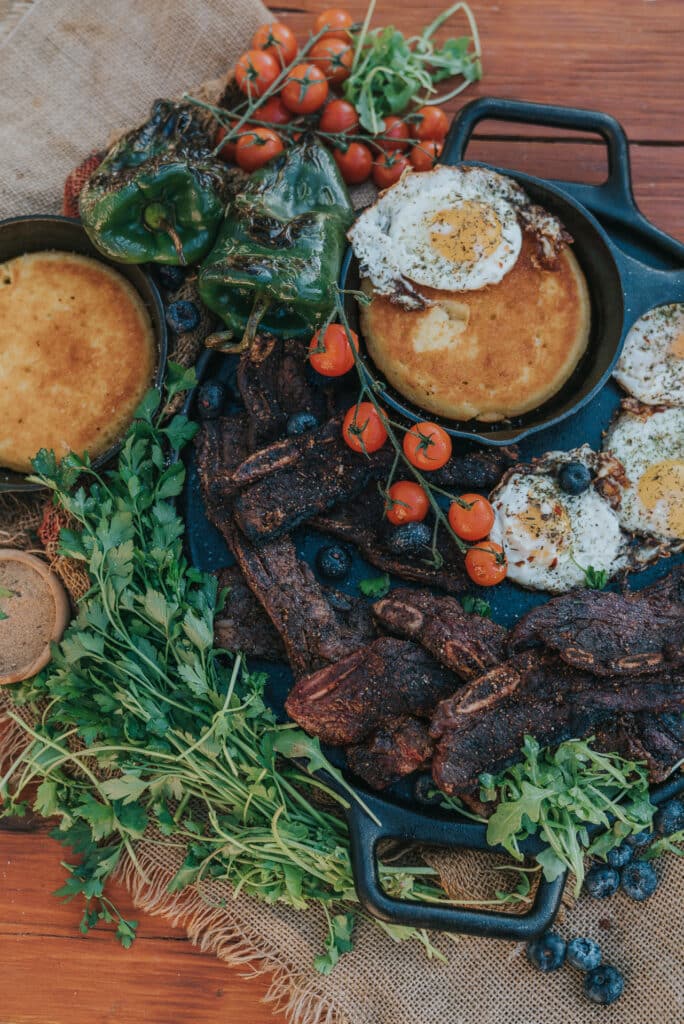 One of my favorite campfire recipes is flanked short ribs. They are hearty and fun to chew on, they pick up flavor incredibly well, and are ideal for cooking over live fire, where you can move from indirect to direct heat.
I've whipped these up several times for breakfast (and not just while camping) and they never disappoint!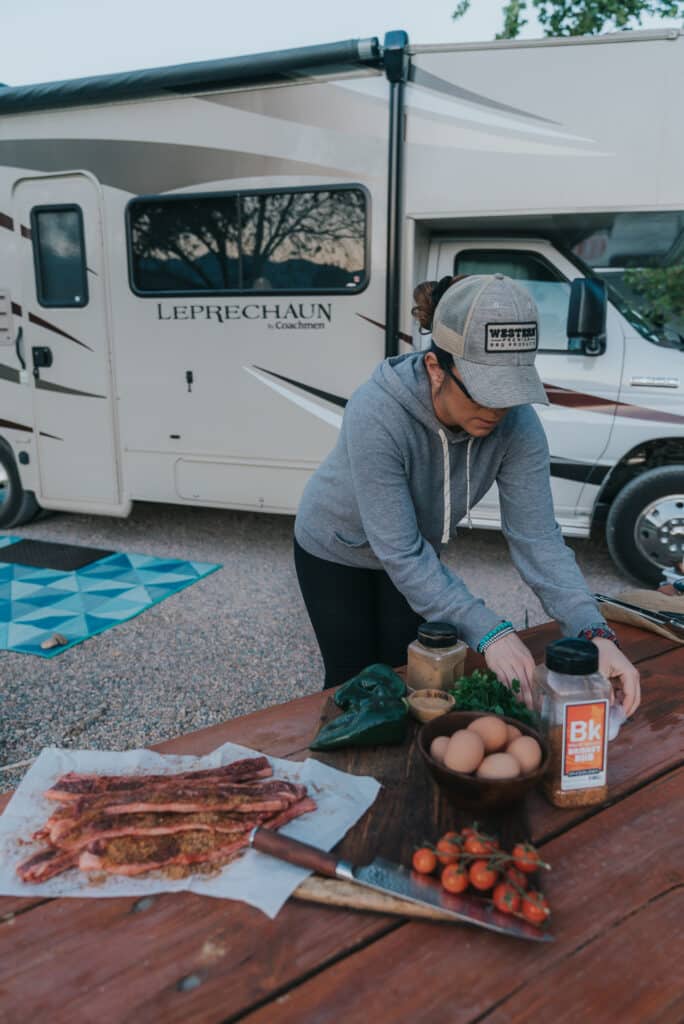 What are Korean Short Ribs?
These bone-in beef ribs aren't exactly what most people are used to when they think of short ribs. And that's because, well, they aren't alike at all. Other than that they are both cut from the rib…
European-style short ribs are thick, usually over 1 1/2″ thick stout beefy bites, ideal for low and slow cooking, like braising. They can come bone-in or boneless and when given time for the connective tissues to break down in a long slow cook, they are fork-tender.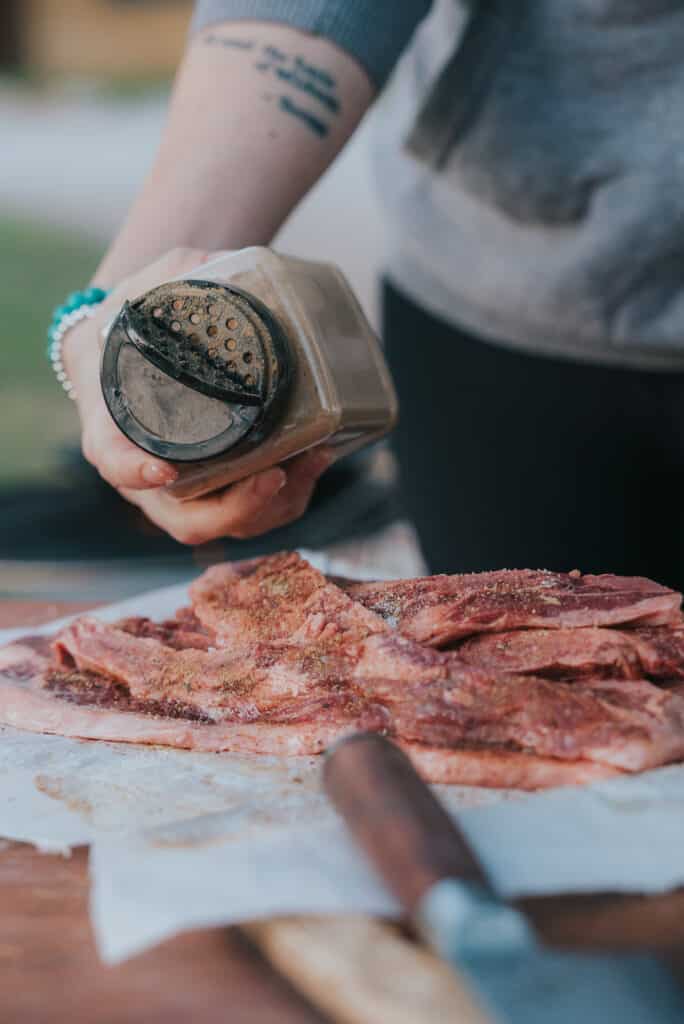 Korean style, or flanken, short ribs are cut long and skinny, across the rib, with the bones in. They are under 1/2″ thick and usually over 5″ long. They are most commonly associated with Korean Kalbi (galbi), a delicious BBQ dish I can't get enough of.
But just like their stout cousin, they need a little TLC for savory bites.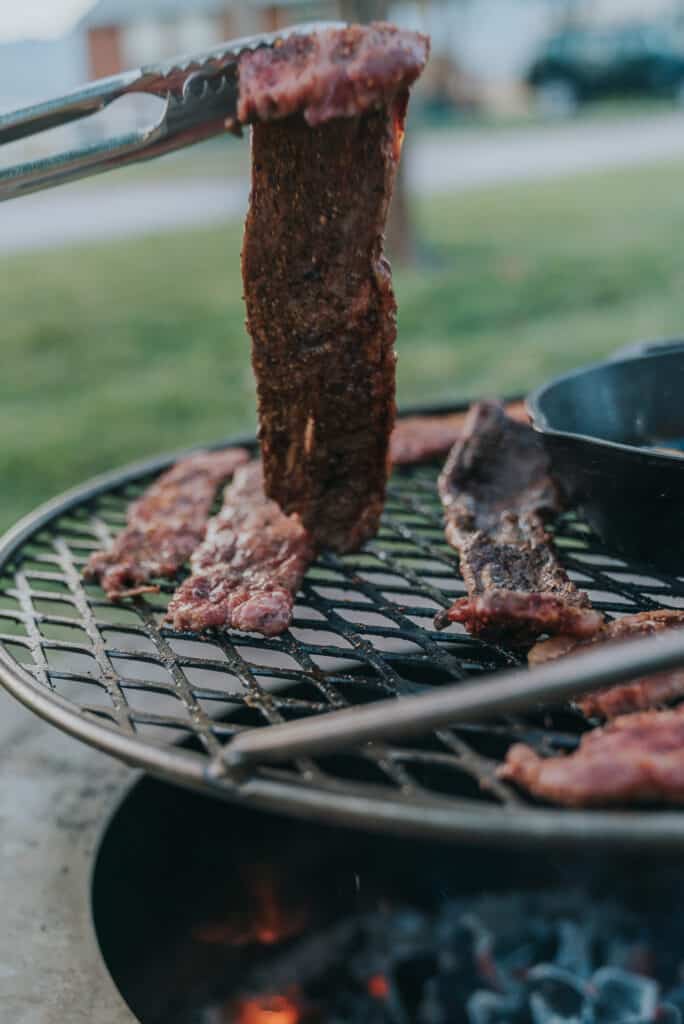 Best ways to cook Korean Short Ribs
Flanken short ribs have a ton of connective tissue running through the thin cuts. Because of this, cooking them to 145 is rarely enough time for the meat to become more edible. These ribs are much better taken past our desired 'rare' to around 200 – 205 degrees.
The longer cook allows the tissues to break down and the meat to become mouth-wateringly good (but because these are so thin, 'longer' isn't really that long).
For this, grilling over indirect heat (a 2-zone fire) is the perfect solution. The low heat allows the beef to cook until tender and the finishing sear adds that char that makes chewing on these beefy bites so good.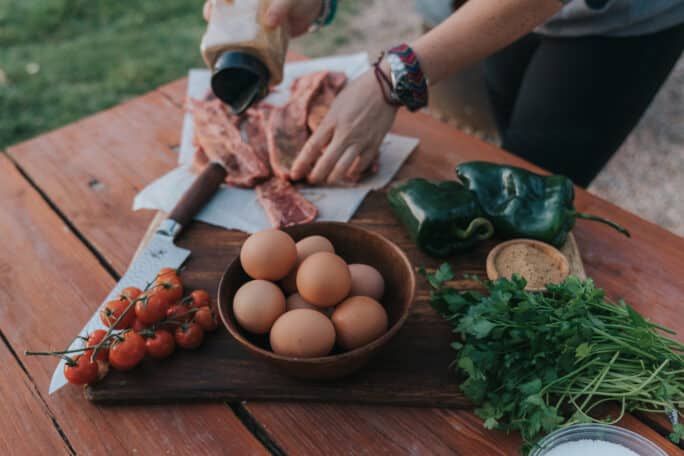 What you need to grill flanken short ribs
For these grilled ribs, you just need Ooomami, my umami rub, and GirlsCanGrill Brisket Rub, salt, 2 pounds of flanked short ribs, (I buy mine from Porter Road), poblano peppers, and tomatoes still on the vine. If you're serving for breakfast, make sure to have a couple of eggs ready for frying too.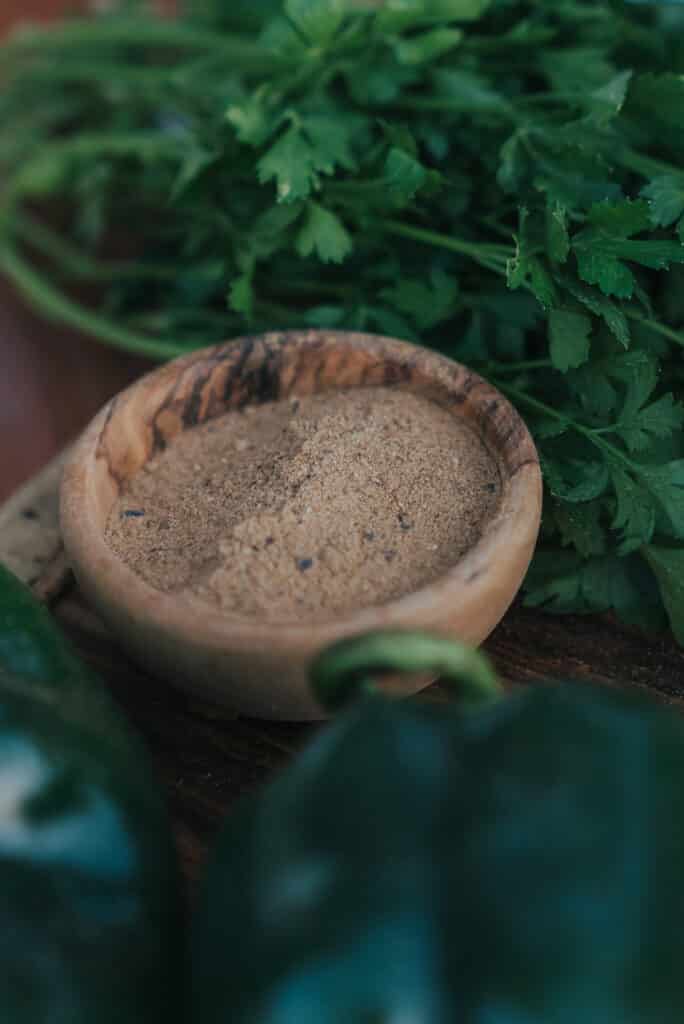 How to Grill Flanken Short Ribs
Starting low and finishing hot with a quick sear to finish is ideal for grilling short ribs. Indirect heat, also known as a 2-zone fire is the key to success allowing the connective tissue to break down and then finish off with that signature sear.
After you've rubbed the ribs, assemble your campfire or kettle-style grill with the coals to one side of the grilling grate, or on a traditional gas grill, ignite 2 of the 3 burners.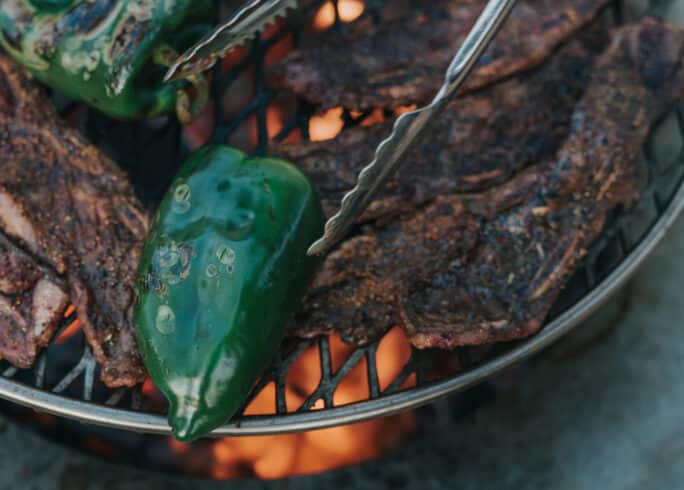 Once your grill is ready to go, place the short ribs over the cooler side of the grill and cook, flipping often until the ribs have cooked through, and are becoming tender.
When they are 195 degrees, move them over the hot side of the grill, also known as direct heat, and finish with a good sear to lock in the grilled flavor.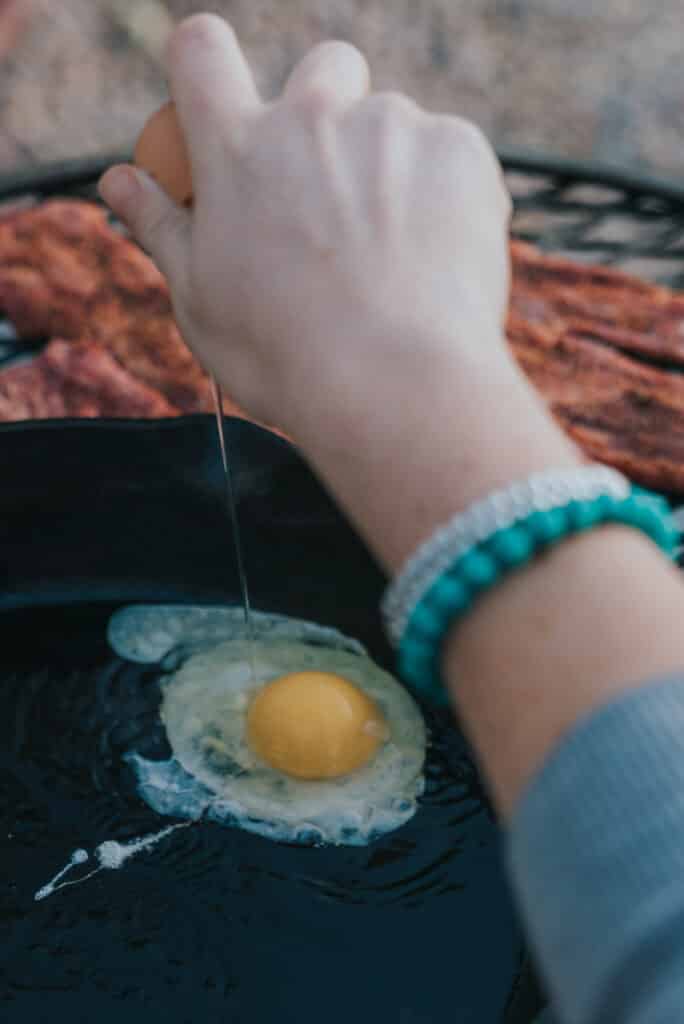 Want more delicious recipe inspiration? Try some of my favorite recipes
If you've tried my easy grilled short rib recipe or any other recipe on GirlCarnivore.com please don't forget to rate the recipe and let me know where you found it in the comments below. I get inspired by your feedback and comments! You can also FOLLOW ME on Instagram @girlcarnivore as well as on Twitter and Facebook.
Easy Grilled Korean Short Ribs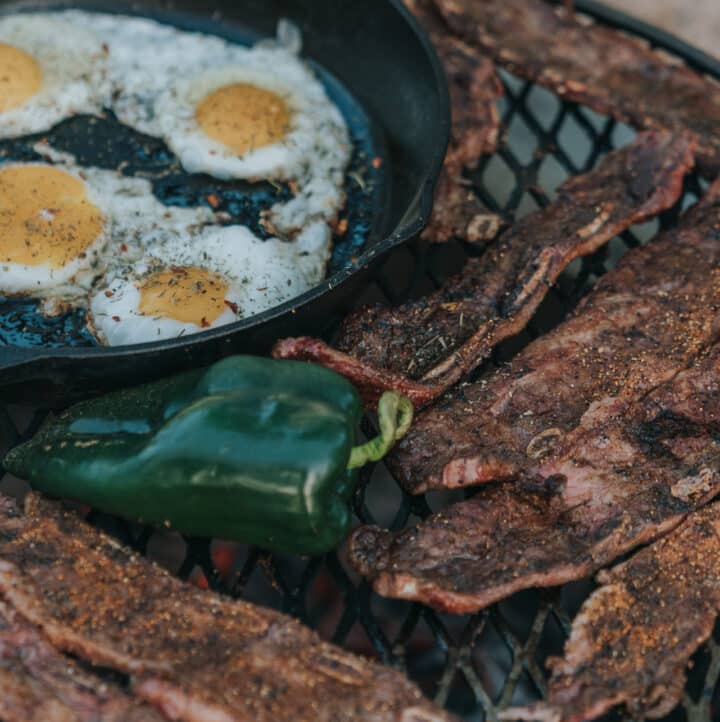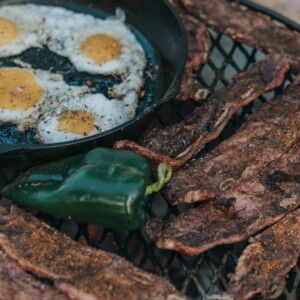 These meaty little flanken-style short ribs make for a crazy good breakfast, paired with grilled peppers, cast iron fried eggs, and charred tomatoes.
Ingredients
For the Korean-Style Short Ribs
For the Fried Egg Breakfast
3

poblano peppers

1

lbs

tomatoes, on the vine

8

eggs
Instructions
Prep the Flanken Short Ribs
Whisk the Ooomami umami blend, brisket rub, and salt together in a bowl.

Season the ribs liberally with the blend, coating boath sides.

Prepare your grill for indirect heat, arranging the coals to one side of the grill and allow the grills to come to a level and even heat.

Place the grill grate on top, and clean and oil the grate.
Grill the Short Ribs
Place the ribs on the cooler side of the grill.

Flip the flanken short ribs a few times, while grilling, to cook evenly.

When the ribs are almost done, around 190 degrees, move them to the hot side of the grill, and allow them to get a good sear, flipping often to avoid flare-ups.

Grill to around 200 – 205.

Remove from grill to rest.
Grill the Eggs, Peppers and Tomatoes
While the Korean short ribs are grilling, heat a well seasoned cast iron skillet over the grill.

If the grill is not well seasoned, oil to coat.

Place the peppers over the hot side of the grill, and char on all sides, rotating as needeed.

Remove the peppers from heat and tent in foil to steam

Crack the eggs into the pre-heated skillet and fry to desired doneness.

Remove the eggs fromt the heat.

Peel the skins from the peppers, seed, and roughly chop to serve.

Serve the grilled short ribs with the sliced grilled peppers, charred tomatoes, and fried eggs.

Garnish with cilantro and sliced scallions if desired.
Notes
You can find Korean-style short ribs at most international markets, or you can ask your butcher to trim a rack of beef ribs thin with the bones in, also known as flanken. 
These little ribs are well marbled, so be prepared for flareups. 
Using a grilling grate that you can swing, like the Breeo Outpost, while cooking over the campfire helps to regulate the heat. 
Nutrition
Serving:
1
g
|
Calories:
466
kcal
|
Carbohydrates:
12
g
|
Protein:
45
g
|
Fat:
26
g
|
Saturated Fat:
10
g
|
Polyunsaturated Fat:
2
g
|
Monounsaturated Fat:
11
g
|
Trans Fat:
1
g
|
Cholesterol:
425
mg
|
Sodium:
340
mg
|
Potassium:
1167
mg
|
Fiber:
4
g
|
Sugar:
6
g
|
Vitamin A:
1762
IU
|
Vitamin C:
88
mg
|
Calcium:
114
mg
|
Iron:
7
mg