If you are looking for a classic steakhouse meal with a healthy homemade recipe, this Grilled Flat Iron Steak is for you. A flat iron cut packs a punch when it comes to flavor and simplicity.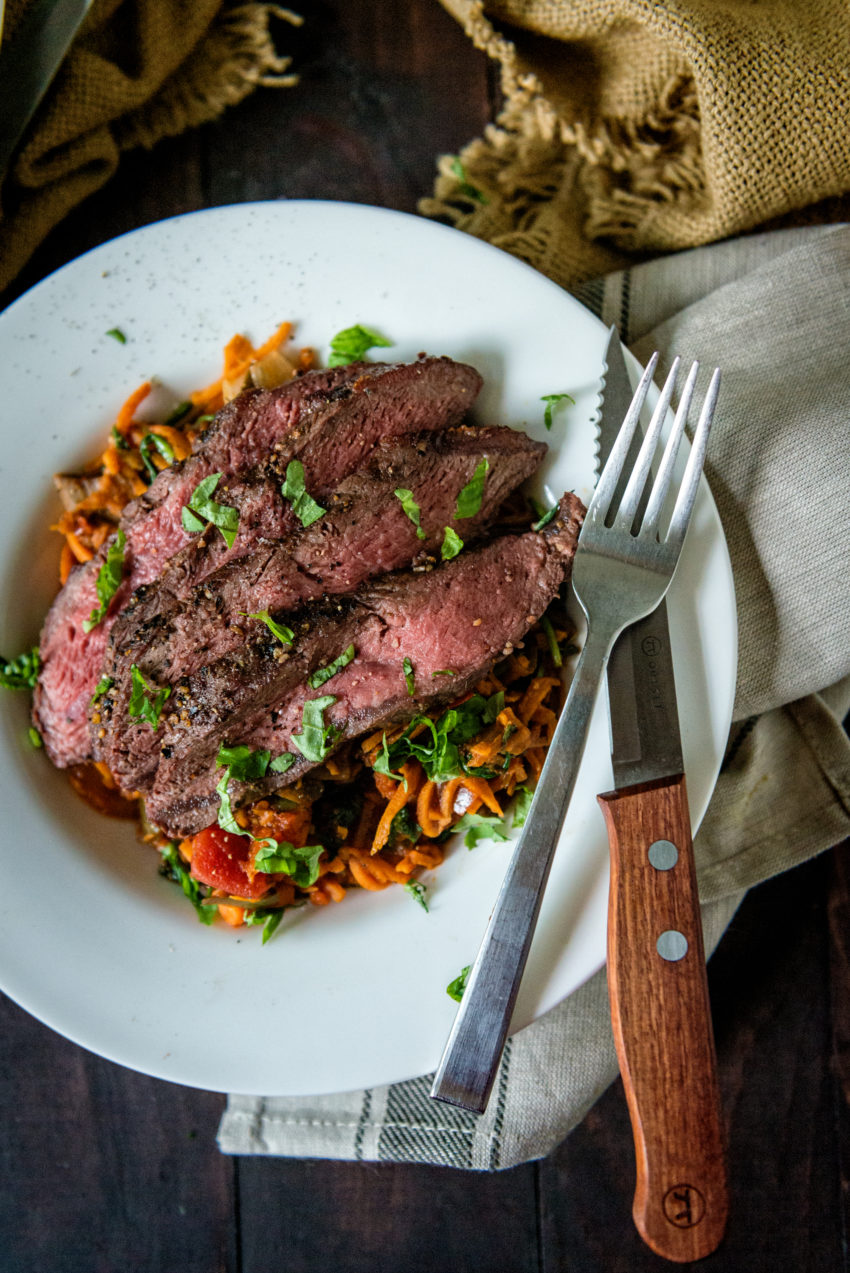 People get this idea that cooking homemade suppers every single night is complicated. And let's be real, it's so easy these days (especially if you don't have kids) to run out and grab a quick bite after a long day in the office. The daily grind can really kill the kitchen mojo and make skipping out for a cocktail, and something pre-made can be rather tempting.
But let's be honest; it's pretty rare that a steak recipe comes off the line as well as one seared at home. It's certainly not as fresh. A great cut of beef and a trusty grill will get you the best steak you've ever had in no time.
What is Grilled Flat Iron Steak?
Flat Iron Steak is a rectangular cut from the shoulder portion of the cattle with a strong marbling which leads to a great flavor. Flat Irons are great options for a quick dry pan sear or grill, and are perfect for sous vide flat iron to get that edge to edge medium rare center.
After cooking, rest thoroughly before slicing thin and on a bias against the grain – this is one of those cuts where slicing against the grain grately improves the overall enjoyment. For best results, buy a prime cut from the butcher shop, or check out our favorite places to buy meat online. They'll have the ultimate guide for types of cuts of beef that will lead to the best-tasting steak for your meal.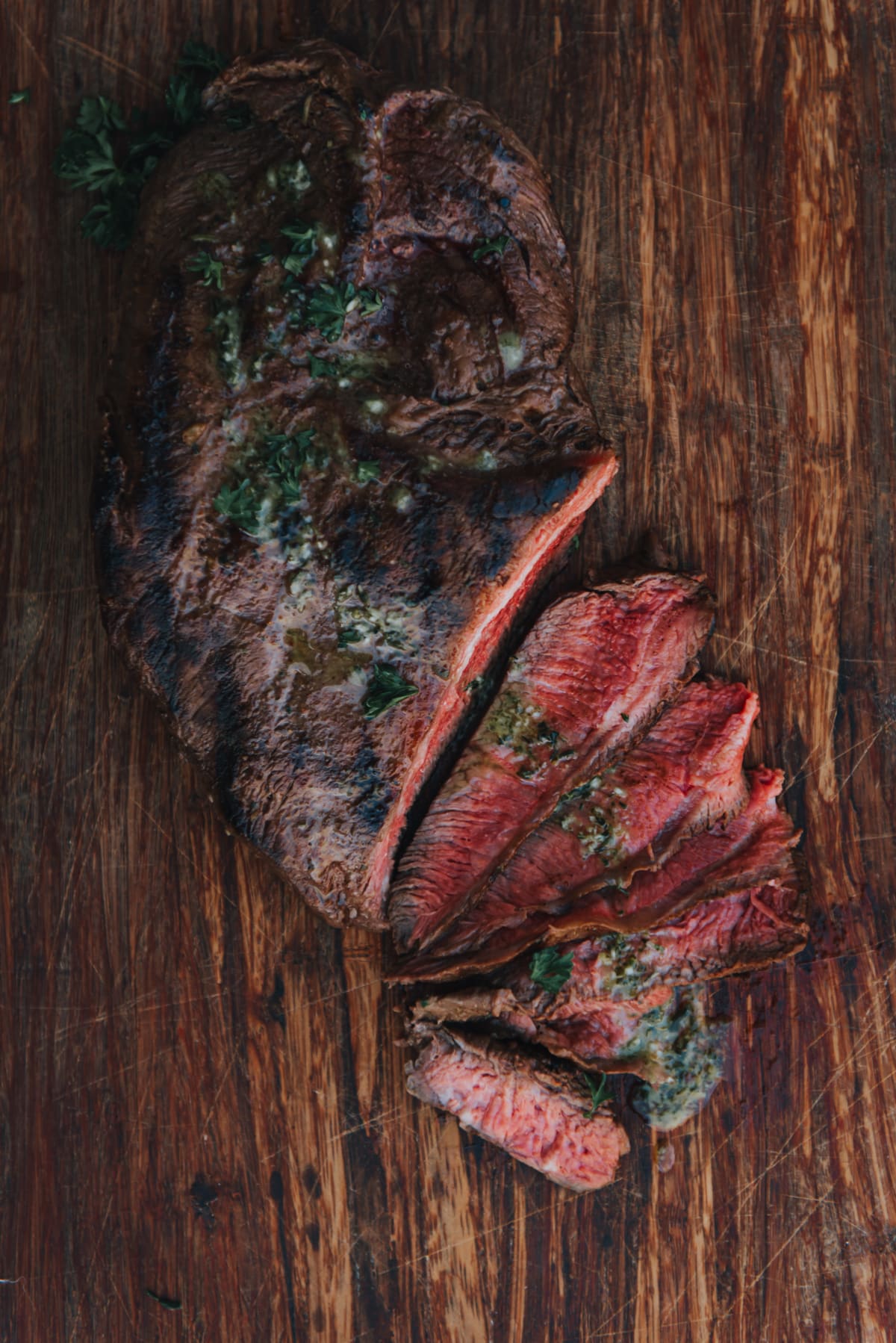 Ingredients for Flat Iron Steak
This might be the simplest list of ingredients you've ever seen, but the flavor is unmatched.
Flat Iron Steak
Salt and Black Pepper
Compound butter – we love our roasted garlic butter for this steak.
You can also season your steak with lemon juice near the end of cooking or before serving, but this step is unnecessary as the steak itself provides all the flavor you need.
How to Make Flat Iron Steak Recipe
Preheat your grill.
Season steak with salt and pepper.
Once the grill is warmed up, heat your steaks the cooler side of the grill until they are about 15 degrees below your desired finished internal temperature.
Move the steaks to the hot side of the grill, over direct heat to sear to finish the steaks, flipping and rotating as needed for an even crust.
Remove them from the grill, wrap them in foil, and let them rest with a big dollop of compound butter on top.
Serve with your favorite sides, and enjoy!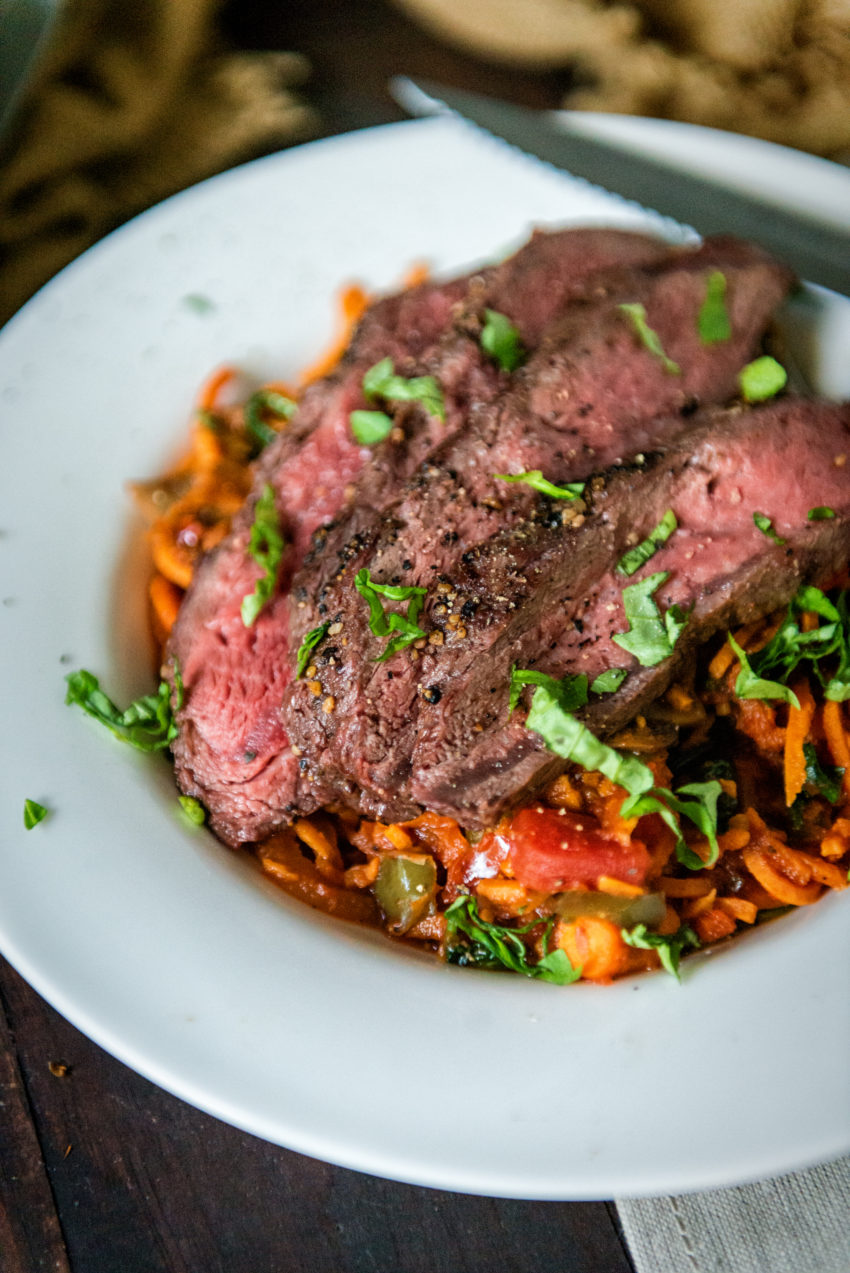 Girl Carnivore EXPERT RECIPE TIPS
Heat evenly
Grill your steaks for about 12-14 minutes if your cut of meat is about 1-1.5 inches thick. Turn halfway to make sure you evenly heat both sides.
Let the meat rest
Before eating, let your perfect flat iron steak rest for about 5 minutes. This lets the juices of the meat redistribute throughout the meat.
How to serve Flat Iron steak
Serve grilled flat iron steak in thin strips and toss it into summer salads with grilled watermelon. It's great over pasta or vegetable noodles tossed in marinara for a keto / low-carb / whole30 compliant meal. We love it with a great aioli recipe and fries, chopped for tacos, in sandwiches, wraps, over stir-fried veggies and any where you would use beef slices.
Leftovers & Reheating
Store your steak in a resealable plastic bag or an air tight container. Be sure to remove excess air from either. Steak will keep in the fridge for about 4-5 days.
To reheat it, wrap just the few slices you need in foil and pop it in an oven preheated to 325 degrees F for 5 to 10 minutes. Leftover steak is never as good as the day it's made but it can be used up in a variety of ways. A common favorite way to enjoy it is by heating it up in some quick and easy steak tacos or minced into scrambled eggs.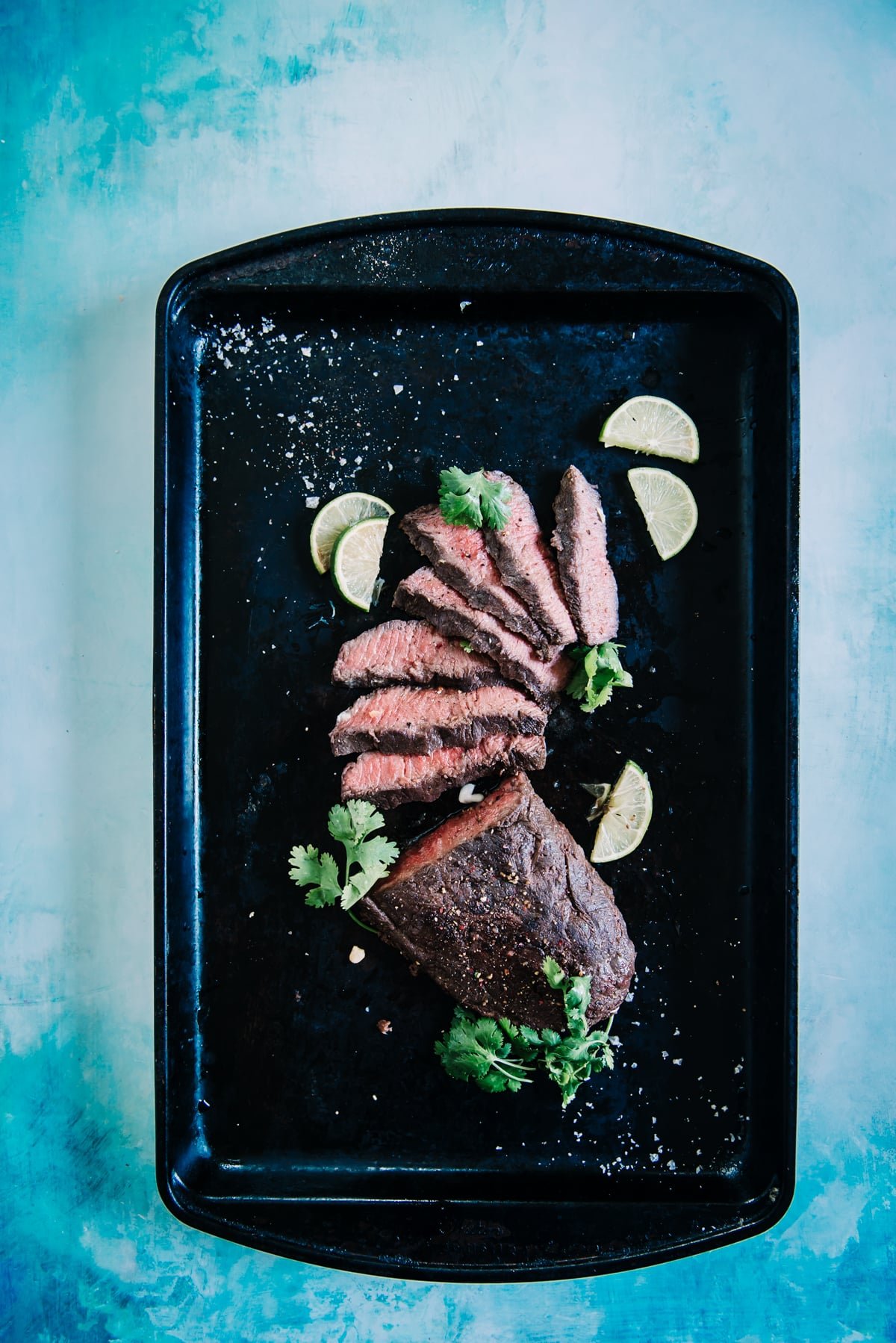 What to Serve With
Any type of steak is delicious with a side of mashed potatoes or some smoked mushrooms. If mashed potatoes aren't your thing, try smoked baked potatoes loaded with amazing toppings. Vegetables like smoked brussels sprouts, green beans, and sweet potatoes are also amazing choices. You will also love Grilled Jalapeno Popper Fries for a little zing!
You can also serve your flat iron steaks over marinara-tossed sweet potato noodles and mushrooms!
Other great options include chimichurri sauce made in a food processor, a salad with fresh herbs and balsamic vinegar, or delicious vegetable recipes.
Recipe FAQs
What is special about flat iron steak?
Flat iron steak has a nice, rich, beefy flavor, and it's a leaner cut of meat. It has nice marbling, making it an appealing meat choice.
Are flat iron steak and filet mignon the same?
No, they are actually quite different cuts of meat. A flat iron steak is top blade steak cut from the shoulder area of the cow. Filet mignon, on the other hand, is cut from the smaller end of the tenderloin.
How is a flat iron steak best cooked?
The best way to cook your steak is on high or medium heat. Once a golden crust has formed on one side, turn the steak to cook on the other side. Cook the steaks for 4-5 minutes on each side to get medium rare, delicious steak. If you like your flat iron steak tender, this is the route to go.
Can I use a cast-iron skillet?
Yes, you can use a skillet on your stovetop to achieve perfect doneness. Use medium heat to heat each side of your steak for about 5-6 minutes. Just like on an outdoor grill, get a nice crust on one side before flipping the meat. A higher temperature may cook the sides too much and leave the center undone. You can also use an instant-read thermometer to check for doneness, too.
More Grilled Steak Recipes
If you love cooking steak, you will also love these great recipe ideas!
This flat iron steak recipe is an excellent choice for feeding the family or a larger crowd. Cut it into thin slices and share it with your loved ones. You can't beat the simple and bold flavor of a flat steak!
Grilled Flat Iron Steak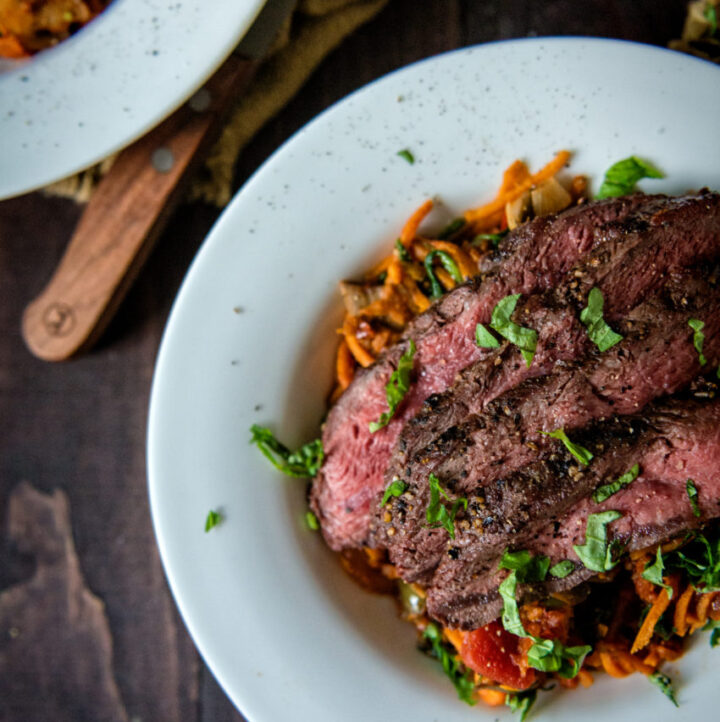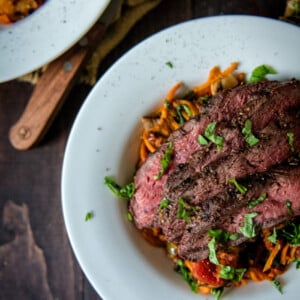 Elevate your grill skills with our tasty flat iron steak recipe! Sizzling, tender perfection awaits in this delicious, easy-to-follow guide.
Instructions
Prep the grill
Prep your grill for a 2-zone fire. Light charcoal in a charcoal chimney and when 70% ashed over, pour the charcoal to one side of your grill.

Add the grill grate and cover the grill wih the lid and adjust the airvents to preheat the grill to around 400 degrees.
Prep the Steak
Remove the flat iron steak from the package and pat dry with paper towels.

Season the flat iron liberally with salt and a pinch of pepper.

Allow the steak to sit at room temperature while the grill preheats.
Grill the steak
When the grill is hot, add the flat iron steak to the cooler side of the grill.

Cover the lid and cook, rotating once or twice while the steak reaches about 110 degrees F with a digital meat thermomter, about 7 to 10 minutes.

Then transfer the steak to the hot side of the grill, directly over the coals to sear.

Flip and rotate to quickly sear all sides.

Check that the temperature has reached 130 degrees F and carefully remove the flat iron steak with long tongs.
Rest and serve
Place the grilled flat iron steak on a clean cutting board and add a dollop of compound butter over top.

Tent loosely with foil and allow the steak to rest 5 to 10 minutes.

After the steak has rested, slice it against the grain on a bias into thin strips for the best texture and chew.

Serve hot with your favorite chimirchurri or steak sauce and side dishes.
Nutrition
Serving:
1
g
|
Calories:
300
kcal
|
Carbohydrates:
0.2
g
|
Protein:
32
g
|
Fat:
18
g
|
Saturated Fat:
7
g
|
Polyunsaturated Fat:
1
g
|
Monounsaturated Fat:
7
g
|
Trans Fat:
1
g
|
Cholesterol:
112
mg
|
Sodium:
707
mg
|
Potassium:
529
mg
|
Fiber:
0.1
g
|
Sugar:
0.003
g
|
Vitamin A:
1
IU
|
Calcium:
12
mg
|
Iron:
4
mg