A classic steakhouse meal with the healthy homemade recipe, Whole 30 Grilled Flat Iron Steak Over Marinara Tossed Sweet Potato Noodles.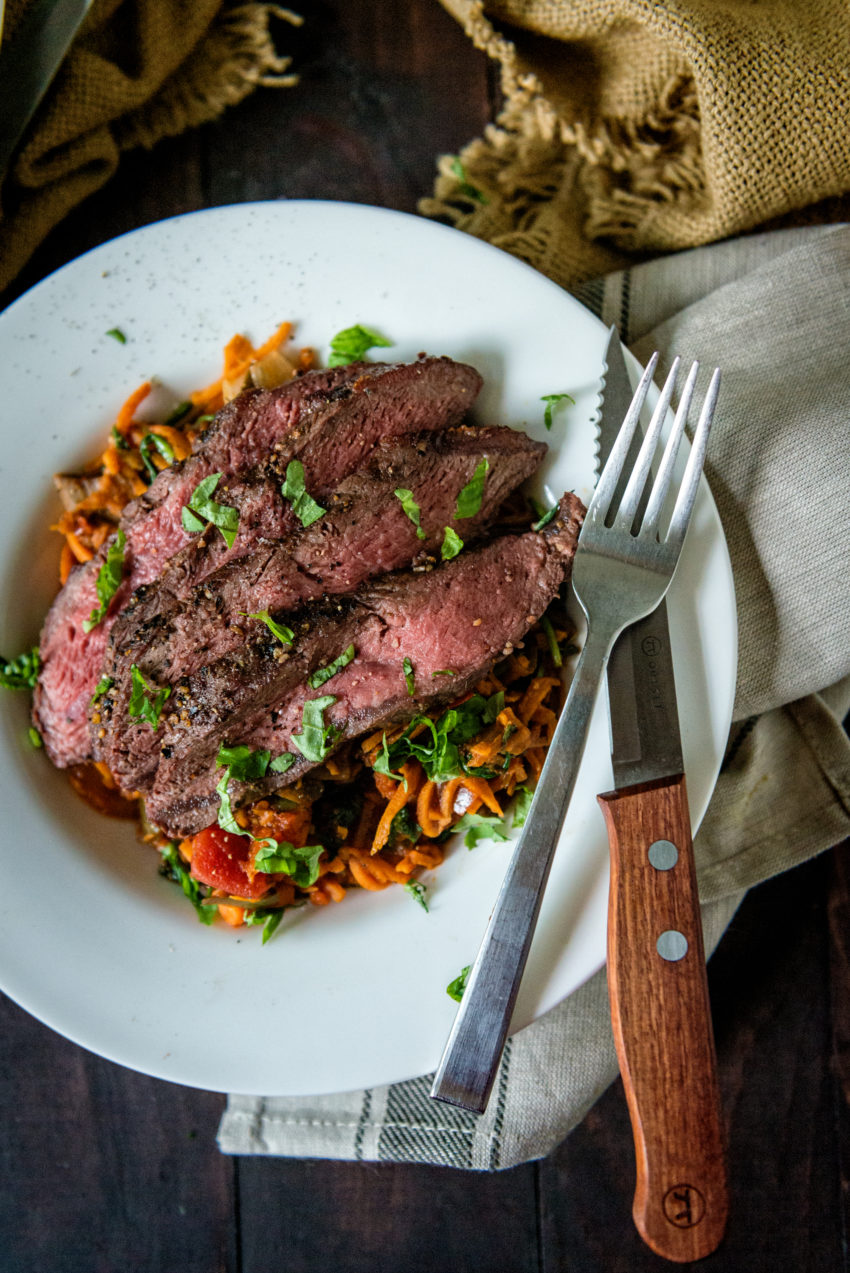 People get this idea that cooking home made suppers every single night is complicated. And let's be real, it's easy these days (especially if you are like me and don't have kids) to run out and grab a quick bite after a long day in the office. The daily grind can really kill the kitchen mojo and make skipping out for a cocktail and something pre-made can be rather tempting. But let's be honest, it's pretty rare that a steak comes off the line as well as I can sear one at home. It's certainly not as fresh.
Now, let's get motivated to cook at home. Why? Because it's not that complicated. It's healthier. You are less likely to make naughty choices that will lead to late night calls to give you a lift home (not that that's ever happened to me). You spend less (because that bar bill that you discovered crumpled up in your bra the morning after your friend drives you home is a little shameful). And let's be honest, it makes you feel like a serious bad ass Julie Child working on your knife skills with a little Pretty Wreckless blasting on full volume. Truth, the fact that you are even here drooling over that steak shows that you want to be a bad ass home chef already. Now it's just a matter of showing up every night and making it happen.
For me, coming home and heading to my kitchen has become cathartic. Even after I cook all day for the blog. I turn the music on and zone out to create what I can with what I have on hand, which often leads to amazing recipes like this one. I just have to remember to not crack open a fresh bottle of red if I am going to be all in for the health benefits of the Whole30 (BONUS, cooking your own meals at home makes the torture of the Whole30 pretty much non-existent. It's the going out and trying to figure out what you can and can't have that really causes cracks in the plan).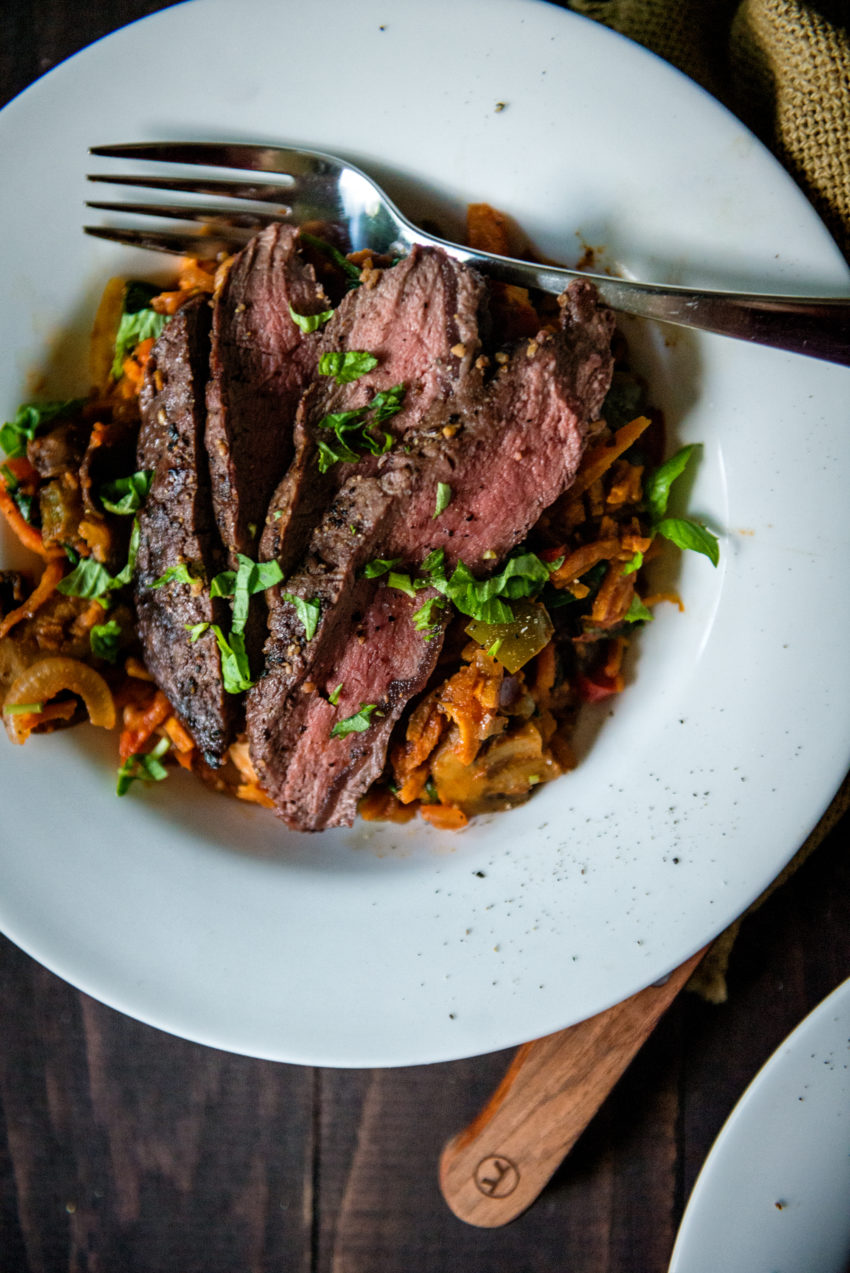 Know Your Beef:

Flat Iron Steak is a rectangular cut from the shoulder portion of the cattle with a strong marbling which leads to a great flavor. Flat Irons are great options for a quick dry pan sear or grill. After cooking, rest thoroughly before slicing thin and on a bias.
Now on to the recipe. Whole 30 Grilled Flat Iron Steak Over Marinara Tossed Sweet Potato Noodles
Grilled Flat Iron Steak Over Marinara Sweet Potato Noodles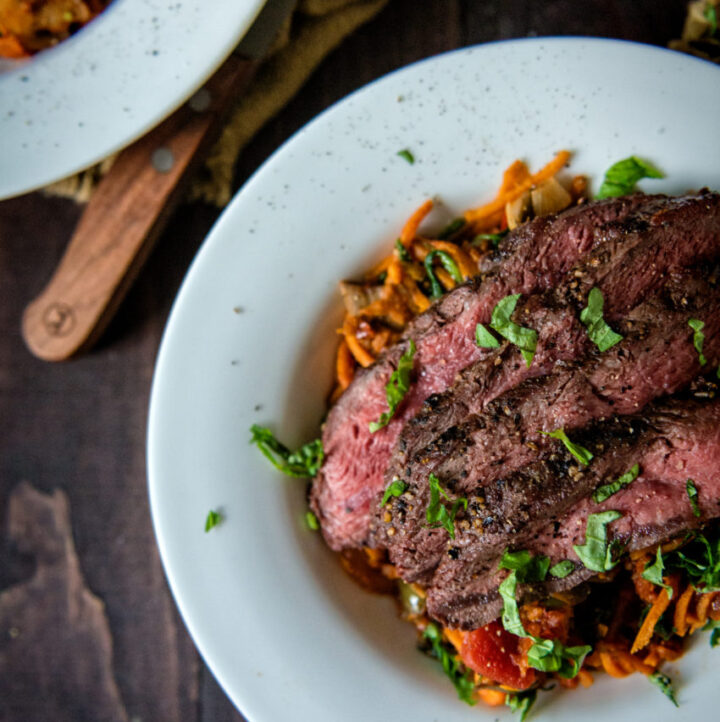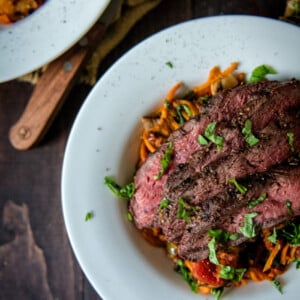 This grilled flat iron steak is the perfect away to serve medium rare juicy slices of grilled steak every time.
Ingredients
1

lbs

flat iron steak

salt and pepper

1

tbs

ghee or coconut oil

1

large sweet potato

cleaned and peel

1/2

cup

sliced mushrooms

1/2

onion

sliced

1/2

red pepper

stemmed, seeded and diced

1/2

green pepper

stemmed, seeded and diced

1

garlic clove

minced

1 1/2

cups

Whole30 approved marinara sauce

fresh basil for garnish
Instructions
Preheat your grill. Season the steak with salt and pepper.

Heat a large skillet to medium heat. Add the ghee and swirl to coat the pan. Specialize your sweet potato and arrange in the pan. Saute 7 to 10 minutes until cooked through. Remove from pan.

Add the onion, mushrooms, and peppers to the pan. Cook until tender, 7 to 10 minutes. Ass the Garlic and cook for 30 seconds longer. Reduce the heat to low and return the sweet potato noodles to the pan. Add the marinara sauce in and toss to coat.

Meanwhile, Cook the flat iron steak over the grill to desired doneness. Remove from grill, wrap in foil and rest.

When the steak has rested, slice and serve atop the marinara tossed sweet potato noodles.

Garish with fresh chopped basil, and season with additional salt and pepper.
Nutrition
Serving:
1
g
|
Calories:
319
kcal
|
Carbohydrates:
20
g
|
Protein:
24
g
|
Fat:
16
g
|
Saturated Fat:
7
g
|
Polyunsaturated Fat:
1
g
|
Monounsaturated Fat:
6
g
|
Trans Fat:
0.4
g
|
Cholesterol:
84
mg
|
Sodium:
553
mg
|
Potassium:
932
mg
|
Fiber:
4
g
|
Sugar:
7
g
|
Vitamin A:
8935
IU
|
Vitamin C:
40
mg
|
Calcium:
44
mg
|
Iron:
4
mg